11 Best WooCommerce Request A Quote Plugins 2023
Are you planning to add the WooCommerce Request A Quote plugin to your WordPress site? Yes? Then this post is especially for you. Request a Quote or, in short, Quote Plugins allow your customers to ask for the estimate of any WooCommerce product from your menu item list which they might want to buy. You can also add a quote request form on your website for any pricing-related query.

Quotes help a user grasp your pricing better, so you should have a "request a quote" plugin. This is especially true for industries like travel, hospitality, customized services, IT, clothes, and more, where your customer might want to buy bulk or any customized product directly from the seller.
If you want to improve your WooCommerce profile, You may also be interested in Fomo Plugins, Invoice Plugins, and Email marketing services.
In this article, we look at some of the most useful WooCommerce Request A quote plugins. However, first, let us take a quick look at what WooCommerce is.
What is WooCommerce?
WooCommerce is undoubtedly the best and the most popular WordPress e-commerce plugin that helps users easily create and manage an online e-commerce store. It is a highly customizable and open-source plugin that lets you convert your WordPress website into an e-commerce store.
Let's have the list of top WordPress Request A quote plugins as follows.
1. Woosuite WooCommerce Request a Quote
Woosuite provides a well-integrated request with a quote plugin that helps you automate your website functions and scale up your wholesale business. It is indeed a nicely composed extension for an advanced quotation system! It allows Woosuiteallows users to submit either single or multiple quotes at a time while adding them to the basket for submission. You also receive a notification email if users have added any new requests. You can also manage various requests and quotes with just a little configuration. Woosuite lets you prepare your custom registration form as per your requirement. You can also customize the quotes form and add fields that can be completely modified per the website's requirements.
Core Features –
Hide Prices – This lets you hide the prices of any particular product or entire products on the site from those users who are not logged in thereon.
Price Visibility–Visitors can see different prices based on the number of selected products in the cart.
Quotes Form Page–Leads get to increase or decrease the quantity of the product or even remove it from the quotes list if required.
Enable/Disable Form Visibility – Pick when and where you have to display the "Add To Quote" Button for different customers.
Monitoring Quote Requests – Through the "my account page", you can instantly keep track of all the quotes.
Price – Login To View Price
Screenshot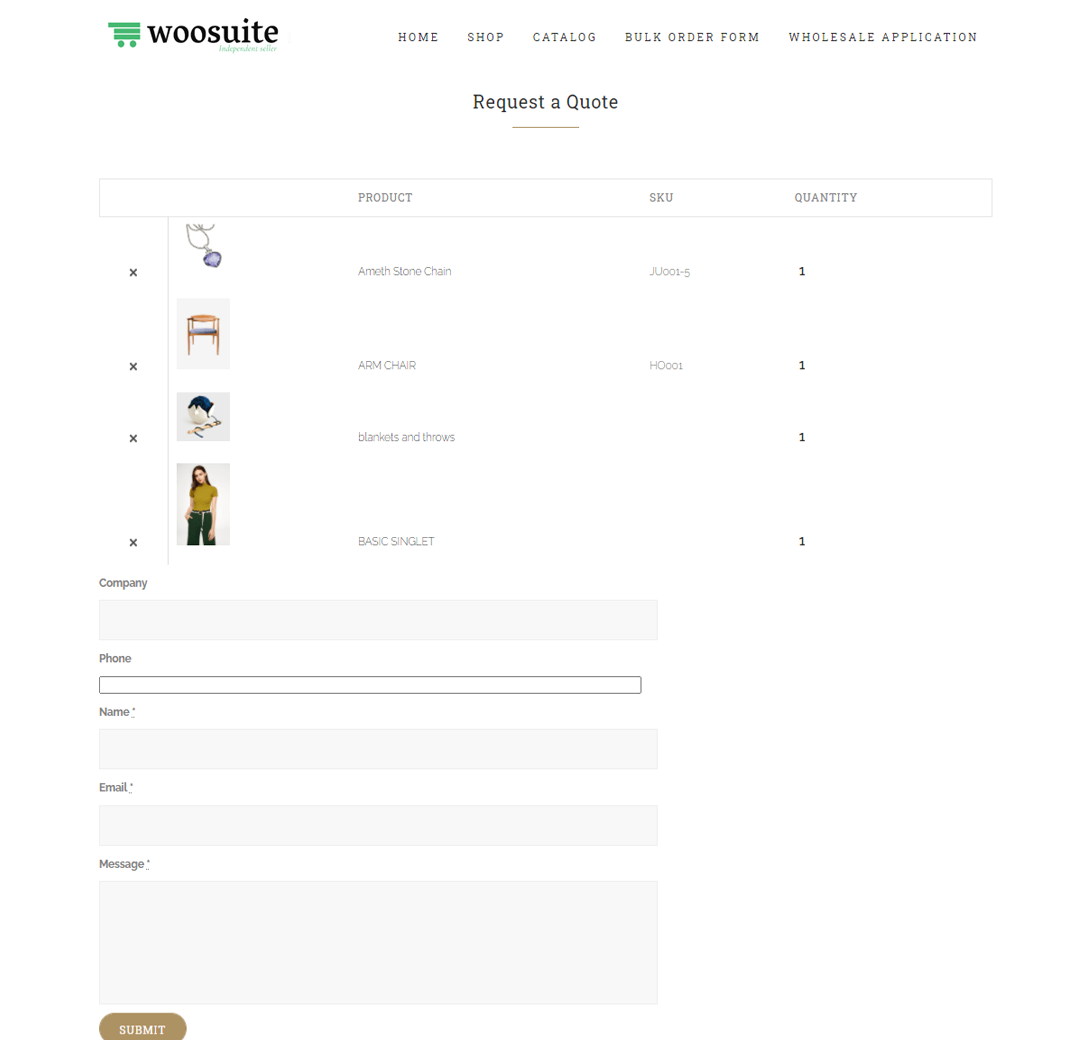 2. ELEX WooCommerce Request a Quote

Using this plugin, you can start offering bulk products to retail businesses by enabling them to place orders as 'quotes' instead of adding the items to the cart. The Add to Cart and Add to Quote buttons, as well as any customized buttons, can be removed or added to both the shop and individual product pages. You can use this plugin to include specific items and make them available for purchase as quotations, as well as omit particular products. There are additional ways to modify the Request a Quote form so that customers can order products. It transforms your online store into a unified platform for customers and retailers to obtain estimates and add products to their carts. With this plugin, you won't lose a single order, even if your website is temporarily down. It simplifies the task of requesting, approving, or denying quotes and generating a payment link once a quote has been approved.  
Features
Add a Request a Quote button to your WooCommerce store quickly and easily.

It is compatible with both simple and variable products.

The Add to Cart button can be easily hidden.

Customization options

Send automated email notifications to customers and site admins.

Quote Requests can be disabled for unregistered users.

Depending on the products and user roles, include or exclude the functionality of the Request a Quote button.

Depending on Products and User Roles, restrict Add to Cart Button Functionality.

Personalized customer email alerts and admin notifications
Price – 1 Site – $59/annually, 5 Site – $89/annually, 25 Site – $189/annually,
Screenshot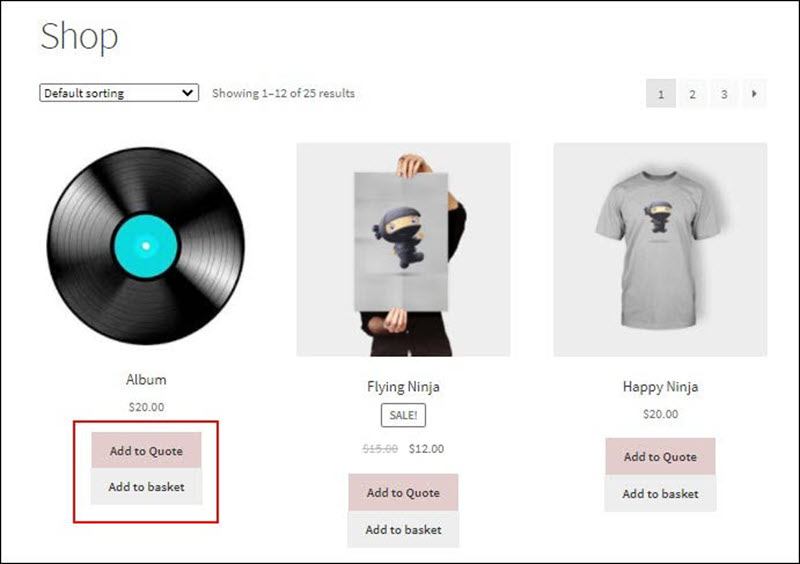 3. Quote for WooCommerce by WPExperts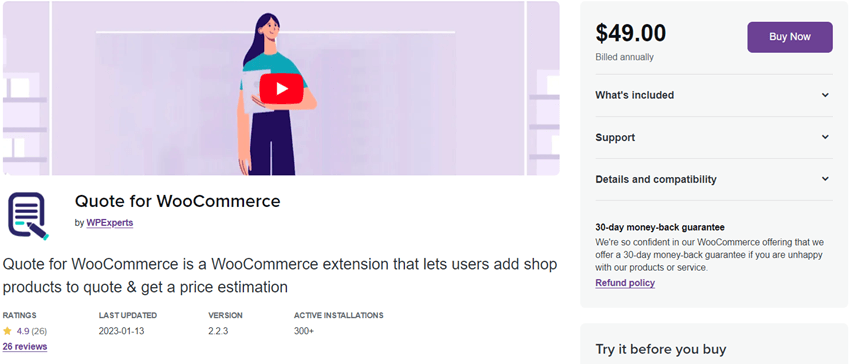 As a WordPress developer, you know that every business is different. Quote for WooCommerce makes it easy to create tailored landing pages and custom quotes for your clients by giving them the power to request a quote any time they visit your site. When you use our plugin, customers will be able to request a quote for any of your products. They can fill out the form with some preliminary details and then send an email to us. This way, you have a chance to negotiate the best prices, discounts, and coupons before you agree to their terms.
Features
Allow guest users to submit quotes.
Provide customization options for the color and text of the quote button.
Allow users to download quotes as PDFs from their account page.
Allow users to remove one or multiple products from their quote tab.
Allow sending quotes to multiple users via email.
Restrict the add-to-quote option for certain products.
Set up automated email notifications for both administrators and customers.
Price – 1 Site – $49/annually
Total number of users – 300+
Screenshot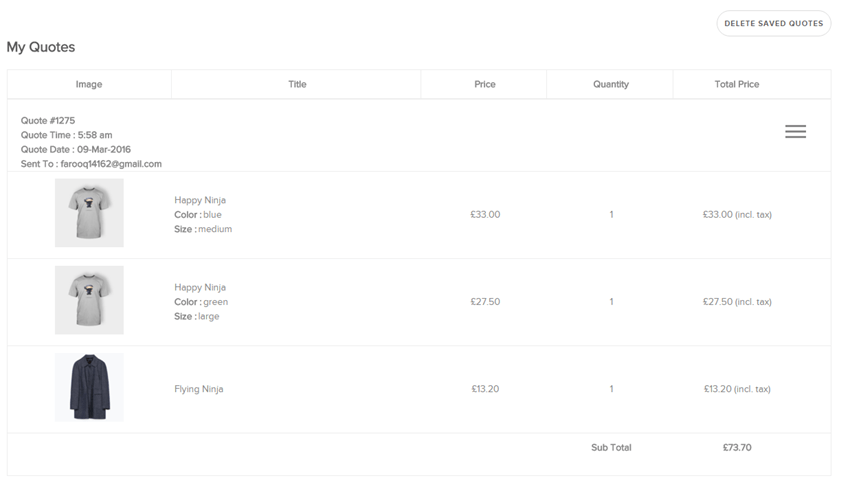 4. Request a Quote for WooCommerce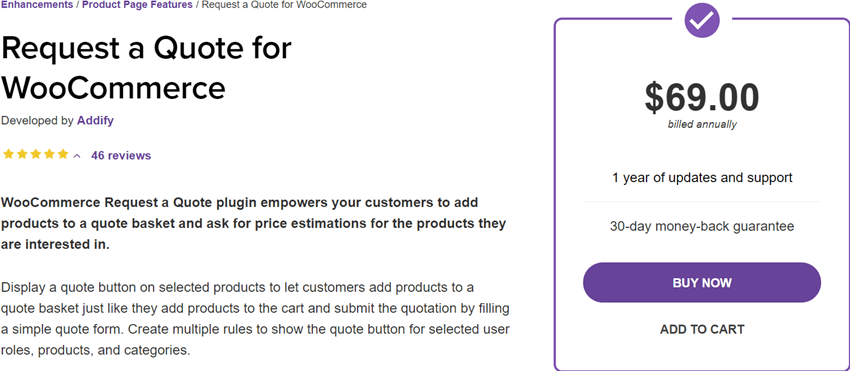 By using the "Request a Quote" for the WooCommerce plugin, you can effectively push your clients to add items to a quote basket and request value estimations for the items they are keen on. You can even hide costs and supplant the' add to cart 'button with the quote button. This extension helps you devise a smooth method to manage specific kinds of clients and requests.
Features:
It provides you with the facility of the quote button, which gives you a clear perspective of your customer's practice or knowledge about the plugin.
With the help of this module, you can modify orders and fields' labels and make them compulsory or optional.
You also have the facility to view the customer fields, be it the number of products, user details, etc.
You can even make desired changes in the Quote messages.
Requesting a quote can be added to a holistic product category or a single product.
The "Request a Quote" button can be embedded in the cart or checkout page.
Tracking is facilitated through the robust WooCommerce Panel,
Price – 1 Site – $69/annually
Screenshot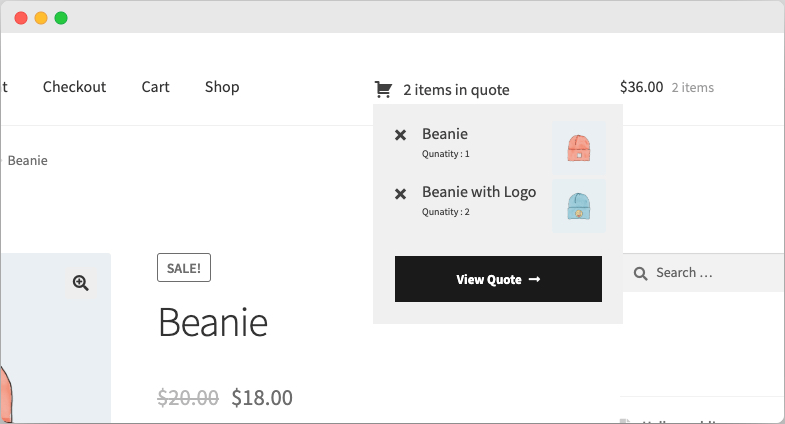 5. YITH Request a Quote for WooCommerce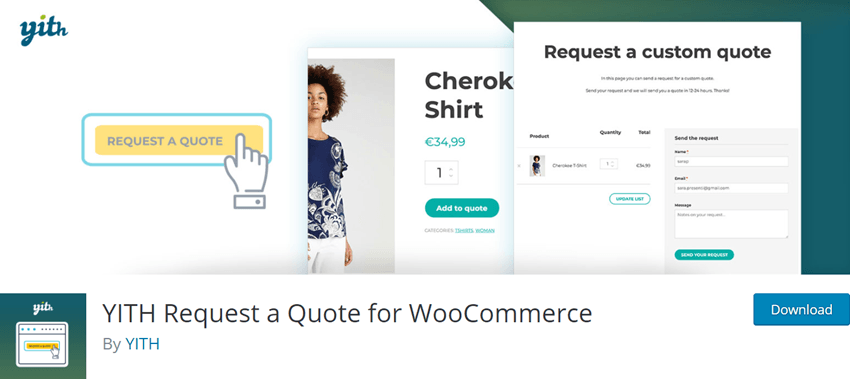 YITH WooCommerce Request a Quote plugin allows you to send your customers an estimate for a list of WooCommerce products they have shown interest in.
Features:
The WooCommerce product detail page can be embedded with a "Add to quote" text or button.
The "Request a Quote" page can be created and customized for your WooCommerce store easily.
You can also add text to the "Add to quote" and modify the text at any point.
Items can be added to the "request a quote" plugin from any store page.
Quote requests can be accessible to all users or specific users as decided by the admin.
You can also hide the "add to cart" button for a single product or multiple products.
There is a free open plugin, and a premium version exists for more exclusive peaks.
Total number of users – 10,000+
Price – 1 Site – $69/annually
Screenshot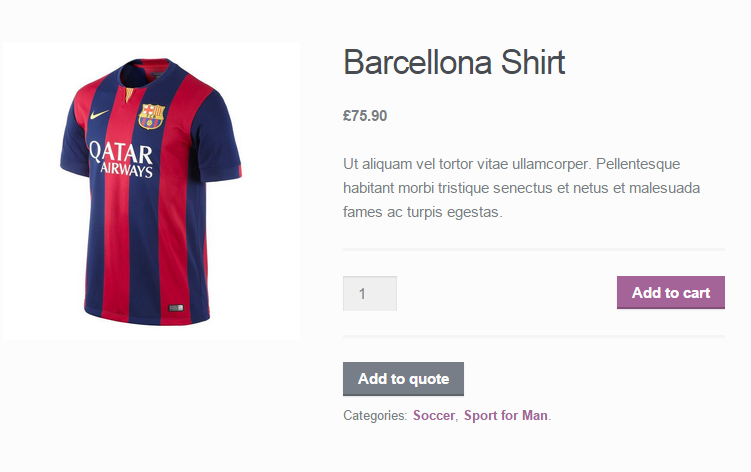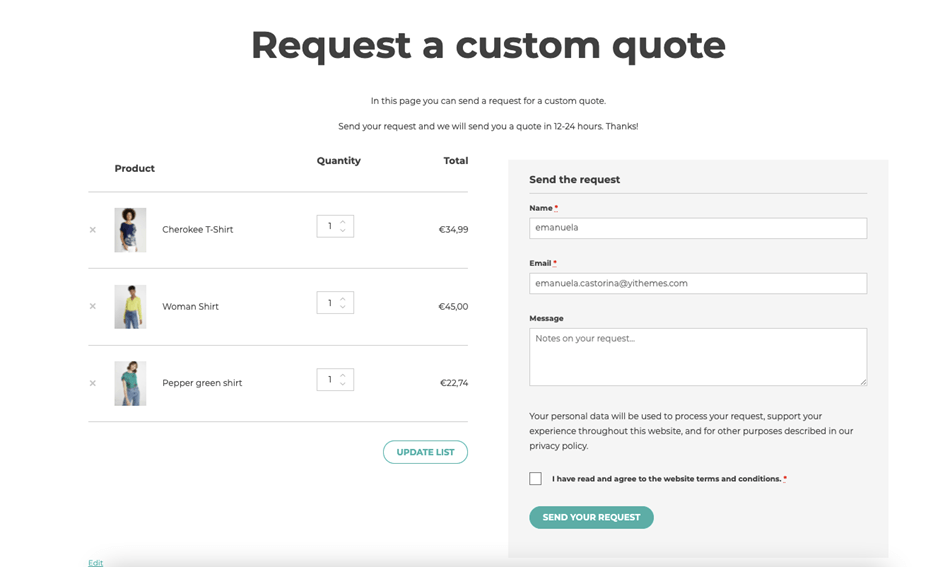 6. Call for Price for WooCommerce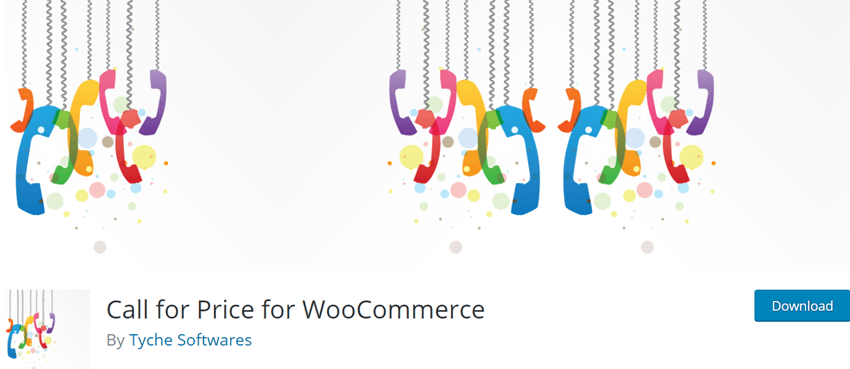 With the Call for Price for WooCommerce, you get more than just a Request a Quote Plugin for WooCommerce. You can also change the default "Add to cart" button text or even hide the button for items with a void or empty prices. This plugin comes to usage when there is no data put in the value field for the item.
Feature
It supports multiple types of products, including external products, basic and custom products, and variable or assembled products.
You can easily request more options on the product page by concealing the hide more options button.
Moreover, it provides you with the facility to set custom text for all other pages like Homepage, Archive, Shortcode, related products, and so on.
The plugin can be used to submit the customer's cart as a quote request.
The admin can allow quote requests on a few selected products.
You can also control the price visibility in Request For Quotation (RFQ) and Request For Information (RFI) mode or normal checkout mode.
In the normal checkout process, there is support for variable products.
Total number of users – 7,000+
Price – 1 Site – $29/annually
Screenshot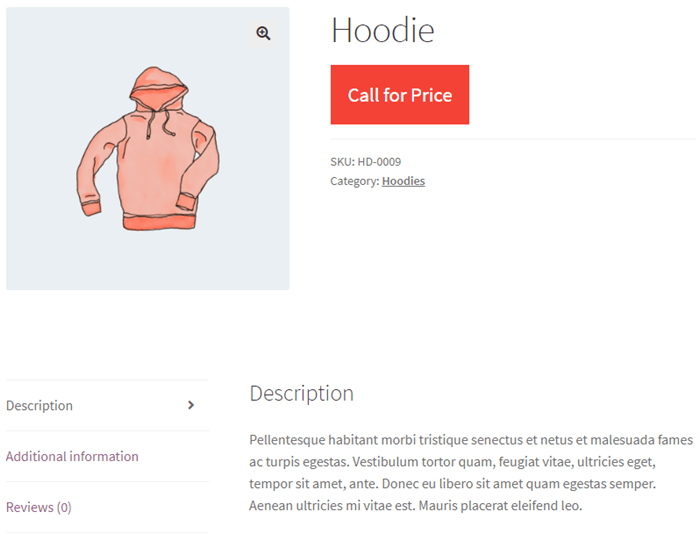 7. Quotes Addon for GetPaid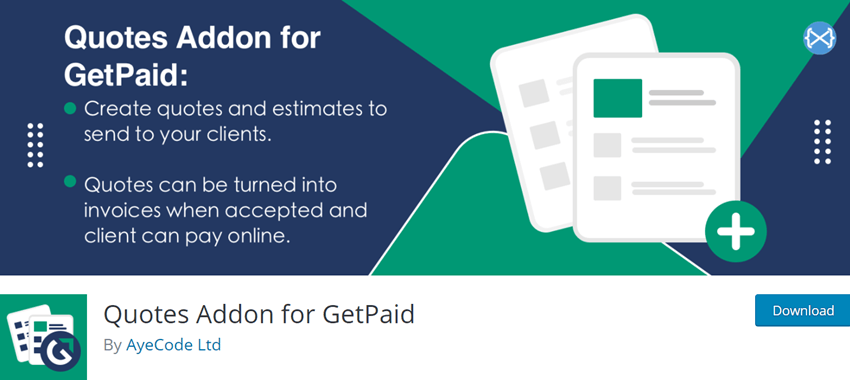 GetPaid is used widely to create secure payment procedures and enhance this activity more. You need a Quotes Add-on. The specialized and personalized Quotes Add-on for GetPaid lets the store's owner create descriptive quotes for any available product sent to customers. When such quotes are delivered to the client, and after acceptance by the customer, the quotes automatically get converted into invoices. However, if you want this Add-on for your website, you must have the GetPaid plugin installed before asking.
Features:
Accepts popular online payments of every category, and throughout this quote Add-on, the customer easily purchases the product and pays conveniently.
It contains the required buttons like hiding or showing "add to cart" alternatives and countless templates to create such forms.
Allow generating forms, including customized fields.
Total number of users – 300+
Price – 1 Site – $99/annually, 1 Site – $495/Lifetime
Screenshot
8. Quote for WooCommerce Lite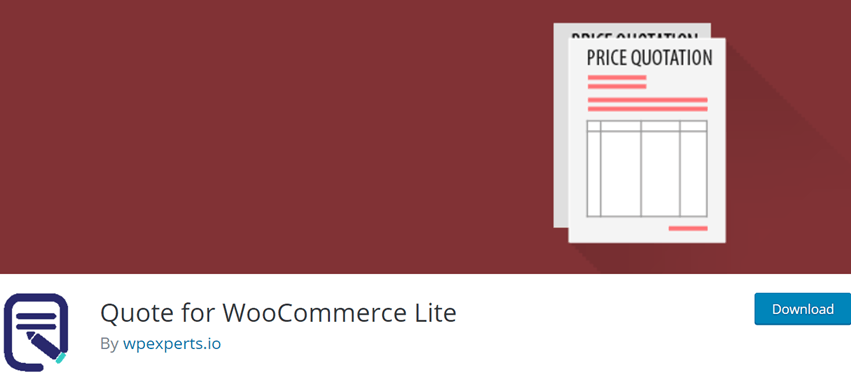 Quotes for WooCommerce Lite enable the user to know the estimated prices, discounts, and coupons of relevant products. Let your users be satisfied with the price of products they want to purchase.
While adding a button on the website for 'Request a Quote' assures your customers as a way to get in touch with you directly. You may place it anywhere on your online store efficiently, pages of products or shopping carts are all well. Allow you to enable or disable the buttons placed for quote requests wherever required.
Essential Features –
Enable Quote buttons for multiple products on its particular page.
Allows moving the product that is stored in the cart to quote it.
Allows moving the product into the cart that was quoted before.
Send an email to the customer for a quote reply and more information.
Save the data related to quotes on the profile of the users.
Provide a well-arranged dashboard to manage the sent quotes and activities afterwards.
Total number of users – 100+
Price – 1 Site – $49/annually
Screenshot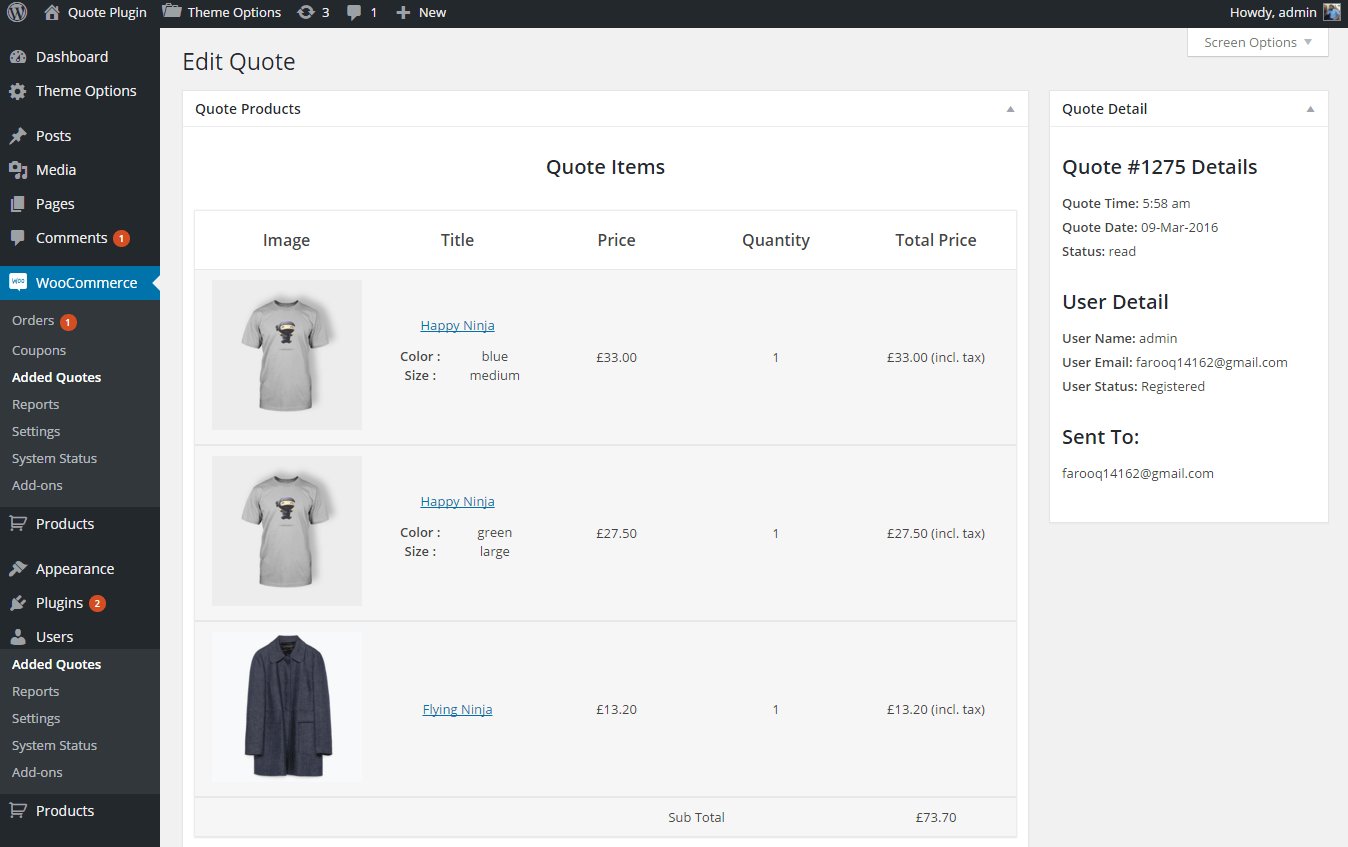 9. Woo Invoices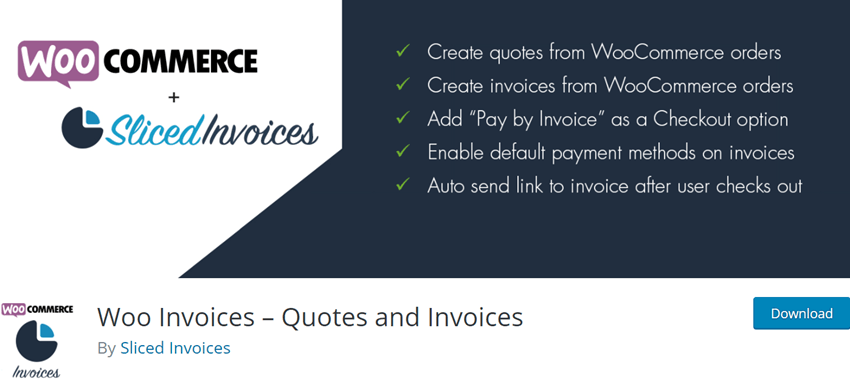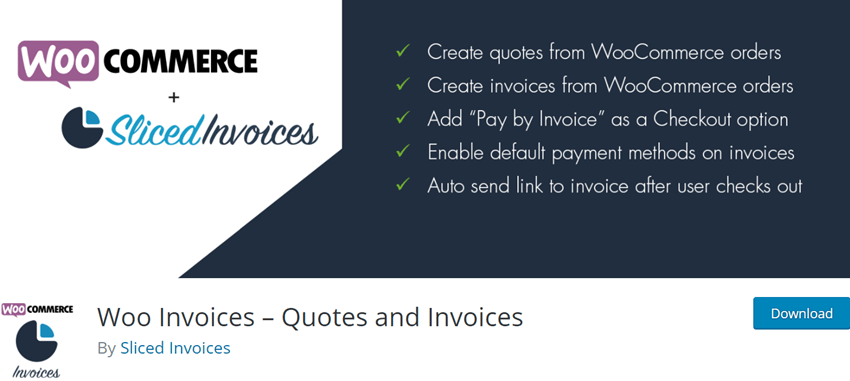 Woo invoices are a bridge between the two, Request a Quote for WooCommerce plugins and the Sliced Invoices plugin to help you create quotes inquiry and invoices with the utmost ease. Using this, you can easily allow your customer to generate a quote for price estimations for your product.
Features:
Both Invoices and quotes can be created from the back-end by the admin.
Upon client checkout, Invoice creation can be done at the front end.
The checkout option offers you the 'Pay by Invoice" feature.
Invoices can have default payment methods enabled.
Intuitive emails can be created with a link to the invoice and instructions.
Role-wise, rules can be applied. For Instance, the regulations for logged-in users differ from the guest user.
Rules can be filtered based on user roles.
Total number of users – 1,000+
Price – Freelancer Bundle – $79/annually (1 Site), Business Bundle – $179/annually (5 Site), Agency Bundle – $299/annually (Unlimited Site)
Screenshot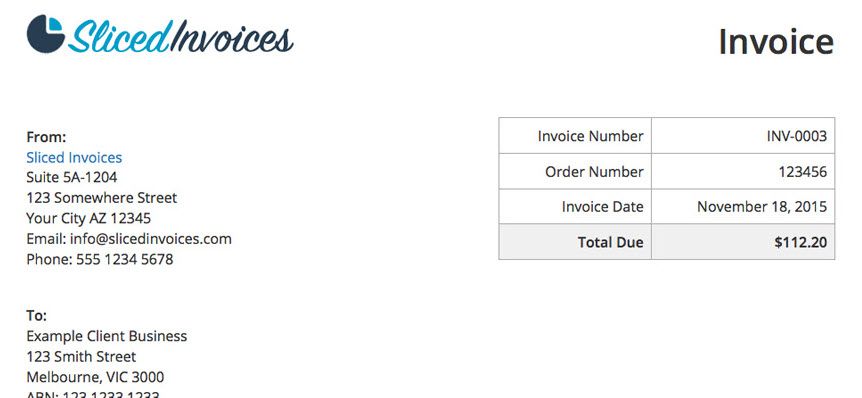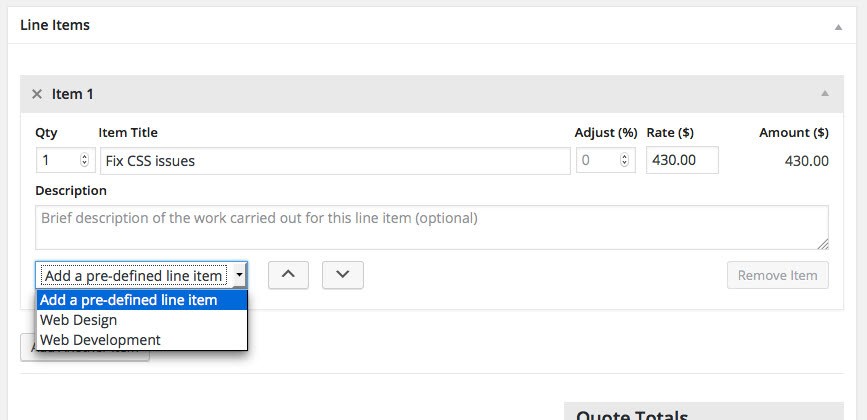 10. Quotes for WooCommerce

Quote for WooCommerce is a free Request a Quote Plugin for WooCommerce that allows you to hide the product price. It also allows you to customize the "add to cart button" for requesting quotes. The users don't need to make the payment at the time of checkout, and instead, the plugin sends an email including the price to the user once the quote is finalized.
Features:
Product price can be managed on the WooCommerce->Orders page. No payment is charged at the checkout.
The entire WooCommerce store can be transformed into a quotes program.
Once the quote is finalized, the prospect is notified through email to process the payment.
The customer can make payment through the link received in their email or the Accounts Page of the web store.
Hyperlinked text can be used instead of buttons.
Pop-up styles can be set depending upon the plugin's settings.
Total number of users – 2,000+
Screenshot
11. Get a Quote Button for WooCommerce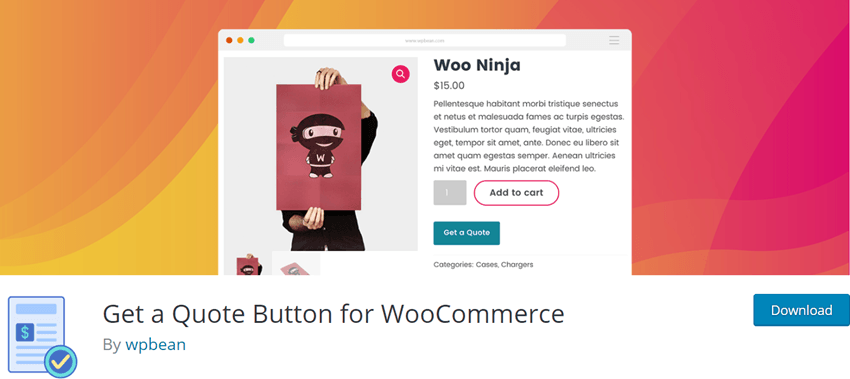 The get a Quote Button enables the WooCommerce products to get more attention from its customer while presenting such contact forms to communicate well.
A well-featured extension lets you place the button for 'Request a Quote' either on a particular product's pages or the entire grid. You employ shortcodes for embedding such buttons anywhere easily. When a user clicks on the quote button, it displays a Contact Form 7 to the user.
Modify the look of the button, given the availability of multiple colours, sizes, and text in the extension setting. Generate great buttons for quote requests and make them available for featured products or out-of-stock products if you have WooCommerce integration.
Core Features:
Create an email for quotes and make the WooCommerce Product the title.
Enable or disable the quote button on the online store accordingly.
Generate a quote button that may enable only customized users and products.
For enhanced features, you must access the Pro version wherever you get access to many filters to add to the quote button and much more. It also comes with a lot of exclusive features, including-
Once you enable the quotes button, the plugin allows you to hide the "Add to Cart" button.
You can also install different quote buttons for different products.
It also allows you to send quote emails to the users' email addresses.
Total number of users – 1,000+
Screenshot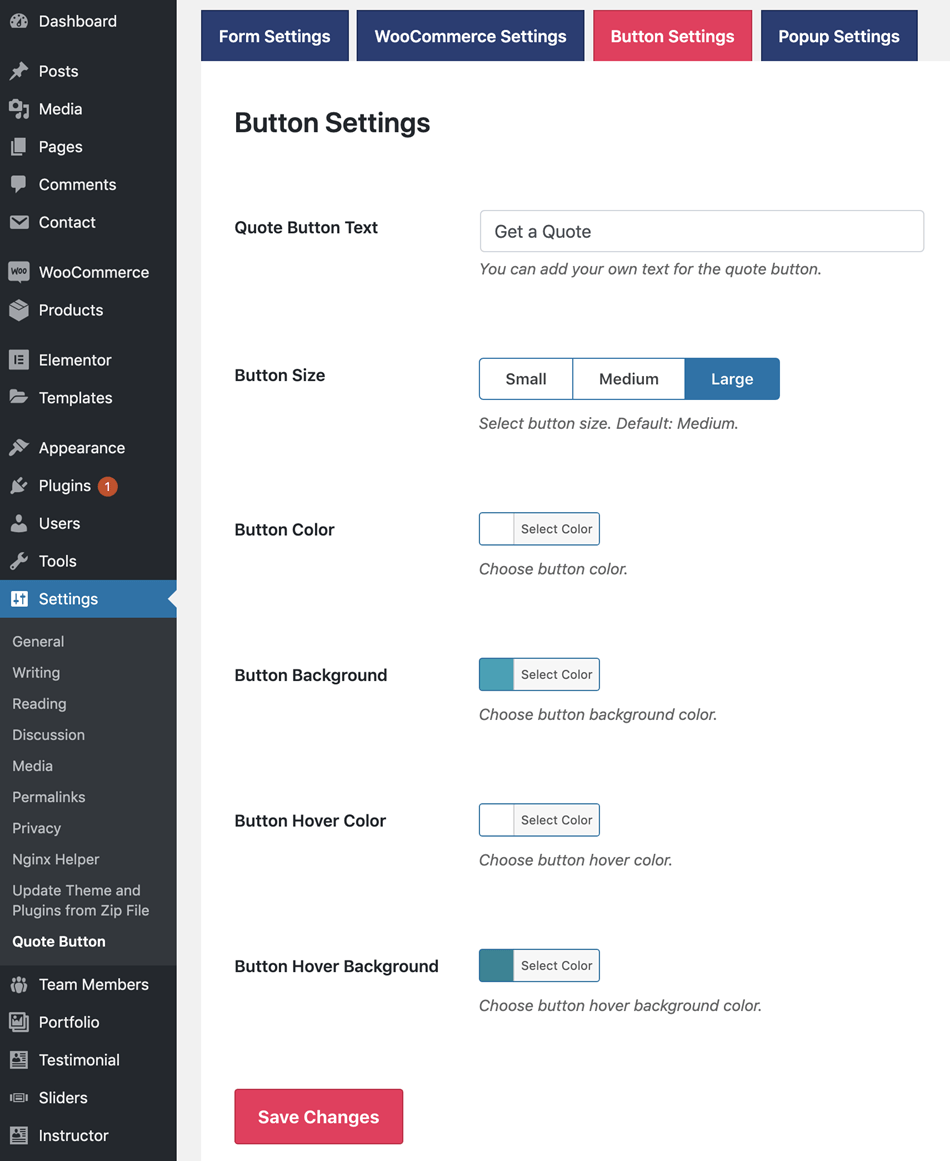 12. Request a Quote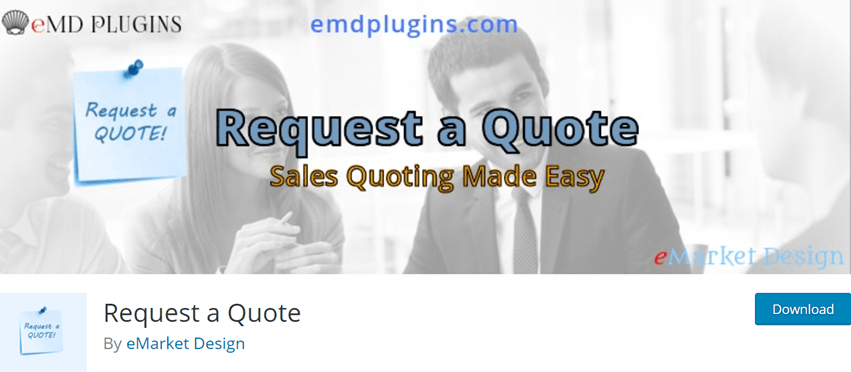 Request a Quote is also a free WooCommerce Request a Quote Plugin that facilitates requests for information (RFI) and request for quotation (RFQ) from consumers about any product of their choice WooCommerce store.
Features:
The customer can select multiple services or products.
Support for both RFQ and RFI.
Only the logged-in customers can submit a quote or request an estimate.
Submitted quotes and estimated requests are displayed at the front end.
Total number of users –  2,000+
Screenshot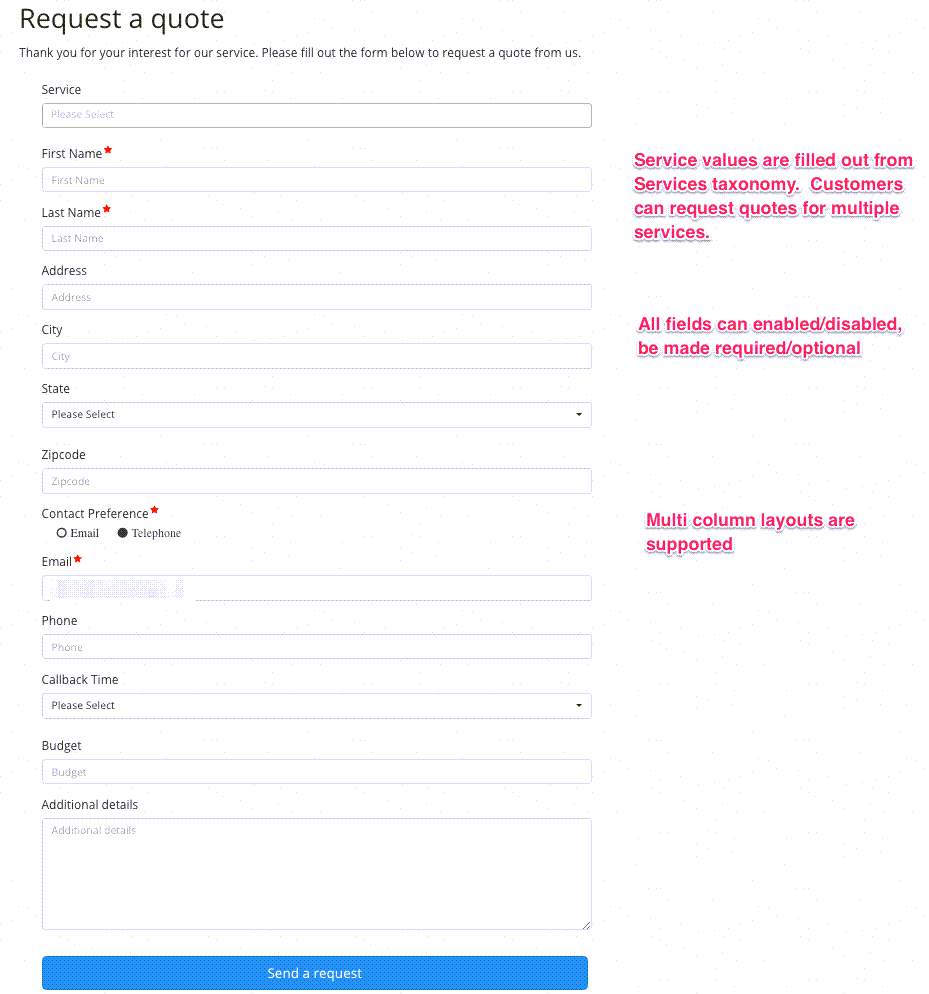 Conclusion
This was my thought on the best WooCommerce Request A Quote plugin for your WordPress site. All these plugins are of great value for your WooCommerce store. However, you can choose the one that fits your website requirements and is in line with your budget.
If you have any further query, you can put them in the comments section below.