10 Best WooCommerce Request A Quote Plugins 2022
Are you planning to add the Woocommerce Request A Quote button on your WordPress site then this Post is especially for you? Quote Plugins allow your customers to ask for the estimate of any woocommerce product list they Want to buy. You can also add a quote request form on your website page for any pricing related query.

Sometimes Quotations plays a vital role in product sale where they want to buy products in bulk or any customized product directly from the seller
You may also be interested in Fomo Plugins, Invoice Plugins, and Email marketing services.
Let's have the list of top WordPress Request A quote plugins are as follows.
1. Woosuite WooCommerce Request a Quote
WooSuite provides a well-integrated request with a quote plugin that automates your website functions very well. Such a nicely composed extension for an advanced quotation system. Allow users to submit either single or multiple quotes at a time while adding them to the basket for submission. Get an alert via email if any new quotes have been added by users. Manage such quotes within just a little configuration. WooSuite lets you prepare quotes to form on your requirement. Customizable quotes form to allow you to add fields that completely modify as per the necessity of the website.
Core Features –
Hide Prices – Let you hide prices of any particular product or entire products on the site from those users who are not logged in thereon.
Price Visibility – Allow your customers to view different prices based on the number of selected products in the cart.
Quotes Form Page – Enables you to increase or decrease the quantity of the product or even remove it from the quotes list if required.
Enable/Disable Form Visibility – Select when and where you want to display Add To Quote Button among different customers.
Monitoring Quote Requests – Throughout the specific my account page let you keep tracking of all quotes instantly.
Price – Login To View Price
Screenshot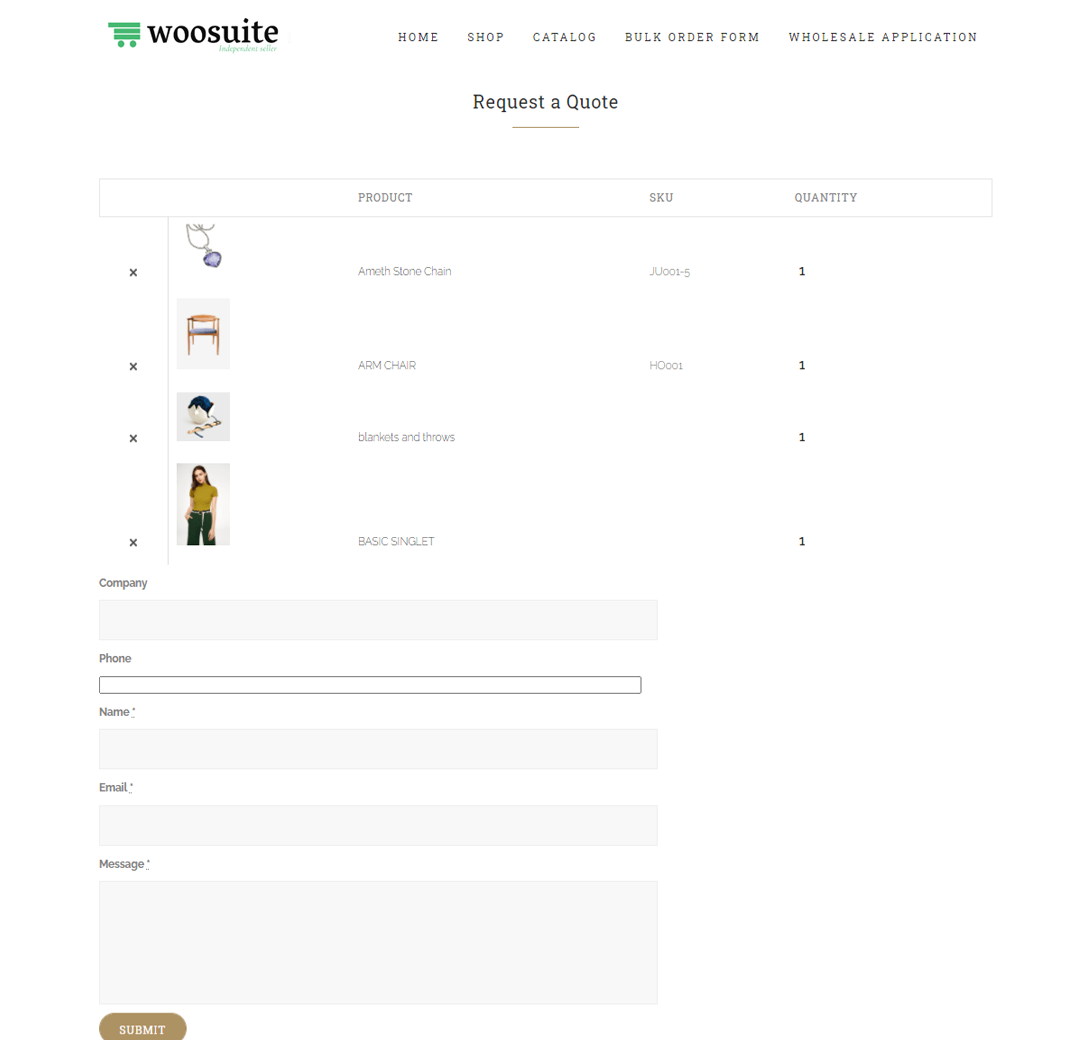 2. Request a Quote for WooCommerce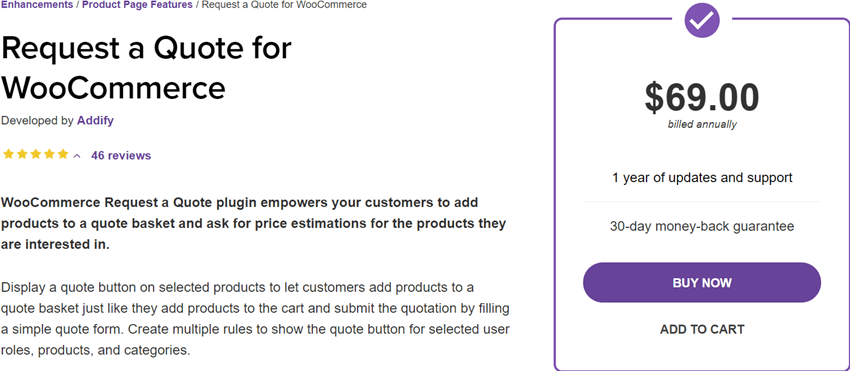 By using the Request a Quote for WooCommerce plugin you can engage your clients to add items to a quote basket and request value estimations for the items they are keen on. You can even hide costs and supplant the ' add to cart ' button with the quote button. This extension helps you to have a smooth method to manage specific kinds of clients and requests.
Feature 
it provides you with the facility of the quote button which gives you a clear perspective of your customer's practice or knowledge about the plugin.

With the help of this module, you can modify orders, fields' labels, and make them either compulsory or optional.

you also have the facility to view the details from the background, be it the number of products, details of the user, and so on.

You can even make desired changes in Quote messages

Request a quote that can be added to a product category or a single product.
The "Request Quote" button can be embedded in the cart or on the checkout page.
Tracking is facilitated thru  the robust WooCommerce Panel,
Price – 1 Site – $69/annually
WooCommerce Request a Quote Plugin - How To
Screenshot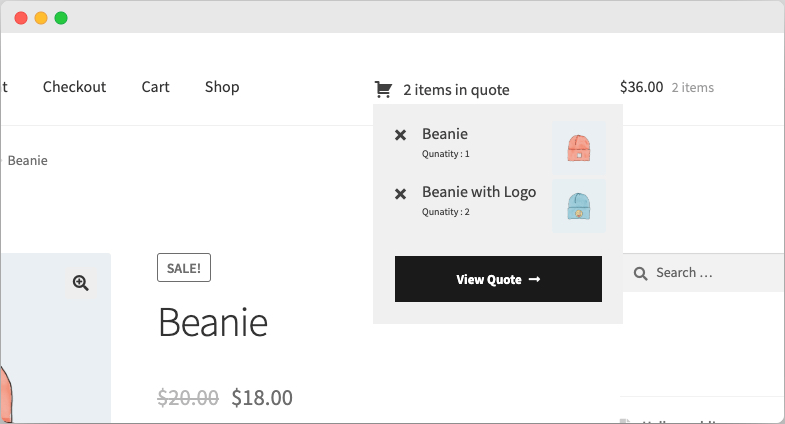 3. YITH Request a Quote for WooCommerce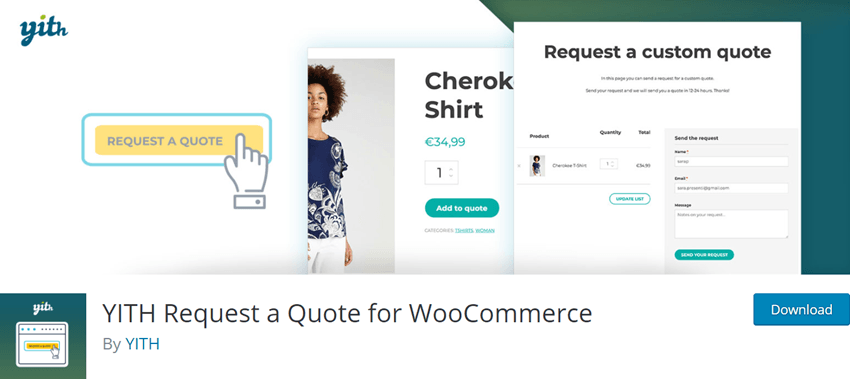 YITH WooCommerce Request A Quote allows you to send your customers an estimate for a list of WooCommerce products that they choose, and all this in a single button's click.
Features:
The WooCommerce product detail page can be embedded with a "Add to quote" text or button.
The "Request a Quote" page can be created and customized for your WooCommerce store easily.
You can also add text to the "Add to quote" and modify the text at any point.
Items can be added to quote requests from any page of the store.
Quote requests can be accessible to all the users or specific users as decided by the admin.
You can also hide add to cart button for single products or multiple products.
Both the free and premium version is available.
Total number of users – 10,000+
Price – 1 Site – $69/annually
Screenshot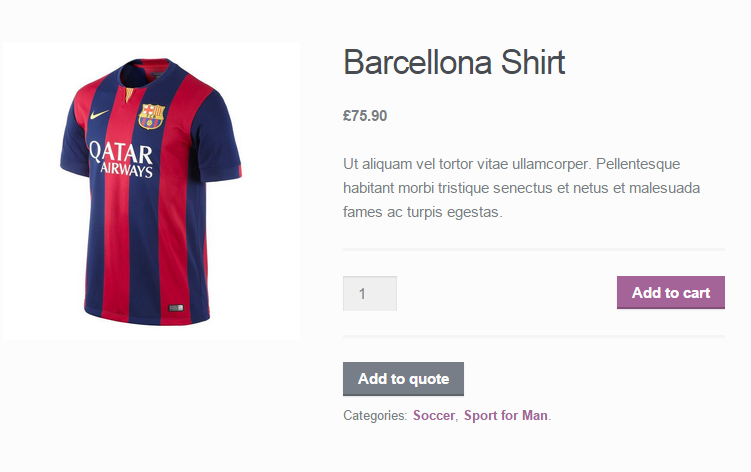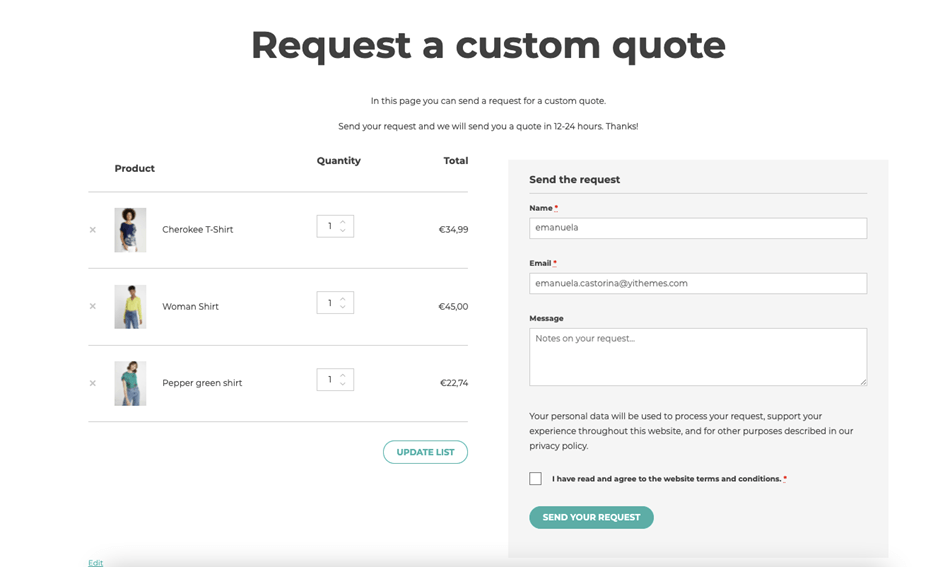 4. Call for Price for WooCommerce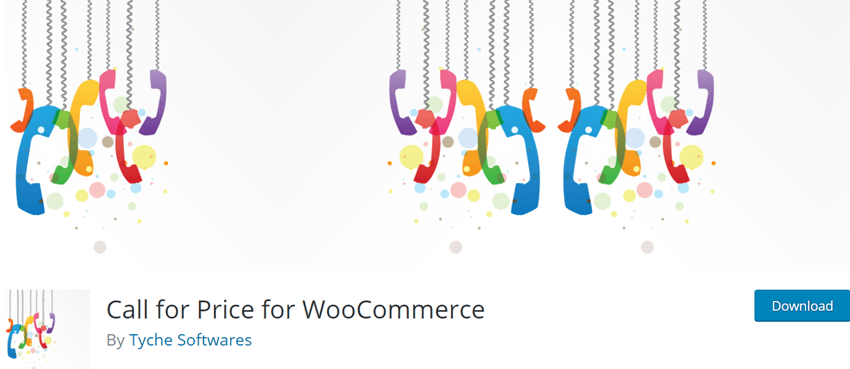 With Call for Price for WooCommerce is a Quote Plugin for WooCommerce users that allows you to alter the default add to cart button text or conceal button totally for items with void costs. This plugin comes to usage when there is no data put in the value field for the item. 
Feature
It works well on all products be it, external, basic and custom products, variable or assembled products.

You can easily request more options on the product page by concealing the hide more options button.

Moreover, it provides you with the facility to set custom text for all other pages like Homepage, Archive, Shortcode, related products, and so on.

The plugin can be used to submit the customer's cart as a quote request.
The admin can allow quote requests on a few selected products.
You can also control the price visibility in RFQ mode or normal checkout mode.
In the normal checkout process, there is support for variable products.
Total number of users – 7,000+
Price – 1 Site – $29/annually
Screenshot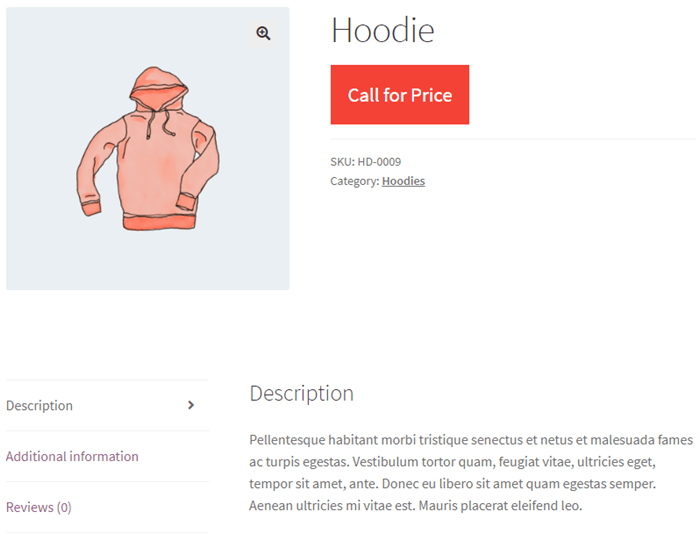 5. Quotes Addon for GetPaid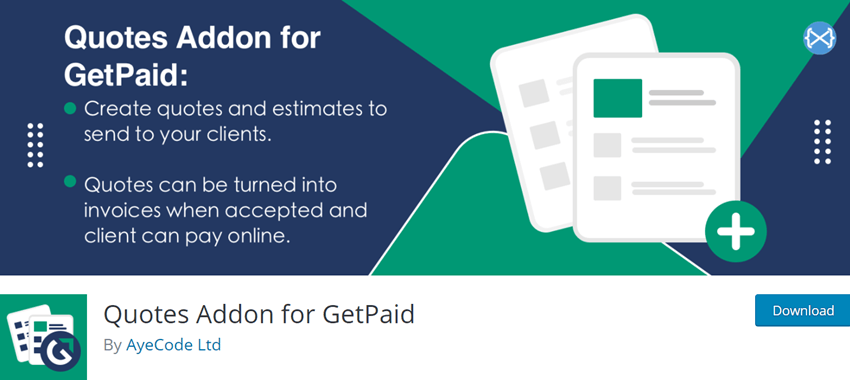 GetPaid is used widely for creating secure payment procedures and to enhance this activity more forward it needs an Add-on. Although Quotes Add-on for Getpaid let the owner of the store create descriptive quotes for any available product that send to customers. When such quotes are delivered to the client and after acceptance by the customer it automatically converted into invoices. However, if you want this Add-on for your website then you must have the GetPaid plugin installed thereby.
Enable GetPaid along with Quotes Add-on and present your variety of product details directly to the customer. GetPaid accepts popular online payments of every category and throughout this quote Add-on, the customer easily purchases the product and pays conveniently. Contains the required buttons like hiding or show add to cart alternatives and numerous templates to create such forms. Allow generating forms including customized fields as the necessity of the website accordingly.
Total number of users – 300+
Price – 1 Site – $99/annually, 1 Site – $495/Lifetime
Screenshot
6. Quote for WooCommerce Lite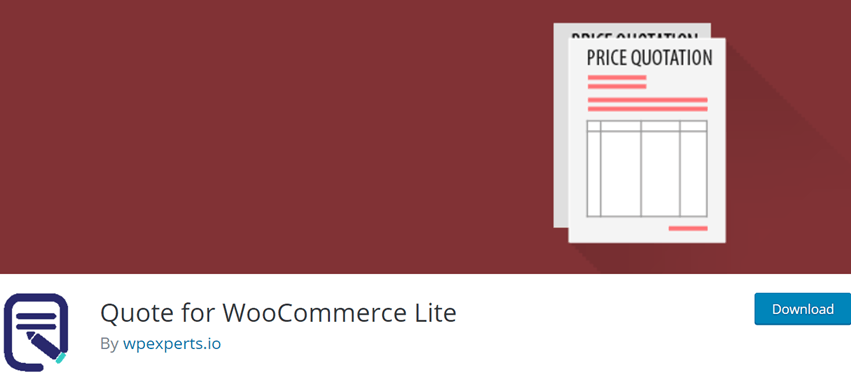 Quotes for WooCommerce Lite enables the user to know the estimated prices, discounts, and coupons of relevant products. Let your users be satisfied with the price of products that they want to purchase. While adding a button on the website for 'Request a Quote', it assures your customers as a way to get in touch with you directly. You may place it anywhere on your online store efficiently either on pages of product or shopping cart as well. Allow you to enable or disable the buttons that are placed for quotes request wherever required.
Essential Features –
Enable Quote buttons for multiple products on its particular page.
Allows moving the product that is stored in the cart to quote it.
Allows moving the product into the cart that was quoted before.
Send an email to the customer for quotes reply and more information.
Save the data related to quotes on the profile of the users.
Provide a well-arranged dashboard to manage the sent quotes and thereafter activities too.
Total number of users – 100+
Price – 1 Site – $49/annually
Woo Add to quote - Simple WooCommerce Plugin to add Quotation functionality
Screenshot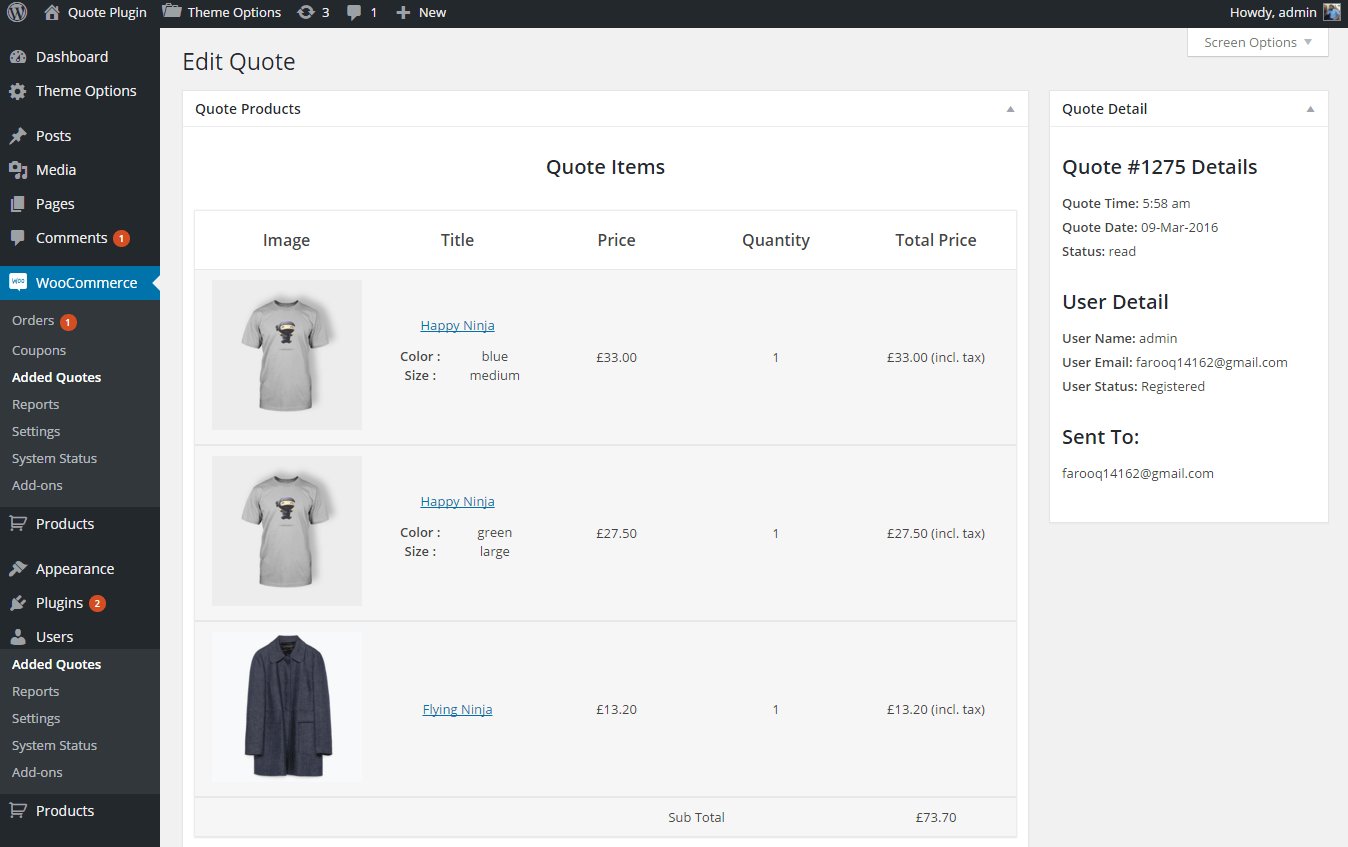 7. Woo Invoices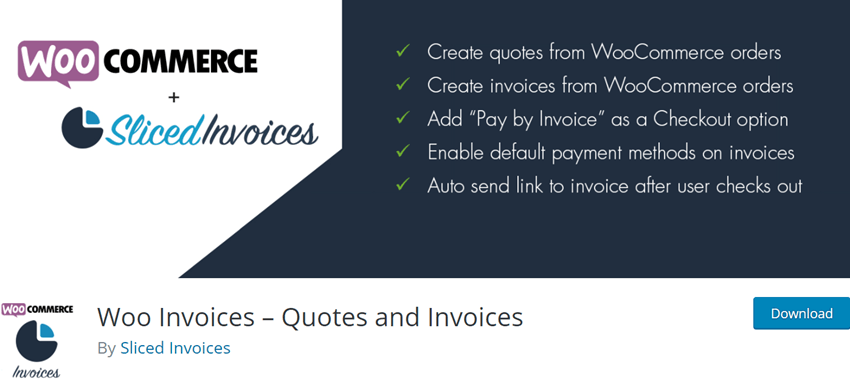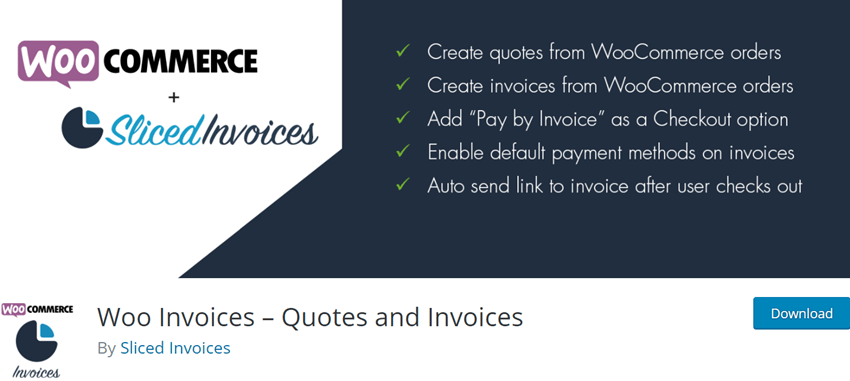 Woo invoices is a bridge between the two Request a Quote for WooCommerce plugins and the Sliced Invoices plugin to help you create quotes inquiry and invoices with the utmost ease. Using this you can easily allow your customer to create a quote for price estimations for your product.
Features:
Both Invoices and quotes can be created from the back-end by the admin.
Upon client checkout, Invoices creation can be d0ne at the front-end.
The checkout option offers you the 'Pay by Invoice" feature.
Invoices can have default payment methods enabled.
Intuitive emails can be created with a link to the invoice and instructions.
Role wise rules can be applied. For Instance, the set of rules for logged in users is different from the guest user.
Rules can be filtered based on user roles.
Total number of users – 1,000+
Price – Freelancer Bundle – $79/annually (1 Site), Business Bundle – $179/annually (5 Site), Agency Bundle – $299/annually (Unlimited Site)
Screenshot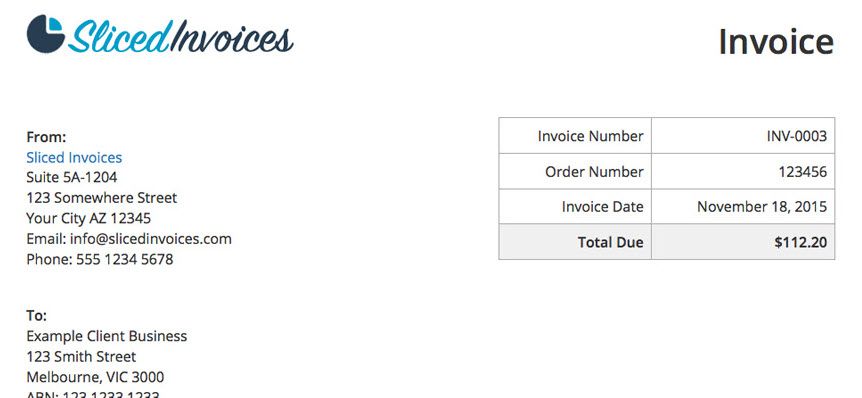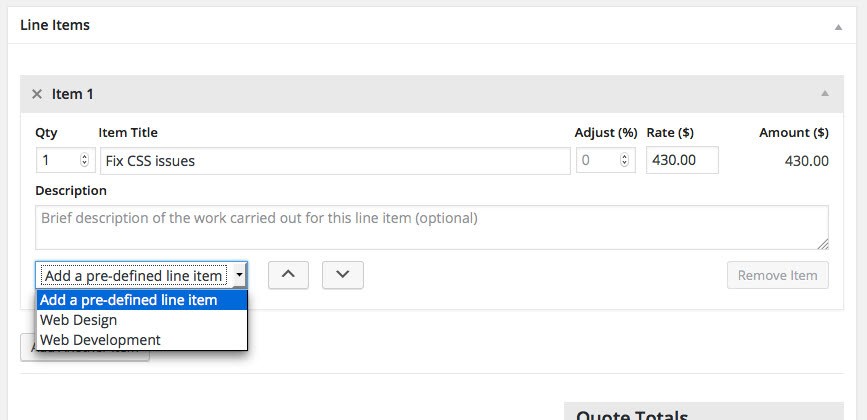 8. Quotes for WooCommerce

Quote for WooCommerce is a free Request A Quote Plugin for WooCommerce that allows you to hide the product price and then modify the add to cart button for requesting quotes.
Product price can be managed on the WooCommerce->Orders page. No payment is charged at the checkout.
The entire WooCommerce store can be transformed into a quotes program.
Once the quote is final, then the prospect is notified thru email notification to process the payment.
Payment can be done by the customer thru the link in the email or the Accounts Page of the web store.
Hyperlinked text can be used instead of buttons.
Pop-up styles can be set depending upon the plugin's settings.
Total number of users – 2,000+
Screenshot
9. Get a Quote Button for WooCommerce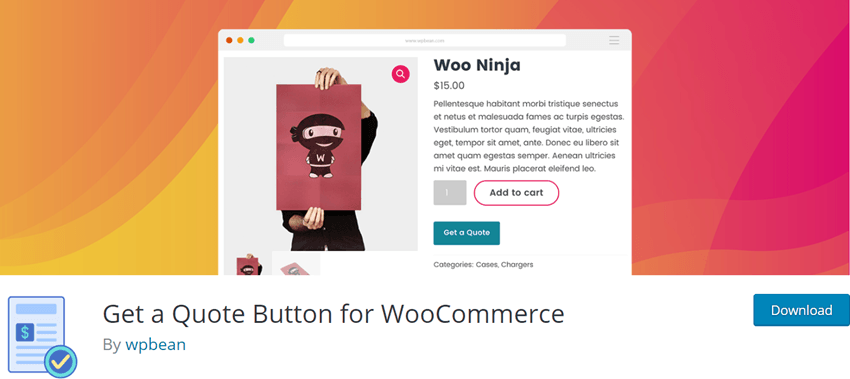 Get a Quote Button enables the WooCommerce products to get more attention from its customer while presenting such contact forms to communicate well. A well-featured extension lets you place the button for 'Request a Quote' either on a particular product's pages or the entire grid. While utilizing the shortcodes for embedding such buttons anywhere easily. As anyone clicks the button for a quote, it displays a Contact Form 7. Modify the look of the button while the availability of multiple colors, sizes, and text in the setting of the extension. Generate the extraordinary buttons for quote requests and make them available for featured products or out-of-stock products if you have WooCommerce integration.
Core Features –
Create an email for quotes and make the WooCommerce Product the title of it.
Enable or disable the quote button on the online store accordingly.
Generate a quote button that may enable only customized users and products.
For enhanced features, you must access to Pro version wherever you get access with a lot of filters to add into the quote button and much more.
Total number of users – 1,000+
Get a Quote Button for WooCommerce Using the Contact Form 7
Screenshot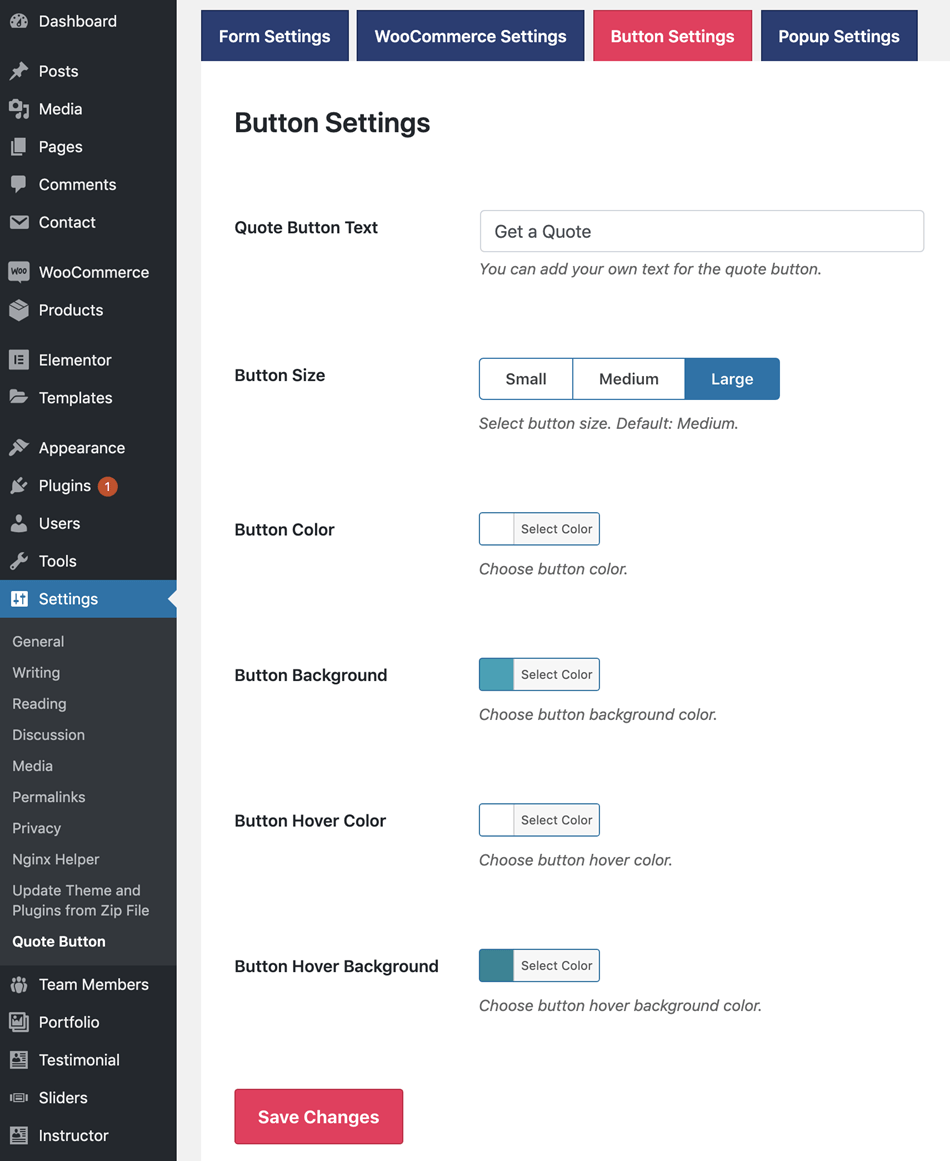 10. Request a Quote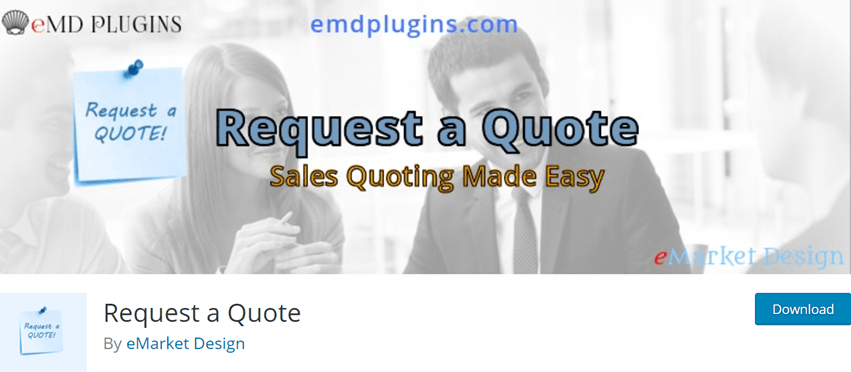 Request a Quote is also a free WooCommerce Request A Quote Plugin that facilitates requests for information (RFI) and request for quotation (RFQ) from the consumers about any product of their choice in the WooCommerce store.
Features:
One too many services or products can be selected by the customer.
Support for both RFQ and RFI.
Only the logged-in customers can submit a quote or request estimate.
Submitted quotes and estimated requests are displayed at the front-end.
Total number of users –   2,000+
Request A Quote WordPress Plugin - Easy Price Quote Request Management
Screenshot