8 Best WooCommerce Product Filter Plugins For WordPress 2020
Are you looking for premium or free Woocommerce Product Filter Plugins For WordPress? Shopping on the eCommerce website becomes too frustrating for anyone because there are n numbers of problems. But when you provide your customers to customized their search bar then shopping becomes easy.
Customization should be provided to the customers on the basis filter. They should be able to filter products on the basis of attributes, price range, colors, sizes, categories, tags. Even some of the website like amazon they provide a different advanced filter on different products. For example, you will find filters based on rams, graphics, software, etc. You can create any kind of option
Product filters are an important part of your site's user experience. Without an advanced filtering option, your customers and prospective buyers won't be able to navigate freely in your store. And, when you have a good product filtering option in place, it will reflect in the overall user experience on your site.
Planning to increase your website sale try Fomo plugin, abandoned cart plugin  and live chat plugin
So Let's have some list of Product Filter Plugin for WooCommerce which is as follows:
1. YITH WooCommerce AJAX Product Filter
YITH WooCommerce AJAX Product Filter plugin is a free but robust WooCommerce Product Filter plugin that has been downloaded over 80,000 times. The customers can look for the exact variation of the product through the filtering options in the widget and hence can find the ideal product they are looking for. The products can be searched using the label, list, color, drop down, and this all in the quickest of its way so that your WooCommerce online store boosts conversions and credibility among the customers.
You have the flexibility to choose and customize multiple widgets like radio buttons, checkboxes, range slider, tag clouds as per your requirement. Besides supporting the latest version of the Plugin, it is amazingly user friendly and provides exactly what you need.
Feature 
You can easily display the filters above the Products. You no more have to worry about the space issue
Live Results can be seen even before applying the filters which makes comparing easier and the tool efficient
We are addicted to Brands. Get the users to jump directly to their favorite Brands by adding the brand filter
You can add sliders and price ranges for as many attributes as you want
Total number of user  – 100,000+ 
Pricing – Single Site – $79.99/year, 30 Sites – 299.99$/year

Free
Premium
Screenshot

2. WooCommerce Product Filters
WooCommerce Product Filters plugin is the tool with advanced filtering capacity for your WooCommerce online shop. The drag-and-drop feature of the tool enables you to create your own advanced filters in a minute or so.
Besides, you have the liberty to add a limitless number of filters to your shop. Filtration of products can be done by category, size, price, color, rate, weight, sales count, etc. In short a perfect plugin for shops with many products and multiple product attributes.
Feature 
The Search Box can be made available on each and every page.
The World is changing daily and so are we. The filters can be updated as and when, as per the user needs.
Product variation values can easily be included/excluded as per the requirement.
A dynamic feature which helps you translate the Plugin to any language with the help of powerful WPML and POLYLANG Tools
Pricing  – Single Site – $79/year

Premium
Screenshot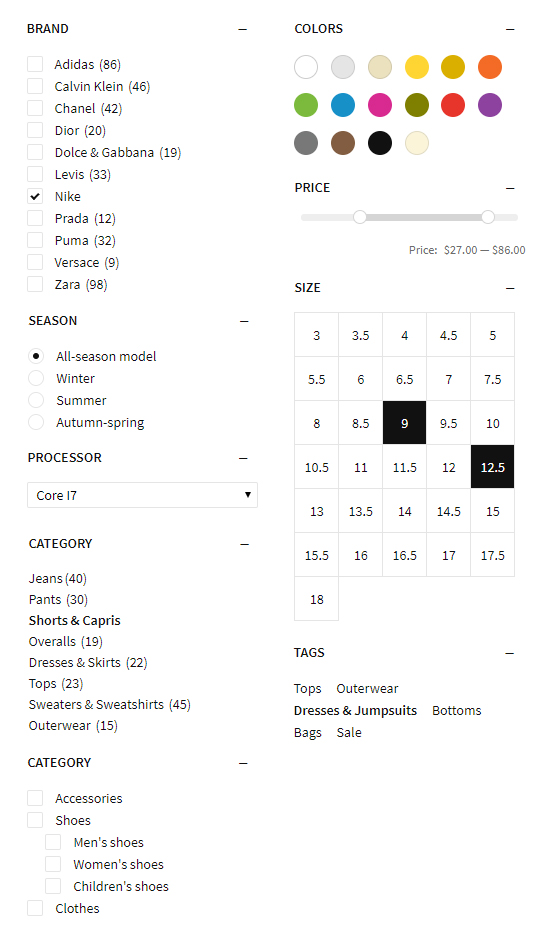 WooCommerce Product Filters - Quick start
3. WOOCOMMERCE AJAX PRODUCTS FILTER
A seamless WooCommerce Product Filter Plugin that provides abundant options for filtering the Products. It provides innumerable options to filter them based on custom taxonomies, price tags, and a variety of product categories.
Berocket would certainly be your first choice for the WooCommerce Plugin due to the surprising advantages it provides. To make it evident, let's have a quick glance at the features.
It provides the best layouts for the filters that include color, images, and sliders
The URLs are quite friendly for the SEOs now. IDs can now be replaced with nice URLs having canonicalization and slugs.
The major bottleneck of Page Reloading has been taken care of. Users can now get the preferred page loaded as per their preferences without reloading
Total number of user  – 20,000+ 
Pricing  – Single Site – $44/year
Free
Premium
Screenshot
WooCommerce AJAX Products Filter by BeRocket 3.0+ features
4. Ultimate etoilewebdesign Filter
Etoile Web Design is a remarkably designed plugin that can impart a new perspective to WooCommerce by infusing power filters for colors, size, and attributes. It offers a fully customizable product catalog with a responsive and easy to use search platform. Even the WooCommerce and WP FAQs are tailor-made and the reviews offer multiple layouts.
Another feature worth mentioning is its Status Tracking which gives a clear perspective of revenue generation and projected benefits. Sliders can be created using Display and Control options; and appointments can be scheduled using its booking calendar.
Total number of user  – 3000+ 
Pricing  – Annual Plan – $34.44/Lifetime Plan

Free
Premium
Screenshot
5. JetSmartFilters
JetSmartFilters for Elementor | Plugin Overview
Onestop for a JetSmartFilter plugin for Elementor with all the features you would probably dream of! It is a package bundled up with the latest versions and advanced functionalities to design a product filter. Gear up to mesmerize your customers with the exact requirement they have been looking for WordPress filter widgets that are fast, efficient, and equally attractive. Let's have a quick tour of the features that would make you go aww.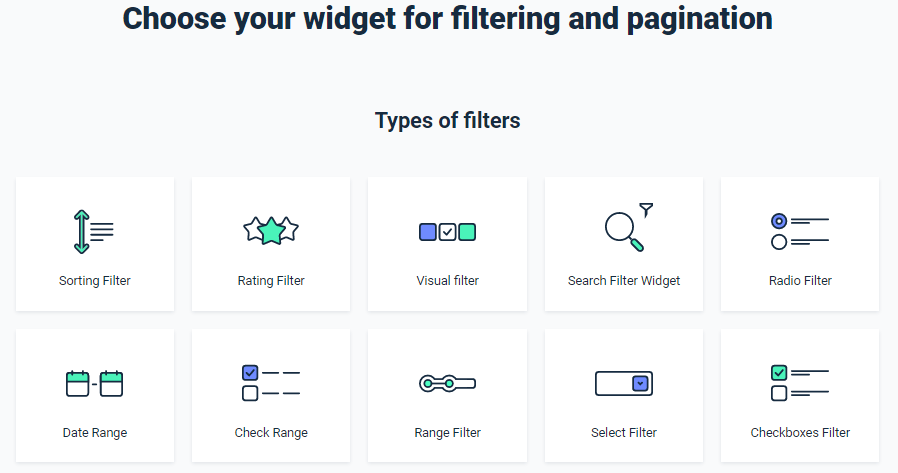 Features:
It provides a variety of filters that enrich the user experience. To name a few are the sort filters, active filters, rating filters, etc
The indexer feature provides the privilege to list only the relevant selections and avoid the unwanted ones which help the user to get exactly what they desire
Hierarchy Search would be something you would love
Users can have multiple filters due to the faceted search technique used.
There are a lot of additional widgets like the Remove filters, pagination widget and Active tags
The Elementor is a blessing in disguise provided by Crocoblock. It is not only easy to use and customizable but can be perfectly integrated with the other plugins provided with any theme of your choice.
Pricing  – Single Site – $19/year Unlimited site – 31$/year

Premium
JetSmartFilters in action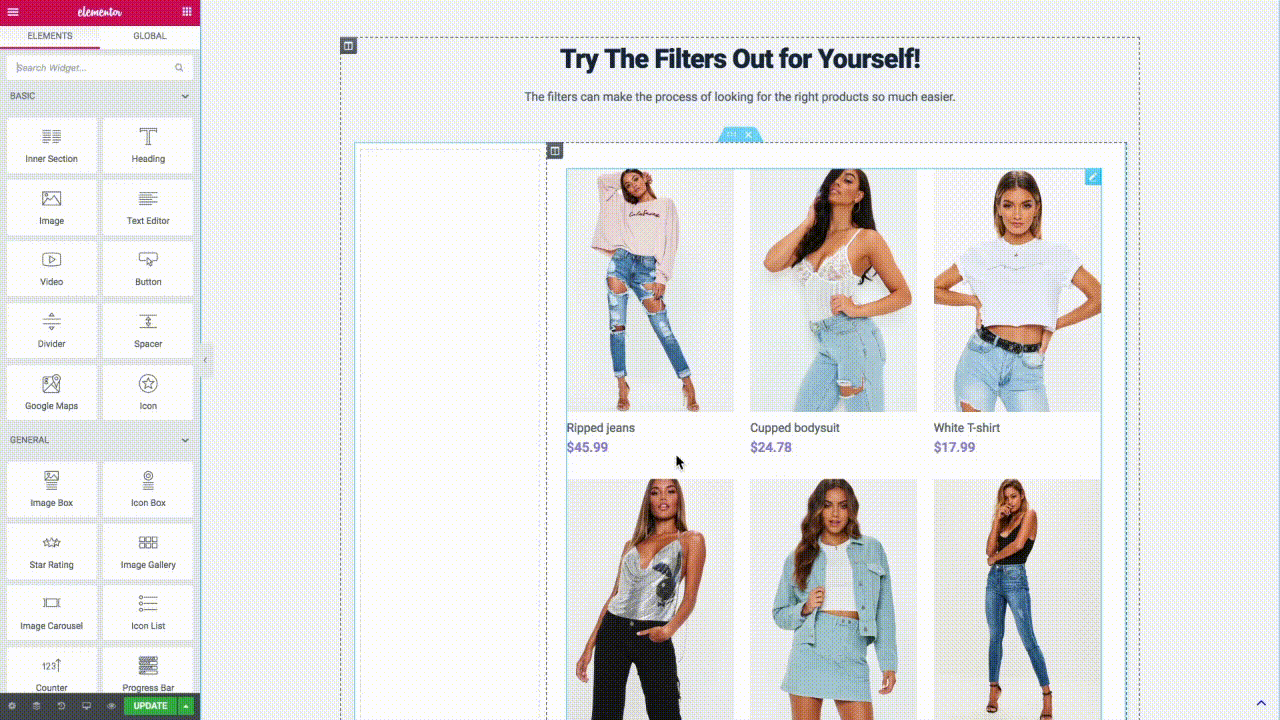 6. Product Filter for WooCommerce

WooCommerce Product Filter is a free, uncomplicated, versatile, and powerful filter for online store products. Your search gets quick and easy as the products can be filtered based on categories, attributes, custom nomenclature, and product tags. Further customization is also possible through the extension API. It also offers a range of shortcodes to help you build your product search form. Thus, a complete package for the customer and the seller to raise the conversions. It has reported over 20,000 downloads so far.
Total number of user  – 12,100+ 
Pricing  – Regular License – $29

Premium
Screenshot
7. WOOF
An extremely flexible plugin that offers advanced filtering options and immense scope for the developers for functionality enhancements. The plugin can provide delightful user experience by incorporating a number of advanced search options in the search box. Widgets, product shortcodes, Ajax search, and multiple filter display options are some of the best features of the plugin.
The premium version offers some additional features like search by SKU, image, color, taxonomy, hierarchy drop-down, and statistics. You can analyze your product's popularity by the statistical data that it gathers.
Total number of user  – 90000+ 
Pricing  – Regular License – $34, Extended License – $134

Free
Premium
WOOF - WooCommerce Products Filter plugin - all in one
8.Themify Product Filter
Themify Product Filter guides the shoppers to effortlessly find the products on your WooCommerce shop. A free WordPress plugin that gives an easy filter through online products by attributes, price range, tags, etc.
Filter combinations can also be created which offers multiple selection interfaces to the customers for a refined search result. Live search results, multiple filter combinations, drag-and-drop form builder, and vertical or horizontal layout are some of the features that are worth mentioning.
Total number of user  – 7,000+ 
Free
Premium
Screenshot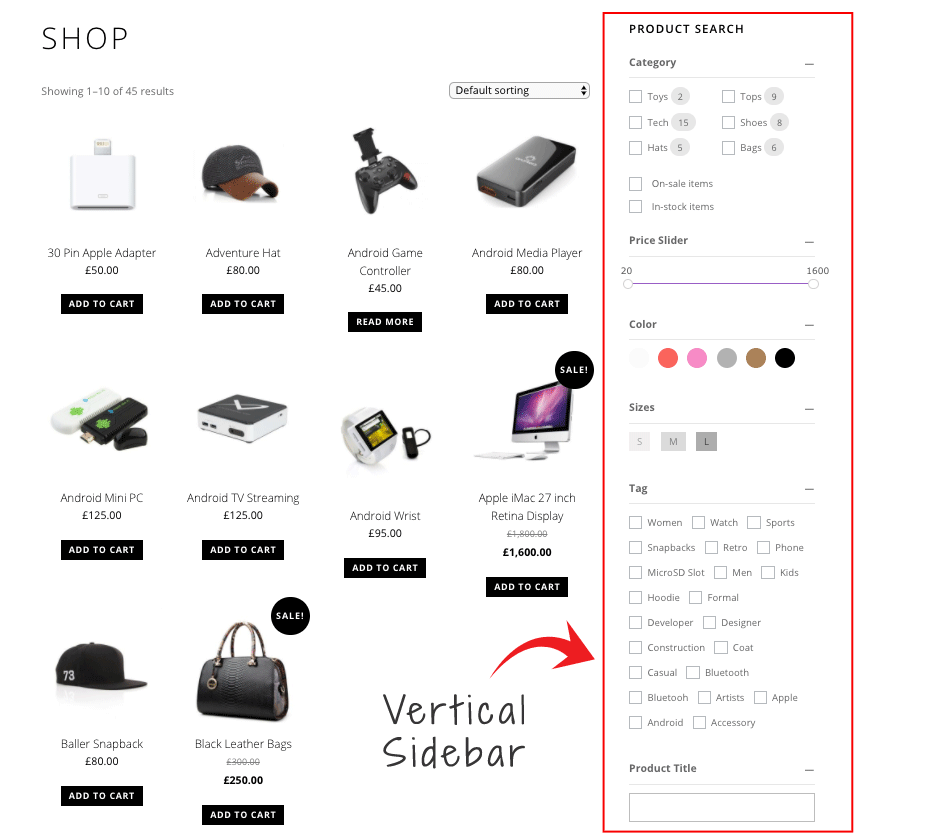 Conclusion – Still confused my friend which plugin will be a better option. No matter you want free woocommerce Product Filter Plugin or premium you can go ahead yith or woo both are good. They are trusted brand in the name of woocommerce