10 Best Woocommerce Advanced Product Labels Plugins 2023
Highlight promotional labels on your product like on sales, Free Shipping, discount labels or new product labels can be done with the help of the Advanced Product Labels Plugin. Visit Amazon or any big brand eCommerce. You will see discounts % on the product or buy one get one, free shipping, Buy 1 Get 1 Free, Cyber Monday, Black Friday, in stock, Bestseller, out of stock etc., badges on the product, which attract their customer attention and boost sales.

WooCommerce Advanced Product Labels is an essential tool that boosts conversion rapidly and graphic badges on products. Highlight new products, features, and offers while inserting beautiful labels on such products. Attract your visitors by displaying products with attractive product labels that provide them to buy instantly. Increase conversions and revenue by strategically presenting your products on an eCommerce website where you find buyers effortlessly.
Your online store contains thousands of varieties of products, and thus not possible to create and add labels manually one by one. To ease the functionality of product labels, WooCommerce provides a range of extensions where anyone can easily create numerous Product Labels in minutes. Such extensions let you style your product labels however you want to show them on your website. Design eye-capturing product labels with various customizing options where you can configure the colour, texture, position, border radius, text, and more. Enable or disable such product labels anytime, according to the necessity of your online store.
Product Labels Drive More Visitors and Conversions –
Create unlimited product labels of different categories like Custom CSS and simple product labels.
Configure the automatic or manual display of product labels as per products' necessity.
Display dynamic discounts and savings amounts on product labels that push your visitors to grab the opportunity as soon as possible.
Select and target the audience to display product labels, only those defined for user roles.
Assign product labels to specific products based on new, featured, out of stock, low stock, and many more.
Schedule every product label while considering the duration for which such labels will display on the product.
Display product labels for shipping variants, including free shipping, express, or low-cost shipping.
Create and assign product labels for product variations and specific categories.
Let's have the list of Top Woocommerce Advanced Product Labels Plugins as follows.
1. WooCommerce Advanced Product Labels

WooCommerce Advanced Product Labels allows you to display custom labels for products on your own that help advertises them well. Define exclusive offers and discounts while using customized labels for available products on the website. Grab your audience's attention and let them buy products easily through personalized labels. Insert such labels into products easily, either one by one or entire products at once, with a small configuration process. Advertise free shipping or any other offers more conveniently. It is a powerful custom product labels plugin that contains an easy-to-use interface that assists you in applying appropriate labels wherever required.
Reasons to Select Advanced Product Labels –
Let you add different customized labels to the products that can efficiently be designed through available extension templates.
The category of labels defines so well that it enables you to add various labels such as global, single, and smart labels, respectively.
Global labels let you spot the label on targeted products entirely just through one click.
Single labels allow you to apply labels on products by editing any particular screen.
Smart labels enable you to offer to edit the part of labels to insert offers thereon.
Alignments and colour customizations are available that assist in creating eye-catching labels.
Price – 1 Site – $49/annually
Screenshot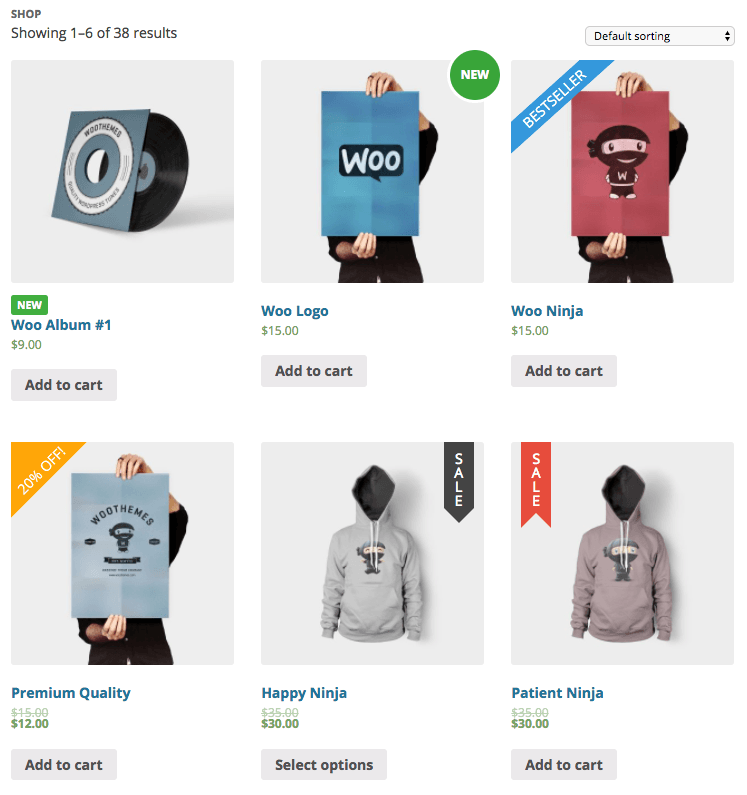 2. YITH WooCommerce Badge Management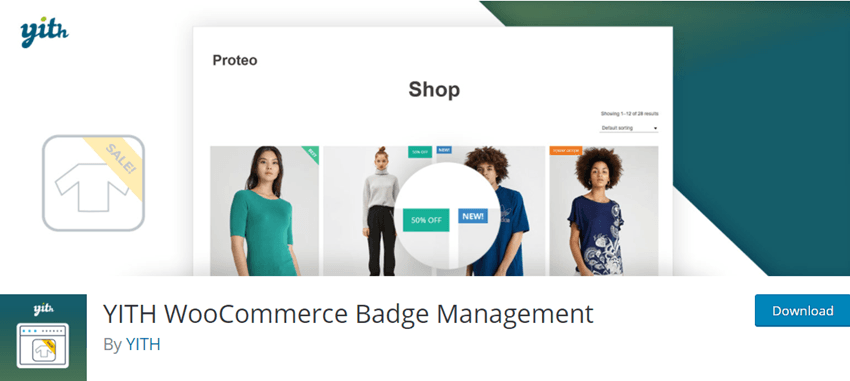 YITH WooCommerce Badge Management is a freemium WooCommerce Advanced Product Labels plugin to increase the conversion for your site by highlighting your product with the help of a badge and the offers related to those products. In addition, you can create advanced badges with the plugin.
Features:
Each product category can be assigned a badge.
Products in specialized categories such as new releases, on sale, and features can also be assigned with badges.
The badges can be easily customized. For example, you can manage these badges' colour, text, and position.
The badging process can also be automated.
You can get the filter option for product archives and badges. Besides, an extension of the native UI  in a single badge page is also possible thru the front-end feature.
Extension for badge shortcodes can be done for the single product page and product catalogue.
You can also set the badge in 20 different positions and choose the tooltip animation feature.
Badge image types can be easily personalized and applied.
The plugin offers multiple badge types for multiple purposes,
Freemium Version
Total number of users – 20,000+
Price – 1 Site – $69.99/annually
Screenshot

3. Berocket Advanced Product Labels for WooCommerce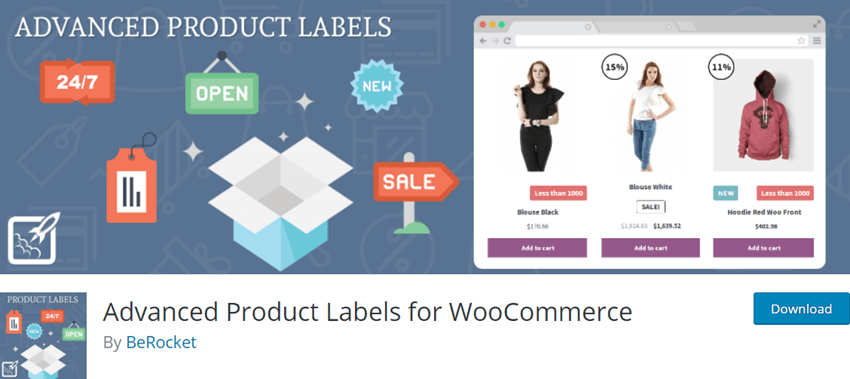 Advanced Product Labels for WooCommerce is a most customizable WooCommerce Badge Management plugin presentation from BeRocket that helps you create badges with utmost ease and in no time. It is integrated with essential features to create labels to grab the audience's attention to your WooCommerce products. Availing of various offers while making them visible through attractive product labels will ultimately increase your sales. A complete extension for creating labels that promote the sales of products widely. It contains an easy-to-use interface that lets you display shipping offers, discounts, and any other just in a few clicks. Apply such product labels either separately or selectively. Although, You get access to customize the labels easily, like modifying the colour, text, and style. It enables you to target the product labels by category, name, sale and stock status, price, and bestsellers positions and then add labels either automate the system or by manual configuration.
Key Features –
Flexible Customization – This allows you to customize the product labels while editing the text and typography of labels, such as background colours and text style, and align the same to enhance the display.
Labels Accessibility – Create various labels for any particular product if necessary and promote it widely to the audience. It also enables to access of single labels for a variety of products.
Templates – Get an exclusive range of templates, likely 14 image templates, 12 advanced templates, and 30 CSS templates, while you have access to the pro version of this extension.
Total number of users – 20,000+
Price – 1 Site – $34/annually,  3 Site – $54/annually,  5 Site – $84/annually,  10 Site – $129/annually
WooCommerce Advanced Products Labels
Screenshot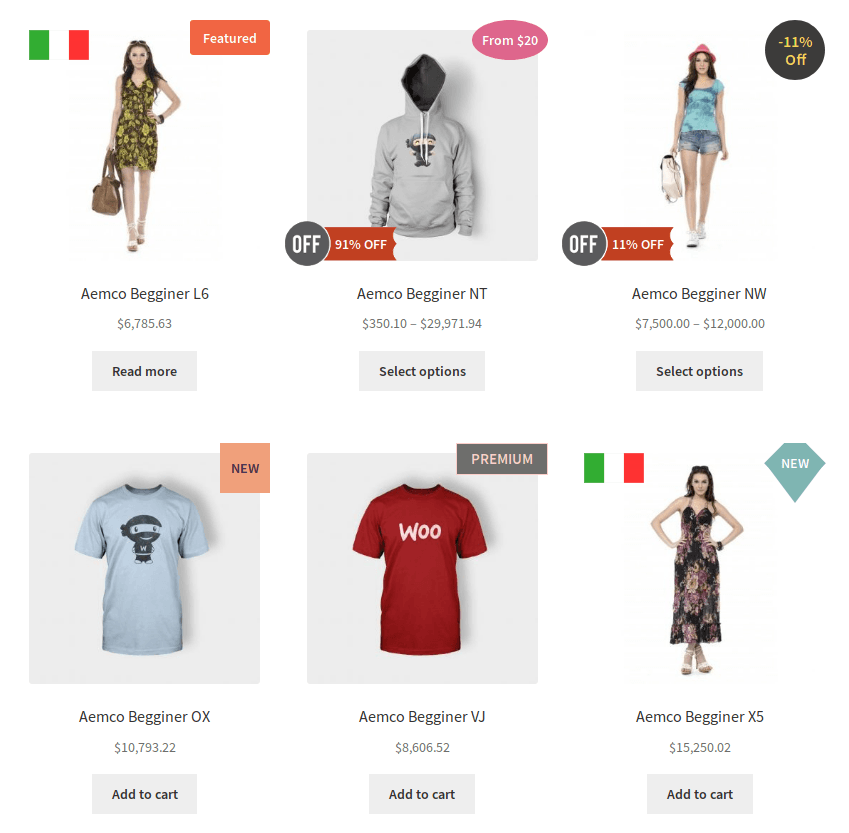 4. MWB WooCommerce Product Badge Manager

MWB WooCommerce Product Badge Manager is a fantastic easy to use Product Labels plugin to boost sales for specific products by highlighting them with badges. When it comes to highlighting just a few products of the store in the whole lot, you can also use the custom badge of WooCommerce product badges. You can now create unlimited badges and assign them to your WooCommerce product store with the WooCommerce Product Badge Manager, an intuitive release from WooCommerce.
Features:
The shop visitors can be well informed about special offers such as free shipping, half-price sale, or any other deal with badges.
Badges can be assigned to a specific set of products based on conditions and rules.
The plugin offers a percentage discount option that auto-calculates the discount amount.
You can apply the pre-defined conditions such as bestsellers, 50% off, buy one get one, free shipping, Buy 1 Get 1 Free, Black Friday, out of stock, in stock and sale price or manually manage the badging process.
Badges can be created based on sale, time, bestsellers etc.
The plugin is WPML compatible and allows you to translate the badges.
The badge widget enables easy management of the chosen badges by compiling them on the same page.
You can also use multiple badges on a standard page for a single product.
Price – 1 Site – $29/annually,  5 Site – $119/annually,  25 Site – $239/annually
Screenshot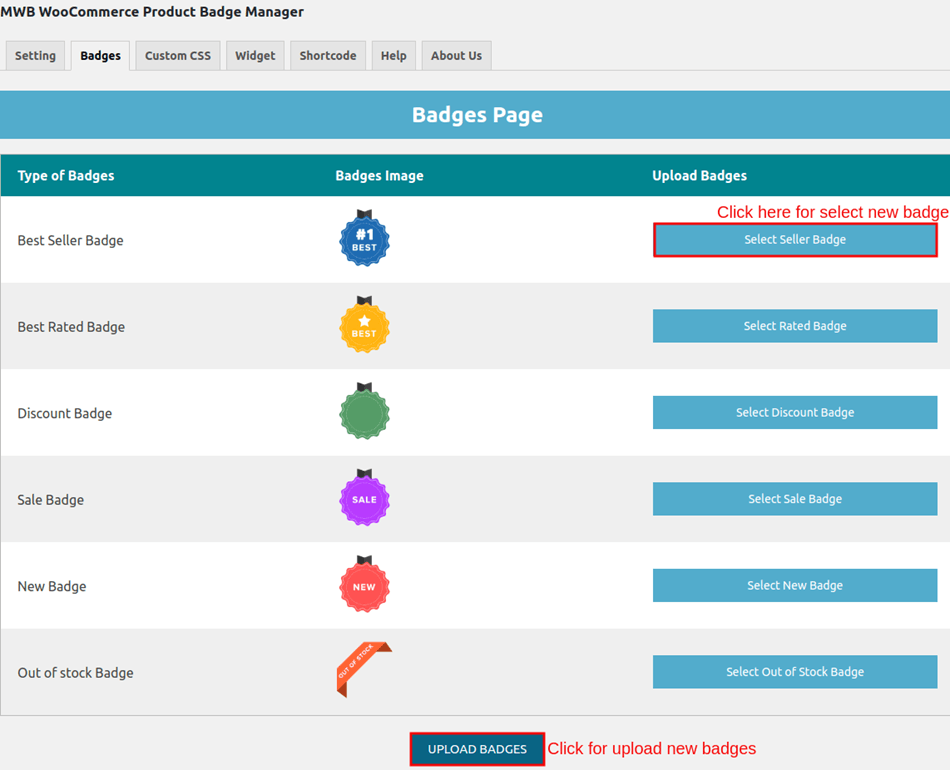 5. Advanced Woo Labels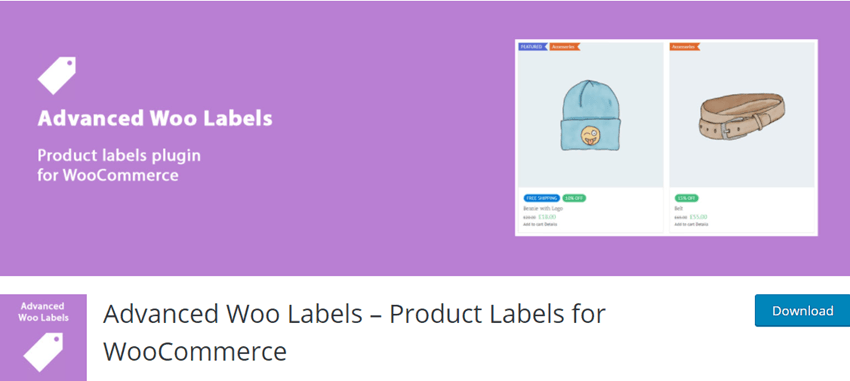 Advanced Woo Labels is a responsive Product Labels plugin for product labels that lets you promote the product nicely while introducing amazing offers. Assists you in inserting creative labels into the WooCommerce Products that grab the audience's attention of whoever visits your website. Accumulate your customers by displaying a variety of discounts, ratings, sale status, shipping offers, and more through labels that adjust within a few clicks. Generate unlimited labels for a particular product of Wooommerce if required. Flexibility to customize the labels as the necessity of available products on the website.
Elementary Features –
Align and Adjust – Create labels and display them well through appropriate alignment and adust the same in different positions on the product's image or before the title, whichever looks good.
Custom Text – Let you customize the text required to display the availability of the product's offers. It also enables you to select the shapes for text labels and customization options to give a unique look.
Labels Configuration allows selecting the label quantity for any particular product and configuring the default settings to adjust alignment, positions, and priority.
Premium Features – Access to more advanced features while going to the premium version, like image labels, emojis accessibility, etc.
Total number of users – 3,000+
Screenshot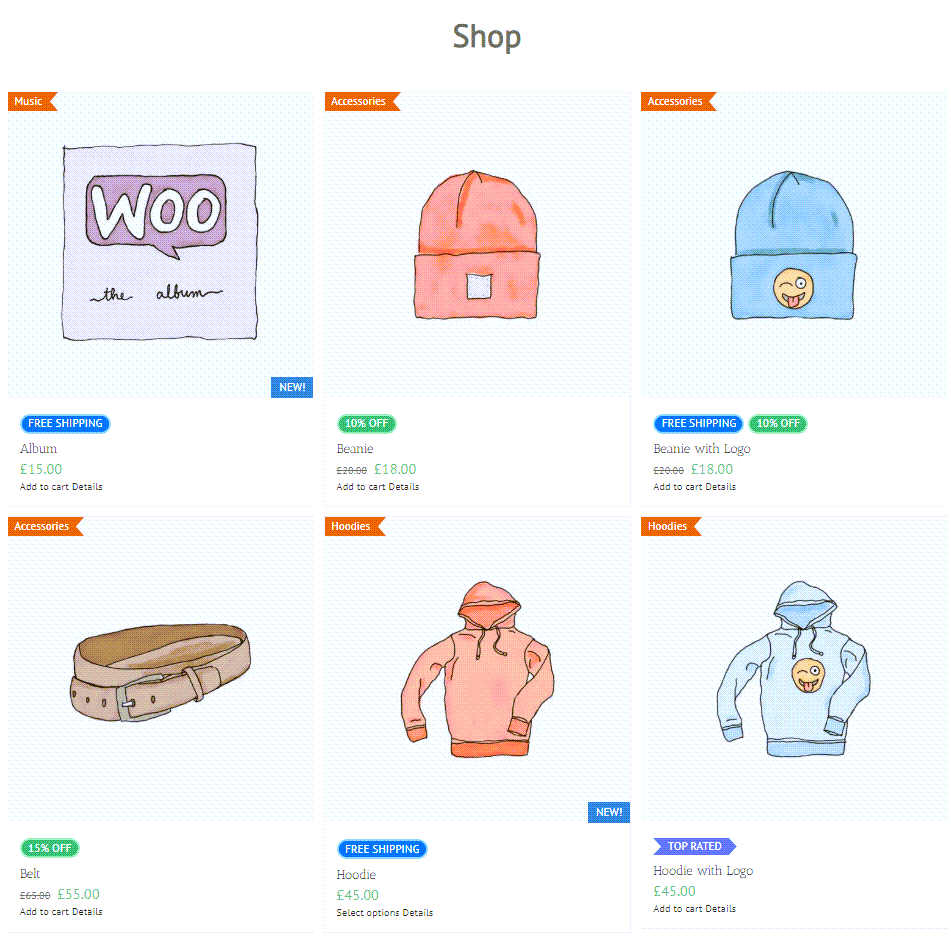 6. Product Labels For WooCommerce

If you are looking for many customization options for your badges, an ideal tool for you will be Badge Management for WooCommerce.
Features:
Nine pre-designed badge options are available with this plugin.
Both Text badges and Image Badges can be created.
Badge position and dimension can be easily customized.
You can also customize the text options such as colour, font, font size and line height.
The display of a sale badge can be easily controlled. At any point in time, you can display or hide them.
Condition-based label for products such as product category, bestsellers, stock status, total sales count etc.
The product can be assigned custom notice labels.
Customizing option for each label based on position, background colour, text colour, text etc.
You can assign multiple labels for a single product.
Free and Paid versions are available.
Total number of users – 200+
Screenshot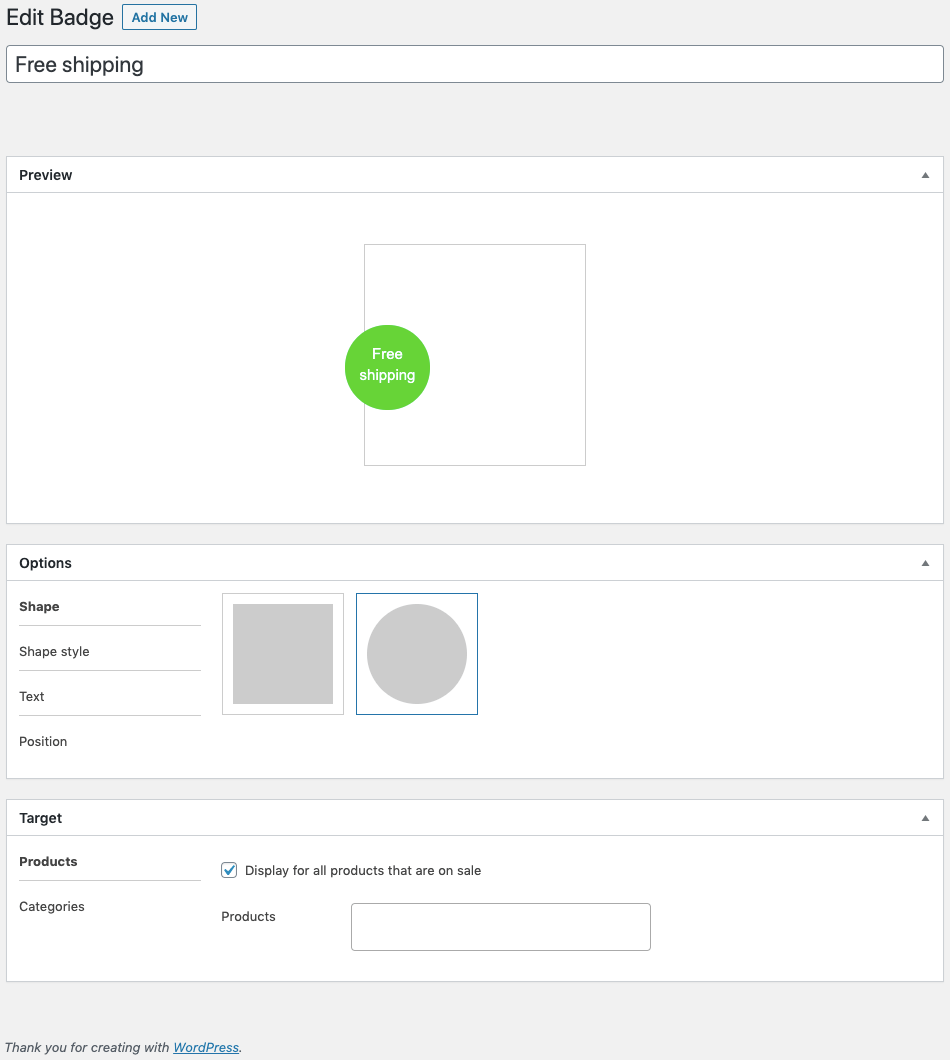 7. Improved Sale Badges for WooCommerce

Create special graphic badges for WooCommerce products that grasp visitors' attention on the e-store while utilizing the Improved Sale Badges for WooCommerce. A well-diverse custom product labels plugin for woocommerce lets you insert badges to the image of products to provide offers availability. Just configure the entire setup easily for displaying different badges according to the season, collection, and present circumstances. Promise your audience to give a variety of offers on products according to the season and collection. Hence they awaited to gain advantages of such requests and ultimately increase the revenue of your online store. Design the sale badges with custom alternatives and let them automatically put into the products with incredible discounts while installing this WooCommerce extension.
Reasons to Select Improved Sale Badges –             
It enables you to quickly modify the available presets and personalize them to your requirements.
Display discount options available in percentages that assure your customers save money while purchasing from your online store.
Override the badge when you create one for any product and utilize such badges for display offers based on category.
Work flawlessly with different templates and themes, as it allows for the manual insertion of badges anywhere.
Price – 1 Site – $24/Lifetime
Screenshot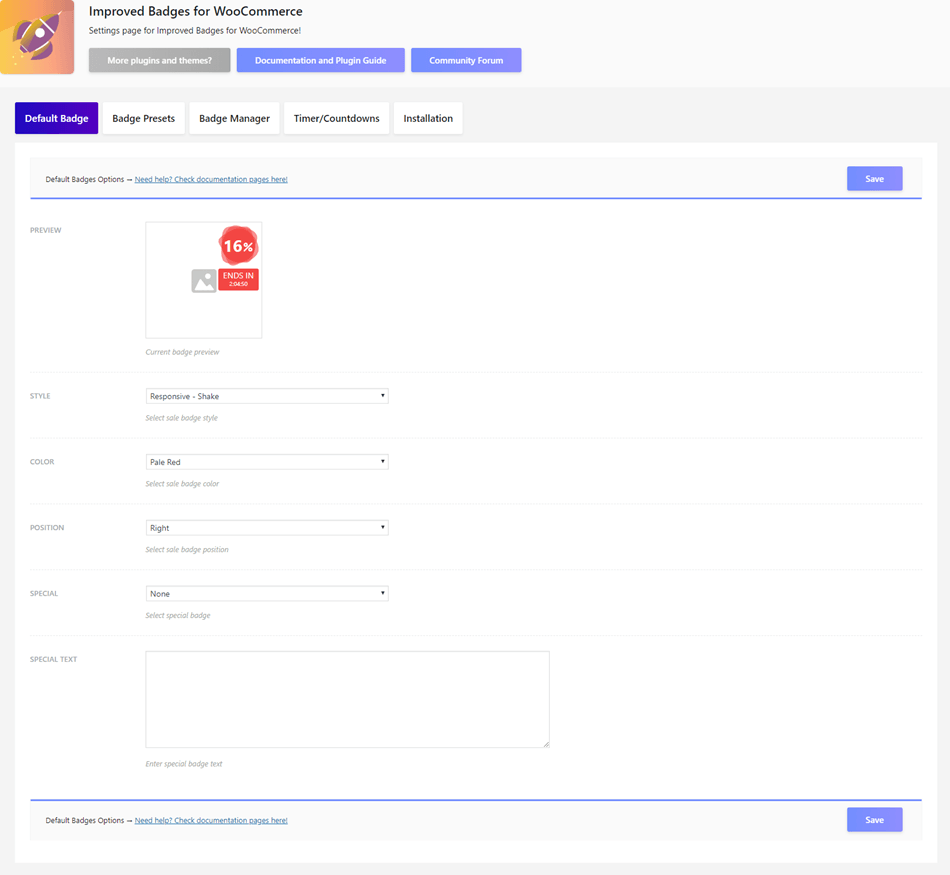 8. WooCommerce Product Badge Manager

WooCommerce Product Badge Manager assists you in managing the insertion of offers into the products available on the website through automated functionality. Although Product Badge Manager is an SEO-friendly WooCommerce Badge Manager Plugin, you can create customized badges and apply them to the products accordingly. Based on category, time, sale, and stock, categorize your WooCommerce products finely to apply wherever necessary. As this extension installation process is too easy, anyone can access it without specific coding knowledge. Let you create multiple badges for the same products while utilizing the available templates within minutes. Allows showcasing the badges on destined places such as product catalogues and particular product pages.
Essential Features –
Flexible Positioning – Place the badges anywhere, as there are 15+ positions available where you can shift the badges on the product to display the offers. Floating badges can be placed on the top of the product image.
Dashboard Accessibility – A well-organized dashboard is available whereby you keep yourself updated with recent notifications of every activity.
Exclude Badge – Remove the badge from the product once the offer validation is offered without any complexities.
Badge Access – Assign the badges wherever necessary and oversee the live changes. Access the badge while going through the product archive and filtering.
Price – 1 Site – $25/Lifetime
Screenshot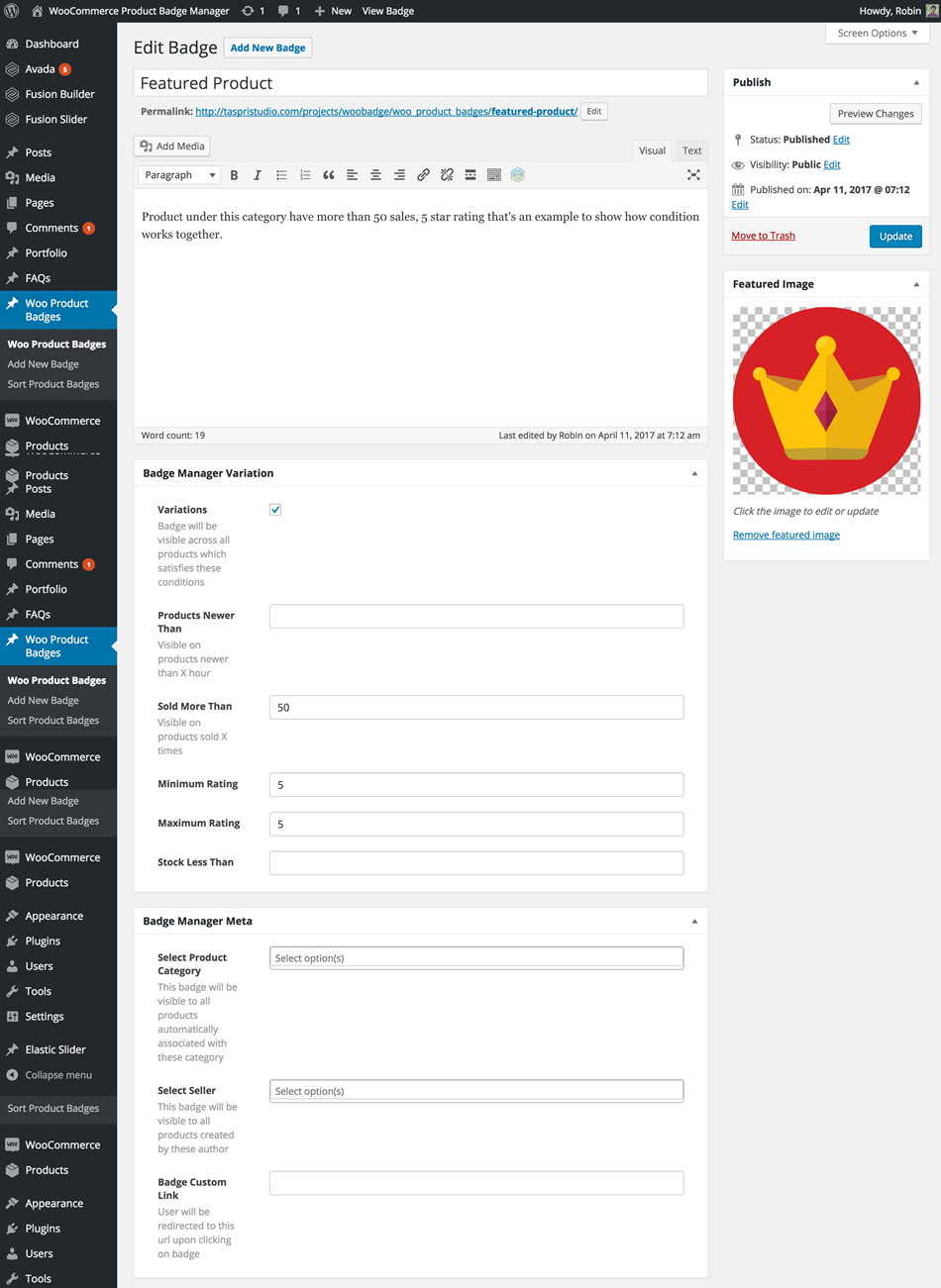 9. WordPress WooCommerce Badge Manager Plugin

WordPress WooCommerce Badge Manager Plugin is an advanced product label plugin for WordPress that helps you create badges on single, multiple, and category wise products on your WooCommerce shopping page.
Features
The badge manager can create new badges.
The admin can customize the badge image's margin, text and colour.
You're also allowed to set new product badges for new products.
You can also enable or disable the WooCommerce badge manager.
Admins can also set badges to multiple categories & tags simultaneously.
You can also edit or delete badges.
Admin can also customize the badge image width and height or rotate the badge image.
You can also set the limit of days for a new product badge
Price – 1 Site – $29/Lifetime
Screenshot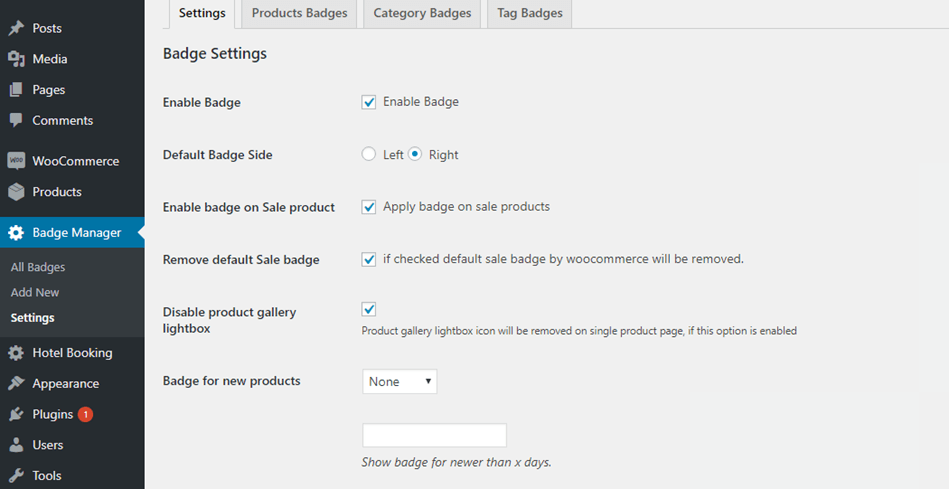 10. Acowebs Product Labels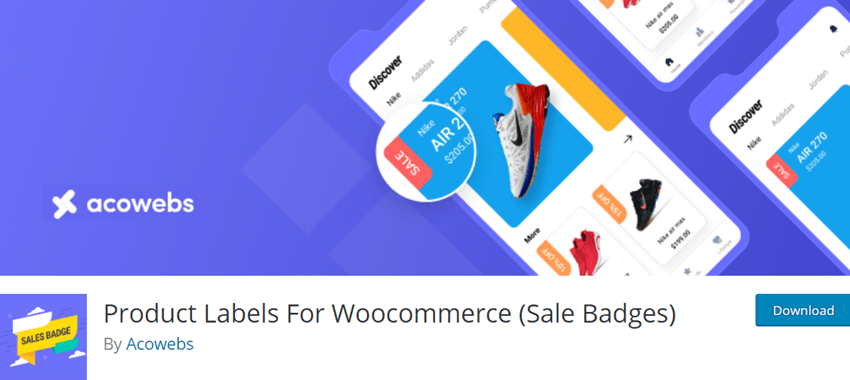 Product Labels For Woocommerce by Acowebs is free Product Labels plugin that helps you easily to create and manage the WooCommerce product badges and product labels. It allows you to add product labels to the selected product or categories. The sale badge manager plugin is user-friendly, i.e., it is easy to set up and use.
Features
The plugin has a simple user interface, i.e., it is easy to use.
You can also show or hide the badges.
You are also allowed to set expiry dates and times on badges.
It also allows you to check the live preview of the badges so that you can style them according to your choice.
You can also customize the badge colour, line height, font size, opacity, width, etc.
You can set "on-sale" badges on products.
It also allows you to choose from the default badge styles.
Total number of users – 2,000+
WooCommerce Product Labels
Screenshot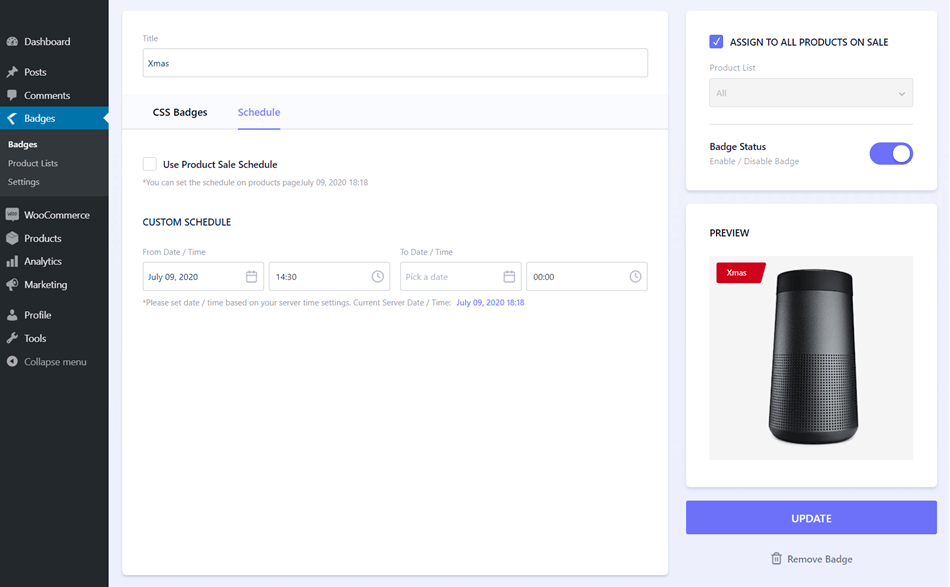 You might be interested in Wallet Plugins, Return Refund and Exchange Plugins, and custom Thank You Page plugins.