5 Best Return Refund and Exchange Plugins For WooCommerce 2023
Boost your website trust,  customer satisfaction and retention by allowing them an option for Return, Refund and Exchange for any unsatisfied product they purchased through your website customer dashboard. These refunds could be in terms of payment to the original method or transfer to the wallet of your eCommerce store as store credit. You can allow them to exchange the product with the new product. Efficiently manage pickup and replacement date and time from the WooCommerce My Account dashboard. You can also enable customers to collect a partial refund in case you want to avoid a full return and refund of the product.

An eCommerce website sells hundreds or thousands of products daily; therefore, some products must get returned or cancelled for any sake among such products. Thus, you need to refund the amount shortly to relevant customers for a reliable connection. And for this, you need an eligible WooCommerce refund processor plugin for your online store.
Boost your sales and conversion by providing a secure refund for return and cancelled orders. Keep your refund process as simple as you can, it will be the key to winning the trust of your customers. Once they access easy refund on your shop, they feel secure to continue shopping thereon. That's an efficient refund WooCommerce plugin is the must-have tool for any eCommerce website.
Streamline a practical refund functionality on your online shop. Enhance your user experience by processing instant refunds however they request. A WooCommerce refund plugin lets you establish a refund process and manage the same on its own as you have configured it. It contains an intuitive interface that enables you to configure request refund terms and conditions according to your necessity.
The necessity for WooCommerce Return Refund and Exchange System –
Configure refund methods and integrate various payment gateways that ease the instant refund process.
Allow your customer to return or cancel the products they ordered in your store by offering a refund alternative.
Select a product that is eligible to process a refund.
Select the limited duration for requesting a refund.
Enable partial refund or whole.
Access refunds to a bank account or original payment sources your customer uses.
Offer your customer to get a refund as store credit that becomes redeemable on future shopping.
Connect and establish communication via email to notify your customer about the status of their requested refund.
Instant refunds can be processed if the store owner wishes and the payment gateway supports it.
Refund requests can be submitted thru My Accounts for quick processing.
Refunds can be processed in cash or credits.
Let's have the list of top Return Refund and Exchange Plugins For WooCommerce as follows.
1. WooCommerce Smart Refunder

WooCommerce Smart Refunder is a powerful plugin to manage Return refunds and exchanges for eCommerce websites to establish reliable refund functionality in your online shop. When anyone purchases products online, there is a chance of returning an order for any reason. In such cases, you need to process a refund to your customer in alternative ways. Keep your refund process fast and straightforward to eliminate conflict. Allow your customer to request a refund from the page of My Account.
Core Features –
Automate the refund process, i.e. fast and straightforward access.
Establish an instant refund system with a compatible payment gateway.
Enable store owners to see the refund request and process it manually in the case of unavailable instant refunds.
Available the option for issuing refunds either in cash or store credits.
Let your customer review the order and price details when requesting a refund.
Allow customers to access partial or full refunds as per request.
The admin can choose auto and manual payment methods to process the refund.
Refund requests can be accepted both automatically or manually.
Store Owners can see the refund requests in WooCommerce and opt for manual processing if an instant method is unavailable.
Both complete and partial refunds can be processed.
Price – Regular License – $79/annually (1 Site)
Screenshot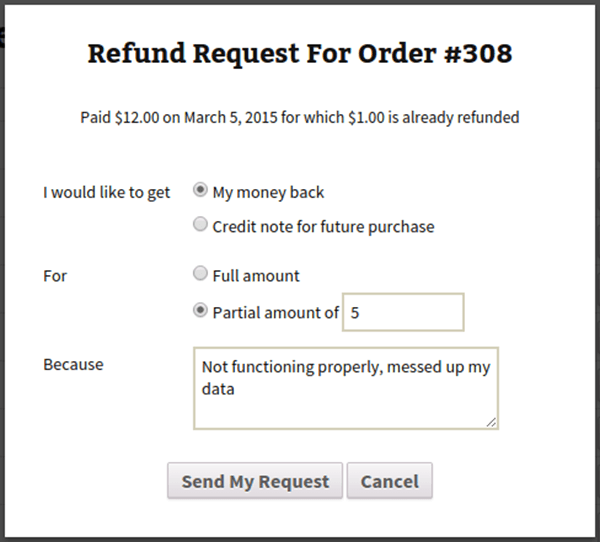 2. YITH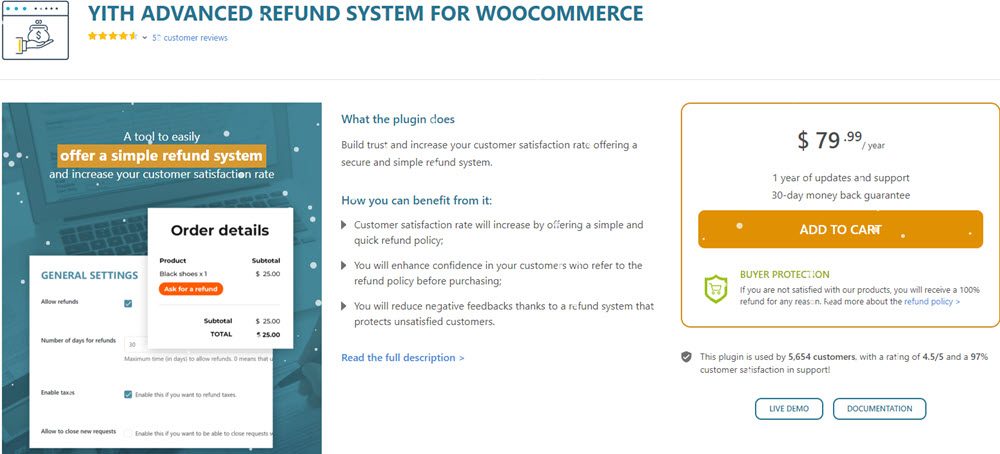 YITH Advanced Refund System for WooCommerce is a  paid return and refund plugin for WooCommerce for creating a fast and secure refund process. Keep the refund policy reliable and straightforward for your customer. Satisfy customers by processing instant refunds whenever they cancel or return any order. Minimize negative reviews for inconvenient refunds. Grow your revenue by winning your customer's trust with a convenient refund within less time. Let them return to your store and feel safe to continue shopping on your online store.
Elementary Features –
Enable customers to request for refund for orders placed before.
Configure refund methods manually or automatically processed by the customer's original payment gateway.
Eligible refund for configured product quantity however you desire.
Set the duration in which your customer request for refund.
Configure the minimum amount of order total for request refund is eligible.
Ask the reason for the refund request.
Reject or confirm refund requests in just one click and send email notifications to users.
YITH Advanced Refund System for WooCommerce limits the days customers can demand a refund.
Customers can seek refunds on multiple as well as single products.
Price – Regular License – $79.99/annually (1 Site)
Screenshot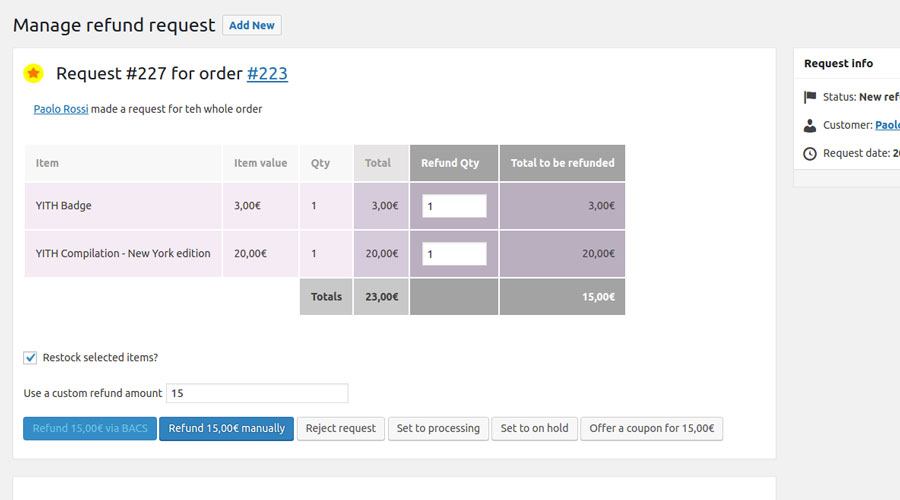 3. Return Refund & Exchange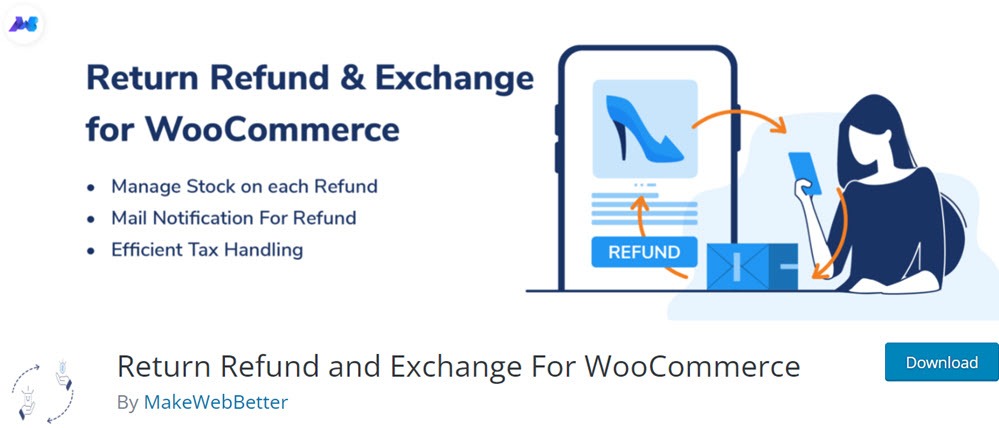 WooCommerce Refund and Exchange Lite claim to be one of the most organized Return Refund & Exchange plugins For WooCommerce that is equipped with wallet, exchange and cancellation features. Hence, an ultimate time-saver. In addition, the returns and Warranty Management System facilitates Requesting refunds by the customers straight from their user account.
Features:
Customers get the facility to claim a full or partial refund and a justification statement.
Customers can demand product images, and this plugin can track returned products.
A facility for automated email notifications is also available.
A dedicated mailing system to bring synchronization to the entire process.
The facility of Product return after delivery.
A warranty's terms and conditions can be set along with its expiration date.
Sets a time within which the customer can claim refunds.
Refunds can be done both partially or entirely.
It also allows you to offer coupons instead of refunds.
Tax is being taken care of too.
Freemium Version
Total number of users – 3,000+
Price – Pro – $9/annually (1 Site), Premium – $99/annually (Unlimited)
Return Refund and Exchange For WooCommerce || Tutorial || 2022
Screenshot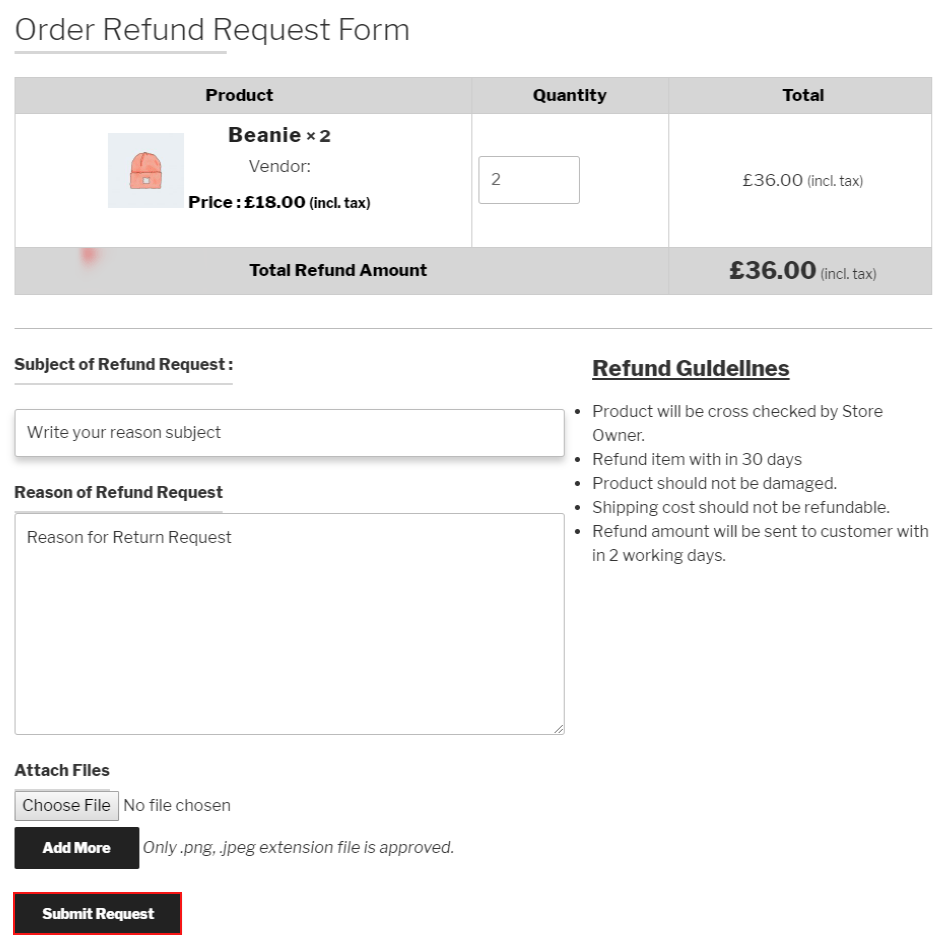 4. Return and Warranty Management (Recommended Plugin)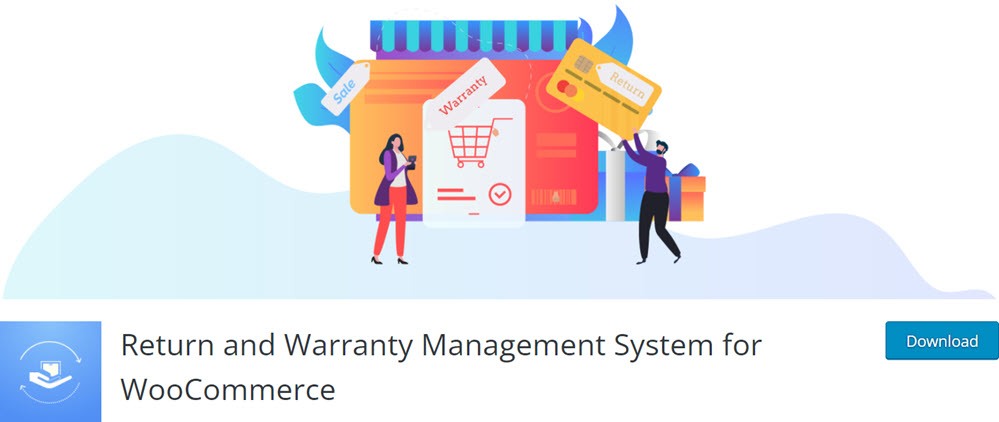 WooCommerce Returns and Warranty Management is a well-versed and easy-to-use Return and Warranty Management plugin with an intuitive interface that swiftly manages refunds. Allow your customers to return or cancel the product they ordered from your online store. And after that, initiate refunds shortly as per request. Integrated appropriate payment gateways whereby your refund request is processed instantly. Let your customer select the refund payout method or refund as a source you received payment. Streamline convenient and reliable refund processing while installing this extension.
Elementary Features –
Ask your customer where they want to receive refund amounts: store credit, bank account, or other payment gateways.
Notify your customers of accepted, initiated, and processed refund requests via email.
Enable manual acceptance of refund requests by assigned admins.
Configure eligibility for a refund on the different products within a limited duration.
Enable admin to process refunds securely within the selected source instantly.
The plugin helps to generate store credit coupons and sets their expiration date.
Products get automatically restocked once the refund is processed.
A standard interface allows you to manage RMA, warranty, and returns. In addition, RMA can be customized and formatted.
Total number of users – 3,000+
Price – Pro – $9/annually (1 Site), Premium – $99/annually (Unlimited)
WooCommerce Return and Warranty Management Pro | WPEasySoft | WordPress Plugin
Screenshot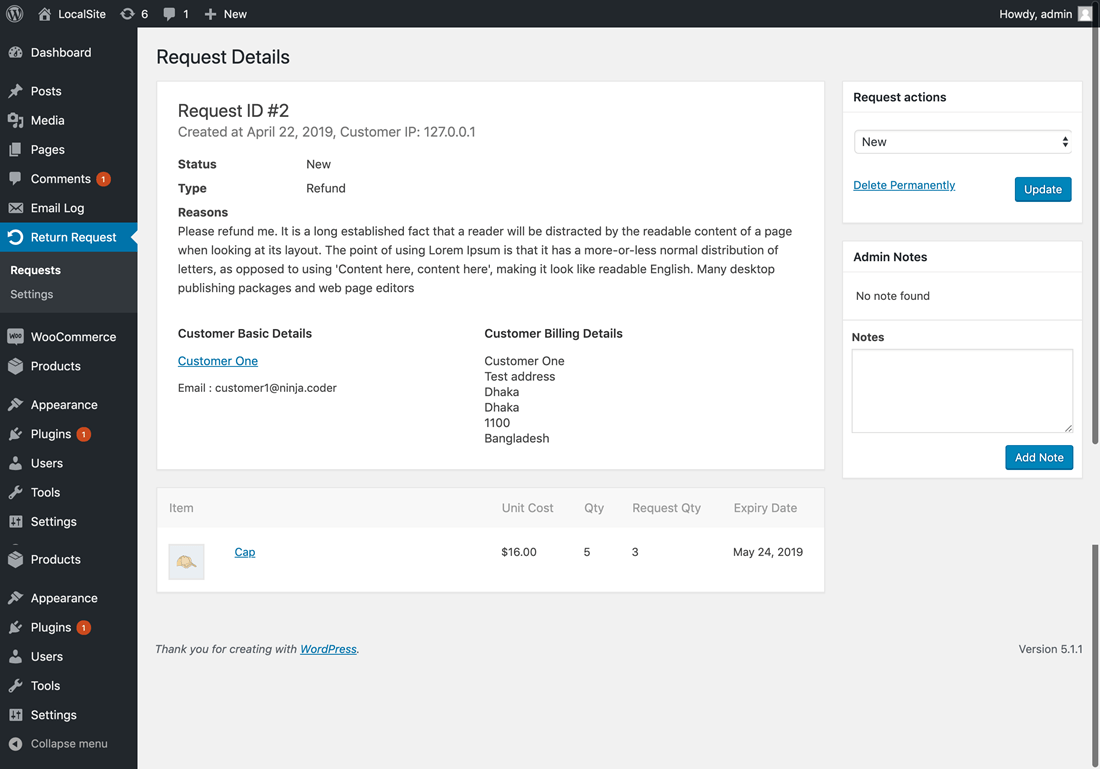 5. WooCommerce Refund And Exchange

The full-featured WooCommerce Return and Warranty management plugin allow customers to maintain a digital wallet that can be used while making any purchase. Thru various payment methods, they can add money to their wallet. With this amazing plugin, you can process refunds in the form of store credits. Customers can use these store credits to make single or multiple purchases equivalent to the number of credits.
Features:
The wallet system operates like any other usual payment method.
The admin can process cashback as per the product, category, or cart price.
Customers can demand refunds in their wallets.
Provision to send notification emails to the customers on every transaction.
The admin can manage the wallet amount for each customer from the back end.
Support for WooCommerce Subscriptions.
In case of any issue with your product or service, store credit coupons can be offered to the customers as a compensation.
You can set rules on using these coupons, individually or with other coupons.
The coupons/vouchers can be delivered to the customers via email.
Price – Regular License – $59/annually (1 Site)
Screenshot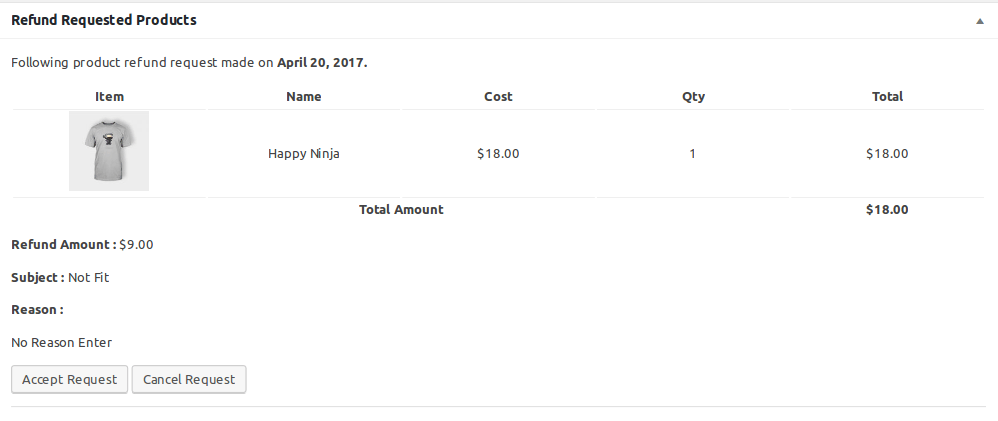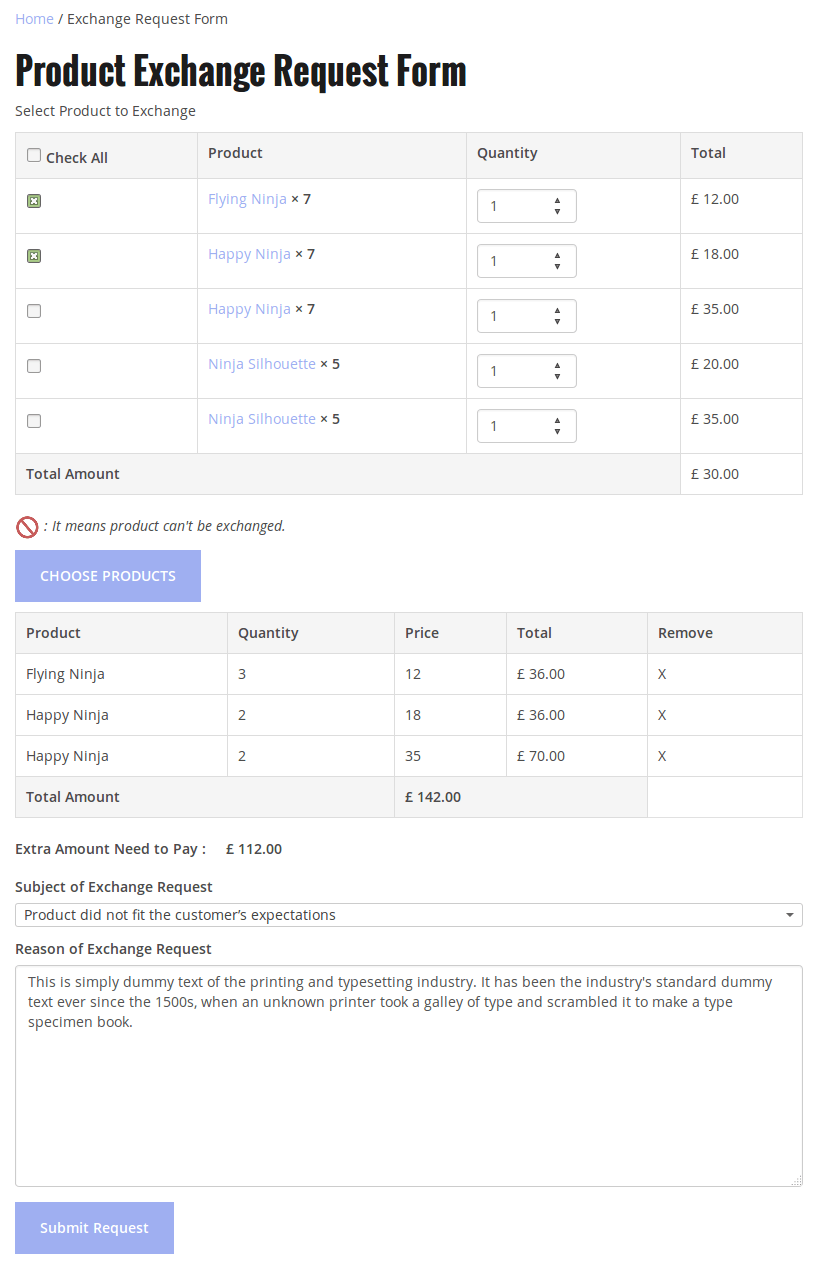 You might be interested in Custom Thank You, Page, For WooCommerce, Email Customizer Plugins and, WooCommerce Coupon, Discount Plugins.