How to Create Buy One Get One Free offer in WooCommerce (
Bogo deal
)
Planning to create Buy One Get One Free offer on your online shopping woocommerce website. Bogo deals are the best way to increase your website sales.
All individuals get attracted to the word, "free." So here we will learn about Learn how to set up the very popular "buy one, get one free" or BOGO discount coupon on your WooCommerce shopping store, and get immediate attention from your customers.

BOGO is short for "Buy One, Get One." A pricing deal that sellers offer to customers who get a good deal by getting something extra, for free or cheap. The store, on the other hand, also makes a good profit over the total quantity of the deal.
Buy one get one free offer also help store owners move inventories. So if there's a lot of stock that you want to clear out and make space for new, this type of promotion is a very good option.
Table Of Content
You may also be interested in USPS shipping plugin, email marketing service, and abandoned cart plugins
Making A WooCommerce BOGO deal with Advanced Coupons Plugin
Advanced Coupons plugin is one of the best WordPress coupon code plugins for WooCommerce that has the most advanced features.
Also, there is the Loyalty Program feature, which rewards the customers with loyalty program points that they can later use for coupons.
Using the Scheduling feature, you can send out coupons at specific intervals and include an accompanying message, too.
Types of BOGO Coupon You can Make with Advanced Coupons
Adding BOGO Coupons on your WooCommerce website is a common way to promote sales volume and profits. And Advanced Coupons, the extension plugin, lets you do it conveniently and hassle-free on your WordPress site.
Also, Advanced Coupons lets you implement it in any of the three ways. As per your preference and business model. This means by using this plugin allows you to create total 3 kinds of Buy One Get One Free offer on WooCommerce sites
BOGO with a single product, or Buy A and Get A
BOGO with a category or categories of the product, such as Buy Any 1 From Category A, Get 1 From Category A
BOGO within a group of products where the customer can choose, Buy A, B, C — Z …, Get A, B, C — Z
Related Terms of Trigger, Apply & BOGO Notifications
Trigger
A trigger simply means under what conditions will a customer get this deal. For instance, they may need to put a certain brand of the shirt in their cart and it causes a BOGO deal to become active.
Or the deal may get triggered when there are specific products in the cart.
Or it gets triggered on any combination of a list of products.
All this you have to specify exactly into the system.

Apply
Apply is what would the clients of your WooCommerce store get once the Trigger part if the deal has been applied by them.
It may be a specific product they'll get at the quantity as mentioned by you into the system. And as the customer triggers the deal by adding the specific product to the cart, the price of the item will automatically get adjusted by the system.
Similarly for all types of BOGO deals.

BOGO Notifications
This simply tells the customer what to do next once they have triggered a BOGO deal but the application part is still pending.
This message, as both Trigger & Apply parts above, is to be customized by you. So you can make it clear to the customer to not miss redeeming their BOGO deal. It just serves as a guidebook for the customer on what to do next. Of course, your system, or you, are not authorized to take these steps automatically.

How To Make A Buy One Get One Free offer in WooCommerce (BOGO deals)
By following the below procedure, you can easily add a BOGO deal to your WordPress site within a few minutes.

Step 1 – Installation
Download install and activate  free Advanced Coupons plugins 
Step 2 – Set the Trigger Type
Go to the BOGO tab on your coupon and select which type of BOGO campaign you want to run on your store.
Select the
Specific Product

#Type1

Any combination of Products

#Type2
Product Category  #Type3
Step 3 – Set the Apply Type
Next choose the Specific Product, etc., from the drop-down of the Apply Type, to satisfy the deal. And add that product to the cart.
Now here we will divide our coupons apply based on their selected trigger type
Type 1 – Specific Product
Now we will select the specific product from the application type section. This trigger type means you need to select a product on which you want to give them buy one and get one from the same product
How To Make A BOGO Deal With A Specific Product In WooCommerce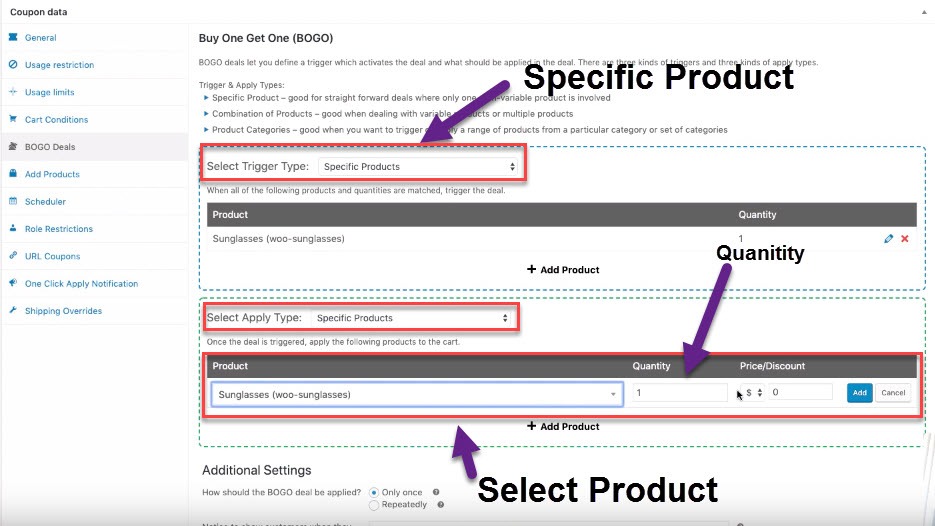 Type 2 – Any combination of Products
In this set of the alert type, you need to select the product combination on which you want to give BOGO deal to your customer. So the exact product on which deal will get triggered i.e BOGO on a group of products
How To Make A BOGO Deal With A Group Of Products In WooCommerce

Type 3 – Product Category
In this set of the alert type, you need to select the product category on which you want to give BOGO deal to your customer. So the select the category and quantity of the product on which deal will get triggered i.e BOGO on a group of products category
How To Make A BOGO Deal With A Product Category In WooCommerce

Step 4 – Configure the BOGO Notification
The BOGO notification message is to be customized as per the type of deal you want to offer your customers. So the customer knows what to do to satisfy the deal.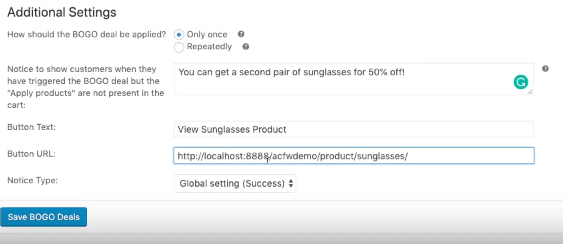 Ideally, it should be a link to take them to the page where all available options are on display. It might be the shop page or custom landing page or even an archive.

Step 5 – Cart Condition for automatic applying coupons
Once you are done with setting up with buy 1 get 1 then select the cart condition Either automatic or with some logical condition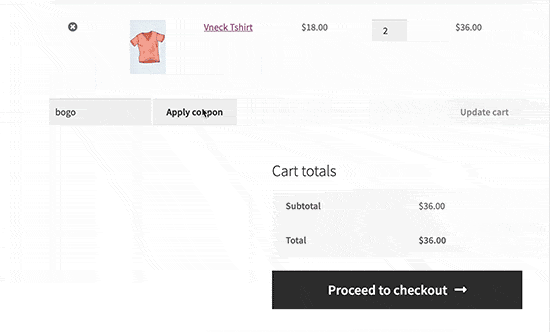 Closing Notes
Track all the products that are eligible or trigger a BOGO deal is hard. This is especially where Advanced Coupons is outstanding. Not every plugin can execute such category-based BOGO deals accurately and run smoothly on your WooCommerce store.
It is also easy to use and flexible. So the users of your store would navigate it conveniently and have a delightful experience on your site. So go ahead, purchase the plugin and boost sales!!