9 Best WooCommerce Additional Variation Images Gallery Plugins 2023
Are you planning to add an extra image gallery to variable products and looking for the best WooCommerce Additional Variation Images Gallery Plugins? Then this blog post is mainly for because, by default, WooCommerce doesn't have the functionality to add multiple images for one product. But after adding this plugin, you can add unlimited images to Your variable product variations.

WooCommerce product attribute variation helps us a lot to make sales based on size, style, colour, and shapes. But without multiple images for that particular product, it seems like we are drinking a tea without sugar. It helps people to have looked for specific products before they buy. These plugins allow you to add unlimited product variation images gallery for any Product.
So let's have a list of top Additional Variation Images gallery plugins for WooCommerce as follows.
1. Bright Plugin

WooCommerce Additional Variation Images Plugin lets you administrate your online business smoothly. Provide your customers with every single detail about products with the assistance of this well-integrated WooCommerce Plugin. Establish a perfectly built slider for the images you want to display to interested customers. If you own an E-Commerce website and planning to add Show additional variation images, then WordPress Additional Variation Image Plugin is a must-have for you. Allows you to create variants of the same products and present such Image Variation beautifully on your site in multiple styles. Just showcase your products to the visitors efficiently within a few configurations.
Core Features –
Multiple Collection – Let you show the different alternatives for the same products based on shape, size, and colour.
Highly Responsive – Works smoothly everywhere, whether on desktop or mobile. Your visitors get the same experience on any device they access.
Zoom-in/Zoom-out – Enable the visitor to view the image of products by zooming in and out.
Unlimited Variation – Showcase the unlimited image variation of one product that keeps your audience on your site to select the appropriate product among them.
Sorting Alternative – Sort the images by dragging and dropping the menu.
Default Configuration – Select the image variation displaying style as default that will show you different options such as slider and frame.
Price – Plan – $29/Per Year (1 Site)
Variation Images for Woocommerce - Install and Use
How To Add Additional Images Gallery For Variation Product for WooCommerce
Screenshot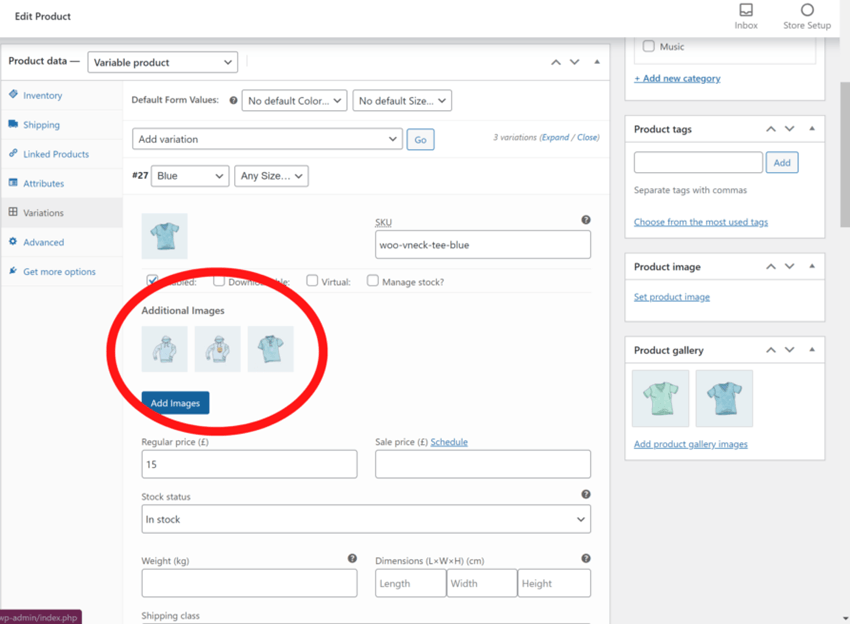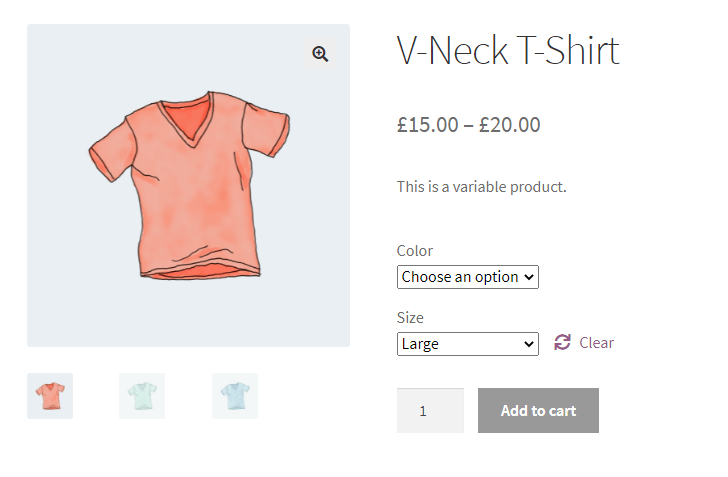 2. Woosuite WooCommerce Additional Variation Images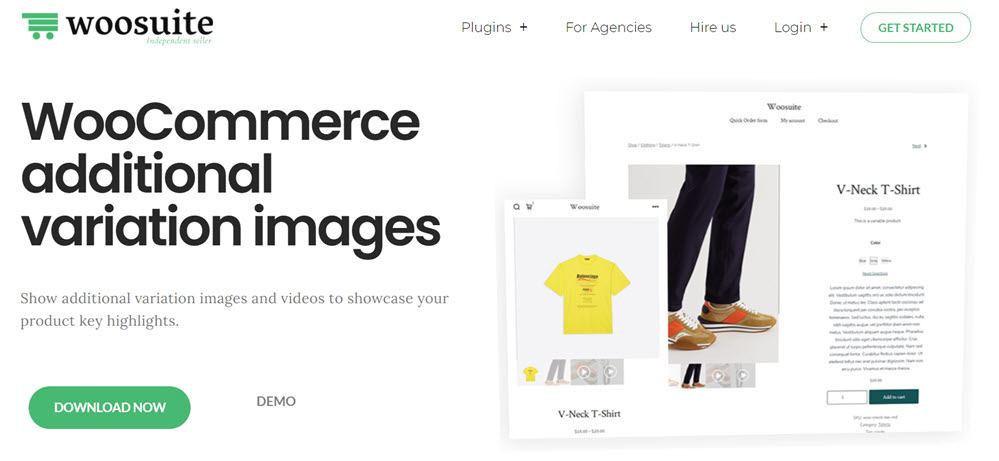 WooSuite is a well-developed WooCommerce additional variation image plugin that lets you display additional variations for the same product with essential graphics. An e-commerce website contains thousands of products on the entire website, each with its own categorized variations. To show such variation for the product among the audience, you must take the assistance of this elegant plugin. With this, you can showcase multiple variations for any particular WooCommerce product if required. Show different variations for displaying the colour, size, and price of the same product available on the same product pages. Help your customer to select products instantly, whichever is best suited to them, even without going anywhere else. WooSuite allows inserting images and videos to showcase a variation of the WooCommerce product. Let you select however you want to display variations for product pages.
Elementary Features –
Easy to install and configure as it contains intuitive UI for establishing multiple variations on various product pages.
Enables to add videos, i.e. self-hosted, YouTube, Vimeo, and more, to enhance the product's presentation.
Let you customize an image gallery for products that grab visitors' attention and make them purchase from your site.
It provides a seamless experience to your audience as it runs hassle-free on any device.
Price – Basic – $49/Per Year (1 Site),  Professional – $119/Per Year (1 Site),  All Access – $349/Per Year (1 Site)
Screenshot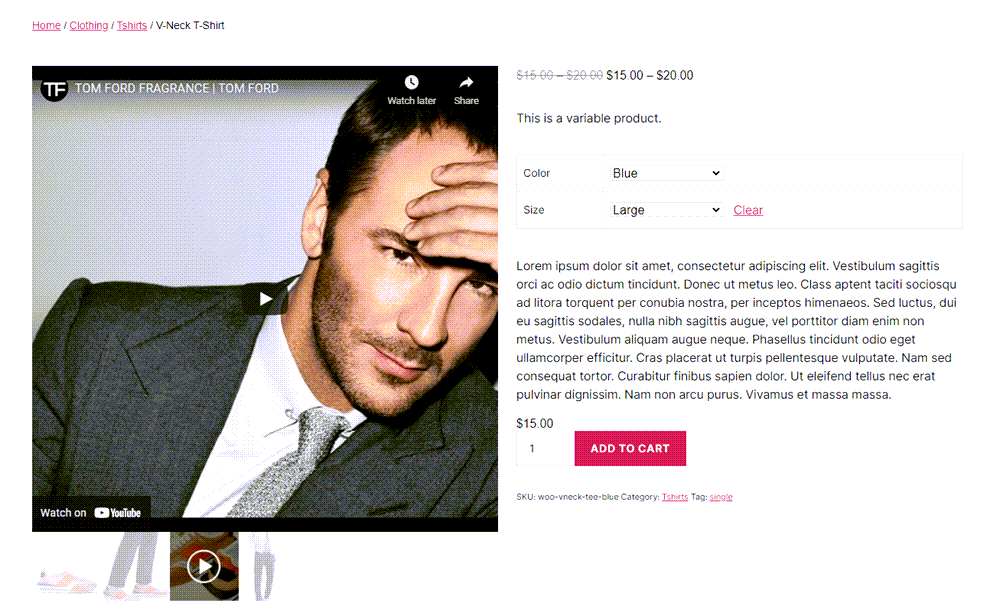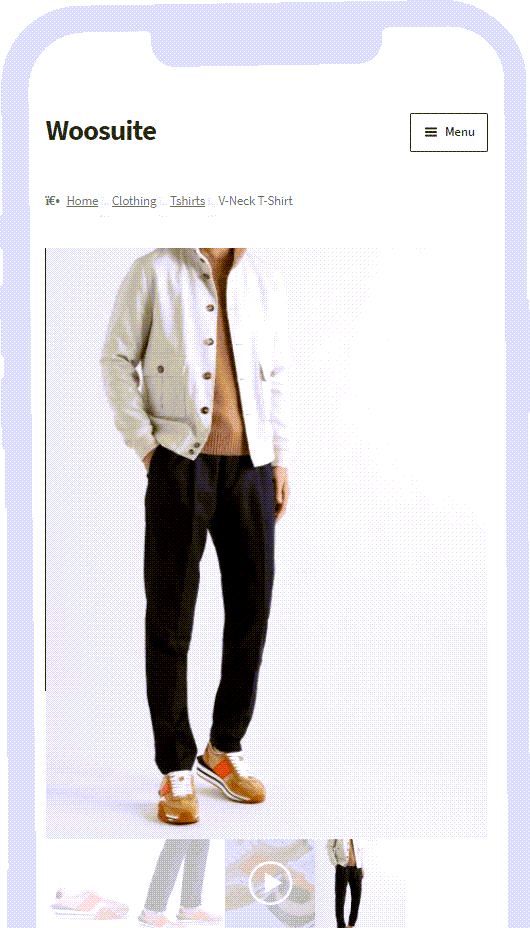 3. Iconic

Isn't it painful when you have hundreds of variations of a Product but find difficulty advertising it to the customers? Well, flush away all your worries with the extremely powerful Image Gallery Plugin for WooCommerce. Use the image gallery plugin to present the images and videos in the most impressive way to enrich the overall experience, providing the users with a handful of choices in a single click. It provides a win-win for both parties by providing a wonderful user experience, thus increasing sales.
Thumbnails can be positioned above, below, or beside the product image. They can be customized to a great extent using icon colours, transition speeds, and spacing.
Skip editing a single image at once. You get the option to edit the images in bulk.
You can collaborate the images along with the videos to provide users all the more reasons to buy
Completely responsive, mobile-compatible image gallery which can be zoomed in to deliver the finest
You have the flexibility to display only those images which match the selected variation, thus providing the customer with a better understanding.
The product image gallery can be customized by adding sliders and fade effects.
Unlimited images can be added for each product variation which can be displayed at numerous angles.
The clutter can be reduced, and the count of thumbnails can be managed.
Price – Plugin License – $79/annually (1 Site), All Acess Bundle – $499/annually (30 Site)
Screenshot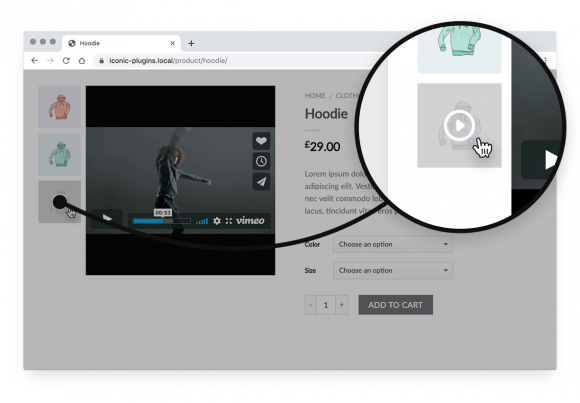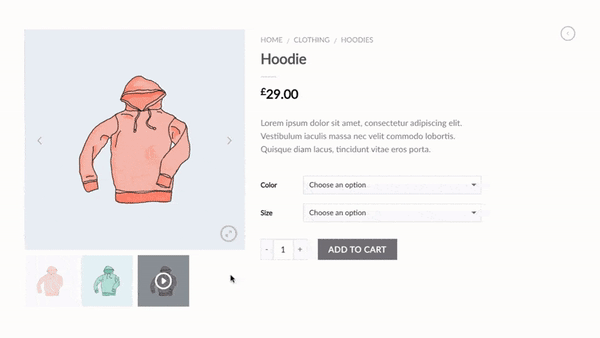 4. WooCommerce Additional Variation Images Gallery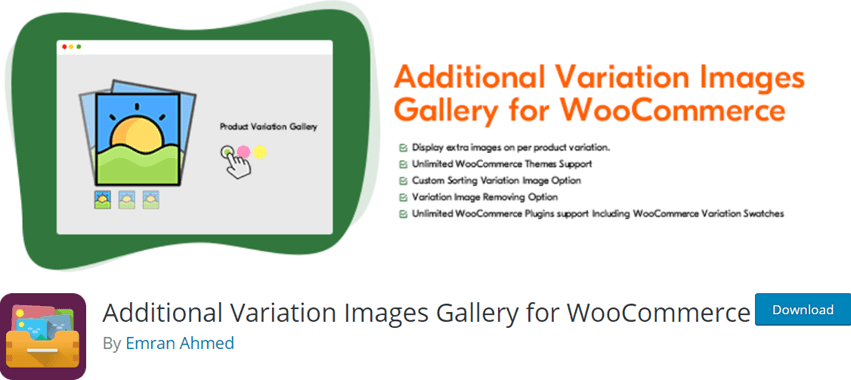 For every product variation, you can insert multiple images with the powerful WooCommerce additional variation images plugin, i.e. WooCommerce Additional Variation Images Gallery. So, you can display a unique set of images when the product variation attribute is switched on. It is an excellent option when you primarily focus on driving sales and conversions.
Features:
The robust Themes support all the major themes through extensive optimization and documentation.
Support to all the WooCommerce Plugins, including WooCommerce Variation Swatches.
Variation Image Options can be sorted and personalized.
Variation Image Option can be removed as well.
You can showcase two additional images for each product variation.
Supports the feature of videos as a product attribute. Images and videos could be merged for an attractive display.
The premium version has some additional features such as Unlimited Image display for all product variations, video lightbox & zoom, Vimeo & YouTube support in the Product Image Gallery, and many more.
Total number of users – 20,000+
Price – Starter – $9/annually (1 Site), Business – $99/annually (Unlimited), Developer – $99/annually (Unlimited)
How To Set Up WooCommerce Additional Variation Images Plugin to Upload Extra image Per Variation
How To Insert Additional Images in WooCommerce Variation Gallery
Screenshot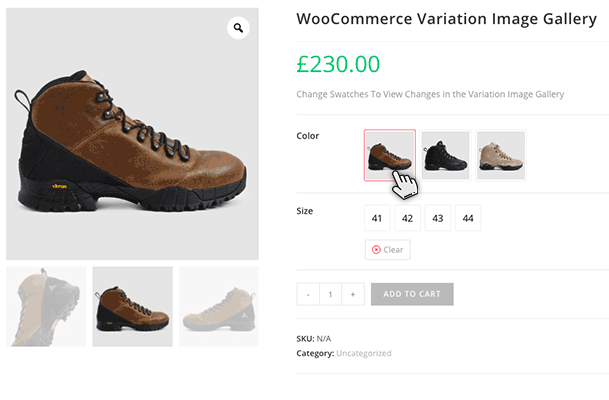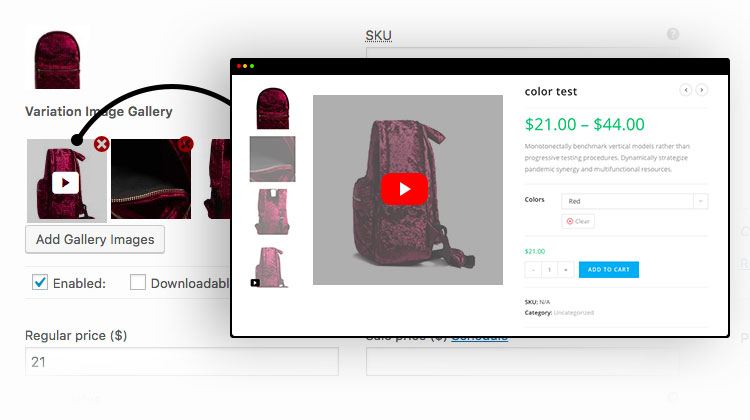 5. WooCommerce Additional Variation Images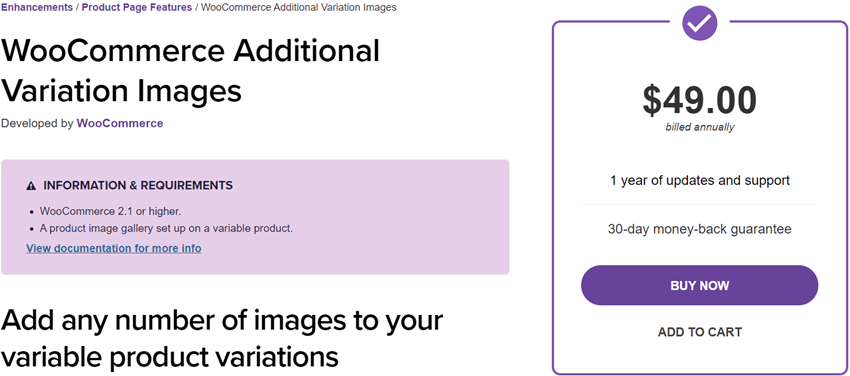 WooCommerce Additional Variation Images Plugin helps you to insert multiple images for WooCommerce products for each variation in the variable products section. Visitors to your online store can view and swap between different images of every product variation. This will help them view the variable products of similar colours, sizes, styles, etc.
Features:
The plugin creates a 100% customizable eCommerce platform that appears attractive to customers.
The gallery images can be swapped on product variation selection, unlike WooCommerce, which selects only the main variation image.
A set of gallery images must be assigned to every product for the plugin to work.
All the payments comply with the best security standards due to WooCommerce with the plugin.
Provides Thumbnail carousel slider option along with the control for Thumbnail images slider position
You get the option to Drop and Drag the custom sorting
There is an option to add a lightbox for variation images.
Price – 1 Site – $49/annually
Screenshot

6. Variation Images Gallery for WooCommerce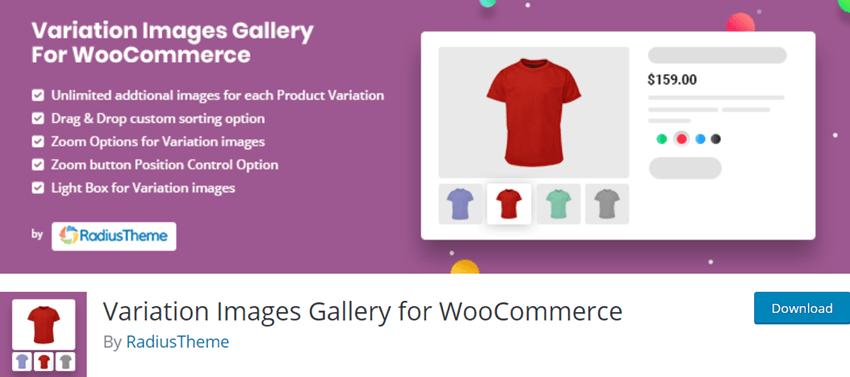 Have you ever wondered if you could display multiple images of the product at once? What if the users could easily be gifted with the choices without much of a head scratch? Well, all of this is now possible with the help of the Variation Images Gallery Plugin. It provides you with a superb option to add Unlimited images to each product variation. Even after the multiple filters applied by the customers, it offers them innumerable options at a single click which undoubtedly leads to an increase in sales. It is not only easy to use but also comes with unlimited usage of the free version.
Features:
By default, WooCommerce offers a single image insertion but using the plugin. You can add as many images as you want. Isn't that amazing?
It is completely responsive and compatible with mobiles too.
You have the privilege to add the zoom option in the variation images. Besides that, the zoom button position can also be controlled.
Most of the WooCommerce themes are supported.
Total number of users – 4,000+
Price – Small Business – $149/annually (5 Site), Agency Unlimited Use – $349/annually (Unlimited Site), Agency Lifetime Unlimited Use – $799/Lifetime (Unlimited Site)
How to use WooCommerce variation images gallery
Screenshot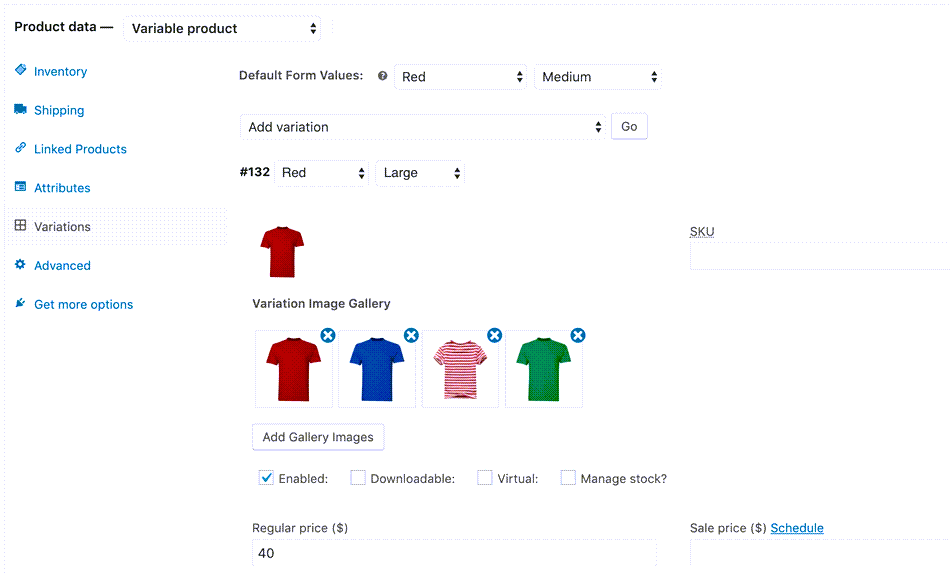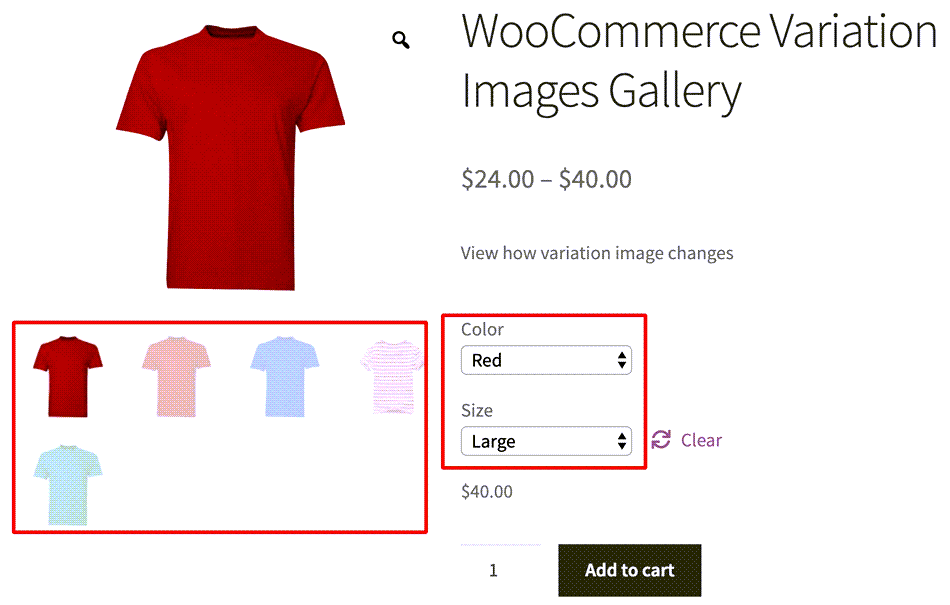 7. Codeixer

Additional Image Variation for WooCommerce enables the online shop to display a detailed description of its product. Install this well-featured plugin to add additional gallery image variation to your product and immensely represent your E-Commerce website. As it allows to show different variations for similar products, the customers may get the right choice quickly. Although, you get access to more engagement of the visitors on the website while they get what they desire in just a few clicks. Customize the image style in the way you require for your site or configure it as default. Create a gallery designation to showcase your image appropriately to visitors.
Elementary Features –
Intuitive design along with multi-device responsive attributes.
Configure it as default or customize it for a better appearance on the site accordingly.
Let your users see the available alternatives of similar products quickly.
Categorize your products and display them with the assistance of a slider based on colour, size, and fabric.
Enable the users to access the detailed images closely as it provides Zoom-in or Zoom-out facility.
Add unlimited variation of the same products on your site that helps your customers to select the perfect piece according to them.
Price – Personal – $29/annually (1 Site)
Screenshot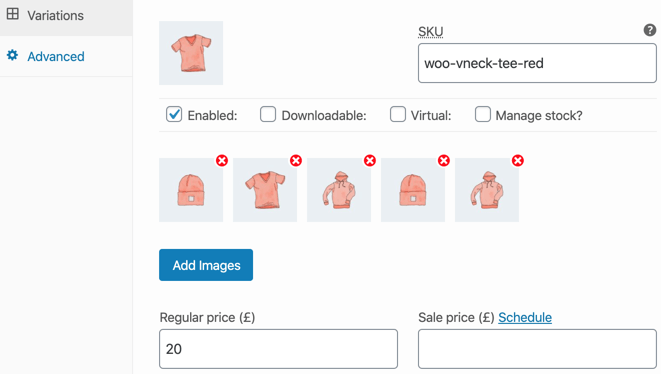 8. GS Variation Swatches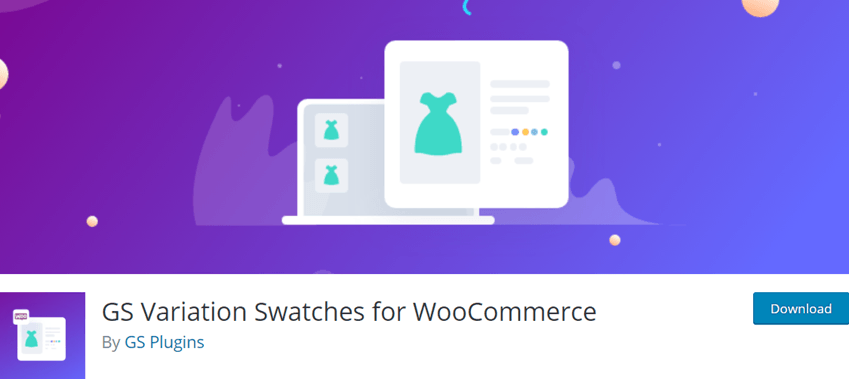 As the name suggests, Gs Variation Images facilitates a quick and intelligent way to add an unlimited number of images to the product image gallery. This image gallery, in turn, can be used in variable product variations images to showcase your online store products in an impressive way to the customers. Showing extra additional gallery images will increase your website sales.
Features:
There is no need to insert images manually to the variable product variations images.
User experience is enhanced as independent images of a product variation with similar colour and style can be displayed on one screen.
Multiple images for every variation can be utilized simultaneously – a smartly engineered plugin!
Themes with WooCommerce implementation work best with Smart Variations Images.
The plugin is not compatible with page builders, though.
Total number of users – 300+
Price – Starter – $49/annually (1 Site),  Busuiness – $69/annually (5 Site),  Agency – $89/annually (Unlimited Site)
Screenshot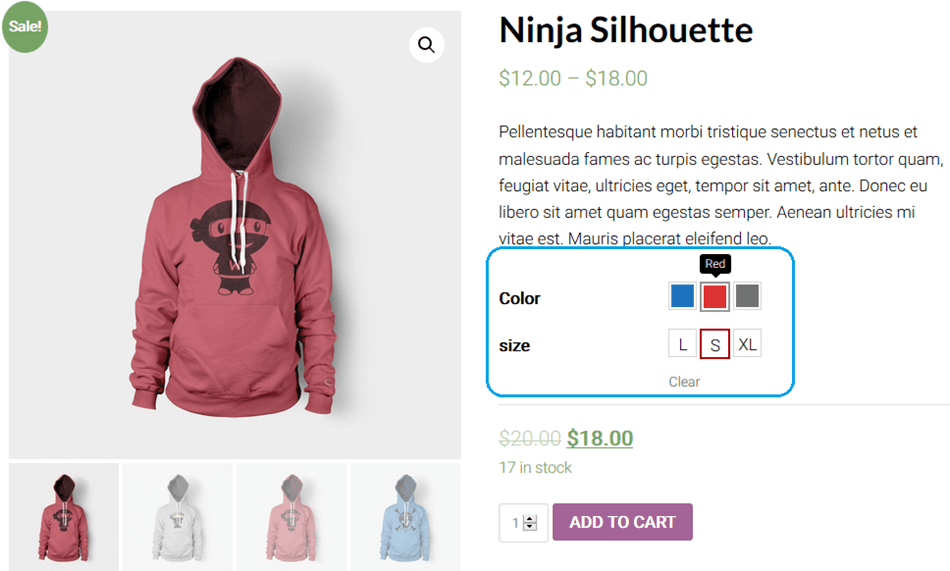 9. Additional Variation Images Plugin for WooCommerce

Additional Variation Images Plugin for WooCommerce is an Envato market presentation that promotes the flexibility of the WooCommerce manifold. The direct import chrome extension – WZONE is fully compatible with this plugin. It is an ideal choice for business-centric purposes through online marketing through WooCommerec Product Variation optimization.
Features:
An unlimited number of images can be added for every variation to display product variations – Add Multiple images per variation.
The plugin supports all WordPress and WooCommerce themes. Excellent Theme compatibility!
Additional variation images can be edited very easily – added, sorted, or deleted. A user-friendly plugin, indeed!
Easy Installation and highly workable plugin.
Price –  Regular License – $20/Lifetime
Screenshot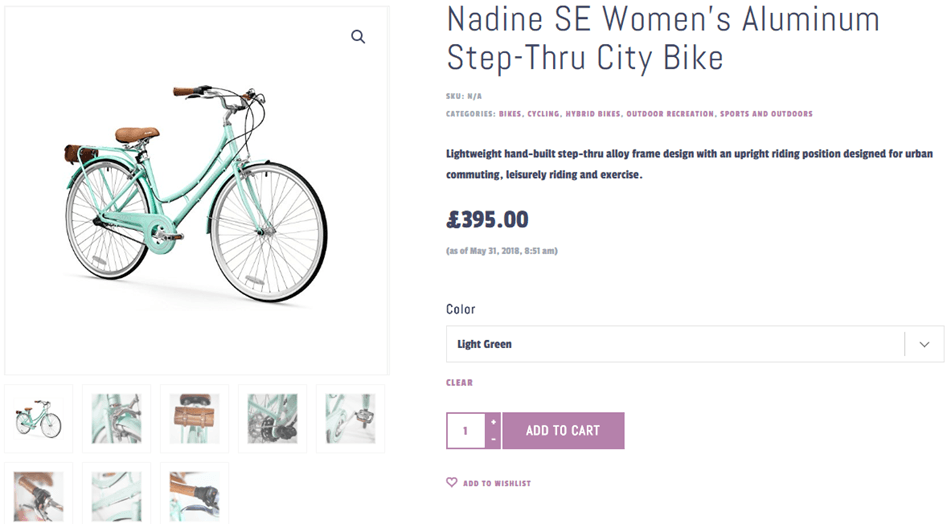 Conclusion – Many plugins allow multiple image galleries for single variable products. But still, out of all the above, the best and recommended woocommerce additional variation images gallery plugin is by Getwooplugins and Bright Plugin. It's Worth Buying.
You may also be interested in image zoom plugins, abandoned cart plugins, and FOMO plugins.
You might want to learn about its tutorial for that, you can refer to my bright plugin tutorial guide.