Designmodo Postcards Review And Tutorial 2023
Postcards, a fabulous product by Designmodo, is an online free email builder template editor application. A handy and convenient graphic designing software for those who are looking to create responsive newsletters or emails. But don't have the time for technical programming or HTML to code one from scratch.

Designmodo Postcards help you cut down the email production time with a simple drag-and-drop tool. And offers components for you to use when building your own template. Mind you, it is a template editor only. It doesn't provide any prepared templates. Yet you can build mobile-friendly, interactive emails and double your conversions. Before we start Designmodo Postcards review we must know some basic feature.
You may also be interred in fomo plugins  Email marketing service and abandoned cart plugins 

Features of Designmodo Postcards 
Designmodo Postcards drag and drop email builder provides a complete platform for designing and editing email templates online. You can simply drag & drop, or use pre-designed blocks from the visual editor to change images, texts, and links. You can also preview the templates for Desktop and Mobile browsers before finalizing one.
Feature
Designmodo Postcards is a free online email builder Tool that is Proudly Designed & Developed by Designmodo in New York, U.S.
Deployment across SaaS, Web, Cloud.
Compatible devices are all iOS, Android, Windows.
Ideal For freelancers, large enterprises, medium-level businesses, small businesses, and so on.

Editor Tools

–  available are Transparency Tool, Image Editor, Premium Icons, Built-in Templates, etc.
Over 900 Fonts are the same as Google. This means there won't be any changes in the appearance after you export to Gmail.
Pre-designed Templates are there for you to customize, add text, images, or rearrange in any which way you want.
No Limit on Exporting as many email modules as you wish to.
HTML Code are easy to modify according to your needs.

Email Service Provider (ESP)

  – Gmail, Apple Mail, Yahoo Mail, Thunderbird, Microsoft Outlook Express, Windows Mail, Android Mail, AOL, Outlook.com, Lotus Notes.

Mailing Service Provider Supports

–  such as Mailchimp, Mailgun, Shopify, Constant Contact, HubSpot, Benchmark, Marketo, Campaign Monitor, Sendwithus, Salesforce, WordPress.
An Added Advantage is that you can open and edit these email modules after you have them exported on your computer. Even if you are working without an internet connection.
Plans & Prices
| | | | |
| --- | --- | --- | --- |
| | Free | Business | Agency or Large Businesses |
| Price | $0 | $18 per month | $30 per month |
| Users | 1 | 1 | 5 |
| Brands | N.A. | 1 | Multiple |
| Mail chimp Integration | N.A. | √ | √ |
| Hub spot Integration | N.A. | √ | √ |
| Image Hosting | N.A. | N.A. | √ |
| Direct Email Preview | N.A. | √ | √ |
| Unlimited Project | N.A. | √ | √ |
| Billed Annually | N.A. | $179. Save $37. | $299. Save 61. |

Designmodo Free Vs Paid Plan
The Free Plan consists of only a few pre-designed blocks as compared to the Paid Plans, which have more than 100 blocks.
Also, email exports from Free Plan cannot be used for commercial purposes whether for your own business or your clients.
However, you should definitely try out the Free Plan first. This way you will become familiar and comfortable with the Designmodo Designing Software. You will know whether it would work on your system and hierarchy or not.
The thing to Keep in Mind Before Starting Following the below procedure you can easily create the best email newsletter for your business or personal goals.
Keep a Specific Goal in Mind for Your Newsletter
Before drafting, make sure you're fully aware of the objective behind the newsletter and how it fits into your larger content strategy.
Do you want to generate more leads or get more email contacts? Or send traffic to your website?
Then Try not to figure out "how many people opened it." Instead, your goal should be tied to overall business goals. The open rate of the email only indicates the newsletter's performance, but cannot be the only number you care about each month.
Once you have a goal for your newsletter, you need to find content for it.
You could have some image in mind about how you plan to draft or you could have saved someone else's format and want to make a similar one.
A newsletter is usually sent on a monthly basis. You can get great content within social media accounts, lead-generation content, or even your company's blog, internal newsletters, and training documents.
Now you have your idea ready for how your newsletter will look. You'll know exactly how much space you need to promote it.
The template doesn't have to be flashy but should have memory power. Using minimal text and color formatting brings great results. The design must be easy for the recipients to read, scan, and click. So, it should be mobile-friendly, too.
**According to a study, over 46% of users open their email on an android.
Mostly, email newsletters don't size themselves when you send them.
But many open their email on their device and email service providers will default the email newsletter size to 600px wide, with email body padding another 30px wide on all sides. And because of this, you must ensure the design fits inside that. However, your email can be as high (or long) as you want.
However, people are much less likely to click on your website if you write a long email. As a general rule, try not to make the recipients scroll for more than a second before reaching the end.
However, In the case of designmodo Your email Postcard designs will be completely Responsive. 
How to Create an Email Newsletter using Designmodo Postcards
Step 1- Select the Template from the Header Section that most closely resembles the one you have in mind. (Only Header 1 is available for Free Plan Subscribers.)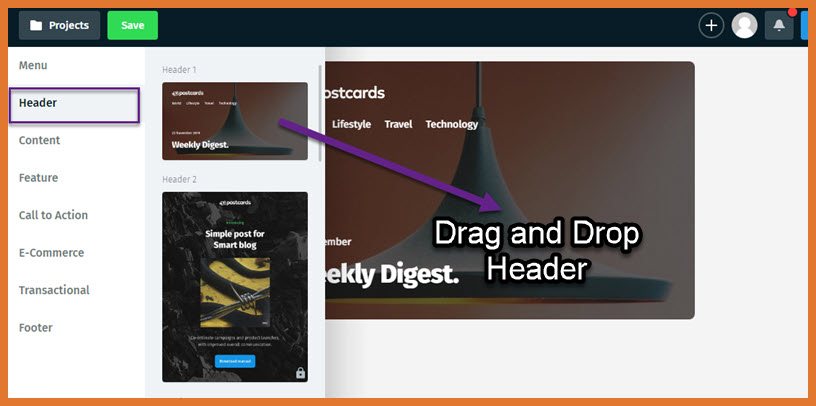 Step 2 – Name the project to be able to save and export.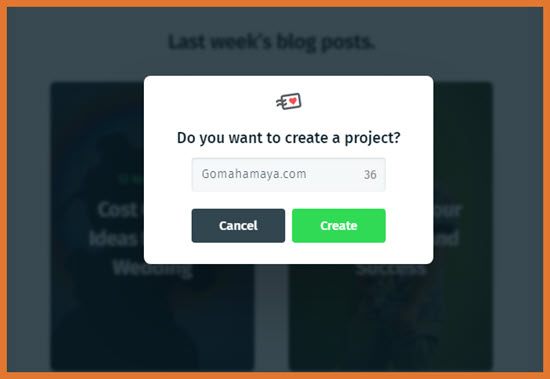 Step 3 – Choose from the Content. As many and as many times you want. (Again, only Content 1 is available for Subscribers to Free Plan.)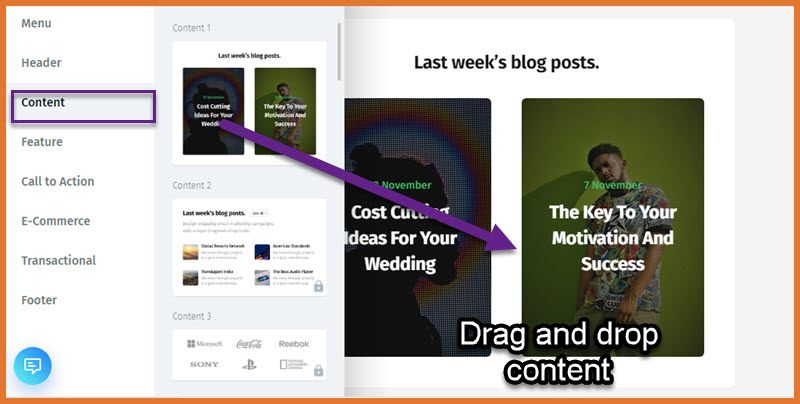 Step 4- Similarly you can add features,  Call To action, ECommerce Product in case if you have any. And finally, Add the footer in last.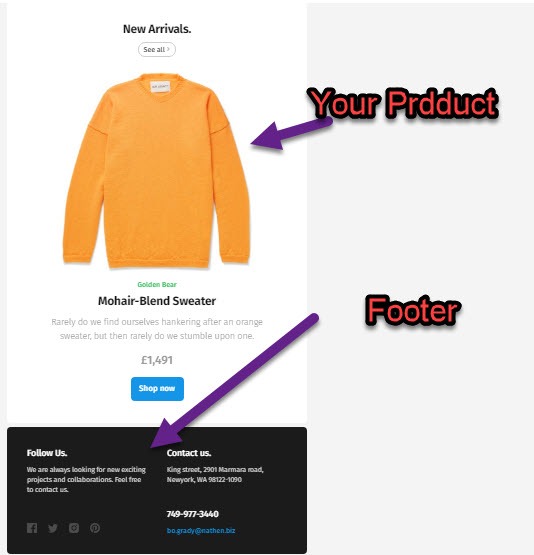 Note – You can change their sequence by dragging it and dropping up and down.
Step 5 – To customize any section of your postcard you need to click on that section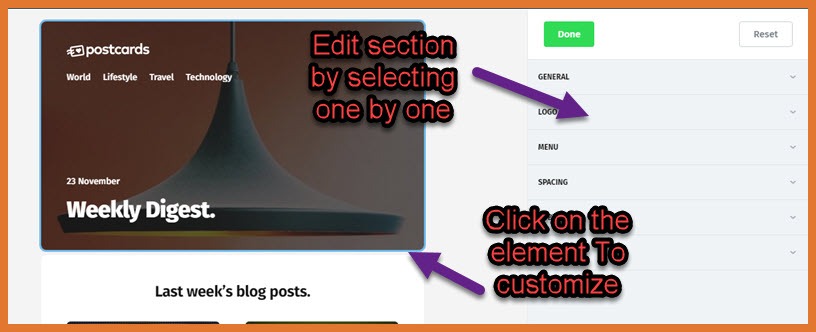 Step 6 – Now click on any one of the subsections settings. Let's say you want to change the background color.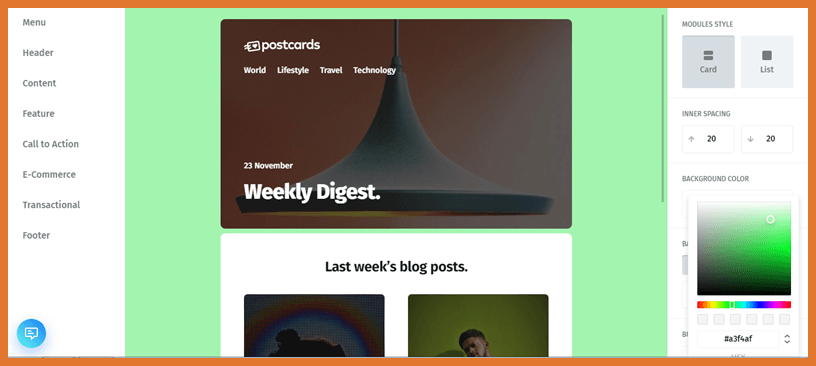 Similarly, you can edit the text, its font, and its color or you can upload your own images.
Note – Remember to save all the modifications with the Done button, before proceeding to change the next module.
Step 7 – Now Save the module and your newsletter is ready for preview. View in browser for Desktop Version or the Mobile Version.Then export the data

Conclusion –  Hope you find our Designmodo Postcards Review and tutorial helpful. To be frank, for those who are having eCommerce website for them it's worth upgrading to the pro version
Share your comments, opinions, and questions, if any, about Designmodo Postcards with us!