10 Best Content Locker Plugins For WordPress 2023
Are you looking For Premium or Free Best Content Locker Plugins for WordPress? So many of us want our posts to get viral among social or want to collect emails from our website visitors. This kind of work can quickly be done using social content locker plugin or post content locker.

So many people lock some unnecessary content on their website and want people to share that post or follow them on Facebook or via giving email. But we recommend these plugins only at the essential points. Let's say you are giving something accessible to your customers, then, in that case, you can hide part of your Content in your blog post.
The central ideology behind hiding part of your Content in your blog post is to get more traffic from social media. When I was in school, people shared so much of the Content on social media and asked us to click or read. At that time, I was unaware of this post viral locker option. Now free a day Some of the website owners are using Auto sharing post Plugin for increasing traffic from social media.
You may also be interested in social media sharing and Lead Generation plugins.
Let's have the list of top WordPress social Content Locker Plugin are as follows:
1. FB Share To Unlock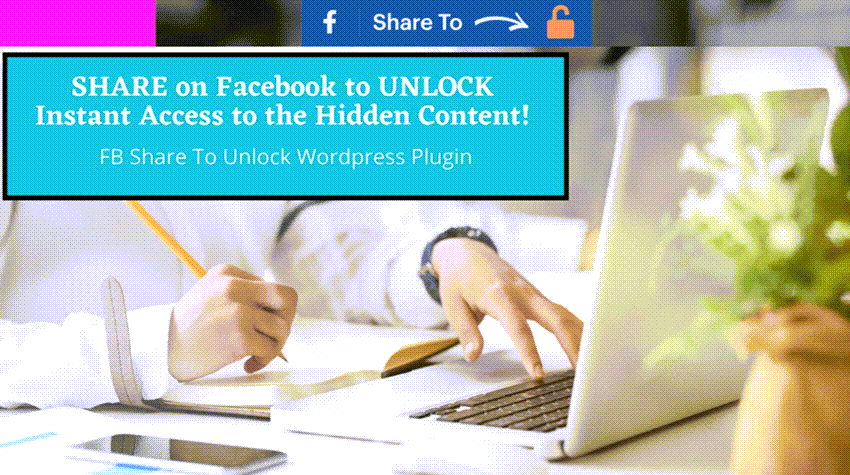 FB ShareToUnlock is a Share To social Unlock content plugin for WordPress users to enable the Content in full view while sharing it on the Facebook timeline by the user. Let you arrange the Content so that anyone cannot access the entire script thereby. Just enable your audience to see the partial Content on the web page and encourage them to share it on Facebook to access the full Content. Although, as much as the Content sharing on the different audience's timeline, your engagement ratio will increase effortlessly. It contains an easy-to-manage interface and intuitive features that enable your website to reach organic traffic in just a few configurations.
Elementary Features –
Attractive Templates – Access a range of innovative templates for a content locker with more customizable alternatives for style and text. Available the partial Content so that anyone likes to access it entirely while seeing it.
Image Accessibility – Enabling the content locker for any specific term If you wish to show the image according to you, you can do so in a while. Hide the partial Content behind the image that you selected on your own.
Track Functionality – Let you avail the detail of your users, such as clicking and actual sharing on the Facebook timeline, after placing the share to unlock button.
Price – 1 Site – $39/annually,  Unlimited Site – $69/annually,  LifeTime Ultimate – $149/Lifetime
Generate FREE Facebook traffic - using FB ShareToUnlock Plugin!
Screenshot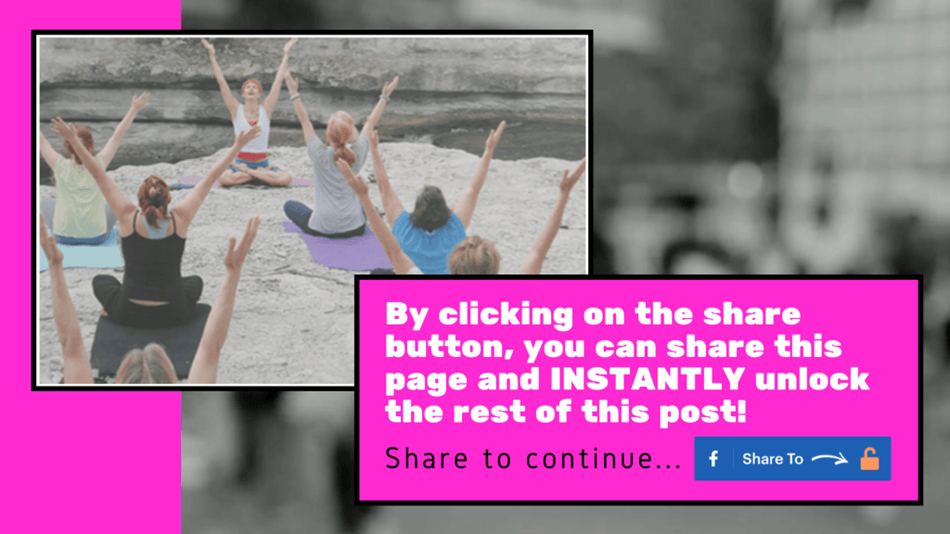 2. Bloom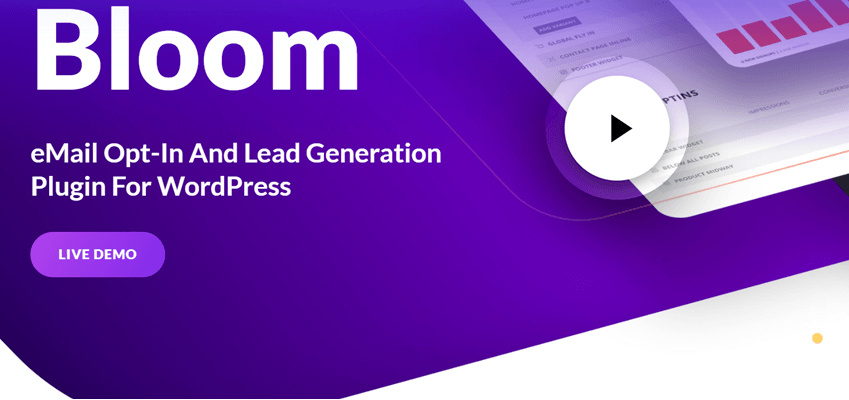 Bloom Email Opt-in Plugin – An integration of elegant themes lets you assist very well in locking Content of the page, site, and elsewhere. The most advanced email opt-in and lead generation plugin primarily focuses on booming your email list through the content locker option. It offers a modern interface to the subscribers by giving them lucrative ways to sign in for your email list. Bloom generates target-based Content as per the visitor's location and interests, excluding the unwanted posts and contents. Just enable the plugin and restrict the desired aspect to configure the functionality as you need to do. Create massive traffic on your website and increase the revenue while availing the Content fully with accessing it on the home page or other respective destination as redirected. Bloom allows distributing the partial email among the audience, which will fully access while clicking on the link which takes them to redirected destination. Generate the targeted email in partial layout and then let it flow widely in an attractive format along with the redirected location.
Key Features –
Hike the conversion ratio while availing the email and redirecting its entire Content on different social media platforms.
Implement the targeted Content wisely that is located to a destination uniquely and attractively.
Available 100+ intuitive templates which are fully customizable to design the email accordingly.
Various display options are available to show your locked Content, such as popups, fly-ins, in-line forms, below content forms, widget area in-forms, and required to unlock the Content.
Select the destination wherever you want to ride on your customers like any individual post, post type, website's home page, or elsewhere to see the entire unlocked Content.
Price – Yearly Access – $89/annually (Unlimited Site),  Lifetime Access – $249/One Time (Unlimited Site)
Elegant Themes Support Is Getting Better. Introducing Live Chat Support For All Customers.
Screenshot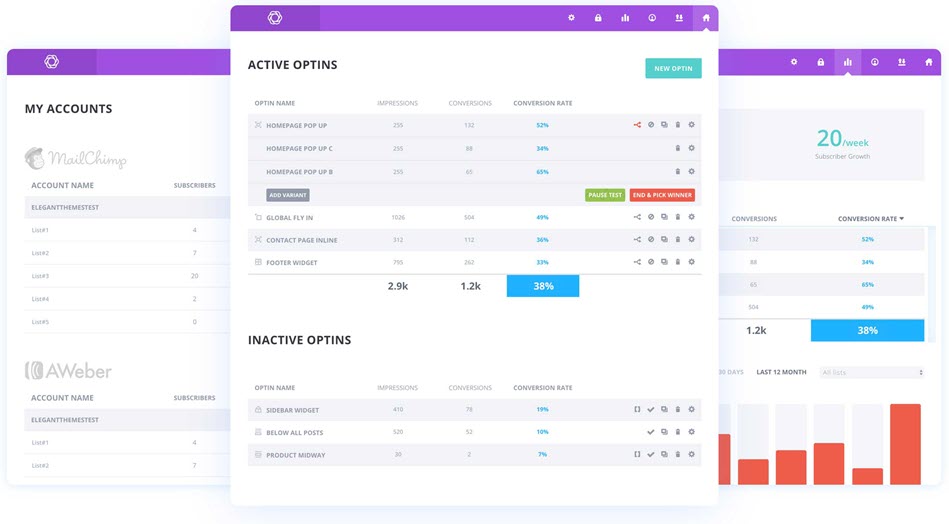 3. Thrive Lead

Thrive Leads is a well-organized Content Locker Plugin that enables you to lock your site's Content either entirely or partially. If you want to build a profit-generating content locker, rely on Thrive Leads. The list-building solution has a high inclination for conversion optimization. Thrive Box, Sticky Ribbons, and more help build content locker options. Let you restrict the Content available on the site on various terms and conditions. With the assistance of Thrive Leads, get access to proper functionality wherever you may display the Content to users after signing up or sharing pages on their social network widely. Get more leads and organic traffic on the website as everyone is eagerly willing to see the available Content. Grow your email list and convert your almost visitors into reliable customers promptly.
Elementary Features –
Restrict your site's Content by applying some configuration that enables such Content only after signing up within your website.
Create a 100% responsive content locking system compatible with existing themes and other plugins thereon.
Instant access to the Content once your user gets subscribed on your site and provides the best experience on the web pages than ever before.
The list and business benefits show an upward trend because of the versatile opt-in forms, drag-and-drop editor, A/B testing feature, and an insight into the opt-in form performance.
Price – Basic – $9/annually (1 Site), Plus – $19/annually (2 Site),  Pro – $29/annually (3 Site),  Growth – $49/annually (5 Site)
Screenshot

4. Content Lock

OptinMonster is a Paid Content Locker for WordPress, which emerges as an advanced extension to manage the website's Content, enabling it partial look through the email among the audience. Such an integrated functionality locks the partial Content available in the email and accesses the entire only when going through the redirected destination. With this, enable your audience to keep the loop while visiting the desired location without taking too long. Although OptiMonster is a lightweight and feature-enriched extension, it comes up intending to increase the reachability of the audience and keep them interested in your posts and pages. Moreover, enable your users to access locked Content whenever they sign up on your site. As long as your email lists go on, the chance of conversion of leads becomes high thereby.
Why select OptiMonster?
Let you increase your email subscribers too fast as the locked Content will be accessed only after the sign-up.
Assists you in creating eye-catching email content and its locking button with available customizable templates in a few minutes.
Target the Content that is likely to engage the visitor.
Lock the Content partially with blur effects and images options that only continue after the email subscription.
Allows to lock the pre-published Content on WordPress or elsewhere.
Price – Basic – $9/annually (1 Site), Plus – $19/annually (2 Site),  Pro – $29/annually (3 Site),  Growth – $49/annually (5 Site)
Turn Your Most Popular Content into a Lead Generation Machine with OptinMonster's Content Locker
Screenshot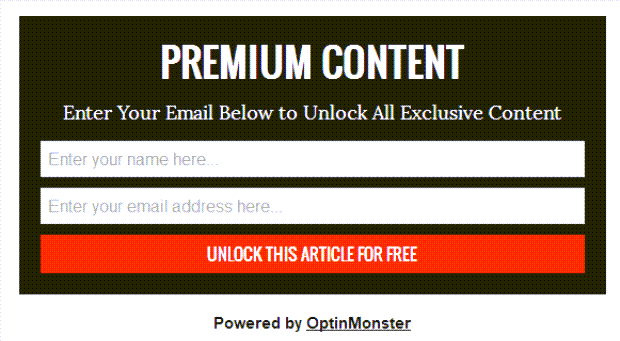 5. Subscribe to Unlock

Subscribe to Unlock Opt-In is a Premium Email Optin locker plugin that lets you organize the Content so that anyone does not get the full accessibility unless subscribing. Allow your users to enjoy the availability only after signing up with their email. It contains a simple and intuitive interface that lets you design the locking functionality on the specific Content in just a few clicks. Engage more visitors and try to convert them into customers while asking them to subscribe to read more. Design the content locker with available alternatives of ready-to-use templates that can also be customized. Now, you can create eye-catching forms for a content locker with available innovative templates that enables you to accumulate subscriber.
Elementary Features –
Pre-designed Templates – Design the content locker with available ten unique templates without wasting time.
Lock Easily – Click on the lock icon thereby, and it is all done. Lock the desired part of the Content and configure the access availability.
Popup Locker – Enable the entire locking page while displaying the popup notification to unlock Content available on the page.
Price – Regular License – $15/Lifetime
Screenshot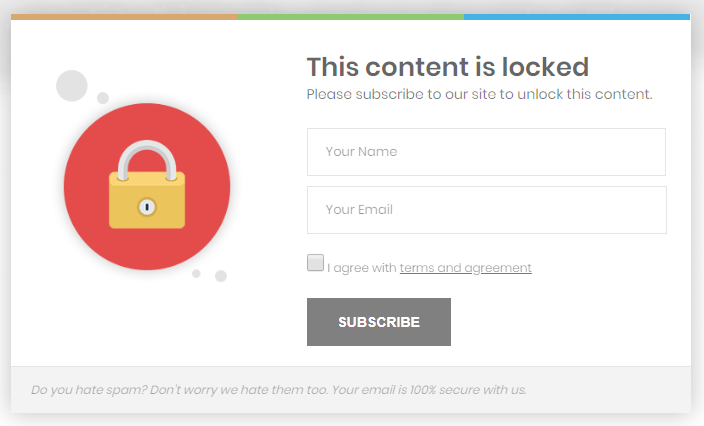 6. OnePress Social Locker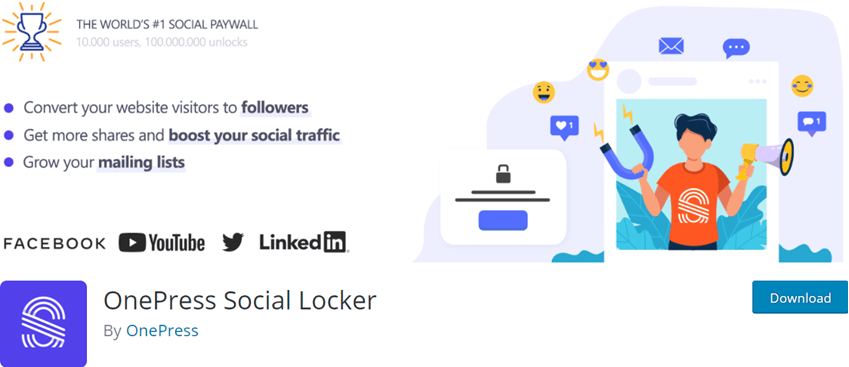 OnePress Social locker – An Oriented powerful social locker plugin for WordPress to lock Content of the particular page, post, and website. Establish an automated content locking and its visibility among users with unique features present in this extension. Although, OnePress contains an easy-to-use interface that anyone efficiently manages without having vast technical knowledge. Availability of attractive templated, i.e., customizable too, assists you all through the design of the locking pattern for specific Content as the name reveals that it works with one click. Similarly, let you lock the desired Content for your audience within just one click and make it available on the configured terms and conditions thereby.
Key Features –
Engage Traffic – Engage more audience to your website while your existing users share your Content on their social profile to fully unlock the Content.
Increase Followers – Remind your users to tell the audience the Content that has been locked will be available once you sign up there. And to read the whole Content they indeed subscribe to and ultimately convert them into loyal customers.
Eye-catching Styles – Design the locked Content with available effects and other custom templates that create significant influence while visible to any audience.
100% Responsive – Make your Content so friendly on any devices such as smartphones, desktops, laptops, and others.
Total number of users – 9,000+
Price – Regular License – $27/Lifetime
Screenshot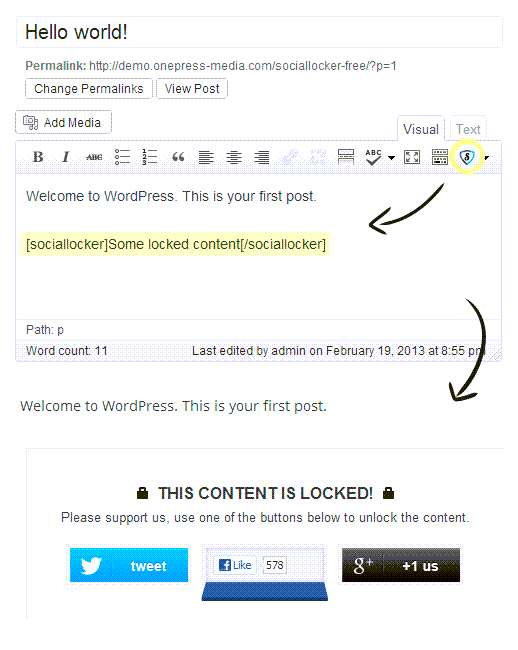 7. Super Social Content Locker Lite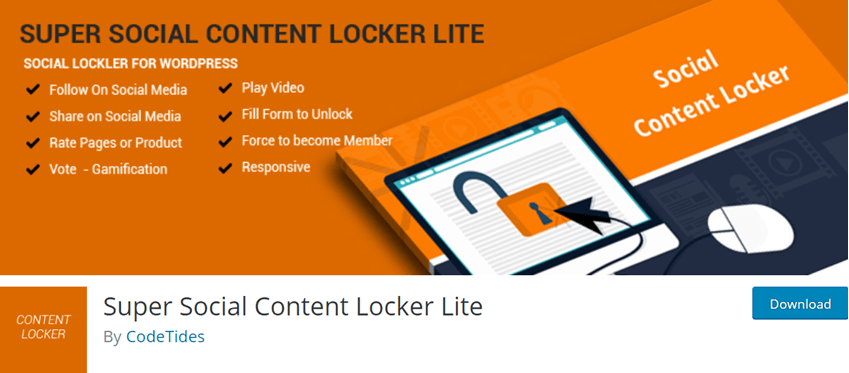 Super social content locker lite is a freemium WordPress social locker plugin that helps you increase the worth of your WordPress site by increasing the number of your website members and subscribers on various social media channels by liking, sharing, and subscribing to your social media platforms. It increases your website members and builds your subscriber list, and uses them for promoting your products and services. Using this plugin, you can also create quizzes and contest for your audience and thus, keep them engaged on your WooCommerce store.
Features
The plugin comes with a user-friendly backend thus, it is effortless to Set up and use.
Using this plugin, you can create an unlimited locker for your social media channels and your website compatible with all the features and themes.
You can display a part of your Content on your website and lock the rest of it for premium users only.
It forces your subscribers to watch your video ads and thus increases your views and promotes your channel.
It helps you enhance your likes and social shares on various social media platforms, including Facebook, Twitter, Linked In, and YouTube.
You can also create forms submissions to build your email list.
Total number of users – 20+
Price – Regular License – $27/Lifetime
8. Private Content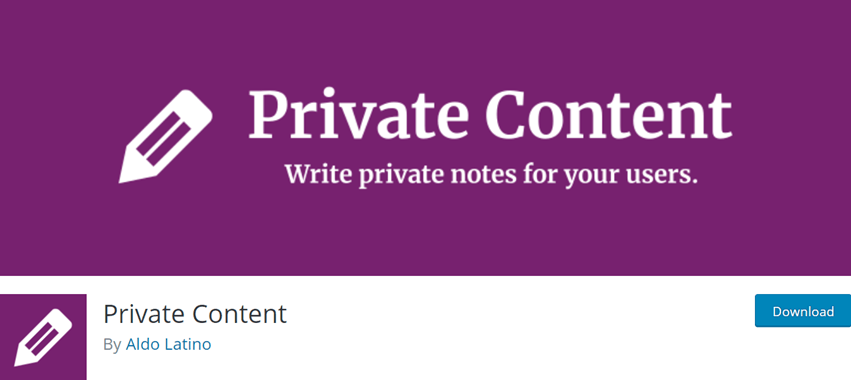 Private Content is an excellent secure private data content locker plugin to elevate the engagement graph on your site and hence shoots up shares and likes for your Content. This plugin has taken care of the overall SEO, a crucial algorithm parameter, like engagement, bounce rate, and social sharing count. Besides, the plugin offers 16 locker design options and content locker options panels to choose from.
The multi-purpose plugin serves the dual task of social content locking and social sharing lock. The quality plugin is highly effective in making your site an accomplished one. It offers to place the social sharing buttons on the sidebar, like popups, on images, etc. Besides, it has eight unique themes to display the content locking widget. It is neat and has no hassle of coding.
This free content locker plugin has a strong inclination towards the social well-to-do of your site by facilitating more likes and shares, building loyal followers, and gaining traffic from social networking. The plugin is a trusted choice of marketers, entrepreneurs, and bloggers worldwide. It offers to lock the Content using the referral point as the key. It also prompts the users to share your post on their social profiles. Thus, you can have a tremendous social impact in no matter of time. This will build up ever-growing traffic and ensure a long-term gain for your site. You can also add a content locker to your affiliate product or Content. It also helps you precipitate traffic and exchange content for traffic as a conversion optimization technique.
Total number of users – 10,000+
Screenshot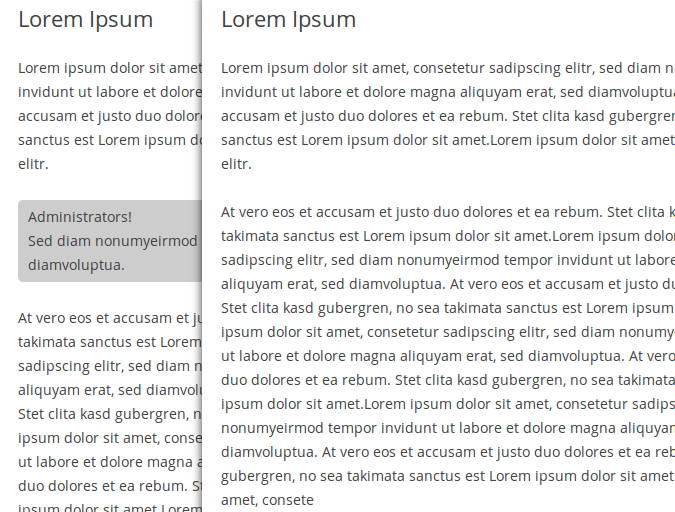 9. WP Private Content Plus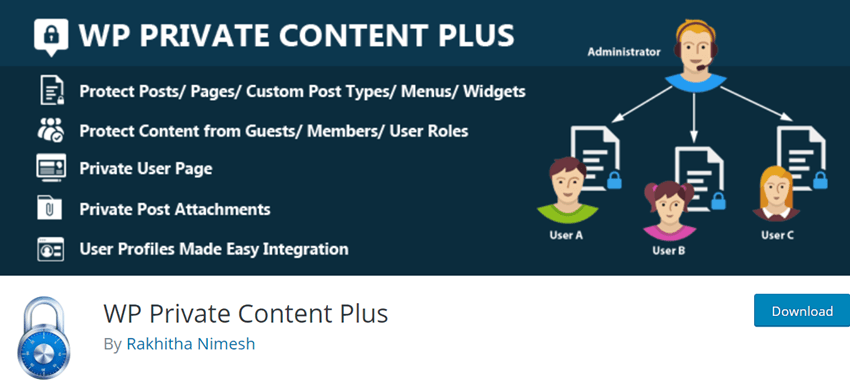 WP Private Content Plus is a free content blocker plugin for WordPress that helps you to protect and restrict your premium content for users with specific rules. Using this plugin, you can limit your Content on various posts, custom posts types, pages, widgets, navigation menus, and more.
Features
You can create a unique portal For the users on your site to add specific Content according to the user role.
You can restrict the Content by Specific users, users group, User roles, guests, or members. It can also limit the Content by WordPress capabilities.
You can restrict WooCommerce product tabs, admin menus, widgets, and post attachments using this plugin.
It also allows you to restrict Content based on specific time frames.
It also enables you to restrict your Content on various posts, custom posts types, pages, widgets, navigation menus, and more.
Total number of users – 8,000+
Quick Overview of WP Private Content Plus WordPress Plugin
Screenshot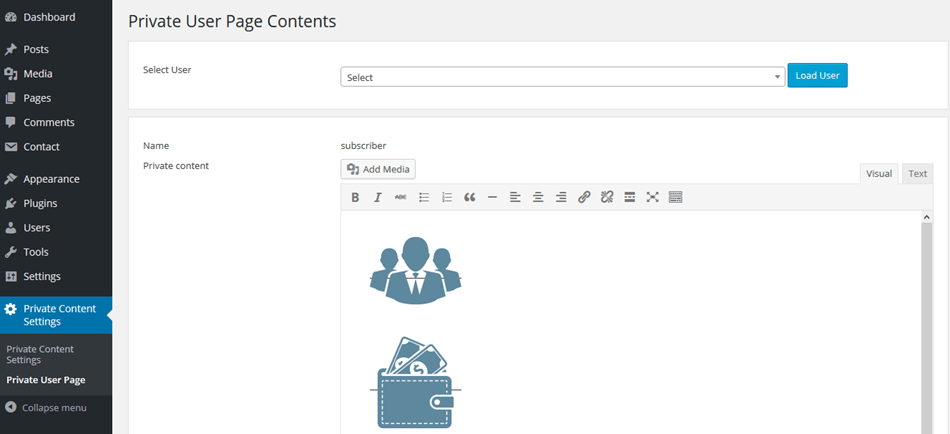 10. Pretty Opt-In

Pretty Opt-In is a powerful and effective WordPress Content Locker & Lead Generation Plugin that helps you lock your website Content for specific users and assist you in lead generation.
Features
You can easily integrate the plugin with various mail service providers like MailChimp, Sendinblue, ActiveCampaign, MailPoet, SendGrid, MailJet, FreshMail, and MailerLite.
It comes with pretty locker shortcodes that help you lock the Content for users with specific roles or levels.
Using this plugin, you can conduct bulk actions like Editing lockers, publishing lockers, deleting and unpublishing the lockers.
You can customize the locker design styles like the title, the locker message, layouts, the button text, and more.
The plugin also allows you to save the email addresses of your subscribers on the local WordPress database for convenience and ease.
It also automatically sends you a notification email every time you receive a new lead on your website.
Price – Regular License – $30/Lifetime
Screenshot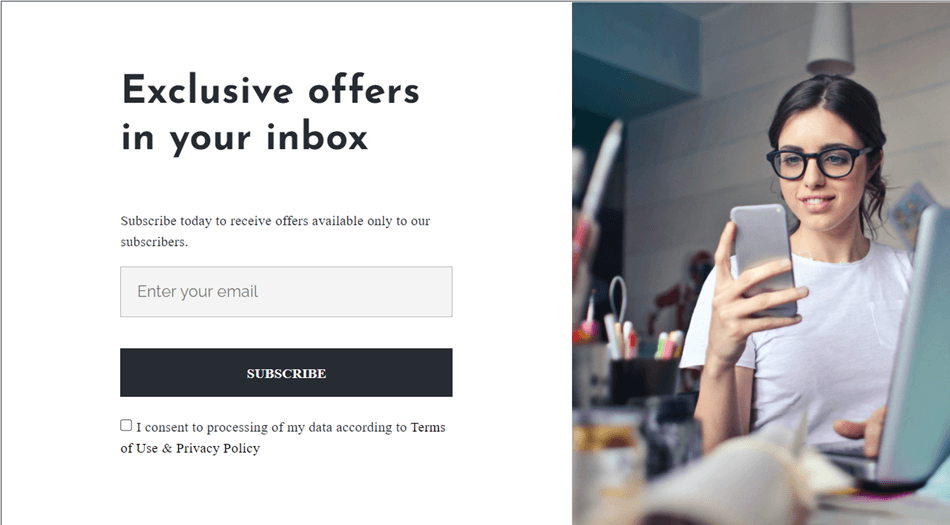 Conclusion – There are many paid social lockers and free content locker plugins related to locking Content. But most of the developers didn't update their plugins for many years. That's why we recommend only two plugins for this work either you should go for Thrive leads or  Bloom.