7 Best Content Locker Plugins For WordPress 2019
Are you looking For Premium or Free Best Content Locker Plugins for WordPress?  So many of us want our posts to get viral among social or want to collect emails from our website visitors. This kind of work can easily be done using the using social content locker plugin or post content locker.


So many people simply lock some unnecessary content on their website and want people to share that post or follow them on Facebook or via giving email. But we recommend these plugins only at the important points. Let's say are giving something free to your customers then in that case you can hide part of your content in your blog post.
The main ideology behind hiding part of your content in your blog post to get more traffic from social media. When I was in school life people were sharing so much of the content on social media and asking us to click or read. At that time I was unaware of this post viral locker option. Now free a day Some of the website owner they are using Auto sharing post Plugin for increasing traffic from social media.
You may also be interested in social media sharing and Lead Generation Plugin
Let's have the list of top WordPress social Content Locker Plugin are as follows:
1. Bloom

Bloom is an exhaustive email opt-in and lead generation plugin that primarily focuses on boom your email list through the content locker option. It offers a contemporary interface to the subscribers by giving them lucrative ways to sign in for your email list. Bloom generates target based content as per the visitor's location and interests excluding the unwanted posts and contents.
Total number of users – 500,591+ 
Pricing  – Yearly Access – $89/yr, Lifetime Access – $249 (one-time)

Premium
Coupon
Screenshot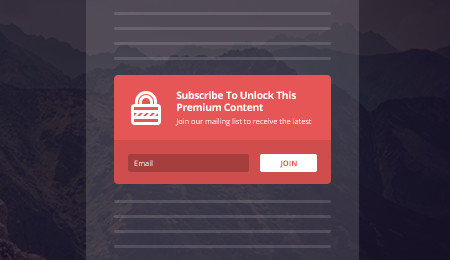 2. Thrive Leads

If you are looking to build a profit-generating content locker, then simply rely on Thrive Leads. The list building solution has a high inclination for conversion optimization. The list and business benefits show an upward trend because of the versatile opt-in forms, drag-and-drop editor, A/B testing feature and an insight into the opt-in form performance.
Thrive Box, Sticky Ribbons and more help to build content locker options.
Pricing  – $67

Premium
Screenshot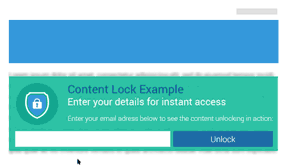 3. Content Locker Pro

Content Locker Pro is an excellent theme to elevate the engagement graph on your site and hence shoots up shares and likes for your content. The overall SEO which is an important algorithm parameter has been taken care of by this plugin like engagement, bounce rate and social sharing count.
Besides, the plugin offers 16 locker design options and content locker options panels to choose from.
Total number of users – 1000+
Pricing  – Single Product – $19-$35/mo ($19 each year), Extended Membership – $8.29/mo

Free
Premium
Screenshot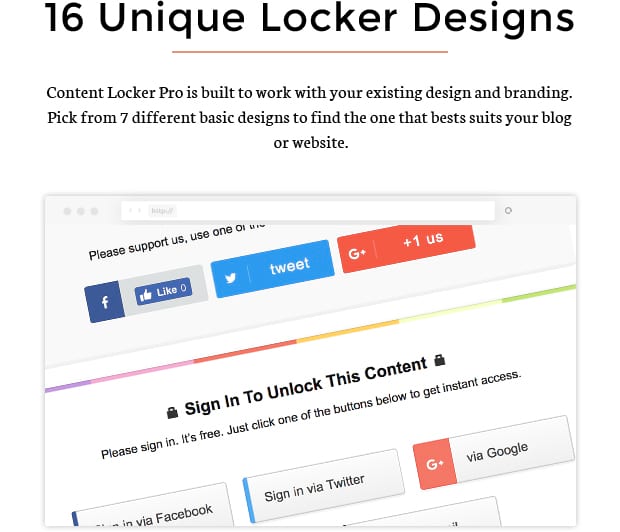 Content Locker Free WordPress Plugin by MyThemeShop
4. Social Share & Locker Pro

The multi-purpose plugin serves the dual task of content locking and social sharing. The quality plugin is highly effective in making your site an accomplished one. It offers to place the social sharing buttons on the sidebar, like popups, on images etc. Besides, it has 8 unique themes to display the content locking widget. It is neat and has no hassle of coding.
Total number of users – 4,000+
Pricing  – Regular License – $20, Extended License – $95
Premium
Screenshot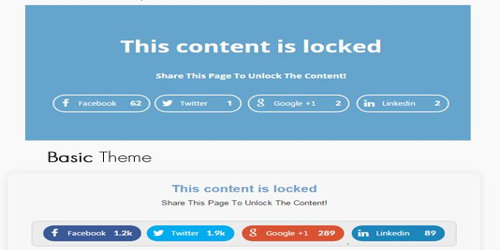 5. OnePress Social Locker

OnePress Social Locker is a popular content locking plugin that has a strong inclination towards the social well-to-do of your site by facilitating more likes and shares, build loyal followers and gain traffic from social networking. The plugin is a trusted choice of marketers, entrepreneurs and bloggers worldwide.
Total number of users – 12,300+
Pricing  – Regular License – $27, Extended License – $130
Free
Premium
Screenshot

6. Social Share & Locker Pro Theme Pack (W&B)

Social Share & Locker Pro Theme Pack is a multi-faceted plugin. It offers to lock the content using the referral point as the key. It also helps you to precipitate traffic and exchange content for traffic as a conversion optimization technique. It also prompts the users to share your post on their social profiles.
Total number of users – 250+
Pricing  – Regular License – $10, Extended License – $50

Premium
Screenshot

7. FacebookLikeLocker Pro


The plugin is designed on the algorithm –   More Likes = High Traffic = More Profit. Your content is in "Like Locker" format which will not get unlocked till the user likes the post. Thus, you can have a great social impact in no matter of time. This will build up ever-growing traffic and ensures a long-term gain for your site.
Total number of users – 200+
Pricing  – $22
Premium
ViraCorn
Screenshot

Conclusion – There are many plugins in the market related to locking content. But most of the developers didn't update their plugins for many years. That's why we recommend only 2 plugins for this work either you should go for Thrive leads or MyThemes Pro