13 Best Event Management Plugins For WordPress 2023
Are you looking for Premium or Free Best Event Management Plugins For WordPress? Event Management Plugins are nothing but fully functional Calendar Plugin. Some calendar plugins are more advanced, allowing your customer to create a booking, scheduling and ticketing, and event management.

With WordPress event calendar Plugin, you can easily display the event dates on your website. You can easily display events or booking details, images, payment methods, and maps with these plugins. You can easily add these calendars inside your widgets too. You can easily manage small to significant events like concerts, parties, conferences, workshops, etc.
To increase sales on your website, you can add FOMO marketing plugins and Facebook pixel plugins if you choose a Facebook platform for sponsorship.
How to Choose Best Event Management Plugins For WordPress?
. People have varied needs, and requirements, such as some people may need Event Management Plugins for spa & saloons, some for stage concert, some for ticketing. So, it's essential to check on some conditions before you choose a plugin.
Let's have a look at the factors that you might need to consider-
Integration should be easy with a proper support system.
Timely updates.
SEO friendly
The look shouldn't matter because too many bulky codes plugin will be challenging to create any further modification.
Would it be affordable to upgrade?
Does that Plugin have extra addons?
You may be interested in Book and appointment Plugin, Membership Plugins, and Subscription Plugins.
So, here's the list of Best Event Management Plugins For WordPress
Table Of Content
1. Amelia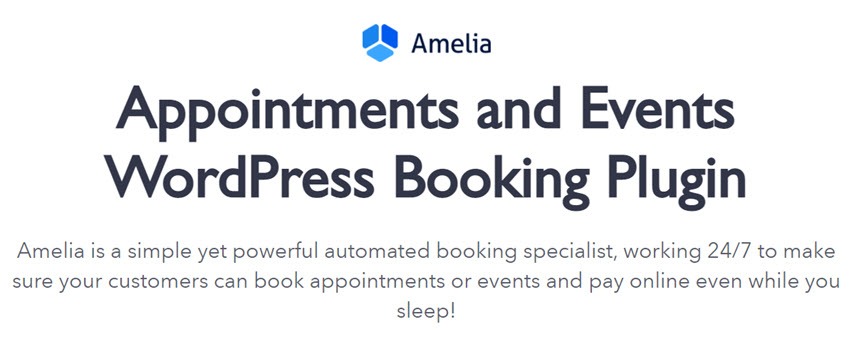 Amelia is a robust extension for the Events Calendar that manages different events that occurred on the website so perfectly. Amelia integrated so well with essential features that give you the experience of professional designers and developers. Let you organize either real or virtual events for your site whenever necessary. Easily accessible on different devices even without complex coding. Anyone promptly manages and schedules events within just a few clicks.
Integrated Features –
Easy to use interface that enables customizing the widgets and shortcodes in minutes.
Let you create unlimited events in just a few clicks and save the venue details if once any event occurs, there for next time.
Provides tools for automatically managing the schedule of events on a specific calendar after configuration.
List events so well and allow exporting through Google calendar or iCal.
Let your audience easily find a way to reach the event venue by placing a Map right there of the login front-end.
It is pretty responsive on mobile and desktop.
It is internationalized and can be translated into many languages.
Price – Basic – $60/annually (1 Site),  Pro – $110/annually (3 Site),  Developer – $253/annually (Unlimited Site)
Screenshot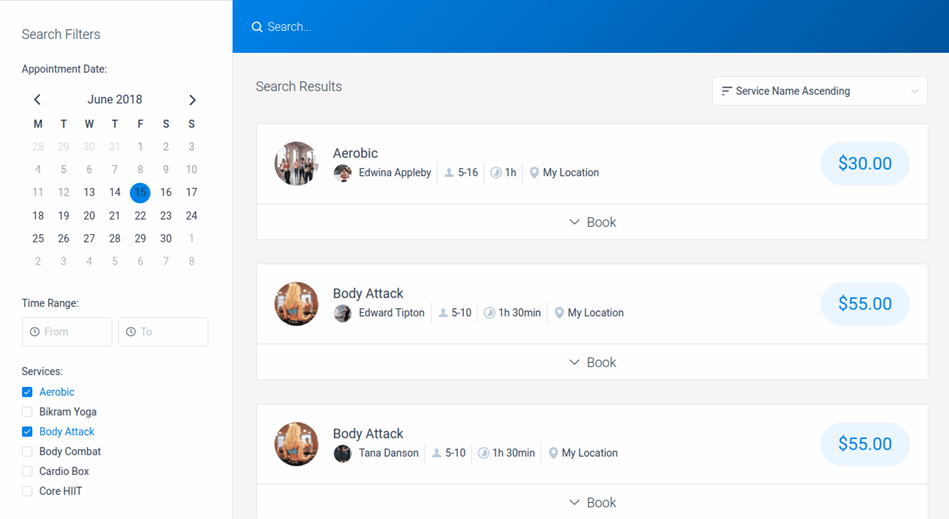 2. The Events Calendar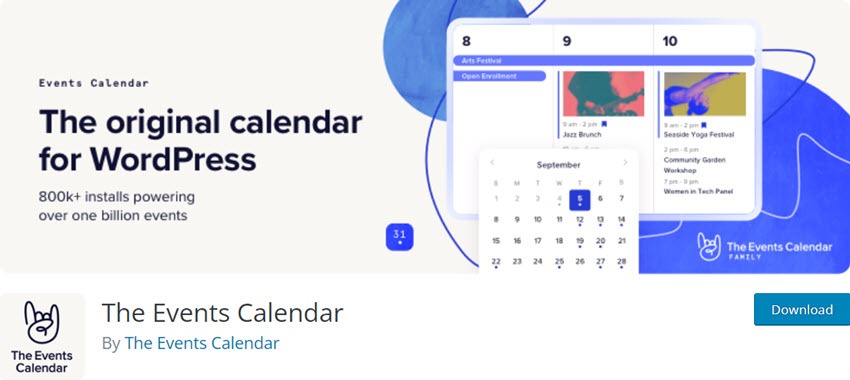 The Events Calendar is an organized extension for WordPress for managing recurring events from time to time. Maintain the schedule and day with Google Calendar, which reminds you about the project that you scheduled earlier. Provides every essential tool to carry forward the functionality of the event for any professional, including musicians, small businesses, restaurants, and more. Assure audience to get extinguished service while attending events. The Events Calendar can easily be installed and configured shortly by anyone ready to generate events that save time. The Events Calendar Plugin helps users create events calendars and manage them easily. The Plugin has high-level qualities and features.
Core Features –
Rapid creation of events within some simple steps.
Save the detail of the venue and the organizers of events that occurred for future recurring events.
Supports Block Editor.
Display listed events and calendar months along with specific tooltips.
Insert Google maps to guide your users to reach the organized event venue.
For customization, there are extensive template tags.
The EO can be improved with Microformats.
For super smooth browsing, the Plugin is wholly Ajaxified.
Events can be searched, and Google Maps are also available.
Total number of users – 800,000+
Price – 1 Site – $99/annually,  3 Site – $149/annually,  10 Site – $299/annually,  MultiiSite – $349/annually,  Unlimited – $750/annually
Screenshot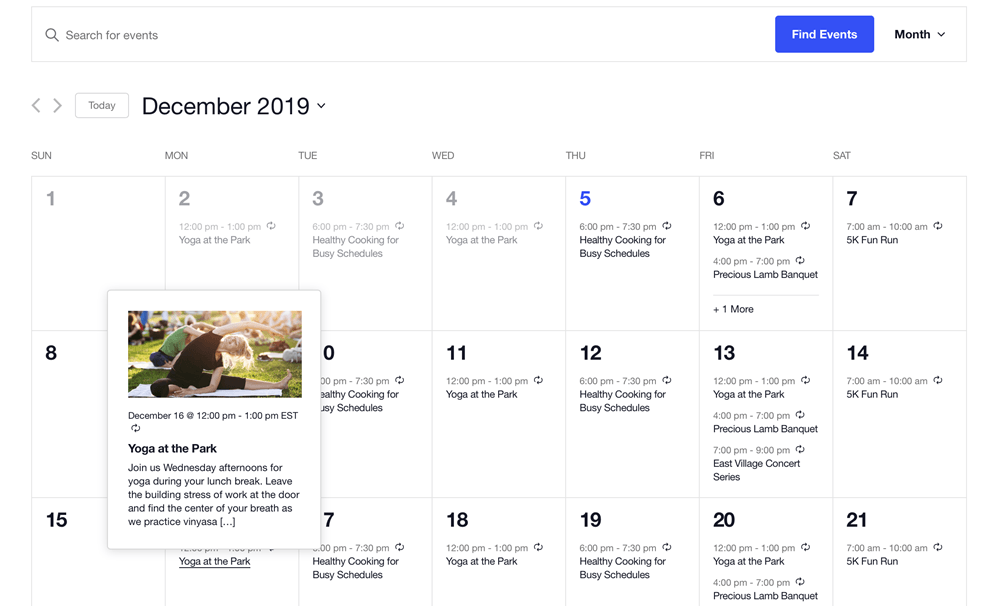 3. Event Espresso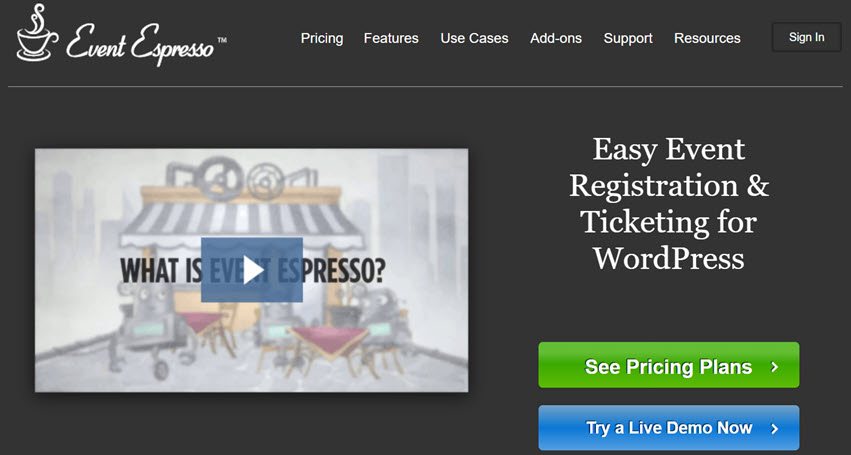 Event Espresso 4 Decaf is one of the best WordPress event manager plugins that help users manage events from the admin dashboard. Selling tickets for workshops, events, and training register attendees for classes, conferences, or concerts becomes more straightforward from the WordPress website using this Plugin.
Event Espresso is a diversified and lightweight plugin that manages every aspect of organizing events. Automate the event planner functionality with the assistance of this well-integrated extension. Offers a variety of services to enhance the scheduling of events. Manage recurring events while saving the data of organizers and venue where once it occurred. Highlight the venue's location for the established event on Google Maps that your audience will conveniently reach there.
Features
It is mobile responsive, and touch is also supported.
Other plugins such as Event Calendar Newsletter can be integrated with this Plugin, and many addons can be included.
Updates are easy and can be done instantly without any hassle.
Saves huge costs.
Easy to set up and use.
Smart, single-page checkout.
The events can be created rapidly.
The venues and organizers can be saved.
The events list can be easily viewed.
Caching is supported.
Price – Personal – $99.95/annually (1 Site),   Developer – $359.95/annually (5 Site),  Everything – $359.95/annually (1 Site)
Screenshot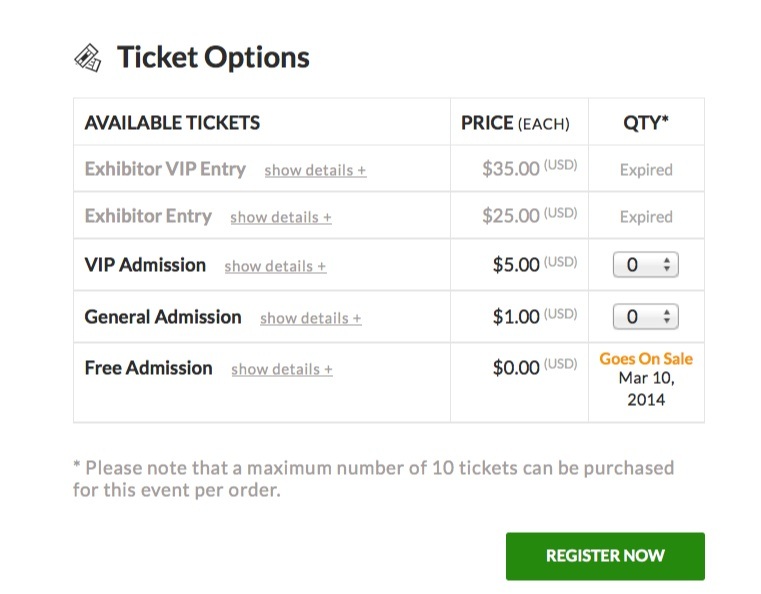 4. Modern Events Calendar Lite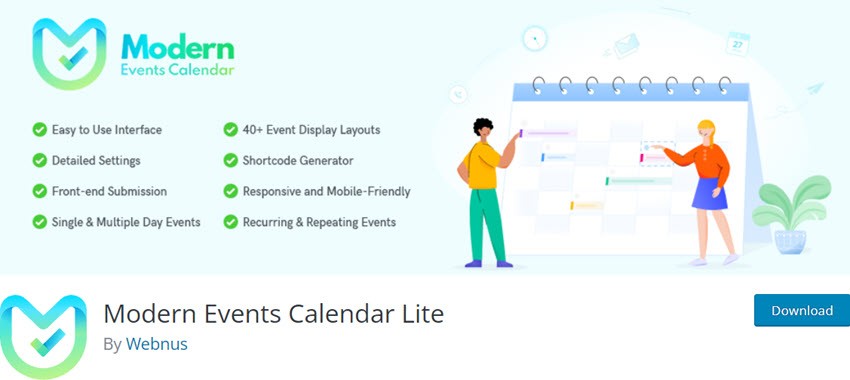 Modern Event Calendar – MEC is an entirely responsive and Free Event Management WordPress Plugin that helps display Google Calendars in WordPress, and Modern Events Calendar is a very suitable choice. Events can be shown by week, month, or in a list. An intuitively designed plugin for organizing events in minutes and saving the details for the future. Recurring Events must be organized once then scheduled at a regular time interval. Easy to configure and let you create a beautiful event page according to the necessity of the website. Small businesses, restaurants, communities, music groups, travels, and such event management professionals require an event calendar plugin to manage its functionality easily.
Modern Event Calendar contains enriched features to create and manage events to assist the event management website. Multiple display alternatives are available to show your events management, such as calendar, lists, grids, countdown, slider, timetable view, etc. Such views are entirely responsive on different devices as well as mobile-friendly. Enables to collect submission of events right on the front-end and required details so that the event planner carries forward their duty.
Features
It is effortless to set and has been very beautifully designed.
Events can be easily managed in Google without adding them to WordPress.
Events can be colour-coded, and the design can be customized as per wish.
The original calendar has been linked to each event.
The Plugin is SEO optimized.
Shortcodes can be generated through a shortcode generator to create customized calendar views.
Events can be assigned to a maximum of 5 categories which can be quickly sorted and filtered.
Total number of users – 90,000+
Price – 1 License – $75/annually,  5 License – $255/annually,  10 License – $455/annually
Screenshot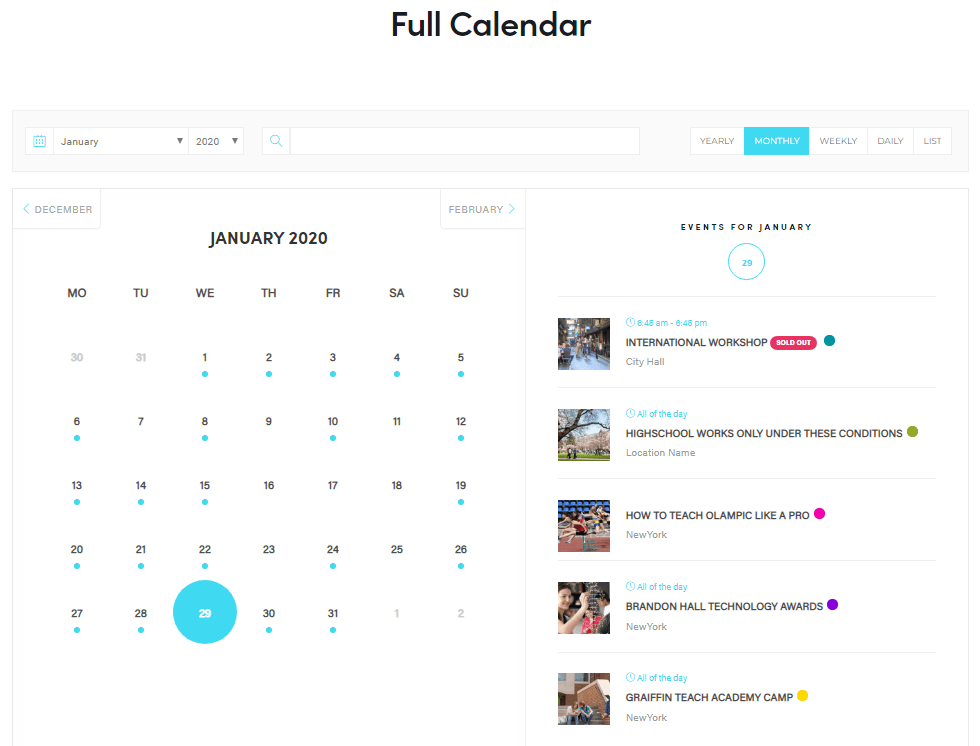 5. Event Calendar WD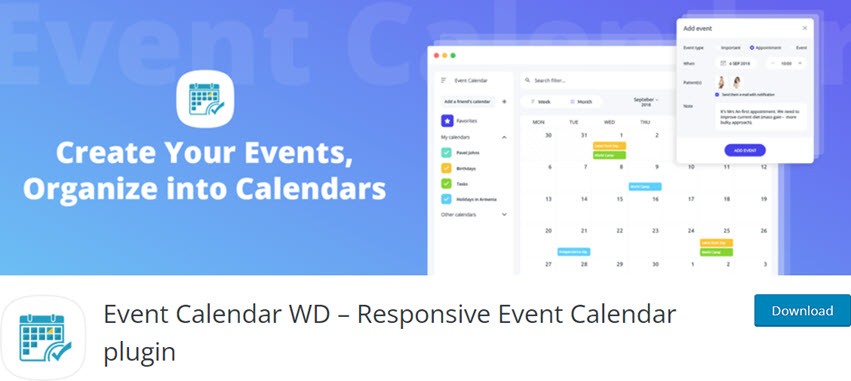 Calendar by WD is one of the best WordPress calendar plugins. A free, user-friendly, responsive WordPress event calendar plugin helps to manage helps the users to manage multiple recurring events and various display options. Events registration and management become very easy with this Plugin.
This Plugin introduces registration for those who want to attend the event—the quick and straightforward registration process by sending forms for registration either on the doorstep or by email. Select the category of attendees who is eligible to register for the event. Although, it enables you to customize the event page to furnish a beautiful layout that exactly matches the standard of your website. Maintain the privacy of the event page by protecting its access with a password.
Features
Responsive calendars, upcoming events, and much more can be displayed using this Plugin.
The width of the widget and main calendar can also be altered.
Scheduling events become more accessible through the recurring events option.
Several event display options and themes are available with Spider Calendar.
The number of displayed events in the popup can be defined.
Popup background colour and its height and width can be altered.
It provides you with the details of the location of your events and organizers.
You can also add tags or categorize your events.
Total number of users – 20,000+
Price – basic – $25/annually (1 Site),   Standard – $40/annually (3 Site),  Advanced – $60/annually (30 Site)
Screenshot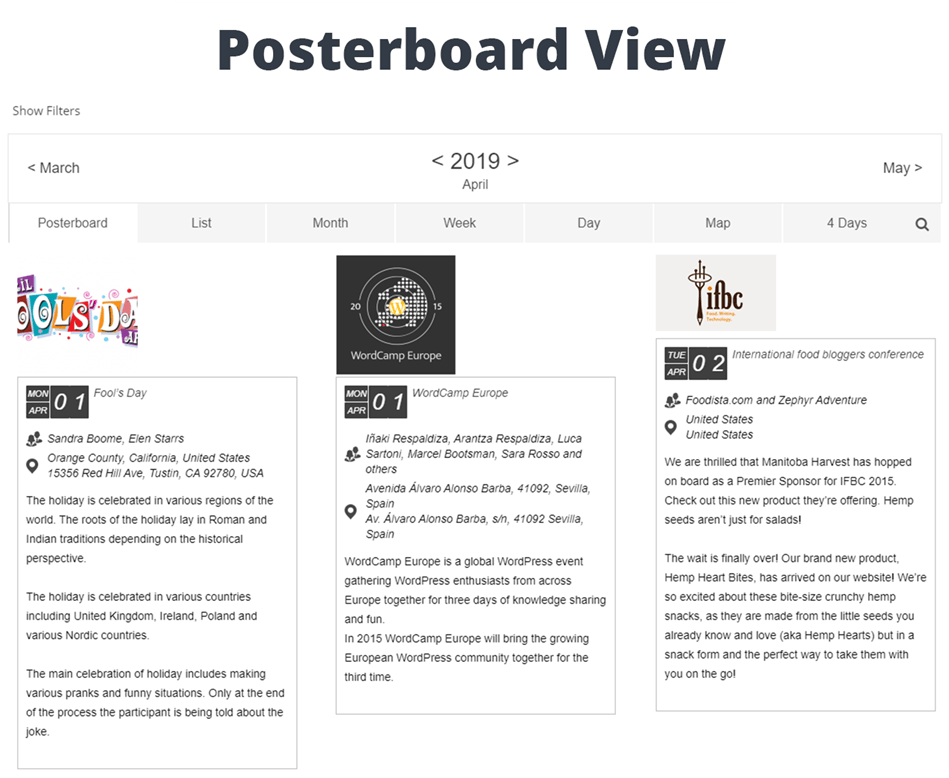 6. Event Monster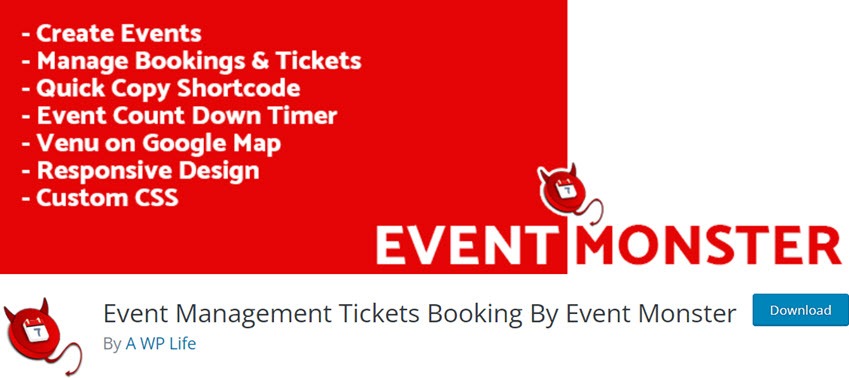 Event Management Tickets Booking By Event Monster is one of The best event management plugins for WordPress that enables the users to easily create and manage events, event tickets, sponsors, event bookings, and more. It is one of the most straightforward and influential event management plugins for WordPress. It comes with a user-friendly interface, making it very easy for the users to create and manage events on their WordPress website. It also allows you to complete registration forms to accept event bookings, manage free and external bookings, and manage attendees.
Features
The Plugin comes with a very elegant admin dashboard that enables the users to add or create multiple events, manage events, Event logos and banners, event date and timings, event venue and location, the organizer list, event registration forms, and much more in one place.
It also enables you to share your events on multiple social media platforms using the social share icons.
The Plugin is highly customizable. Thus, you can easily customize the event email notification message, registration form fields, font size, and more. Also, It allows you to send an email notification to the admin on registration.
It comes with custom CSS that allows you to apply your design and style modifications.
The Plugin comes with a responsive and user-friendly interface. Hence, it works seamlessly across devices of all sizes.
Total number of users – 700+
Price – Presonal – $79/annually (1 Site),   Business – $317/annually (5 Site),  Developer – $639/annually (10 Site)
Screenshot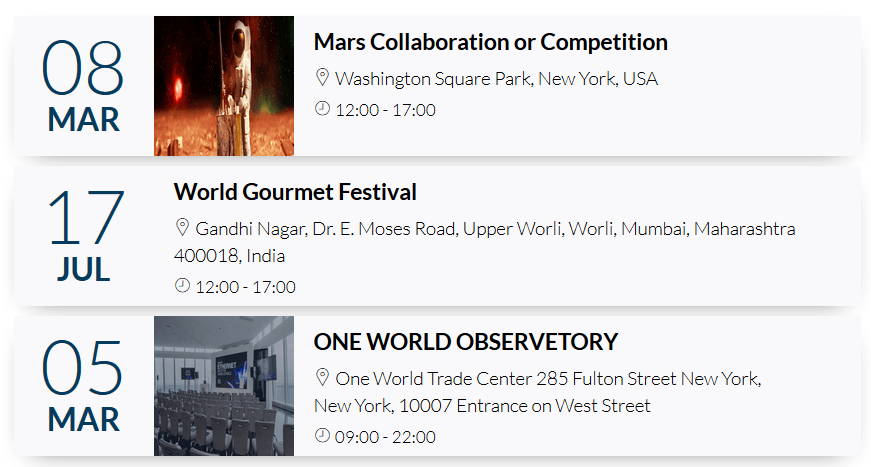 7. All-in-One Event Calendar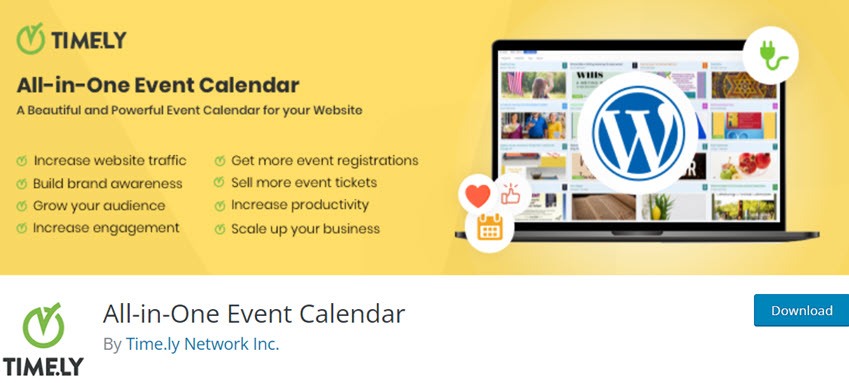 The All-In-One Event Calendar helps users showcase events on the WordPress Website. So that your complete visitor or website can check, you can easily manage the events calendar from the backend. Events can be quickly created from the WordPress admin area using an All-in-one event calendar. Sign-ups can also be designed to collect information about attendees, create reports and accept payment. There is also the option of multiple pricing and ticket.
Features
It has a beautiful visual design along with powerful, user-friendly features.
This helps to create the most advanced website calendar system.
Import the events from another Website calendar, and the visitors can subscribe to the event calendar.
There are recurring events that also include complex patterns.
Filter the events by events category and tags.
There are colour-coded events based on category.
There are online calendar theme events.
Allows view based on day, month, week, schedule, and posterboard.
Each event is SEO-friendly.
Total number of users – 100,000+
Screenshot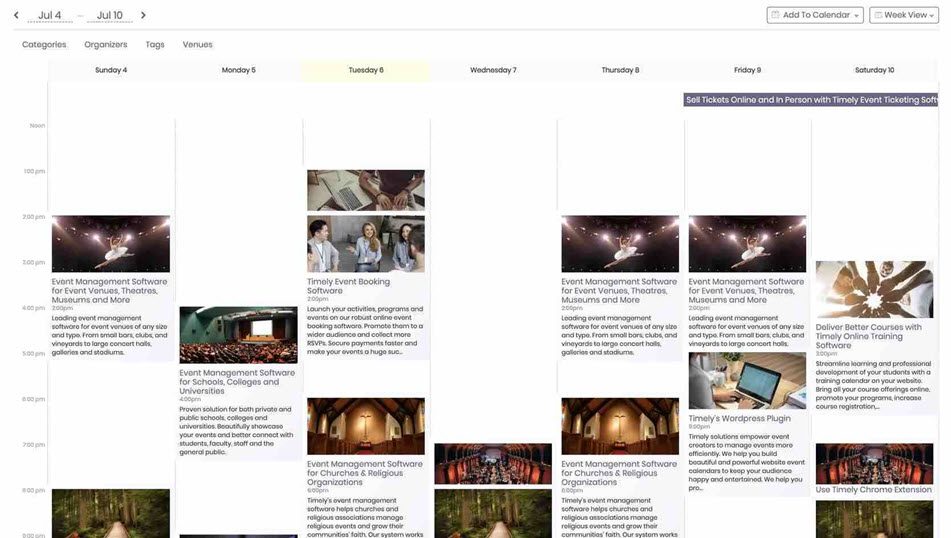 8. Events Manager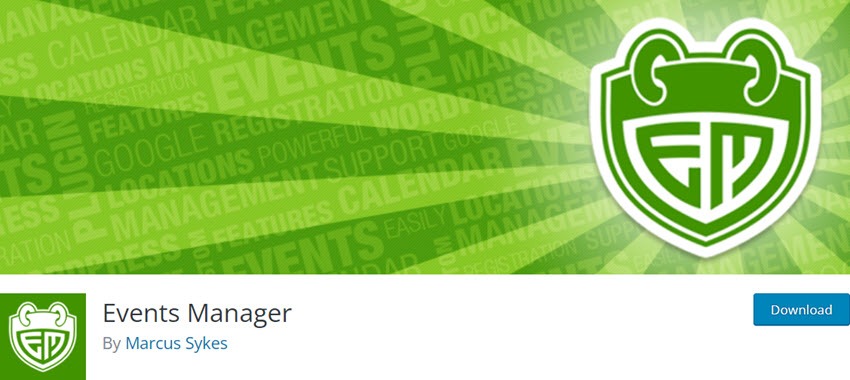 Based on the principles of flexibility, powerful features, and reliability, the Events Manager plugin can be deemed as a full-featured plugin for WordPress. The events registration is straightforward.
Features
Lengthy and recurring event registration can also be done.
You can make submissions by guest events and also manage bookings easily.
You can assign events locations and view them by their sites.
Easily creates custom event attributes.
There are many event categories.
You can add the Plugin to Google Calendar buttons.
SEO plugins are fully compatible with it.
You can create events in different timezones, i.e. It supports timezone.
Many template tags and shortcodes are available for use in posts and pages.
You get a lot of documentation and tutorial.
Total number of users – 100,000+
Screenshot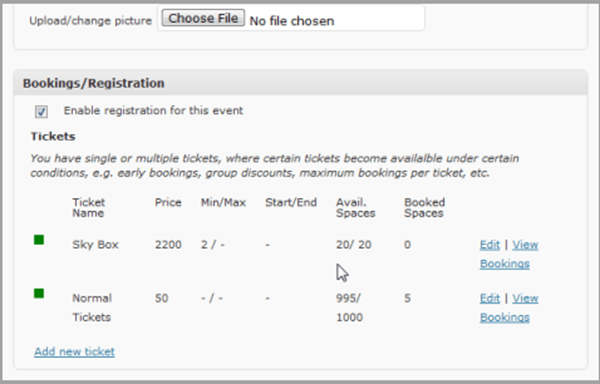 9. WP Event Manager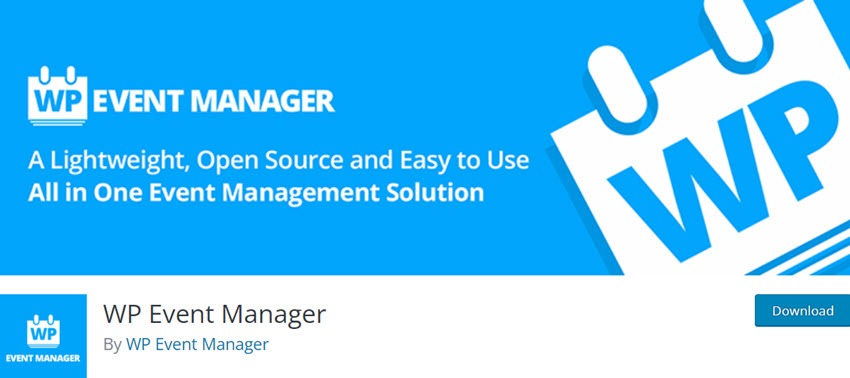 WP Event Manager helps the users to add event listing functionality. It is a scalable, lightweight, and full-featured event management plugin for WordPress. Add, manage or categorize the event listings using the WordPress UI.
Features
They are also searchable and filterable ajax powered, which are added to the pages via shortcode.
There are front-end forms for guests and registered users to submit and manage event listings.
You can easily create a custom event field.
There are widgets for recent, upcoming, and featured events.
The logged-in users can view, edit, delete, or mark cancelled active event listings.
It is developer-friendly and has caching support.
The Plugin is supported and actively maintained.
WP Event Manager plugin is fully responsive.
It supports multilingual translations.
It comes with multiple template tags and shortcodes which you can use in your posts or pages.
Total number of users – 10,000+
Screenshot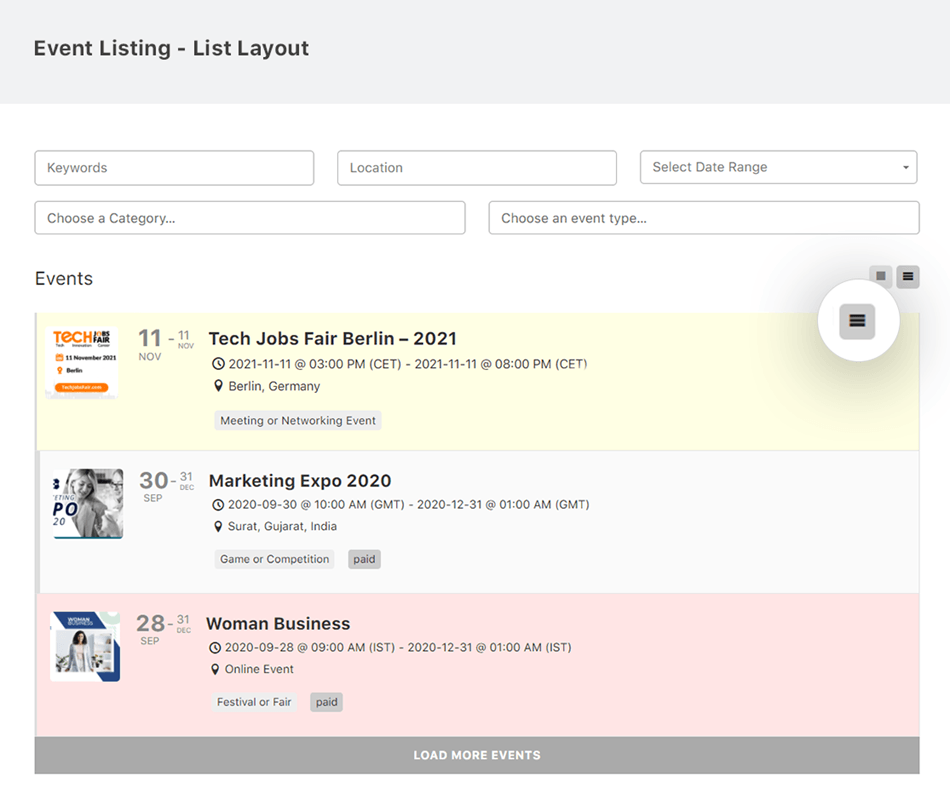 10. WooCommerce Event Manager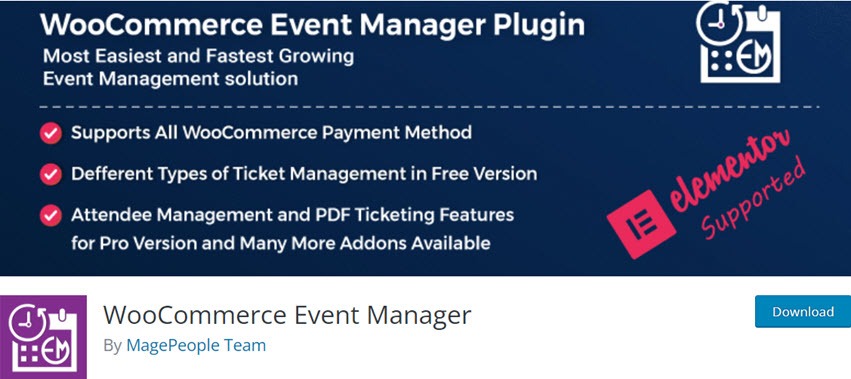 WooCommerce Event Manager is a WordPress calendar plugin that supports individual events calendar within WordPress Multi-Site and helps users manage events. They can be richly customizable.
Features
Display events in the calendar grid and list views.
For compact displays, there are mini calendars. For even outputs, there are custom displays.
Limit views by categories, author, location, and host.
Schedule the recurring events.
You can edit single occurrences of recurring events.
There is rich permission handling to restrict access to parts of My Calendar.
It also allows you to manage locations.
You can create customized views using shortcodes.
This Plugin is easy to set up and use by anybody.
Total number of users – 8,000+
Screenshot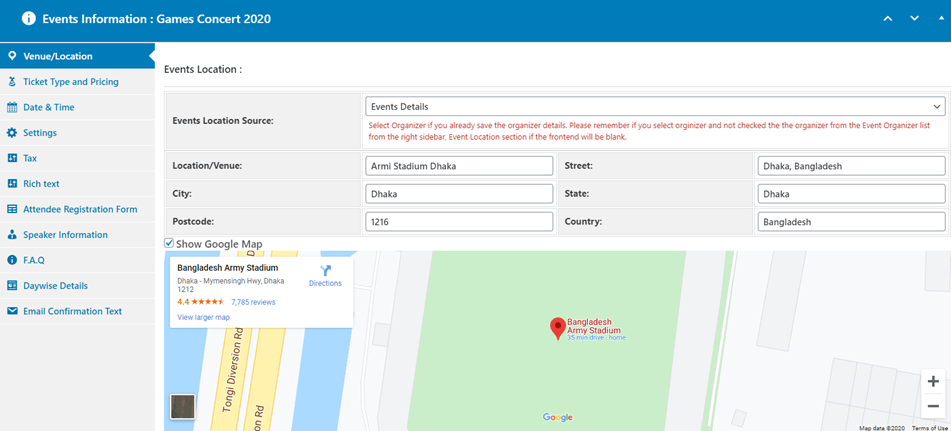 11. Events Made Easy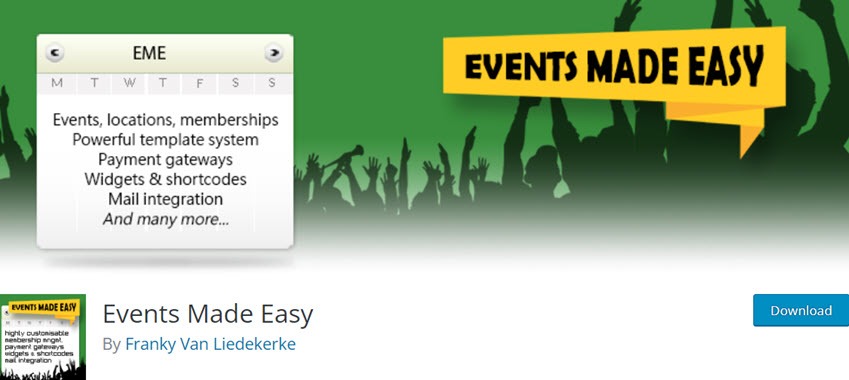 The Event Made Easy Plugin helps users build unique booking calendars for WordPress websites. The Plugin has a clean and smooth interface, and hence, you can show availability and receive bookings for property and services.
Features
It is a very easy-to-use booking system.
Its functionality is very flexible, and it suits a variety of businesses.
The front-end and backend designs are very responsive.
It saves all the bookings and settings in the DB so that you don't need any third-party account.
You can view bookings in Calendar Overview and or Listing Table.
The Booking Admin Panel is also straightforward to use.
The Plugin is straightforward to install and integrates easily with the website.
Total number of users – 7,000+
Screenshot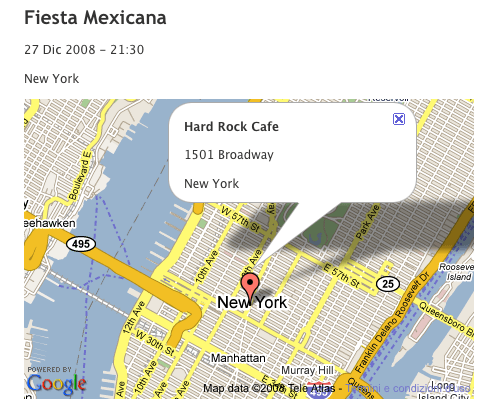 12. MotoPress

Timetable & Event Schedule is one of the best free WordPress event calendar plugins, which helps users add event management that integrates very well with WordPress websites. It allows creating events with the same functionality as posts using the in-built custom post type. It also adds many more features which help to manage events.
Features
Repeat events according to complex schedules and assign them to venues.
Events can be viewed in the WordPress list, which is familiar, or on the calendar page in the admin area.
Add or Remove specific dates from events.
There is an option for relative date queries.
Custom permissions can specify roles to create, edit, and delete events and manage venues.
Automatically delete the expired events.
This Plugin has a responsive design, i.e. Your audience can adequately view the timetable and upcoming events widgets on their phones and tablets.
A timetable schedule doesn't require any coding skill; anyone can use it easily.
Price – Unlimited Site – $249/annually, Unlimited Lifetime – $699/OneTime
Screenshot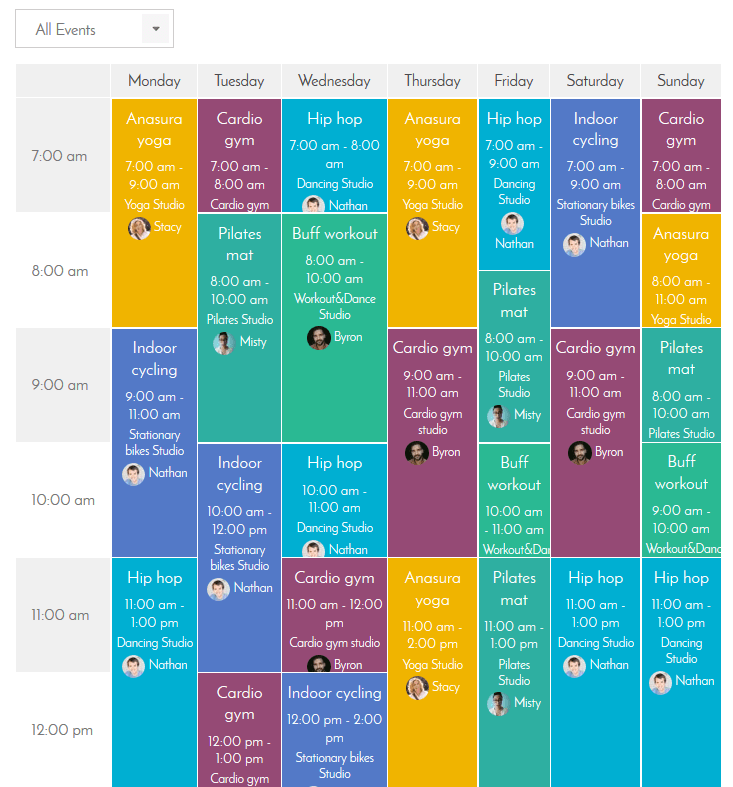 13. EventON

EventOn is the best seller WordPress Event Calendar Plugin. It has an excellent design and imposing features.
Features
The title layout is very sleek and straightforward.
It has a unique interactive shortcode generator by which customizing calendar options becomes very easy.
For the events to repeat, set custom repeat schedule events and set Featured images for events.
You can also show them on event cards and eventTop rows.
Use Google Maps to display event location and direction.
You can create events that don't just last for a single day.
It also enables you to add events by the visitors on the Google Calendar and download them.
Price – Regular License – $25/OneTime (1 Site)
Conclusion – Still confused about which is the Best event calendar WordPress Plugin?
I mostly trust the event espresso plugin, the most trusted Plugin and has many features with 35+addons. One of the most famous developers ever known. Depending on your requirement, you can either go ahead with the free version or a premium version. Or you also buy  Calendar by WD and  Webnus MCE that's worth each penny. You can check with the demo on their website. Let me know which one you are using in the comment section.
It would be best if you tried our post-booking plugins for WordPress.