8 Best WooCommerce Dynamic Pricing Plugins 2023
Dynamic pricing is an excellent way to show different pricing based on different rules applied in your eCommerce. You can easily create different kinds of discounts for each user, for example, special offers, user role based discounts, cart discounts and Bulk discounts with the Dynamic Pricing and Discounts plugin in your eCommerce store.

Some of the top discount rules you can apply to your eCommerce store are as follows.
Conditional discount,
Offer free product when the order total is above Y amount
Buy One Get One Free offers
Product-specific discounts
Purchase history-based discount
Cart sub-total-based discounts
Discount Table on Product Pages
Delivery address-based discount
Applying multiple discount rules in a purchase Next order discount
User role-based discounts
SALE Badge for discounted products
Product Attributes based discount
Bulk purchase discounts
Tiered discounts
Store-wide global discount
Percentage based
Product Specific Discount
BOGO Deals
Cart Total Offers & Deals
Price based
Holiday Discount Campaigns
Category-wide discounts
Discount for Product Variations
Fixed cost discount
First-order discount
Coupon activated discount
Discount for customers with specific domains
Let's list the top Discount Rules and Dynamic Pricing plugins for WooCommerce as follows.
1. Flycart Discount Rules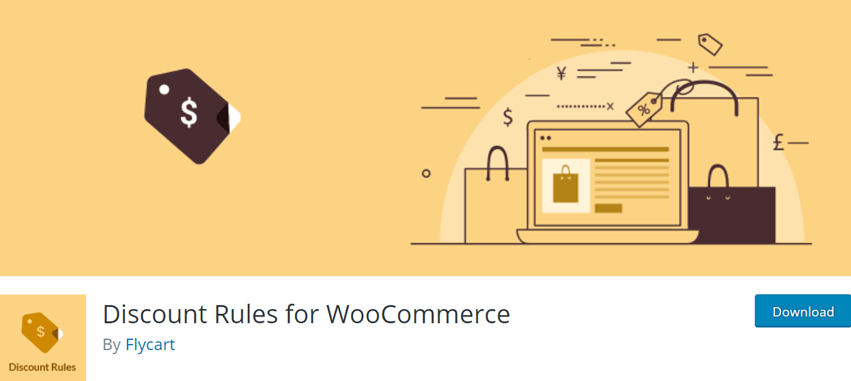 Discount Rules for WooCommerce is a most intuitive WooCommerce dynamic pricing plugin for an eCommerce website to tackle the complex pricing for various products. It is a lightweight and easy-to-configure interface that lets anyone easily install and access it. Moreover, you get professional support to configure your discount and price strategy well within a few clicks. Easily create and manage bulk discounts, dynamic prices, cart discounts, special offers, etc. Apply such discounts and pricing to your available products that boost your sale and conversion at once.
Core Features –
Create volume-based pricing on products that lets your customers purchase in more quantities to get better discounts.
Combo Pricing, i.e., combine products and configure special pricing for them with special offers that attract visitors to buy such combo products.
The interface is straightforward to work with.
Create effective deals and promo codes for your wholesale customers with the Wholesale Pricing Model.
Multiple discount types can be applied, such as Bulk purchase discounts, Fixed cost discounts, Percentage-based, Store-wide global discounts, Category-wide discounts, Buy One Get One Free offers, Buy One Get One Free offers, and more.
A discount table can be created for Product pages.
On sale, products can be excluded from the discount rules.
Total number of users – 70,000+
Price – 1 Site – $49/annually,  5 Site – $79/annually,  25 Site – $129/annually
Screenshot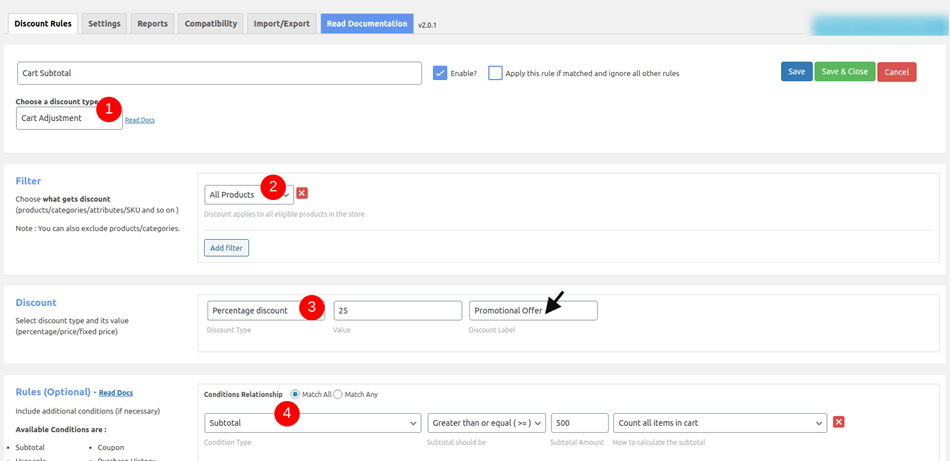 2. WooCommerce Dynamic Pricing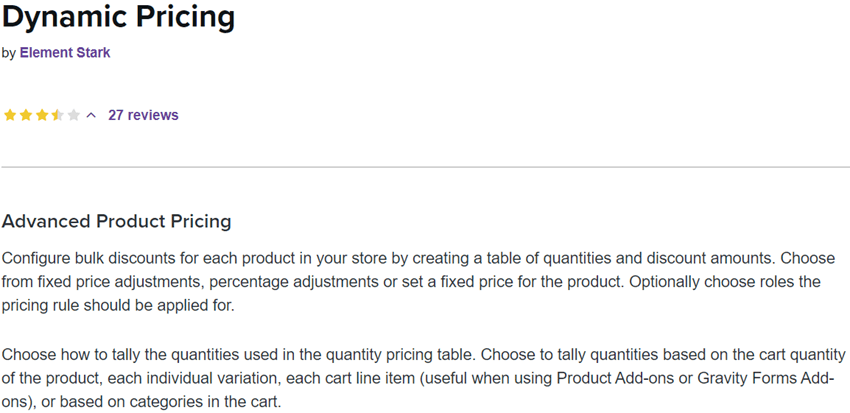 Dynamic Pricing for WooCommerce is a lightweight and straightforward active pricing plugin for WooCommerce for creating bulk discounts and custom pricing for your available products. Let you create a descriptive table where you can tally the price and quantity for each product. Engage more visitors to your website by offering different pricing based on the amount. Adjust advanced pricing on a percentage or fixed products to defined customers based on their roles, i.e., a customer who has to hold the membership.
Elementary Features –
Advanced Product Pricing – Let you create a table for discounts and quantities for each product in bulk.
Advanced Category Pricing – Let you adjust pricing and bulk discount for all products in a category.
Simple Category Pricing – Create discounts and instantly adjust pricing for all products in a category. And display it to all your shoppers when they browse such products.
Simple Role-Based Pricing – Let you configure and display discounts on exclusive products for role users only.
Price – 1 Site – $129/annually
3. YITH WooCommerce Dynamic Pricing And Discounts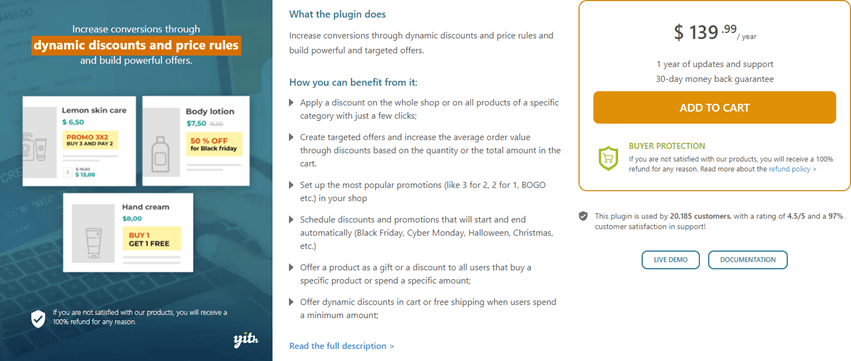 YITH WooCommerce Dynamic Pricing and Discounts assists your website in adjusting pricing and discounts on different available products. A nicely integrated customer-specific pricing plugin for any eCommerce store lets you create targeted offers. You can make bulk discounts for exclusive products, targeted recommendations based on quantity, and other popular schemes such as BOGO, 3 for 2, 2 for 1, etc. Offer additional discounts on the total amount of the cart and free shipping for spending particular money while purchasing. Attract more customers by availing of a variety of pricing and discounts that ultimately boost your sales.
Essential Features –
Manage special offers and Buy One Get One offers with your own rules according to the necessity of your website.
Create discounts based on product quantity and offer gifts or additional discounts on various products.
Let you configure fixed or percentage discounts to adjust the pricing of whole products and specific categories.
You can set unlimited discount rules.
The discount can be applied to products and specific product categories as needed.
There is no manual intervention for discount calculation, it gets auto-calculated and applied to the cart.
Price – 1 Site – $139.99/annually
Screenshot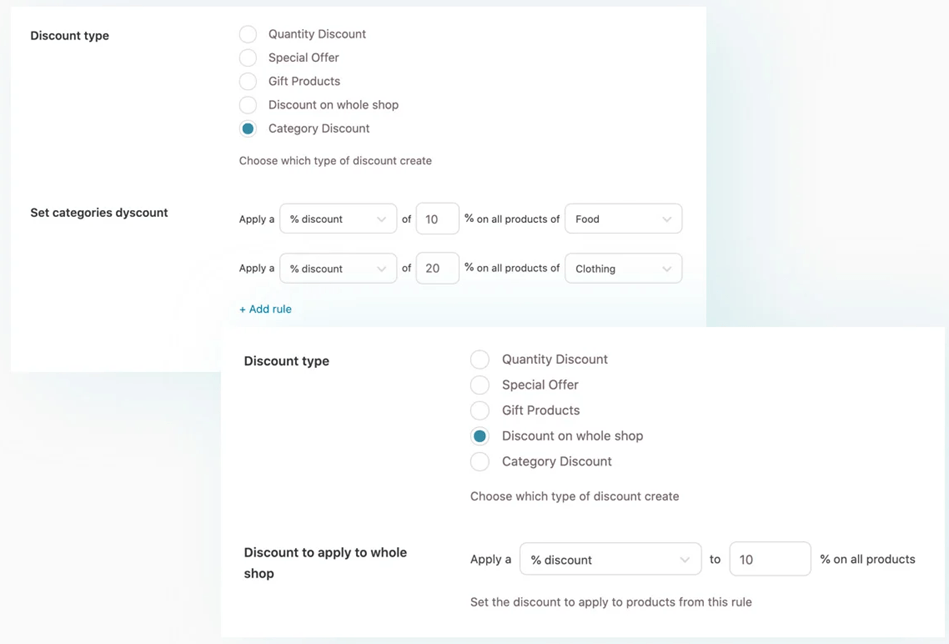 4. Discount Rules and Dynamic Pricing for WooCommerce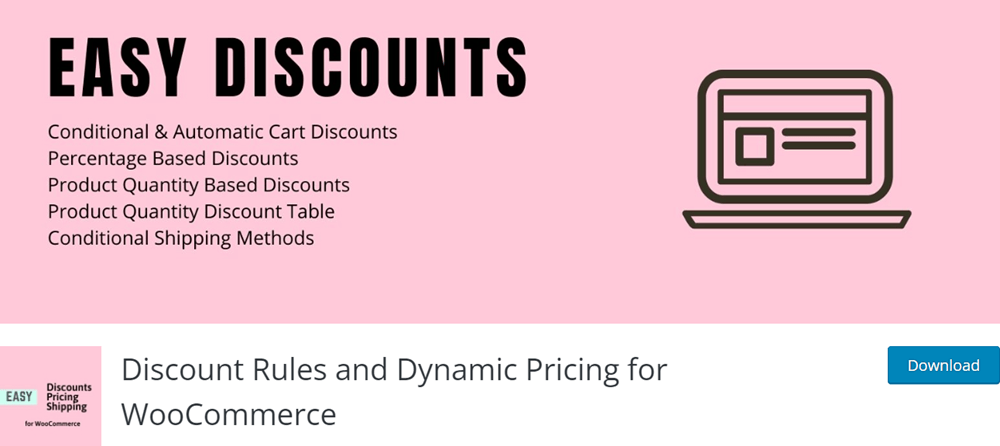 WooCommerce Dynamic Pricing and Discounts Plugin is one of the most popular discount and  dynamic pricing plugin that enables the users to set variable prices and discounted prices on your eCommerce store. Dynamic pricing is a price variation strategy where the eCommerce stores changes or alter their product prices according to the market trends, conditions, users preferences and more. This is where the Dynamic Pricing and Discounts Plugin comes into role.
The plugin helps you set discount and vary the prices of , product categories, individual products or the product cart according to the changing market conditions and trends. The best part about this plugin is that it is beginners' friendly and thus, is extremely easy to use.
Features
Using the WooCommerce Dynamic Pricing and Discounts Plugin, you can easily create BOGO deals, bulk discounts, individual product discounts, percentage discounts, category discount, quantity discount, cart discount, discount table, member discounts and much more on your eCommerce store.
You can position the pricing table wherever you want on the product page using the Dynamic pricing plugin.
With this powerful dynamic pricing plugin, you can add not just discounts but also apply dynamic shipping methods on your eCommerce store.
The plugin also let you send notifications to customers informing them about the discounts and dynamic prices.
It applies available discounts on the products and carts automatically.
Total number of users – 5,000+
Price – 1 Site – $30/annually,  5 Site – $59/annually,  25 Site – $89/annually
WooCommerce Dynamic Pricing and Discounts Free Plugin (2021 Tutorial)
Screenshot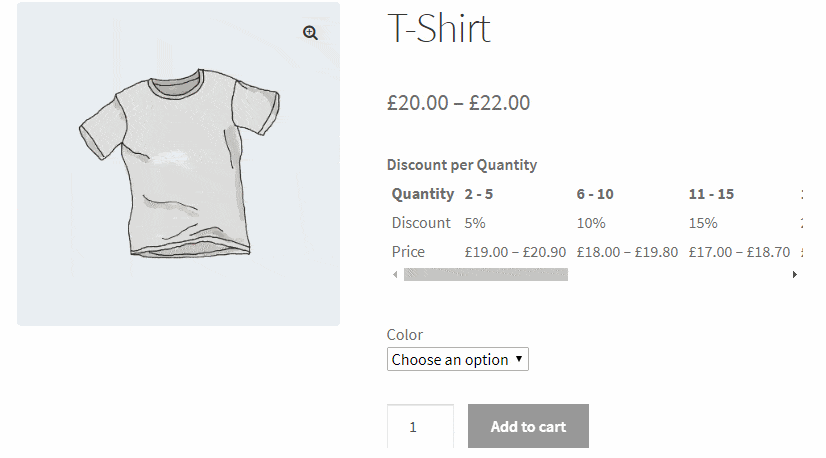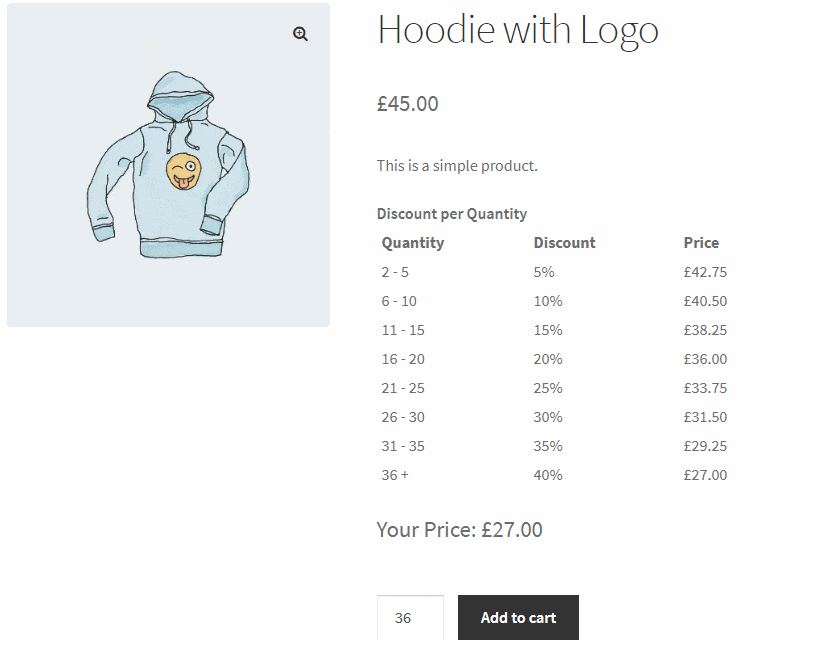 5. ELEX WooCommerce Dynamic Pricing and Discounts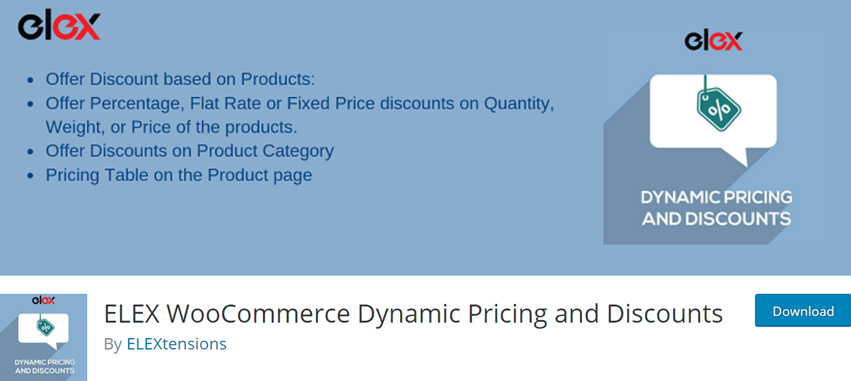 WooCommerce Dynamic Pricing and Discount Rules is the highly customisable customer-specific pricing for online stores where you can create and price numerous products. This robust yet simple plugin lets you configure a variety of pricing strategies such as Bulk Discounts, special offers, cart discounts, user role discounts, etc. Attract more visitors by availing themselves of offers and deals that make them purchase from your online store at the best price.
Integrated Features –
Create fixed discounts or percentage discounts for specific and exclusive products.
Configure discounts on bulk purchases for exclusive products on your site.
Create discounts on specific products and product categories instantly.
Provide discounts to customers based on the total amount of the cart.
Display special offers and discounts on the product page as a message to notify your visitors before purchase.
Configure discounts based on user roles which means introducing discounts for selected and specific customers.
Maximum Discount Amount can be easily set to limit the maximum discount offered.
Both free and premium versions are available.
Total number of users – 1,000+
Price – 1 Site – $79/annually,  5 Site – $119/annually,  25 Site – $199/annually
httpv://youtu.be/–qhLAiYOjo
Screenshot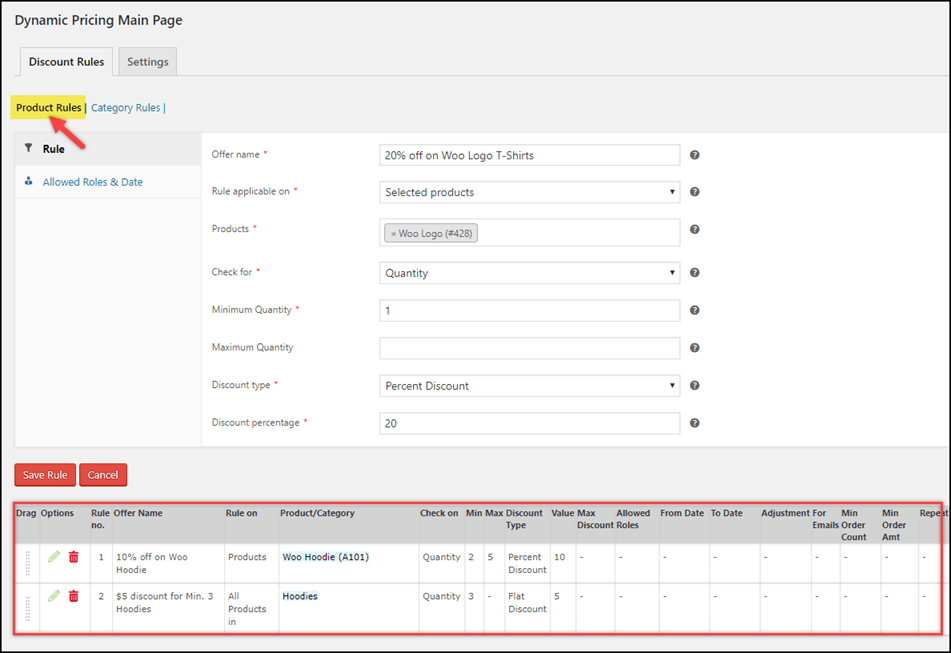 6. DotStore Dynamic Pricing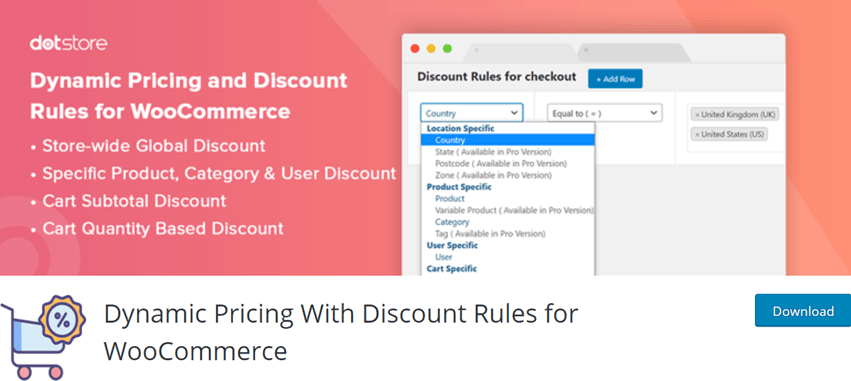 To create pricing rules and dynamic discount rates for your WooCommerce store, you should use the conditional discount for WooCommerce checkout. Regulations to set discounts in this plugin are more straightforward than in other plugins.
Country-based discounts, special offers, cart discounts, bulk discounts, and user role-based discounts can be created using WooCommerce dynamic discounts.
Specific discounts can be based on categories, bulk purchases, products, and users' countries. You can exclude/include products on sale using this plugin.
With the paid version of the WooCommerce Dynamic Pricing and discount plugin for WooCommerce, feature discounts can be set up based on country, Zip code, and state. Different categories of discounts can be made, like the product category, shipment class, shipment method, and payment gateway-based discount.
To access this plugin, you need a PHP 5.4 or higher, WOOCOMMERCE 2.2 or higher, and WordPress 5.0 or higher. To install this plugin, upload it to your WP site or directory of your site and activate it through the plugin menu.
Total number of users – 1,000+
Price – 1 Site – $79/annually,  5 Site – $129/annually,  Unlimited Site – $249/annually
Screenshot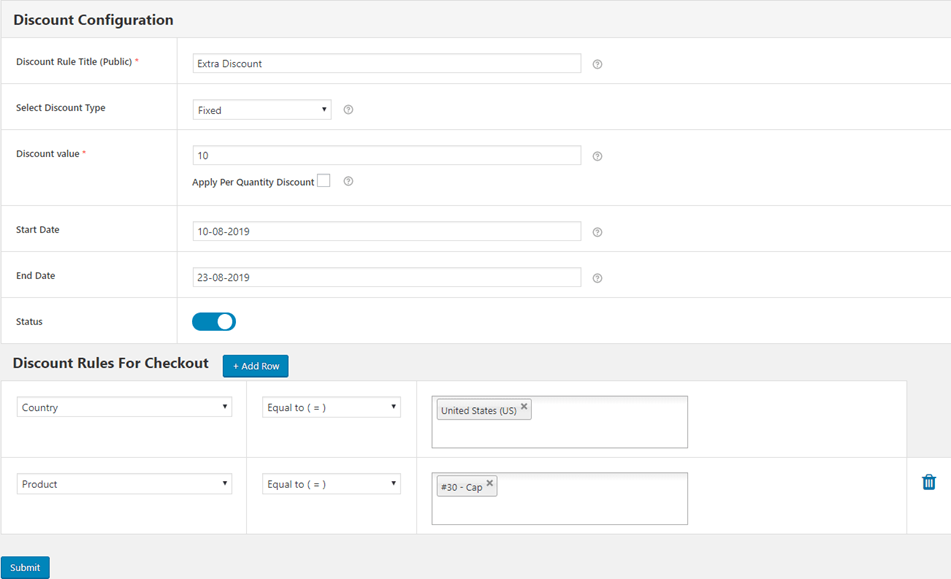 7. AlgolPlus Advanced Dynamic Pricing

AlgolPlus offers a free Dynamic Pricing plugin for eCommerce that helps you easily apply complex rules of discounts to products. You have the liberty to apply flat discounts, percentage-based calculations, or set a dynamic pricing rule. With Advanced Dynamic Pricing for WooCommerce, you can select various dynamic pricing and discount rules. Besides, you can initiate or deactivate these rules at any time.
Key Features:
The plugin allows you to set the total package price.
Bulk rates can be obtained using tables.
Cart items can be filtered using custom fields, tags, products, and categories.
Multiple discounts and fees can be combined too.
You can display multiple product pricing rules via a table for a particular product. Thus, a visitor will know the various discounts applicable to that product at a glance.
You can create an Offer Table for all the products.
Create BOGO deals based on customer purchase history, product category or user role.
Total number of users – 20,000+
Price – 50 Site – $79/annually,  5 Site – $100/annually,  10 Site – $200/annually
Screenshot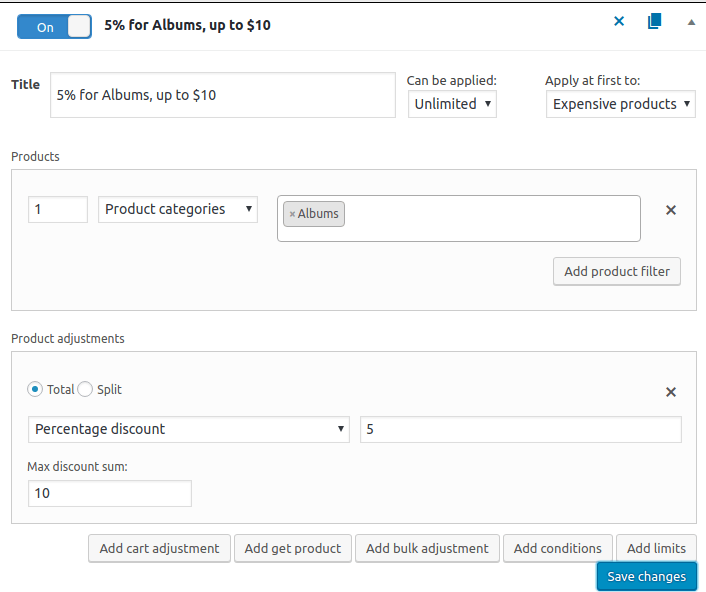 8. Conditional Discounts for WooCommerce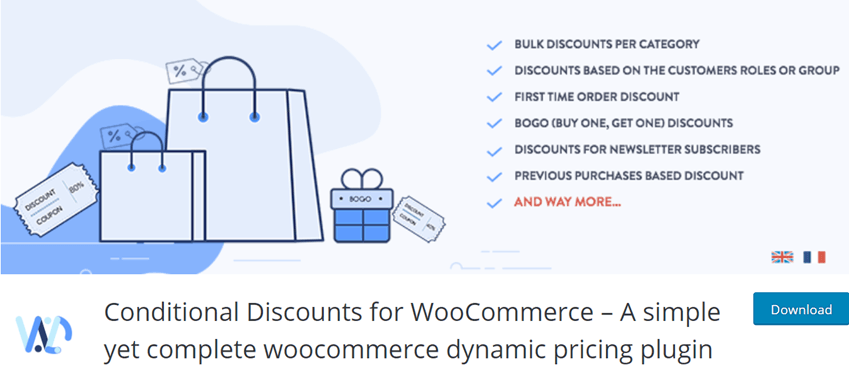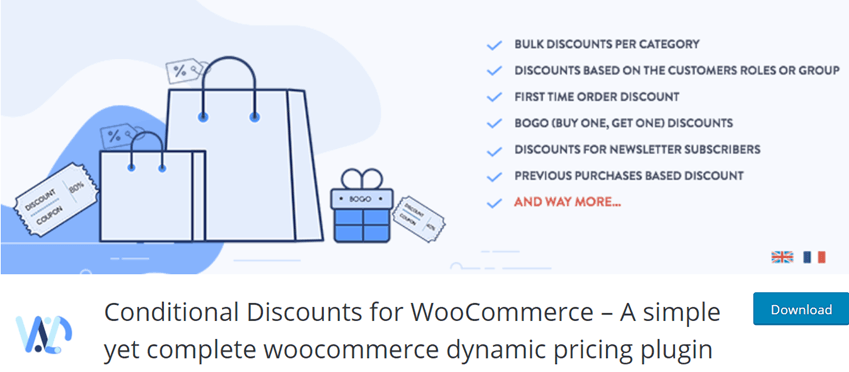 Conditional Discounts plugin ensures a group loyal customer base for you in the long run. Grabbing your customers' attention allows you to create ad hoc promotions. If you want customer loyalty and to generate profit in one go, you must consider the WooCommerce discount plugin. Management of all kinds of shop discounts can be handled with expertise.
Key Features:
Any dynamic discount can be created, such as fixed amount discounts, buy one get one, bulk discounts, percentage-based, gifts, and more.
Advanced discounts are applied through Dynamic pricing.
Dynamic pricing can be applied based on user role, cart item, tags, meta, attributes, bulk order, product categories, etc.
Freemium version – Both free and pro versions are available.
The comprehensive plugin allows you to apply promotions, Discounts, special prices, and bonuses to your store in a few clicks.
You can set a threshold to create a discount. This will work as a master sheet while applying values.
Easily create Customer membership role-based discounts, billing country, email domains, customer groups or shipping rates.
Total number of users – 10,000+
Price – 1 Site – $60/annually,  5 Site – $180/annually,  25 Site – $600/annually
Screenshot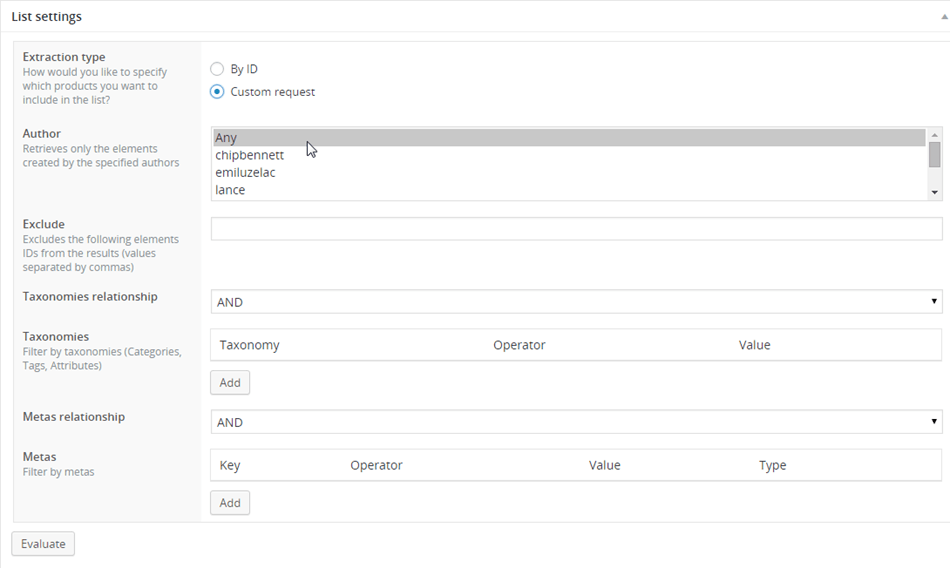 9. WooCommerce Dynamic Pricing & Discounts

Pricing Deals for WooCommerce is a popular dynamic pricing discount plugin for WooCommerce to apply product discounts owing to its versatile and valuable features. It is an intuitive plugin that has simplified using cart discounts, bulk discounts, user role-based discounts, and special offers to your online store.
Key Features:
This WooCommerce Dynamic Pricing plugin is a feature-rich tool to offer marketing deals, dynamic pricing and discounts for your WooCommerce store.
The discount rules can be tailor-made to suit your requirements.
Both catalogue price discounts and Dynamic Cart Pricing discounts can be created in a streamlined fashion.
"Discount Equal or Lesser Value Item" – NEW BOGO Function is available.
Price – Regular License – $62/annually
Screenshot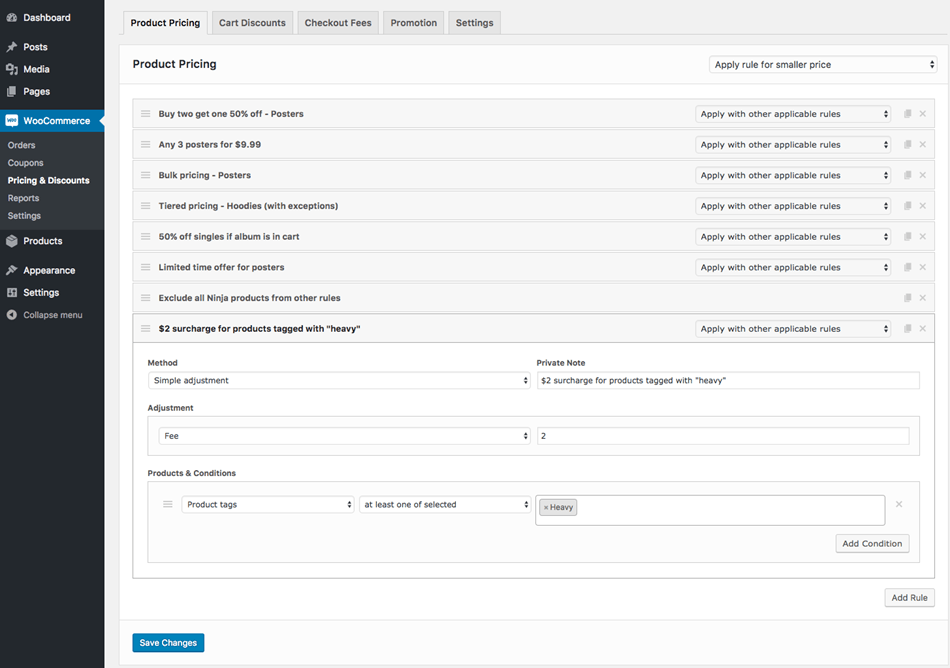 You might be interested in Discount Plugins, Role-Based Pricing Plugin, Google Product Feed Plugin and  Quick View Plugin.