10 Best Responsive Tabs Plugins For WordPress 2023
Are you looking for premium or free best Tabs Plugins plugins for WordPress? Tabs are the best way to showcase your work in less space. Like inside the tab, you can add the latest comment, latest post categories or tags etc. You can showcase your works in two vertical or horizontal types of tabs. Even you can display multiple tabs on one single post or page or inside the sidebar widget.

We have selected a list of top tabs plugins that are completely responsive and easy to handle their placement using a single shortcode in your website are as follows:
1. WP Tabs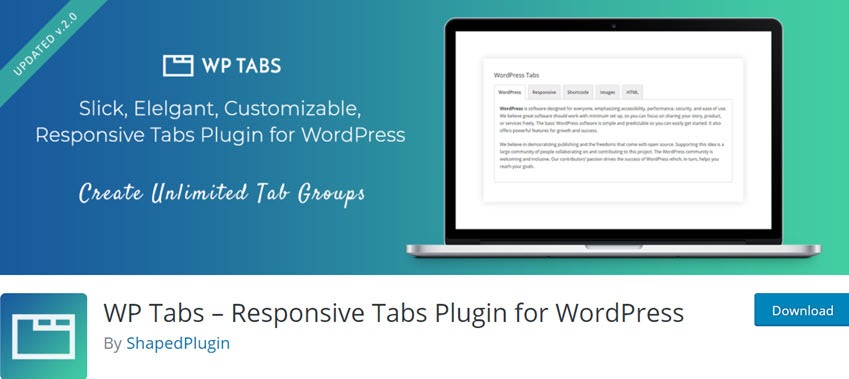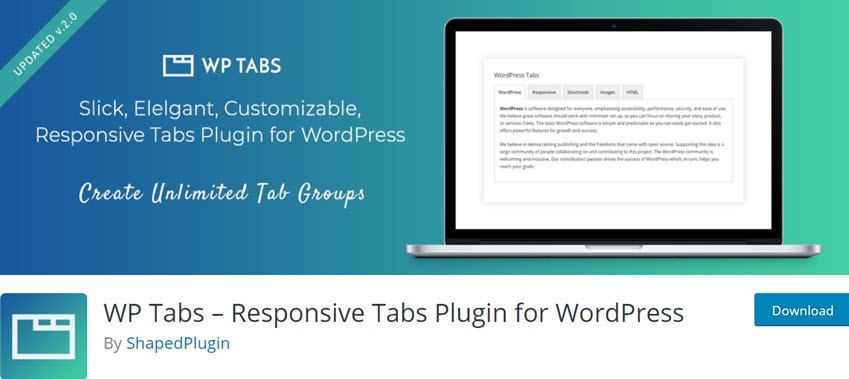 WP Tabs is one of the best Responsive Tabs Plugins for WordPress. That allows the users to create beautiful and fully customized tabs and display their content in a very straightforward and organized tabbed navigation. It is known to be one of the most user-friendly plugins that come back very easy to set up and are fully customizable.
Features
The plugin comes with intuitive shortcodes That enable the users to customize the tabs, tab colours and other settings according to their own choice and requirements.
It is one of the most user-friendly plugins and is highly customizable.
WP Tabs Is a fully responsive tap plugin that works seamlessly across devices of all sizes, including mobile phones, desktops, and tablets.
It also comes with a clean and intuitive admin panel and allows you to create unlimited tabs sets.
You can easily customize the Tabs border, description padding, and background colour.
The tool can create a set of horizontal tabs that changes in an accordion on narrow frames.
Total number of users – 5,000+
Price – 1 Site – $29/annually,  5 Site – $99/annually,  Unlimited Site – $199/annually
WP Tabs - Getting Started
Screenshot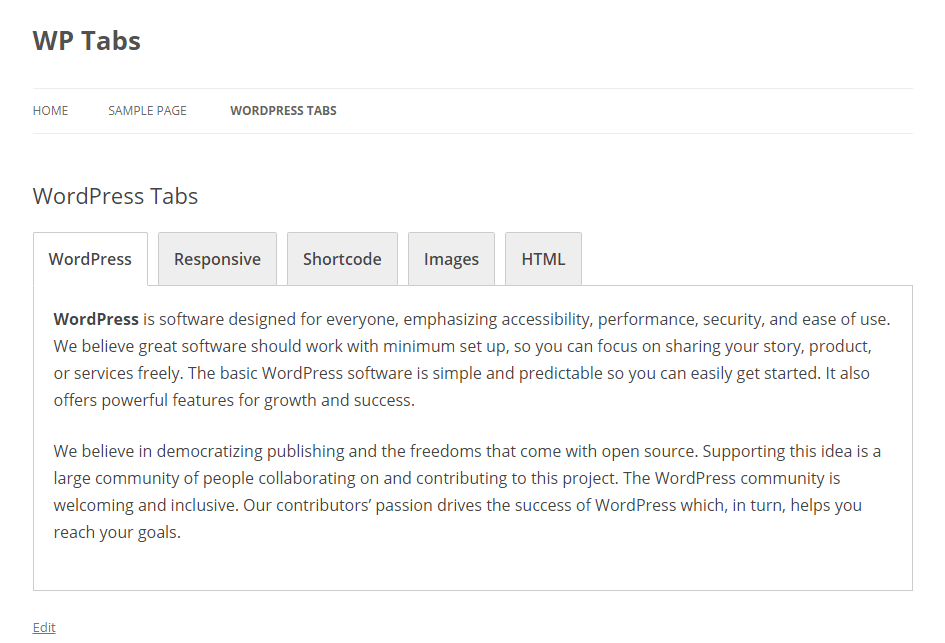 2. Tabby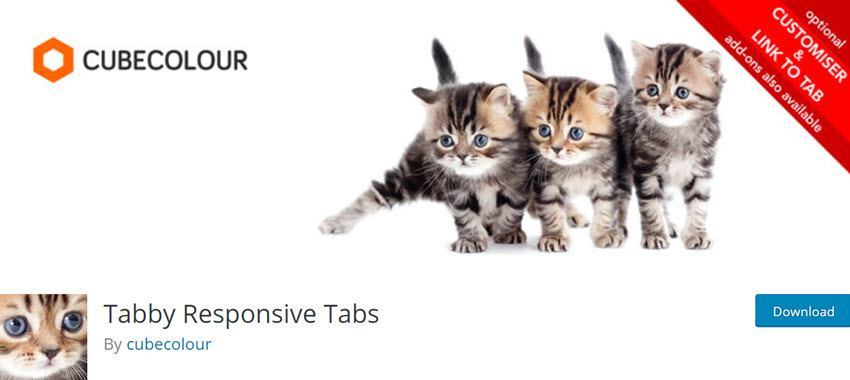 Tabby Responsive Tabs Is an easy and lightweight plugin that allows users to create responsive tabs for their content. Using this plugin, you can add horizontal tabs that can be changed to an accordion on narrow viewports. Using this plugin, you can add multiple tabs on a single page of your WordPress website. You can access your tab and content via the keyboard.
However, the plugin comes with a significant drawback. It does not have an admin panel from where you can manage your tabs. Also, the plugin is not beginner-friendly. It implies that you have to hire an experienced developer to create responsive tabs and customize how the tabs display on their site by replacing the built-in CSS rules with a customized version.
You can create many responsive tabs on your WordPress website using this plugin.
The plugin allows you to add multiple tabs on a single page.
This is a lightweight and straightforward plugin. However, it is not beginner-friendly and does not come with an admin panel.
The tab display can be customized by replacing the in-built CSS rules with the customized version.
The plugin uses a semantic header and content marker.
A multiple set of tabs is supported on the same page, and all the tabs and contents are accessible by the keyboard.
Total number of users – 30,000+
Screenshot

3. Tabs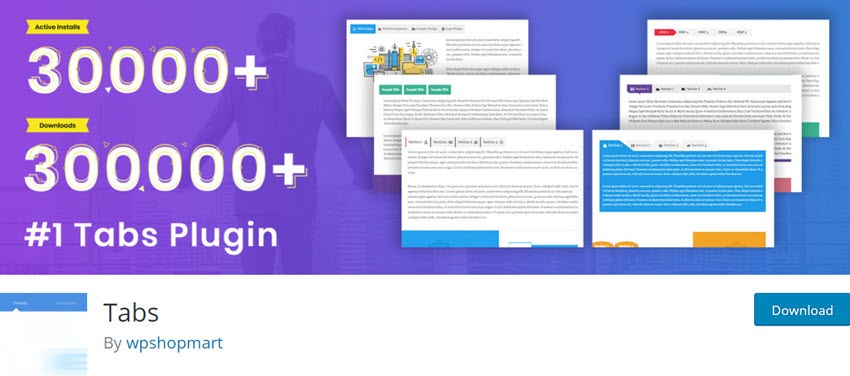 Tabs is an excellent and top-notch tabs plugin for WordPress. It is based on the bootstrap framework, And it allows the users to add multiple tabs on multiple posts or pages of their WordPress website. Using this plugin, you can add vertical and horizontal tabs to your website.
It also allows you to add video, music, images, or another shortcode to the tab description filed page. It also comes with multiple widgets that allow you to add tab responsive widgets in your widgets area. The plugin also provides an unlimited colour scheme and font style option for you to use in your content.
Features
the plugin is responsive, i.e., It works very smoothly on all devices, including mobile phones.
It comes with a drag and drop builder and allows you to add limitless tabs on any theme.
It includes an incredible input field for Tabs content.
The plugin is highly customizable and comes with multiple advanced custom fields.
It allows you to add both horizontal and vertical tabs to your website.
Total number of users – 30,000+
Tabs Responsive Plugin WordPress
Screenshot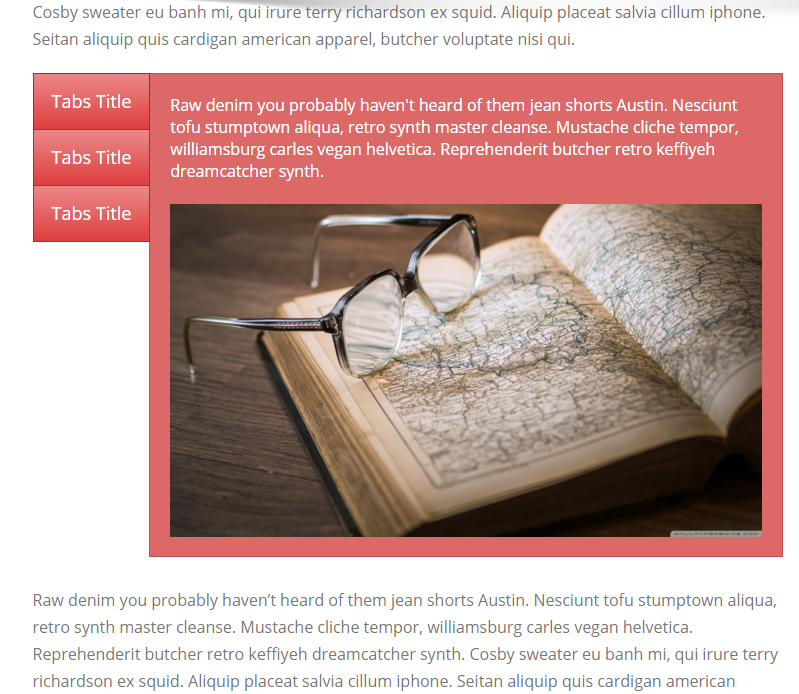 4. Tabs & Accordion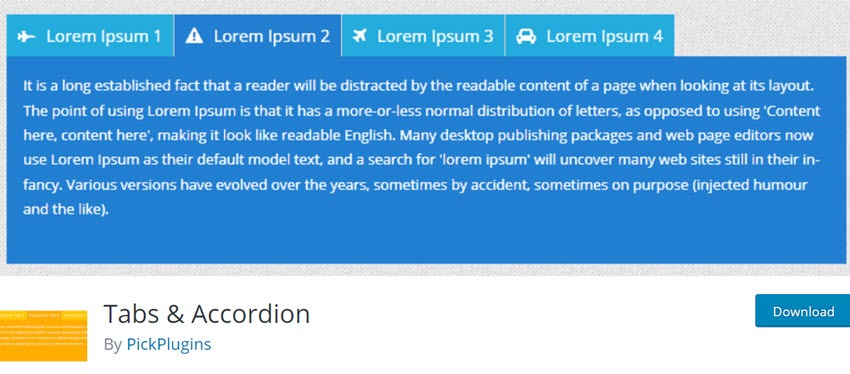 Tabs & Accordion is a popular and influential tabs and accordion plugin for WordPress that allows the users to create tabs, Accordion, frequently asked questions, knowledge base, tab content, WooCommerce FAQ tabs, and questions and answers section on your WordPress pages and posts. The plugin is highly customizable, and you can easily change the font size colour and choose the accordion icons according to your choice.
Features
You can enable or disable lazy load that allows you to hide your content on page load and is very useful.
It enables you to create responsive tabs and accordions using the jQuery UI library.
It comes with multiple shortcodes that allow you to display your tabs and Accordion anywhere on the WordPress website, including the pages, posts, sidebars, and more.
You can set your custom icons for accordion header icons change their colour, font size, and hover colour.
It comes with a WP editor that allows you to create your content where you can add YouTube videos, self-hosted videos, images, and text using the drag and drop builder.
Total number of users – 1,000+
Price – Free
Screenshot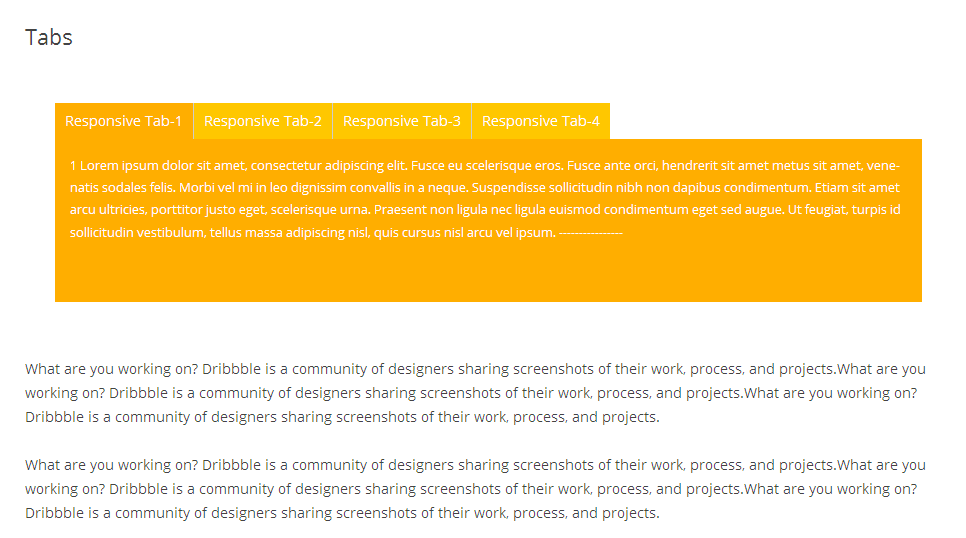 5. Tab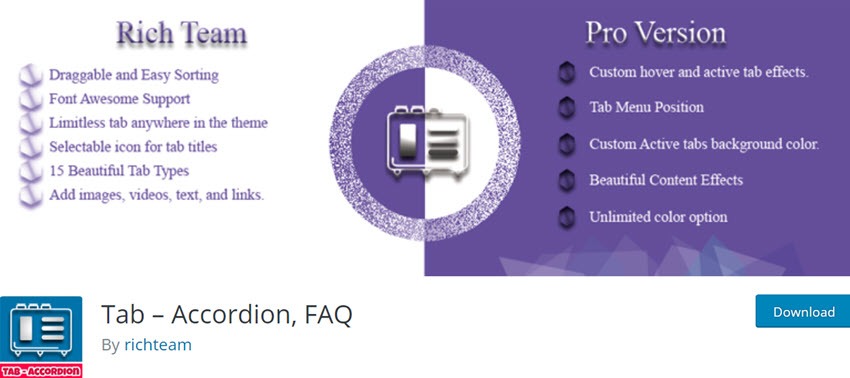 The tab is a simple but exceptional tool that can create essentially any tab structure. The software application has all the basic tab features to change the font, font colour, font size, bullets, etc. A stylish animation can be created using the power of customization in your hands. You can change the colour, border, font, and even the content – overall, the entire web content is in your control.
Tab plugin is an entirely HTML and CSS3 responsive plugin for WP. The tab allows you to exhibit an unlimited tabs grid on the same page through a shortcode. The plugin features a fully responsive and mobile-friendly tool with unlimited tabs anywhere. Besides, an unlimited number of themes can also be accessed. The plugin provides an easy input field for Tabs content and a background image for the tab area. You can customize font colour and size for Tabs header and Tabs content.
Additionally, many Apps are available on POWR io. Hence, it is a trusted choice of over 500,000 websites. You have to copy and paste contents to your HTML website, and no code is required. Besides, it works seamlessly on any sized device and can be customized as per your brand – change colour, sizing, and fonts.
Total number of users – 2,000+
Rich Web - Watch Video For Tab & Accordion
Screenshot

6. WP Responsive Tabs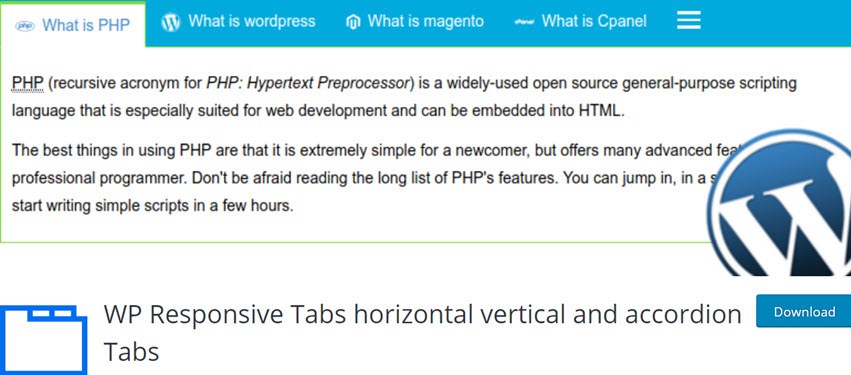 WP Responsive Tab is an easy and non-cumbersome tool that can add responsive tabs to your content. It is a robust and professional tool that gives tough competition to its peers, and tabs can arrange the contents. The widget is well designed to boost client engagement and reduce bounce rates and versatile addition to your blog.
The WordPress plugin is SEO and Widget compatible. Additionally, it is multilingual and supports almost 80,000 websites. It is empowered with unlimited colours. It offers 21 pre-defined layouts,29 new pagination styles, and six unique AJAX loaders. Beautiful Tabs can be created without touching a single code, and the powerful options panel makes it a fully customizable tool.
The responsive plugin can be accessed through any mobile based on the bootstrap framework. Both vertical and horizontal tabs styles can be displayed using this plugin. Besides, you can create multiple tabs on multiple pages and posts. An unlimited colour scheme and font style are available for the content. The in-built colour box plugin assists in adding videos, images, music, or any other shortcode in the tab description. The widget option is also available in the plugin.
Total number of users – 2,000+
How to create Scrollable Tabs, Horizontal Tabs, Vertical Tabs and Accordion Tabs in WordPress
Screenshot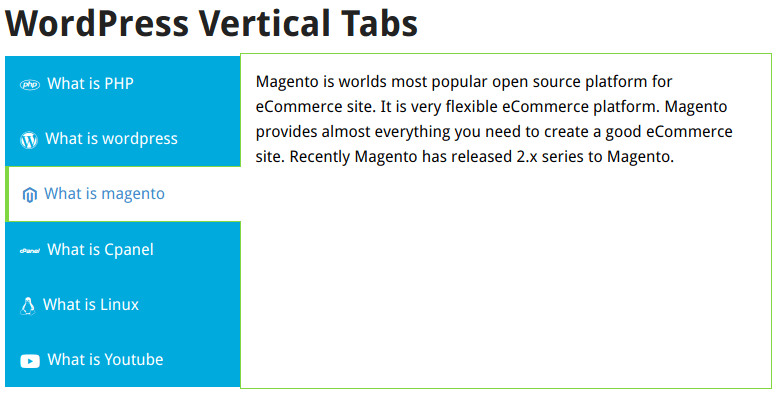 7. Product Tabs Manager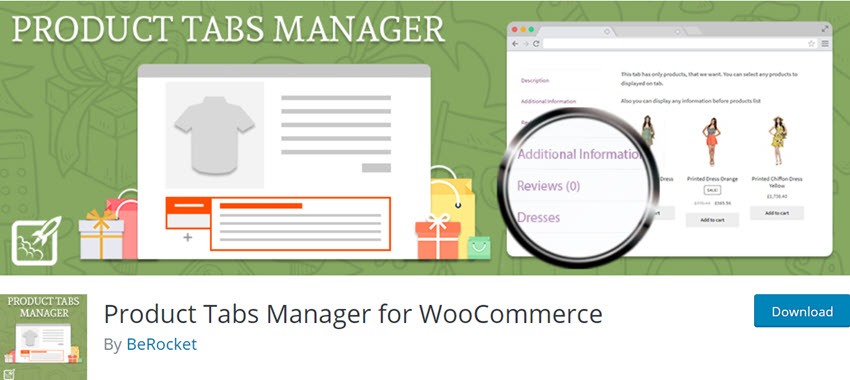 Product Tabs Manager for WooCommerce is a well-integrated plugin for creating customized tabs as much as you require. If you have an e-commerce store, you must have a specific tab manager that organizes tabs for widely available products thereon. You may insert custom tabs for each product or simultaneously manage them all through a single tab. Let you utilize WYSIWYG Editor to generate elegant tabs.
Essential Features –
Unlimited Custom Tabs to enhance the appearance of WooCommerce Products.
Global existence tabs, i.e. fully responsive as well.
Create tabs with HTML and shortcodes.
Let you insert specific tabs for a product if necessary.
Enables to sort, rename, and custom product tabs and WooCommerce tabs with the assistance of intuitive drag-and-drop builder.
Total number of users – 2,000+
Price – 1 Site – $34/annually,  3 Site – $59/annually,  5 Site – $79/annually,  10 Site – $109/annually
WOOCOMMERCE PRODUCT TABS MANAGER
Screenshot
8. Custom Product Tabs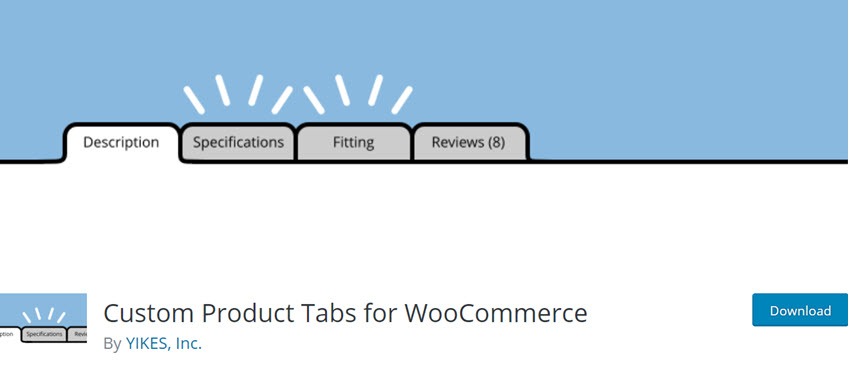 Custom Product Tabs for WooCommerce is intuitively designed with a simple UI that lets you add custom tabs to different product pages. An extremely lightweight plugin that allows you to create responsive tabs for the well-functioning of your WooCommerce website. Display such tabs on each product page with the help of shortcodes and widgets. Easy to create, edit, arrange and re-arrange such tabs on WooCommerce Edit Product Screen.
Custom Product Tabs for WooCommerce enables you to save the tab once you customize for any specific product pages for utilizing the same elsewhere. Let you use the standard text editor of WordPress. Allow adding HTML, text, images, and shortcodes to enhance the look and feel of the tab. Create unlimited tabs for each WooCommerce product in a few minutes. Compatible with existing WP themes and multilingual as well.
Total number of users – 100,000+
Price – Regular License- $32/Lifetime (1 Site)
Screenshot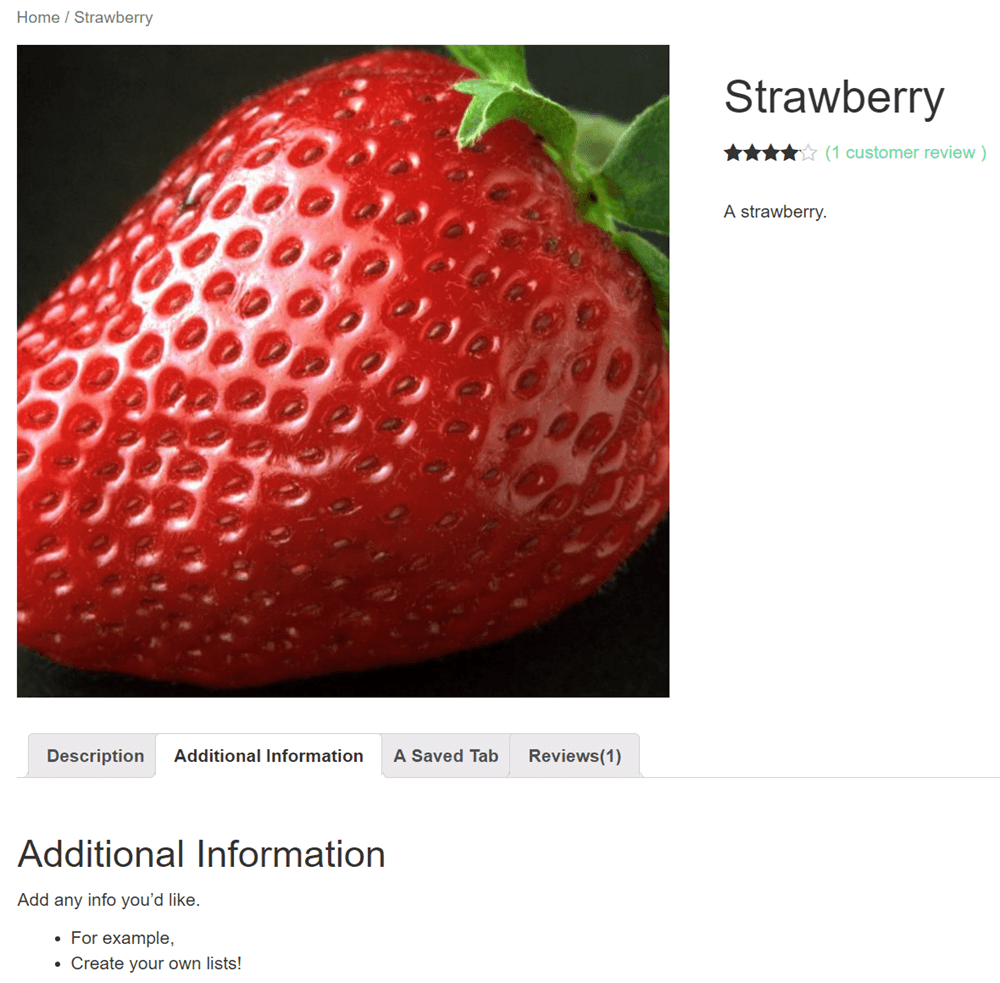 9. Tabs With VC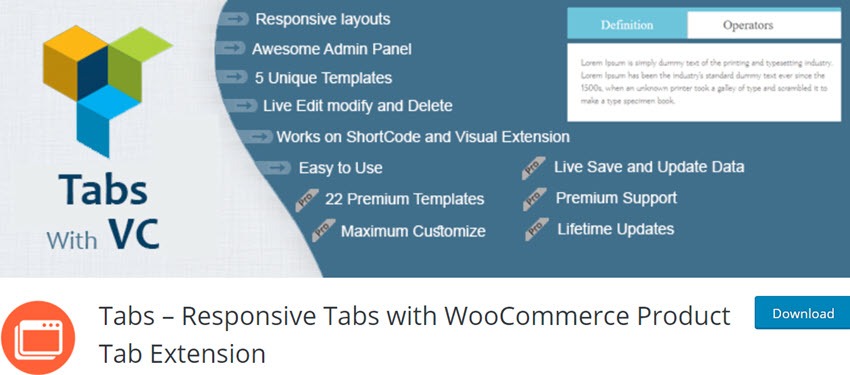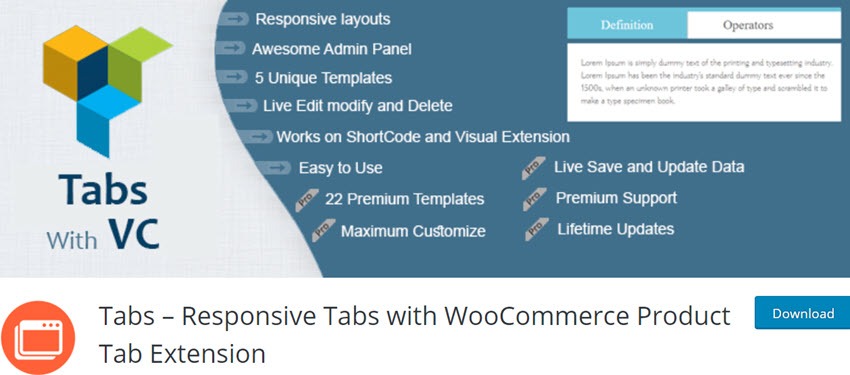 Tabs With VC Widget is a distinct, crisply coded, premium tab plugin. Being AJAXified, it only loads on demand and hence is a non-bulky plugin that loads at lightning speed. You can choose between popular, recent, comments, tags tabs. Other features are an in-built Pagination System that is fully responsive. Once the tab is loaded, it stays in the memory through its in-built cache system. The CSS can be modified to fit your theme style.
Total number of users – 10,000+
Screenshot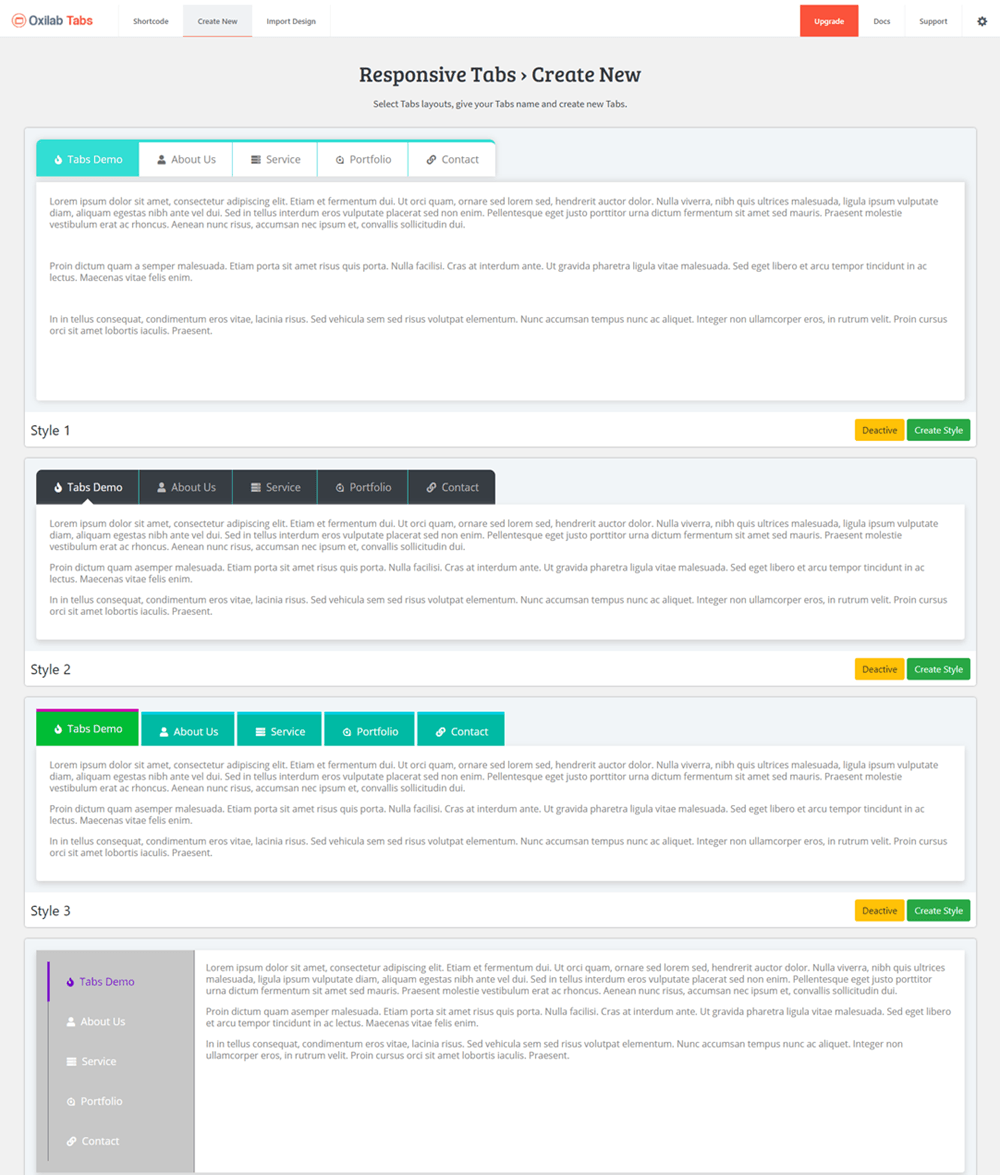 10. WooCommerce Product Tabs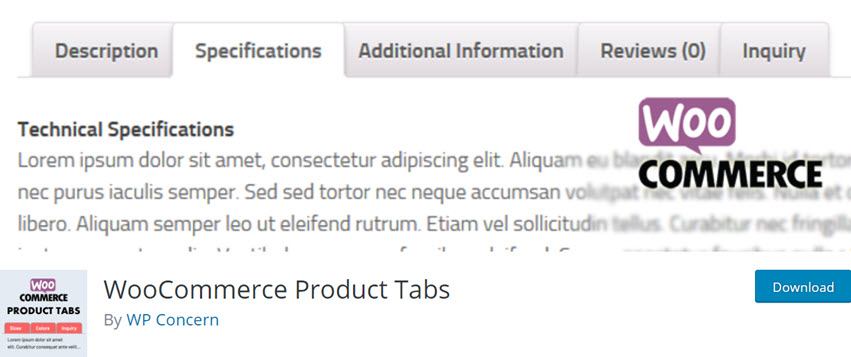 Total number of users – 5,000+
Price – Regular License – $29/Lifetime (1 Site)
Screenshot

Conclusion – Tabs plugins are worth using Inside any website. It not only make your website beautiful but also attracts visitors. Let me know which tab plugin you will use for your website. You may be interested in the FOMO marketing plugin.