memberpress Pdf Invoice NEW add-on for memberpress User
memberpress has launched a new special addons for all their user i.e memberpress Pdf Invoice . Well, email invoices are good most customers prefer to receive PDF invoices. Because such PDF invoices make it easier for them to document their transactions as opposed to email invoices. And, thus, must be generated automatically on your online store.
The memberpress plugin will allow your customers to download a PDF Invoice for every transaction that has been recorded on your site by them. With the memberpress PDF Invoice feature on your WooCommerce, your users can easily download a PDF Invoice, themselves, for each of their Transactions.
memberpress PDF Invoice plugin also gives your customers a convenient dashboard to use. Here they can easily navigate to view their payments, retrieve and print their PDF invoices as per their convenience.
This add-on has many easy-to-manage options to choose from. Such as Modern and Simple templates, logo uploads & customization to match your branding, breakdown purchases, and add footnotes, etc.
It's quick to set-up features and powerful options will solve quite a lot of problems for you, as well as keep the level of user satisfaction at a high.
Why is memberpress PDF Invoice Plugin is Best for Your membership Store?
When you need to create a PDF invoice from scratch, it'll be very complicated and time-taking if you don't have any design or technical experience. memberpress has made your job easier. You have the option to deploy their ready to use templates. The templates have a clean, functional design that covers all the information your customers may need available at a glance.
Moreover, you get to personalize them too. According to your brand and store. By just filling in a simple form.
Table Of Content
You may also be interested in cart abandonment plugin, Email Marketing Services, FlexClip Review
Let's check its robust features and uses in detail:
Integrations – Hassle-free integration with MailChimp, AWeber, GetResponse, and MadMimi email services. memberpress Plugins also integrate with BluBrry and Amazon Web Services for podcast hosting.
Easy to Setup – memberpress has made the setup very simple with any WordPress membership website. Pages such as login, account, pricing, and thank you for your users, are automatically setup. Adding the membership plans page is also very streamlined.
Content Access Control – The access control feature of memberpress is amazing. You can gradually roll out more pages or features to the users. So the user has access to more content after a specific interval or upon completion of certain levels. The restrictions may be put on any content such as categories, files, posts, pages, tags, etc.
Content Dripping – It essentially means that you can let members access the restricted content after a specific time period. This feature is very useful if you are selling online courses or learning materials.
Payment Gateways – memberpress has built-in support for various payment gateways like PayPal and Stripe. The Developer Plan also adds Authorize.net support.
Pdf setting
They have two kinds of designed template modern and simple . Even you can add branding with your own logo at the footer of invoice .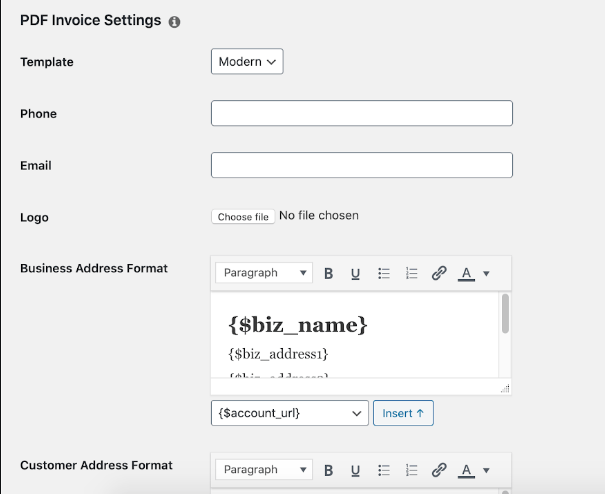 MemberPress Pdf Invoice Dashboard
User's can easily check payment invoice in their account payment tab . They have mentioned important key points which can easily be seen from the front view like total amount , membership type , status and Download

Finalizing
The memberpress PDF Invoices plugin simplifies billing for both you and your customers. You don't have to sit at your desk, manually write these cumbersome invoices, and then mail them to the customers.
The users can simply download a PDF invoice for every transaction recorded on your site . And they get to do it themselves!!
So why wait?
Get Mmemberpress Plugin for your WordPress membership site NOW!!!