9 Best Frontend Post Plugins For WordPress 2023
Allow Guest users for post submissions by providing frontend dashboard, editor & publishing tools can easily be done with frontend post plugin for WordPress. The frontend editor plugin allows users to anonymously post content or upload documents from the front end without entering the WP-admin dashboard. These websites are helpful when related to coupons, reviews, News, blog, social media, etc.

These plugins will allow our website visitor or guest to post or upload content from the fronted Using frontend post Plugin. In these cases, you don't have to update the content, again and again, the guests can easily update the content by using a frontend editor. Now you need one guy to review that content that all.
Allow users to submit event registration forms from the frontend. These user post submission form plugins are helpful for bloggers in accepting guest posting. In the case of a membership website, they help you create a community by allowing certain members. The most valuable part of these plugins is restricting content and managing their role.
You may also be interested in Contact form plugins, Anti-Spam Plugins, and Free email marketing services. 
To minimize your effort in searching the Plugin, we have decided to write a list of Top WordPress Frontend Posting plugins is as follows :
1. WP User Frontend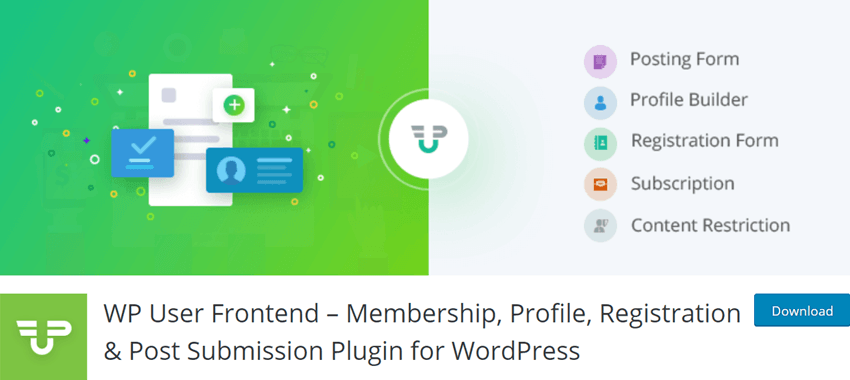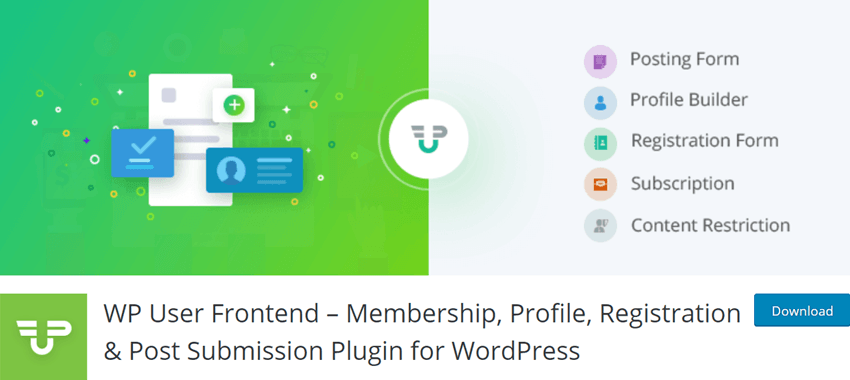 WP User frontend is the most powerful Frontend Post Plugin that helps users create directories and membership sites that are amazing very quickly. They also help to allow guest posting and build event registration forms. Users also can edit their profiles and create new posts from the front. This saves users from entering the backend admin panel to do the work.
This plugin offers many features that other plugins do not provide. Uploading files, filling out forms, entry data, everything can be done with multiple-choice menus. The forms have a unique shortcode that can be pasted anywhere where the form needs to be generated.
Customized Forms can also be built using custom post types. The post-management allows the users to update their posts as the forms are created as custom post types from the frontend. The features of this Plugin are:
Frontend posting- Users can post anything or create forms from the front end. Forms can be inserted into pages using shortcodes.
Contact forms- There are many one-click features to create these essential frontend features for any website.
Registration and profile builder- Profiles and registration forms can be quickly built using templates, and fields can be assorted to customize forms.
Content restriction- With just shortcodes, content can be restricted to only premium users.
Subscriptions- Money can be earned from sites with subscription-based posting. People can be paid with built-in gateways.
Frontend Dashboard- Registered users can get their dashboard with just a simple shortcode
Total number of users – 30,000+ 
Pricing – Free Plan – $0, Personal Plan – $49/yr, Professional Plan – $89/yr, Business Plan – $159/yr

Screenshot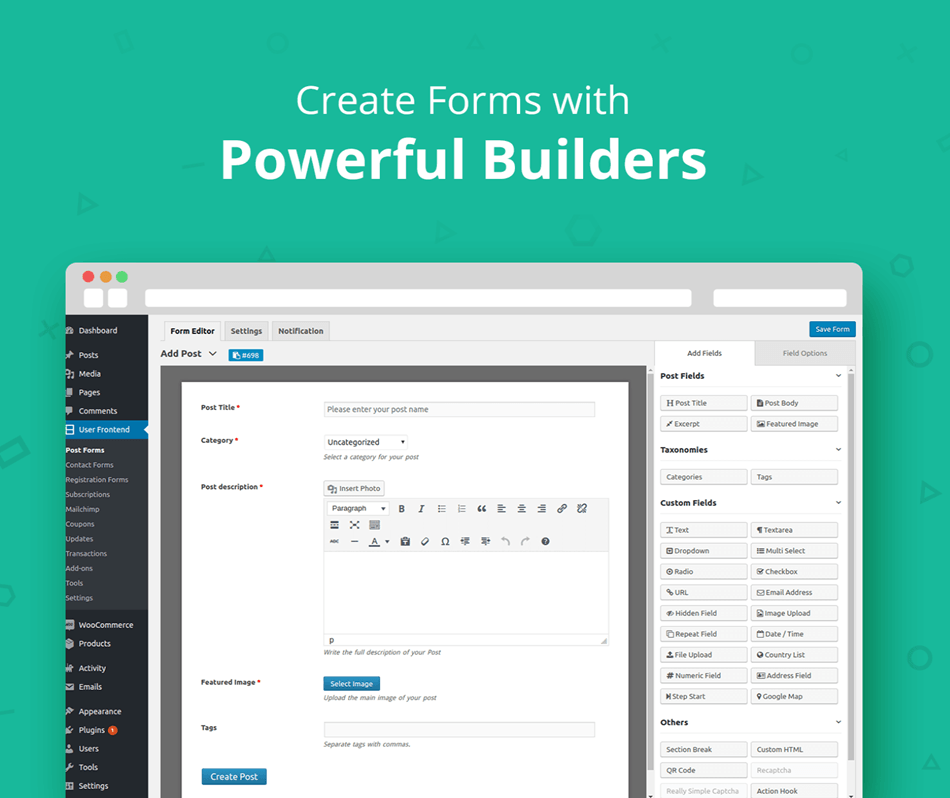 2. User Submitted Posts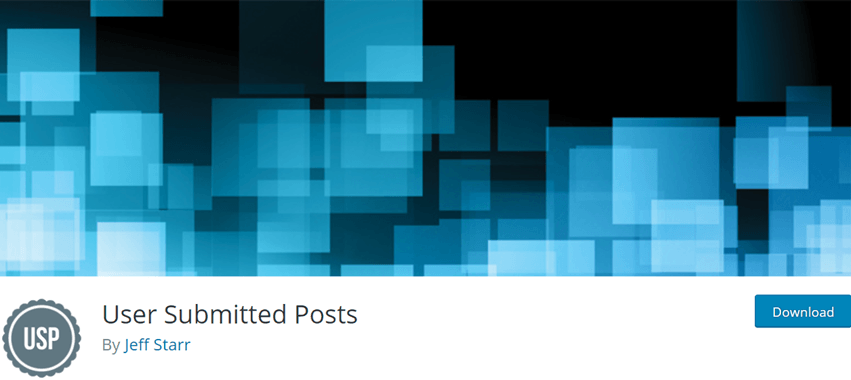 The User Submitted Post is a freemium plugin for user-generated content. Through this Plugin, visitors can add posts from the front end of the Website. The frontend form is added through a shortcode or template tag. Using this, the visitors can upload images or send posts. The post submission form has a name, URL, post image, email, custom field, post content, etc. They can be set as required, disabled, or optional.
The users can upload any number of images through USP while submitting a post. The Post Status of the submitted posts can be set as "draft", "Pending", or "Publish Immediately". Or they can even be published after some number of approved posts. The maximum height, width, and many pages can be customized. Its features are:
Custom Post Content- The submitted content can be displayed anywhere, and images can also be set to autoplay.
User-submitted posts- Unlimited custom forms can be created for posting content from the front.
Unlimited Custom Forms- The USP form builder can customize and create unlimited forms.
Deluxe form options- There are extensive settings for forms and posts for fine-grain control.
User Registration forms- Forms can be created with a custom field for the profile photo to register new users.
Excellent features- There are many features that this Plugin offers, such as email alerts, contact form settings, show/hide contents, etc.
Upload images and more- Visitors can submit pictures and videos directly from the front end.
Total number of users – 30,000+
Pricing  – Personal Plan – $45, Business Plan – $90, Developer Plan – $220, Ultimate Plan – $550 – All plans have non recurring payment system.

Screenshot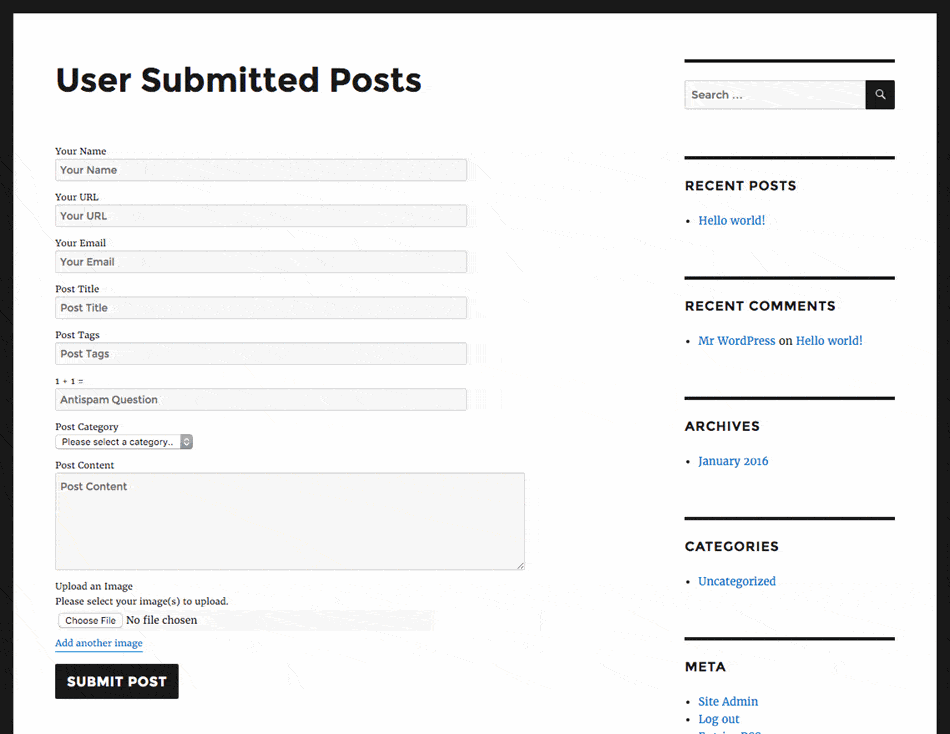 3. Userswp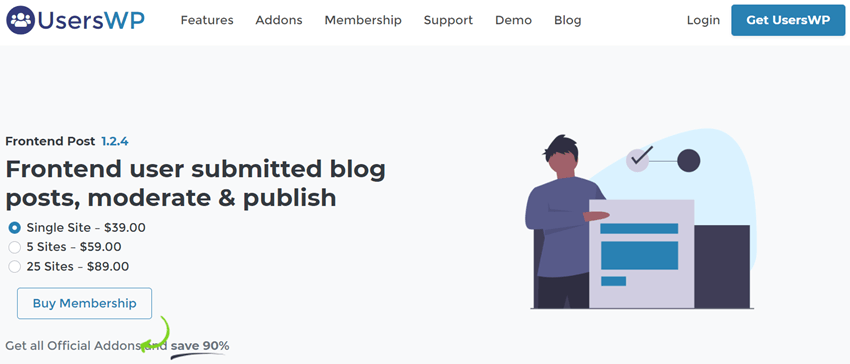 Userswp Frontend Post is a quite smart front end post submission plugin for WordPress that allows visitors to submit the blog post without allowing them to the wp-admin dashboard. Frontend integrates alternative widgets such as dashboard, uploader, editor, and publishing for those seeking to submit their post anywhere on WP. This amazing WordPress extension accumulates quality-based content on your Website or any informational content that matches with the idea of your Website. Management of backend, as well as frontend, goes on by the admins with tracing the users.
The Frontend Post extension of WP enables you to accept the guest post and modify it as per your requirement. Admins who manage the backend procedure assign the post type to the user and display their related post status. Email notifications are sent to both, i.e. user and Admin. More on, Admin is allowed to modify the subject or the content of the body of the email. The Frontend Post plugin lets you set the technology of reCAPTCHA on the form, which avoids misleading spam.
Features incurred by Frontend Post –
Form Templates – Several templates are available. You can pick anyone within a few clicks.
Frontend Posting – While using Shortcode, attach the form to pages and let visitors post on the front end.
Restrict Content – This allows you to restrict the content type submitted by users with a shortcode.
Frontend Dashboard – Create a great dashboard for your users who submit your Website's content.
Supports for Gutenberg blocks, Elementor and ACF For custom Post Types.
Price – 1 Site-$39/yearly,  5 Site-$59/yearly,  25 Site-$89/yearly
Screenshot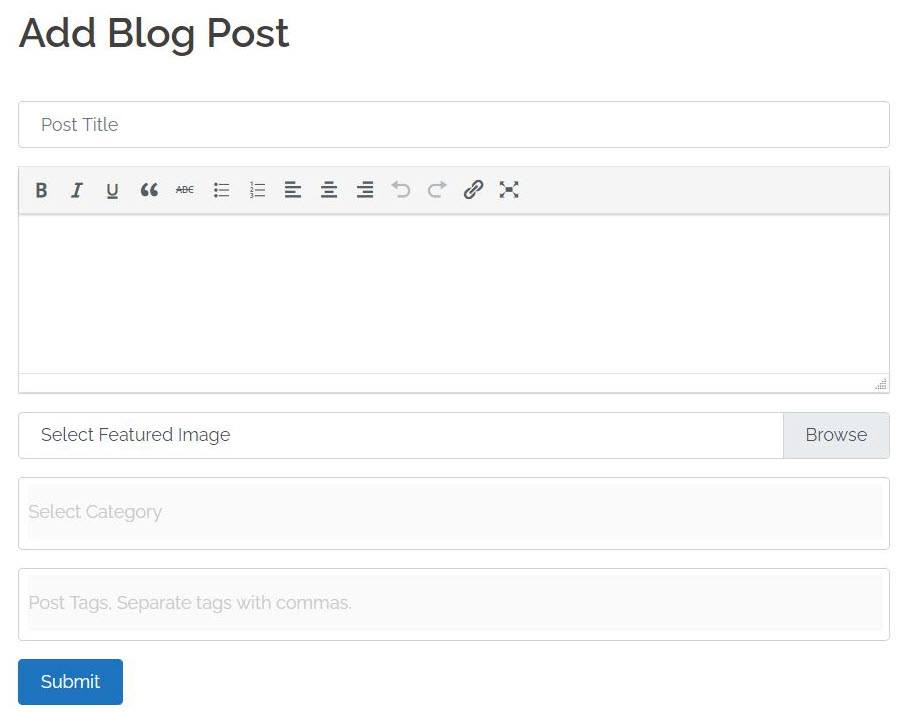 4. WP Frontend Admin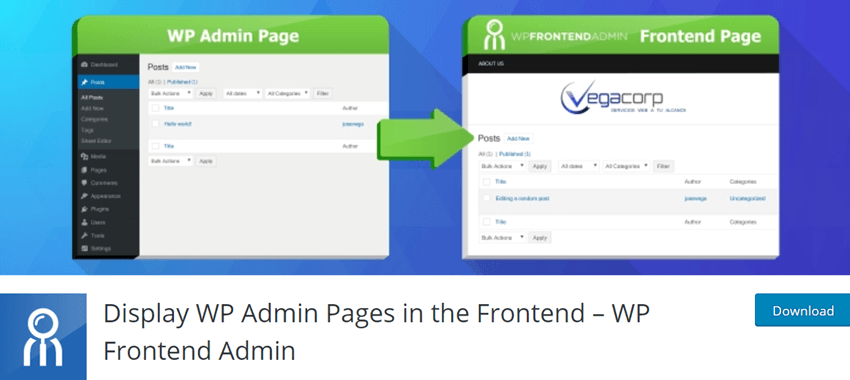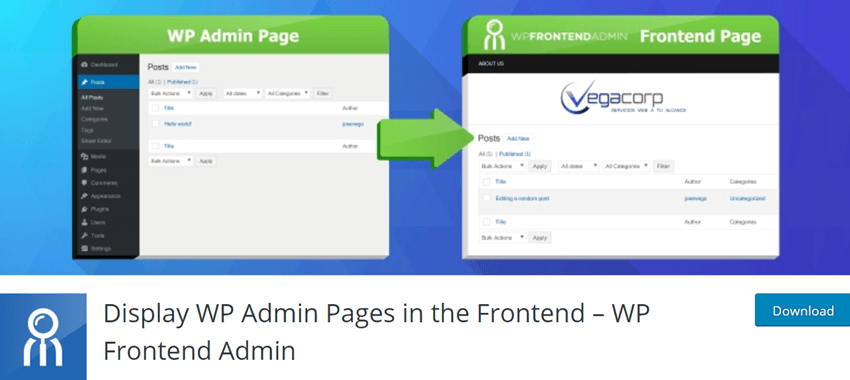 WP Frontend Admin is lightweight and among the top frontend post submission Plugin. It helps the user post articles on the WordPress site from the frontend, and he doesn't get access to the sensitive area of WordPress admin. This Plugin works perfectly for multisite and has many addons to supports plugins like WooCommerce, Elementor, ACF, Gutenberg blocks and LearnPress
When the submission guidelines of the posts are not met as per the Website, the posts are not accepted, and an error message is displayed to the frontend user. This helps save time when the blog is trendy and many guest submissions.
Members with a certain user level can instantly submit their posts. The WordPress admin area specifies the maximum/minimum number of words in the title, author bio, content, tags, and links in the article body or author bio.
PayPal Payments- The contributors can accept payments. A separate price can be decided for the role of each user.
The Plugin is fully responsive with all the WordPress themes and adjusts to any size screen.
CopyScape Integration- To make sure that the contents published are original, each submission is passed through Copyscape.
Post Management- The users can delete or edit their posts from the front.
Drag and drop builder- An intuitive drag and drop interface for easy form filling.
Custom Fields- Custom fields can be created easily. They are integrated with many themes and plugins.
Validators- There are many validation rules to add to the forms, which can be picked easily.
The user input can be automatically sanitized before insertion into the database.
Media Upload Options- The Plugin offers many advanced media upload methods which can be chosen.
Layered Security- Every submission's security can be ensured with friendly nonce and captcha.
Total number of users – 100+
Price – Standard-$29.99/yearly (1 Site),  Platform-$199/yearly (Unlimited site)
Display WP Admin Pages in the Frontend with One Click
Screenshot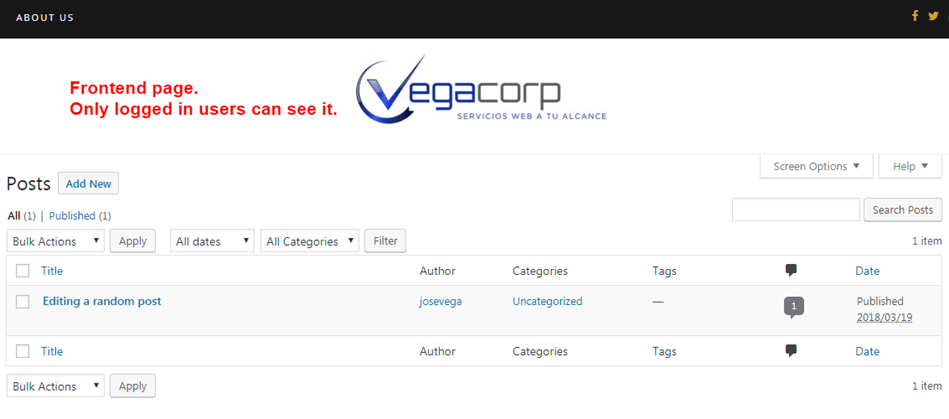 5. Wpforms

The blog is converted into a place of collaboration by Contributors. The Plugin helps to add via Shortcode a primary frontend post creator and allow the visitors to submit the Guest posts, upload images, videos Upload and submit posts. The user-submitted posts Plugin is tapped into the standard post type function of WordPress. It includes videos, featured images, gallery posts, and images.
Tags, categories, post titles are all integrated into one. The posts which have been published are set to "pending for review". The Plugin defines whether the visitor needs to log in or post directly. Unwanted spam is filtered by Google Captcha integration.
The users who have logged in can edit in the frontend profile editor profile settings. They can also change their profile picture without any Gravatar account. Their bio, social and website links can be edited in the frontend profile editor. Its features are:
An author can be assigned to the guest post.
The visitors can submit the post from anywhere and anywhere on the Website.
Image posting can be done by 'Drag and Drop'.
It can be chosen whether the guest needs to log in or not.
The author can be included in the post submissions by title, tags, URLs, images, videos, category, and the author.
After a successful post submission, the visitor can be redirected to another page or returned to the current page.
Google Captcha can stop spamming.
The guest post format can be chosen among standard video posts, image posts, and galleries.
WP's built-in text editor can be chosen for post content.
The post submission form can be displayed anywhere using shortcodes.
Total number of user  – 3,000,000+
Pricing  – Price – Basic-$79/yearly (1 Site),  Plus-$199/yearly (3 Site),  Pro-$399/yearly (5 Site), Elite-$599/annually (Unlimited)
Screenshot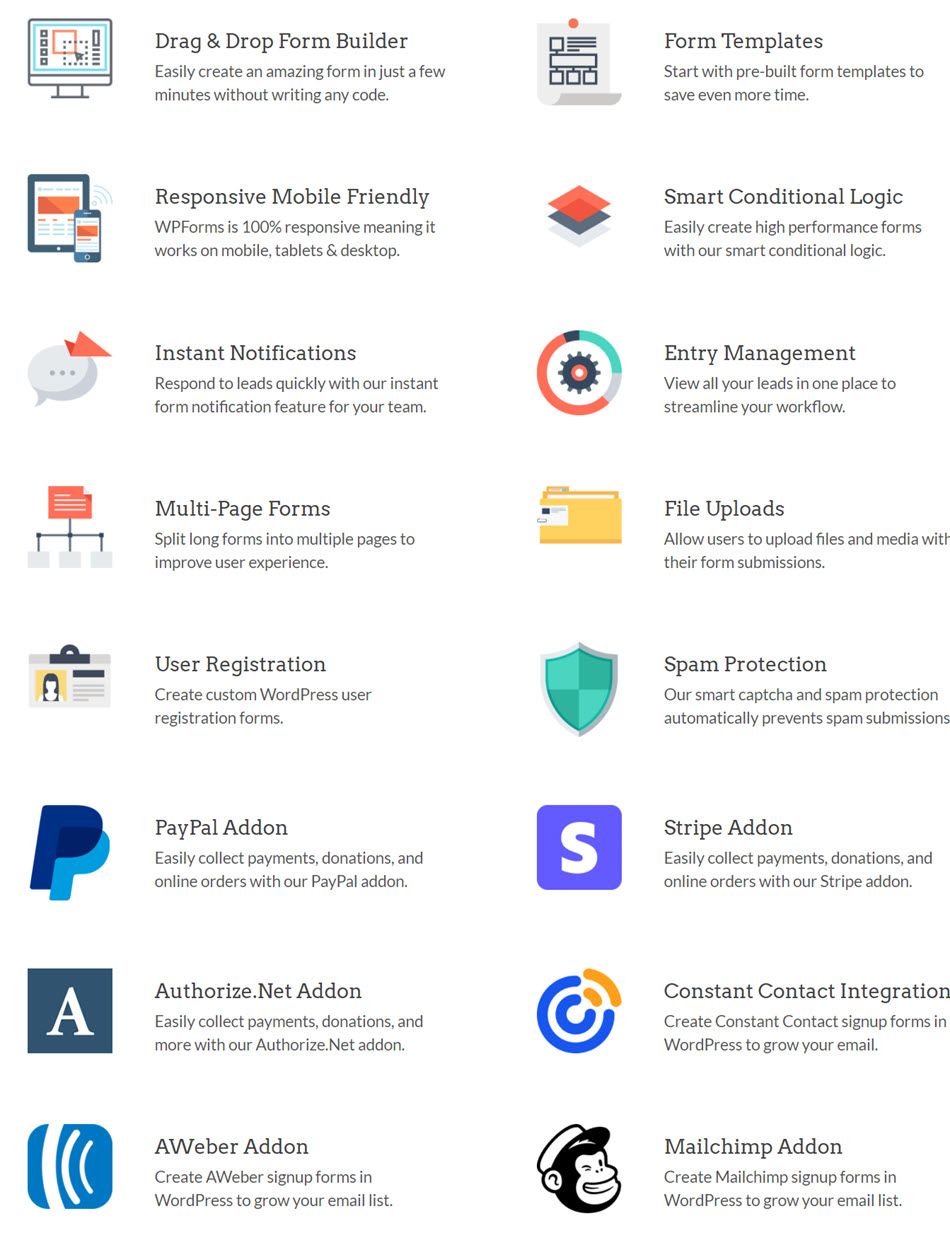 6. Frontend Post Submission Manager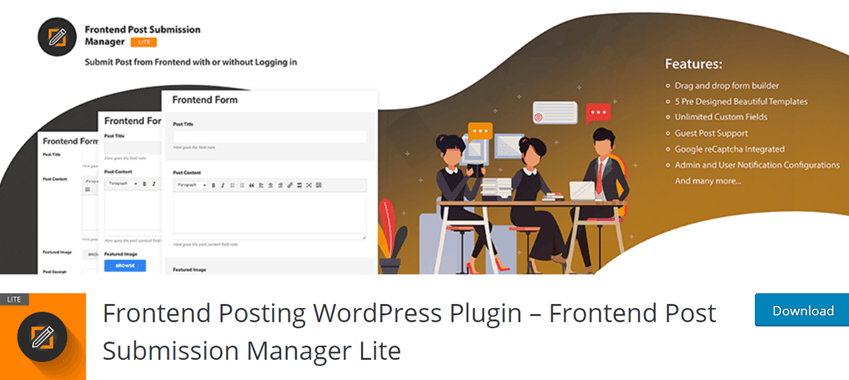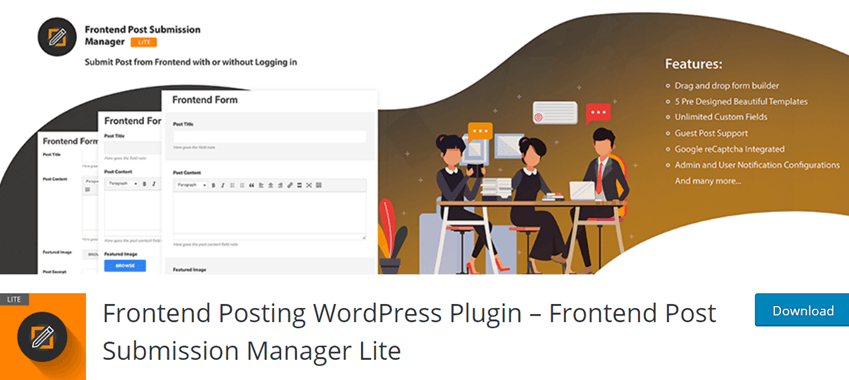 Frontend Post Submission Manager Lite not just allows the users to publish posts from the frontend of your Website. This free frontend posting plugin effectively accepts guest posts from unknown authors. It also helps build a job board, news site, classified site, directories, and book store. It also allows the users to edit or register their profiles or replace the default WordPress log out, log in, and lock password.
There is an easy-to-use form builder that helps build advanced posting forms, registration and edit profile forms, guest forms, contact forms, etc. The submitted contact form data can be submitted to the database. The data can be exported to a file, or shortcodes can be used to display it.
The frontend Publishing plugin helps to handle all such forms. The Plugin has the following features:
Easy Visual Builder- Any complex form can be quickly built by clicking, dragging, and dropping. And there is no need to know to code at all.
Conditional logic- As many conditions as wanted can be added to each field.
Text area- There are three types of the text area, Text area normal, Rich text area, and Teeny rich text area.
Toggle Switches- Checkboxes and radio field styles can be changed to excellent Toggle Switches style. It can be seen live on the demo website forms.
Unlimited frontend dashboard- A specific dashboard can be specified for each post type. Or the dashboard can be created for any number of post types. There is just an unlimited number of options.
A child plugin can be created for FMS.
Multilingual ready- This Plugin can be translated entirely and is WPML compatible, and it also supports WordPress multi-author blog.
Get email notifications- The users get notified immediately through emails whenever a visitor adds any new content without going to the backend. Such emails contain post details, such as post title, edit link, content, excerpt, etc.
Total number of users – 200+
Price – Regular License-$18/Biannually, Regular license-$22.88/Annually
Screenshot

7. User Submitted Posts Plugin

User Submitted Posts is a Paid guest post plugin for WordPress that helps submit featured images and posts as visitors or guests. Guest posts can be done without logging in or registering the site. Different authors are encouraged to submit posts. This Plugin is made for those sites. The features of this Plugin are:
Plugin Options Page- the user can customize the settings.
The post submission message can be customized.
Post can be made from anywhere and anywhere on the site.
After a successful post submission, an email is sent to the admin email.
The featured image can be attached. Post can have more than one featured image and media item.
Captchas protect spams.
The post requires a minimum number of characters.
Selected categories can be displayed in the submit form.
The number of pages to upload can be restricted.
The Plugin has a rich text editor.
Price – 1 Site-$39/yearly,  5 Site-$69/yearly,  10 Site-$89/yearly, 25 Site-$199/yearly, 50 Site-$299/yearly, 100 Site-$449/yearly
Screenshot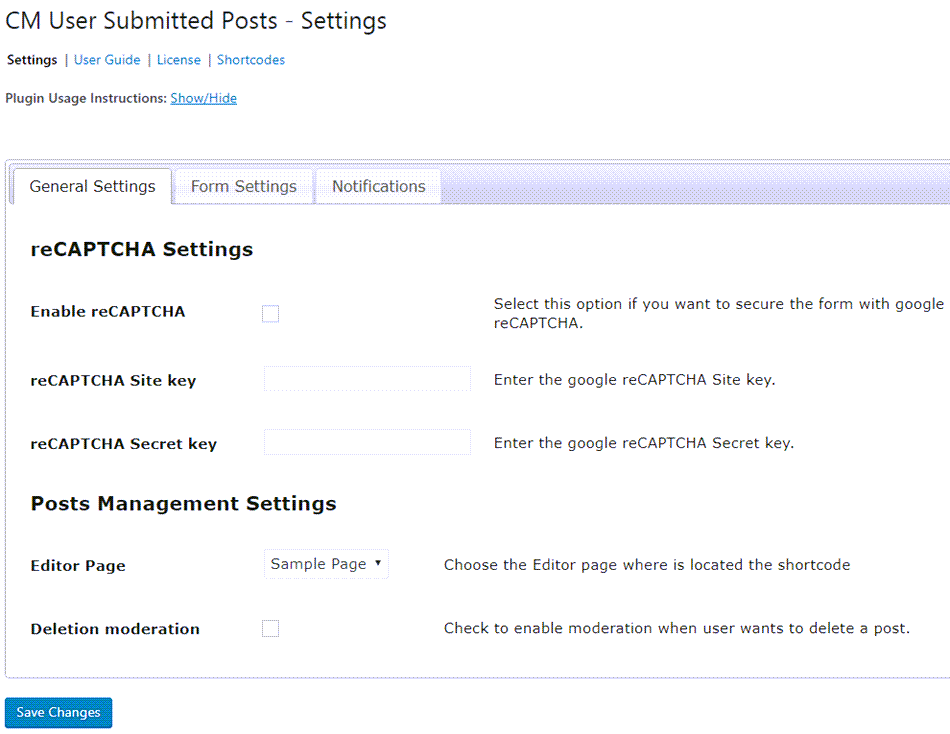 8. Ninja Forms

Ninja Forms addons are a frontend post submission plugin that enables the blog's frontend posting and editing. It allows the users to create content easily without going to the backend. WordPress Ninja Forms posts manage from frontend standard posts with full features for all users. It also allows guest users to add blog titles, tags, categories and authors.
Editors and administrators use this Plugin to edit posts from the frontend and go to the backend for advanced options. It is simple yet highly configurable. It has the following features:
PressThis- Posts can be created using PressThis and edited in Frontier post.
My Posts Widget and My Approval Widget are available in this Plugin.
With WordPress, standard capabilities are aligned.
The Admin bar can be disabled per role.
User-designed templates can make forms.
For posts, the user must be logged in.
WordPress Post Status Transitions are supported.
Categories are allowed per role.
Price – 1 Site-$39/yearly,  5 Site-$62/yearly,  20 Site-$99/yearly
9. AccessPress Anonymous Post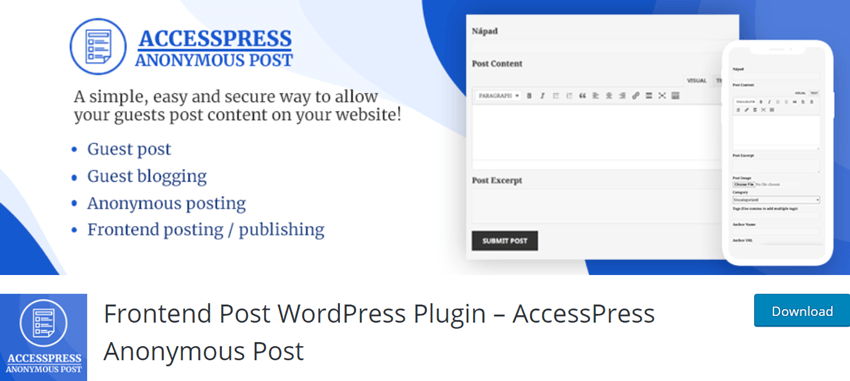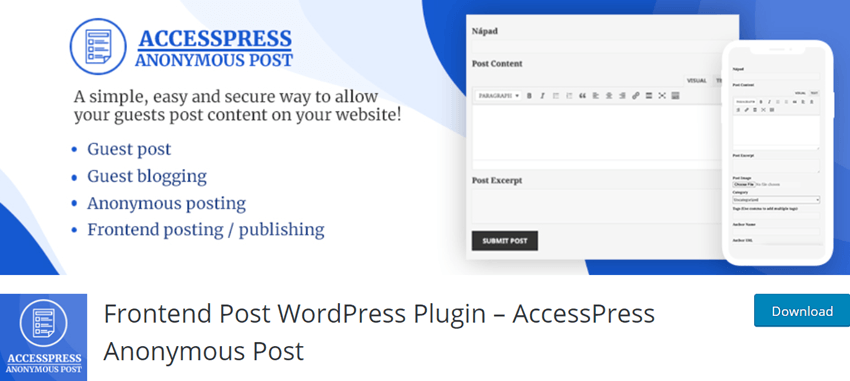 AccessPress Anonymous Post is a simple, secure, and accessible, anonymous guest post plugin that allows visitors to submit any WP post anonymously. It is the best-selling WordPress Guest Post Plugin. The WordPress posts are submitted in an easy and customized way.
It is GDPR compatible. It is a responsive HTML form. Post can be submitted without logging in, and customization options are available. Tags can be entered for the posts. The users can customize settings. Its features are:
Plugin options page- The user can customize the settings.
Email notification- After a successful post submission, a notification via email is sent to the admin email.
WPML compatible- Post can be assigned to a specific language on WPML.
The user can select a field.
Custom Field Type Selection- The field type can be easily selected. Inbuilt Form Style Designer- The forms can be easily customized.
Media Library Integration- There is a file uploader with Media Library Integration.
Tons of features- Many features such as fully responsive, translation-ready, WPML compatible, cross-browser compatible, HTML5 post submission form, form templates, inline login system, etc., come with this Plugin.
Total number of users – 8,000+
Price – Regular License-$29/Biannually, Regular license-$38/Annually
How to Use Anonymous Post Plugin - Free WordPress Plugin | WordPress Tutorial
Screenshot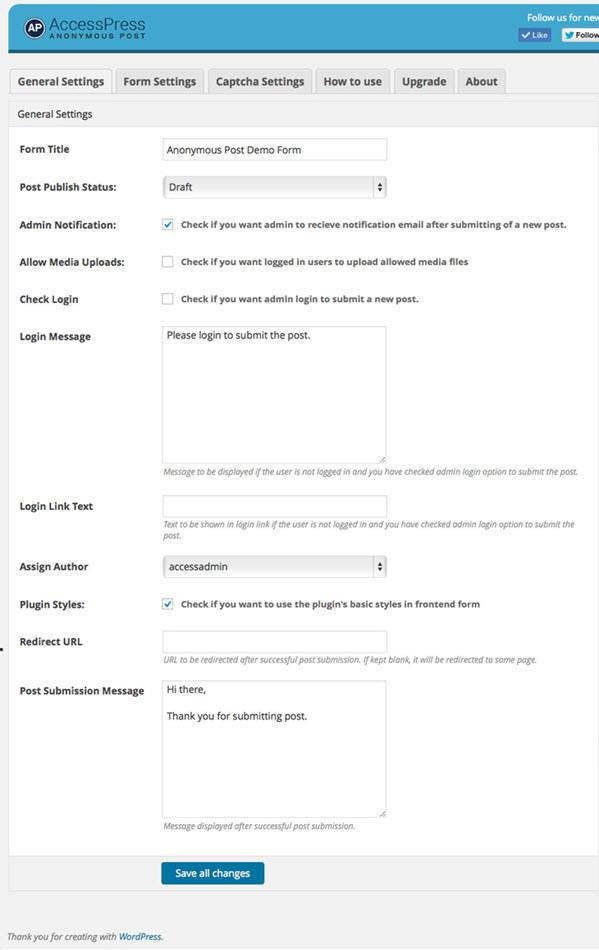 Conclusion – Still confused about which WordPress Frontend Post Plugins you should use? Don't worry. I will make your choice more simple and easy. If you want a free WordPress front end post plugin, I recommend using the wp user frontend. But if you want more features and better options, go ahead with wp user frontend pro. They are worth spending money on because we also allowed guest posts and had to experience those plugins long back.