Crello Review: Free Online Graphic Designing Software
Crello is one of the most popular Online Graphic Designing tools. And we can't be denying that visual information has a greater impact to grab a customer's attention. But, the greatest challenge one faces is the high budget in including visual effects in a campaign. Everyone cannot afford to hire a visual designer.

So, today in our blog we are reviewing one such amazing tool Crello. This graphic design cum visual editor tool offers thousands of templates that are fully customizable to boost your business and are ideal for ebooks, social media, bloggers, presenters, and printers.
You may also be interested in FOMO Plugins, email marketing service, and Lead generation Plugins 
Crello Review Basic
Crello is an intuitive visual editor best free Online Graphic Designing Software that is developed by Deposit photos which offers you 16,000+ templates in 40 formats. You also get more than 3000 animated designs and 200+fonts.
So, whatever you can think, Crello makes it possible to design. Thus, making it the first choice in creating banners, media campaigns, posters, and promotional emails.
Crello - A Graphic Design Tool for Everyone
What Makes Crello Different
You get a broad range of templates with Crello, more than 16,000 templates. An amazing number indeed. In the template selection, you will also find Flyer Templates. These flyer templates though have a preset size, they can be formatted to design your leaflet easily.
Simplified Interface is another added advantage of Crello. You need not require any Visual designer expertise to work with Crello. Creating your first design Crello is possible for anyone.
With Crello, you also get access to a library of photos. Don't get overwhelmed with the library of 65 million file images.
The number of design elements is about 10,000+. The best part is that you can avail many for free and if you want more then you can get the paid versions too.
Photo Effects – You can add extraordinary effects to your pictures with the amazing filters and color effects thru its pop window where you can add the filters and colors as per your choice. You can also intensify, brighten, saturate or add drama to your pictures thru ready-made filters or just create one for you.
The easy 4 steps For Editing
Template selection
Image addition to the template
Apply color effects
Save and Done!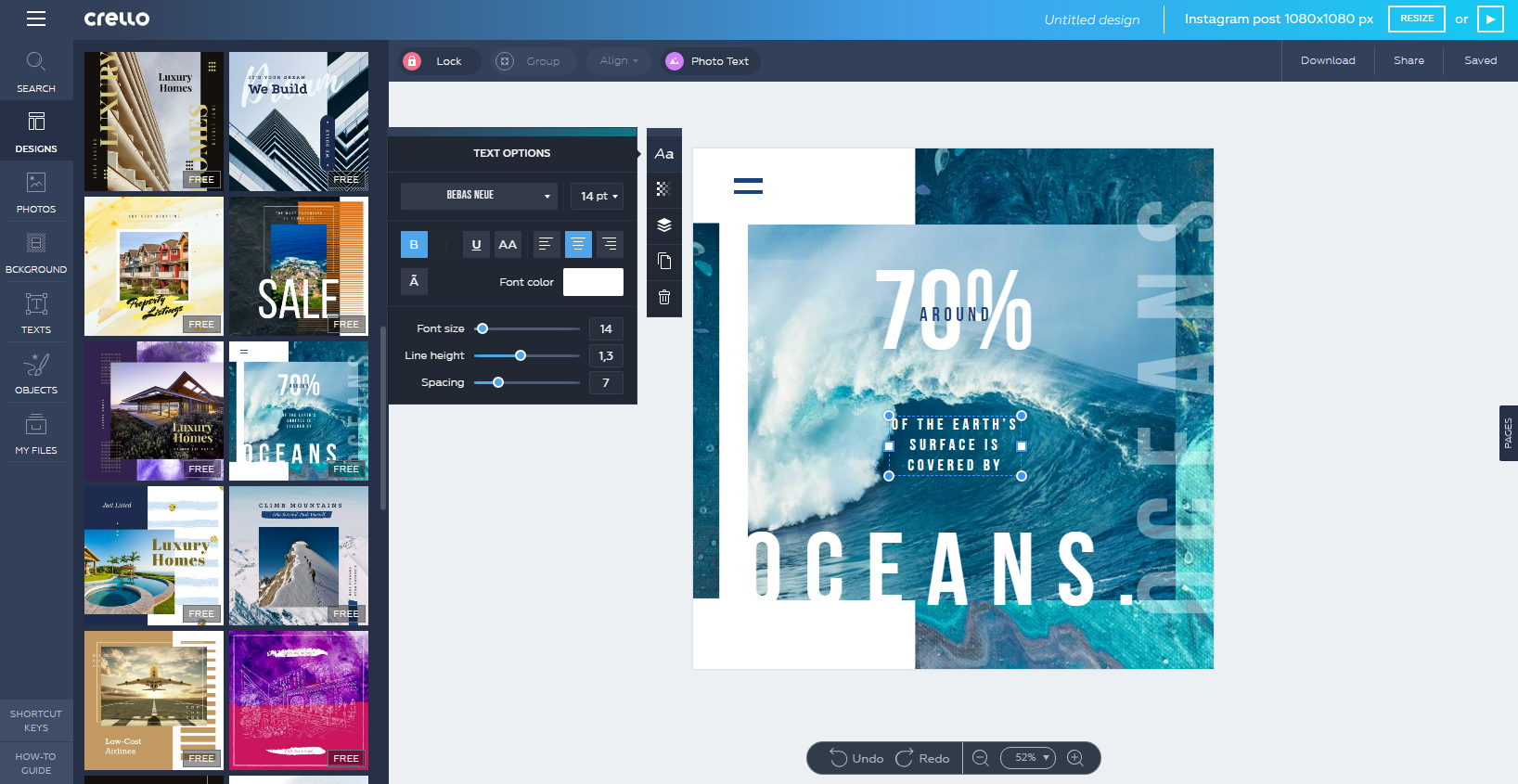 Crello also offers an intuitive video library.
The tool also offers perfect combination possibilities. You can combine your fonts & files with static and animated elements of Crello.
All your projects can be saved in unique folders at no extra charge.
The photo resizer enables you to resize the pictures as per the preset options or manually. Images can be made multi-level with the help of stickers. All this can be done in a few clicks. Besides, you can also add text to the pictures or text boxes. Special effects can be added too by adjusting the brightness, blurring, saturation, flips, and more.
The easy steps
Design format selection
visit My Files
add your picture to the canvas by pressing the Upload Image button
set the desired picture size by pressing
Resize button in the top right corner
Click on download and get your picture in various formats in PG, PNG Transparent,  PNG, PDF Standard, or PDF Print.

What makes Crello as best Online Graphic Designing Software insight 

1. Design – Design has large number of template based on your category requirement you can select one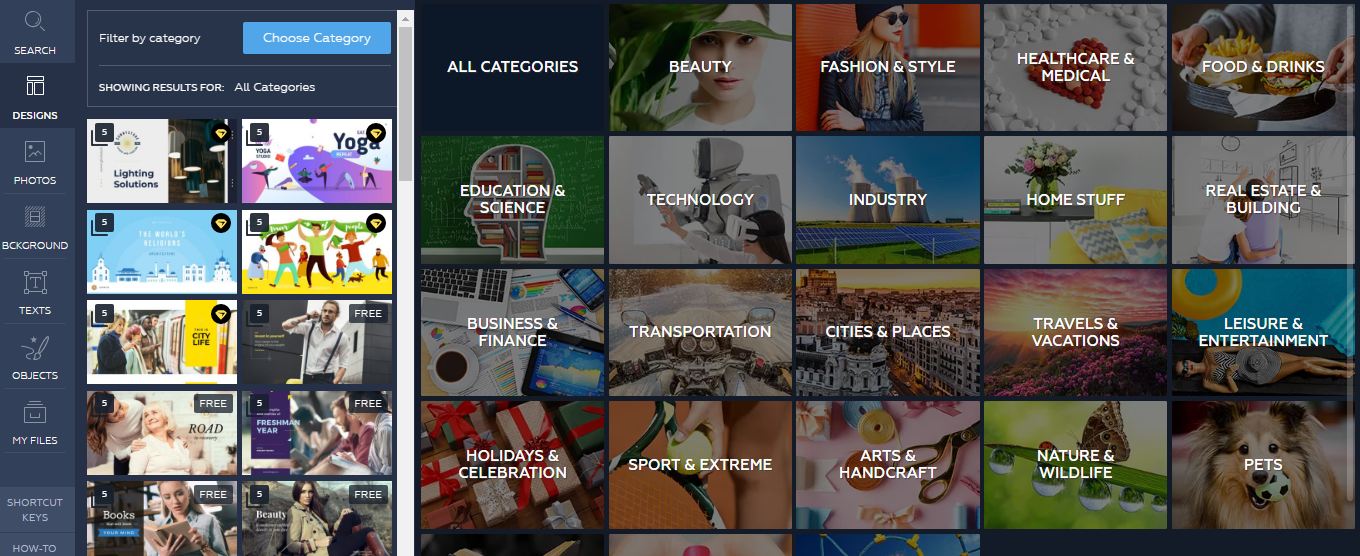 2. Gallery (Premium + Free) – They have tons of premium as well as free image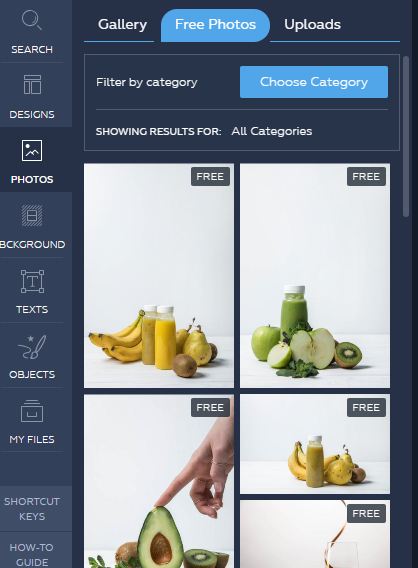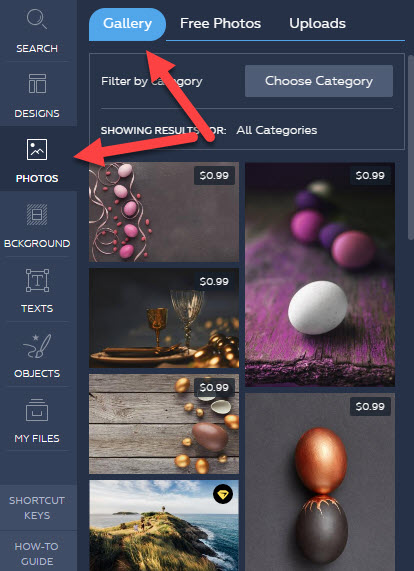 3. Background (Photo + Design + Colour)

4. Text Option – You can easily add a heading or any kind of branding design with the drag and drop tool

Total Template

 – Total 18540 Template

Library Collection has – 
60000000+ High-Resolution Images
6000+ Free Template –
10000+ Free icons
Supported Designing Tool
Social Media

– Facebook, YouTube, Instagram, Twitter, Tumblr, Pinterest

Print

– Posters, Flyers, Gift Certificate, Business cards

Event Management

– Invitation, Business Cards, Posters, Postcards

Marketing

– eBooks, Email headers, Presentations

Blog

– Images and Graphics

Advertising

– Instagram ads, Twitter ads, Facebook ads, Ad banners display

Animation

– Animation maker and Animation designer.
Cons
You have to pay an extra fee for the stock photos.
No downloadable software option is available as it is an online service.
The free plan doesn't support animation.
Video export has watermarks on the free version
Pricing
Crello provides you with two pricing plans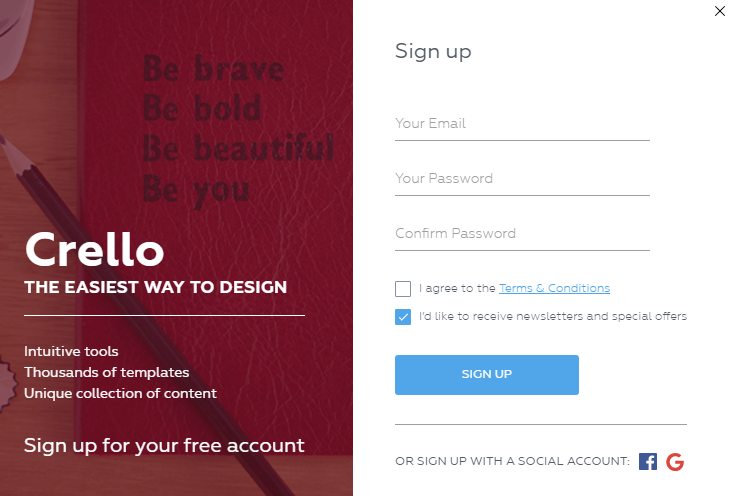 Forever Free Plan –
Animated objects have a watermark and cannot be downloaded.
All the designs will be labeled with Crello
Animated post with only one format – 1080X1080
No resizing options
But if you will buy any paid elements then the cost will be $0.99
This free plan is not a very interesting plan though. But, if you want something beyond this, then you can choose the premium plan also.

Pro Plan – $16.67/mo
Resizing Options
Complete access to animated elements
No Crello branding and watermark. Hence, great for commercial usage.
Many free animated objects
The Pro Plan is very competitively priced. A great value for money indeed!
Conclusion
A must-have tool to simplify all your creative projects. You get benefits such as comprehensive social media coverage thru Instagram Stories, HD animations, Facebook video covers, and more. Intuitive eBooks and printed materials with the correct dimensions can be flawlessly created too.
In my Crello Review i found that it is a precise and very richly featured visual editor and highly recommended too! So Use it now   Try
Note – This Crello Review is unbiased and we don't take any payment for writing Reviews.