10 Best Dropbox Plugins for WordPress 2023
Dropbox is one of the oldest and most famous Cloud data storage service providers. Dropbox plugin is beneficial in website backup storage, Media file storage, Product data storage to sell digital products. Using Dropbox as media storage, you can easily store your media files like images, videos and downloadable files directly from Dropbox.

When we talked about the safety of the data, Dropbox never compromised with its security. And your data is entirely safe. Many plugins help you to integrate Dropbox with WordPress so that you can directly upload it. So the list of Top Dropbox Plugins for WordPress are as follows:
1. BackupBuddy

BackupBuddy – BackupBuddy is one of the Best Dropbox Plugins for WordPress, which serves three purposes backup, restore, and move the user's WordPress. A perfectly designed WordPress extension that enables you to carry out the functions of dropbox so efficiently. Comprising handy features and yet easy to configure shortly for accessing its functionality quickly. Easily transfer files to another system without wasting so much time in it. BackupBuddy provides you simple way to transfer files by creating a Dropbox account. Moreover, You can manage entire documents available on the website and keep them safe in a cloud system. Ease on sharing such documents with anyone you need to.
Essential Features –
Let you access backup for the database and export the same through WP XML.
Enables optimize the database so closely before creating files for backup. Also, repair such a database anytime if necessary.
Selectively create a backup for files. You may include or exclude any files according to the necessity of your website.
Share, transfer, and restore the entire website database within just one click.
Provides built-in tools for a server that assists efficiently to resolve any issues of hosting.
Scan malware throughout your site to eliminate the risk of cyberattacks.
Pricing – Blogger Plan – $80 (1 site backup), Freelancer Plan – $127 (10 site backup), Gold Plan – $199 (unlimited site backup)

Backupbuddy coupon –BACKUPWP25 saving 25% off
Screenshot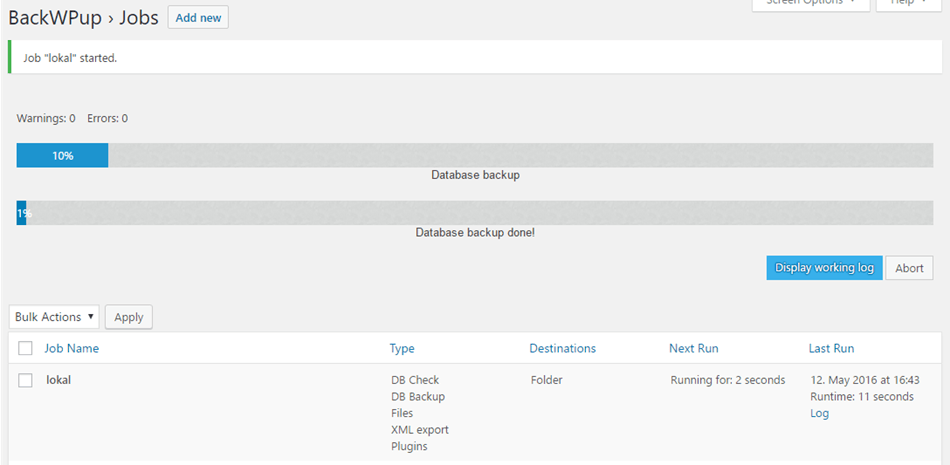 2. Out of the Box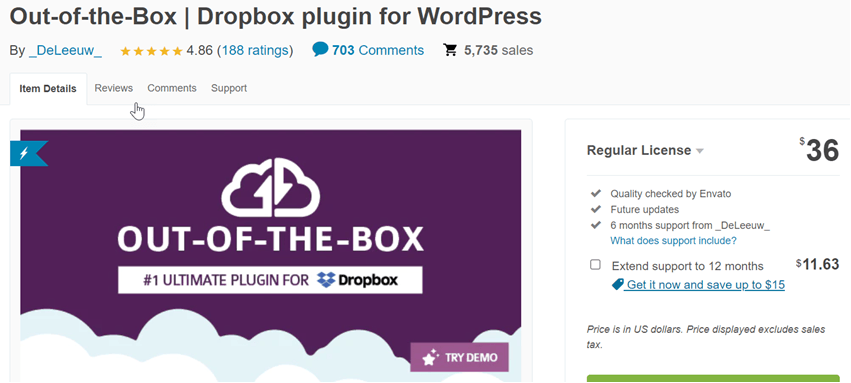 Out-of-the-Box is a paid and lightweight plugin for dropbox functionality. It contains an intuitive UI that lets you easily manage the dropbox file effortlessly. It saves a lot of time as it is easy to configure without any set of coding. Easy to share files and create a backup for essential ones stored in the cloud. Enables restore all critical files including images, videos, logs, and more which earlier you made a backup in the cloud.
Elementary Features –
Privacy and Security – Enables your users to securely share their confidential files with their clients by creating private folders without fear of leaking elsewhere.
One-Click Access – Let you connect your dropbox account within just a click.
Easy Sharing – Allow your users to receive the dropbox link you send and enable them to see everything in the folder even without having a Dropbox account.
Permission Criteria – Configure the access of your files to your users with defined user roles, thereby customizing permission for download, view, delete, or more.
Price – Regular License-$36/Biannually, Extended License-$299/Biannually
Screenshot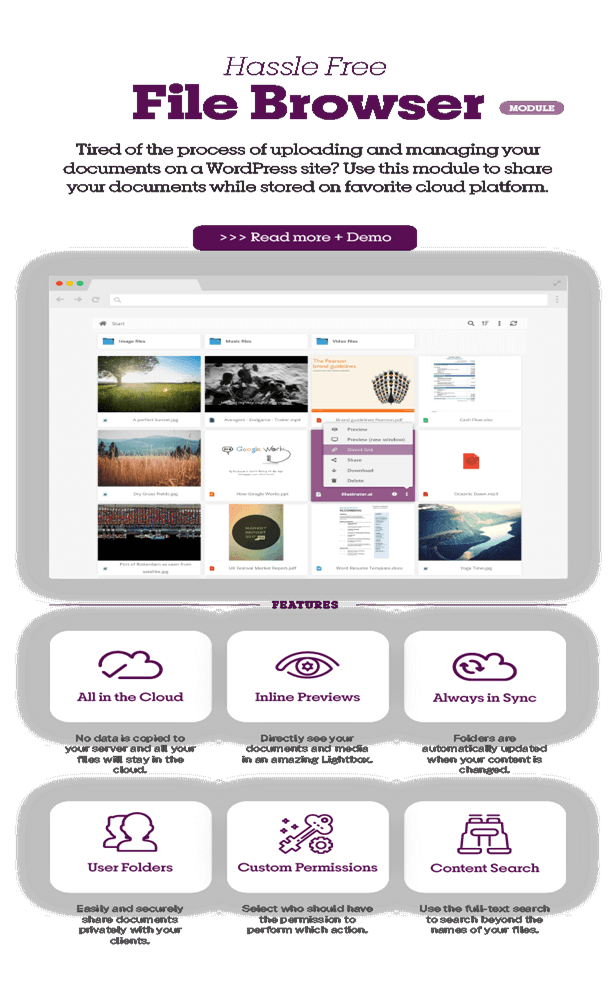 3. External Media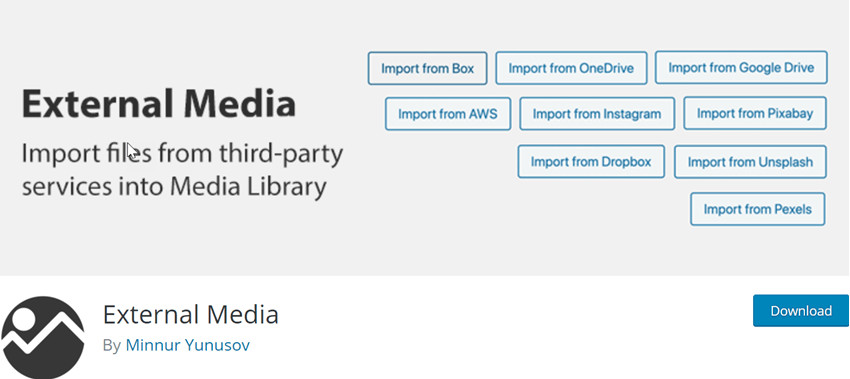 External Media is a free Dropbox Plugin for WordPress that helps users create external links and import files from third-party services such as Google Drive, Dropbox, Instagram, etc. Files can be used and conveniently linked from these sources using this plugin. It also checks for the duplication of files, and if it is there, it uses it. External Media enables you to manage the content and various media of the website with the help of Dropbox integrity. An intuitively designed WordPress Plugin lets you create links that will share with clients in defined user roles.
Integrate Dropbox account and let them freely store your WordPress Media into cloud storage up to 2 GB. Add as much Media as you require to create backup into Dropbox account without having any complexities of coding. Insert files from URL or Import stored securely into the cloud and restore whenever needed. Utilize the drag and drop alternative to upload files. The file you import with the External Media Plugin will be stored as a permanent file. Any modifications in the file won't be shown on the site until you re-import such files thereon. Moreover, it eliminates the duplication rate as it never uploads the existing files twice while recognizing them before use.
Total number of users – 8,000+
Screenshot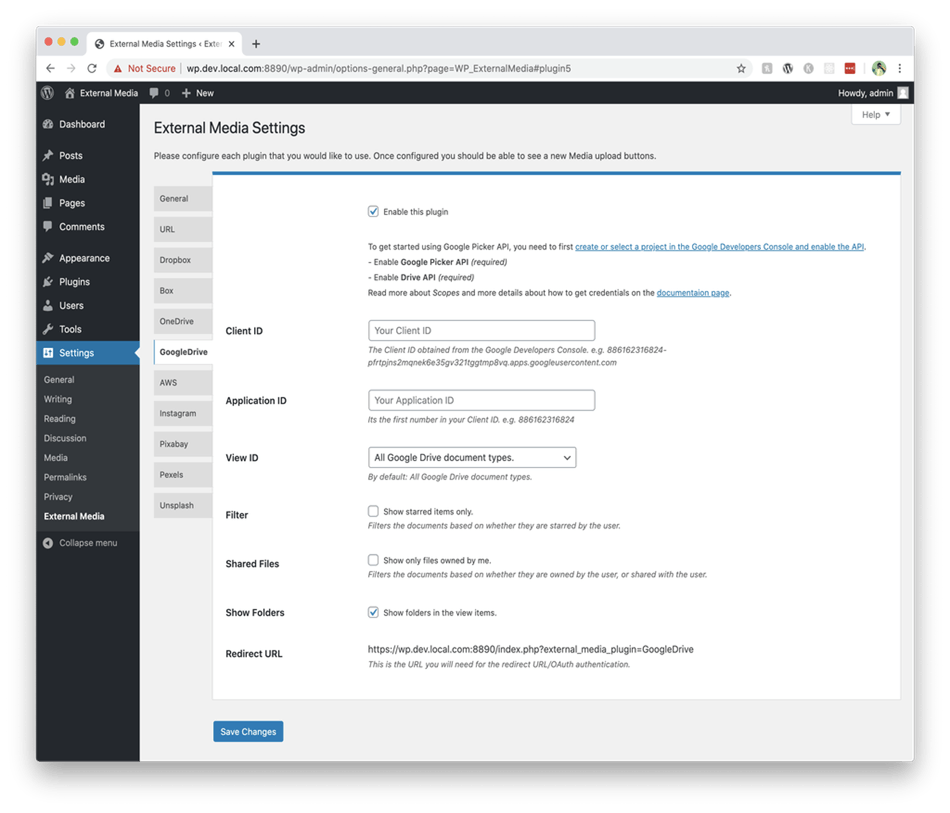 4. WordPress Download Manager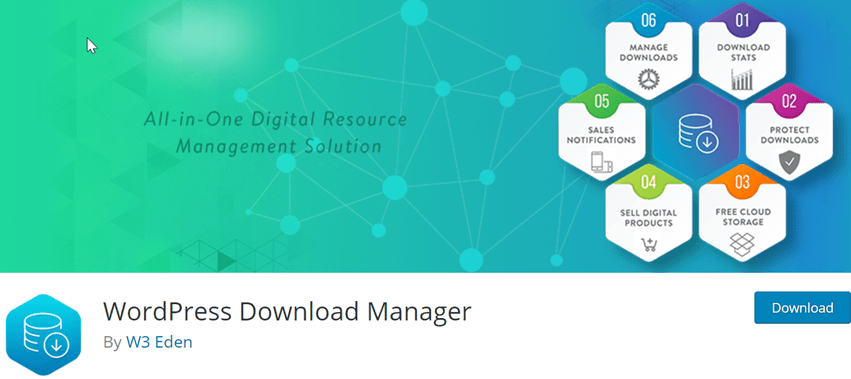 WordPress Download Manager is a well-integrated freemium dropbox plugin for WordPress that assists you to manage the entire website media appropriately. It is designed so well that it facilitates the better security of the data and smooth functioning. You can manage your WordPress media efficiently and share the same with your clients with customized privacy. Protect your database with a password, and access will be followed via captcha. Create a complete backup of the essential files and restore whenever required.
Let you prepare backup and manage the available Media on the website. Secure the entire site content within cloud storage eliminates the risk of losing any required file anyway. WordPress Download Manager allows you to securely store your files up to 2 GB into dropbox and let them share with their terms of privacy. Import files in bulk with just a click and keep the same in the cloud that anytime could be restored.
Total number of users – 100,000+
Price – Pro-$59/yearly (1 Site),  Business-$179/yearly (5 Site), Developer-$299/yearly (48 Site)
Screenshot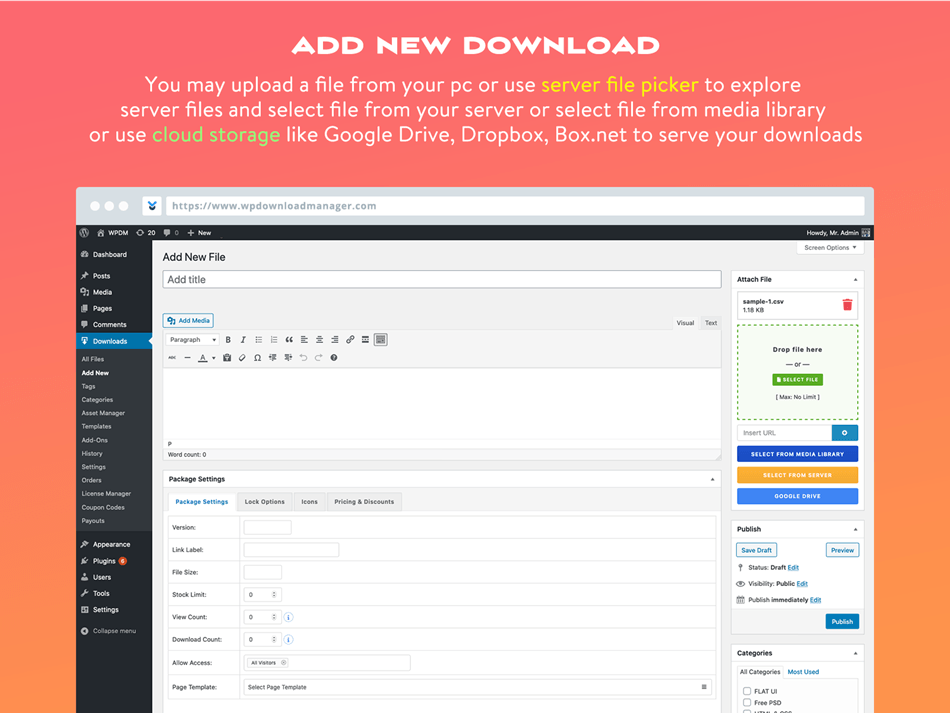 5. File Manager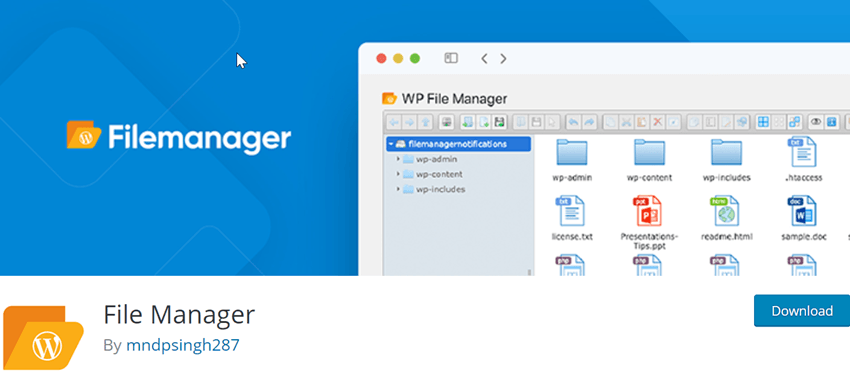 File Manager is a most advanced WordPress dropbox plugin that organizes the documents and files available on the website in a dropbox account. Let them share with your clients as necessary and define privacy to get access. File manager enables you to edit, upload, delete, copy, download files into a Dropbox account. Allow your clients to access the dropbox folder even without having an account in dropbox. Let your users enjoy the free storage for uploading files of 2 GB. Assure your users to import files within one click whenever required quickly. Easily copy files in bulk and upload them into your dropbox account efficiently without any code. Protect your files with end-to-end encryption and keep safe the website's content.
This beginner-friendly WordPress dropbox plugin backs up the WordPress database and the entire WordPress installation, thus ensuring all the website files are correctly backed up and never lost. The backups can be scheduled automatically, and the backup file is delivered as a zip file. It restores, clones as well as migrates WordPress files. It does all this reliably and securely. The backups can be stored either locally or remotely. The frequency of the backups can be controlled as many backups can be created as wanted.
Total number of users – 700,000+
Screenshot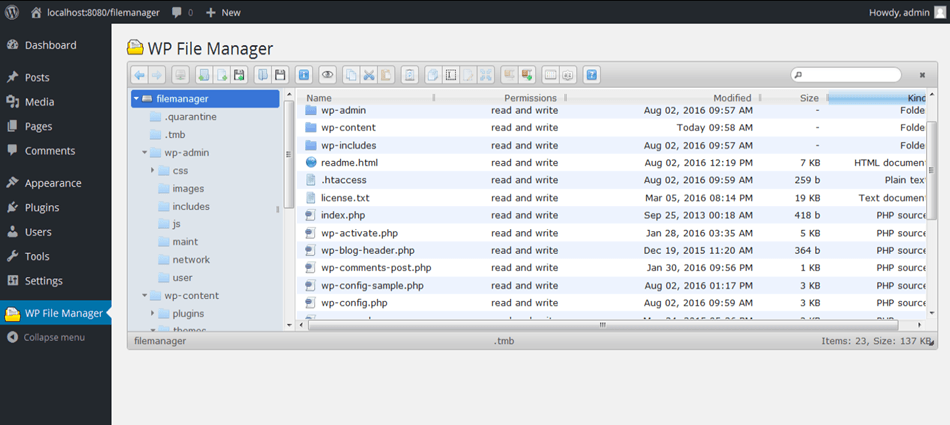 6. WooCommerce Dropbox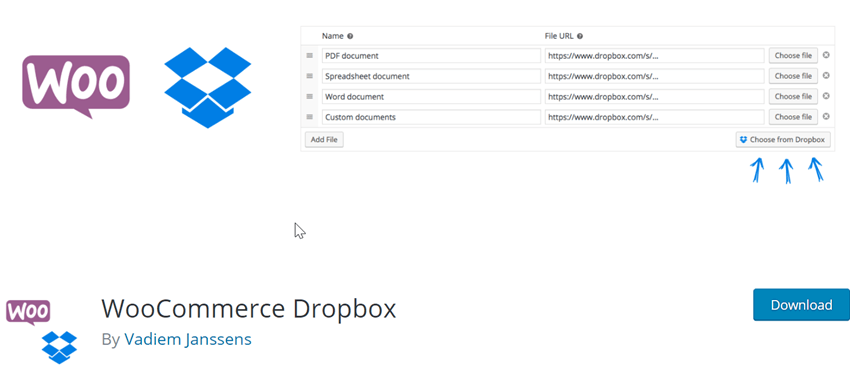 WooCommerce Dropbox is the best WordPress dropbox plugin to upload various content available on the website, including images, thumbnails, PDFs, documents, and more to dropbox. You will efficiently manage such content except for videos or any large accessories thereon. Upload essential files in cloud storage and create a backup for future use. Provides end-to-end encrypted service and lets them configure their privacy accordingly.
This is a highly recommended Dropbox Plugin for WordPress that efficiently manages the website's database. Integrated with lots of essential features that let users easily create a backup in the cloud and restore the same whenever required in just a few clicks. Allow users to create a dropbox account and ten essential upload files thereon for backup in just one click. Edit and upload into dropbox or import any files along with the drag and drop option.
Total number of users – 1,000+
Screenshot

7. Mytory Markdown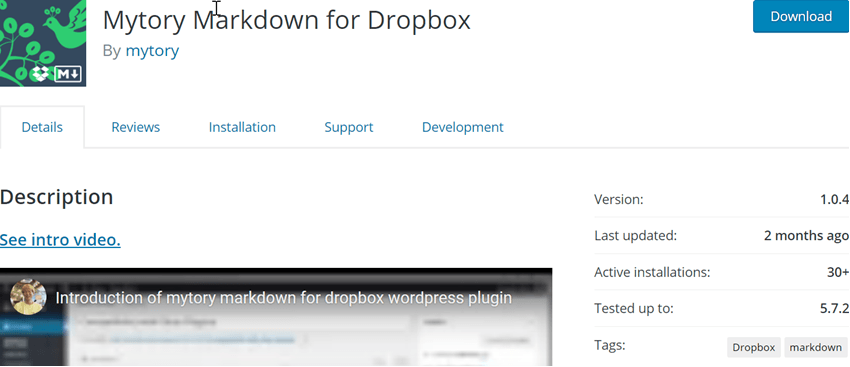 Mytory Markdown Dropbox Plugin is a user-friendly and straightforward dropbox plugin for WordPress that helps the users serve the downloadable products through the Dropbox infrastructure. It helps to connect with Dropbox easily. After this, any post can be linked with a markdown file from Dropbox. The file can be updated on the user's computer and updated easily through a simple button. It is shortcode compatible, and even if any content is lost from Dropbox, it is preserved in WordPress.
The user needs to choose a file from the Dropbox account through the 'Choose from Dropbox Menu'. The plugin handles the rest of the work after this. It is lightweight and is highly optimizable. It displays the user's dropbox file helpfully. Mytory Markdown integrates dropbox rapidly into posts and pages and saves tons of time handling files. Also, the documents can be shared with the client through Dropbox.
Total number of users – 30+
Introduction of mytory markdown for dropbox wordpress plugin
Screenshot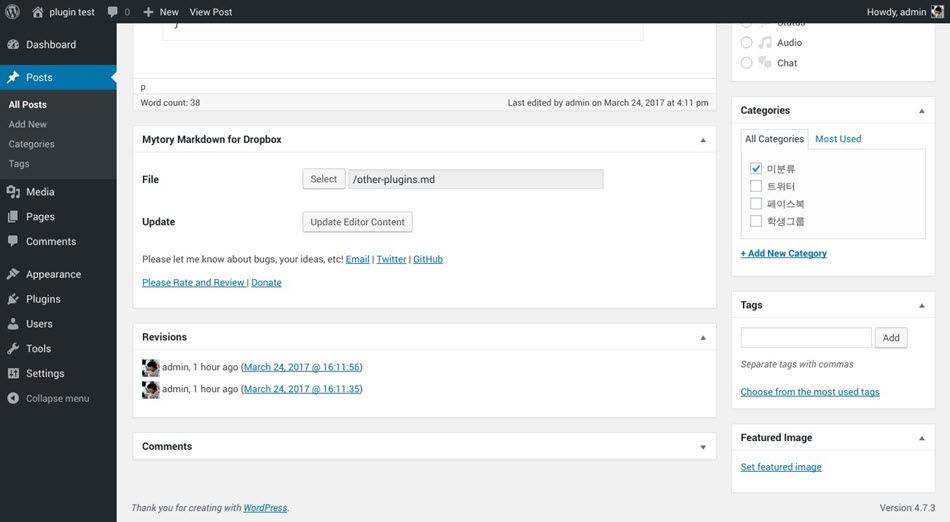 8. Dropr

Complete backup of the WordPress website can be made, not just its database. Dropr plugin helps create a website backup, restore them to Local Storage, and upload them to Dropbox. It also provides users complete control of the files and folders included or excluded. Images can be previewed in thumbnails, and users can navigate among sub-folders. There are also buttons and shortcodes in the editor.
It allows the entire file structure to share a folder in a dropbox within a WordPress post or page. Then using the WordPress site, these folders can be navigated, and the files can be selected and downloaded. If any files are added or deleted in the Dropbox folder, it is reflected in the WordPress site.
Price – Regular License-$24/Biannually, Regular License-$31.13/Annually
Screenshot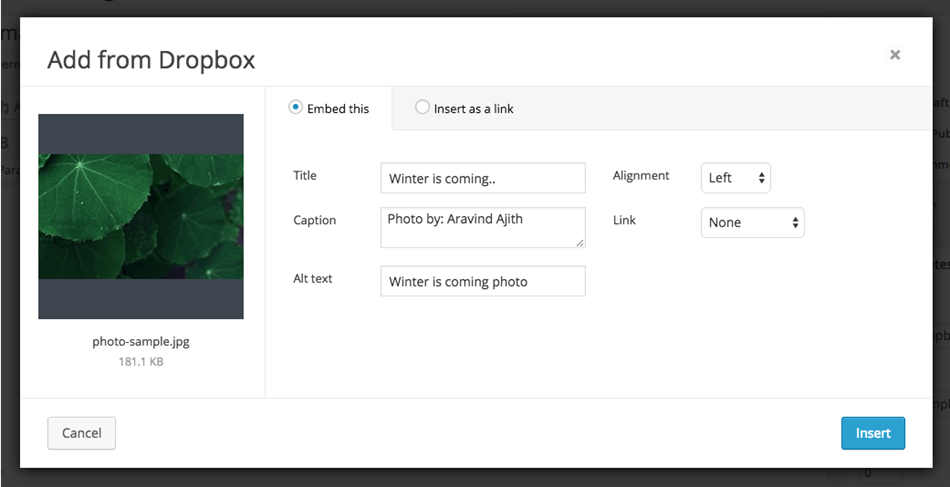 9. Embed Any Document Plus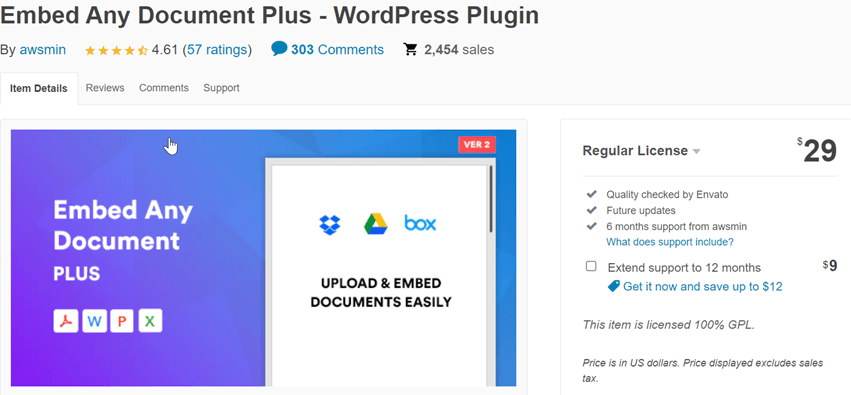 Embed Any Document Plus is one of the most powerful Dropbox plugins for WordPress. It allows users to embed their documents on their WordPress posts and pages without requiring additional browser plugins. It is one of the best-selling WordPress plugins to embed PDF and Office documents. Using this plugin, you can easily embed or display your documents and Google docs files hosted in DropBox & Box.com anywhere on your WordPress website in a few clicks.
Features
The plugin allows you to easily upload and display your documents on your WordPress website.
This plugin doesn't require additional browser plugins like Acrobat reader or Flash.
You can embed PDD files, Word and Excel documents, PowerPoint presentations, and more using this plugin.
Price – Regular License-$29/Biannually, Regular License-$38/Annually
Screenshot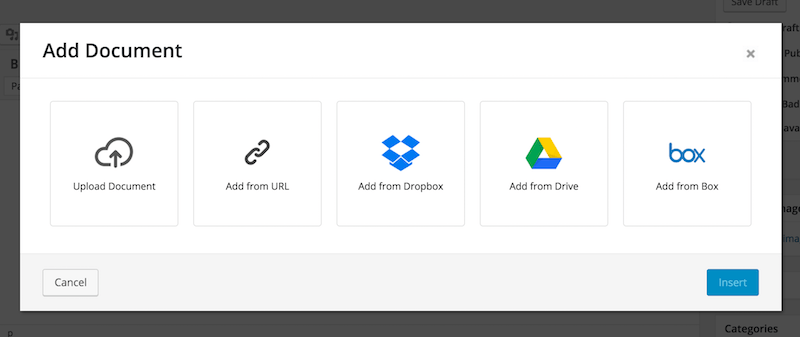 10. Gravity

Dropbox by Gravity Forms is the smart WordPress Dropbox Addons that allows the users to easily upload their form files directly to dropbox whenever they upload files from their own Dropbox account or whenever a form is submitted. It helps you organize, store, and access your files directly through the WordPress Forms. You can also set a specific location where all your Dropbox uploads will be stored to access them whenever you want quickly.
Features
The Dropbox add-on by Gravity Forms allows you to easily organize, store and access all your files directly through the WordPress Forms.
The add-on comes with a Dropbox field which can be easily added to a form. Using this dropbox field, the users can easily upload their files directly from their Dropbox account.
Using the Gravity Form's conditional logic, you can easily add conditions to the form that require the users to fulfil certain conditions to upload their files in Dropbox.
The add-on ensures world-class safety and security of all the files uploaded via Dropbox.
Price – Basic-$59/yearly (1 Site),  Pro-$159/yearly (3 Site), Elite-$259/yearly (Unlimited Site)
Screenshot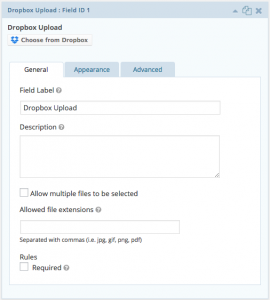 Conclusion – Are you still confused about the perfect Dropbox Plugin for your website? Don't worry, I will make your choice more straightforward. If you want a Paid Dropbox plugin, then you should choose backupbuddy. That's worth spending money on. But if you want a free Dropbox Plugin, I recommend you use Backup and Restore Dropbox.
You might be interested In Backup Plugin, Amazon s3 Plugin and Page Builder Plugin.