10 Best WooCommerce WishList Plugins 2022
Are you looking for Premium Or Free Best WooCommerce WishList plugins for WordPress? Wishlists is an awesome feature of any eCommerce website. It allows the visitors to save the product and track it whenever they want. Its increase your website sale when the customers share their wishlist products with their friends.

In other words, you can say the products which the customers may be interested or want to buy later on some occasion like marriage, birthday, party, etc is known as wishlist. That means I wish to buy this product later on.
You may also be interested in Fomo Plugins,  Variation Swatches Plugin, and abandoned cart plugins
So let's have the list of best WooCommerce favourite Collections Cart Plugins are as follows:
1. ICONIC Wishlist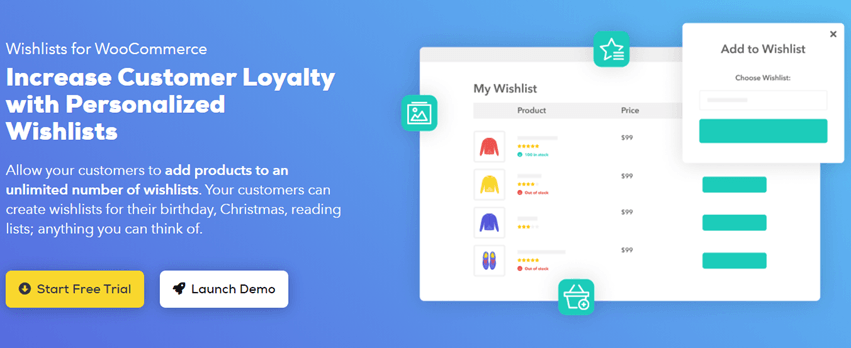 ICONIC Wishlist for WooCommerce allows your users to add products to an infinite number of wishlists. They can make their wishlists and add products for different events such as Christmas, birthdays, anniversaries, festivals, and more. Engage more audience by availing themselves of this amazing wishlist functionality so that they feel so comfortable selecting products for future purchases whenever they want. Such a feature-enriched plugin assists your online store to grow more revenue through increased sales.
Features
Your customers have full control of their wishlists. They can view their wishlist products and manage them as and when they want.
It is extremely easy to manage i.e. the customers can edit their wishlists within an easy-to-use modal overlay.
The plugin makes it very easy and smooth to create a wishlist, thus, gives an everlasting experience to your users.
The wishlist is very carefully designed and looks beautiful with every theme.
It also allows your customers to share their wishlist with whomever they may want. Hence, it serves as a great way to promote your products.
Your customers can also find the wishlists of their friends and families.
The plugin displays the wishlist in a simple and beautiful table that matches your theme styling.
Price – 1 Site – $49/annually, 3 Site – $99/annually, 30 Site – $299/annually
Screenshot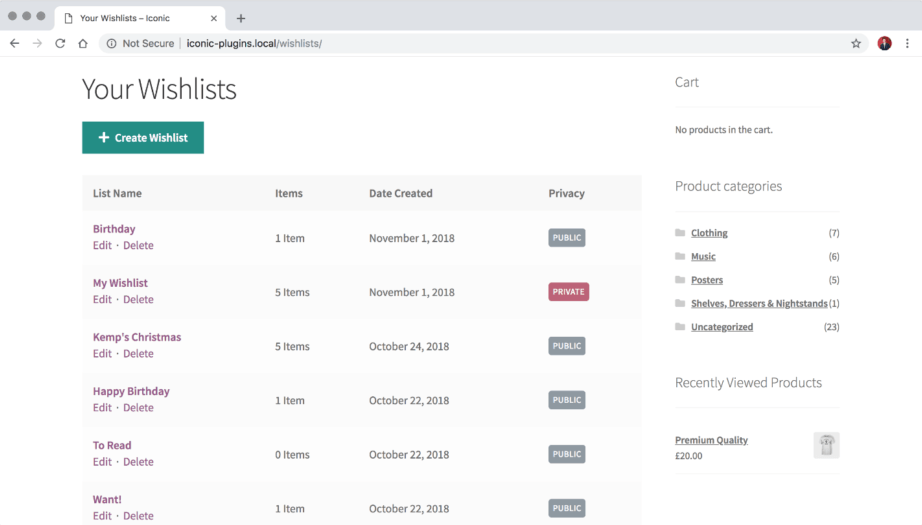 2. WooCommerce Wishlists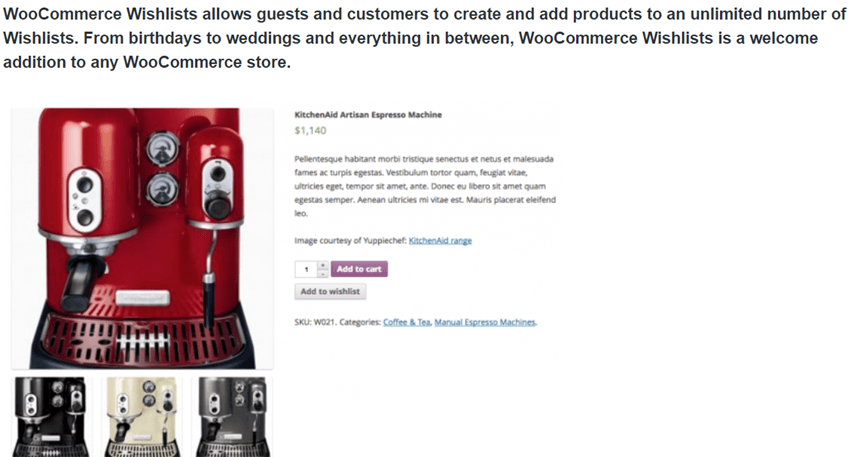 WooCommerce Wishlists gives an option to add products to unlimited wish lists by both potential and active customers. Besides, you also get the opportunity to promote your products as the customers can share their wish lists in the form of links also with their friends and family on the social platform.
This creates an advantageous situation wherein people on social media see your products and become potential customers. Users can easily transfer all or multiple products from their wish list to the cart or even delete one or all of them as per the requirement.
Features
The users don't need to log in to add the products to the wishlist.
It also allows the users to add or remove the products from the wishlist using Ajax.
It gives the users full privacy control over their wishlist. They can privately view their wishlist, share it with their friends and family or assign it as public.
You can also customize the text "Add to Wishlist" just with a click of a button.
The users can also share their wishlist on social media platforms such as Facebook, Instagram, Twitter, Pinterest, and more.
It also allows the email sharing of the wishlist along with the customized emails.
Price – 1 Site – $79/annually
Screenshot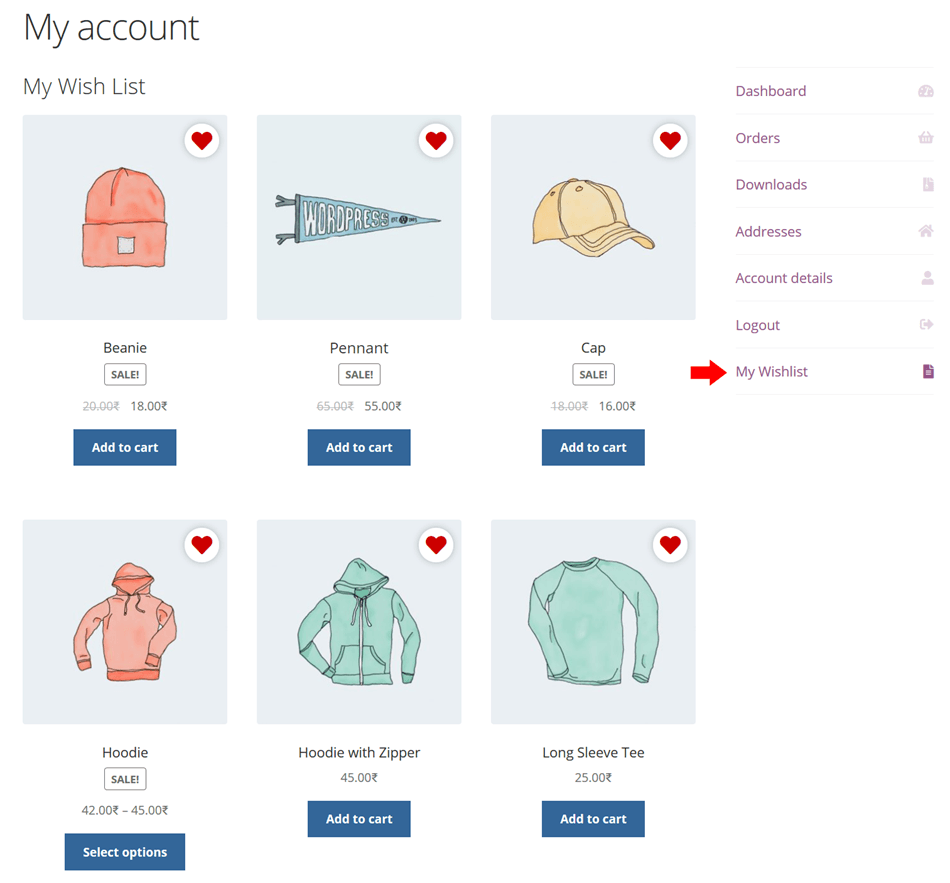 3. YITH WooCommerce Wishlist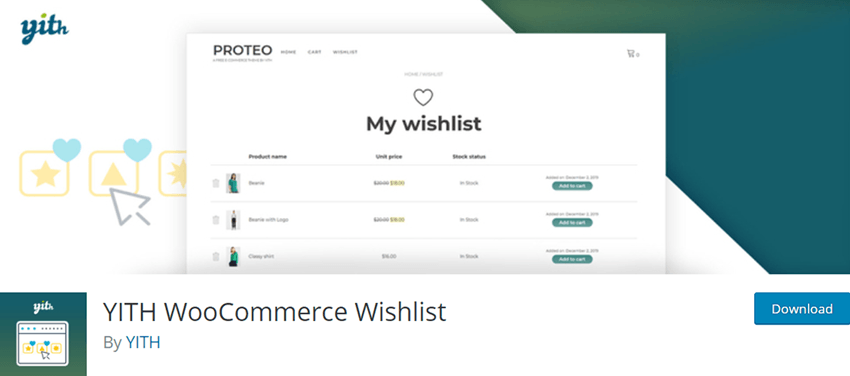 Yith WishSuite is a highly flexible plugin and hence an apt choice to go with any theme and design. With the YITH WooCommerce Wishlist plugin, you can create and manage multiple wish lists and even categorize it based on several parameters. It allows the admin to offer discounts or promotional offers to the customers based on their wish lists.
The features include – it displays the date the wish list was created and each product was added, sending promotional emails to the customers, privatizing the wish list, creating multiple wish lists, estimating the cost of the product in the wish list, and many more.
Features
You can select the location of 'Add to wishlist.
It also allows you to select a page for your wishlist
You can also show the "Add to Wishlist" button on the Shop page.
It also provides the users with product variation support.
You can also show the "Remove from Wishlist" button so that the users can remove the product once added to the wishlist.
It allows the customers to build their wish lists, share them or recommend them to their family and friends. You can easily view and manage the wish list through the WordPress Admin.
The users can easily add or take away the products from their wishlists.
Total number of users – 800,000+
Price – 1 Site – $94.99/annually
Screenshot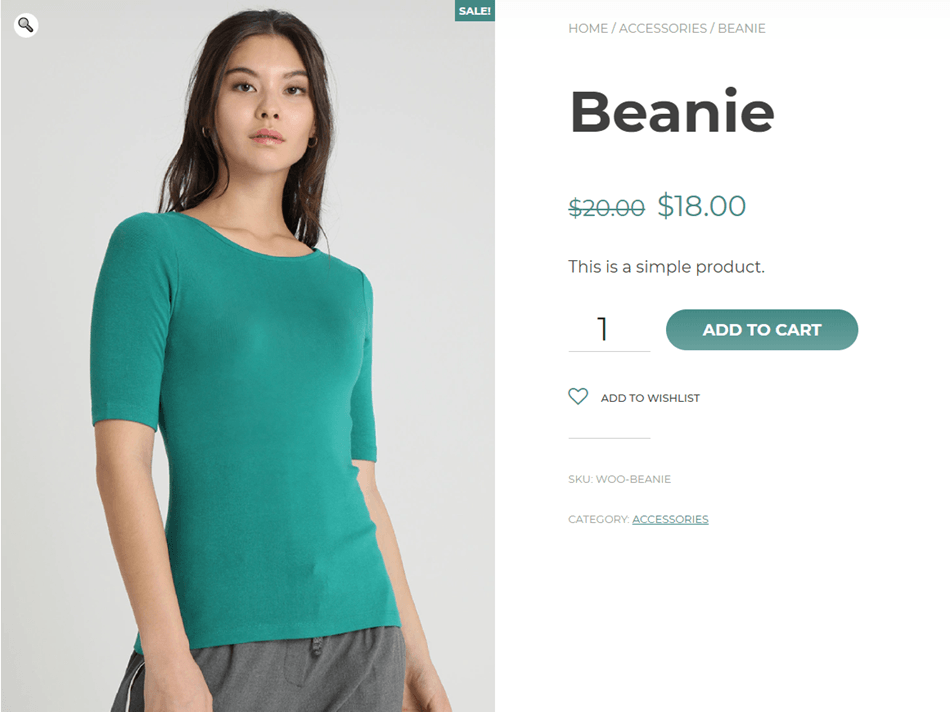 4. TI WooCommerce Wishlist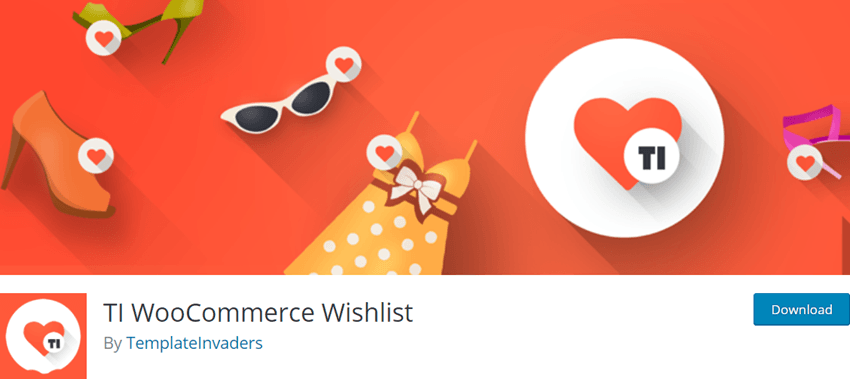 WooCommerce Wishlist Plugin is a user-friendly and robust plugin that allows the users to create wish lists and add single and multiple products to it and later encourages them to buy them. The GDPR compliant plugin also allows the users to share their wish lists with their friends and family to help them plan a product to buy on one hand, and on the other helps you build a new set of potential customers in the long run. The plugin features help you choose the page and name of the wish list, automatically remove the product from the wish list that has been moved to the cart, and many more.
Features
You can add the "Add to Wishlist" button or link on the products page.
It allows the users to share their wishlist on their preferred social media channels like Facebook, Google+, Pinterest, Email, WhatsApp, Twitter, and more,
You can select the name of the wishlist and the page where you want to locate it.
Add or remove the products from the wishlist as and when you want.
You can also customize the wishlist table columns and their appearance.
You can either choose from the predefined icons for the "Add to Wishlist" button or upload your own icon.
The plugin is supported by WooCommerce and features everything to enhance your e-shop.
Total number of users – 90,000+
Price – 1 Site – $79/annually,  3 Site – $99/annually,  30 Site – $199/annually, 1 Site – $199/Lifetime,  3 Site – $249Lifetime,  30 Site – $499/Lifetime
Screenshot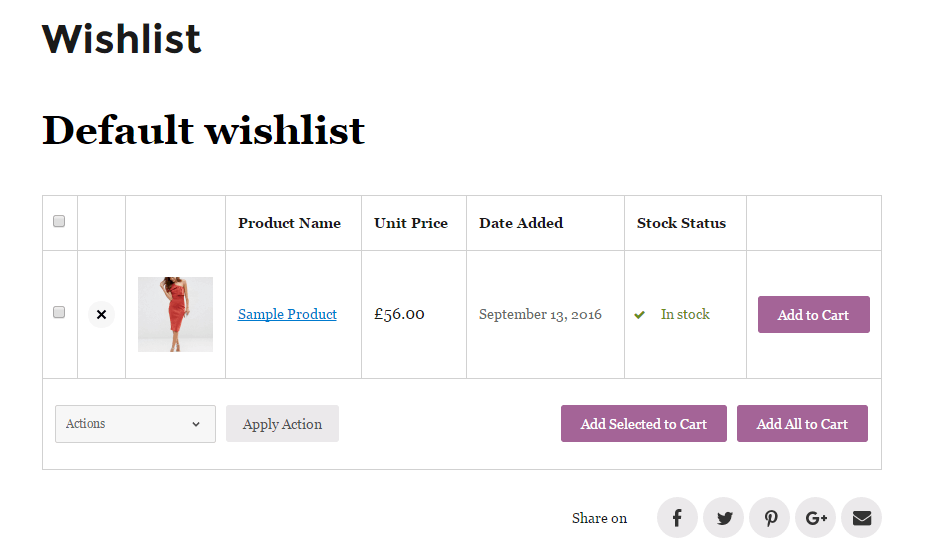 5. Athemeart Advanced Product Wishlist for Woocommerce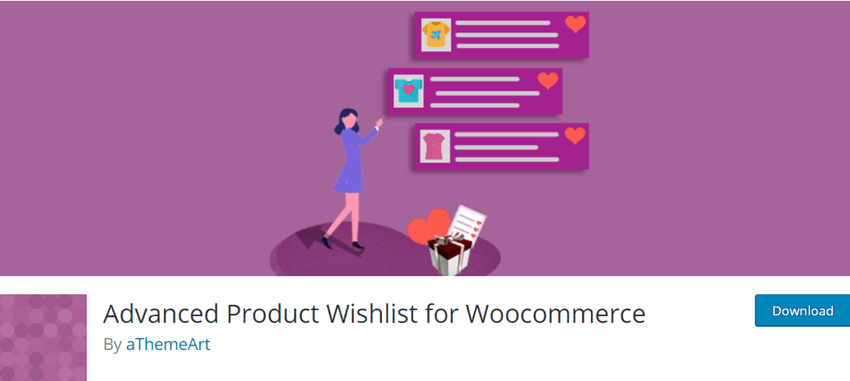 Advanced Product Wishlist for Woocommerce is a very powerful wishlist plugin for WooCommerce that allows your users to add their products to their wishlist simply and conveniently. The users can keep the wish list private or render it for public view and trigger more customers for the future. So this could be a great Watchlist plugin for your woocommerce website. Thus, it gives your users an amazing customer experience and helps you convert your website guests into loyal customers. This plugin enables you to add a link to every [products details page to feature them on the wishlist page.
Features
The plugin allows you to customize the Add To Wishlist button and make it a perfect fit with your website.
You can either add a link or a button for Add To Wishlist. You can also choose from predefined icons.
It allows you to add the button in different Button Load Positions.
You also get to customize the wishlist table and the colour and style screen.
It allows potential customers to add products to their Watchlist which they can buy later.
The plugin offers other useful features such as pagination support, wish list management by the user where he/she can edit or delete the wish list, counting wish list post id, post type support, and many more
Total number of users – 600+
Price – 1 Site – $14/annually,  5 Site – $27/annually,  Unlimited Site – $35/annually
Screenshot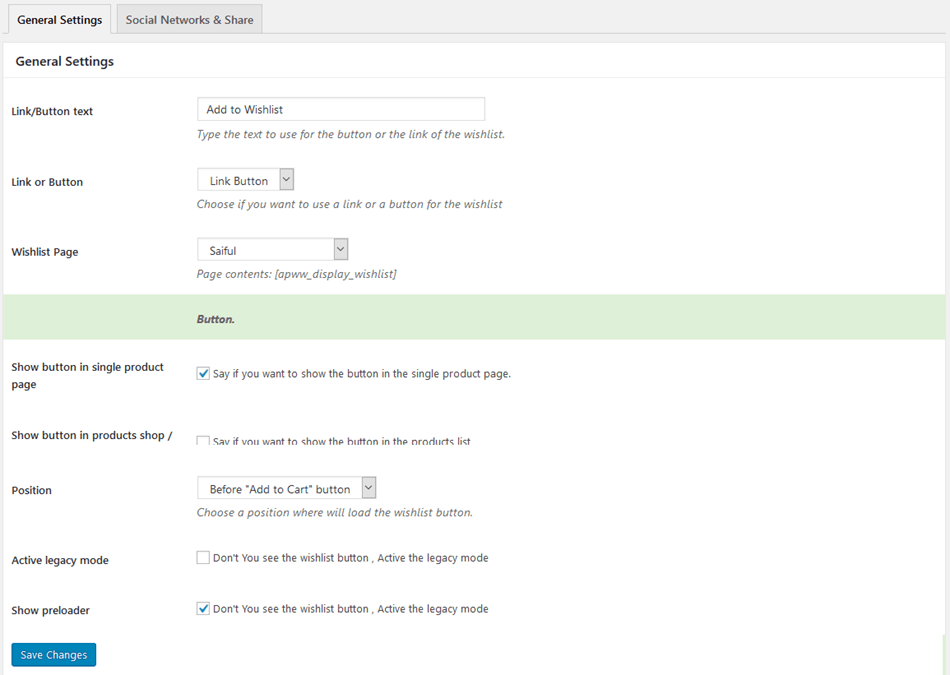 6. Crocoblock Jetcomparewishlist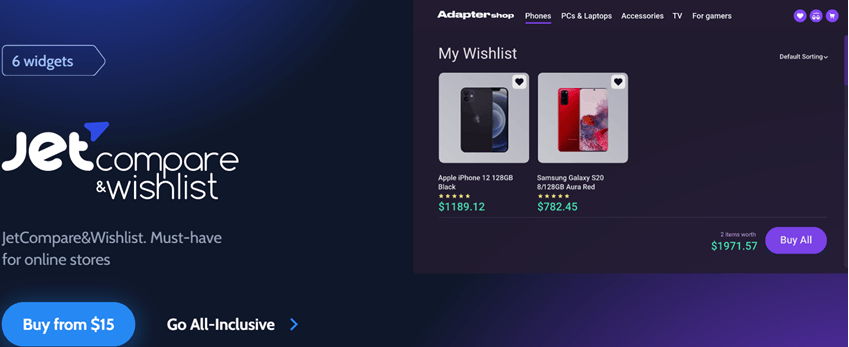 With the amazing JetCompareWishlist plugin wishlists and comparison lists, visitors can add desired products into them. They get to add liked products to a well-organized wishlist and then view or compare as per their convenience. It lets users see the number of products added, compare and view products & their features in a suitable form, at any time and make the purchase. They can also check the number of times a product was added to a wishlist on the site. The wishlist can be made without logging into their account at your store. The plugin lets you style the buttons and wishlist according to your website design. It can only be integrated with the Elementor page builder plugin.
Features
You can set the parameters and compare the products.
You can also show the number of times the product was added to the wishlist.
The plugin enables you to customize and style up your wishlist according to your discretion.
You can add the compare and wishlist button anywhere.
It allows you to choose from the stylish and engaging compare and wishlist button.
Price – All-Inclusive – $130/annually (1 Site),  All-Inclusive-Unlimited – $265/annually (Unlimited Site),  Lifetime – $750/One-time (Unlimited Site)
Screenshot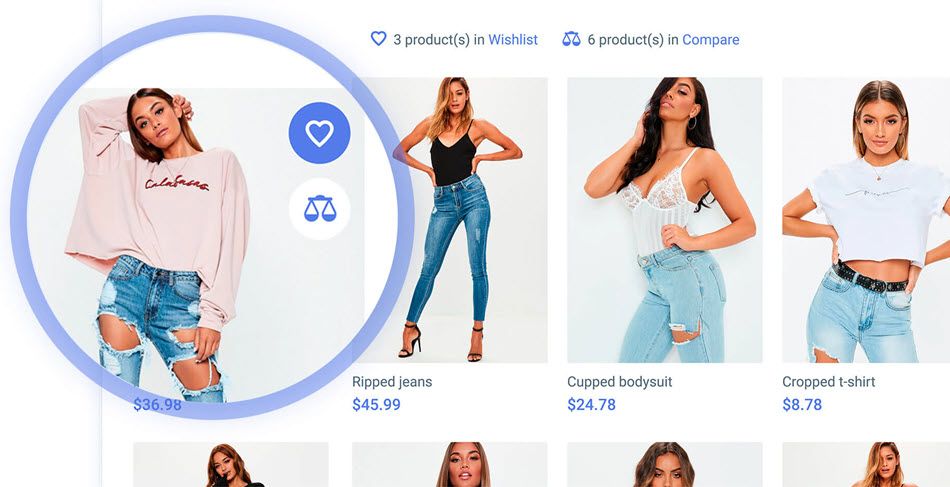 7. Pickplugins Woocommerce Wishlist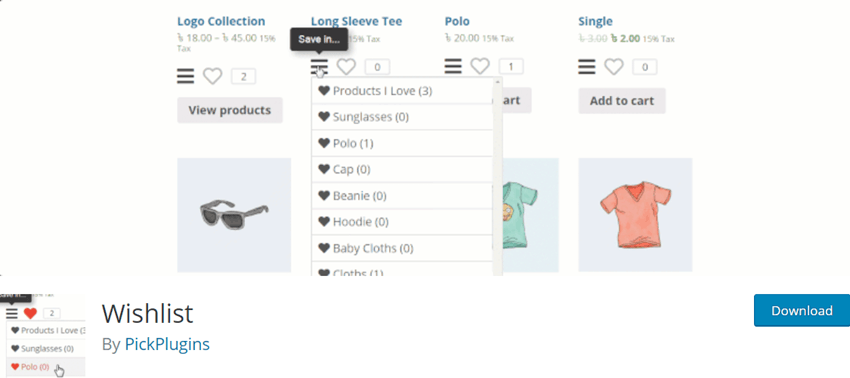 The Wishlist is an essential extension for your website that lets your visitors and customers save the product on the website for later purchase. Enhance engagement of visitors on your e-commerce store by availing them wishlist alternative whereby they can easily accumulate the essential items at a place and purchase it whenever they want. Hereby, you can design the layout of the wishlist including looks and buttons placed on the store's website. Enable such a wishlist for your visitors and notify them with text and email to purchase such products. Allow your users to keep their wishlist either private or public.
Wishlist Contains Following Elementary Features That Mentioned Below –
Design the wishlist according to your website with lots of available templates and widgets thereby.
Enables to add wishlist anywhere on the post automatically or manually however you want with the assistance of shortcodes.
Let your customers categorize their wishlist for various ranges of products on the website along with custom terms and tags.
Attach pages to show the date when anyone wishlist the product or mark it as a favourite one and keep it as a record.
Notify the customer of discounts and offers of their products that they wishlist on the site which makes them alert to purchase with benefits.
Let your users create a wishlist of unlimited products without any restriction.
Total number of users –   500+
Price – 1 Site – $19/annually,  10 Site – $49/annually,  Unlimited Site – $89/annually
Screenshot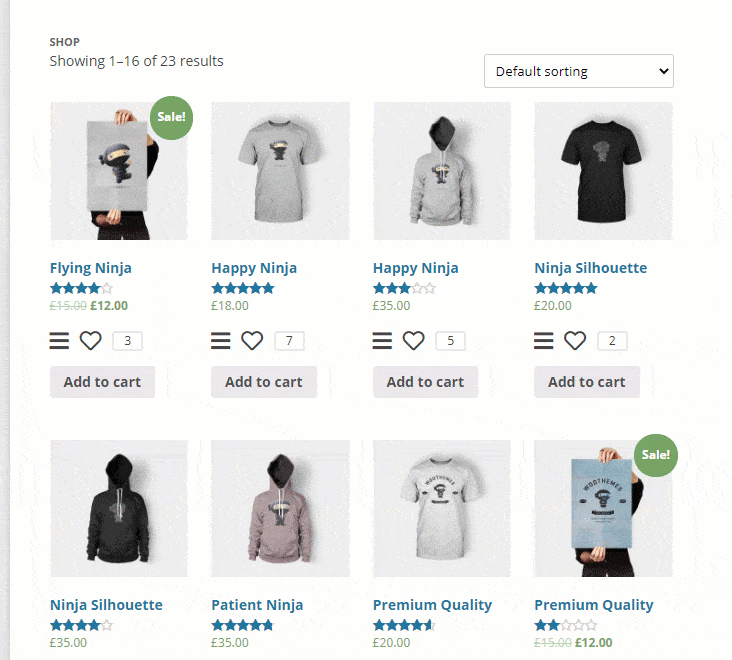 8. WishSuite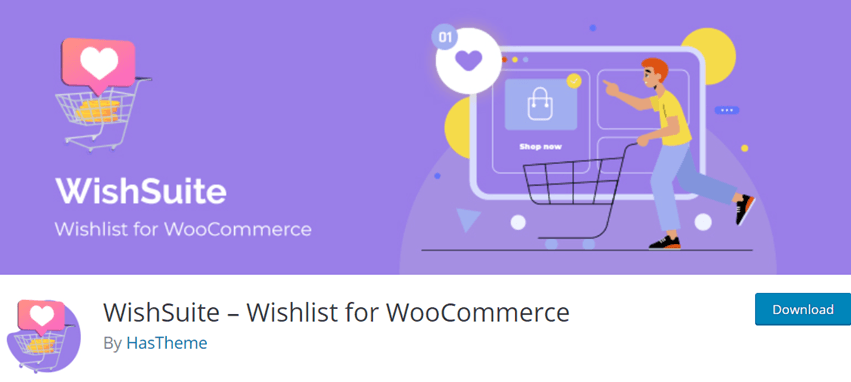 WishSuite is a well-integrated WordPress Extension that lets you design and inserts the wishlist accessing into your WooCommerce Store. Although, a wishlist is a so essential component for any e-commerce store nowadays. Hereby, enable customers or visitors to add any products for future shopping in a list that will remain as it is. Increase the organic engagement on the site when you allow your visitors to save or favourite the product and keep the same on a place to purchase thereon. While wishlist gives such function to your WooCommerce Store whereby you get reliable customers. Moreover, a wishlist also increases the revenue as it retains the collection which lets your customer back to your site and purchases such products whenever they need.
How WishSuite Assist your WooCommerce Store?
Create a User-friendly Interface that anyone can easily access the functionality without coding experience.
Let you design the wishlist button on every product page and place it so perfectly that easily noticed by users.
Allow your visitors to add the item into the wishlist along with the date whenever they add such items.
Remove the product once added to the cart for forwarding purchase.
Design the innovative page for the wishlist whereby anyone easily adds to cart the product within one click.
Total number of users – 200+
WishSuite - Best WooCommerce Wishlist Plugin [FREE]
Screenshot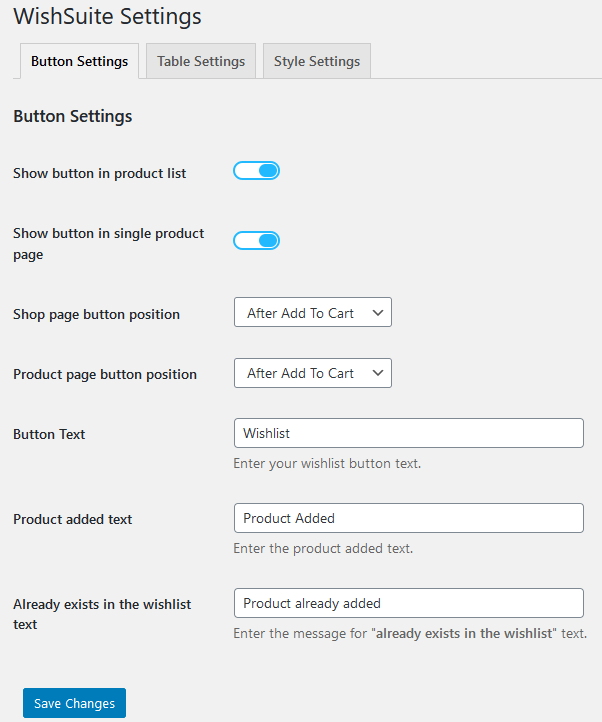 9. Docket

The Docket is an extensive WooCommerce Wishlist Plugin for WooCommerce that lets you establish an amazing wishlist page on the website. Enable your visitors to get access to a better user experience without forgetting any product for purchasing that they want. Allow them to save the required or favourite product somewhere on the site and remind them to purchase with texts and emails. Boost engagement and revenue of the site with more sales as your customers come back to purchase such items that they retain as collection thereon. Alert with sending notifications to users about the exclusive offers or discounts for the product that they collected on the wishlist.
Integrated Features –
Unlimited Collection – Allow users to retain more and more products on their account as wishlist and order whenever they need to. Also, let your guest users retain the collection that is accessible for 30 days only.
Privacy – Make your wishlist either private or public whichever you prefer. If you public your wishlist you may be able to share such a wishlist with your acquaintances who present on social media anywhere. Otherwise private one is only available to you.
Sorting Access – Let your users arrange their wishlist in the way that they want to see with various sorting options such as custom order, date, and custom.
The key features of the plugin are that you can set any collection as a featured collection, manage collection features for guest users who have not logged in, choice of 5 different icons, set an unlimited number of collections, etc.
Price – Regular License – $39/Lifetime (1 Site)
Screenshot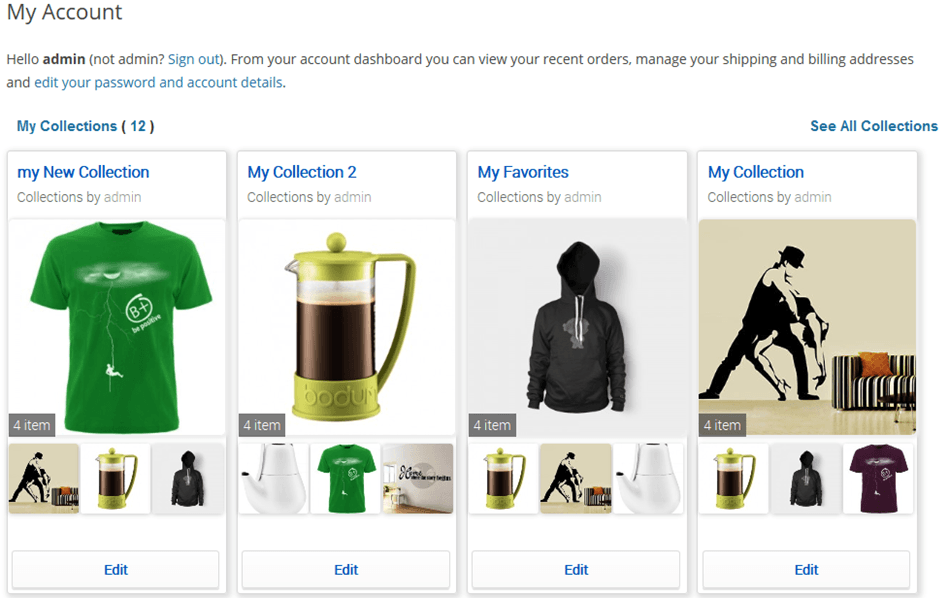 10. Wishlist for WooCommerce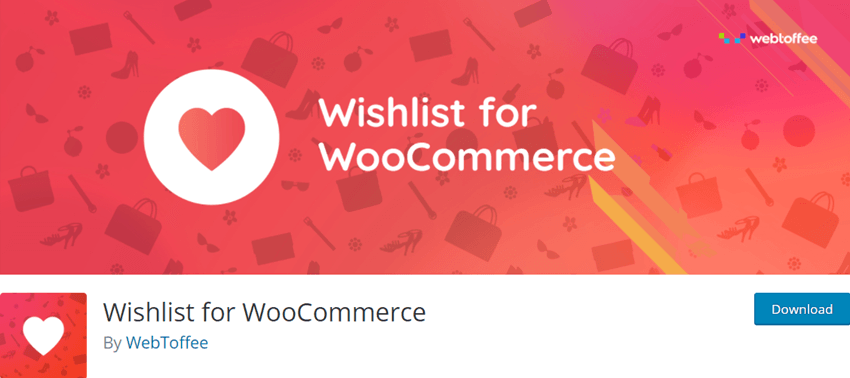 WebToffee Smart Wishlist for WooCommerce is a powerful plugin that facilitates adding products to single or multiple wish lists. Wishlist for WooCommerce is a lightweight and essential extension for any e-commerce website where your visitors save their favourite product. Allow your visitors to collect all their favourite products available on your online store in a list that they can purchase later. Such a list helps the owner of the store to know the latest trends and improve marketing tactics accordingly. With the assistance of Wishlist, you hold your customer's interest to take them back to your site for purchasing their favourite stuff whenever required.
This amazing plugin provides you with essential features that you require to design and customize the Wishlist Page. Enable your customer to wishlist any product while clicking a wishlist button available on every product page. Moreover, boost sales by offering an exclusive discount to your visitors that encourage them to buy that product. The plugin is operative in the English language but if you have your own language pack, then you can send it to the developers to have it bundled with WPC Smart Wishlist.
The plugin also offers an extensive documentation site and live demo presentation as its user-friendly attribute. Other features are WPML integration, shortcode support, and custom position for buttons. It features to add minimalist button on product collection to add or remove articles from the wish list; option for social sharing platforms and emails; option to position the wish list button as per your choice, option to add items to the wish list even for not logged in users. The plugin share widgets that can direct to the wish list page. The plugin is supported by AJAX means you can easily manage a wishlist using ajax.
Total number of users – 200+
Screenshot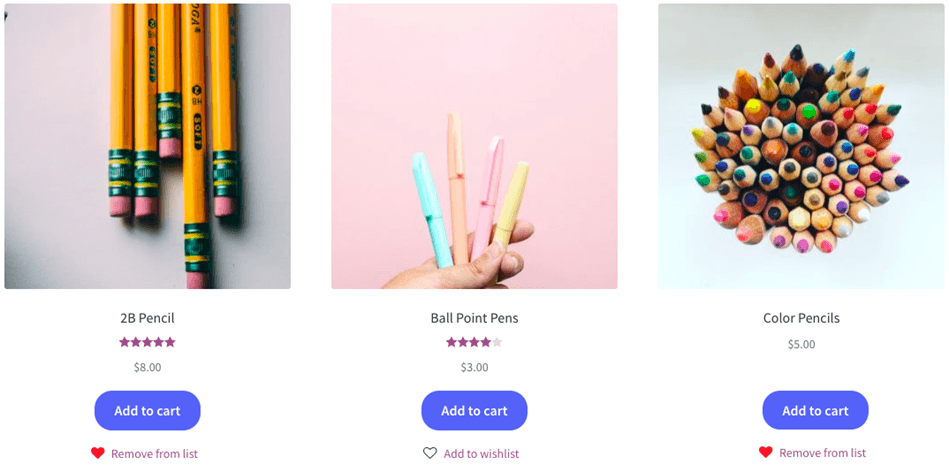 Conclusion – Top 3 Plugins are really awesome and have no doubt they are best but out of all we recommend one and only TI WISHLIST Pro If you want to go for a premium. If you want Free then you can choose anyone either Yith or Ti-Lite both are good.