7 Best WooCommerce WishList Plugins 2020
Are you looking for Premium Or Free Best WooCommerce WishList plugins for WordPress ? Wishlists is the awesome awesome feature of any eCommerce website . Its allow the visitors to save the product and track is when ever they want . Its increase your website sale when the customers share their wishlist products to their friends .
In other words you can say the products which the customers may be interested or want to buy later on some occasion like marriage , birthday , party etc etc is know as wishlist . That means i wish to buy this products later on .
You may also be in interested in Fomo Plugins,  Variation Swatches Plugin and abandoned cart plugins
So lets have the list of top WooCommerce favorite Collections Cart Plugins are as follows:
WooCommerce Wishlists (by Lucas Stark)
WooCommerce Wishlist (by pickplugins)
1. WooCommerce Wishlist Plugin


WooCommerce Wishlist Plugin is a user-friendly and robust plugin that allows the users to create wish lists and add single and multiple products to it, and later encourages them to buy them.
The GDPR compliant plugin also allows the users to share their wish lists with their friends and family to help them plan a product to buy on one hand, and on the other helps you build a new set of potential customers in the long run.
The plugin features helps you choose the page and name of the wish list, automatically removes the product from the wish list that has been moved to the cart and many more.
Total number of user  – 20,000+ 
Pricing  – Single Site – $79, Single Site (Lifetime) – $199, 5 Site – $99, 5 Site (Lifetime) – $249, 30 Site – $199, 30 Site (Lifetime) – $499

Free
Premium
Screenshot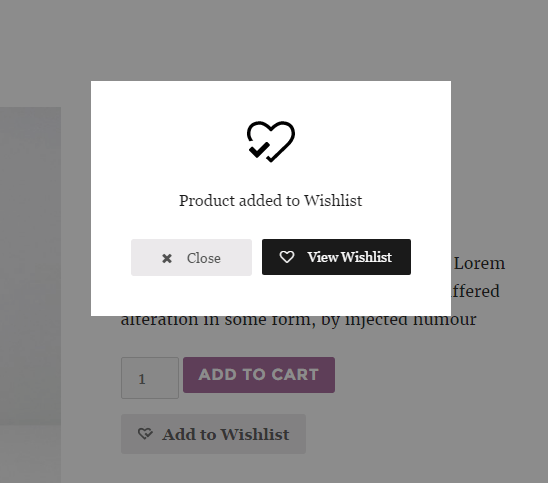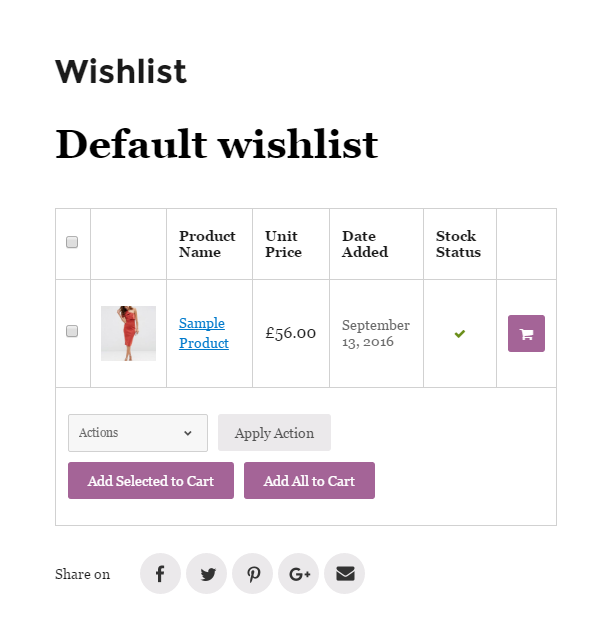 2.WooCommerce Wishlists


WooCommerce Wishlists gives an option to add products to unlimited wish lists by both potential and active customers. Besides, you also get the opportunity to promote your products as the customers can share their wish lists in the form of links also with their friends and family on the social platform.
This creates an advantageous situation wherein people on social media see your products and become potential customers. Users can easily transfer all or multiple products from their wish list to the cart or even delete one or all of them as per the requirement.
Total number of user  – 200,000+ 
Pricing  – Single Site – $79, 5 Sites – $99, 25 Sites – $199

Premium
Screenshot

3. YITH WooCommerce Wishlist

With YITH WooCommerce Wishlist plugin, you can create and manage multiple wish lists and even categorize it based on several parameters. It allows the admin to offer discounts or promotional offers to the customers based on their wish lists.
The features include – it displays the date the wish list was created and each product was added, send promotional emails to the customers, privatize the wish list, create multiple wish lists, estimate the cost of the product in the wish list and many more.
Total number of user  – 600,000+ 
Pricing  – Single Site – € 79,99 , 5 Sites – € 129,99, 25 Sites – € 169,99

Free
Premium 
Screenshot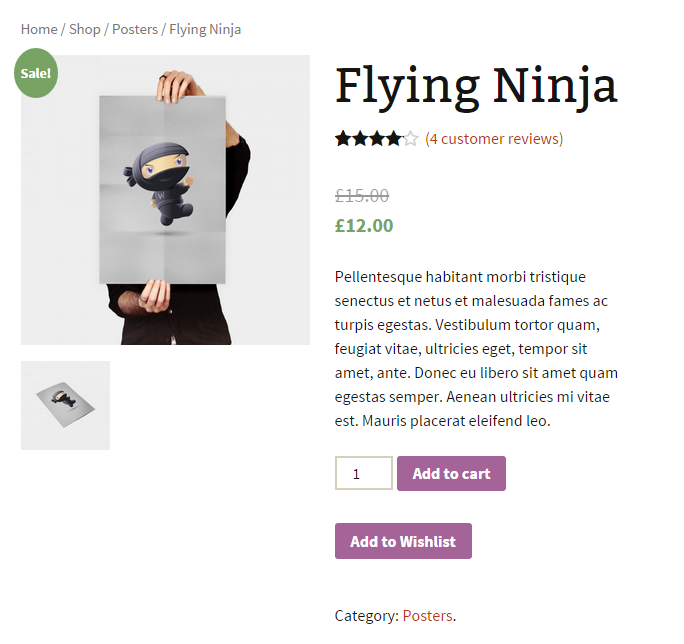 4. JetCompare&Wishlist for Elementor 

With the amazing JetCompareWishlist plugin wishlists and comparison lists, visitors can add desired products into them. They get to add liked products to a well-organized wishlist and then view or compare as per their convenience. It lets users see the number of products added, compare and view products & their features in a suitable form, at any time and make the purchase. They can also check the number of times a product was added into a wishlist on the site. The wishlist can be made without logging into their account at your store.
The plugin lets you style the buttons and wishlist according to your website design.
It can only be integrated with the Elementor page builder plugin.
Pricing – Single-Site Plan – $15 (annual), Unlimited Websites Plan – $29 (annual), Set of Multiple Plugins – $69 (annual)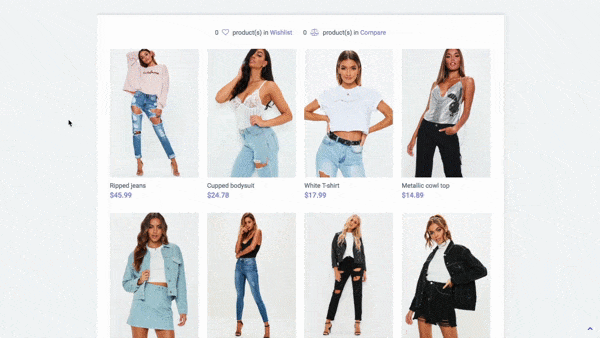 5. WooCommerce Wishlist

WooCommerce Wishlist is yet another plugin that allow the potential customers to add products to their Watchlist which they can buy later. The users can keep the wish list private or render it for public view and trigger more customers for future. So this could be great Watchlist plugin for your woocommerce website .
The plugin offers other useful features such as pagination support, wish list management by the user where he/she can edit or delete the wish list, counting wish list post id, post type support and many more. The plugin is supported by WooCommerce and features everything to enhance your e shop.
Total number of user  – 200+ 
Pricing  – Starter Plan – $9, Developer Plan – $29, Business Plan – $49

Free
Premium
Screenshot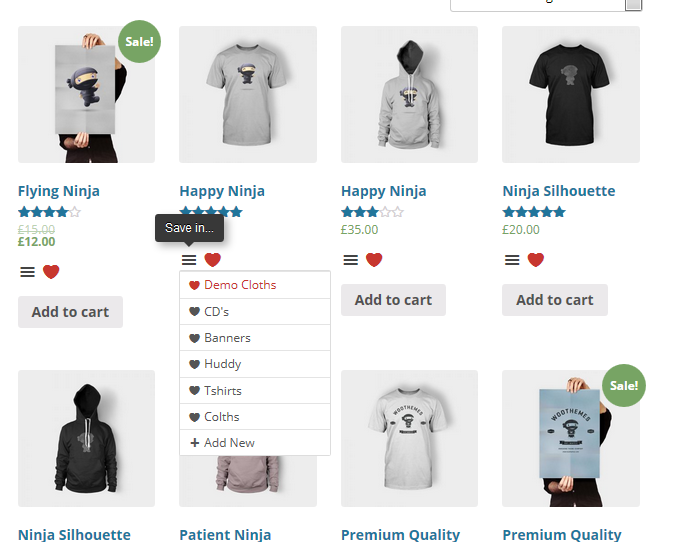 6. WPC Smart Wishlist for WooCommerce

WPC Smart Wishlist for WooCommerce is a powerful plugin that facilitates to add product/products to single or multiple wish lists. The plugin is operative in English language but if you have your own language pack, then you can send it to the developers to have it bundled with WPC Smart Wishlist.
The plugin also offers an extensive documentation site and live demo presentation as its user-friendly attribute. Other features are WPML integration, shortcode support and custom position for button.
Total number of user  – 2000+ 
Free
Screenshot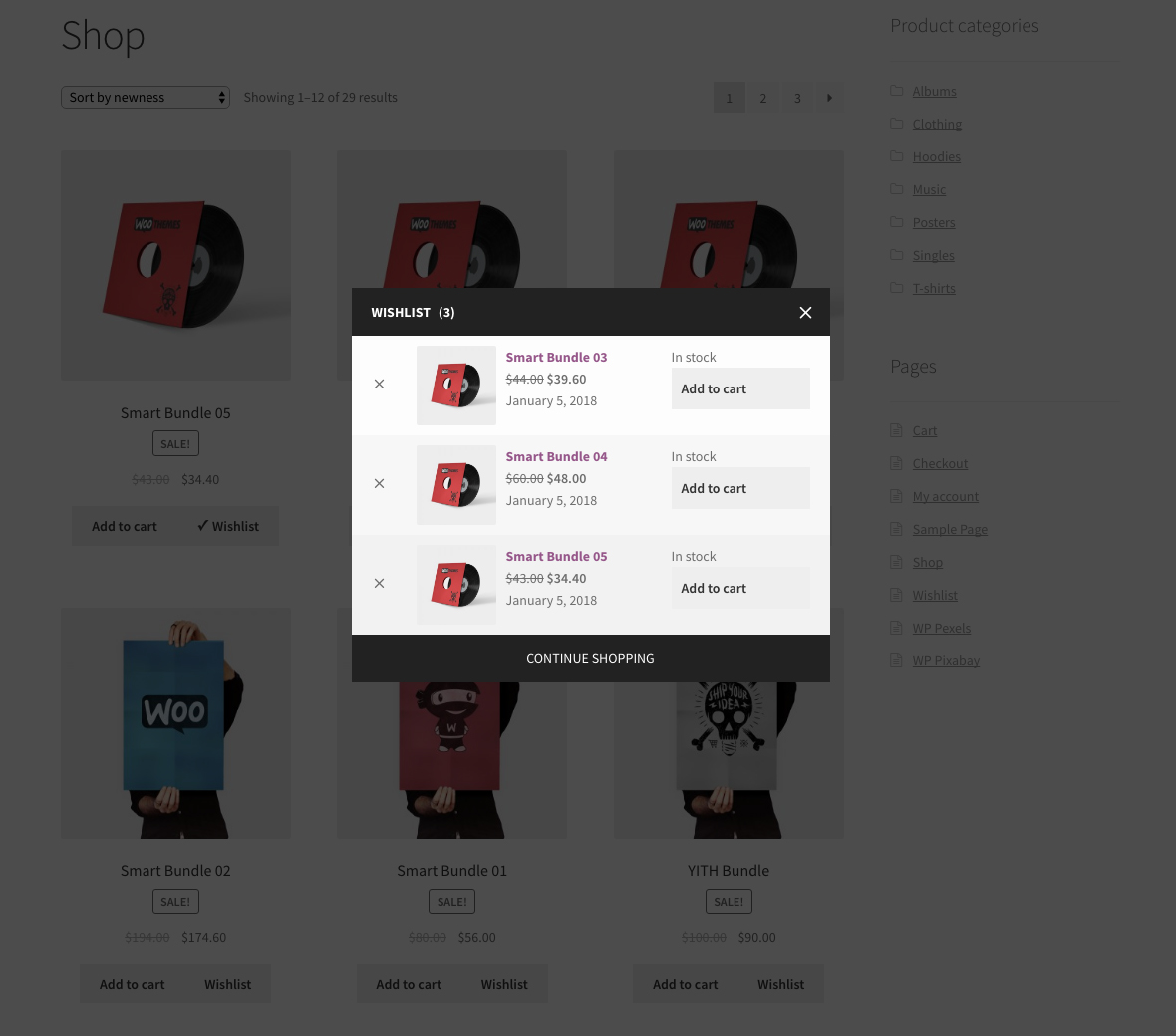 7. WooCommerce Collections 

WooCommerce Collections – also gives the dual advantage. It allows the customers to build their wish lists , share it or recommend it to their family and friends. You can easily view and manage the wish list through the WorPress Admin.
The key features of the plugin are that you can set any collection as featured collection, manage collection features for guest users who have not logged in, choice of 5 different icons, set an unlimited number of collections etc.
Total number of user  – 170+ 
Pricing  – Regular License – $29, Extended License – $149

Premium
8. Wish List for WooCommerce

Wish List for WooCommerce is a highly flexible plugin and hence an apt choice to go with any theme and design. It features to add minimalist button on product collection to add or remove articles from the wish list; option for social sharing platforms and emails; option to position the wish list button as per your choice, option to add items to the wish list even for not logged in users.
The plugin share widgets that can direct to the wish list page. The plugin is supported by AJAX means you can easily manage wishlist using ajax .
Total number of user  – 1000+ 
Free
Conclusion – Top 3 Plugins are really awesome and have no doubt they are best but out of all we recommend one and only TI WISHLIST Pro If you want to go for premium . If you want Free then you can choose anyone either Yith or Ti Lite both are good .