8 Best WooCommerce Product Table Plugins 2023
You can easily display WooCommerce products in responsive table layouts with a product filter option using recommended WooCommerce Product Table Plugin. These plugins can easily display product shortcodes like SKU ID, product image, description, product tags, attributes, categories, taxonomies, custom fields, add-to-cart buttons and price in a tabular layout.

Using these plugins, you can create different kinds of tables like product variation tables, attributes in a different colour, advance search with filter tables, courses tables, gadgets tables, book tables, wishlist tables, Restaurant Table, accessories tables, affiliate tables, store, Quotation Table and Custom Design Table.
WooCommerce is a comprehensive platform for eCommerce whereby anyone sells their products more conveniently. And, to give a professional look to your Web Store, you need to own some of the Woocommerce plugins that assist in tackling the functionality so well. Whether you have to arrange products on different or efficient checkout processes, WooCommerce plugins extensively ease such functionality with their unique features. It saves you expensive time, which you have wasted separately configuring the entire website and its elements.
WooCommerce Product table is one of the essential plugins that help you create descriptions, product names, short descriptions, taxonomies, product tags, and more effective tables separately. Just select how many rows and columns you need to create a table according to the business pursuit. Although, choose the content you want to display on such product tables with easy customizing options. If your website contains many products, you need to arrange a specific layout to display such products on a comprehensive table.
With the assistance of the WooCommerce extension, you will easily access to create elegant product tables with lots of advanced features thereon. Let you increase your sales on online stores while providing an easy way for customers to purchase such products without visiting a separate product page. Design specific Product table which contains columns like add to cart, checkout page redirection, select quantity of products, and more whereby anyone easily finds such selected products on the checkout page with detailed billing. Moreover, for an easy search of any products thereon, options are available for sorting, search, filtering, and more to reach the product your customers need to buy.
Integrating your WooCommerce website with a responsive Product Table significantly raises your sales as buyers easily purchase the product less quickly. Suggest to them every content they need to read before buying products in the column of the product table as a description and a short description. Also, facilitate them to select quantity right there for the product they want to buy and then add it to the cart. You don't need to have depth knowledge of coding to configure the product tables, and WooCommerce Product Tables Extension will tackle such technical terms thereon. Then, you place the Product Table on the website wherever you feel necessary with shortcodes and customized widgets.
Not only for selling products, but you also insert product tables in different ways in other businesses, like price lists, managing orders for restaurants, wholesale layout, forms for quick ordering, product catalogues, etc. Easily prepare product tables with the help of pre-built templates promptly and customize the same according to the necessity of the website.
Let's have the list of top WooCommerce Product Table Plugins as follows.
1. Gutenberg Block for WooCommerce Product Table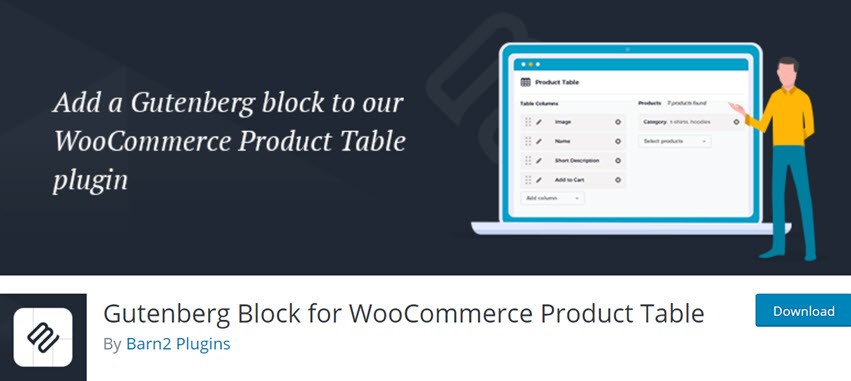 Barn2 presents an intuitive Gutenberg Block for WooCommerce Product Table plugin that lets you manage specific products on the website. You can create unlimited product tables and add them well on the website anywhere with Gutenberg Editor. This will allow your customers easily and quickly order products without visiting product pages. Increase your sales by presenting your multiple products in a comprehensive table. Administrate the product tables and customize them however you require without any shortcodes.
Why do you need this Product Table Extension?
The easy-to-use interface allows flexible customization by anyone without any coding skills.
Lists products in a comprehensive table whereby your customer easily orders the product without going through the separate product page.
Enable your customers to order multiple products in just one click with the intuitive order form.
Provide a block to customize the columns, insert products, add to cart columns, product filters, etc.
Total number of users – 1,000+
Price – Starter – $99/annually (1 Site),  Business – $149/annually (5 Site),  Agency – $349/annually (20 Site)
How to Use the Gutenberg for WooCommerce Product Table Plugin
Screenshot
2. Product Table for WooCommerce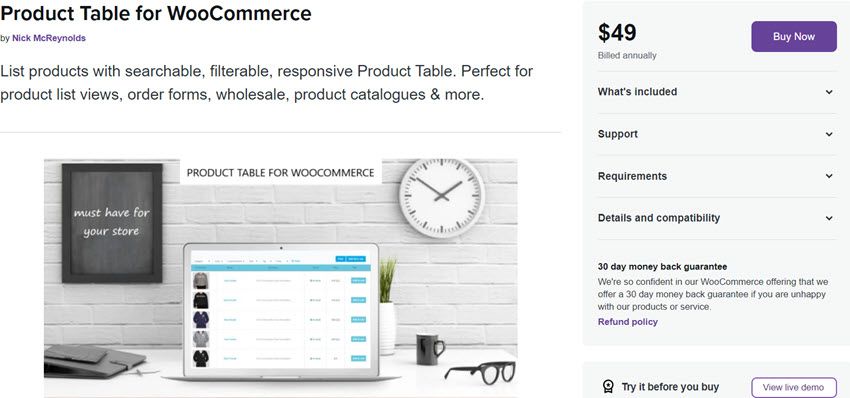 Product Table For WooCommerce is a highly integrated product table plugin for arranging multiple products in a searchable table. Let your customers order various products from such tables at once by selecting and searching instantly. Enhance your user experience by availing them of instant table navigation to find the product they want to purchase. This extensive plugin enables you to generate an automatic product table, i.e. fully responsive on different devices. Require no coding skills to configure the extension and customize such product tables however you desire.
Elementary Features –
Arrange a hundred and thousand products in one table with advanced pagination.
Enable your customers to add multiple products to the cart with intuitive checkboxes to select various products and add all cart options.
Navigate swiftly with availing filter, sort, and search options that enable easy search to customers.
Configure add automatically option that will add the newly added WooCommerce product itself.
Add a product table that lets you filter various products based on attributes, tags, prices, categories, and custom taxonomies.
Price – 1 Site – $49/annually
Screenshot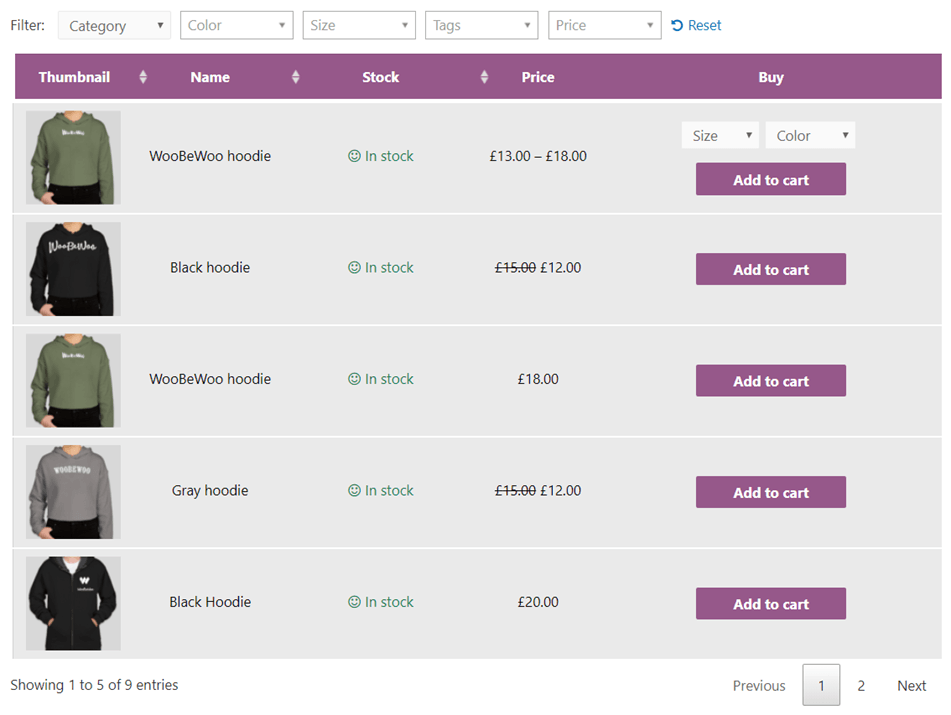 3. Ninja Tables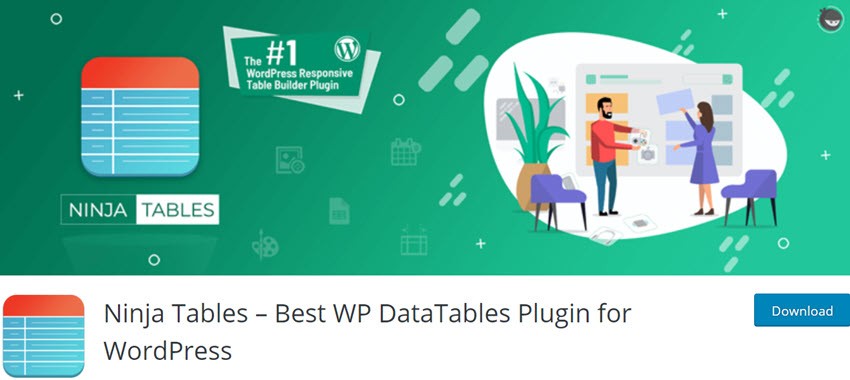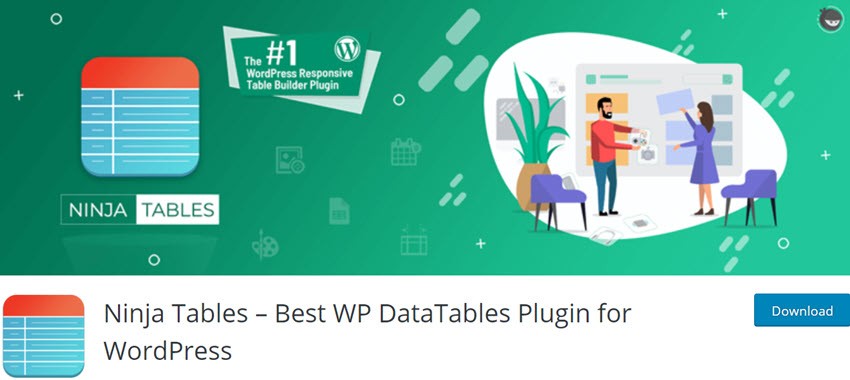 Ninja Tables is a highly customizable WordPress table builder plugin to create responsive tables on your posts or pages. Let you create such tables and manage them through an extinguishing admin panel. You can create tables that consist of thousands of rows and columns to adjust the WooCommerce product available on your website. Such an intuitive interface won't require any code to design the layout of the product table. Ninja Tables come up with all the essential features you need to create and customize the appearance of tables accordingly.
Core Features –
Create beautiful unlimited tables in seconds while utilizing CSS class and drag and drop interface.
Configure the table contents so well with the searchable and sortable format.
Utilize shortcodes that will assist you in repeating the same configuration for the table wherever you require.
Easily merge extra cells into your table.
Total number of users – 60,000+
Price – 1 Site – $49/annually,  20 Site – $99/annually,  Unlimited Site – $199/annually
Introducing Ninja Tables - The Best WordPress Data Tables Plugin
Screenshot
4. WooCommerce Product Table Lite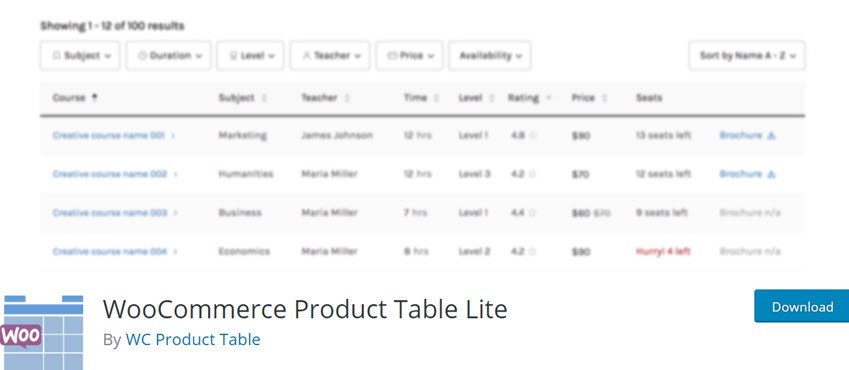 WooCommerce Product Table is a user-friendly product table plugin for eCommerce to create and manage intuitive tables in minutes. Avail of flexible layouts and standard editor alternatives that let you design professional product tables. If your online store is about electronic shops, restaurants, Spare parts shops, and affiliate stores, this extension is perfectly suitable for you. This SEO-friendly plugin enables you to add different products while filtering those products by category. Moreover, establishing a global search and category dropdown allows your customers to search for any product instantly.
Allow customers to order multiple products from the product table where hundred and thousand of products are available with descriptions in rows and columns. A robust extension lets you edit the product layout, i.e. rows and columns, with more flexibility. Enable shortcode access whereby you can repeat the same layout in the table for different consequences. Engage more visitors and higher conversion rates than ever before while providing an easy order experience to your visitors.
Total number of users – 7,000+
Price – 1 Site – $49/annually
Screenshot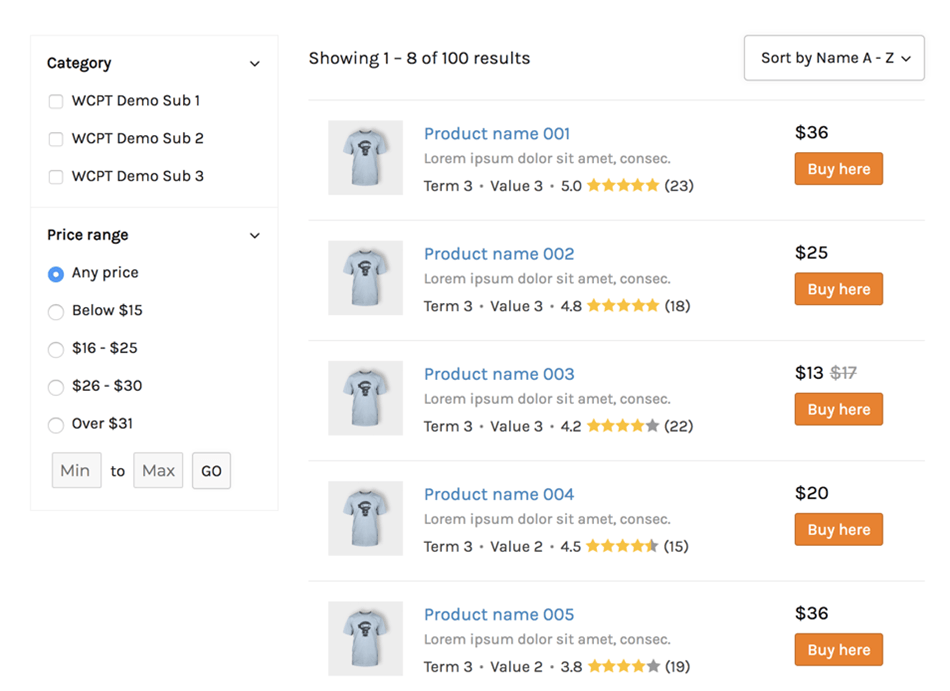 5. JustTables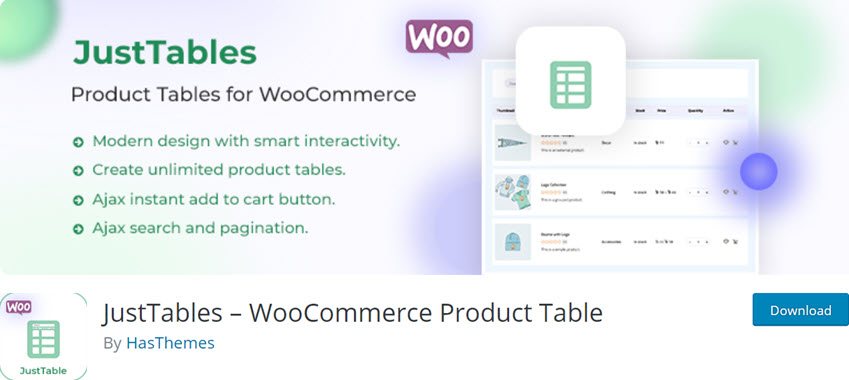 JustTables is the best solution to create and manage product tables in your WooCommerce store effortlessly. Now design beautiful product tables, i.e. fully responsive with many customization options that match your WooCommerce Store's standard. No need to hire a developer or go through the complex coding. This freemium table editor plugin for WooCommerce is easily manageable by anyone without coding experience. Furthermore, with a descriptive product table, allow your visitors to access multiple products and let them compare such products on a single page. This will assist them in purchasing the required product without visiting particular product pages.
Integrated Features –
Design interactive product tables as much as you require on your WooCommerce store.
Edit tables layouts easily with a drag-and-drop interface.
Customize columns of tables; however, you must adjust products and their details.
Provides ajax search, instantly add to cart button, and pagination to enhance the user experience of such descriptive tables.
Total number of users – 200+
Price – 1 Site – $19/annually,  1 Site – $49/OneTime,  Unlimited Site – $99/OneTime
Screenshot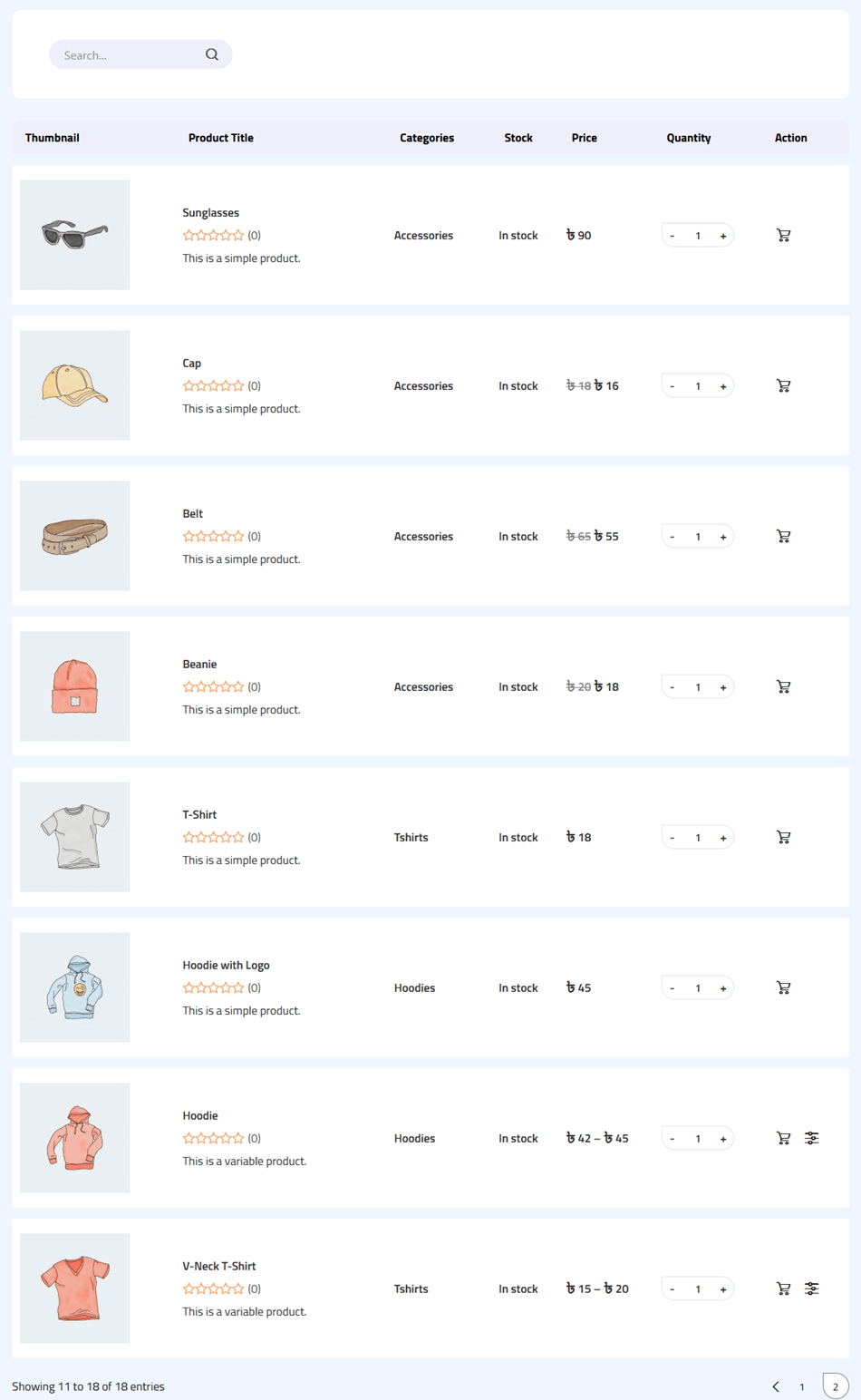 6. Multiple Products to Cart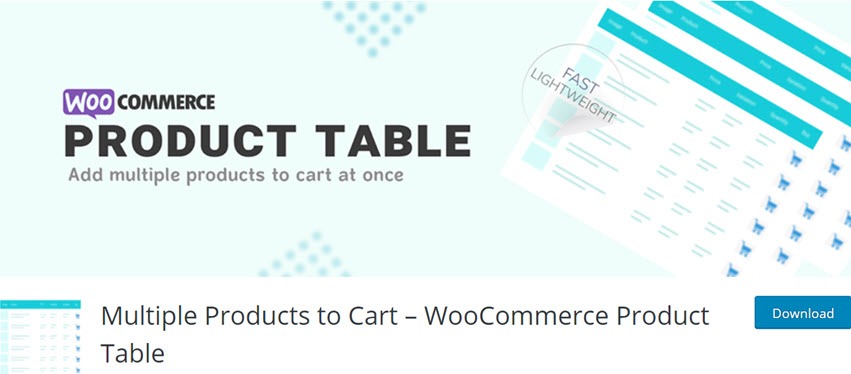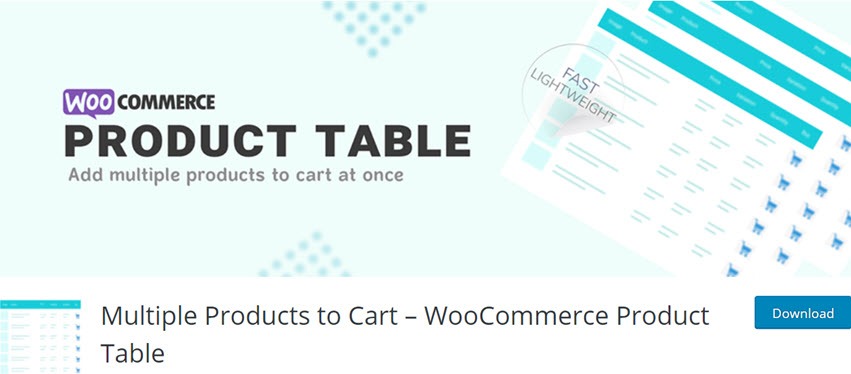 Multiple Products to Cart is a super-fast and free WooCommerce Product Table plugin that helps customers add multiple products to the cart and display them on your website in the form of tables. It works great to increase conversion for the restaurant business, WooCommerce shops, accessories, etc. This huss-free plugin is lightweight and straightforward, with a low page loading speed and no excessive speed.
New features like a reset button, predefined quantity, checkbox, and set-in plugin options are available with this plugin. It is easier to work because multisite and Ajax support is provided. Both variable and simple products are added to the cart. This is a lightweight, extremely fast plugin that helps you show users many products on a single page. There's no impact on the speed of your web pages after using this plugin.
Pagination is enabled in this plugin,  with limited attributes for every page. It will help display 20 items per page if pagination is enabled and a maximum of 50 if it isn't.
Total number of users – 900+
Screenshot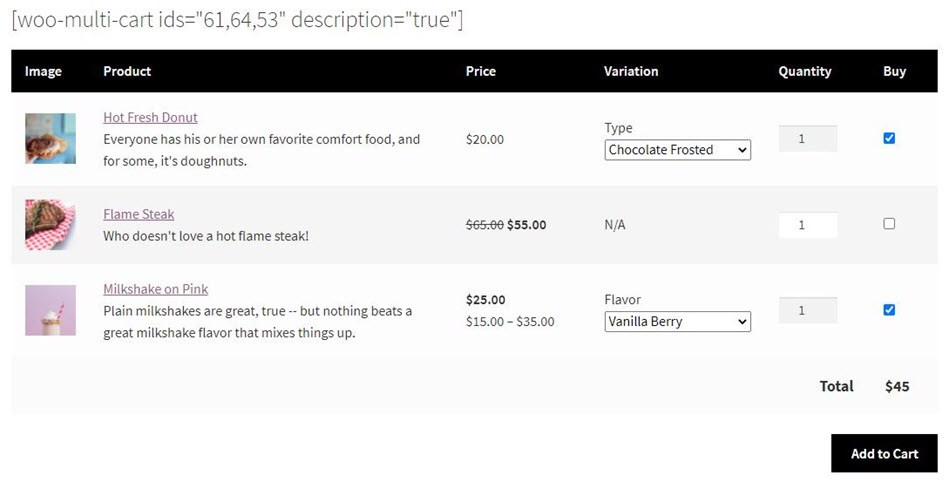 7. WooCommerce Product Table Ultimate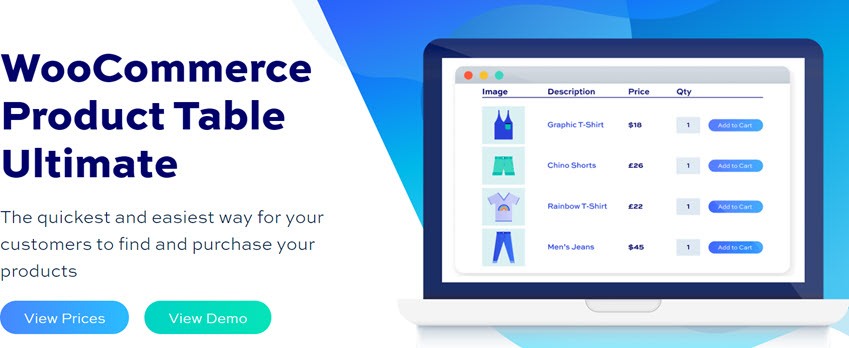 WooCommerce product table ultimate is one of the easiest and quickest ways to help customers find what they need and want to order from your WooCommerce store. It is a logical and well-built plugin that non-technical users can easily use. The setting is intuitive and straightforward to use. You can add tables via Gutenberg or shortcode in this plugin. Creating filterable products and sorting them into different categories is easy and quick with this plugin.
This product table plugin enables customers to order multiple items with a single click. It's highly customizable. You can display products anywhere, archive pages on your WooCommerce, or even replace the shop option. It is ideal if you are looking for bulk and wholesale orders. You can choose which information to display to customers and create tags, queries, and categories. You can easily create tables for new businesses like restaurant orders, wholesale products, affiliate stores, Course Bookings, Online music sales, Selling books etc., using their Gutenberg block.
Price – Basic – $59/annually (1 Site),  Pro – $99/annually (Unlimited Site)
Screenshot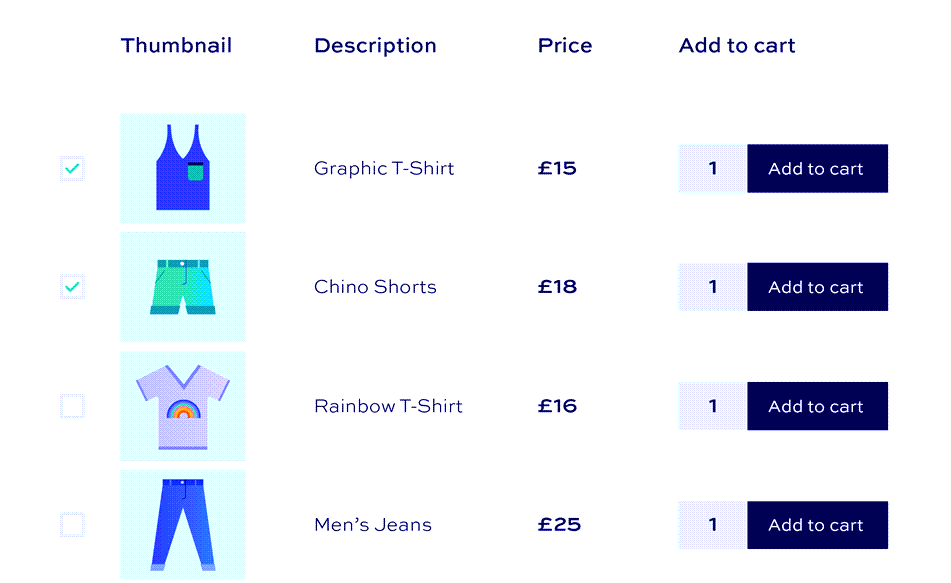 8. Product Table for WooCommerce (wooproducttable)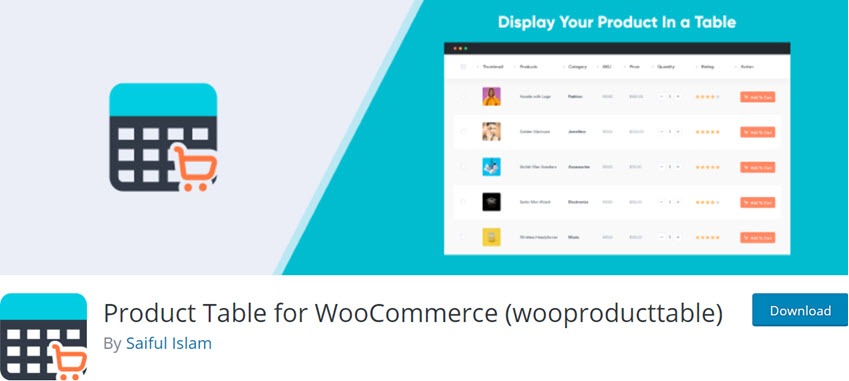 Use the product table plugin for WooCommerce to display your content using a table layout that can be filtered and searchable. You can make unlimited numbers of tables on any post or page using a shortcode. This plugin is helpful if you want to sell music, sell products wholesale, write a coursebook, or sell music online.
You can search and filter content by category and size. There are specific areas to choose from. Different products can be added in separate rows. To filter products using keywords, you need to use this plugin. Several predefined templates are available, and you can also choose to build your tables using pretty colours. Colour of body. Header, the footer can be changed individually. The table can be displayed on the archive page you have to turn the archive on and off. There's no cart button in this plugin, it just increases the value of items of the products, and it's automatically added. To integrate this plugin with other plugins, turn on third-party integration.
Total number of users – 7,000+
Price – Regular License – $29/annually (1 Site)
WooCommerce's Product Table - Woo Product Table Pro - Supper fast and Light weight
Screenshot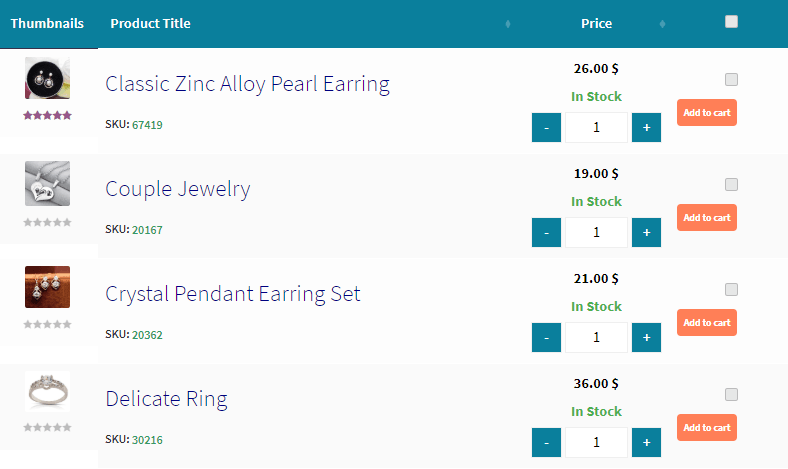 You might be interested in  Product Comparison Plugin, product filter plugin, and Landing Page Plugin.