8 Best Pagination Plugins For WordPress 2023
Restricting the number of posts or products in various pagination styles like ajax navigation, numeric pagination, alphabet pagination can be done easily with WordPress Pagination Plugin. This plugin helps increase your website user experience and the website's performance. You can also add ajax pagination to your WordPress to make your page more user-friend navigation on any page.

Without the WordPress page navigation plugin, you have to load the whole website content at once. But when you add pagination to a WordPress website, the user will get a fixed number of posts on one page. Breaking the pages into several pages will help you increase user experience.
To help you choose the best page navigation plugin, we have decided to write a blog on the selected list of Best Pagination Plugins For WordPress.
You may also be interested in Free mail marketing services, Caching plugins, and security plugins.
1. WP-PageNavi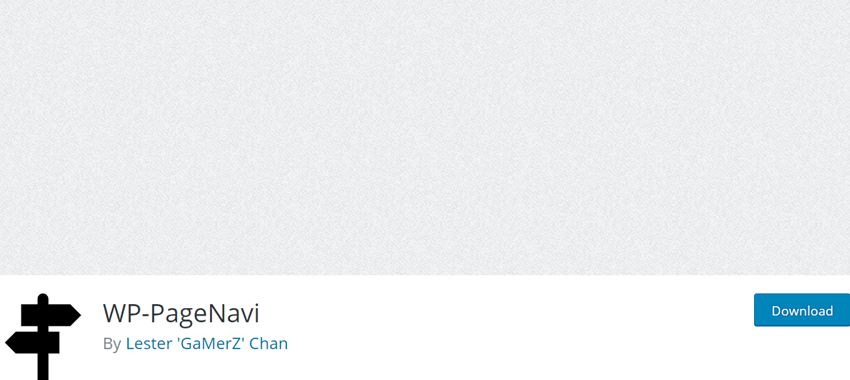 WP-PageNavi is a pagination plugin for WordPress that generates fancy pagination links. It has more than a million active installs, and users declared it the most popular WordPress pagination plugin. wp_pagenavi() template tag is provided by this plugin which helps the users to generate fancy pagination links. It helps to replace the older posts with newer ones with page links. It has a 'Page Navigation Option' section through which some new styling options are hosted for the pagination. The navigation can be chosen to be displayed as usual or as a dropdown list. Then with this, even for single page pagination can be shown.
There is also the option to show navigation for more significant page numbers if the blog has a lot of posts. Long post content can be split into pages using Pagination for WordPress. Texts can image can also be added to the pagination buttons. There are pagination buttons with Previous/Next buttons. The pagination type and position can be chosen, and hence its appearance can be easily customized. It can be added through function to PHP files and Comments PHP Templates. The pagination can be positioned above or below the main content.
Total number of users – 700,000+ 
Screenshot

2. WP-Paginate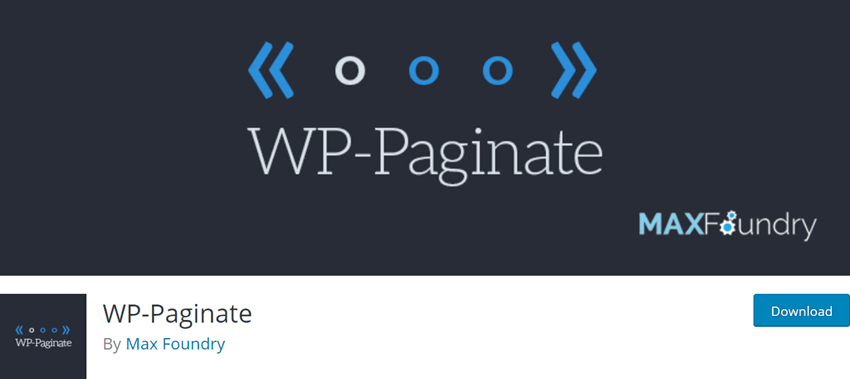 WP Paginate is a flexible and free numeric pagination plugin. Better navigation can be provided to the users on the WordPress site through this plugin. It does this by providing more links to the content. It helps to increase the user experience of the visitors and the SEO of the website.
Through the custom CSS tag available in WP-Paginate settings, custom CSS can be added to the pagination links. Post comments can also be paginated through version 1.1 of WP-Paginate. It also has an advanced settings section through which custom elements can be added before and after the pagination.
The number of page links to display before and after the current page can be selected through the' Page Range' option. Through the 'Page Gap' option, a minimum number of links can be selected that can be shown before the ellipses(…). Different button layouts and content loading times can be set per post/page. It is fully integrated with and compatible with Visual Composers.
Total number of users – 40,000+
Screenshot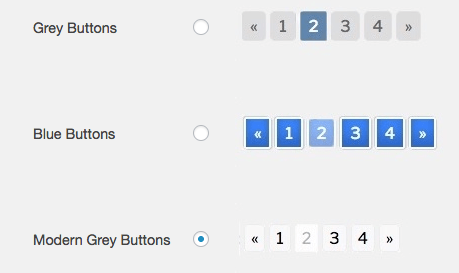 3. Pagination by BestWebSoft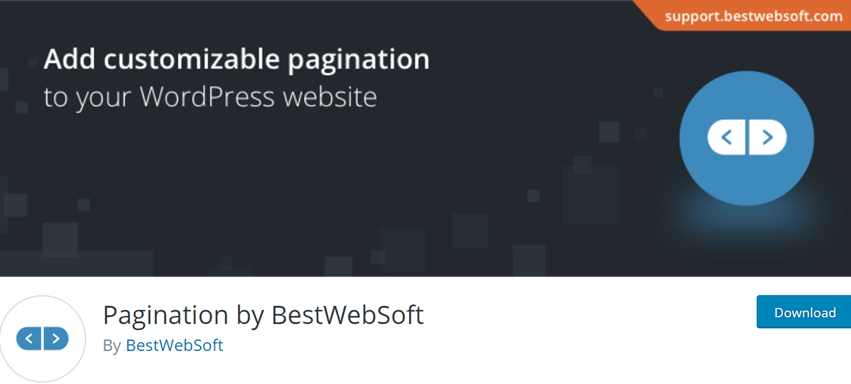 Pagination by BestWebSoft is a simple plugin to automatically add custom pagination to blogs, tags, categories, archives, and author pages. BestWebSoft is a highly integrated WordPress post pagination plugin that assists your website in adding automatic pagination. Simple UI enables pagination anywhere on the website, such as home, blogs, posts, archives, search results, author pages, and categories. Display the entire content while splitting it appropriately to provide a better user experience. Boosts web traffic and the staying time of audience on your web pages with good navigation all through the website.
BestWebSoft provides a lot of customizing options to enhance the appearance of pagination. Let you select the pagination style and place it as the desired position on any web page. Configure numeric format to display either in whole or shortened it from first and last. Show or hide pagination anytime according to necessity. The Next/Previous options can also be displayed and customized. Pagination can be aligned to the left, right, or centre. Also, detailed and step by step documentation and videos are available to understand this plugin better.
Total number of users – 8,000+
Screenshot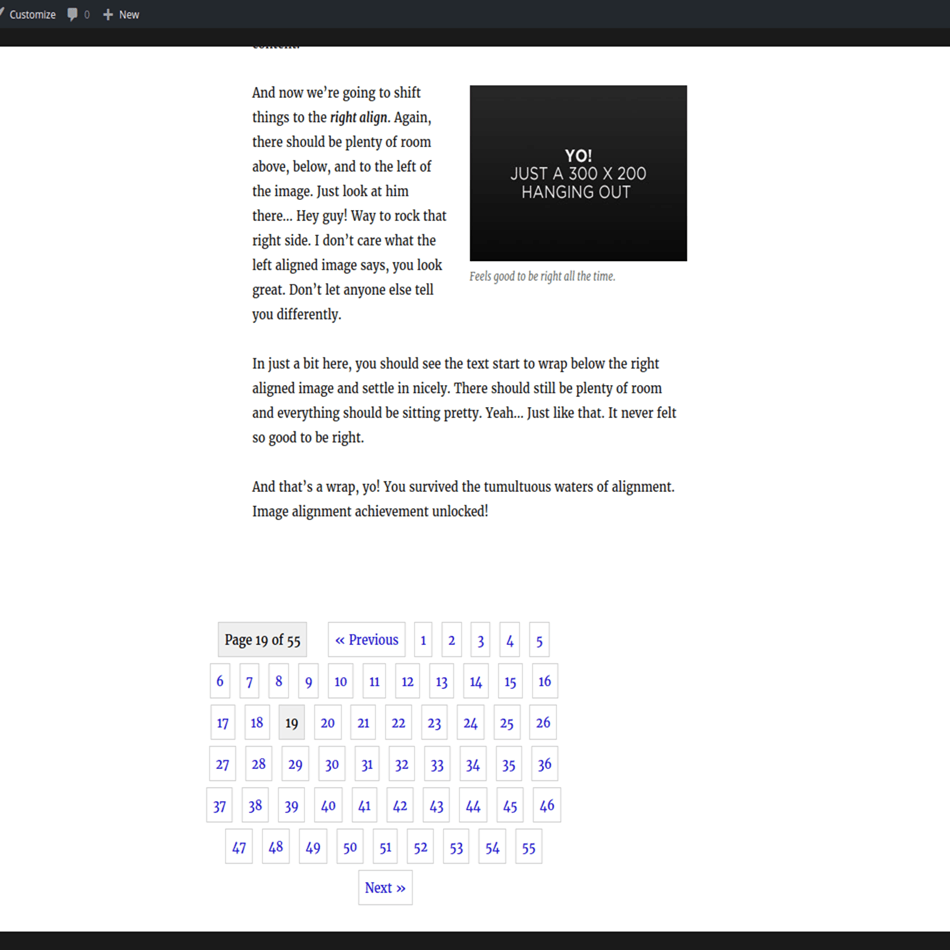 4. Alphabetic Pagination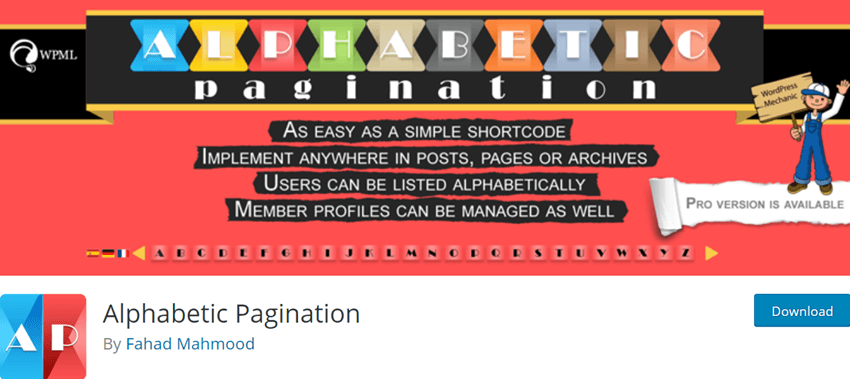 If you want to turn long posts or pages of your WordPress website into beautiful sites, then this free Alphabetic Pagination plugin is the way out. It also helps to grab the attention of the readers. You can choose from among three transitions- Horizontal, fade, and vertical. You can also combine the 32 jQuery easing effects with the horizontal and vertical sliders.
There are many navigation templates as well, which can be easily customized. There is also an Auto-Play feature. Thumbnail navigation can be added at the top as well as the bottom. Frames can also be added automatically to pictures.
There is also an optional repeated header and footer. Own templates can also be created for Featured Post Slider using shortcodes. Many browsers such as Google Chrome, Firefox, Internet Explorer, etc.
Total number of users – 1,000+
Screenshot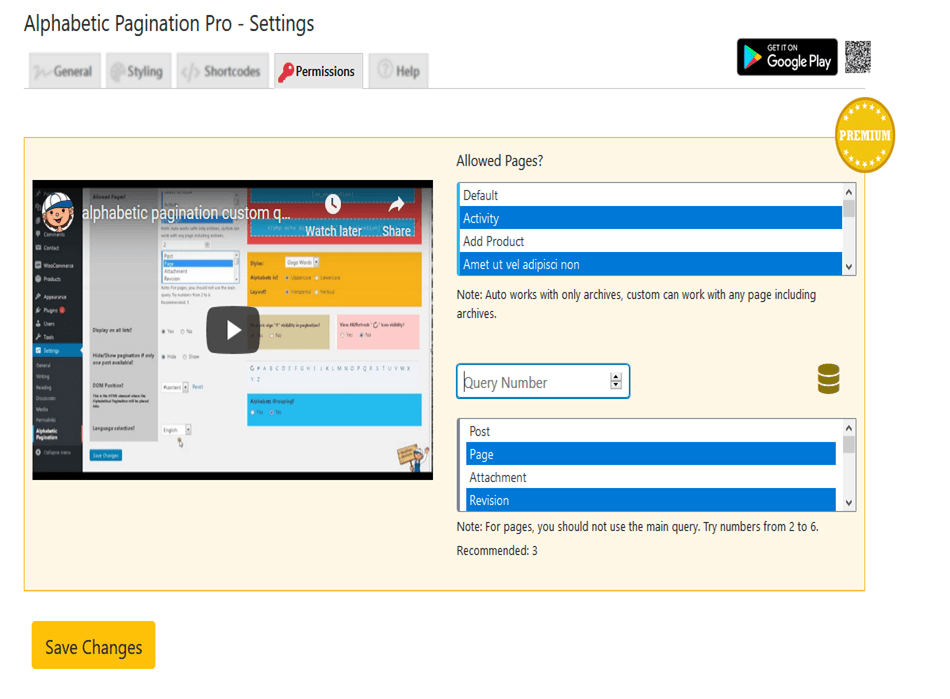 5. Pagination Styler for WooCommerce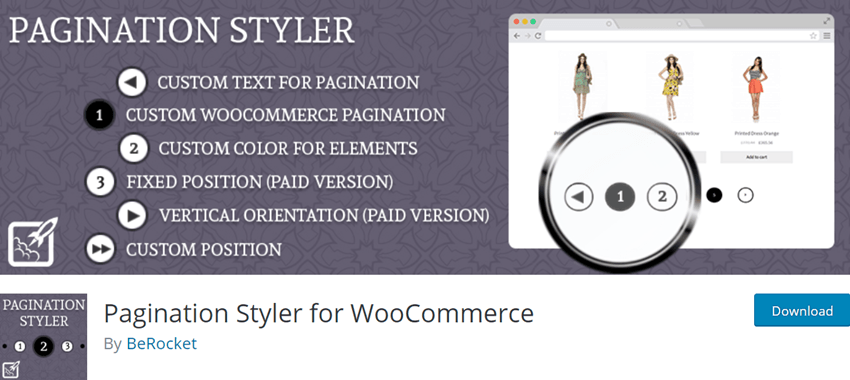 Pagination Styler is a  free Woocommerce Pagination Plugin by BeRocket, which can help you to insert page breaks on the Product page. A page break support can be added through Pagination Styler, and Wherever a CMS uses a special separator, this plugin breaks content into pages. A toolbar button and a menu item page break can be added under the Insert menu dropdown.
Pagination Styler provides a smooth streamline to WooCommerce by customizing the pagination without code editing. With the help of Pagination Styler, you can manage the content of web pages by dividing them into various pages of your site. It gives a break and facilitates the visitors to navigate wherever they wish to invest their time. Utilization of this WordPress Plugin is widely required for E-Commerce websites where so many products are available to select any particular pieces of stuff from them. Customize the component of Pagination Styler such as text, style, colour, icon, position, and buttons based on the necessity of your site.
Total number of users – 1,000+
WOOCOMMERCE PAGINATION STYLER
6. Load More Products for WooCommerce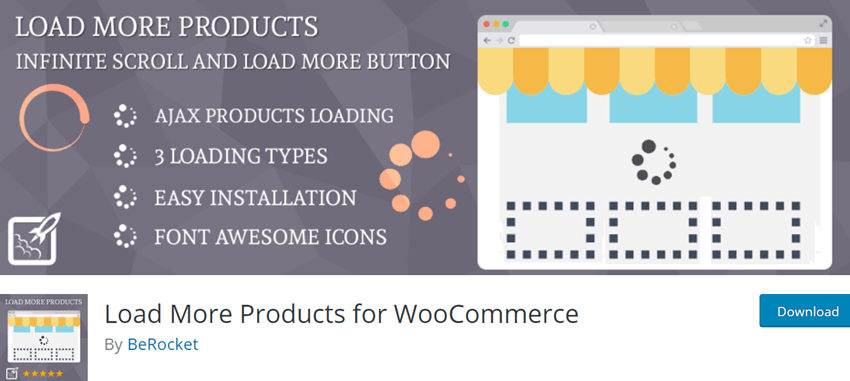 Load More Products for WooCommerce is the most advanced Woocommerce Pagination Plugin that offers users the following available product on the site via Ajax loading functionality. Scroll to the unlimited extent for searching for the best product with load more buttons. If your website contains many product items, Load More allows you to scroll those products infinitely. Visitors can easily keep searching the product from your site without any disruption. Customization options are available for the text, JavaScript hooks, and loading images.
Key Features Are Available –
Infinite Scrolling – Scroll the products available on the site, and it automatically appears on the next page while you reach the bottom.
Load More and AJAX Pagination – Access with customizable buttons of Load More products and AJAX Pagination.
Lazy Load With Animation – Images being loaded by lazy load and the availability of 40 animations to set within.
Customize Messages at End – Whenever browsing for products results or loading products, you can settle the messages for the same that you want to display visitors.
Total number of users – 10,000+
Price – 1 Site-$34/yearly,  3 Site-$59/yearly,  5 Site-$79/yearly, 10 Site-$109/yearly
Woocommerce Load More Products
7. WP Ajax Load More Pagination and Infinite Scroll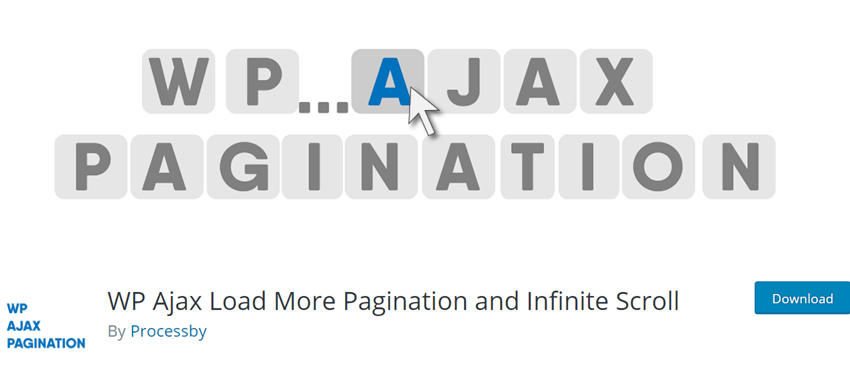 WP Ajax Load More Pagination is an excellent custom pagination plugin to create stylish and attractive pagination on your post. Along with 26 different pagination styles,  there are unlimited customization options. Styles like icon with numbering, an arrow with numbering, pagination without numbering, animation, magic are there, along with simple pagination styles. These styles can be varied as well. It boosts SEO and is fully responsive and compatible. It increases page visits peruse and lowers the bounce rate. The visitor gets to read more content and gets more pages per post. It also has better search analytics.
It also helps you add pagination button sliders if the buttons take more width. The pagination button can be located anywhere in the post content, like a top, bottom, or both. You can fully customize the plugin on the Dashboard. This plugin works with unlimited pages and platforms such as Jigoshop, WooCommerce, etc. You can set a different animation for different pages. There is also cross-browser compatibility.
Total number of users – 500+
Screenshot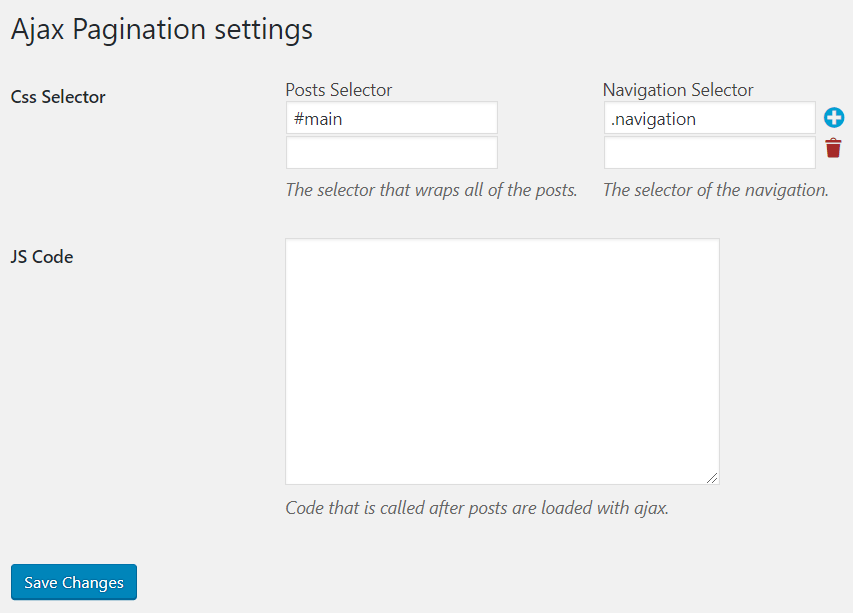 8. SX No Homepage Pagination
SX No Homepage Pagination is the best pagination plugin for WordPress that lets your users navigate freely on your website. This plugin can be converted into Infinite scroll or Ajax pagination using Animated Infinite Scroll. Provides an excellent navigation experience while any visitor is accessing content available on your website. Whether a blog post, custom post, or search page, establish pagination everywhere and get more web traffic. Sometimes placing pagination on your homepage may irritate your visitors, and keeping this in mind, avoid homepage pagination. Moreover, remove unnecessary pagination from the homepage or elsewhere so easily.
SX No Homepage Pagination lets you customize the position, type, and overall appearance according to your desire. It also allows you to add the 'Load More' button to keep the default. A lightweight and feature-packed extension contain various pagination types such as load more buttons, infinite scrolling, numeric. Next or previous buttons, and appear load more button on page loading. Using this plugin, the visitors don't need to click on the 'Next Page' button. As he will keep scrolling to the bottom of the page, the next page will automatically be retrieved and appended.
Total number of users – 1,000+
Conclusion –  We recommend you to use the free Page navigation plugin, i.e. Wp page Navi is 1000's times better than any other plugin for WordPress blog. If you want to add pagination to the eCommerce website, our recommendation will be Berocket as the best Woocommerce Pagination Plugin.