5 Best Plugins To Create
WooCommerce
Product Bundles 2020
Looking for WooCommerce Product Bundles Plugins for your eCommerce store . Product bundles are more than one existing products combined into a new product for display and sales from your online store. Selling products in bundles is a great way to cross-sell and increase sales.

Using these plugins you can easily do the grouping of products . Combining Products and selling them at cheaper prices after giving discount attracts customers a lot
A bundle simply consists of concrete products and all products in it need to be potential order items (i.e. have stock). The bundled product does not have an actual existence. It will still be handled as separate items in the order management system at the time of sale.
While maintaining the store, you might be looking for promotional strategies to increase sales. Creating woocommerce group Product  bundles and offering them at a discounted rate works as a great strategy.
To integrate product bundles and increase cross-selling in your eCommerce store you have to have the best tools. And WooCommerce has them.
But let us first understand how they can help you make a difference to the store's unique strategies and enhance sales.
How Product Bundles Increase Sales
Product bundles are a great strategy to improve sales and overall revenue in your business. It also helps in enhancing customer experience and result in long term loyalty.
Sometimes, the combination of a set of products provides better usability for some products. For instance, a photography kit with a particular brand's camera and lens might bring better usability for both for the customer.
Similarly, It will help in spreading awareness about the new launches and newly developed products that they never knew about before.
You may also be interested in upsells cross sells Plugins . Variation Swatches Plugins and Abandoned Cart Plugins
Encourage Add to Carts
There will be several scenarios where you can offer your customers to buy in bulk from your store. For example, you can offer free shipping for a minimum amount of order. Or you can make a product bundle strategy of offering 1 additional shirt on purchasing a bulk of 3 shirts. The customer will see more value in purchasing more quantity. And would definitely be tempted to spend more leading to an increase in your profits.
Create Assorted Product Kits
You can create a product kit with two (or more) of your existing products. Especially, if you combine the slow-moving product with a fast-moving one. Offer both together at a price lesser than the combined value of both. This might bring some renewed interest in customers' minds.
Now that we have understood how product bundling could result in increased sales volumes, let's know what tools and strategies are available to create bundled products.
Increase Sales by Recommending Products
By adding bundling plugins like 'Recommended or Linked or Frequently Bought Together Products', the customer can be lured into buying a bundle.
Especially if the recommendations are complimentary or connected to the product or bundle that customer is purchasing. It may also remind your customer about simple things that he may be forgetting.
E.g., If your customer is buying shoes. Then recommending pairs of socks in a bundle would appeal to him.
It is important to understand buying pattern of your customers and analyze their behavior and their shortlisting ideology , before creating Product bundles to boost your sales.
So lets have the list of out top WooCommerce Product Bundles are as follows
1. Product Bundles

Product Bundle plugins by SomewhereWarm are smart strategies that work on two-fold. By increasing the average order value and at the same time boosting the sales of a single product. But, the greatest advantage of the plugin is when you are into selling assembled products from your WooCommerce store.
You handle the pricing and stock of each product; and the customers can choose the components and customize their products. Besides, you can also offer the product bundles at discounted prices. Discounts can be offered both on individual as well as bulk items.
You can create dynamic bulk discount rules. Offer higher discounts to customers who purchase more.
The extra benefits includes integration and compatibility with other WooCommerce plugins or their updates.
Price – Single Site – $49, 5 sites – $79, 25 sites – $149
Premium
Screenshot

2. YITH WooCommerce Product Bundles

YITH WooCommerce Product Bundles is a freemium version. It offers an amazing option to create bundles and trigger sales manifold. You can set both dynamic as well as flexible pricing method for each bundle. In the same lines, the invoices can include both the pricing patterns.
You also have the flexibility to choose the product and product variants that will be part of the bundle. Even option products can be added to the bundle as a promotional offer. The customers can select the quantity they wish to purchase.
Shipping charges can be applied to individual products or to the entire bundle.
Total no. of Users – 4,000+
Price – Single site – €67,99, 6 sites – €129,99, 30 sites – €169,99

Free
Premium
Screenshot

3. WPC Product Bundles for WooCommerce

With WPC Product Bundles for WooCommerce you can bundle products as per a pre-set quantity and offer them for discount thereafter. This plugin operates with a smart pricing technique so that when you modify the price of one product of the bundle, the entire bundle price gets auto-modified accordingly.
You can rearrange the products across bundles by the drag and drop method. Each product's quantity can be set, also regular and sale's price gets automatically calculated.
You can rearrange the products across bundles by the drag and drop method. Each product's quantity can be set, also regular and sale's price gets automatically calculated.
The bundles can be customized and quantities of products within the bundle can be changed. The plugin is WPML supported.
Total no. of Users – 8,000+
Free
Screenshot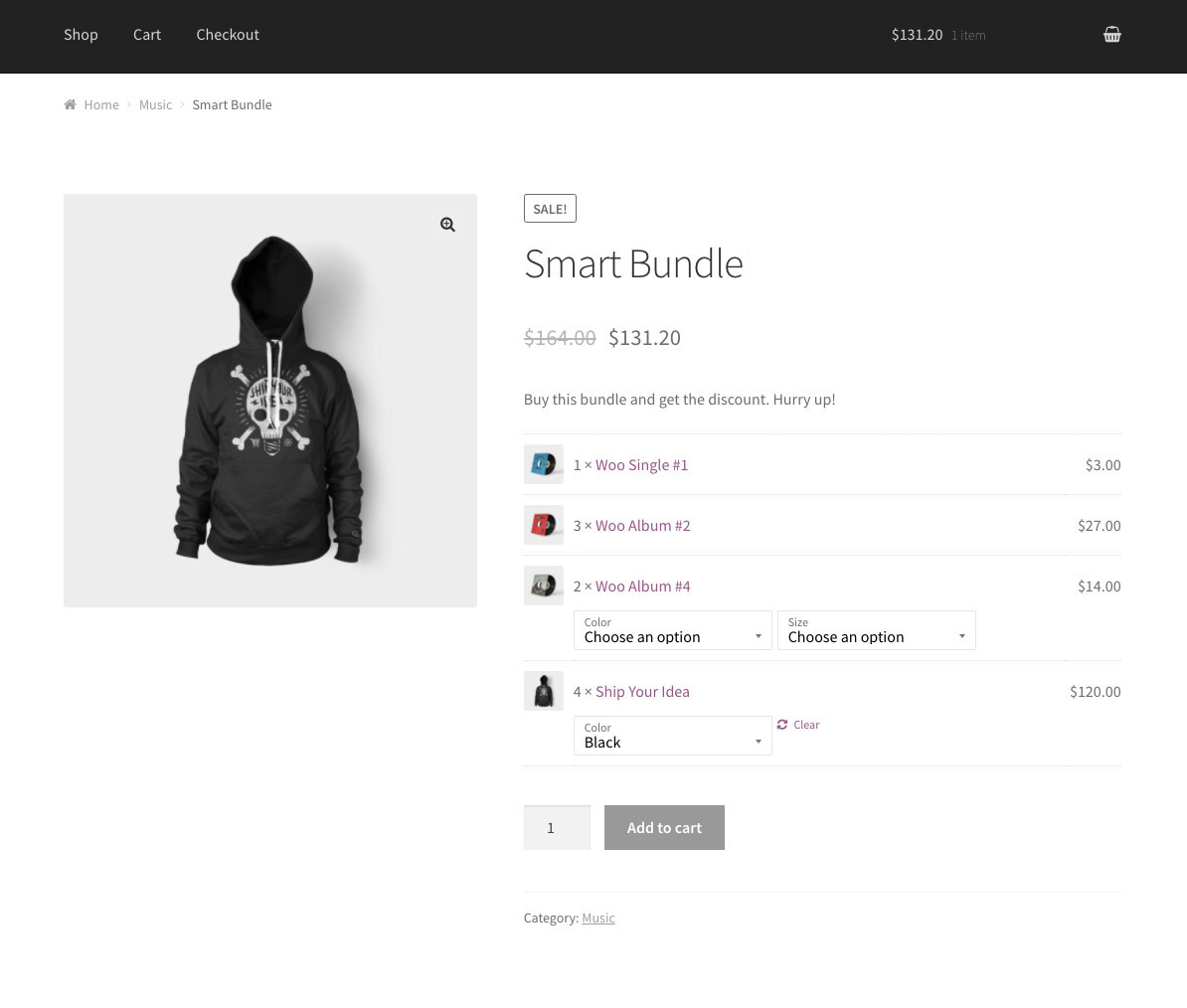 SW Product Bundles allows you to create bundle product with the child product. For Example , you can bundle pencil, pen, eraser, sharpener and glue-stick to make a stationary set. You can also use the auto bundle product slider to create combos utilizing the hot combo layout.
This plugin integrates with Visual PageBuilder, Hot Combo Slider and with the help of shortcodes showcases Bundled products on homepage. It is a responsive and translatable tool.
Price – $25
Premium
5. WooCommerce Bundled Products

WooCommerce Bundled Products imparts a great user-experience by letting your customers add items to their cart thru a single product page. You can also add optional products to the product bundles in eCommerce websites that you have created to make a simplified shopping experience for your customers.
Any product type can be chosen to create bundles, and all the products of the bundle can be added to the cart in a single click.
Custom prices and discounts can be set for the bundle.
Price – Single Site – $49, 3 sites – $99, 30 sites – $299