6 Best WooCommerce 2checkout Payment Gateway Plugins 2023
Collecting Payments via WooCommerce 2checkout Payment Gateway Plugins is not only affordable but also makes your integration easy. Because 2checkout can easily be integrated into just 2 clicks on any website. They support almost all payment options on their gateway.

2CO is supported in most of the saas business, Software, Digital, online and offline payments. No worries, whether you have an online or any local shop, it allows you to accept payments anywhere at any time.
The most important features are as follows
Supported in 180+ counties
Supports 45+payments method
And with 87+ currencies Supported
Integration Support – 120+ Cart like Ecwid, Shopify, Wix, Opencart,  Bigcommerce,  woocommerce, and OSCommerce
Believe me, no other payment gateway provides such facilities.
You may also be interested in Landing Page Plugins, Email marketing Plugins, and Live chat Plugins.
So let's have the list of Best WooCommerce 2checkout Payment Gateway Plugins as follows:
1. Payment Gateway – 2Checkout for WooCommerce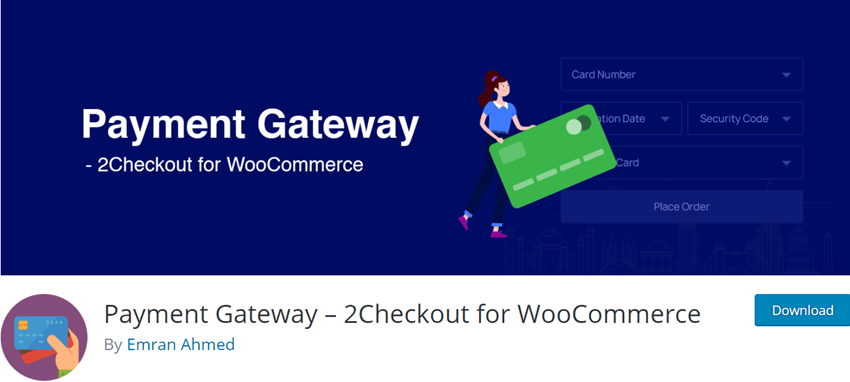 WooCommerce 2Checkout Payment Gateway Plugin offers a secure payment platform that facilitates online payment and mobile payments with localized payments, On your WooCommerce, enabled store, you can easily accept payments via MasterCard, American Express, PayPal, Visa, Diners, JCB, and all major debit and credit cards. The plugin supports 87 currencies, 15 languages, and eight payment methods. The plugin facilitates a standard checkout process and allows you to edit the payment gateway title and payment gateway description with utmost ease.
Processing a credit card or a PayPal payment does not attract any extra fee or a hidden charge with Better 2Checkout. With this plugin, you can accept not only PayPal and credit card payments but also subscription payments (both simple and variable) supported on the WooCommerce platform. A single transaction can allow product purchases and, at the same time, subscriptions. Onsite – with SSL and PCI compliance; and Off-site Checkout methods – no PCI compliance required are available.
Total number of users – 1,000+
Price – Starter – $49/annually (1 Site), Business – $149/annually (5 Site), Developer – $299/annually (Unlimited Site)
Starter Lifetime – $149/One time (1 Site), Business Lifetime – $449/One time (5 Site)
How To Setup 2Checkout Payment Gateway for WooCommerce In WordPress Powered eCommerce Store
How To Enable On-Page & Inline Checkout in WooCommerce Store Using 2Checkout Payment Gateway Plugin
Screenshot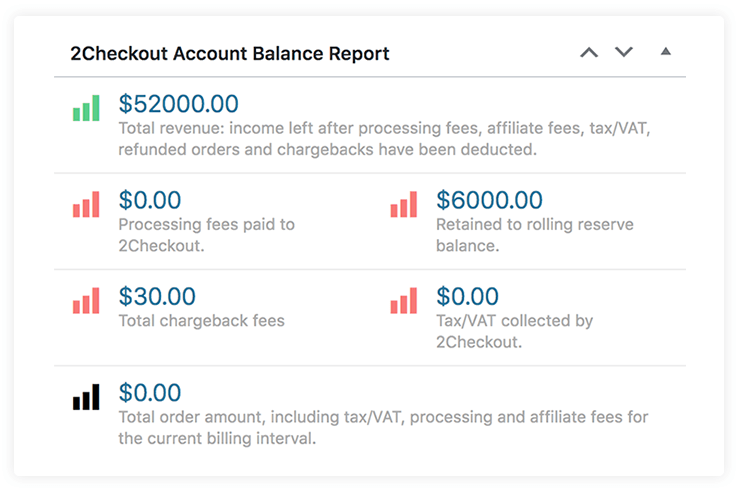 2. 2Checkout Payment Gateway for WooCommerce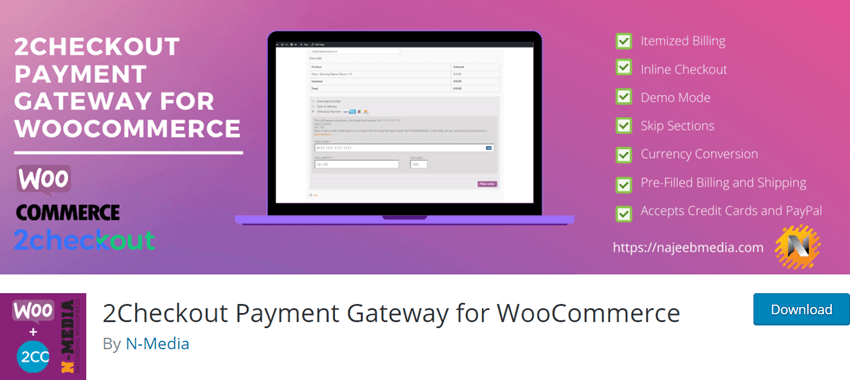 WooCommerce and WordPress fully support the payment plugin. The plugin has a comprehensive 2CO purchase page where all data related to billing and shipping gets stored. You can easily disable or enable the test mode of this API-compatible tool. Also, each item is personalized with a unique SKU/ID. Both the free and pro version of the plugin is available. The premium version features currency conversion with live rates, PayPal Direct Checkout, onsite payment thru credit card, and more.
It is an intuitive and free shopping cart plugin that allows you to buy physical & digital goods and services. You can easily integrate 2 Checkout with WP e-Commerce. Other facilities you get with the plugin are inline checkout, standard checkout for processing credit cards for your store thru hosted checkout, and recurring payments.
This unique plugin enables a precise checkout process because only the payment information is required, and there is no requirement for all shipping details or other details. The customers get to purchase in 26 currencies and 15 unique languages, having a good global reach. The plugin is fully compatible with WooCommerce.
Total number of users – 2,000+
Price – 1 Site – $35/Lifetime
WooCommerce 2Checkout Payment Gateway with ConvertPlus - Accept Credit Cards and PayPal
Screenshot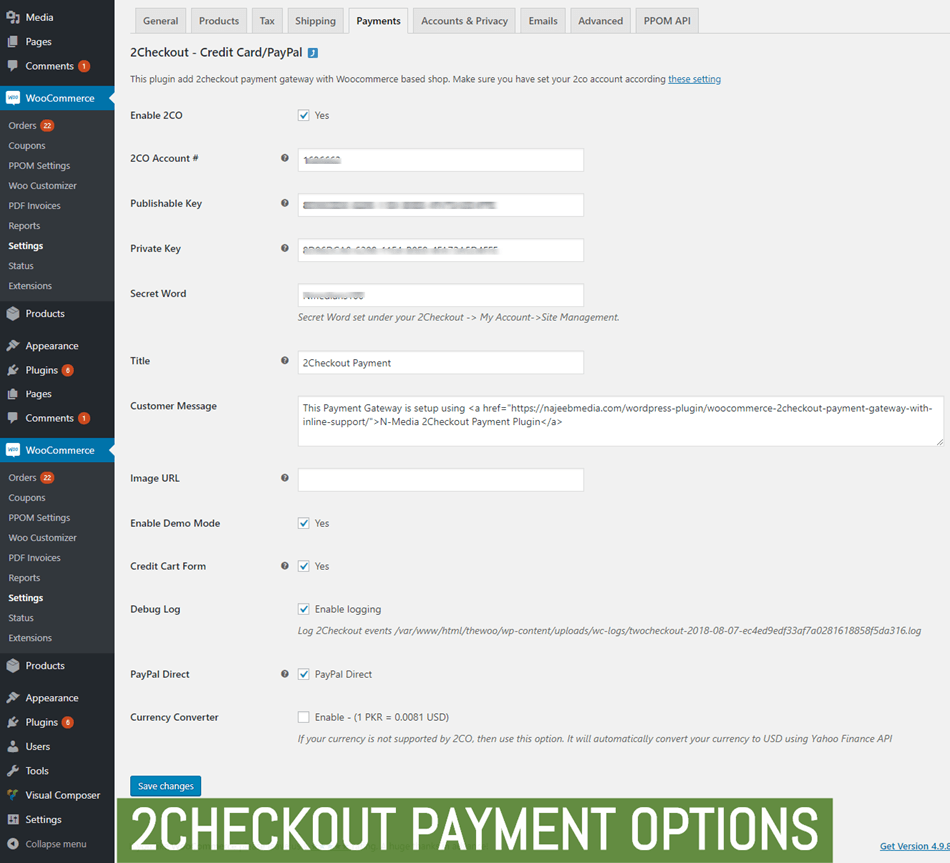 3. WordPress Payments Plugin – GetPaid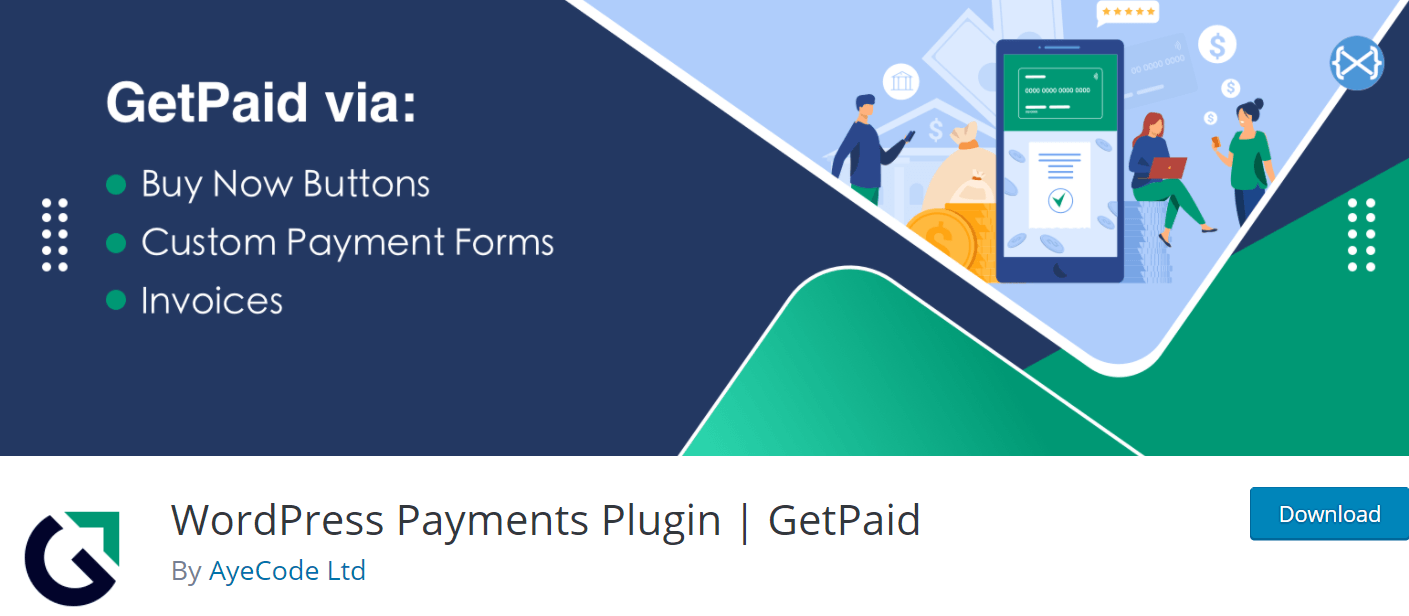 GetPaid is an immensely recognized WordPress Extension utilized to create secure online payments for products and services on websites. A nicely designated plugin so arranged that anyone without coding skills is used efficiently. Moreover, if you install GetPaid, it extensively accepts almost every payment gateway, including PayPal, Authorize.Net, Worldpay, Stripe, Cheque Payment, eWay, Cash on Delivery, and many more. Get a smooth workflow as you can easily manage essential functions like Tax, VAT, invoice, and payment. Create a layout for the payment form from the available templates, which is fully customizable. Let your users experience a hassle-free payment procedure on your website so that they come back for their next purchase.
Integrated Features of GetPaid –
Payments Structure – Enable your customers to pay once as a subscription for the item they desire to own.
Free Trial – Allow your users to keep with your services while utilizing them for a fixed duration for free and charge for such services after that.
Inline checkout – Create organized forms with required fields for checkout and place them on an SEO-friendly landing page for increasing revenue.
Invoice and Quotes – Generate invoices along with quotes and send them to the customer. As the customer gets access to quotes, it turns into an invoice automatically, wherever they can make payment online.
Total number of users – 4,000+
Price – 1 Site – $39/annually,  5 Site – $49/annually,  25 Site – $89/annually
Screenshot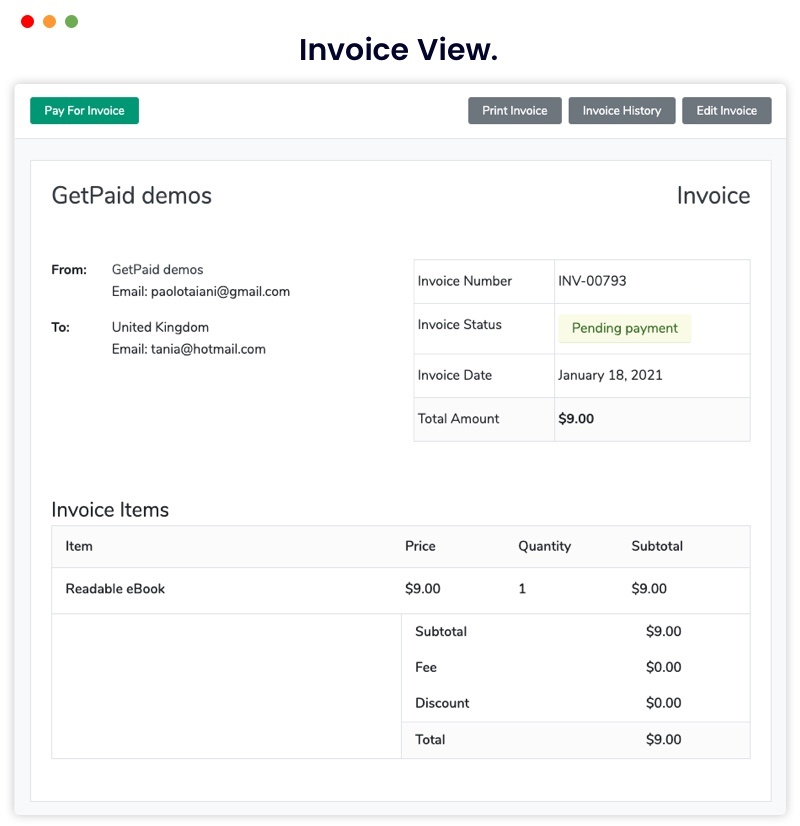 4. 2Checkout Integration for WordPress – WP Super Pay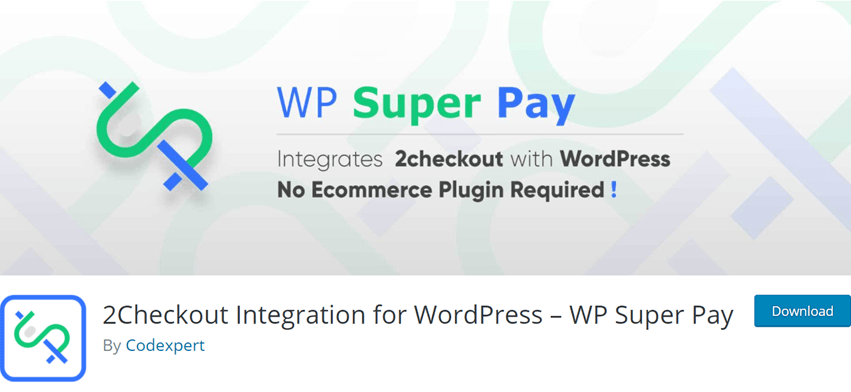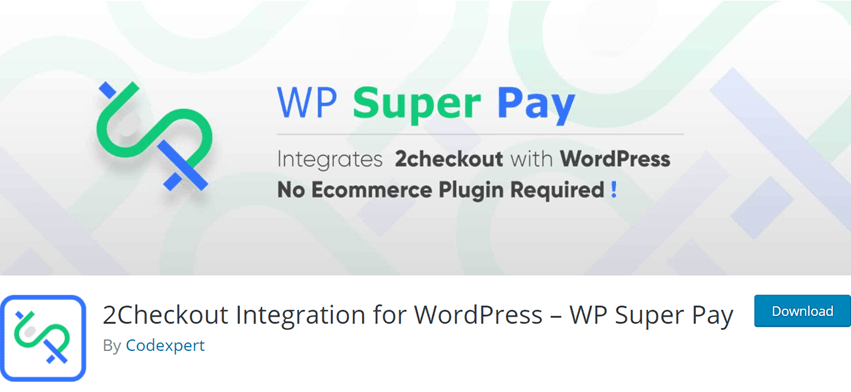 With 2Checkout, you can directly accept payments from your AppThemes website. The plugin supports eight payment methods, viz. American Express, PayPal, Visa, MasterCard, Discover, Diners, and JCB. The checkout is displayed in 15 languages per the customer's location. Besides, it supports twenty-six currencies in total. Recurring payments are not supported presently.
The plugin helps you with online payment processing and Credit Cards with ease. 2checkout imparts an excellent user experience by allowing your customers to pay via eight payment methods and in 26 currencies. The checkout is available in 15 different languages. You can receive payments thru international Wire Transfer or direct credit to your account by Electronic Funds Transfer or Payoneer MasterCard.
Total number of users – 10+
Screenshot
5. 2Checkout Payment Terminal

2Checkout Payment Terminal allows your customers to pay extensively with multiple alternatives available on your website. Make your payment process more flexible by integrating your websites with this arranged WooCommerce 2checkout extension. Enable you to install the plugin and configure it within 5 minutes of accessibility. Afterwards, accept the payments for your product and services via credit card and other payment essentials securely from any device. However, it allows you to sell your products or services and make payments likely from different countries. For accessibility to this extension, you must have an account for 2Checkout and enable cURL on that account.
Essential Features –
Activate Google reCaptcha into the payment form to make it more secure.
Avails comprehensive plans for subscription automatically into your account of 2Checkout.
Edit the existing files in just one step of configuration.
Establish the service with a defined price that is visible to the customers.
Enable your users to cancel the subscription anytime they desire and refund accessibility if payments are made.
Assure your customers by sending a confirmation email for any functions that take place, like subscriptions and payments, and cancel the subscription.
Price – Regular License – $20/Lifetime
Screenshot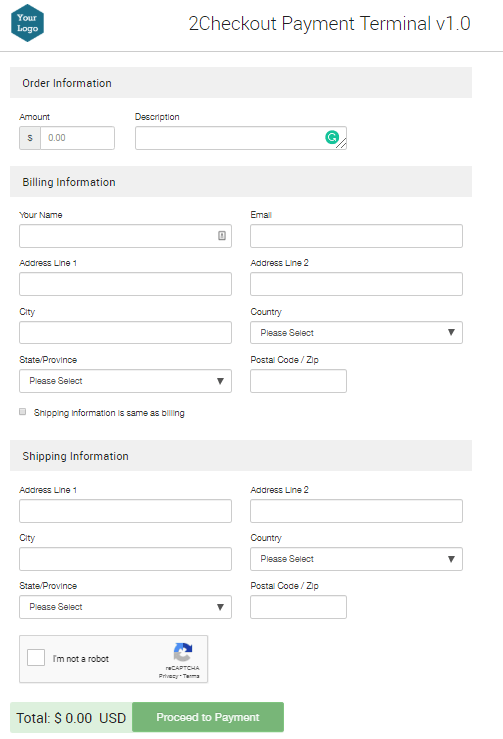 6. 2Checkout and WooCommerce

2Checkout – A WooCommerce Payment Extension that avails the secure payment essentials to the customers. Install this well-oriented plugin in a few easy processes and get access to its advanced functionality of payment widely. Such an intuitive design enables the users to obtain confirmation of done payment by redirecting to on thank you page instantly. Integrate your WooCommerce site with 2Checkout to get into more exciting features. To initiate the accessibility of this extension, you must create an account for 2Checkout. After installing 2Checkout and signing in to the account, establish the payment process as you need to configure it. Create payment forms that match the need of your website. It provides mobile-friendly accessibility that lets your customers make payments without interruption and from anywhere.
Reasons to have 2Checkout –
Enable your customers to pay with different essentials, including credit cards and PayPal, as 2Checkout utilize the Standard Purchase Routine.
Available information on shipping and descriptive billing of purchased items thoroughly with page navigation.
When someone pays out the amount via credit card, the checkout will take place on just a single page, which carries the detailed invoice and payment accessibility.
Price – 2SELL – 3.5% + $0.35, 2SUBSCRIBE – 4.5% + $0.45,  2MONETIZE – 6.0% + $0.60
Screenshot
Note – For installing WooCommerce 2checkout Payment Gateway Plugins, you need a 2Checkout account. Without that, you can make any integration. After signup, you will get 2Checkout Account Numbers and 2Checkout Secret Word.