Host Your Gtag.js Script Locally And TruSEO Score With AIOSEO Plugin Integration
Host Your Gtag.js Script Locally to reduce your page load time And enhance your SEO with TruSEO Score AIOSEO Plugin Integration? These strategies will improve the Google Search Results of your website? You can now do it all with the help of MonsterInsights Faster Script Loading and AIOSEO Plugin Integration.

You must have heard of Google's page experience update. Last year in November, Google announced the "page experience update" which started rolling out in mid-June of 2021. Page Experience Update assesses how a visitor perceives your webpage which takes into consideration many factors such as mobile responsiveness, Core Web Vitals, HTTPS, Safe browsing, and more. Core Web Vitals is considered as a new ranking factor that measures the real-life experiences as visual stability, load time, and interactivity of the page.
It may sound counterintuitive, but if your website is not performance-optimized, the Google Analytics tracking script may slow your website down and adversely affect your search engine ranking. Now, you can solve this issue with MonsterInsights.
In this blog, you'll get to learn about MonsterInsights 7.18 Faster Script Loading by Hosting Your Gtag.js Script Locally and its integration with the All in One SEO plugin.
MonsterInsights 7.18: Faster Script Loading
The website load time is a crucial ranking factor. The quicker your site loads, the better you'll rank on search engine ranking pages (SERPs).
MonsterInsights 7.18 update makes the MonsterInisght plugin script load faster than before and hence, is optimized for Core web Vitals Scores. The update also brings in a wonderful change.
The performance addon can now host your gtag.js script locally on your server. It, therefore, implies that your website has to load fewer external resources, thus, your site can load quickly. The update, hence, shortens your Site load time and eventually improves your overall page ranking. Also, the performance addon automatically fetches the gtag.js every single day, thus, keep your site updated.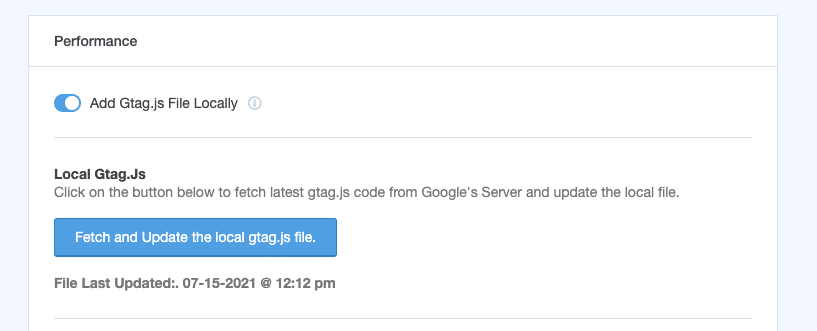 Moreover, you also get full control over the caching of the file because the script is served locally. Thus, you can further reduce your load time and enhance the user's experience on your site.
All in One SEO Plugin (AIOSEO Plugin)
MonsterInisght has recently announced its integration with the All In One SEO plugin (AIOSEO Plugin). It is adding the focused keywords and the TruSEO score to its custom dimensions so that you can gain a better insight into your website traffic and check how they relate to your traffic in Google Analytics.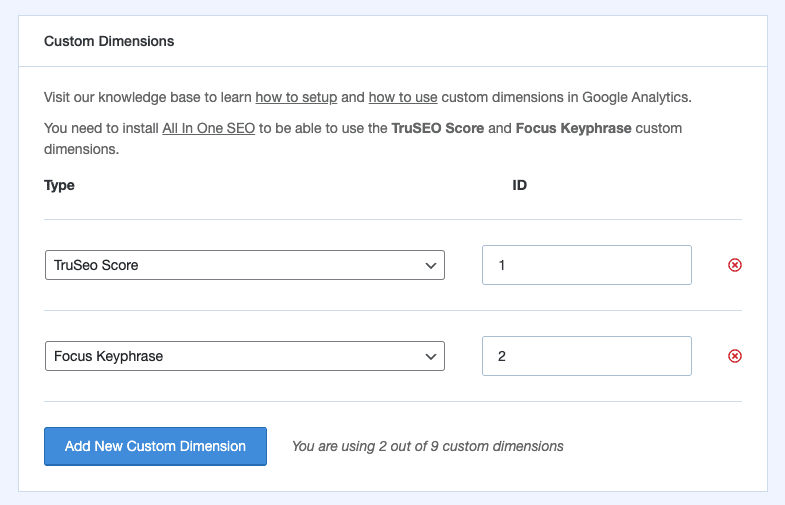 The All in One SEO (AIOSEO) plugin is the best and the most powerful SEO plugin for WordPress.  Small business owners, bloggers, web developers, designers and, marketers use the AIOSEO plugin to improve their website rankings.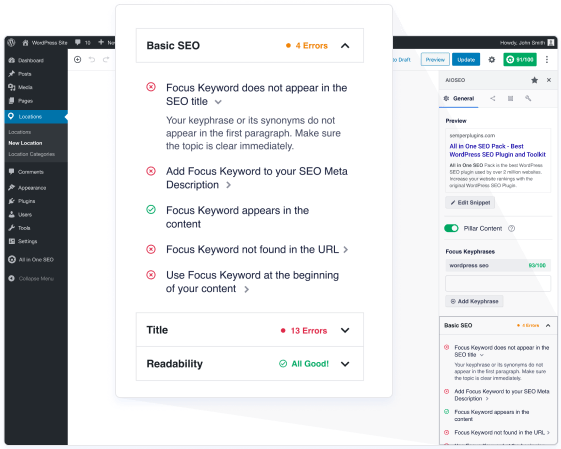 AIOSEO helps you set up the overall SEO on your page within a few minutes.
This also helps you to add the focused keywords and the TruSEO scores to your Google Analytics data. The plugin is also compatible with various social media platforms and many popular WordPress plugins. You can also connect it with Google AMP and Google Search Console. Hence, the plugin optimizes the SEO for your site and help you rank higher on search engine result pages (SERPs).
Features
SEO Custom User Roles
Local SEO
RSS Content
Google News Sitemaps
Social Media Integration
WooCommerce SEO
TruSEO On-Page Analysis
SEO Audit Checklist
AIOSEO not only helps you improve your website's ranking but also gives you valuable insights into:
What are the top-ranking focused keywords that are bringing in the highest traffic?
What are the areas where you can optimize and improve the posts for better ranking and higher traffic?
Where is most of your traffic coming from? Are the best-optimized post bringing in the most traffic?
Conclusion
In this blog, we have covered MonsterInsights latest updates which include Faster Script Loading by Hosting Your Script Locally and the ASIOSEO integration. In a nutshell, the update helps you slash down the plugin script load time and it also helps you optimize your site's SEO with the All in One SEO (AIOSEO) plugin.
So what are you waiting for? Get started with MonsterInsights today and enjoy some amazing features.
That's all for this blog. If you have any queries or suggestions, feel free to drop them in the comments section below.
You might be interested in ChatBot Plugins, Tools to check Page speed, Email marketing services,