Formidable Forms Pro vs Gravity Forms : Which Is Best Compared
Are you looking for Gravity Forms alternatives so lets have the comparison between Formidable Forms Pro vs Gravity Forms . Choosing the right form solution for your blog is a tedious task especially when there are lots of such Gravity Forms alternatives Plugins . Yes, there are both free and premium versions of form builder plugins and they all are competent in one way or the other. But, you have to look for the best in features and the best value for money.

In our blog we will compare two popular premium WordPress form plugins – Formidable Pro and Gravity forms.
We will compare them on the prime attributes that a good form plugin must have such as data-management, form building potential, pricing, integration, add-ons etc.
You may also be interested in Email marketing services , Fomo Plugins and Caching Plugins
Introduction
Gravity Forms – Gravity forms is a form builder plugin that uses the drag and drop functionality to build comprehensive forms with ease using various third-party integration.
Formidable Forms Pro- It is also drag-and-drop form builder plugin that has made the complex form building process extremely easy even for beginners. It also takes into account data analysis.
Comparative Study
Now we will pick up some significant features of a good form builder and compare Gravity Forms and Formidable forms on those pedestal.
Price – Price is a very important aspect because if the plugin that you choose is over budgeted then it can hamper all other activities of your project.
Gravity Forms – Gravity Forms is a premium plugin, hence it requires an investment upfront. Since you are not getting a free version, it can be unimpressive in terms of price for the start-ups who have a tight budget. However, for multiple site owners the available plan is pretty manageable.
Basic License – $59/yr, 1 site support, unlimited forms, unlimited entries
Pro License – $159/yr, 3 Sites supported, unlimited forms, unlimited entries
Elite License – $259/yr, Unlimited site support, unlimited forms, unlimited entries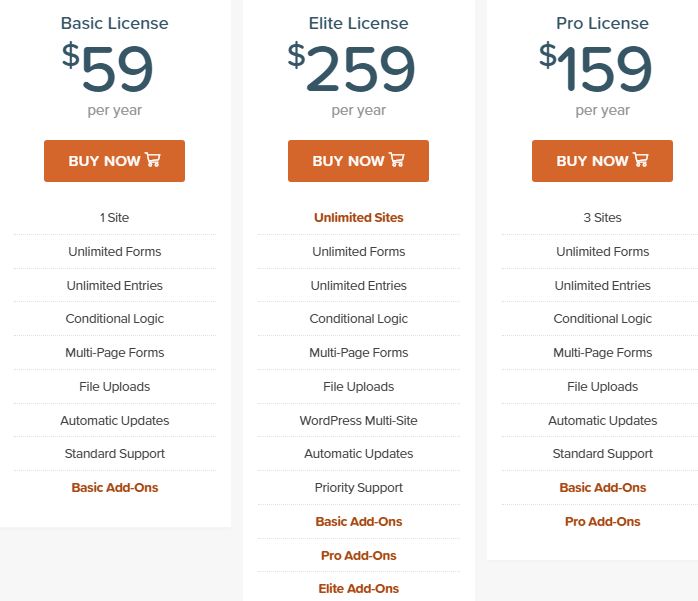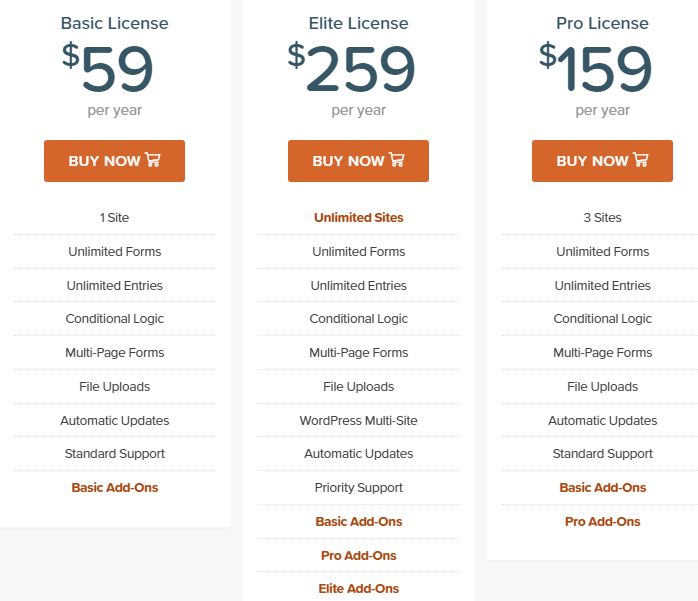 If you want to use Gravity Forms with the hosted WordPress.com service, then you have to opt for the WordPress Business Plan subscription. Other low priced versions  on WordPress.com do not allow you to install your own plugins.
Formidable Forms – Formidable Forms has both free and premium versions. So, if you have a small budget and want to have a good start, then Formidable has the free version for you.
Free Plan – $0 , 1 site support, has drag and drop form editor and conditional form fields
Personal Plan – $49/yr, 1 site support, All Formidable Pro features on this and higher plans.
Creator Plan – $99

/ yr , 3 sites

Business Plan- $199

/ yr, 15 sites

Elite Plan – $399

/ yr , unlimited sites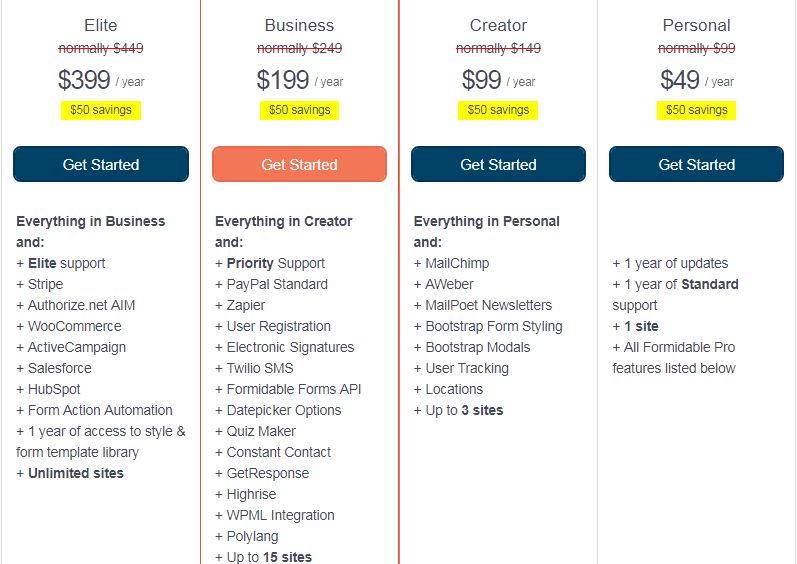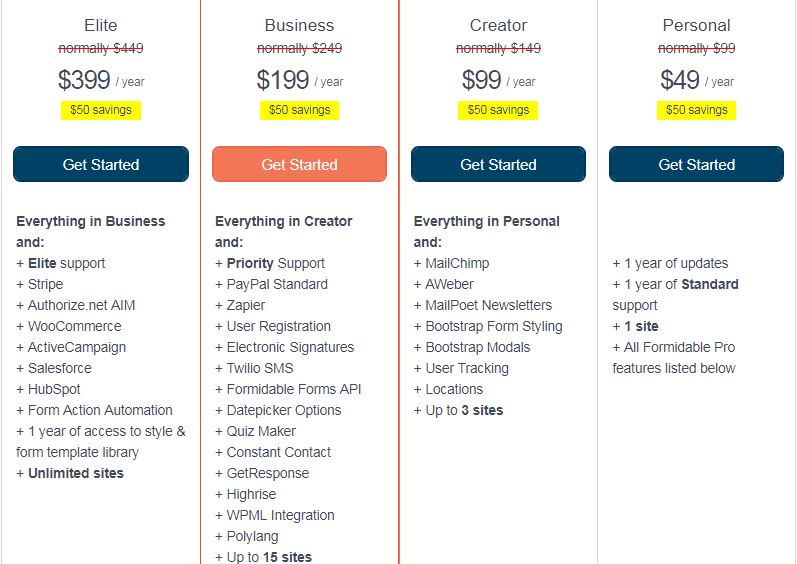 Further in our blog we will see that feature wise both the forms are very similar, but if you have price concerns, then formidable is a better choice.
Support – Support is another important feature that you must look for because amidst all confusions if you do not have a reliable support system from the technical end then things can turn out seriously wrong.
Gravity Forms – The support team is responsive. However, you have the documentation support also available. You can no longer avail the support forum help. You have to raise a ticket to get support.
Formidable Forms Pro – Both forum and documentation support is available for all the users without raising any ticket.
Both Gravity and Formidable forms pro have a year of support included in any of their licenses. However, with Formidable Pro you get lifetime updates and have to renew the support license only. With Gravity forms both update and support license have to be updated. The updates expire every year.
So, if you are looking for updated versions and all new features, then Formidable can be a better choice.
User-Friendliness
Gravity Forms – A very simple to use plugin that offers a number pre-designed form fields to choose from to make a form of your choice.
Formidable Forms – Formidable forms also offers a versatile range of form templates that can be easily downloaded that helps you style your form in the most intuitive way. Undoubtedly, you get better customization options with Formidable.
Both the forms use the drag and drop functionality in the most wonderful manner to help you create a form. For both the plugins you get a detailed documentation which can be referred to get into the advanced functionalities. Hence, we feel both are great in terms of use.
Integration and Add-Ons
With Gravity forms you get access to a wider range of add-ons and integration options as compared to Formidable forms. Gravity Forms has better payment integrations, eCommerce with pricing fields etc. With its basic plan you get only 4 add-ons and with advanced plan you get around 14 add-ons.
For all versions of Formidable Pro you get around 12 add-ons such as PayPal, MailChimp, Signatures add-on, Zapier, Highrise integration ( to add users to CRM account)  etc.
However, all add-ons for Formidable Pro are also available in its single site license also. But, with Gravity Forms you need to have developer license to access all the add-ons.
So, if you are looking for more add-ons then Gravity Forms wins but if you want a good number of necessary add-ons for a lesser  price then you can choose Formidable Forms.
Why we Formidable Forms can be a better choice
Although both the forms are great when it comes to limiting form entries, creating conditional logic or creating bulk options. But there are few differences when it comes to managing an eCommerce website-
You can easily create custom post types via your forms with Formidable Forms Pro such as portfolios, products etc. Not only this, you can also map form fields to custom meta fields. This feature is a great option for vendors to submit their own products in the marketplace. Also, a secured features, as only logged-in vendors can avail this feature.With Gravity you though you can create blog posts, but you need an extra add-on to create custom post types.
You can create checkbox and select post tags and taxonomy with Formidable Pro. But, with Gravity you can only select post categories.
You get all important add-ons in the all versions of Formidable Pro. While in Gravity Forms, add-ons are limited to the higher plans.
Styling can be easily customized using Formidable forms. You have both built-in styling and thru BootStrap add-on too. But, with Gravity forms the theme are pre-styled and have little customization options.
Front-end editing- When logged-in submissions can be done thru front-end also. You can decide on the editable entries such as user's only entry, shortcode entry and more.
Look-up fields – This great feature of Formidable Forms enables different forms to interact behind the scene. So same information need not be fed multiple times manually rather it auto-sweeps across the forms. A great time savior indeed!
View Entry – The Views feature of Formidable forms enables you to view the data submitted in a Formidable form with unlimited options. A great feature for websites related to Real estate, Job listings etc.
Information on of multiple items in a form can be added with the Repeaters feature of Formidable Forms Pro. A great feature for listing qualifications for a job application etc.
Lets Have deep Comparison Between Formidable Forms Pro vs Gravity Forms
| Plugin | Gravity Forms | Formidable Forms |
| --- | --- | --- |
| Type Of Form Builder | Drag And Drop | Drag And Drop |
| Spam Protection |   |   |
| Customizable HTML |   |   |
| Built-in Views |   |   |
| Front-end Editing |   |   |
| Template or Form fields |   |   |
| Repeaters – Add groups multiple times |   |   |
| Conversational Forms Addon |   |   |
| Geo location |   |   |
| Graphs & Chart View of Entries |   |   |
| Offline form addons |   |   |
| Popular Integrations | Highrise, FreshBooks, Dropbox, MailChimp, PayPal, Stripe etc. | Zapier, salesforce, ConstantContact, Dropbox etc. |
| Popular Add-ons | Aweber, ActiveCampaign, CleverReach, Zapier, Twilio etc | Stripe, PayPal, mailChimp etc. |
| Conditional Logic | | |
| Survey, quizzes, polls | With Elite Plan | |
| Email auto-responders |   |   |
| Limit Entries |   |   |
| Responsive Design |   |   |
| Free Version |   |   |
| Free Trial |   |   |
| Support | Support Ticket, FAQs, Documentation | 24/7 (Live Rep), Documentation |
| Payment Support |   |   |
| Moneyback guarantee | within 30 days | within 14 days |
| Pricing | Basic License – $59/yr for 1 site, Pro License – $159/yr for 3 sites, Elite License – $259/yr for unlimited sites. | Basic – $39.5/yr for 1 site, Plus – $99.5/yr for 3 site, Business – $199.5/yr for 5 sites, Elite – $299.5/yr for unlimited sites. |
| | Buy | Buy |
Conclusion

:

Both Gravity Forms and Formidable Forms have amazing features. Few of the features of Formidable such as great styling options and cascading look up fields have no match. Besides, Repeaters can save you a lot of time. In terms of advanced applications and features Formidable has an upper hand. Its amazing features will help you do wonders. We highly recommend it!

However, you must try both the plugins once. All the best!