10 Best Database Maintenance Plugins For WordPress 2023
WordPress database cleanup and maintenance can be done effectively with Database Maintenance Plugin. The faster the database responds to the query, the faster your website loads. That's why  WordPress database optimization helps make your website load quicker and optimize it to the next level.

The wordPress database stores almost important content of your websites like posts, pages, comments, revisions, links, and other confidential essential details. Any WordPress user can customize, edit, search and restore the data using these data. That's what we need. We should choose the Best Database Maintenance Plugins For WordPress. A database is an essential part of a WordPress website. The database stores many important posts, revisions, and other critical information. So all this needs to be kept in shape. But sometimes, these databases become bloated. They need to be cleaned from time to time as bloated databases can make the site slower. In this scenario, database plugins come into play to clean up WordPress databases. This helps keep the website's fast speed and maintain its performance. Loading times are increased. The space the servers take is also reduced. Following are some database plugin that helps to achieve a healthy website.
Why is database maintenance essential?
Space – When you install a plugin and then deactivate it. Then those plugins will leave a leftover and capture space on your server, so optimizing the database will save lots of bandwidth.
Decrease request – Sometimes, some plugins query gets stored on pages and post, and your WordPress website keeps on fetching those data, resulting in slow speed.
Performance – Removal of plugins residual or leftover will increase Website speed.
Bloated Content – Removal of spammy comments, old draft, post revision, transient feeds, clean tables, and much will result in a tremendous increase in your website speed.
So let our list of Best Database Maintenance Plugins For WordPress based on our result, which is as follows:
Our Recommendation  ( Mandatory for all ) – Make sure you have a proper backup of your website before using any of these Plugins. So for these, we recommend best backup plugins for wordpress
1. WP-Optimize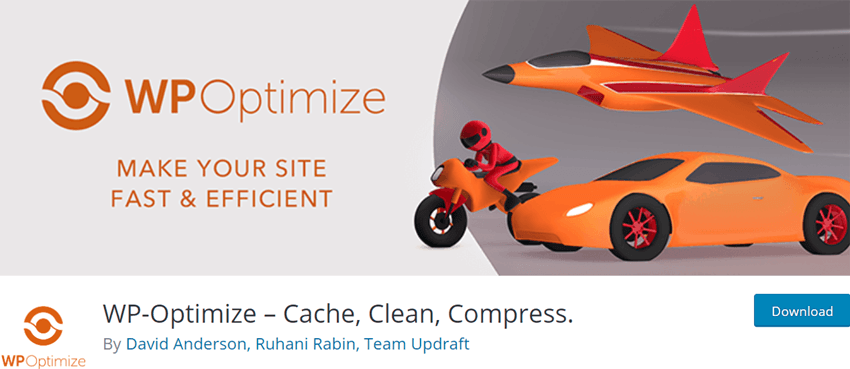 Wp Optimize is a freemium Database Maintenance Plugin For WordPress created by the Team Updraft. WP-Optimize helps users clean their WordPress database, removes the post revision and repair your website database to run at maximum efficiency
The features which make this plugin so efficient are:
All necessary data plus pingbacks expired transient options, and trackbacks are removed.
MySQL tables can be compacted or de-fragmented with a button press.
Automatic weekly cleanups are conducted.
All the user's optimization to carry out has precise control.
During cleanup, a set number of weeks' data is retained.
Database statics and potential savings are shown.
Total number of users – 1,000,000+
Price – Starter – $49/annually (2 Site), Business – $99/annually (5 Site), Ultimate – $199/annually (Unlimited)
Learn How to use WPOptimize Plugin
Wp Optimize Plugin | Optimize Database For Faster Response In WordPress Website
Screenshot
2. Advanced Database Cleaner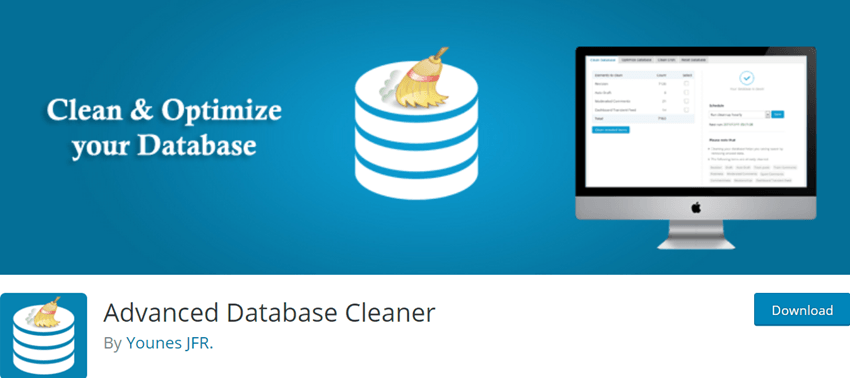 Advanced Database Cleaner is a developers-friendly database cleaner plugin, by deleting orphaned items such as 'old revisions' and 'old drafts', optimizing the database, cleans up the database. Unnecessary data should be cleaned up and database size reduced to improve website speed. The plugin removes unused database tables and has the following features:
The database can be reset without modifying or deleting any file.
All database customizations can be deleted made by plugins and themes.
The blog name is kept after reset.
All the contents can be deleted, including pages, options, posts, etc.
Admin user is detected and recreated with saved password.
Pending comments can be deleted.
Old auto drafts can be deleted.
Spam comments can be deleted.
Tables and options can be viewed and leaned.
Multisite installations are supported.
Total number of users – 70,000+
Price – Starter – $39/annually (2 Site), Business – $59/annually (5 Site), Ultimate – $149/annually (Unlimited)
Screenshot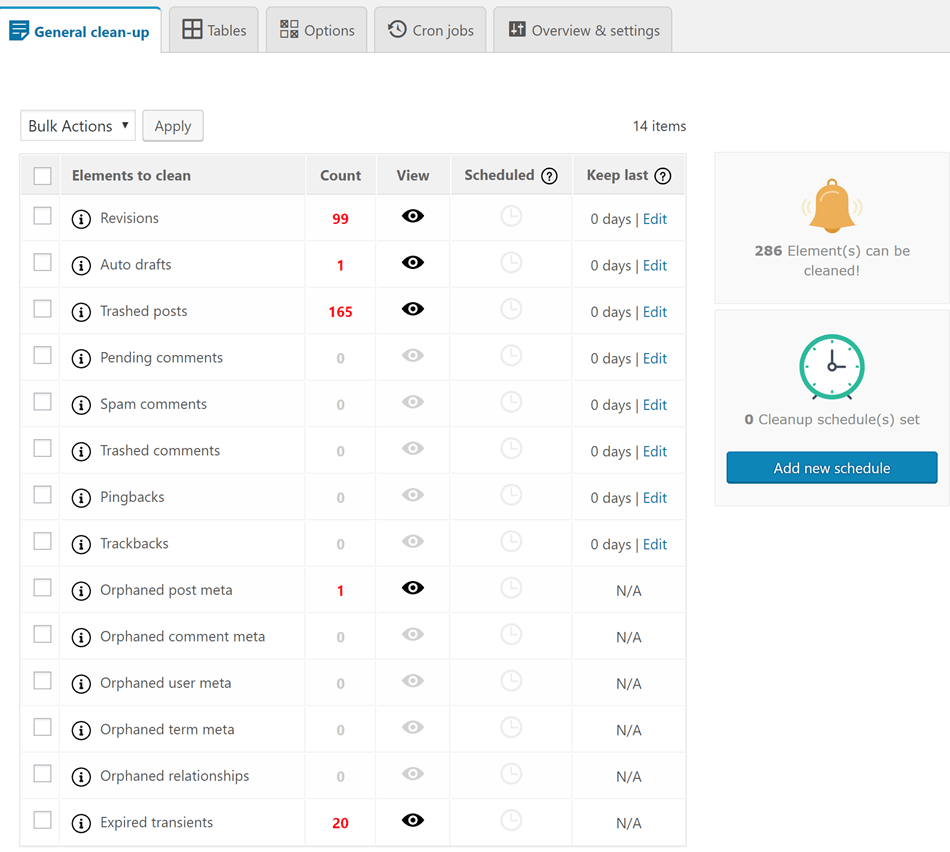 3. Participants Database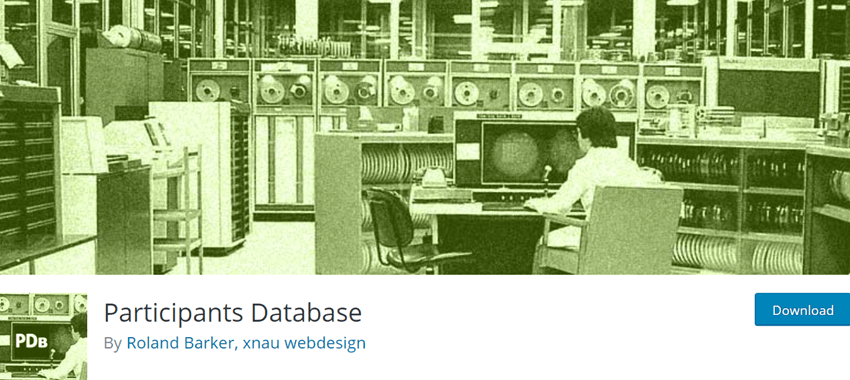 A fully configurable database, the Participants Database is a database manager plugin that offers all the functionality to build and maintain a database or people or anything the user wants. All the information the user wants to store for a record can be defined. The features which make this plugin great are:
The forms can be customized for collecting and maintaining records.
A search form can be displayed using a shortcode that takes the user to the search result page.
A full-length form can also be inserted using shortcodes to fill out and maintain their records.
Many add-ons and enhancements are available for this plugin.
There is the facility of email notification whenever the user edits a record.
Note – Database Cleaner Plugin (Backup is Must before you use it )
Total number of users – 10,000+
Screenshot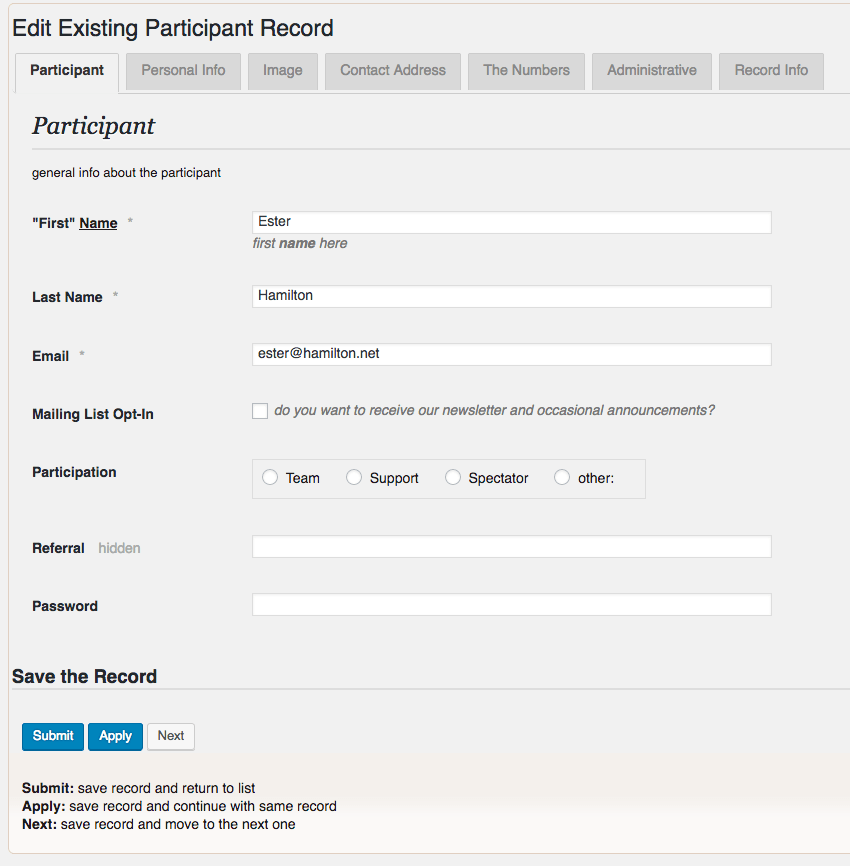 4. WPS Cleaner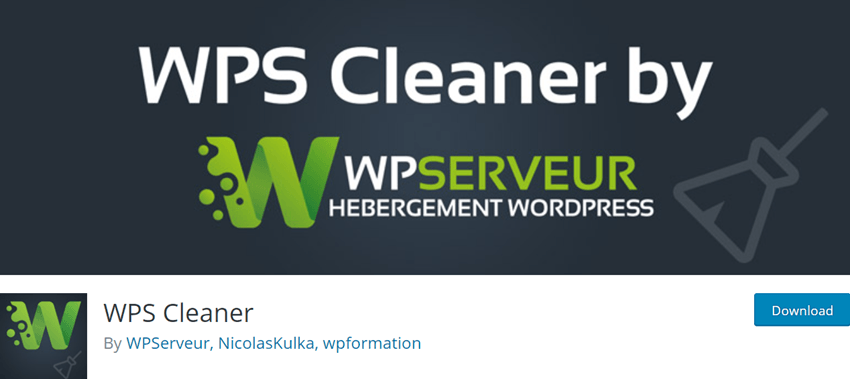 WPS Cleaner is a WordPress database maintenance plugin for database maintenance that assists you to clean the website in just a click. Enables you to establish settings for the cleaning process, i.e., clean it entirely or select any element you want manually. You can cleanse your website while removing the accumulated database inappropriate for your website. Such a database can be found as trash, including spam comments and draft items that may harm your site. It also allows setting automatic cleaning on the particular time intervals unnecessarily stored as a database.
WPS Cleaner Cleans Unnecessary Elements As Mentioned Below –
Articles – Clean the database related to articles, including auto-drafts, deleted posts, revisions, and unknown metadata.
Comments – Remove the unwanted comments, awaited alter comments, deleted comments, and orphaned or duplicated metadata.
Users – WPS cleans the metadata, i.e. either orphaned or duplicated.
Options – Remove the cron and transient options.
Media – Remove any unutilized media created automatically after posting anything on the site. Such media can be removed in bulk or one by one.
Files – Recognize the non-native files in your WP site and remove those files immediately.
Total number of users – 10,000+
Screenshot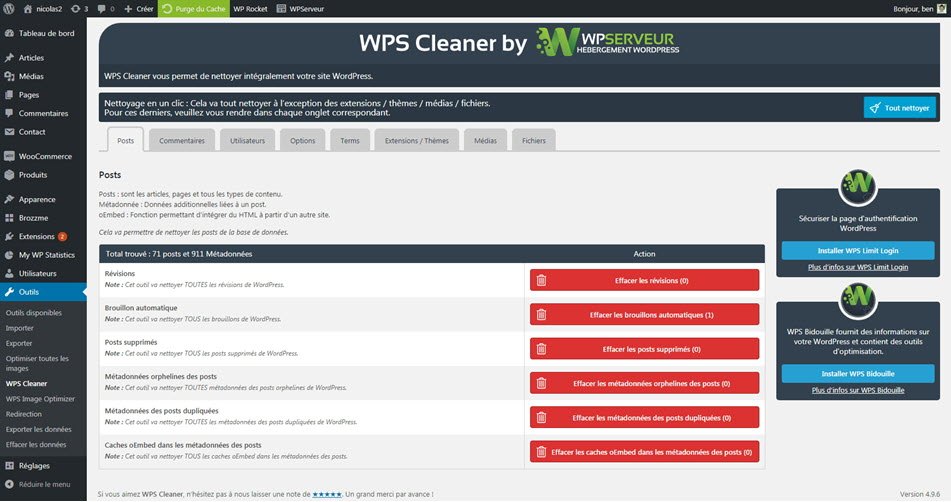 5. WP Reset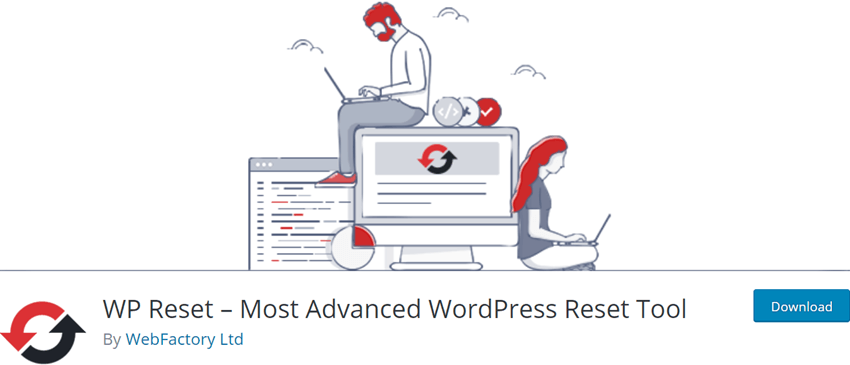 WP Reset establishes the website's database into the new configuration, eliminating unnecessary elements. A perfect database maintenance plugin that avails you to cleanse everything that is not appropriate for your site. Just install this essential WordPress extension, and it quickly initiates its job within little settings afterwards. Boost debugging and speed of your site while deleting every unnecessary element from there. As you cleanse your site's trash, it will work smoothly and give your users a better experience. WP Reset assists you in cleansing such trash that is built automatically day by day. Enables you to manage the database with appropriate attention, so there is no chance to lose any data insignificantly.
Features of WP Reset –
Administer every activity from just one centralized dashboard. Manage your multiple sites of clients easily from this dashboard.
Automatically keep a snapshot before any restoration occurs in database maintenance.
Keep such snapshots safely in the cloud storage managed by our experts or upload them on Google Drive or Dropbox.
Clean the automatically stored database while just viewing it, such as a demo of themes, images, deleted posts, and anything else like that.
Total number of users – 300,000+
Price – Personal – $39/annually (1 Site), Team – $79/annually (5 Site), Agency – $149/annually (100 Site)
Screenshot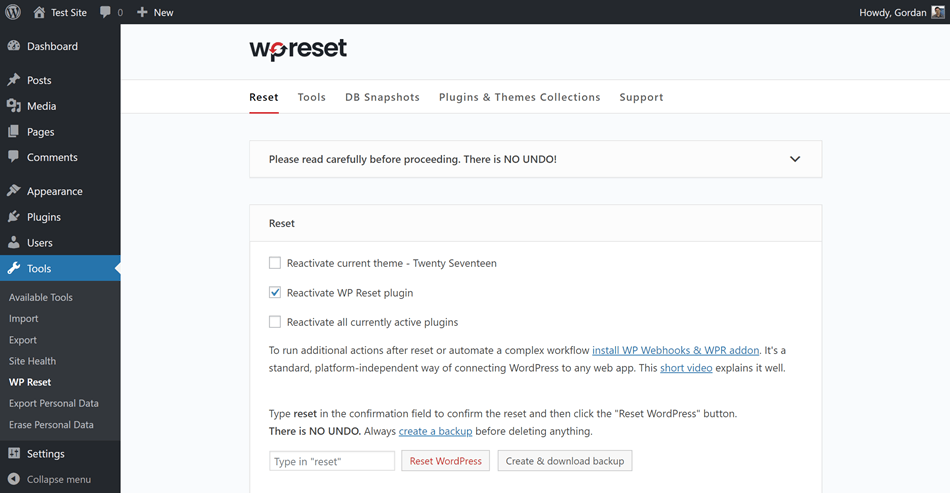 6. WP Database Reset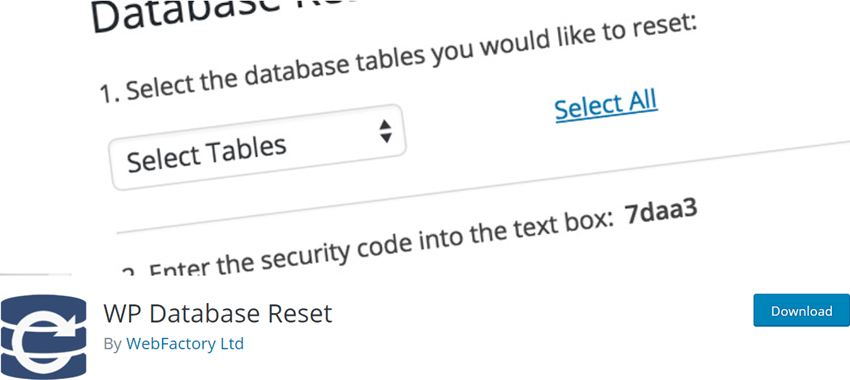 Without going through the WordPress 5 minute installation, the WP Database Reset is another free Database reset and Maintenance Plugin that is ideal if someone wants to reset the database back to its default settings. The features of this plugin are:
To reset the database, there is a speedy one-click process.
It is straightforward and secure to use.
The entire database can be reset or just the specified database.
The database can be reset in one command.
Theme and plugin developers are best for them as it allows them to clean the database of any unnecessary content.
A complete query can be run against the database.
Queries can be saved with custom names for most used queries.
Total number of users – 60,000+
Screenshot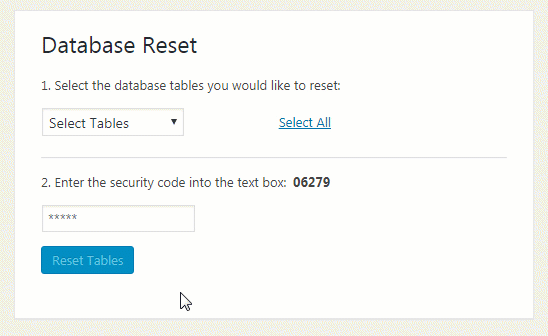 7. Optimize Database after Deleting Revisions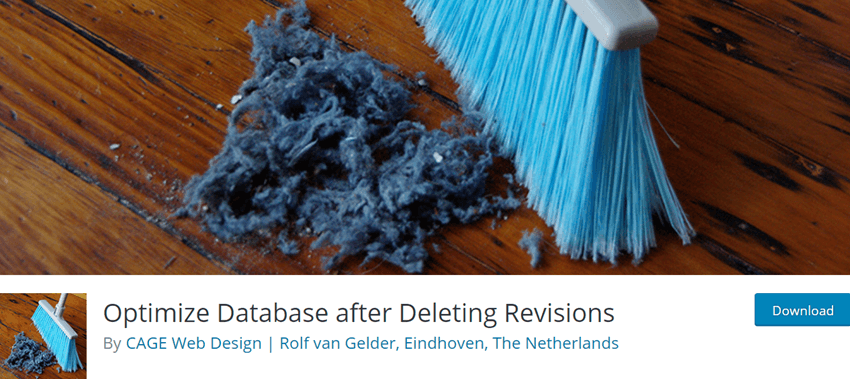 Optimize Database after Deleting Revisions is A one-click WordPress Database Optimizer and advanced database cleaner plugin that helps the users to delete revisions of posts, pages, and custom post types. It allows the users to optimize and repair the database and enables automatic scheduling of backing up. Some revisions can be kept, and the older ones can be deleted. The Features of this plugin are:
Trashed pages, posts, and comments can be deleted.
Spammed comments can be optionally deleted.
Unused tags can be deleted.
'OEMBED cache' can be cleared.
'Orphan post meta items' can be deleted.
A log of optimizations can be created.
This plugin helps to backup data.
It helps to restore and delete the database.
Tables can be dropped or emptied.
Selected queries can be run.
Total number of users – 100,000+
8. WP-Sweep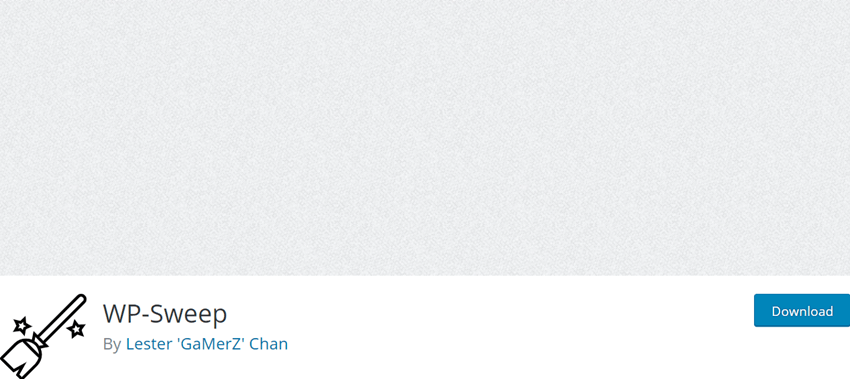 WP Sweep is a well-efficient database maintenance plugin used to cleanse the junk files created as default. You can get your site a faster experience while fixing the unnecessary activities that slow down the site. Just embed this elegant WP extension and let your users enjoy the speed when they arrive there. WP Sweep access with advanced debugging features assists you to recognize the trash of any form. Cleanse the unwanted elements automatically, such as metadata, revisions, and comments. You can install or uninstall this extension whenever required without losing any data.
Essential Features of WP Sweep –
Efficiently manage the configuration while selecting the file types you want to eliminate.
Establish the time duration whenever you desire to delete such unnecessary elements automatically.
Erase the comments which are unapproved, deleted, or marked as spam.
Free the site from duplicate and irrelevant metadata from user data, comments, themes, and more.
Recognize and eliminate the duplicate database that has been created anywhere on the site.
Secure your websites by eliminating harmful elements and duplicate metadata formed unnecessarily and affecting the speed of the user's experience.
Total number of users – 100,000+
Screenshot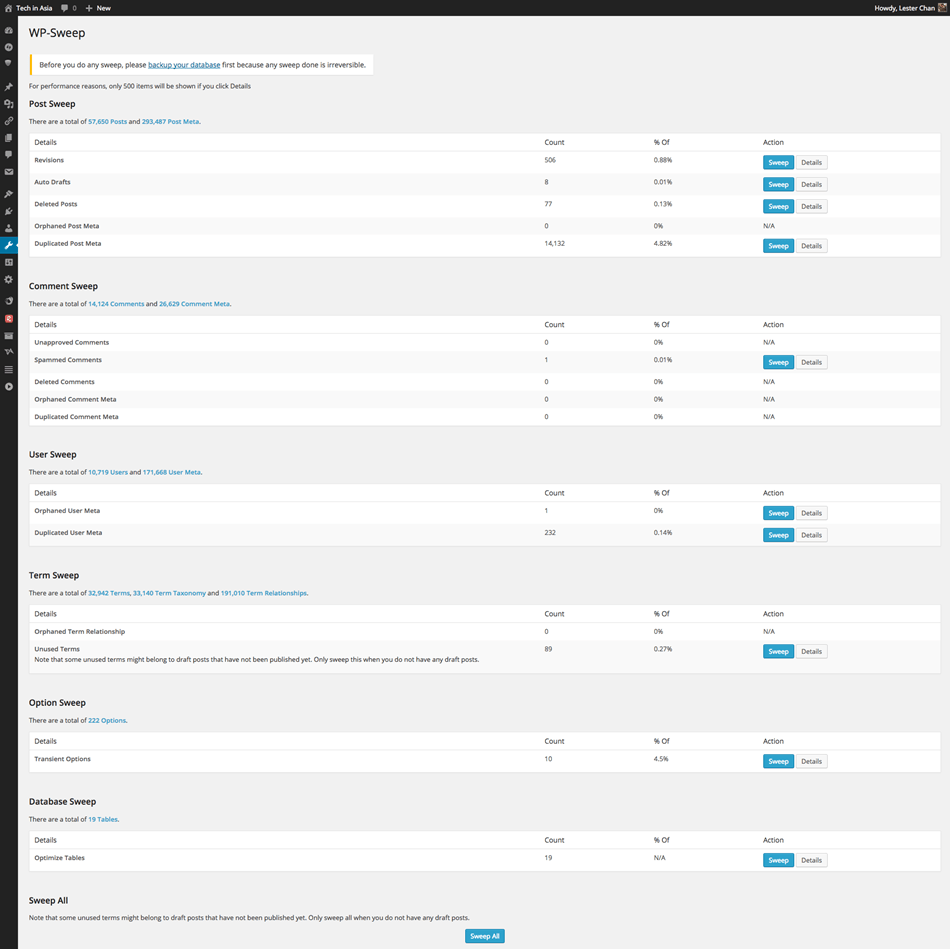 9. WP-DBManager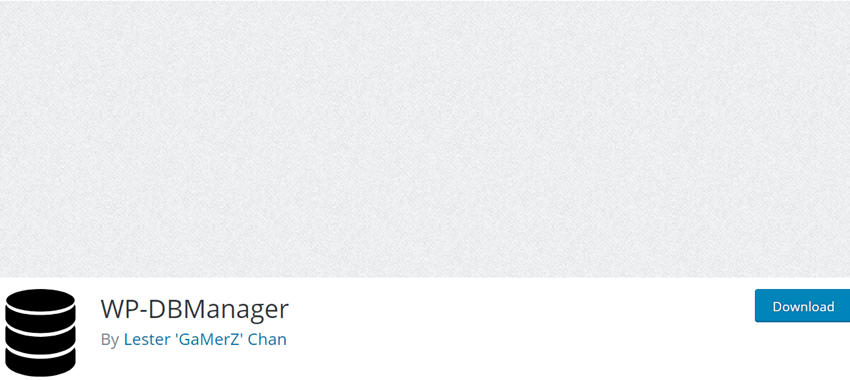 WP-DBManager is a well-integrated and powerful WordPress database cleaner plugin for cleaning and database maintenance. It enables you to cut down irrelevant data without making so many efforts. After utilizing any website for the long run, it automatically collects some junk files, slowing down the speed. To eliminate such junk, you need a cleaning tool that fixes everything to streamline the workforce efficiently. WP-DBManager assists you promptly with this kind of matter while debugging identifications. Install this database Manager Plugin for WordPress with a few setting configurations that have been enquired initially. Manage everything that slows down the website without dealing with lots of hurricanes.
Integrated Features of WP-DBManager –
Manage Separately – Access with WP-DBManager, and you don't need to get any extra plugins to make it function. It handles everything alone.
Prepare Backup – Automatically create the backup of the database before deleting anything as it recovers quickly if any important file gets lost during this process.
Select Manually – You also select the tables or other elements with manual configuration, whichever you want to delete or keep.
One-Click Integration – Manage the maintenance whenever required within one click of a button, and everything goes on automatically as configured.
Dashboard Availability – Oversee and track the activities of your users of multisite from just one place, i.e. WP Dashboard.
Total number of users – 100,000+
Screenshot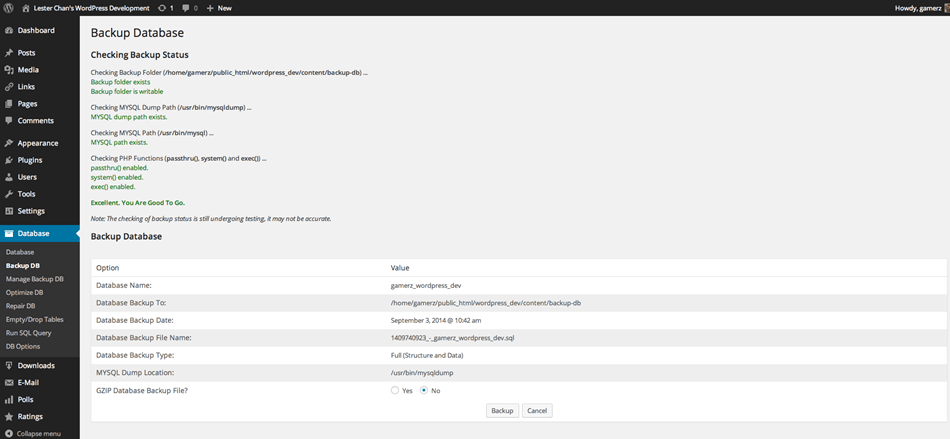 10. WP Synchro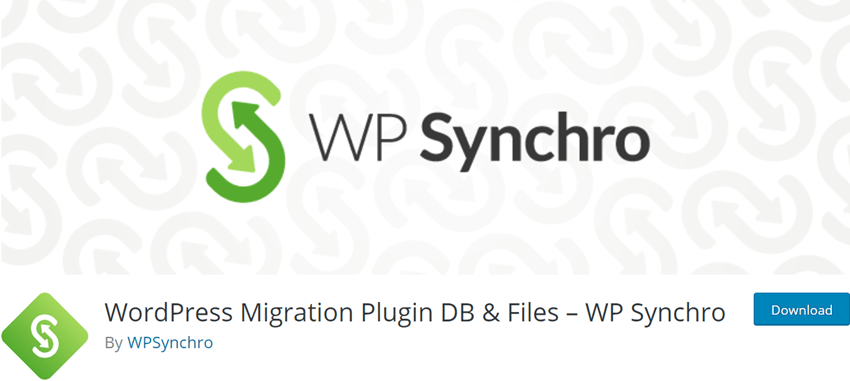 WP Synchro avails the facility to delete the useless files accumulated from continuous posting and other activities on the website. An extensive free database management plugin for WordPress that recognizes the debugging factors promptly and cleanses thoroughly. Eliminating such useless elements from the site makes it more smooth functioning and faster. When your site is free from unnecessary junk, it will give a better user experience and promptly increase traffic. Schedule your database to maintain its trash removal at every specific time interval. WP Synchro automatically removes such junk files while configuring some of the settings steps.
Relevant Features of WP Synchro –
Scan Everything – Enable to access everything on the site that is not necessarily required, such as unwanted comments, duplicate metadata, automatically drafted posts items, and so more.
Eliminate Duplicate – Afterwards scanning, delete the unnecessary trash found on the site, which slows down the speed of surfing.
One-click Cleansing – Whenever required to clean your available database at the site, click on the button, and it is all done so fast.
Configure Elimination – Select the number of files that are not needed to be stored permanently and establish a setup to delete such junk at certain time intervals.
Total number of users – 2,000+
Screenshot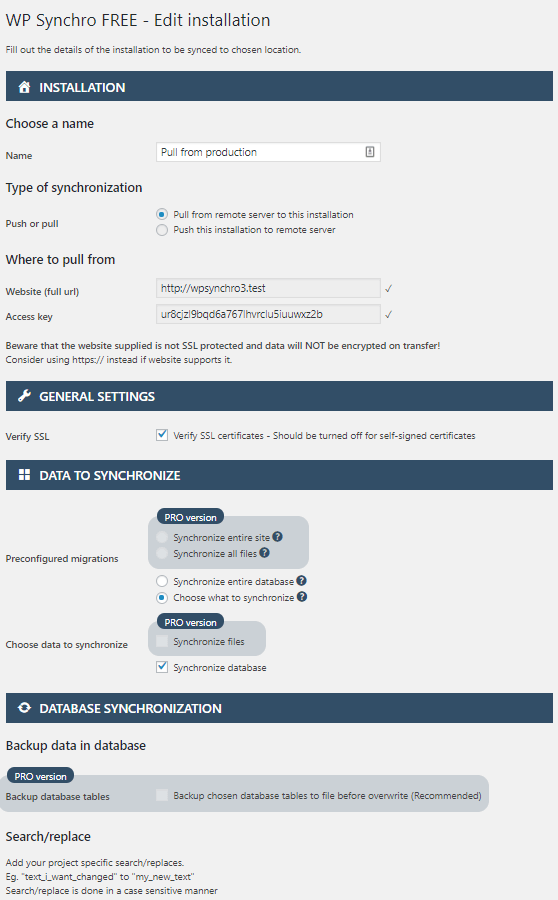 Conclusion – Still confused about which is the Best Database Maintenance Plugins For WordPress? Don't worry, my friend, based on our experience, we will guide you on the best one. If you want a free database and cleanup database plugin for WordPress, I recommend using wp optimize or Advanced Database Cleaner. But if you want a premium plugin, we will advise you only wp optimize pro. or sigmaplugin wordpress advanced database cleaner