8 Best Table of Contents Plugins For WordPress 2021
Are you looking for a Top Table of contents Plugins For the WordPress site? Having a Table of content on your WordPress website make your website content organized. And organized content becomes easy for any to understand, read and navigate.

Google SEO expert says adding a table of content on your website adds points to your page ranking. If you will look at the world-famous website Wikipedia they are also using those patterns. And you website visitor can also easily navigate to any important topic in one click.
You may also be interested in Rich snippet and Caching Plugins
Now its time to check out our top collections for TOC Plugins are as follows:
1. Easy Table of Contents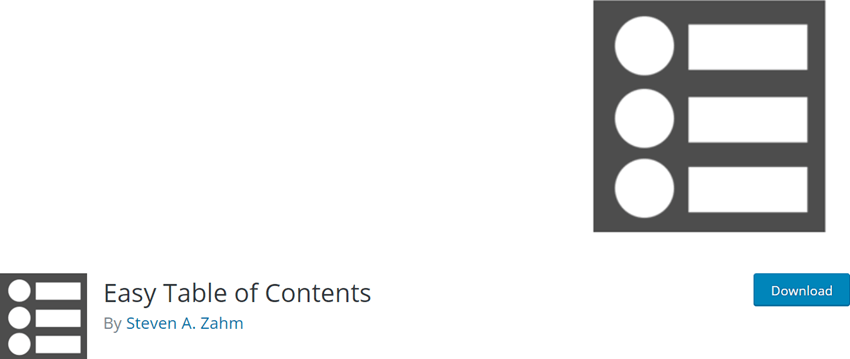 Easy Table of Contents is a user-friendly and easily understandable tool especially for those who are new to WordPress. You can easily append a table of contents inside a page, post or even a custom post. Also, if you do not wish to display the table of contents, then you can set the options accordingly.
If you wish to have a plugin that offers you an adequate amount of control, then Easy Table of Contents is the right choice. The remarkable features of the plugin are table header control, a high level of customization, multiple counter bullet format support and more.
Several parameters are accepted by the shortcode. A scroll spy can also be applied to highlight the list of items as you brush past them. The plugin is easily installable directly through the WP plugin screen and there is a reliable 24/7 customer support team if you require any kind of assistance.
Total number of users – 200,000+ 
Screenshot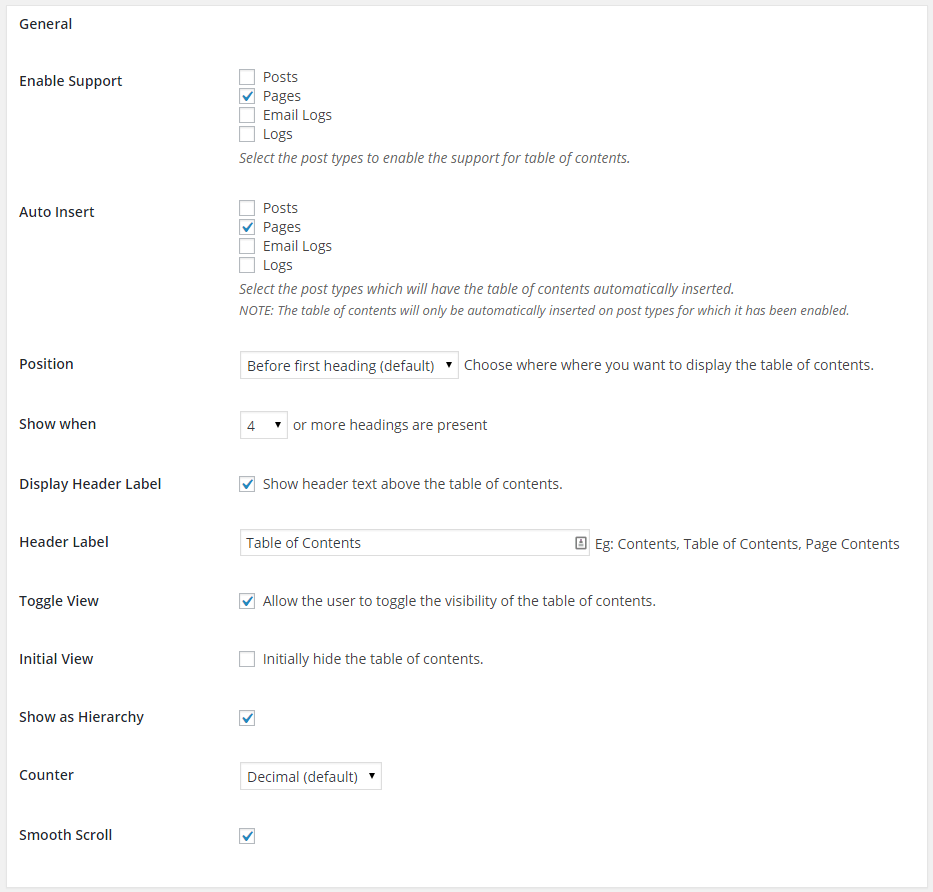 2. Table of Contents Plus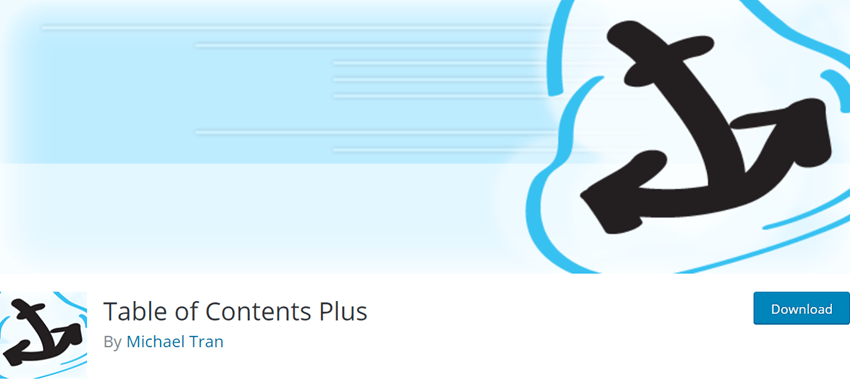 Table of Content Plus is an ideal choice for those who want to create a content table for long pages. A specific index of a table of contents is automatically generated by the plugin that allows you to easily navigate through long pages or content of any type. So, you ultimately create a content chart similar to Wikipedia on your site.
The table of contents gets auto placed above the first heading. You can easily change the position of the Table of Contents (TOC) display, input a lead in your content or set the minimum number of heading before an index, owing to its robust administrator panel.
Support for the plugin is available with Michael Tran. Using the shortcodes you can modify the title of TOC or assign an element wrapper for the title or assign the depth of the table.
Total number of users – 300,000+
Screenshot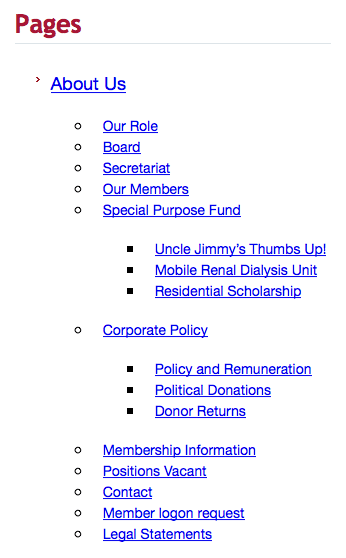 3. Hero Themes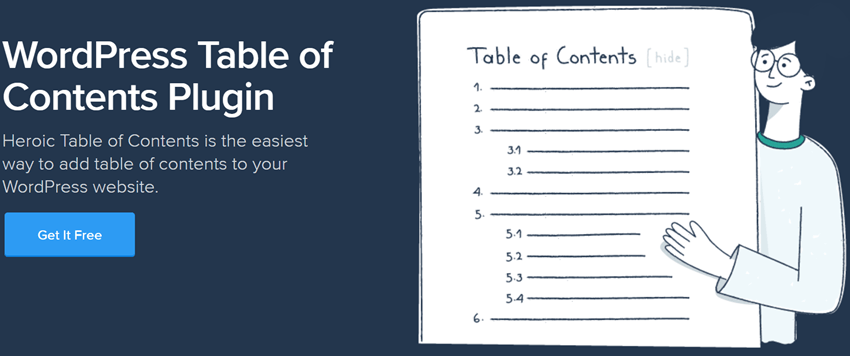 Heroic TOC – WordPress Extension enables to insert of a table of existing contents that presents the entire information at a place. With this well-arranged table of Contents plugin let your customers know everything about any articles in just a glance of look at such table. Create tables automatically which displaying the different heading available in the articles and customize it easily wherever necessary. Enables your audience to get access with every heading within just click to any of the topics which present on the Table of Content. Heroic TOC contains exciting features and is hands-on easily by anyone without specific knowledge.
Encrypted Features of Heroic TOC –
Insert Automatically – Analyse your full article and then generate a Table of Content for it accordingly. You don't have to make much effort to create such tables.
Customize Manually – As it automatically arranges the TOC, it allows to modify any specific heading or eliminating such headings that are not necessary according to you.
Multiple Tables – Add tables according to the length of the article available on the site. Insert more than one TOC if necessary within a few minutes of configuration.
Professional Presentation – Select the trending and attractive designation of tables that match the requirement of the site and you also may customize it as well.
Total number of users – 25,882+
Screenshot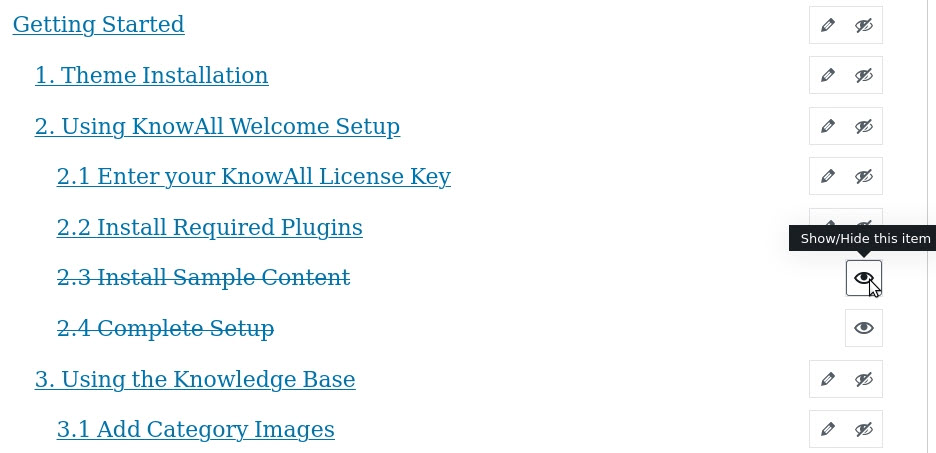 4. Rich Table of Contents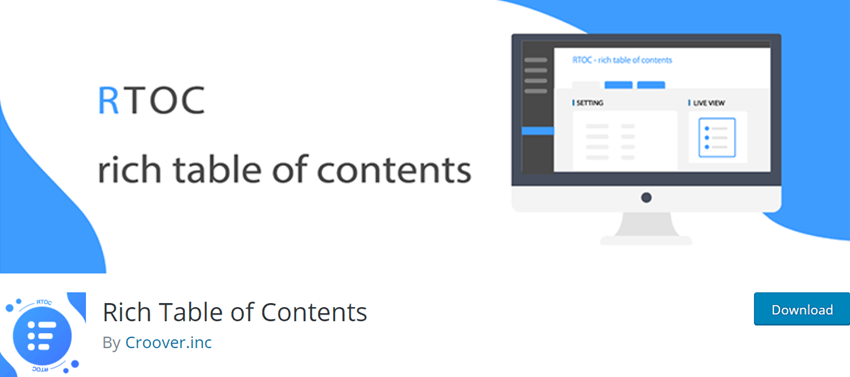 RTOC (Rich Table of Content) lets you generate attractive tables that relevantly enhance the look of the article present on the site. Create automatically such tables for your articles and customize them in the way you desired to show your audience. Designated with essential elements which makes it a completely perfect extension for Table of Content. Mobile-friendly RTOC may help your audience to read everything topic-wise at just a glance over it. Easy to use interface let you establish this WordPress Plugin within easy steps and you are all set to access it.
Integrated Features of RTOC –
Shortcode Accessibility – Embed Table of Content on your blogs or articles with the assistance of shortcodes wherever you feel necessary.
Title Label – Edit the title of the table as you want to insert and change the style, font, colour, etc. accordingly.
Create Design – Display your Table of Content on the site as you wish to show. Hereby, you can align the title where to display and select the heading styles as well.
Frame and Animation – Enables choosing and customize the frame for your TOC that looks good along with various animation effects whichever is suitable to the relevant posts on the site.
Total number of users – 20,000+
5. SimpleTOC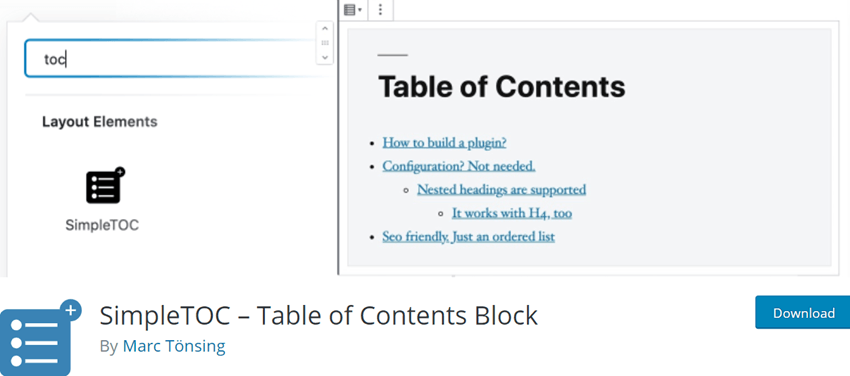 SimpleTOC also allows you to automatically generate a Table of Contents by indicating the container of your content. A TOC for pages and posts as per the post headings. A listing of child pages or indexes can be provided by the plugin. You also have the facility to edit pages manually or disable support for TOC.
You can use the shortcodes to customize things manually from the title, width and contents of every page. The plugin is available in different languages too.
The amazing feature of the tool is its next page-wordpress-tag that manages posts that are divided into pages. The plugin is translatable to English and German languages.
Total number of users – 1,000+
Screenshot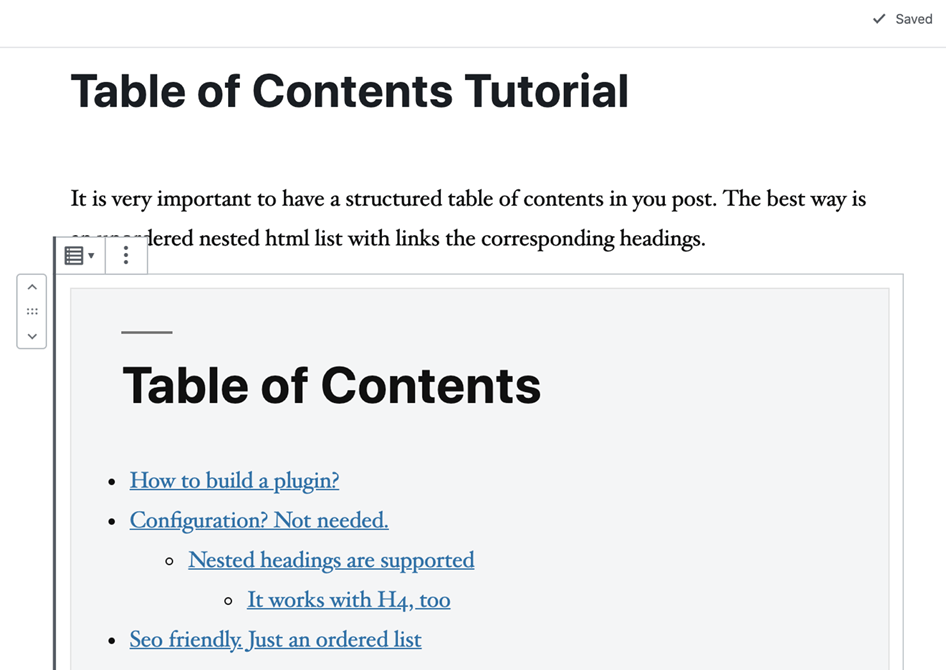 6. CM Table Of Contents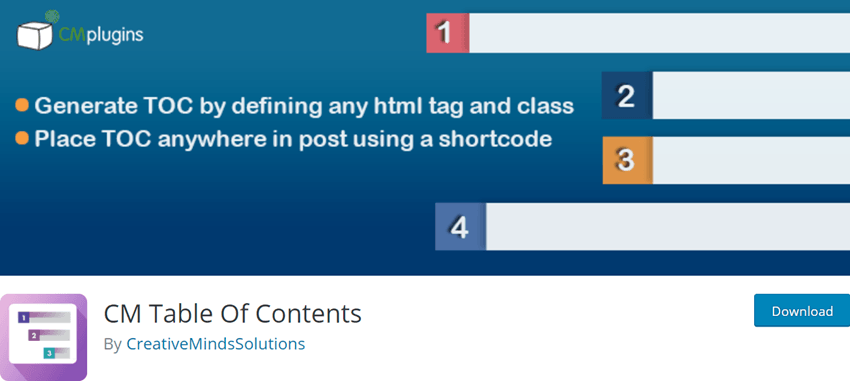 CM Table of Contents gives users the facility to navigate through the posts because CM TOC auto inserts a navigation section to the post headers. You can assign a title to the table and also decide the position where you want to place it.
Additionally, a sidebar or heading can be assigned to the TOC. Readers can easily navigate through the site and the remarkable points can be highlighted to give you an overview of the content, just like the contents box on Wikipedia.
The plugin is based on tags h1-h6 and automatically generates and inserts TOC to pages and posts. The smart plugin inserts TOC at the top of the page whenever there are 3 or more headings.
Total number of users – 800+
Price – Pro-$29/yearly (1 Site),  Publishing Tool Bundle-$119/yearly (1 Site),  Special-$236/yearly (2 Site)
Screenshot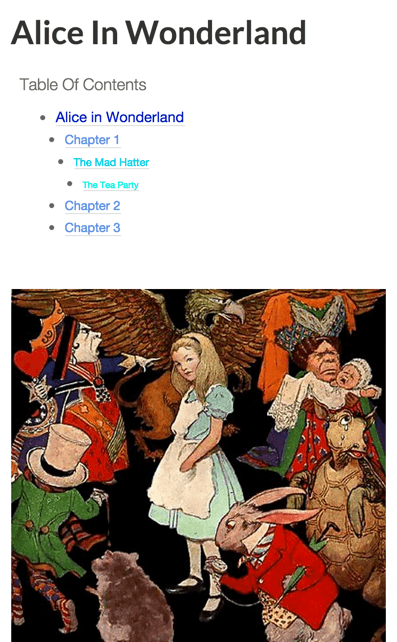 7. Fixed TOC

Fixed TOC is a comprehensive and cleanly coded plugin. The headings of your post content get automatically scanned by the plugin and then TOC gets prepared accordingly. The key features give you access to 50+ awesome animation effects, Metabox assigned to every page and numerous customization options.
The plugin can be easily localized with the translation functionality. Finding the content on a page is so easy with the fully responsive and smart plugin.
Price – Regular License-$20/Lifetime
Screenshot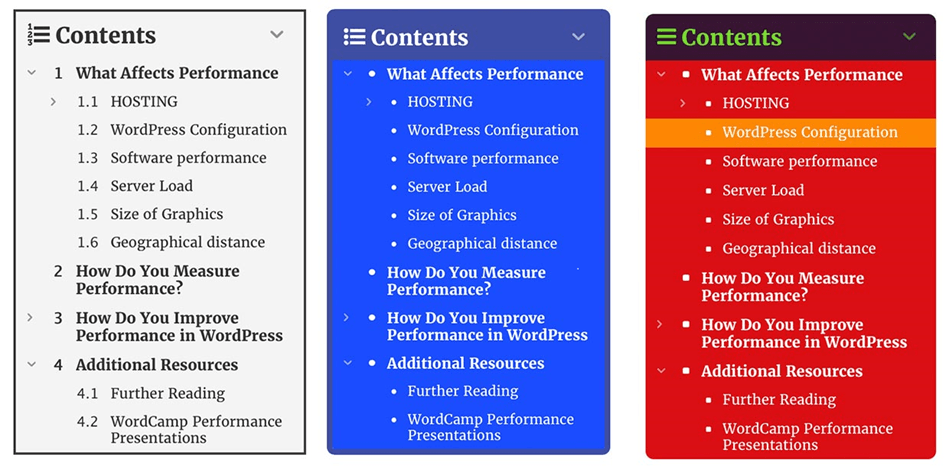 8. LuckyWP Table of Contents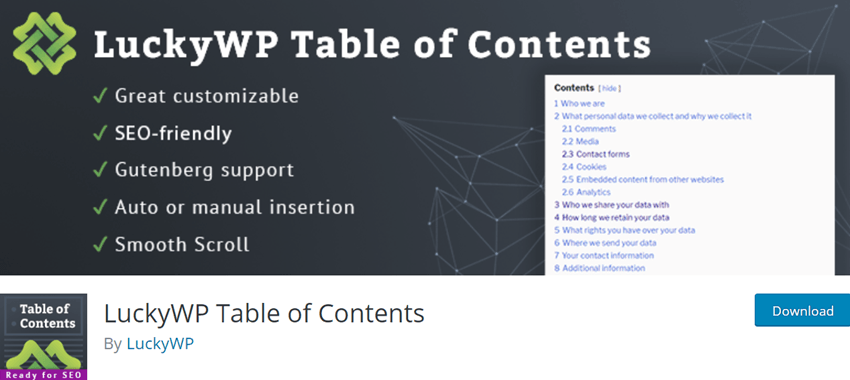 LuckyWP carries an amazing customizable appearance and the tool can be utilized to add a table of contents to a page, post or custom post of any type. You can configure post types and positions to auto-generate the table of contents. The plugin enables you to insert the table both by shortcode and Gutenberg block.
Besides, you can set the minimum number of headings before the table of contents gets displayed. You also get lots of customization options such as setting the width of headings, colour schemes and many more.
Luckywp TOC can be displayed on any page by adding the shortcode to any content. The content heading can be easily appended with a TOC with this user-friendly and simple plugin. The free plugin accompanies numerous shortcodes and is an ideal choice for advanced users of WP.
Total number of users – 70,000+
Screenshot