8 Best Question And Answer WordPress Themes 2023
Do you want to create a question and answer community almost like Quora, Yahoo Answers & Stack Overflow? And looking for a Premium or free question and answer template?


Most of these QA themes are highly customized which will meet all user requirements. Like you can add Sponsored links, User badges, Profile, points, like or dislike, etc. You can even add poll and voting options for getting feedback.  All the themes are a kind of question-answer forum where people can ask questions and many users can reply to it. Most of the themes support membership options that separate the dashboard for every user.
These forums are most essential for your website ranking. You can use the same template for blogging too. As per the author of the theme, they say these themes are highly SEO friends with Schema.org Rich Snippets built-in feature. For accepting donations or sponsorship you can add a woocommerce Plugin.
You may also be interested in Community Themes and forum plugins
So let's have the list of top Q & A forum WordPress themes are as follows:
Table Of Content
1. EngineThemes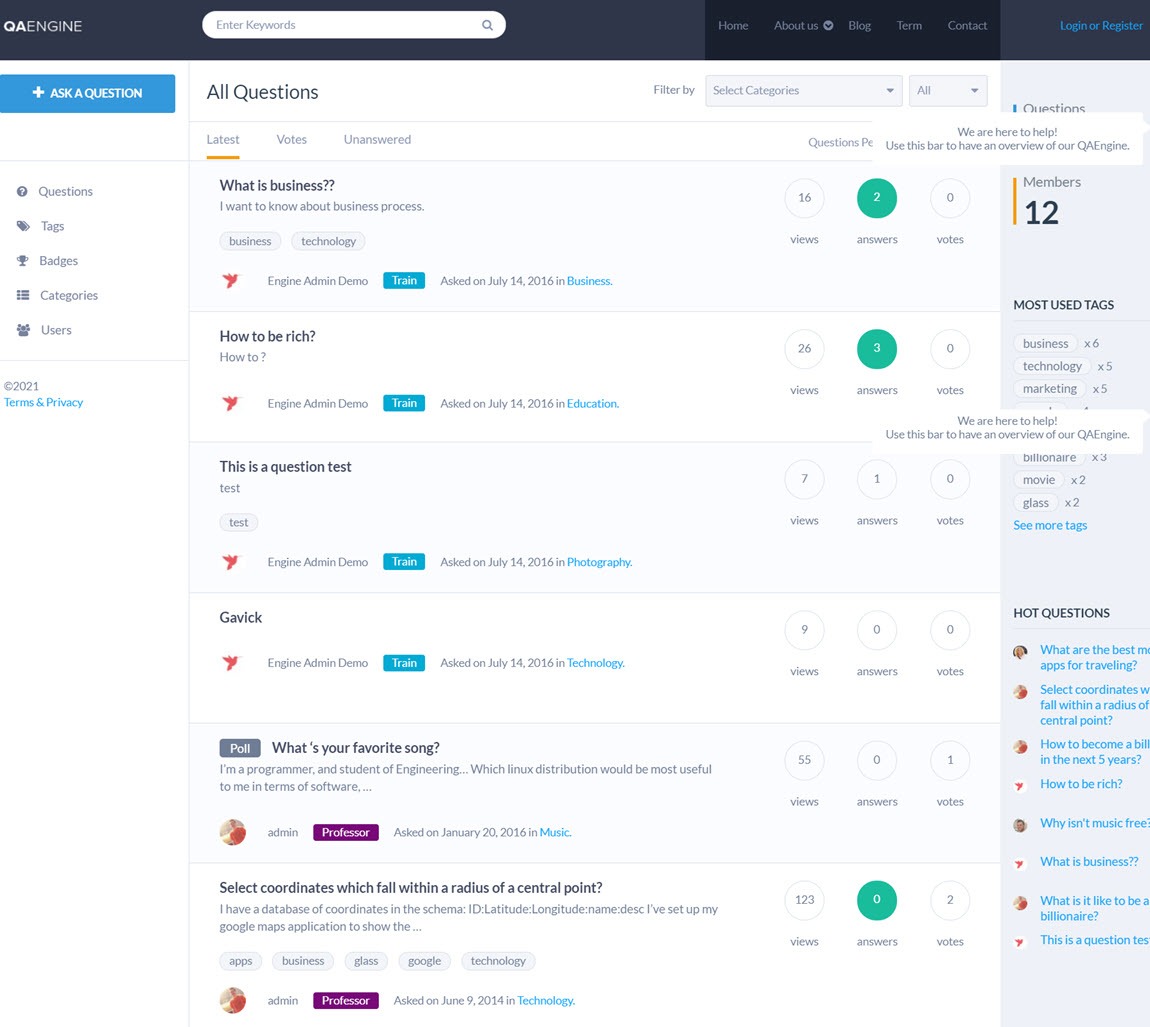 EngineThemes, one of the most popular WordPress application theme creators, has developed its new theme for WordPress questions and answers, named "QAEngine." This theme has almost everything you need to build and is highly configurable, modern, and attractive designs. With its full-width, modernized layout and customizable design, QAEngine has become the most suitable theme for those who want to create forum-based question and answers websites.
Some Of The Key Features Of QAEngine are;-
Monetizable question pump
Responsive design
Natural Questions
Quick user interface
Best answer checkmarks
User badge & point system
Simplistic interface that supports virtually in all screen sizes Having many benefits with this theme, you can instantly grow your question and answer based websites. This is a perfect example of 'simple but incredible' as its user interface makes this theme a wise choice for all beginners.
Price – Single Theme – $89/annually (Unlimited Site),  Community Package – $109/annually (Unlimited Site)
2. Templatic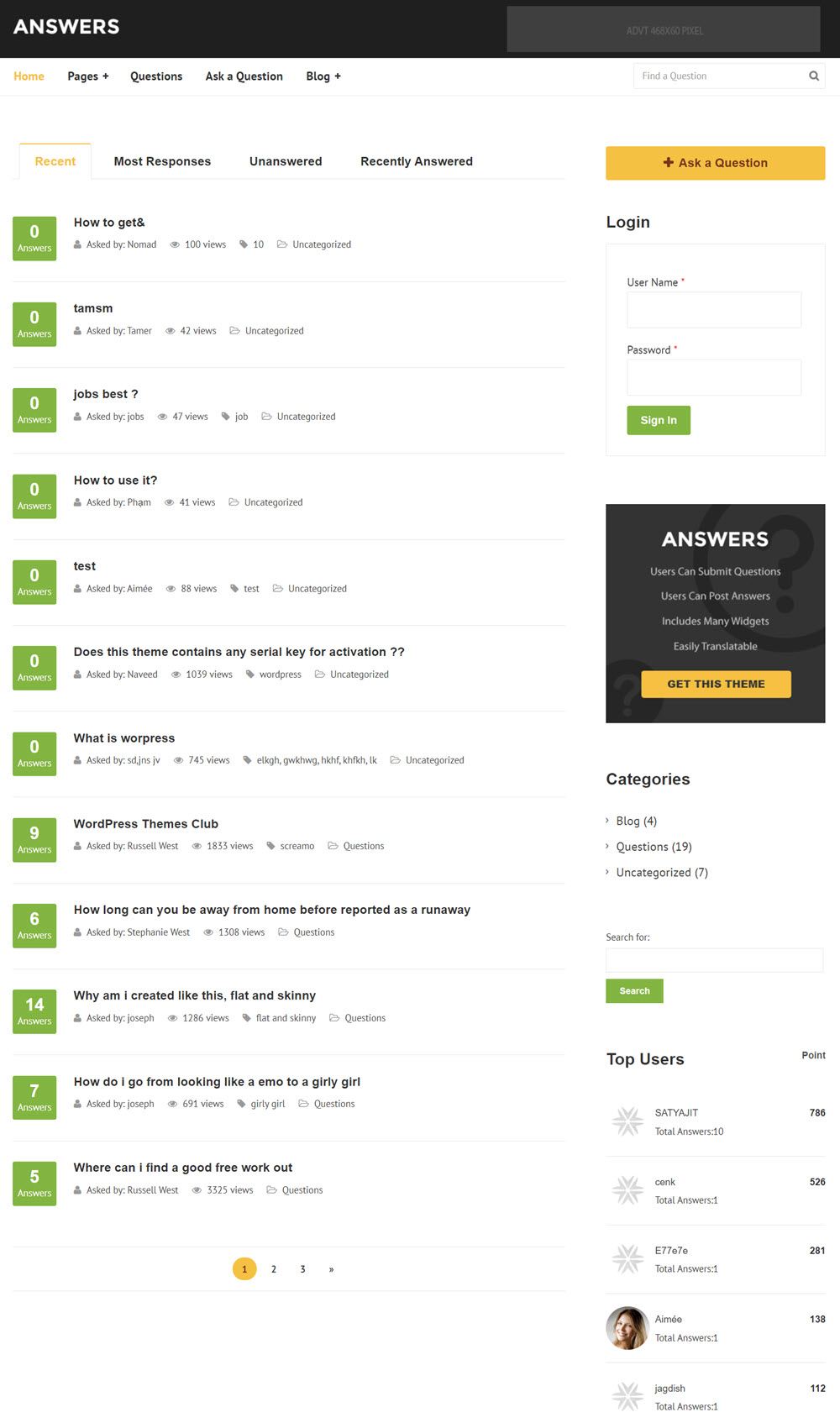 This is one of the stylish themes on WordPress that includes all the essential features that one needs to create a responsive layout. Answers will be a good selection for the people who do not want to spend time setting up their site. This theme is primarily designed for question and answer, so if you want to compete with websites like Quora, Stack, Overflow, or Yahoo, you can consider this theme.
The main navigation here can be customized and controlled by WordPress Menus. A quick navigation bar permits the users to access the quick link and enables them to create their user accounts. Further, users can easily browse and find the latest questions and answers. You can easily customize the footer and see the top users on your site in minutes. If we sum up this, then we can say it is the best WordPress theme.
Price – 1 Site – $39/annually,  5 Site – $79/annually
3. HeroThemes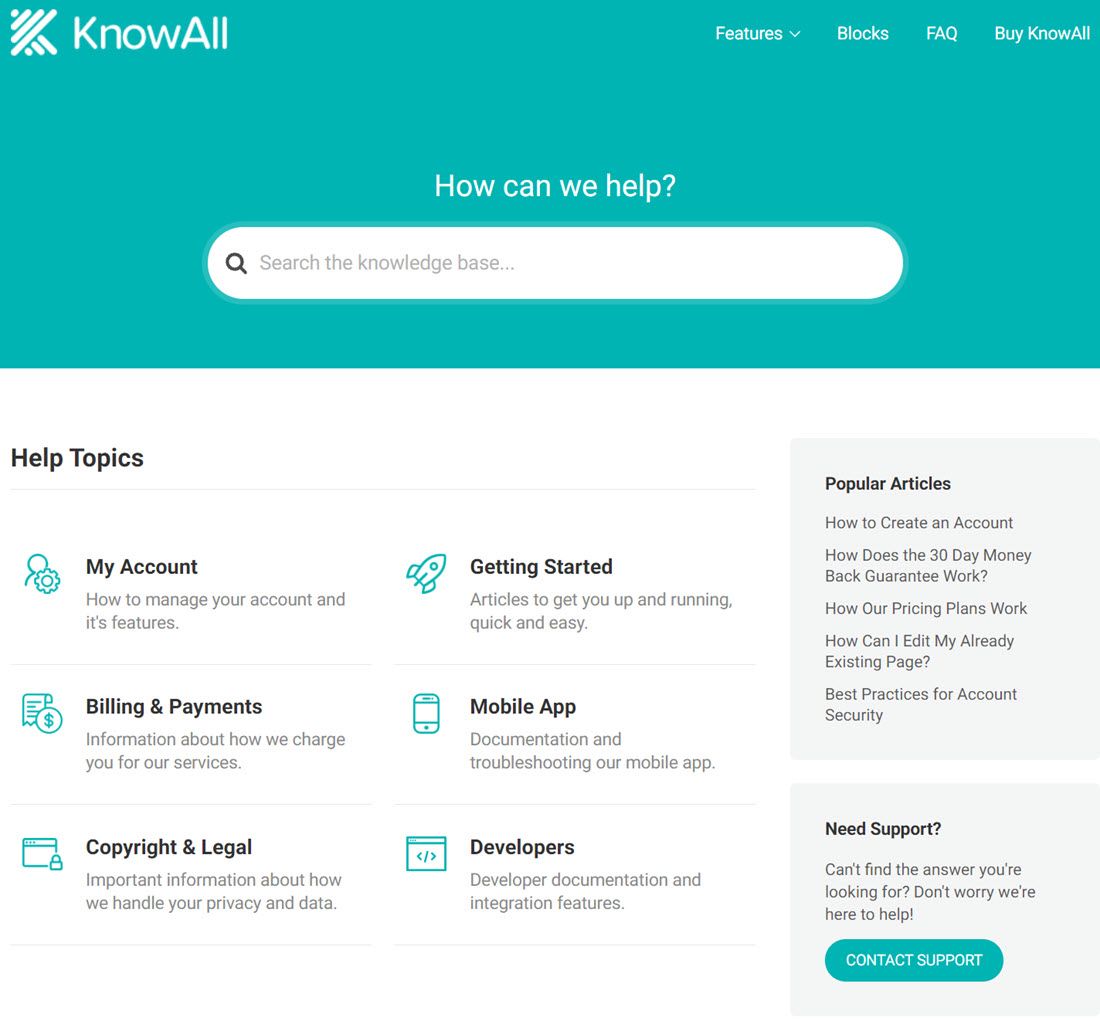 It is one of the most powerful knowledge-based WordPress themes developed by the HeroThemes team. It will be your great selection if you want to create knowledge-based websites for your product or service. A knowledge base website provides support to your customers or client and a complete range of other purposes.
Such a knowledge base website provides benefits to many freelancers, the self-employed, small business owners of all kinds, and anyone who asks questions regularly to their target audience. You will get a user-friendly interface that has all the answers to your frequently asked questions, published instructions, and other relevant data on this platform. It reduces the time and effort that you give to have answers to your questions via mail or calls from individuals. Some prominent names have been using KnowAll to boost their knowledge base. You won't regret it once you visit this.
Price – Essential – $149/annually (1 Site), Plus – $199/annually (3 Site),  Pro – $399/annually (5 Site)
4. CyberChimps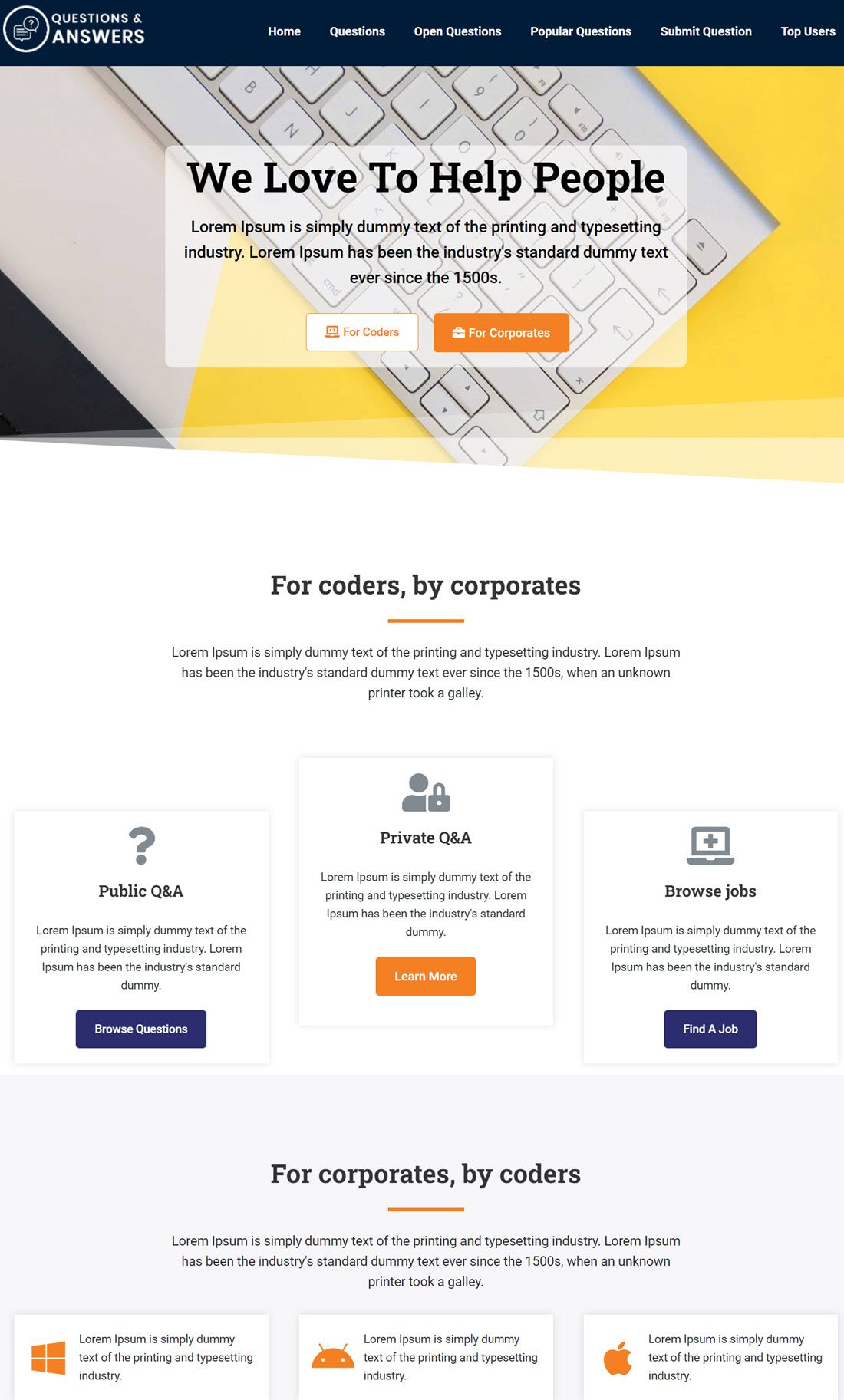 Ques&Ans WordPress theme aids in making your website a good place for people to come and conveniently interact through questions and answers. The users need to visit your site, sign up there, and start putting up their queries(questions) or searching for their results (answers). Further, this theme has a service section where you can list down the best answers to a question. In addition, there are six different types of blog post formats and some exceptional features, and these all features need zero investment.
Price – Personal – $23/annually (1 Site),  Business – $33/annually (3 Site),  Pro – $48/annually (100 Site)
5. Ask Me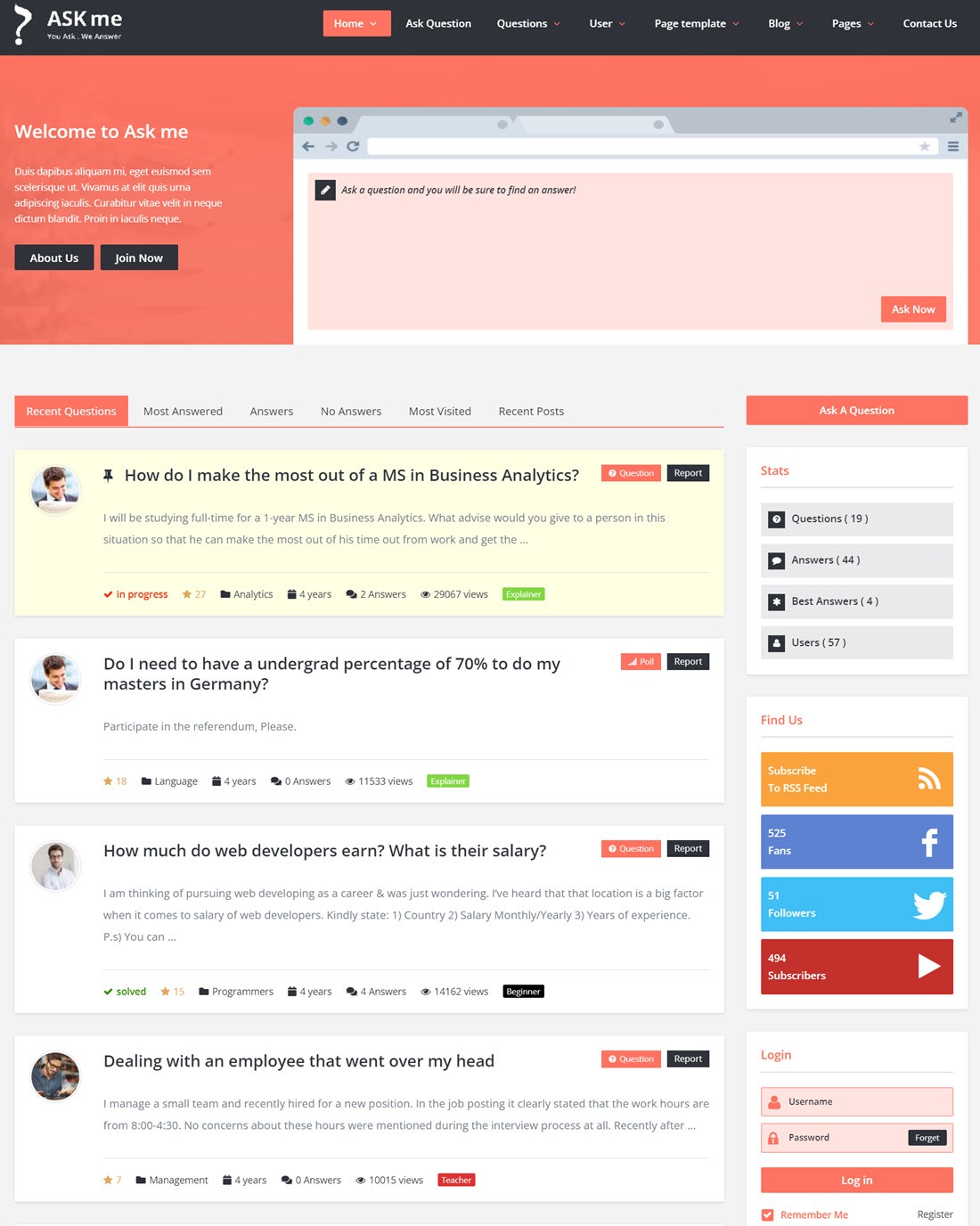 Among the various WordPress themes, Ask Me is the most responsive theme for questions and answers. It has three homepage layouts that give you the freedom to choose the right style for your website. The styles are extended throughout the website, from registration and login to question and answer submission pages. This WordPress theme puts a great deal of focus on high-speed performance. It has various tools that you can use to customize your site and make it easy to set up the site as per your needs.
Ask Me has a unique layout that makes it easy for the users to upload questions and get answers easily and instantly. You can use several listing layouts when putting up the questions and answers. This theme has a well-designed submit question form that allows users to upload a lot of necessary information on the site. Further, you can check your views, counts, and other relevant stats by using the site's functionality.
Price – Regular License – $59/annually (1 Site)
6. Discy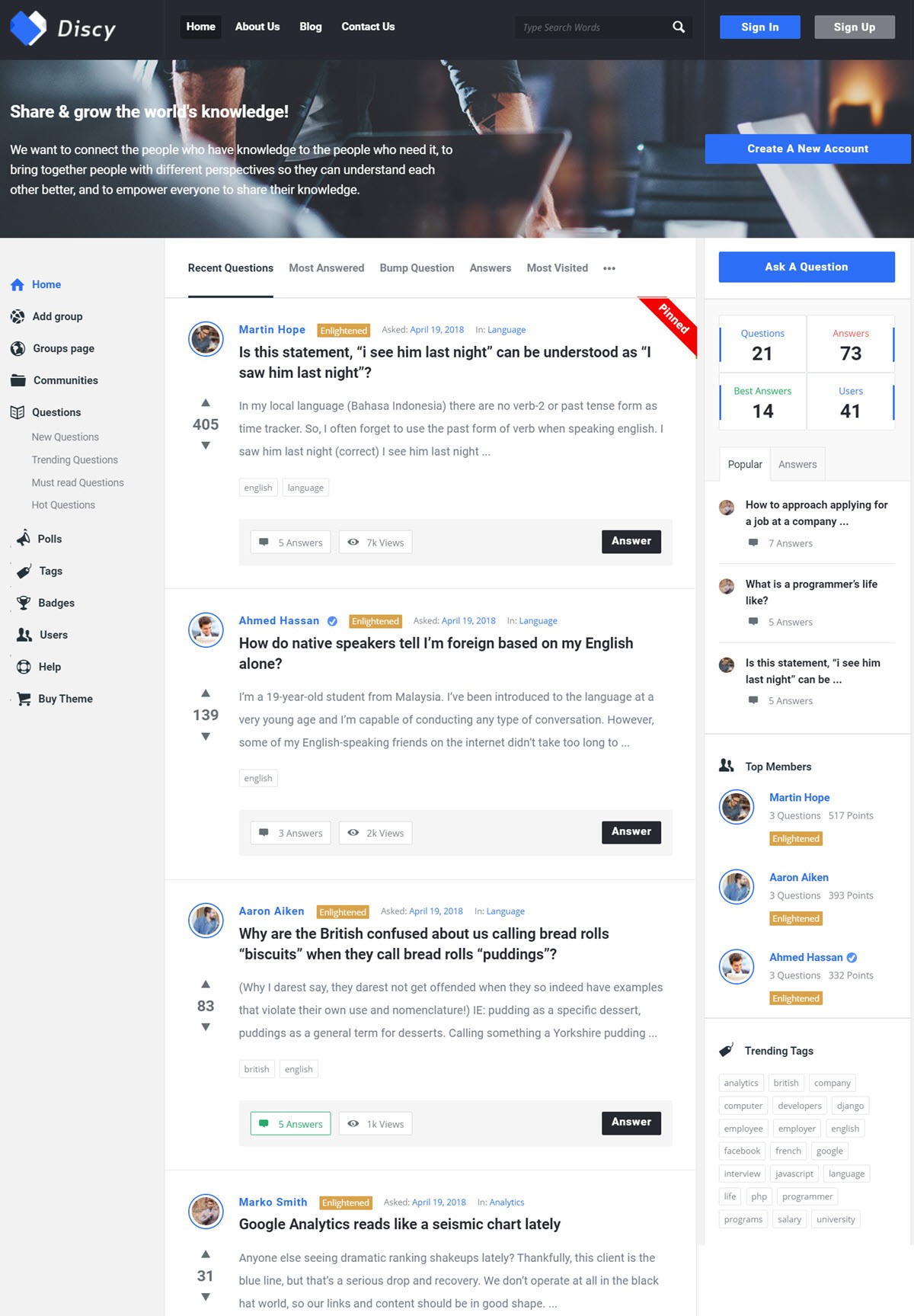 Discy can be the right choice whether you want to create quora or a simple platform where users can have their questions answered. The social q & a theme from ThemeForest carries all features to create an intuitive site. The theme is fully customizable to impart the desired look to your website. every content on your site can be managed with the library of page templates that Discy offers.
You can create a fully functional q/a portal with Answers. The template ensures a consistent user experience as it facilitates to submission of questions and answers via the front-end forms. The answers can be voted upon, and the question starter marks one response as the best answer. A submission fee can be charged by the site owner. Answers integrate with the popular online payment system – Paypal, so it is quite easy for anyone to start his /her commercial question and answer forum.
Price – Regular License – $59/annually (1 Site)
7. InfoCenter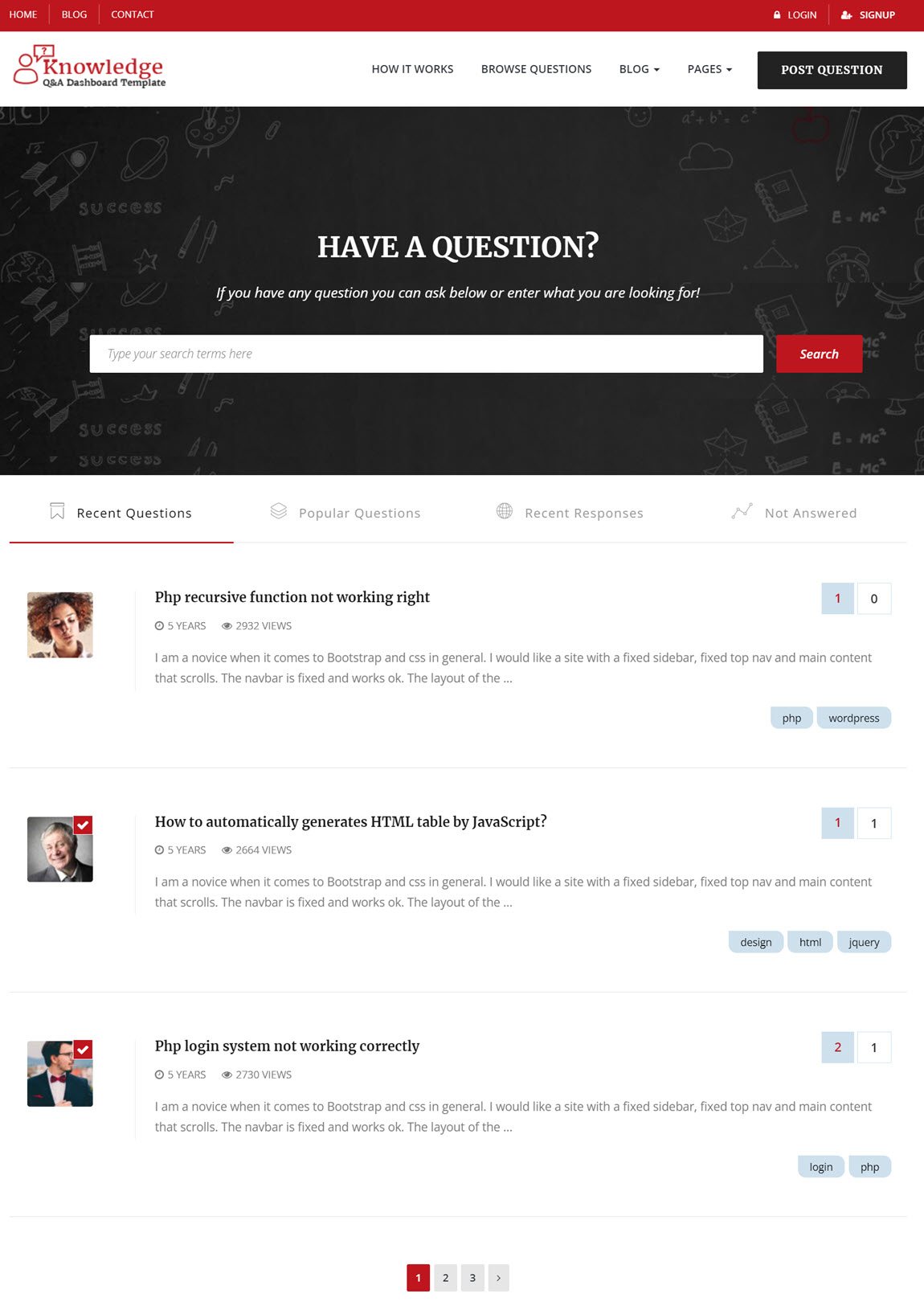 InfoCenter is a customer-centric theme and has features such as 24/7 self-service support, FAQs, Q/A, Knowledge Bases, Ajax Voting system, Forums, Widgetized areas, and many more. The features facilitate building an exhaustive website that imparts knowledge-based solutions. It is an intuitive support source for users.
InfoCenter is known for its uncomplicated design and robust community interaction. It allows you to follow simple steps and post a question, and subsequently submit an answer and a discussion forum below that question. The users can easily filter the questions based on category or tags and go with the most relevant answers based on either votes or the "best answer" mark. The theme facilitates knowledge sharing and rewards points and badges to the contributors who have active participation.
Price – Regular License – $39/annually (1 Site)
8. Scisco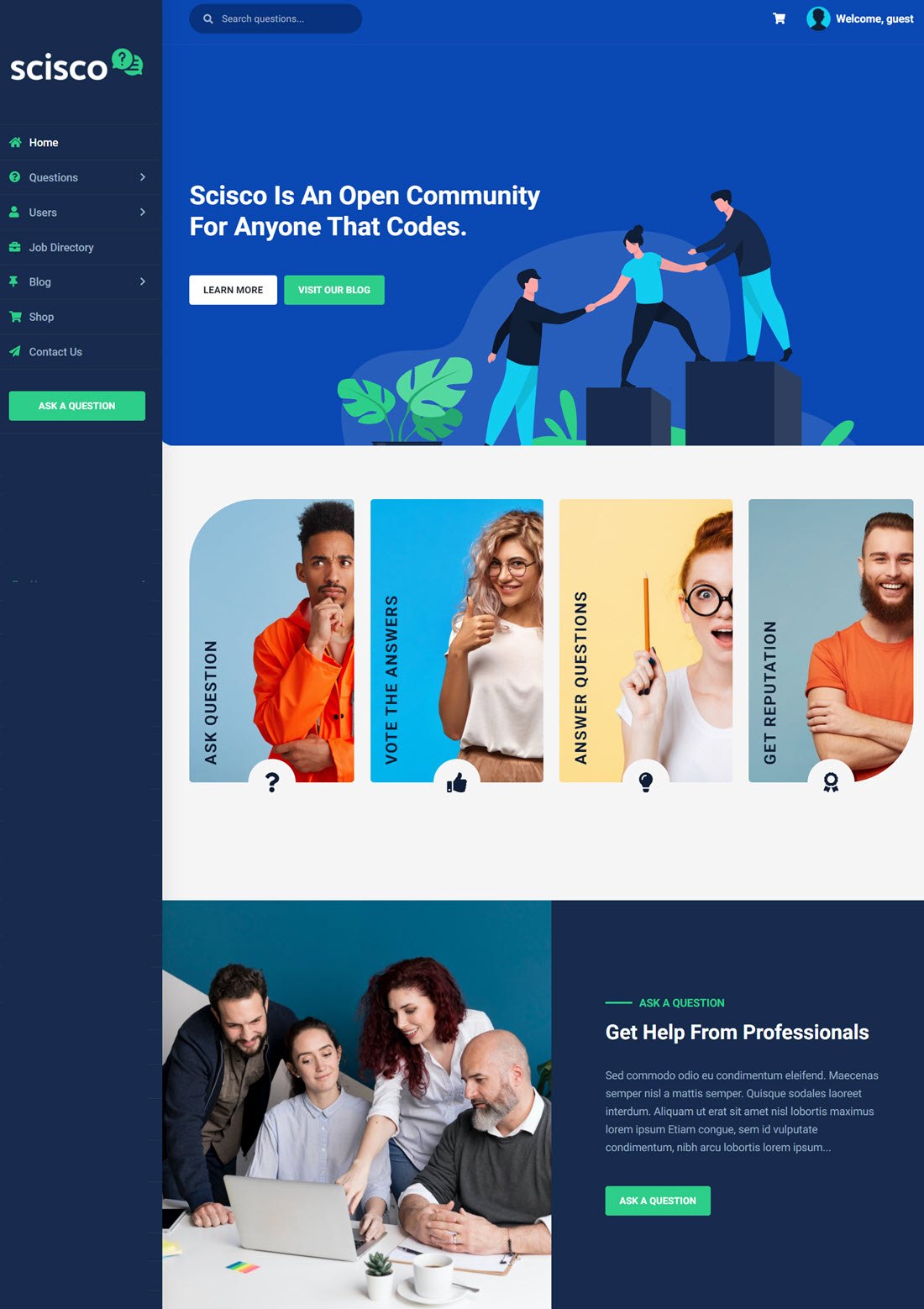 Scisco offers the advantage of value as well as merit. Scisco gives a platform where visitors can ask questions and other users can respond. There are multiple answers for one question and all of the themes can be voted on. Other features of the theme are seven different color schemes and Elegant Themes support. Overall a feature-rich theme.
It is a powerful theme and can take the Q&A concept to another level. The user-friendly theme can be set up in no time and has Custom Translations options for a better reach. The template imparts a great user experience with responsive features, custom backgrounds, custom widgets, and many more.
Price – Regular License – $49/annually (1 Site)
Conclusion – There are many templates for creating a question & answer community but out of all we recommend choosing only qaengine or Templatic Answer theme.