8 Best Question And Answer WordPress Themes 2022
Do you want to create a question and answer community almost like Quora, Yahoo Answers & Stack Overflow? And looking for a Premium or free question and answer template?


Most of these QA themes are highly customized which will meet all user requirements. Like you can add Sponsored links, User badges, Profile, points, like or dislike, etc. You can even add poll and voting options for getting feedback.  All the themes are a kind of question-answer forum where people can ask questions and many users can reply to it. Most of the themes support membership options that separate the dashboard for every user.
These forums are most essential for your website ranking. You can use the same template for blogging too. As per the author of the theme, they say these themes are highly SEO friends with Schema.org Rich Snippets built-in feature. For accepting donations or sponsorship you can add a woocommerce Plugin.
You may also be interested in Community Themes and forum plugins
So let's have the list of top Q & A forum WordPress themes are as follows:
Table Of Content
1. EngineThemes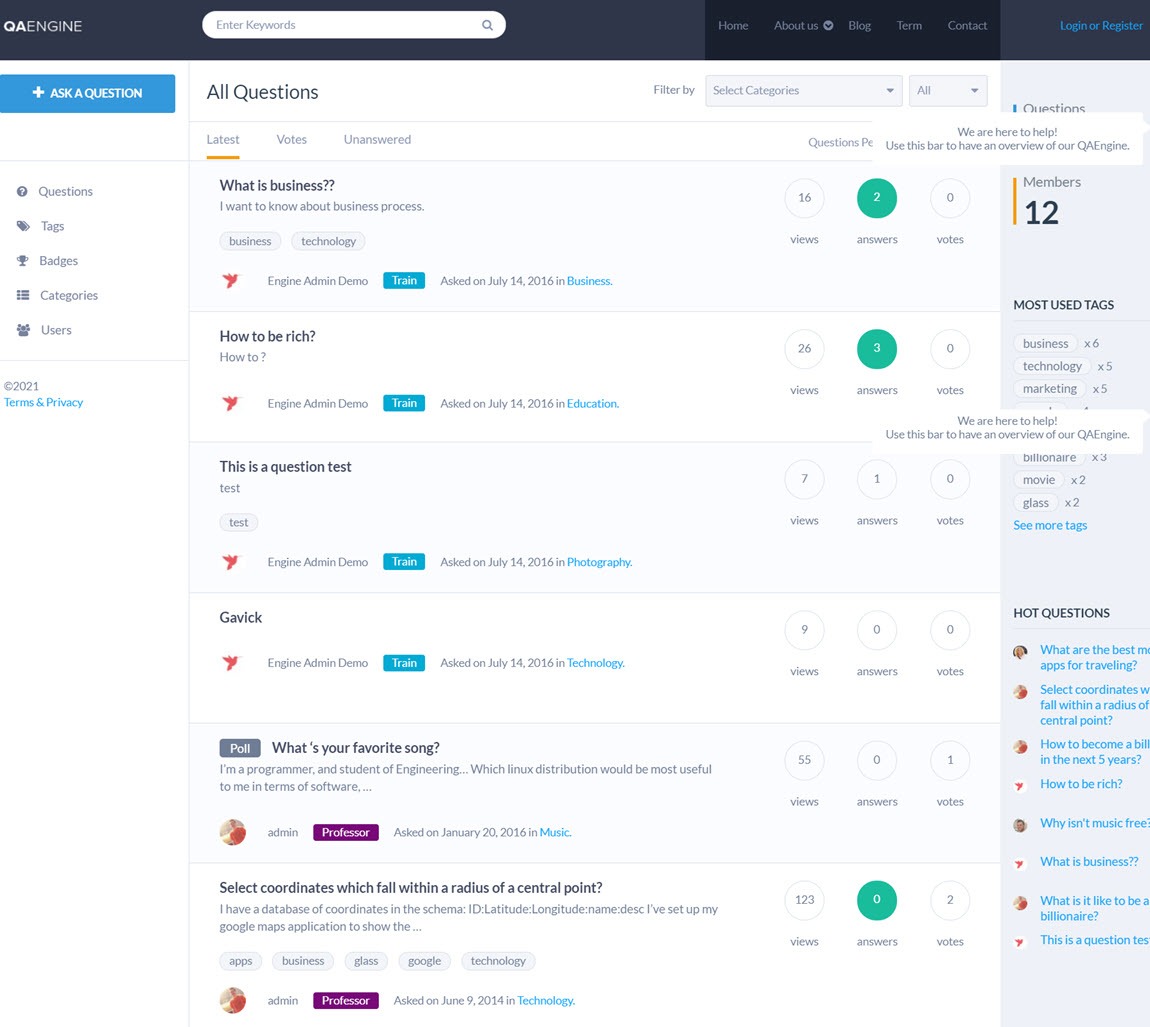 Price – Single Theme – $89/annually (Unlimited Site),  Community Package – $109/annually (Unlimited Site)
2. Templatic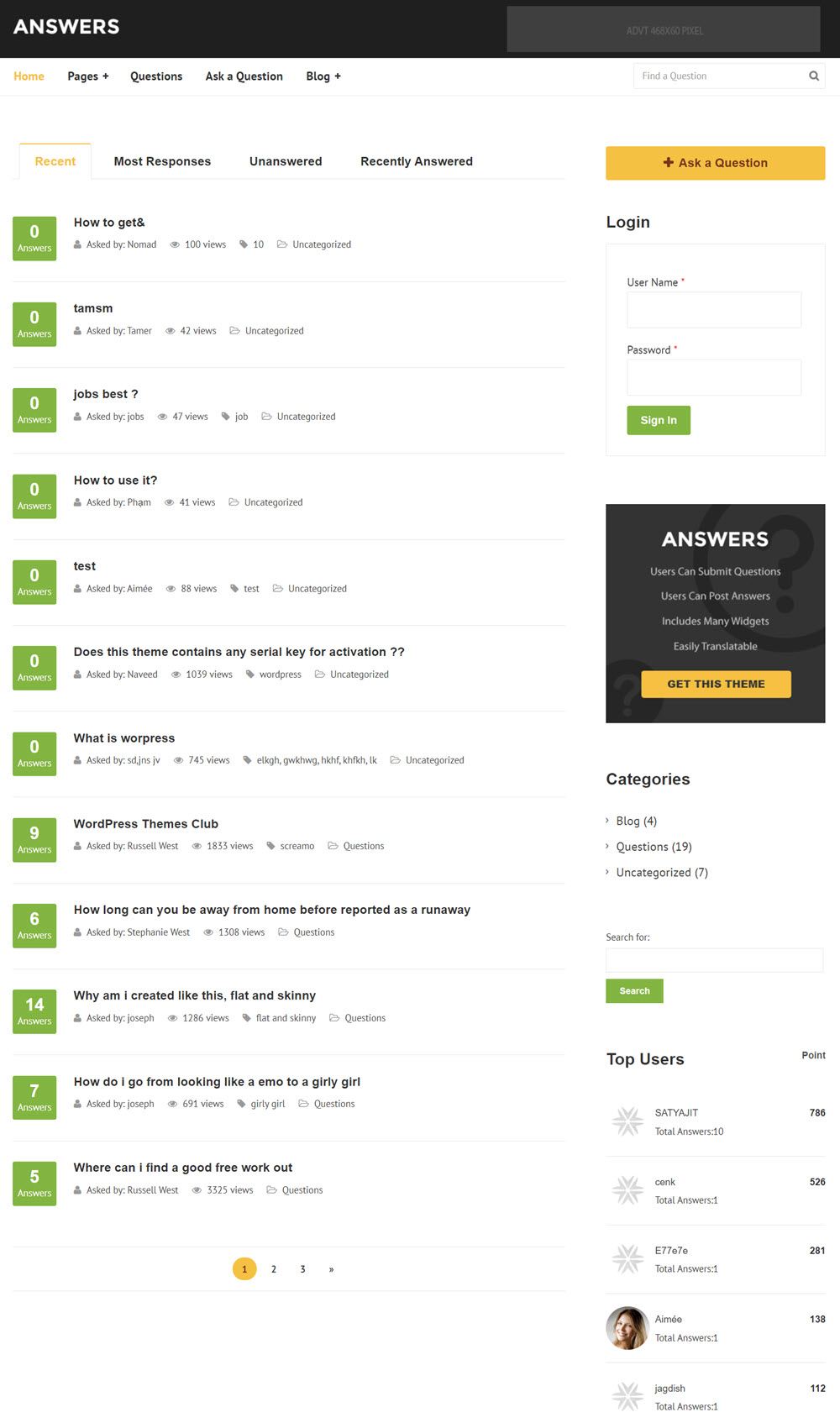 Price – 1 Site – $39/annually,  5 Site – $79/annually
3. HeroThemes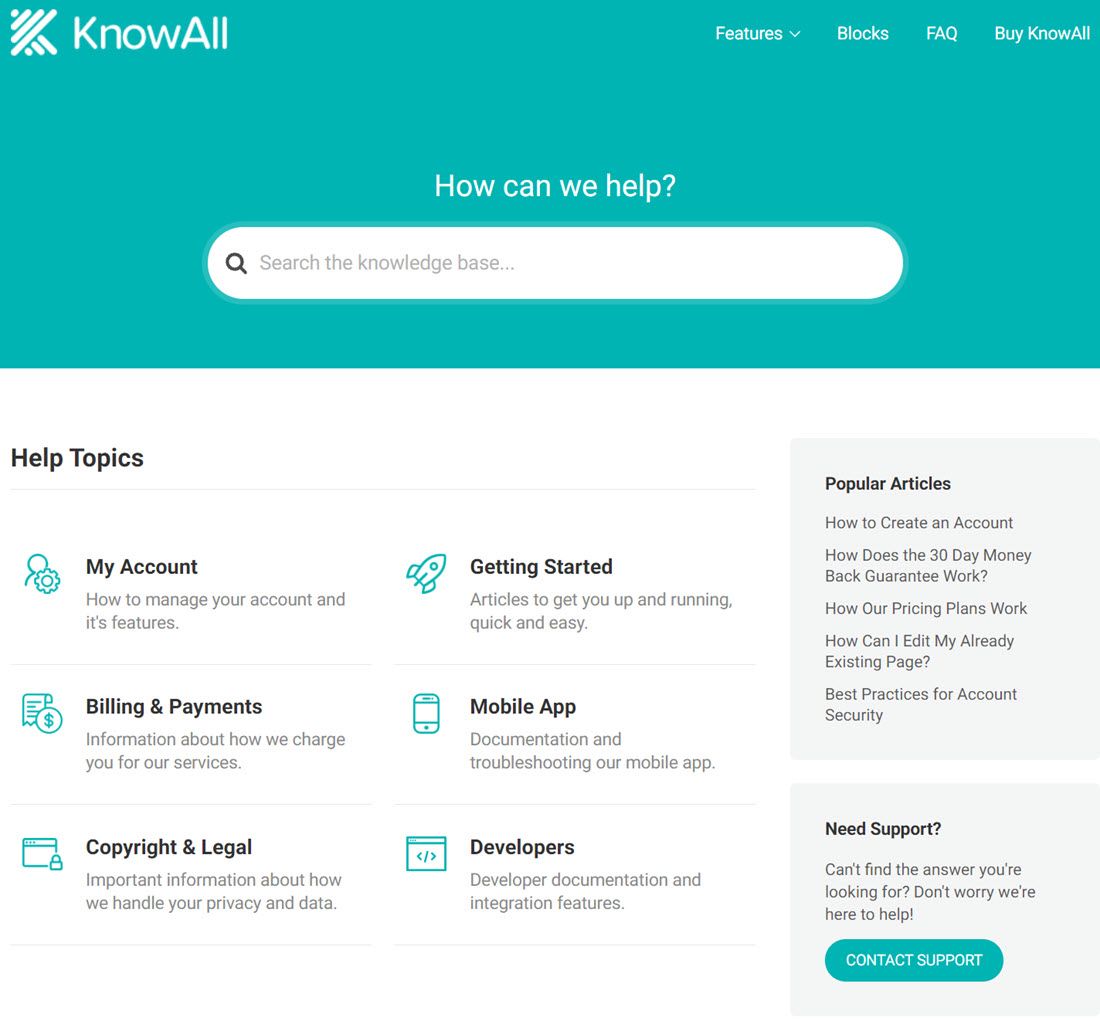 Price – Essential – $149/annually (1 Site), Plus – $199/annually (3 Site),  Pro – $399/annually (5 Site)
4. CyberChimps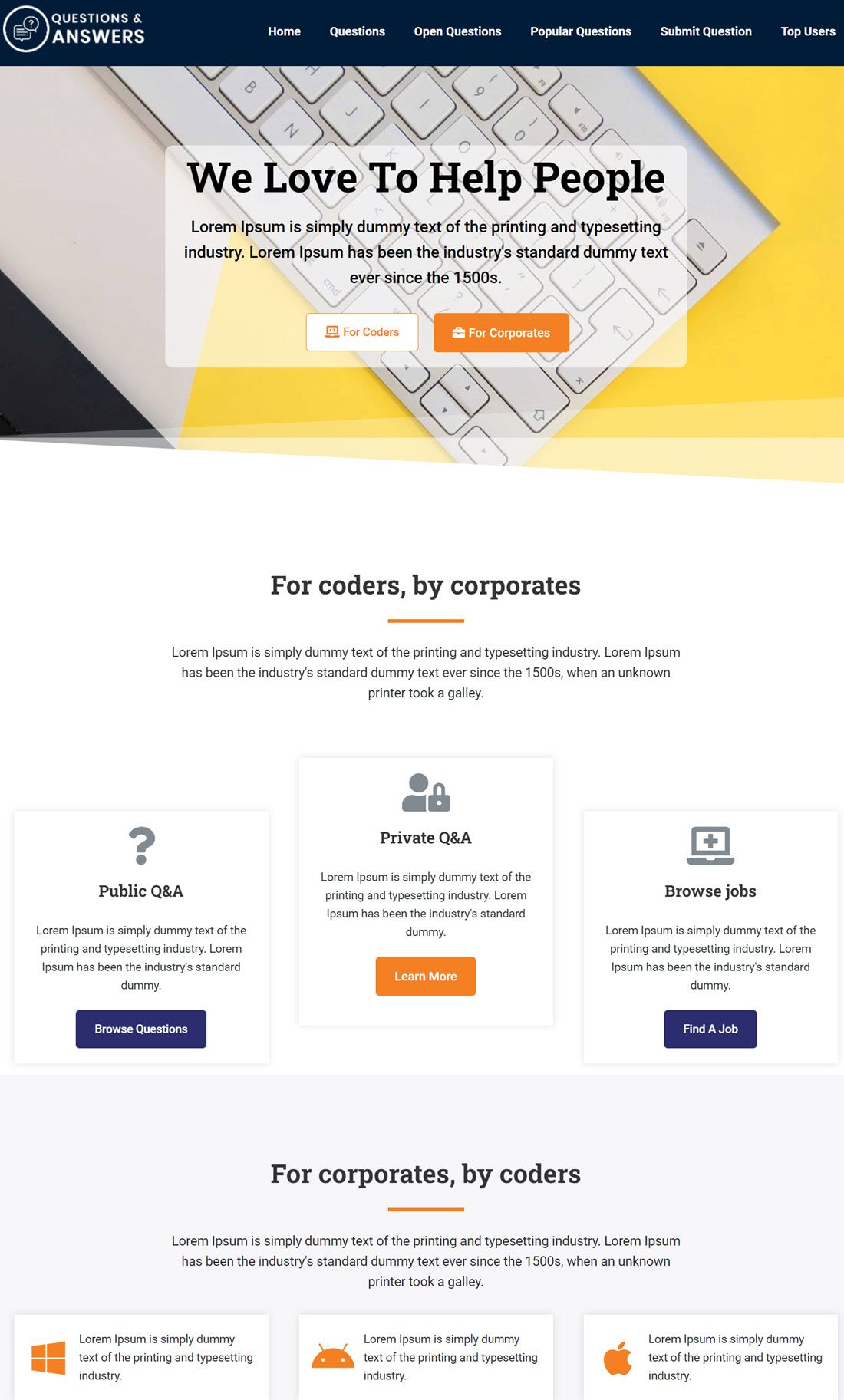 Price – Personal – $23/annually (1 Site),  Business – $33/annually (3 Site),  Pro – $48/annually (100 Site)
5. Ask Me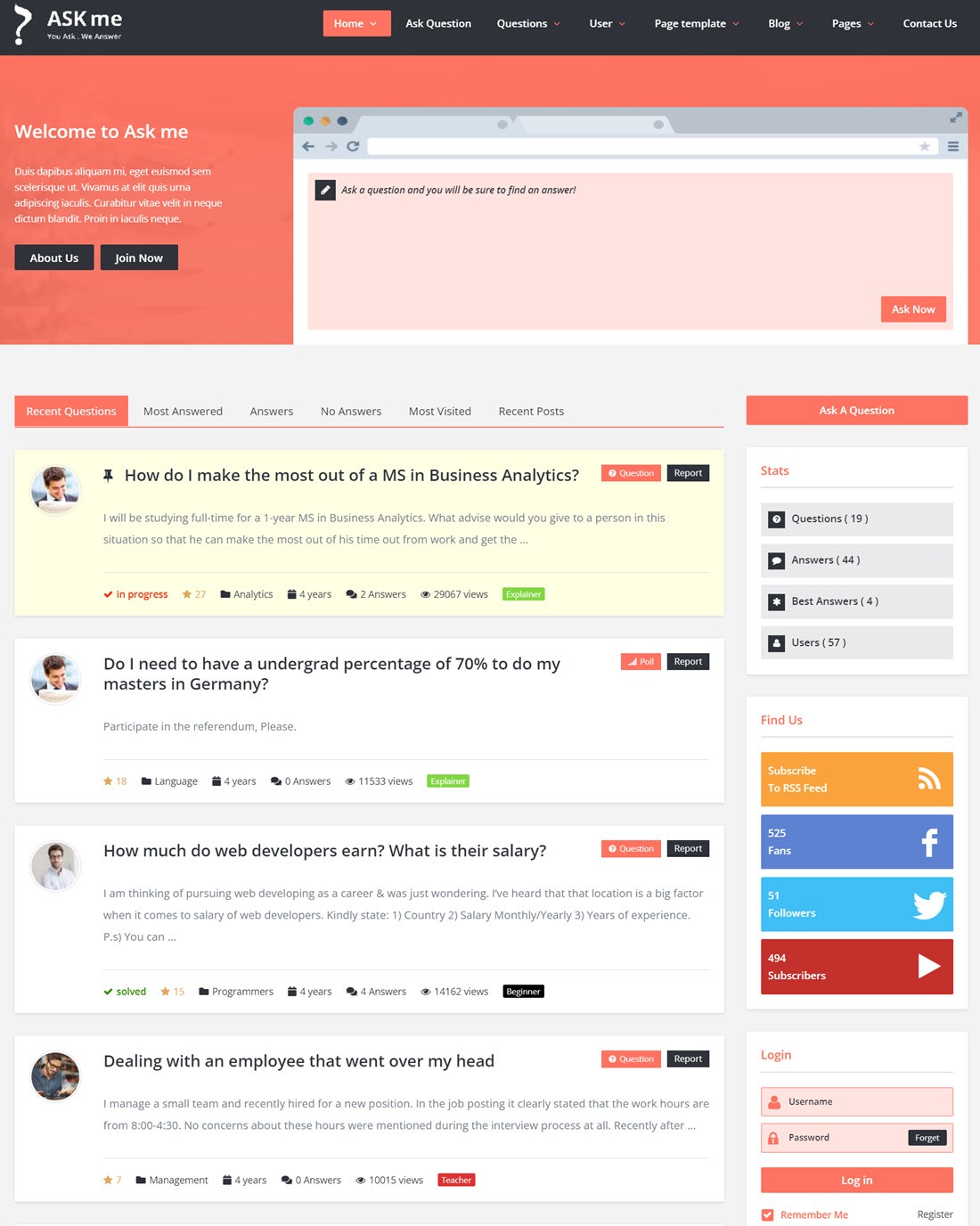 Price – Regular License – $59/annually (1 Site)
6. Discy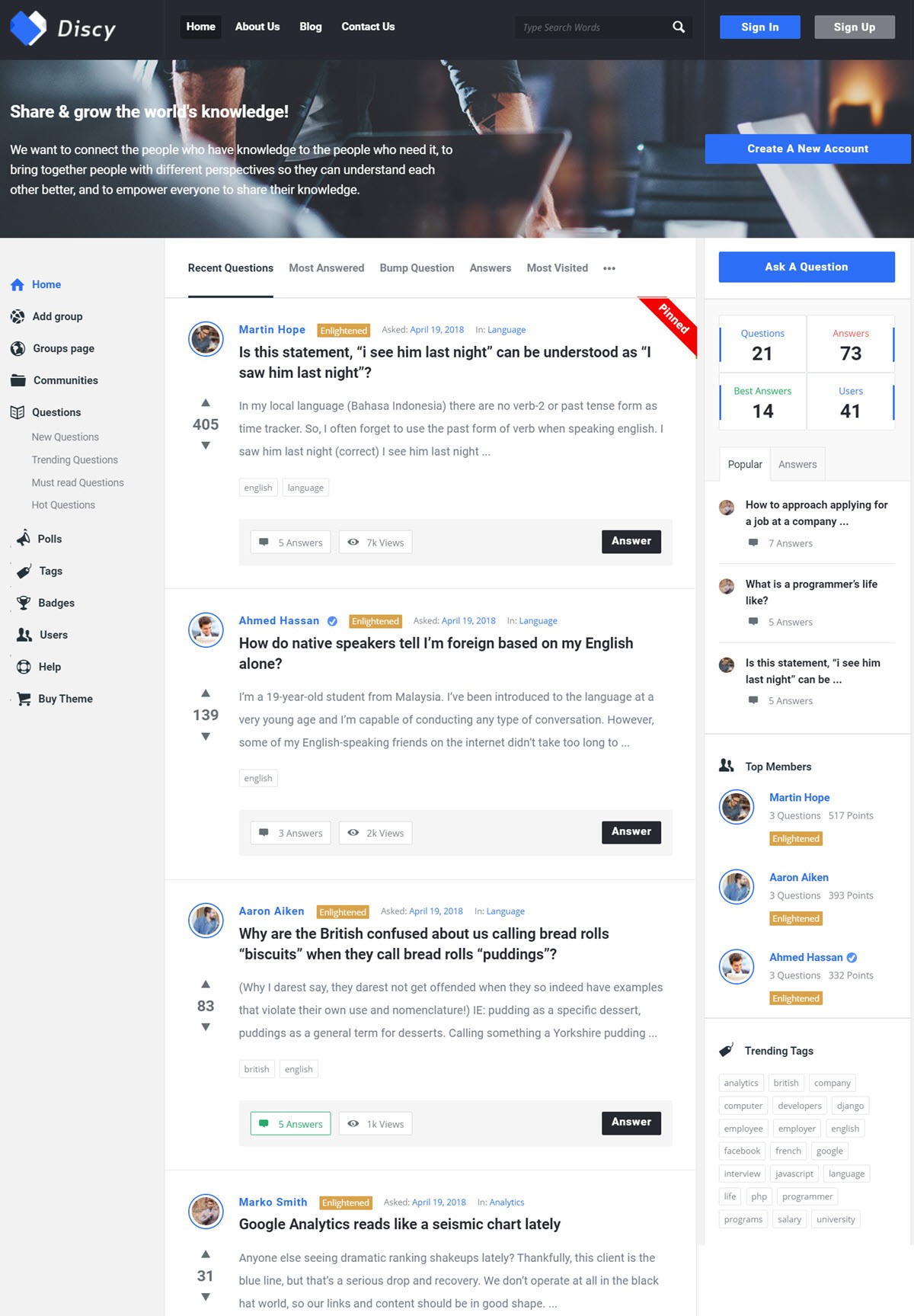 Discy can be the right choice whether you want to create quora or a simple platform where users can have their questions answered. The social q & a theme from ThemeForest carries all features to create an intuitive site. The theme is fully customizable to impart the desired look to your website. every content on your site can be managed with the library of page templates that Discy offers.
You can create a fully functional q/a portal with Answers. The template ensures a consistent user experience as it facilitates to submission of questions and answers via the front-end forms. The answers can be voted upon, and the question starter marks one response as the best answer. A submission fee can be charged by the site owner. Answers integrate with the popular online payment system – Paypal, so it is quite easy for anyone to start his /her commercial question and answer forum.
Price – Regular License – $59/annually (1 Site)
7. InfoCenter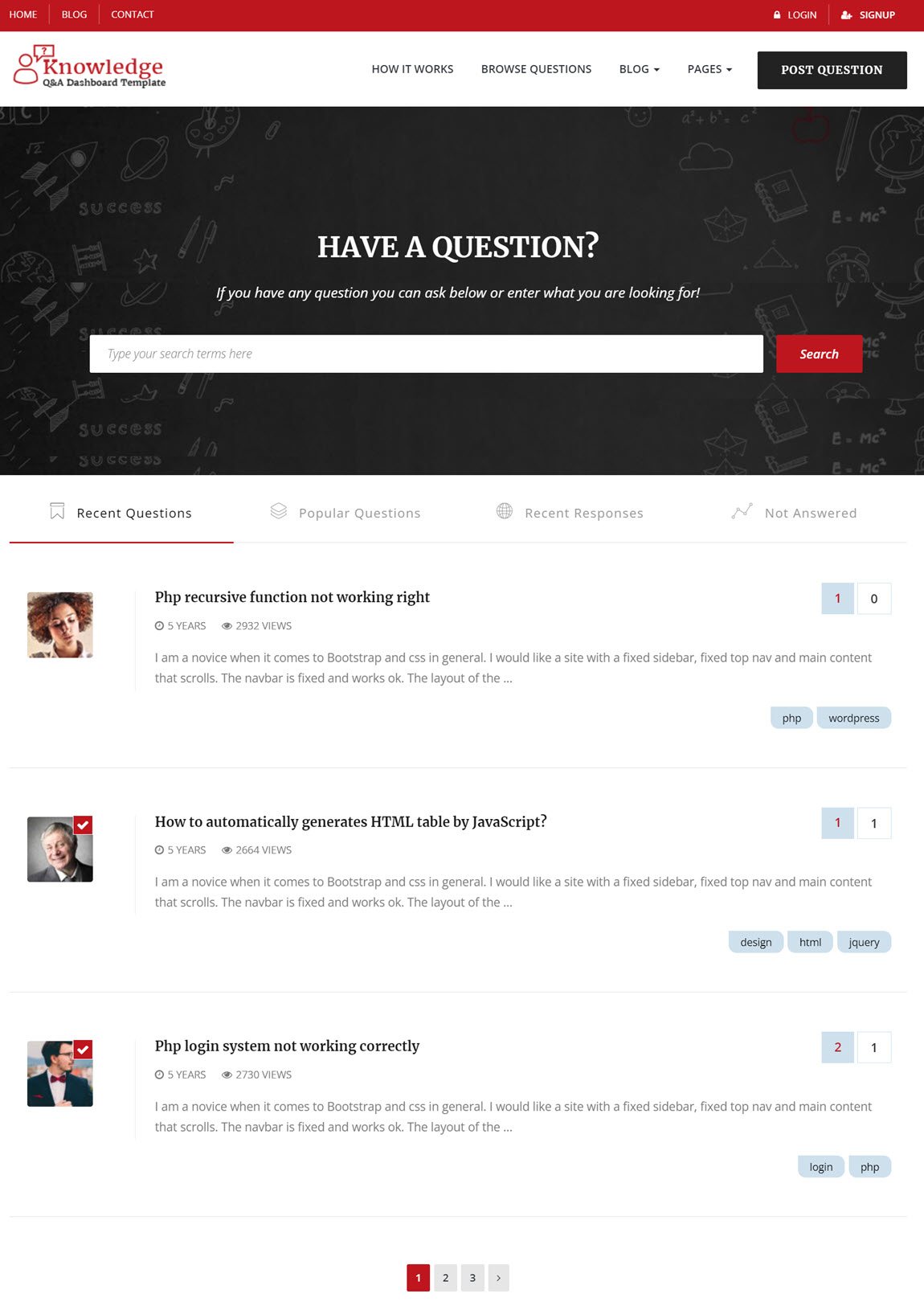 InfoCenter is a customer-centric theme and has features such as 24/7 self-service support, FAQs, Q/A, Knowledge Bases, Ajax Voting system, Forums, Widgetized areas, and many more. The features facilitate building an exhaustive website that imparts knowledge-based solutions. It is an intuitive support source for users.
InfoCenter is known for its uncomplicated design and robust community interaction. It allows you to follow simple steps and post a question, and subsequently submit an answer and a discussion forum below that question. The users can easily filter the questions based on category or tags and go with the most relevant answers based on either votes or the "best answer" mark. The theme facilitates knowledge sharing and rewards points and badges to the contributors who have active participation.
Price – Regular License – $39/annually (1 Site)
8. Scisco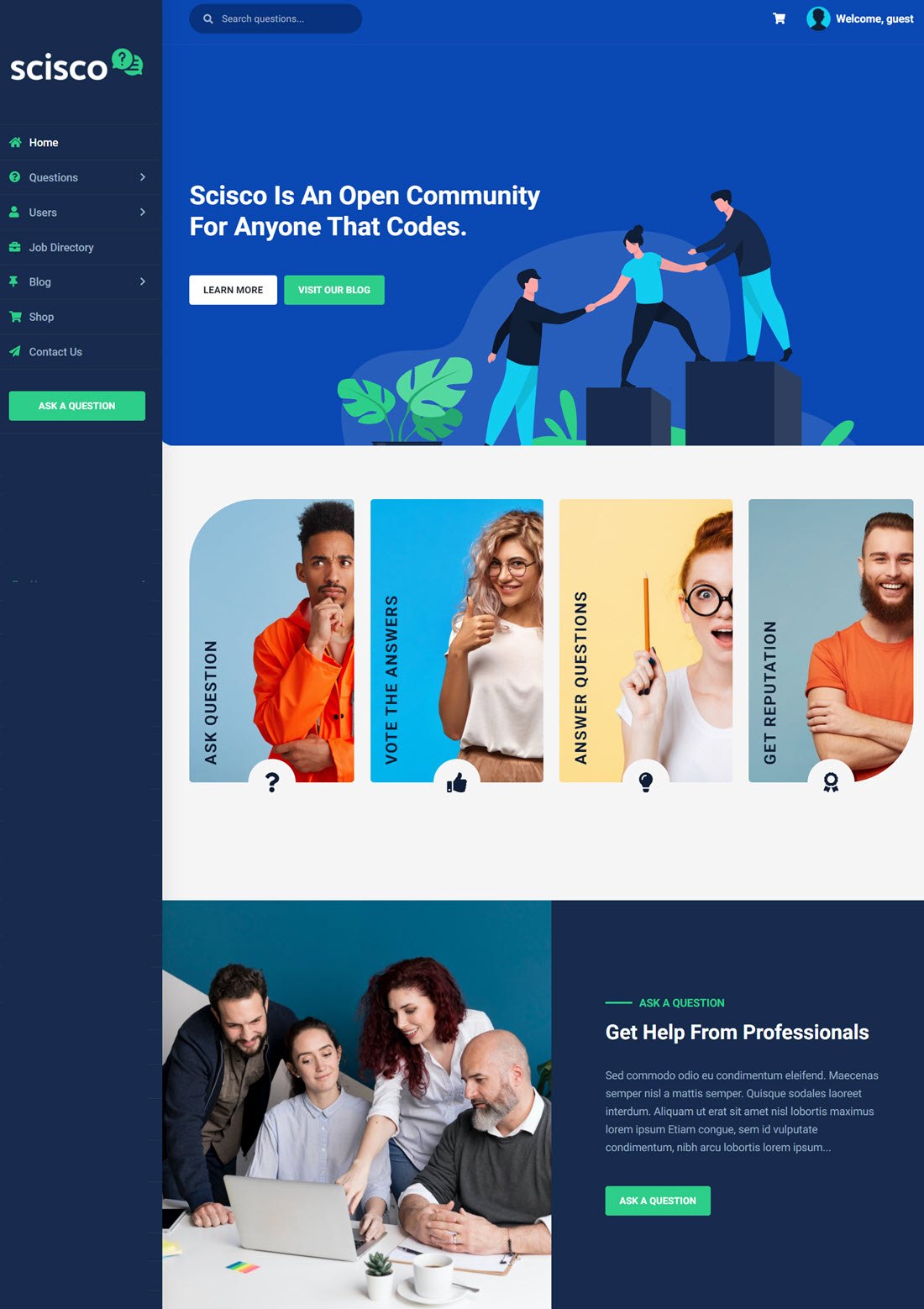 Scisco offers the advantage of value as well as merit. Scisco gives a platform where visitors can ask questions and other users can respond. There are multiple answers for one question and all of the themes can be voted on. Other features of the theme are seven different color schemes and Elegant Themes support. Overall a feature-rich theme.
It is a powerful theme and can take the Q&A concept to another level. The user-friendly theme can be set up in no time and has Custom Translations options for a better reach. The template imparts a great user experience with responsive features, custom backgrounds, custom widgets, and many more.
Price – Regular License – $49/annually (1 Site)
Conclusion – There are many templates for creating a question & answer community but out of all we recommend choosing only qaengine or Templatic Answer theme.