8 Best FAQ Plugins For WordPress 2023
Are you looking for Premium or Free Best FAQ Plugins For WordPress? Frequently asked question plugins are essential for any website owner running an online business. Whether you are selling software or any physical products or have a big eCommerce website, it will reduce your Work by reducing the number of questions asked by the customer.

Hiring staff to answer the same question customers ask isn't a waste of time. That's why it's advisable to add a FAQ page or FAQ option below the contact form. It's more advisable to send these FAQs to the customer via email during the first signup. For email best service provider is Aweber. So you should select that only. So for this Work, we need the Best FAQ Plugins For WordPress so that our workload should decrease.
Mostly if you see the eCommerce website below products, you will see Frequently asked questions. Like what is the plan's validity, Does it provide a lifetime guarantee or warranty, etc. Your team should be updating those questions as the question increases by customer.
You Maybe Interested in Best Knowledge Base Plugins For WordPress
So let's have the list of Premium or Free Best FAQ Plugins For WordPress, which is as follows:
1. HEROTHEMES FAQs

Heroic FAQ is a finely integrated extension that stabilizes the FAQ section on your WordPress Site in a few easy steps. Although, it enables you to seamlessly integrate such FAQs wherever you want to display on your website while utilizing shortcodes and Gutenberg. Such an intuitive and easy-to-use interface lets you assist in creating a beautiful FAQ page with all possible alternatives thereon. Just prepare your FAQs session with available customization options where the first one is already done for you. Heroic FAQ comes up with many essential features that ease the admin to build FAQ within a few minutes after installing it.
Why Do You Need Heroic FAQ Extension?
Let you create an intuitive FAQ session and unlimited tags and categories for such FAQs.
Create such layouts that are completely responsive on different devices and access compatibility on any website.
Arrange your FAQs and sort the same according to the requirement of your website.
Import complete FAQ in bulk from a spreadsheet without waiting too long.
Design the layout of FAQ with custom CSS that adds more options to customize.
Spot the views that your FAQs get with the help of a statistical report and enable your viewers to comment separately on such FAQs.
Price – Basic – $49/annually (2 Site),  Pro – $69/annually (3 Site),  Business – $149/annually (5 Site)
Screenshot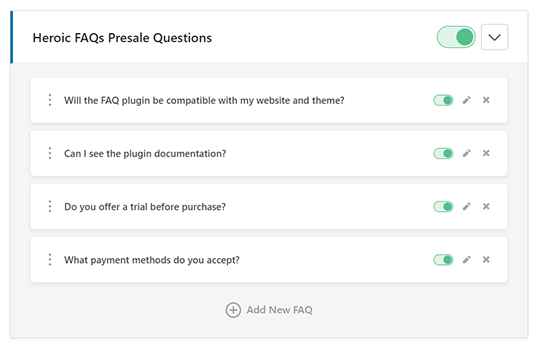 2. YITH FAQ Plugin For WordPress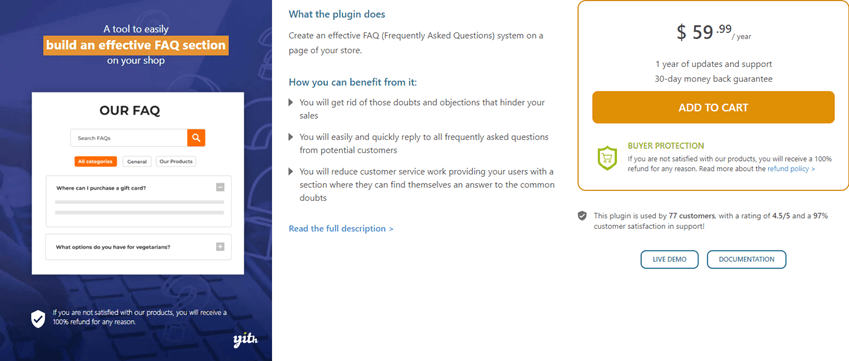 YITH FAQ is a lightweight and extensive plugin that organize unlimited FAQs on WordPress Site. Provides a way to sets off the arising questions in the mind of visitors before purchasing anything from your site. Send instant replies for such FAQs that ultimately assure your visitors about the product's quality and more, thereby increasing conversion rates. While adding such FAQs section on your website, you can minimize the inquiry service, sometimes becoming time-consuming. Don't let your users step back from complete purchasing because of some doubts at checkout. YITH FAQ lets you eliminate such conflicts just by configuring a few settings.
Key Features –
Enable the search option with a bar presented at the top of the FAQs Page that lets your customers quickly get the answer they want to know.
Allow filtering options for such FAQs by category. Arrange the questions along with tags and category options.
Instantly create amazing shortcodes with existing options according to the necessity of the website.
Customize the presentation of such FAQs with various styling options for size, icon, and position, whichever suits your website.
Design the entire layout of the page, either colour or any other elements.
Price – 1 Site – $59.99/annually
Screenshot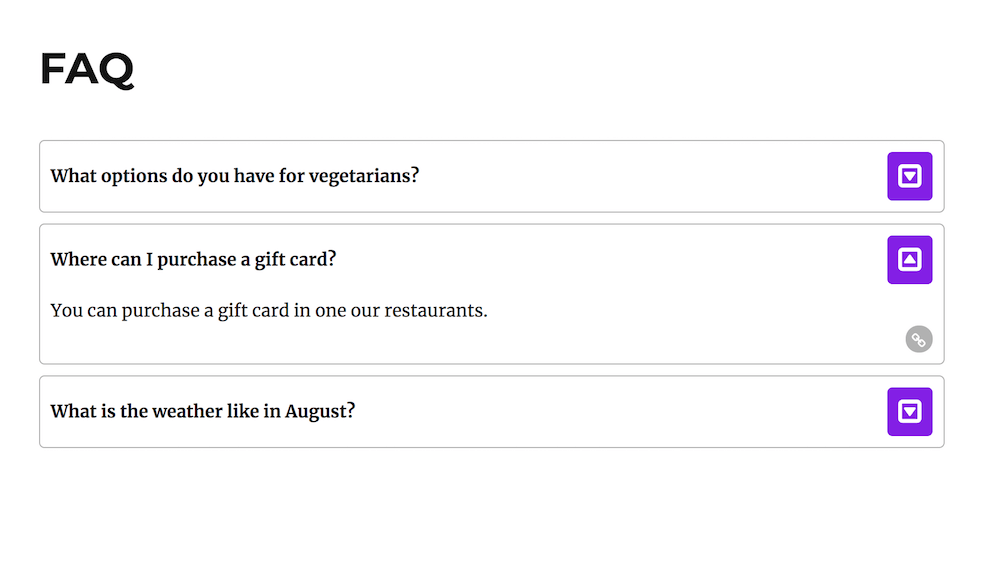 3. Ultimate FAQ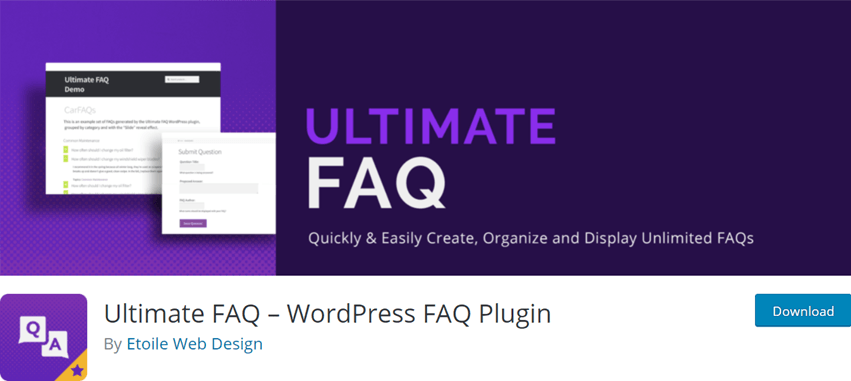 Ultimate FAQ integrated with lots of unique features that make ready your WordPress Site for answering any genuine questions that come into the customer's mind before placing the product's order. It is just a simple UI explicitly designed to ease the developers to promptly establish a FAQ section even without getting too much involved in it. It saves a lot of time configuring the entire function as it automatically streamlines the workflow. Although, create unlimited essential FAQs with the various instant search and reply alternatives. Assist your customers with availing frequently asked questions that precisely relates to the product and purchase consideration. Boost sales of WooComerce products while assuring visitors for quality on which they invest.
Core Features –
Add a specific tab for FAQs on particular product pages available on the site where you may put the repeated questions to help your customers.
Seamless integration of responsive layout that may work smoothly on various devices including mobile, desktop, I pad, and more.
Let you create categorized FAQs along with available product names, and then it automatically places appropriately on related product pages.
Customize the style and present FAQ session on your website that contains every essential attribute.
Allow your customers to get answers to every doubtful question and assure them to purchase the genuine brand.
Total number of users – 40,000+
Price – 1 Site – $34.77/annually,  5 Site – $114.95/annually,  10 Site – $195.44/annually
Ultimate FAQ Plugin for WordPress
Screenshot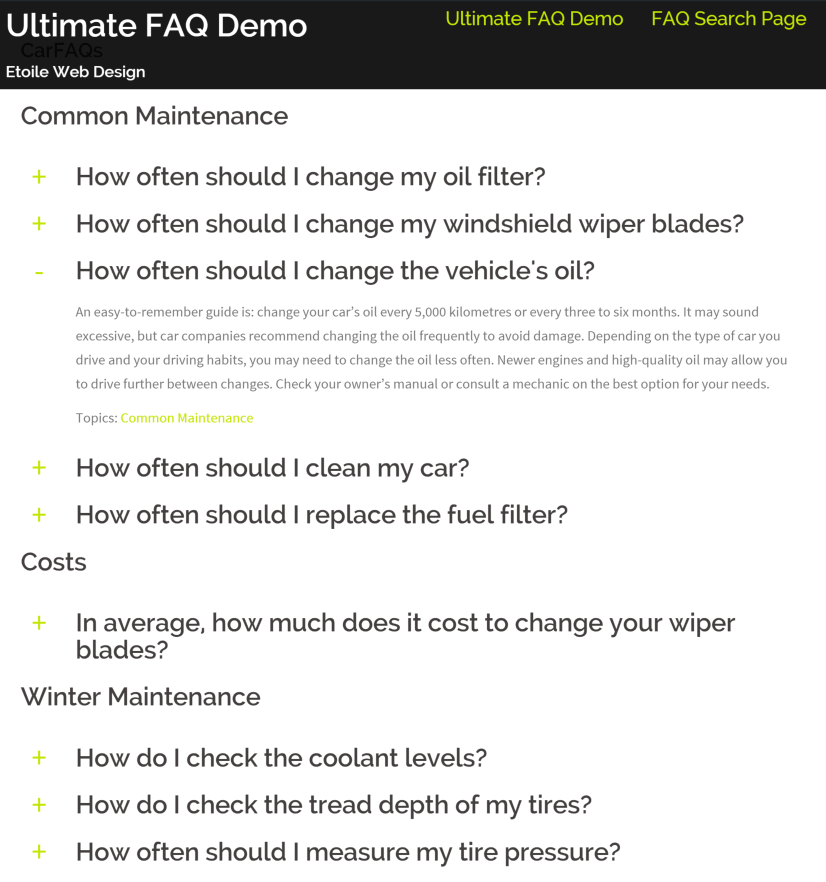 4. Easy Accordion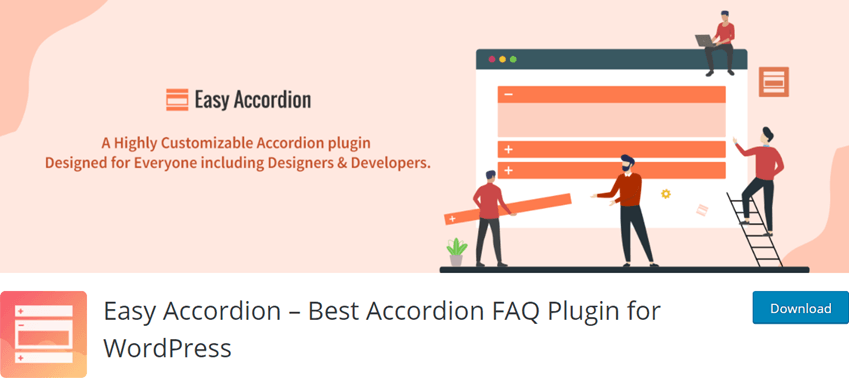 Easy Accordion is an extensive and feature-packed plugin that lets you layout the intended FAQs for Accordion. You also create and manage the FAQs on particular product pages on the website. Just design the tab according to the requirement of the product thereby and place the essential question as much as you want. Although, it comes up with lots of customizing options for more than 16 beautiful themes available on the Accordion Plugin. Moreover, present various accordions nicely on your blogs or site without writing specific code to insert.
Some Of The Exclusive Features Are Mentioned Below –
Simple UI – Let your users experience well whenever visiting your site and get the answers on the presented FAQ tab without waiting too much to communicate.
Admin Panel – Admistrate the activity of FAQ Accordion and trace the user's requirement from an intuitively designed admin panel on the back-end.
Content – Edit and write the content, whichever you like to display on your FAQ section while utilizing WYSIWYG.
Widgets and Shortcodes – Design the FAQs with the help of innovative widgets that lets you easily style and customize fonts and colours accordingly. Display such FAQs by category with shortcodes and enable a search bar to find them easily by customers.
Total number of users – 20,000+
Price – Personal – $29/annually (1 Site),  Business – $99/annually (5 Site),  Agency – $199/annually (Unlimited Site)
Easy Accordion - Getting Started
Screenshot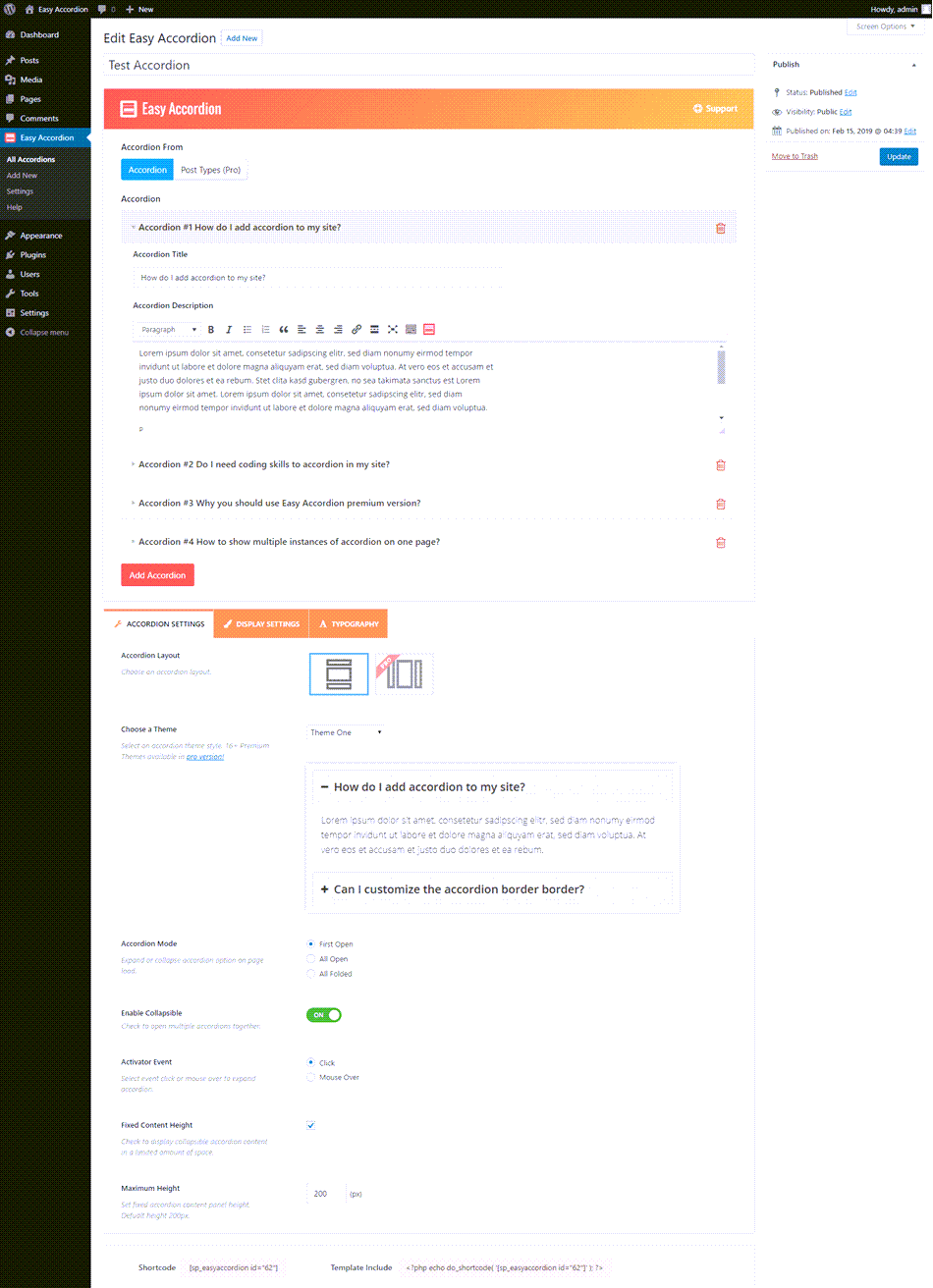 5. Knowledge Base for Documentation and FAQs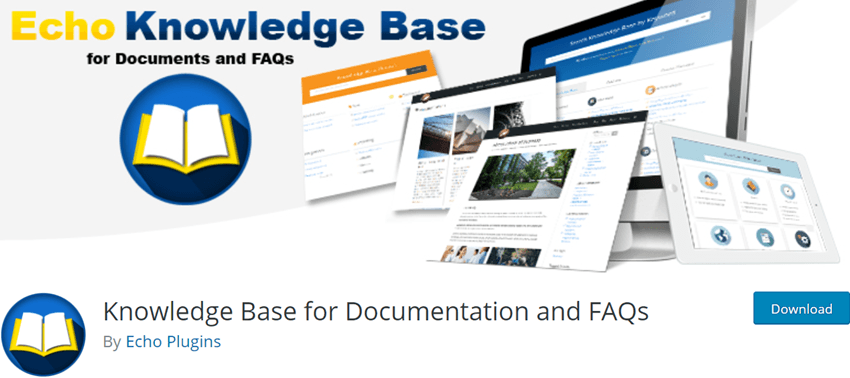 Knowledge Base is a robust and professional WordPress plugin where you can easily prepare your FAQ section elegantly. Enable your users to get access with some answers to questions that may arise when they purchase any product from an online store. Ease general communication while providing essential questions and desirable answers to satisfy the customer and let them proceed with checkouts. Boost your sales of WooCommerce store with an elegant user experience for online service. Knowledge Base enables you to establish better FAQ Tabs on a particular product page with easy customization to present it.
How Knowledge Base Assists You For FAQ Creation?
Create unlimited FAQs and insert the same on a tab with the assistance widgets and shortcodes.
Easily configure the complete functionality without codes.
Work smoothly anywhere as you create mobile responsive FAQ tabs compatible with the website's existing themes.
Add an option to filter FAQs by customers to find out the one they want quickly.
Select any layout from pre-designed templates and then customize the content, fonts, styles, colours, etc., to enhance the look of the tab.
Total number of users – 10,000+
Price – 1 Site – $46/annually,  5 Site – $110/annually,  10 Site – $345/annually
Best FAQs, Documents, and Knowledge Base for WordPress
Screenshot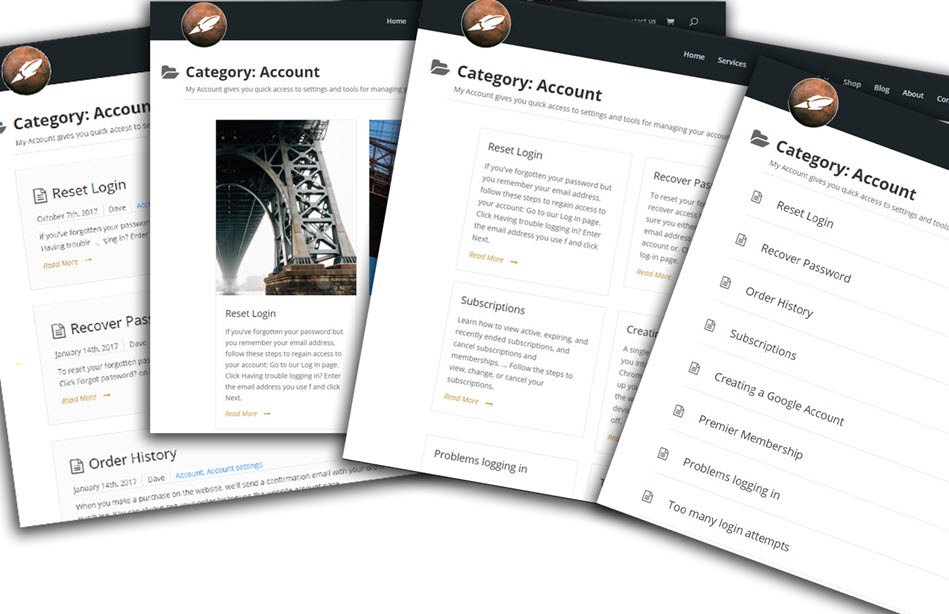 6. Arconix FAQ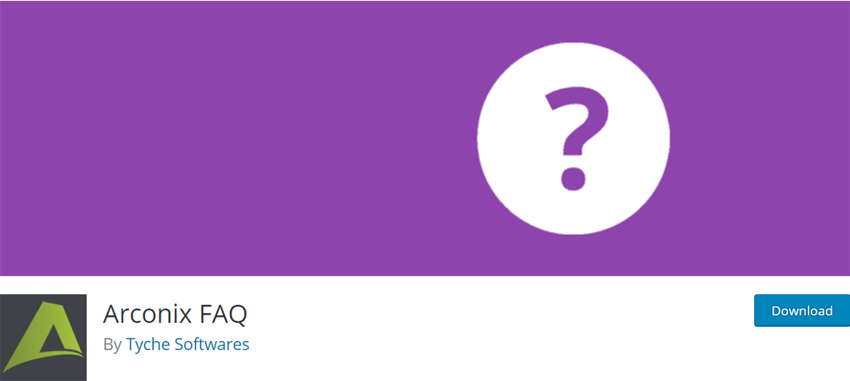 Acronix FAQ helps users add a stylish and easy to create FAQ section to the website. The plugin is custom post-type-driven. The frequently asked questions can be displayed using shortcodes, and they can be hidden via jQuery toggle or accordion box. The FAQs can be displayed either individually, or they can be grouped by using the group taxonomy. The plugin also has a "return to top" link at the bottom for long FAQs.
Acronix FAQ plugin is a complete Frequently Asked Questions management plugin. The plugin has a drag and drops features that help create questions and answers, reorder items, and group FAQs easily. All the FAQs can be edited on a single screen with FAQ builder. The visual editor of this plugin helps to add images, blockquotes, videos, lists, and much more. And the best part is that this plugin doesn't require any coding. FAQs can be added anywhere through the FAQ configurator. There are many pre-defined styles and many configuration possibilities.
Total number of users – 10,000+
Screenshot

7. Tab – Accordion FAQ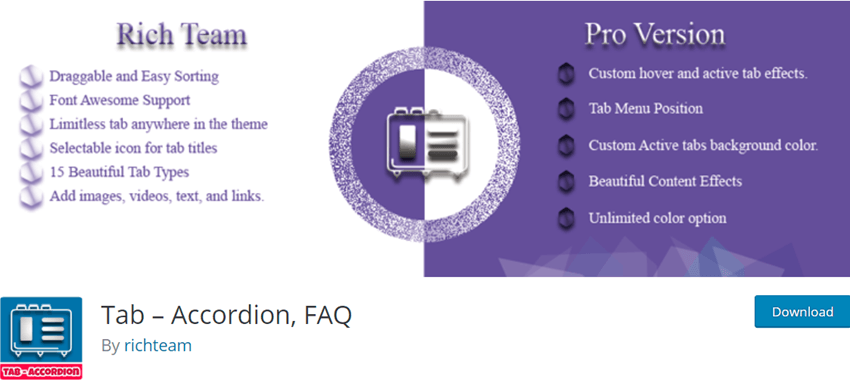 Created with custom post type, the Tab Accordion FAQ plugin helps users add, manage, and display FAQs on the WordPress site. Using this plugin is extremely simple. Only a FAQ page must be created, and a shortcode must be added. A thumb image can be added for FAQ, and the FAQ page can be easily configured. The FAQ accordion effect is very smooth. The URLs are search engine friendly. For FAQ customization, there are CSS and JS files. This plugin can be smoothly integrated into any plugin. Domain path text Domain can be added.
It allows the users to add a FAQ section to their website. This helps them to describe the details of their terms, conditions, and services. This plugin can obtain a long company history in a Q&A format. This plugin can create an unlimited number of questions and answers. Question and answers can also be assigned into categories. Only the question is displayed in the accordion view, which helps to save space and allows the visitors to navigate through the page quickly. There can be descriptions of the categories of questions.
Total number of users – 2,000+
Price – Regular Licence – $39/Lifetime
Rich Web - Watch Video For Tab & Accordion
Screenshot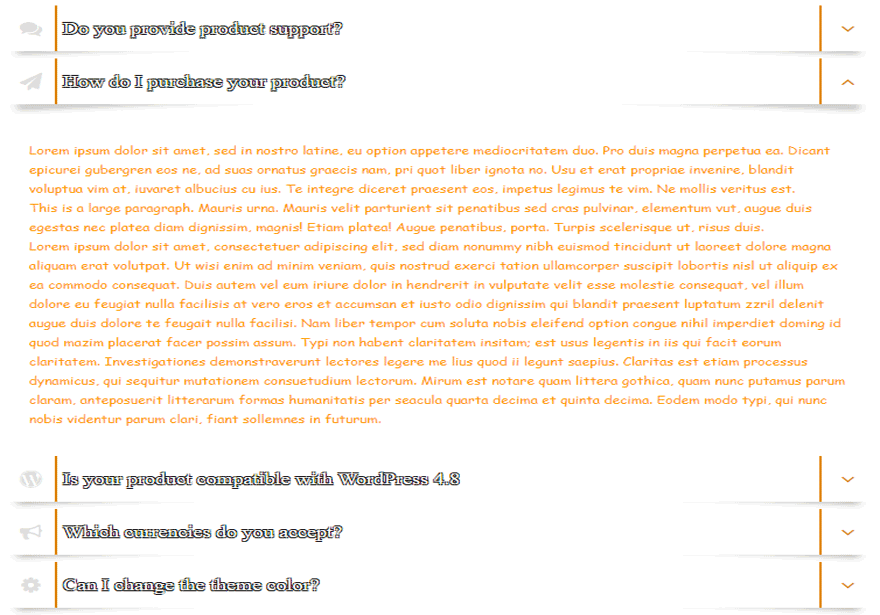 8. FAQPlus

Using FAQPlus for FAQs plugin, your visitor can easily be allowed to ask questions about products related queries, obtain answers and view other threads. The store owner can also manually add questions to specific products. The plugin also provides notifications to those who have dropped a question and answered their question. The questions are specified in the email notification to highlight them, and the user doesn't have to hunt for them.
Being fully compatible with many responsive themes, the Responsive FAQPlus plugin helps users easily add FAQs on the site. Multiple category FAQs can be created, and they can be displayed collectively on a single page or category-wise. The plugin is very SEO friendly, and heading types can be selected for the FAQs. It is effortless t use, and the colour, design, font size, and many more aspects can be customized. FAQs can be easily configured in the admin section. Modern or old responsive designs, the plugin is compatible with all.
Price – Regular Licence – $25/Lifetime
Screenshot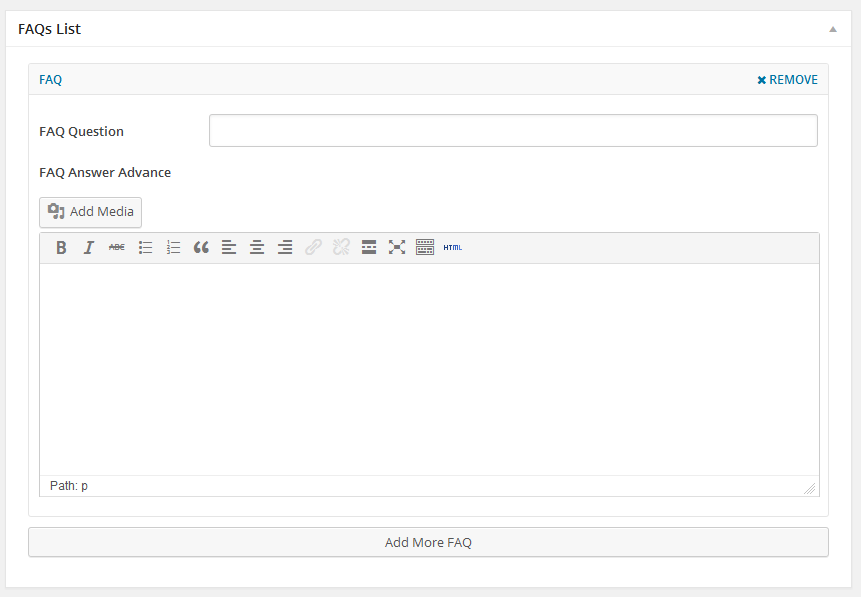 Conclusion – Finally, we got the list of Best FAQ Plugins For WordPress. You can use these plugins on any website, But the best one is Etoilewebdesign ultimate it's worth buying because it is compatible with the standard website and blog website.