8 Best Knowledge Base Plugins For WordPress 2021
Are you looking for Premium or Free Best Knowledge Base Plugins For WordPress? Knowledge base plugins are the best way to help your customer with adding any manual effort By creating a well-managed documentation Guide.

With Knowledge base Plugins you can easily manage encyclopedia, Wiki, knowledge base, or dictionary in a Well Defined Manner. To create a well-managed wiki Knowledge Base, you need to have the best Best Knowledge Base Plugins For WordPress which will help you speed up the support process in your website. Mostly an eCommerce website where you are selling digital products requires a 110% documentation process.
What is a Knowledge base?
The knowledge base is a collection of fully organized and well-managed documentation to help your customer.
Should I choose a knowledge base Plugin or theme?
If you will choose a theme then you have to install a new WordPress and you have to manage its separately. Even google will think of that subdomain as a fresh domain it will not add much value to your main domain. So I always recommend using Plugins. Themes will make your work more complicated and one extra team will be required to manage the new installation.
If you want Best Knowledge Base Plugins For WordPress then I will recommend you only know all which is created by Heroic theme developers they are known for their high-quality Work.
So without wasting our time anymore let's have the list of Best Knowledge Base Plugins For WordPress which is as follows:
1. HEROTHEMES

HeroThemes is a lightweight plugin for Knowledge base which sets up the entire functionality so easily. Enable your customers to get essential knowledge of anything that is available on your website via valuable articles. Provide articles in a way that lets your users continue to purchase without considering too much. Such articles easily can be accessed anywhere on any devices as it is compatible with multiple devices. A feature-enriched extension for WordPress that enables your articles to receive feedback then showcase such reviews and comments to help customers. Boost your sales to increase revenue while making descriptive articles everywhere.
Essential Features –
AJAX Compatibility – Enable your customers to experience better search options on your site for finding the article whichever they need to know within a few seconds.
Feedback – Just receive genuine feedback on such available articles that let you improve anything that is missing for your customers.
Analytics – Measure the response of customers to see how your plugin working on your site while it contains analytics to overview such stuff.
Order Content – With the assistance of simple drag and drop essentials enables you to order your required content by category and control the same easily.
Widgets – Showcase your knowledgebase articles on your site along with widgets that enable authors and categories wherever necessary.
For displaying knowledge base articles, authors and categories across the site, there are three widgets. All this helps to save time and grow sales.
Feedback can be collected on articles. This helps to find which all articles are helping and which all articles need to be further improved. Visitors can be provided with downloadable files in articles. There is also built-in support for attachments.
Price – Essential – $129/annually (1 Site), Plus – $159/annually (3 Site), Pro – $379/annually (5 Site)
Screenshot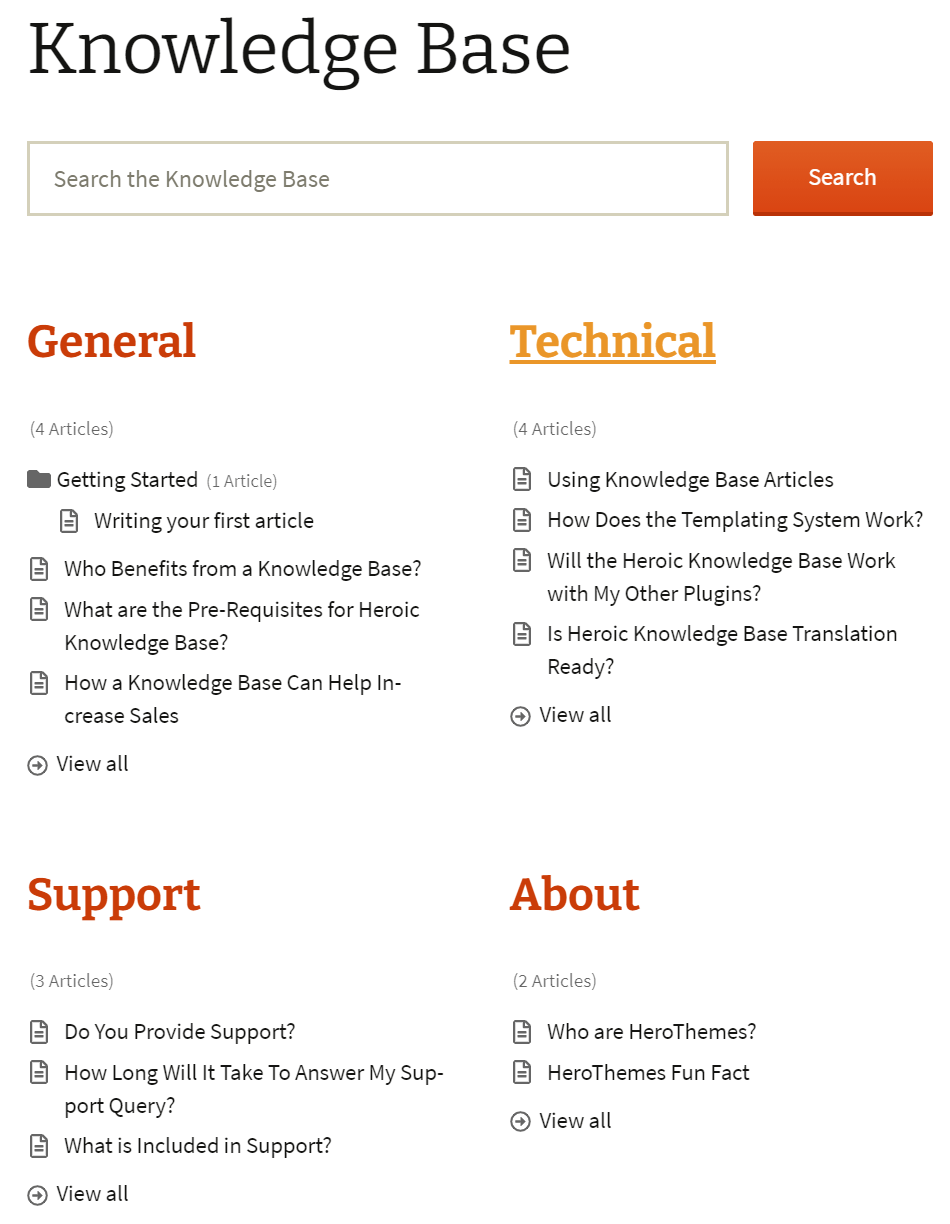 2. BetterDocs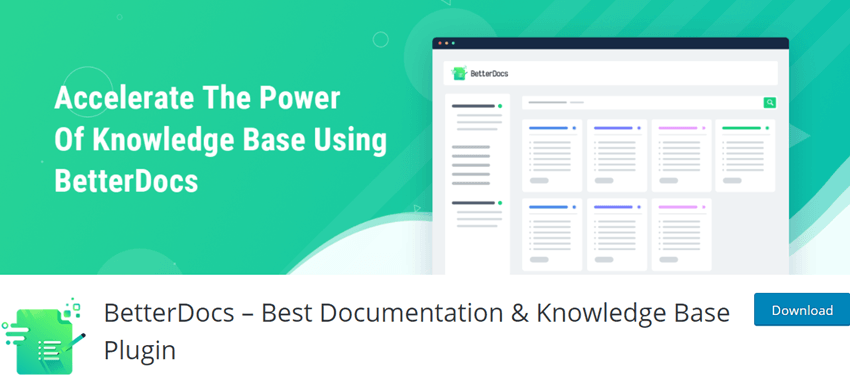 BetterDocs is an essential WordPress extension that assists websites to present their documents and other knowledge base information so effectively. Provide every essential detail of the product while installing BetterDocs to manage the knowledge base platform. Enables self-service for queries whereby your customers get answers instantly as it is automated. Establish articles on every product page to confess everything about the product including reviews, quality, standard, and market value. Organize the content of your website very well and also enhance a better user experience to increase sales effortlessly.
How BetterDocs Provides Standard Knowledge Base?
Topmost Templates – Avails you best ever ready-made templates to arrange various pages for documentation and furnishing a better look and feel within a minute. You don't need to set of codes to configure such customizations thereby.
Better Scrolling – Provides your users with a smooth scrolling experience while reading any articles available on the site. Arrange such contents along with bullet points that automatically provides a suitable table of content.
Unlimited Knowledge Bases – This just enables you to create and maintain various knowledge bases for every particular product page. Also, let you maintain distinct documentation of different sites from one place.
Instant Interaction – Allow users to get access to multiple articles of knowledge bases just right at the chat window even without visiting elsewhere.
Total number of users – 20,000+
Price – Individuals – $69/annually (1 Site),  Small Business – $149/annually (Unlimited Site),  Agency – $299/Lifetime (Unlimited Site)
Introducing BetterDocs: The Ultimate Knowledge Base Solution for WordPress
Screenshot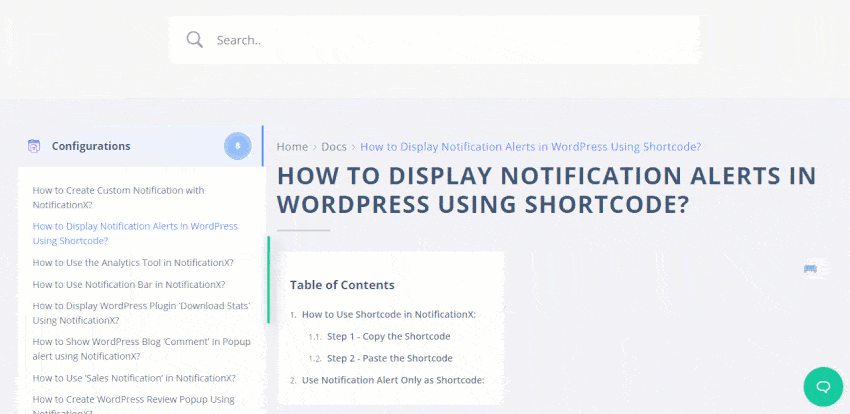 3. Knowledge Base for Documentation and FAQs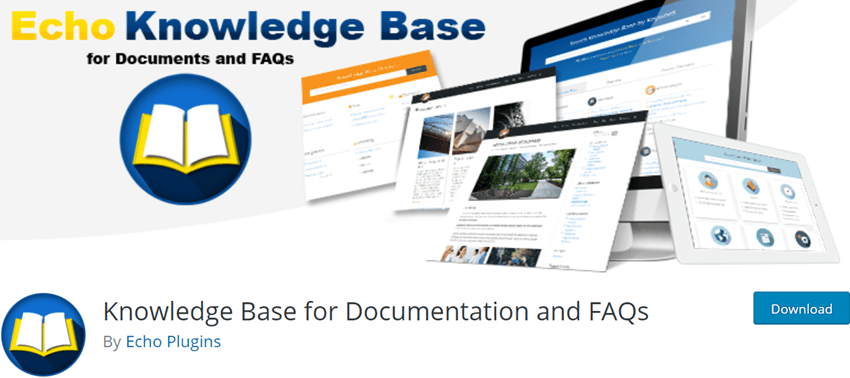 Echo Knowledge Base integrated with essential features to manage the knowledgebase data available all over the website. Create a specific layout for arranging and displaying articles about products so easily and promptly. Although, make your website more presentable while organizing such documentations with efficient frontend integration. Let you design the layout for articles ordering at a perspective location on the website instantly with available pre-designed templates. Compatible with any existing theme on the website as this amazing plugin works smoothly anywhere.
Elementary Features –
Easy Configuration – Enables you to set the configuration shortly within few simple steps which required no coding formalities.
Organize Documentation – Contains layout tabs that assist you to organise various documents available on the site including product, service, and even teammates.
Intuitive Search Bar – Avails the facility to search any product article promptly while just clicking on the search bar and every related article will be listed below.
Rating and Feedback – Allow your users to give you ratings and feedback for the experience they got while reading articles on our site that helps you to improve more as well as grow more.
Import Article – Let you easily import the article from any CSV file to Knowledge Base.
Total number of users – 10,000+
Price – 1 Site – $46/annually,  5 Site – $110/annually,  10 Site – $345/annually
Best FAQs, Documents, and Knowledge Base for WordPress
Screenshot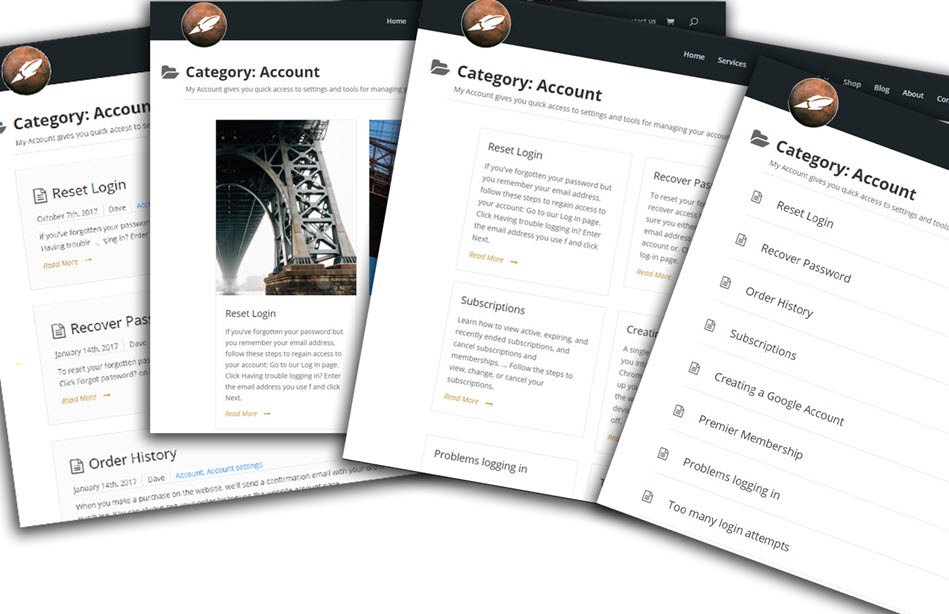 4. HelpCrunch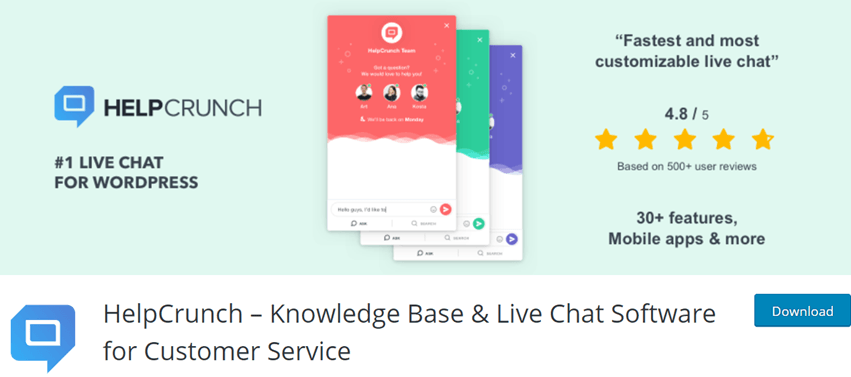 HelpCrunch – An extensive Knowledge Base Plugin to maintain your website's content so conveniently. Although, this effective WordPress extension also lets you create knowledge Base functionality on separate product pages to enhance the user experience. Hereby, you can establish self-service access anytime while providing every essential detail in articles. Design the layout of the article simply in minutes with the help of pre-designed templates. Just create the intuitive look and feel of the entire site by displaying the article in a more attractive way. Such a robust and seamless integration builds your website a more engaging one.
Why Do You Need HelpCrunch?
Article Creation – Easily create and edit helpful articles by utilizing the simple editor that lets you add images, tables, videos, and more to make such articles more readable.
Hierarchy – Set the hierarchy into categories and sections as well to make such knowledge base data helpful for customers. Let them find answers easily to some queries even without waiting for any reply and comments.
Easy search – Automated suggestions will show while typing anything on the search bar. As you inserted some keywords into your articles that shown to your users in suggestion.
There are many pre-defined colour themes and style combinations. Breadcrumbs, tags, comments, and back buttons can be added to the knowledge base articles. The front-end text can be set to any language.
Visual builder can be used and configuration changes can be checked in the live preview. Articles and categories can be ordered alphabetically or chronologically.
Total number of users – 300+
Price – Standard – $144/annually, Premium – $240/annually
How to add live chat to your website
Screenshot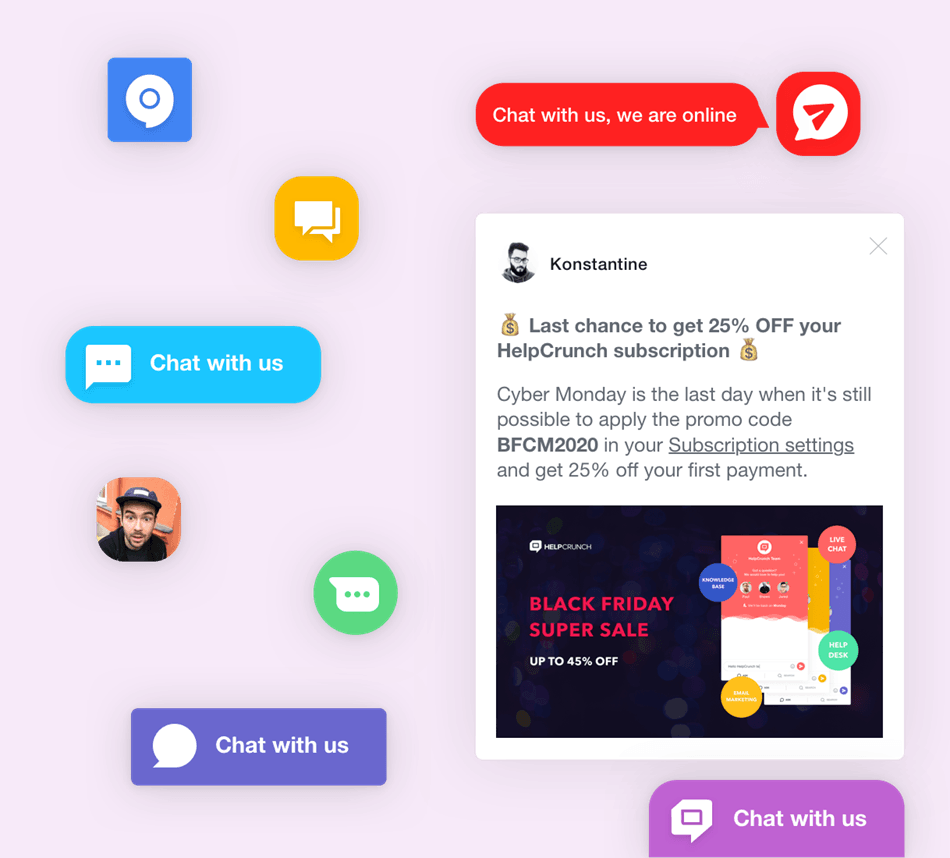 5. weDocs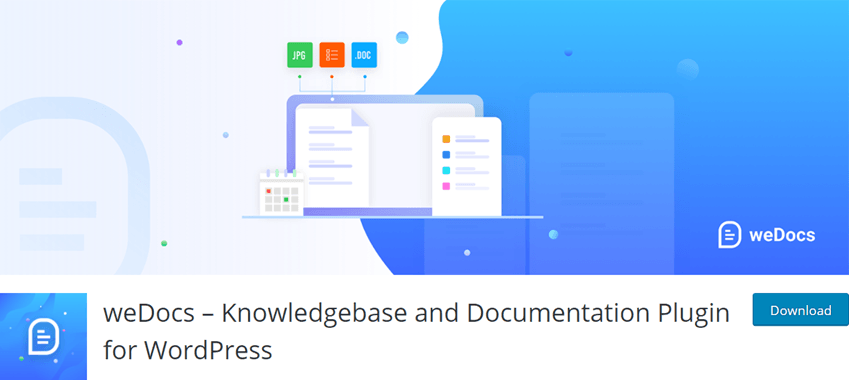 weDocs is a well-oriented extension for WordPress that lets you manage the knowledgebase system while distributing it into a hierarchy. Manage the entire knowledge base that existing widely on different pages of your WordPress Site. Although, provide a better user experience while adding articles into product pages which works as self-service equipment that is available anytime and anywhere. Let them find the answer to their query while reading articles thereby that includes every detail that you want to desire. Relax your customer service desk by providing such articles in a more presentable manner that can be readable by your customers.
weDocs also enables you to analyze your user experience by tracking every view and commenting section. Allow users to interact directly with you while sending replies and feedback about the experience they access on the website. Moreover, access search alternative for any relevant content that you desire to read anytime along with the presented search bar. Insert genuine keywords into available articles that show in the search suggestion while anyone typing such related terms. weDocs easily manage the knowledge base in less time and effort and enhance the user experience that increases the revenue thereon.
The catalogue presentation can be easily customized. The search is very fast with predictive text. There are many sidebar widgets such as posts, categories, tags, and searches. Comments can be displayed on knowledge base articles. Breadcrumbs are integrated with this plugin. The articles and categories can be custom ordered with its drag and drop feature. It is supported on all major browsers such as Safari, Chrome, Firefox, etc.
Total number of users – 5,000+
Screenshot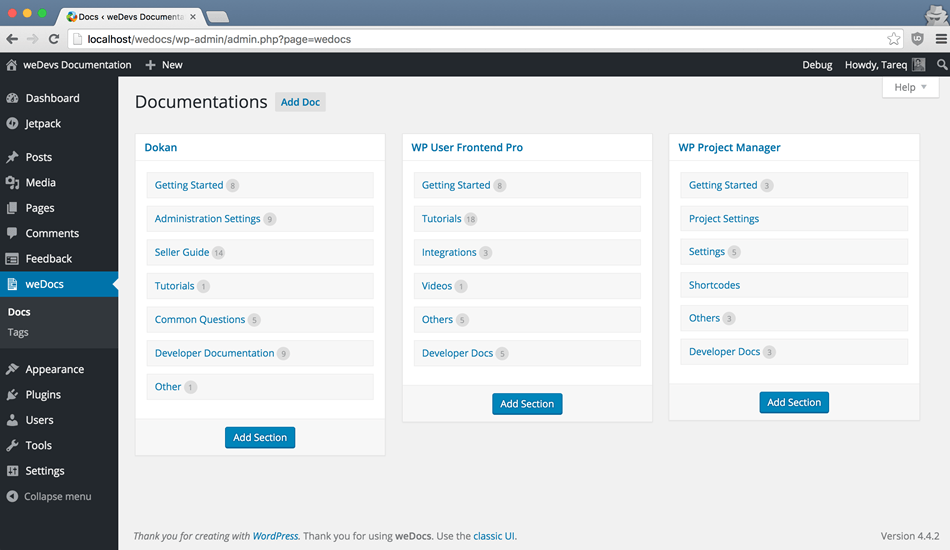 6. BasePress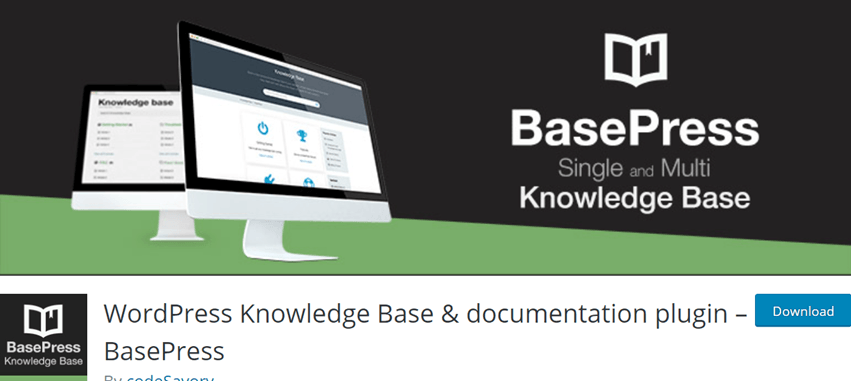 With best-in-class features, Knowledge Center is an enterprise-grade, powerful knowledge base software and has a robust codebase. By allowing easy access to information, partner, customer, vendor, and employee satisfaction can be increased. Support costs can be minimized by creating a self-service community. Access to the knowledge base can be allowed from any device. The knowledge base content can be centralized so that info can be found out by the users faster. Amazing-looking support agent pages are detailing the content. Files can be attached to articles for users to download. A track of the revisions to the content can be kept with ease. Recent and featured knowledge base content can be displayed with widgets.
You can easily create documentation using articles for helping the customers with the products using guidance. This plugin allows us to organized documentation in the form of some excerpt style. Plugins automatically create frequently asked questions based on user search and filter out details. For multiple products, you can define multiple products, and then inside products, you can easily separate products with their guidance content. Your customer can easily download the screenshot of the guidance articles with just one click. Classification based on taxonomies are the best way to arrange document which can only be done by using this Plugin.
An easy-to-use knowledge base plugin, Knowledge Base plugin for WordPress, Knowledge Base for Documents, and FAQs plugin works with any theme and has predefined styles, colours, and layouts.
Total number of users – 1,000+
Screenshot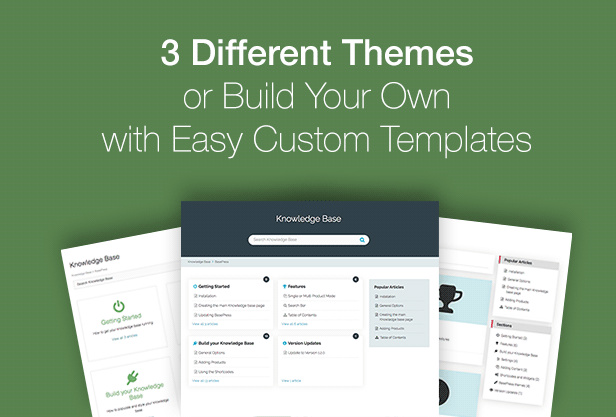 7. Very Simple Knowledge Base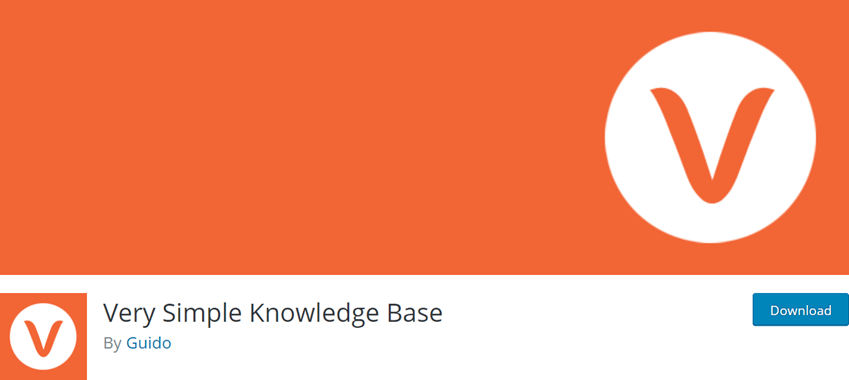 Very Simple Knowledge Base is a powerful WordPress plugin for websites that helps to reduce support costs and time spent handling customer inquiries. With a simple Knowledge base, an attractive and professional knowledge base can be created. This plugin is very easy to use and works with any theme and can be easily customized. The Ajax search is very fast which helps the customers to find what they need. Through the built-in analytics, it can also be found out how the knowledge base is helping the users.
To create a simple knowledge base and FAQ section on the WordPress blog, Knowledge Base is an amazing plugin. To create and display the knowledge base, a custom post is used by the plugin in conjunction with taxonomies. A custom post type WP_knowledge base is used so that even if the plugin is deleted, the data stays there. Tags can be used for each knowledge base article.
An unlimited number of categories are supported by this plugin. The entire knowledge base or just a section can be displayed using shortcodes. Many inbuilt styles help to display the knowledge beautifully and they are also very responsive. Categories can be used to draw up the knowledge base. The knowledge base can be viewed automatically on activation as the archives are enabled.
The knowledge base created by this plugin is very well organized and looks professional. There can be up to three levels of categories and sub-categories. An Ajax-enabled search box can be added.
Total number of users – 600+
Screenshot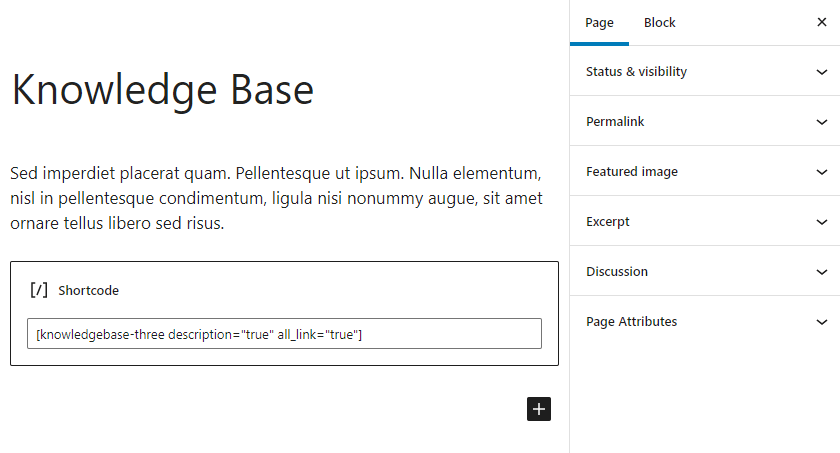 8. MinervaKB Knowledge Base

MinervaKB Knowledge Base plugin Help Desk plugin also comes with a glossary, help desk, and FAQs. It is very simple to use. There is a section-wise knowledge base. The users can sort them alphabetically, views and popularity. Knowledgebases can be added to the posts and pages just with a simple shortcode. The Knowledgebase slug can be customized to set the opening path of the URL of the Knowledgebase.
The listing of the parent and subcategory are done in the same way. There is also an option of up-vote. There can be multiple tags in each article. Article views can be counted. There are three types of search options for custom CSS from Knowledge Base settings. It is friendly with mobile devices and is fully responsive.
It is a great tool for knowledge sharing and content marketing. It helps the users to organize contents and links around categories to display as a curated collection. Multiple lists can be created and they can be displayed anywhere on posts and pages. The lists can be filtered by the user by texts, tags, and categories. Several options can be defined by the user for the feel and look of the list such as remove elements from the list, tooltip colours, and much more. The last update date can be shown for each list. Categories can be ordered within each list and links within each category. This can be done using drag and drop. There are many shortcodes available to place the lists anywhere in posts and pages.
Price – Regular License – $69/Lifetime
Screenshot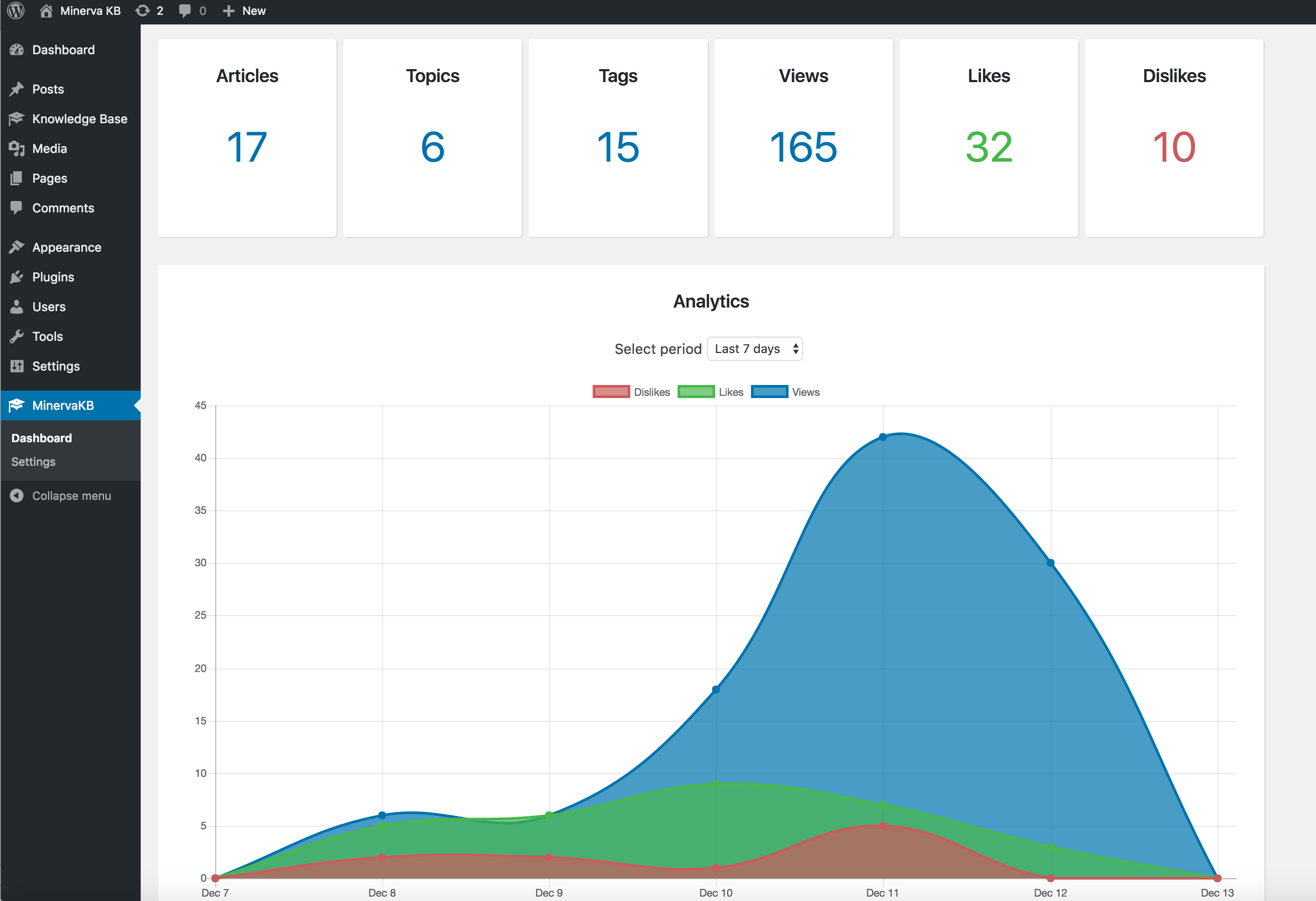 Conclusion – Still confused about which is the Best Knowledge Base Plugins For WordPress? Don't get confused my friend choosing wiki plugins are not difficult. If you want free Best Knowledge Base Plugins For WordPress then you should go ahead with Knowledge Base for Documents and FAQs. But if you really need a good one with lots of features then you must spend some money and buy a premium it's worth each penny. If you are interested in premium then you must choose  Heroic plugin or Gd plugin. Both are awesome and created by masters.