15 Best Travel WordPress Themes 2023
Are you looking for Premium or Free Best Travel WordPress Themes? Categories Travel is not small means there more many ways in which you can make using tourism industries. Almost you can say travel niches is one the fastest growing market in the world.

Using travel niche you can either start a website related to travel blog, hotels, spas, motels, Tour Operators, travel agencies, or travel booking, etc. Based on your ideology you should select the perfect theme which is suitable for your idea.
Your travel theme must have these functionalities like an Automated Booking system, Google Maps integration, custom page types for travel packages, photo galleries, Payment gateway, etc. However, some of the themes have pre-built options like color customization, pre-built design, and blog.
You may also be interested in a personal blog and  Hotel WordPress theme.
Now let's have the list of top Travel booking WordPress Themes are as follows:
Table Of Content
1. Divi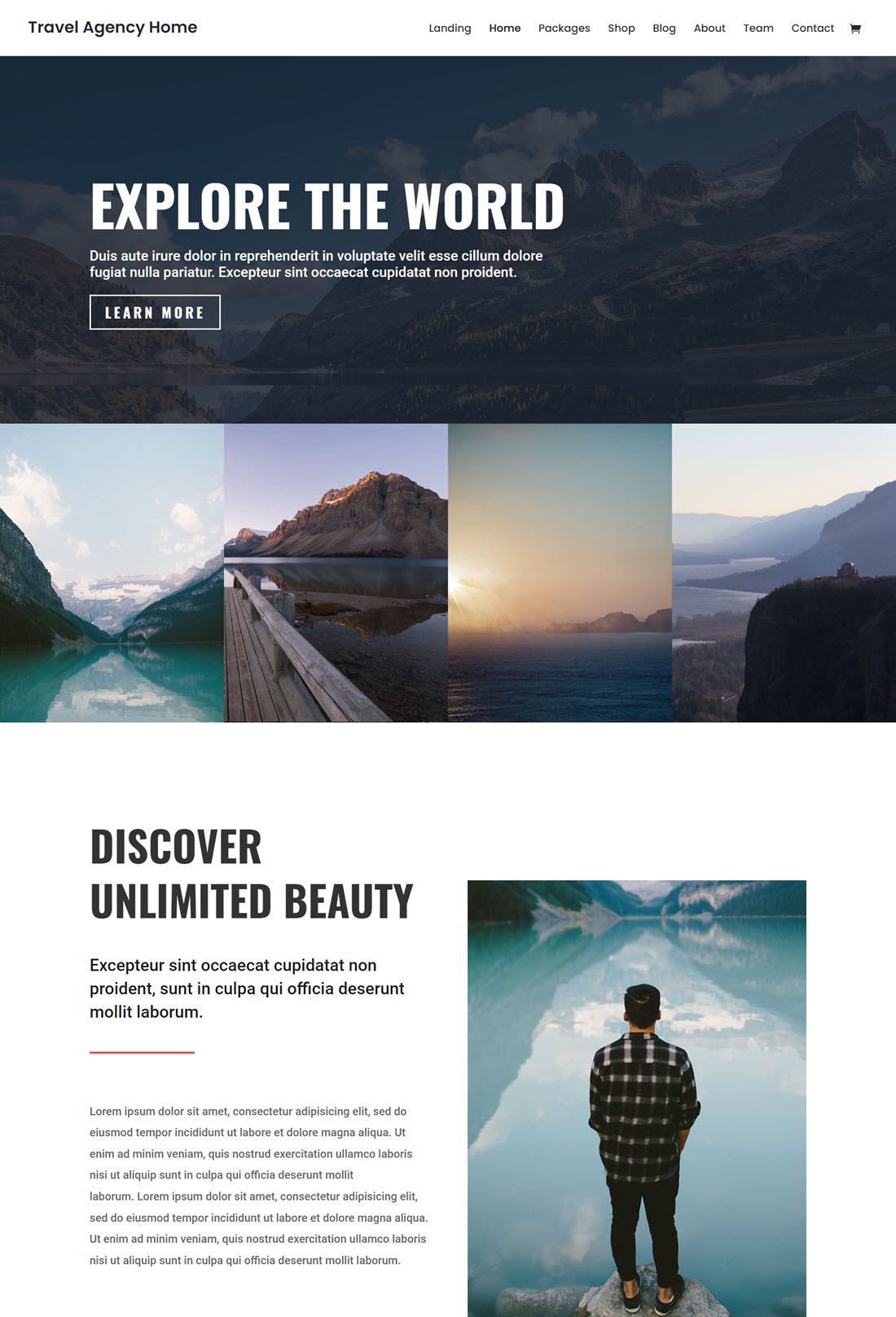 Divi presents an exclusive range of travel themes, i.e., applicable for travel agencies, travel bloggers, photographers, and other travel niches. Get access to retina-ready and responsive travel layouts in just a single click. Moreover, here you will get accessories to customize the look and feel of the entire travel website and make it live in a few minutes. Divi theme for travel niche industry contains WordPress hosting and domain accessibility as well as to adapt constant updates. Great customer support lets your doubts and queries be resolved shortly.
Core Features –
Integrated with Divi page builder let you create beautiful landing pages and inner pages.
Drag and drop accessibility let anyone easily add images and content.
High speed strengthened lead generation.
Child theme and modern technologies integration.
Price – Yearly Access – $99/annually,  LifeTime Access – $199/OneTime
2. Cousteau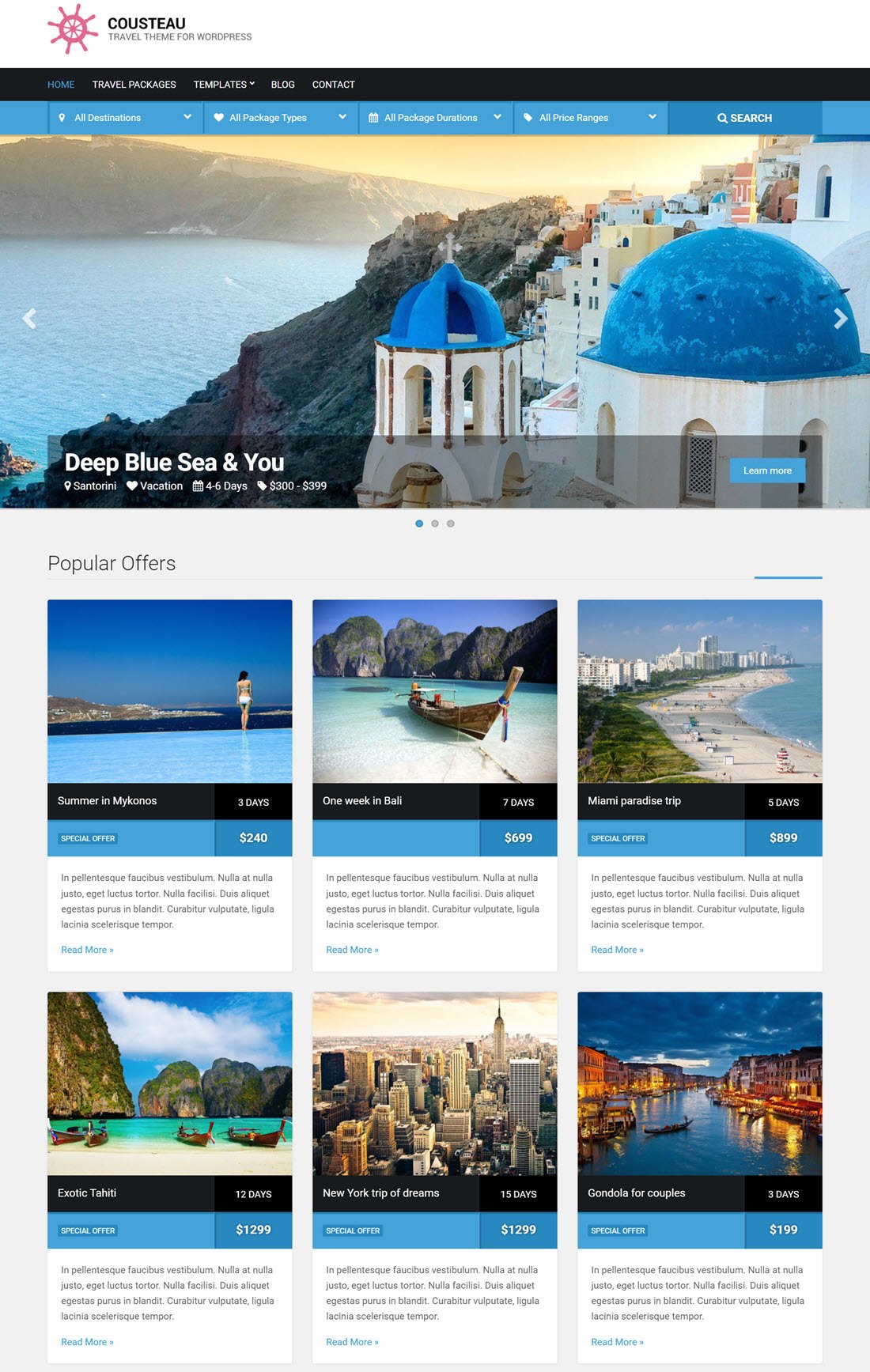 Cousteau is a great theme integrated with HTML5 and contains an amazing collection of templates for travel niches. Whether you are an adventure travel blogger, travel agent, or even a tour operator, this theme is a fruitful choice for you. Here anyone easily creates a responsive travel website that looks nice on different devices as well as on modern browsers. Quick process for building an outstanding website along with customizing options. Retina-ready blog pages are available that you may customize easily with a drag and drop interface. Bootstrap Grid layouts enhance the appearance of the website.
Elementary Features –
24 beautifully crafted templates with 3 different variants of homepages.
Showcase your content however you desire with custom widgets.
Elementor access let you create amazing pages.
Let you add videos and create a slideshow to decorate websites.
Price – Cousteau – $49/annually,  Standard – $69/annually,  Developer – $79/annually,  LifeTime – $249/annually
3. Tourism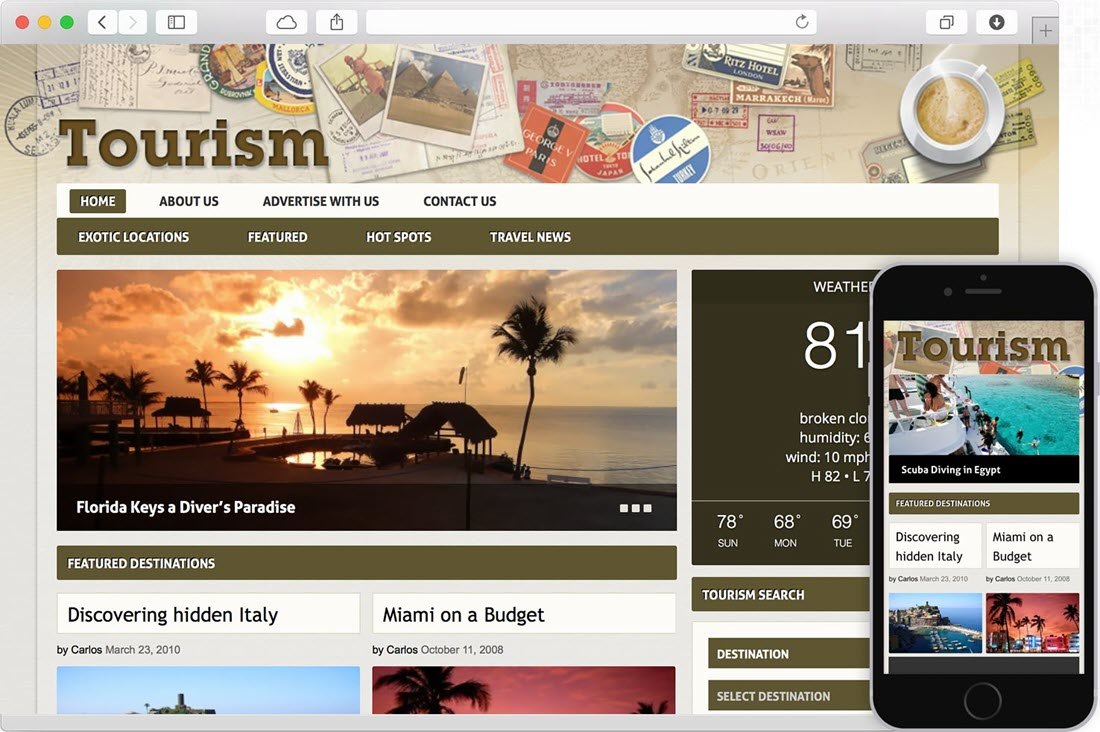 Tourism is an elegant travel theme designed by experts to let you design a feature-enriched website for the travel and tourism industry. Effective search accessibility module enables audiences to search destinations easily. Craft such websites with custom widgets, carousels, multimedia access, destinations track, and much more. One-click accessibility to install and re-design responsive demo site. Nicely integrated with SEO coding that keeps the website top on various search engines. 5 beautiful color schemes are available in Tourism Theme let you design your website with the desired color that matches your brands.
Key Features –
widget-ready theme for advertisement, weather, videos, and much more.
Create a personalized search module by customizing labels and categories thereon.
Highly responsive theme stands out on android or IOS mobile, desktop, laptop, and other devices with great resolutions.
Price – Standard – $39/annually,  Premium – $69/annually,  Deluxe – $99/annually
4. Monochrome Pro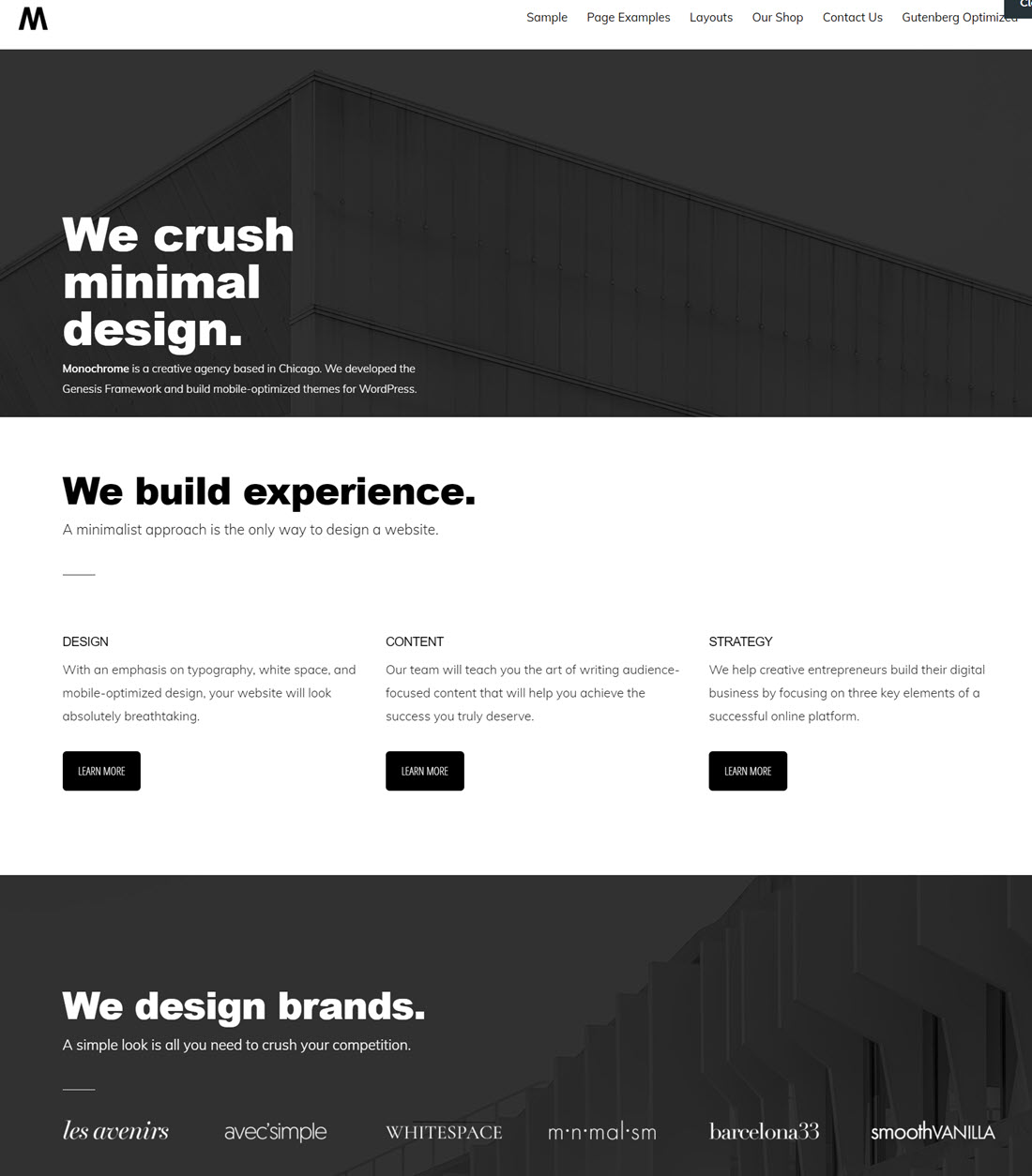 Monochrome Pro is an extremely integrated theme for the Travel industry whether it could be for travel bloggers, agencies, and tourist guides. This feature-oriented travel theme helps them to showcase their services and achievements so elegantly on websites. Elementor support let beginners and experts create easily a functional website in less than an hour. No need to configure any kind of coding as it has is already done for you. Hereby, you can simply create different sections or even pages for blogs, sliders, portfolios, services, testimonials, and much more with multiple custom widgets.
Monochrome Pro provides flexibility in customizations while changing fonts, colors, images, logo, and overall typography in minutes. Moreover, listing the tourist destinations along with custom search modules. Integrated with essential booking plugin to book tickets of tour packages shortly.
Price – Regular License With Genesis Pro – $360/annually
5. Grand Tour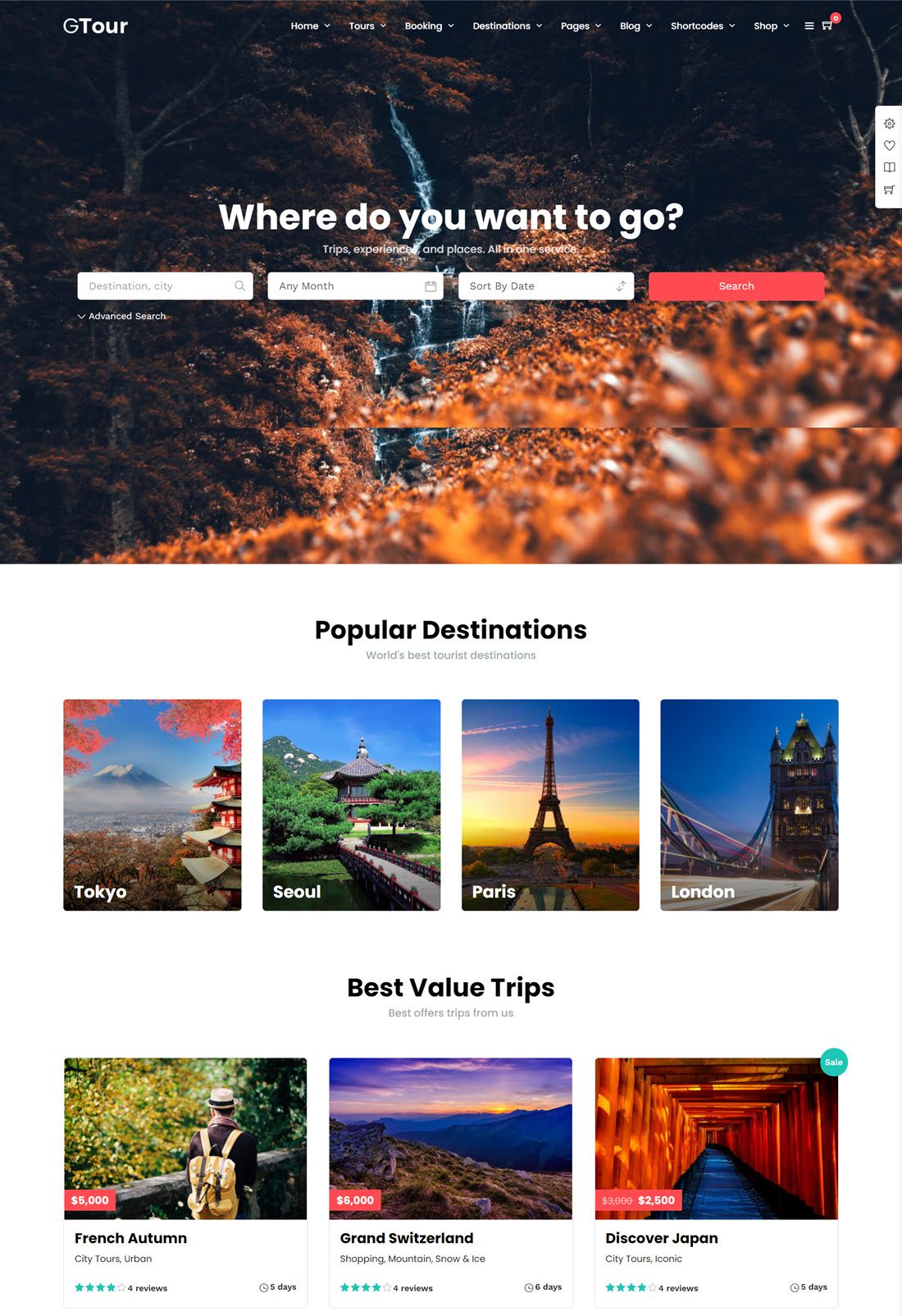 Grand Tour flaunts an appealing slider and a user-friendly booking system to let the visitors find their dream destination. Grand Tour carries a minimal and responsive layout making it fully accessible across devices of all screen sizes. 55 shortcodes make it easier to design intuitive websites without prior knowledge which makes it one of the top Hotel Locator, Car rental, and Cruise Booking themes.
With its dual option of layouts – both fixed and full width, Grand Tour is a suitable choice for travel agencies and tour companies. Altair offers a unique booking form that makes your company worth remembering by the customers. The theme has unique destination pages that prompt the visitors to book tour packages with you with their amazing parallax scrolling effect. The theme has a variety of home page designs to choose from.
Price – Regular License – $64/OneTime (1 Site)
6. TravelTour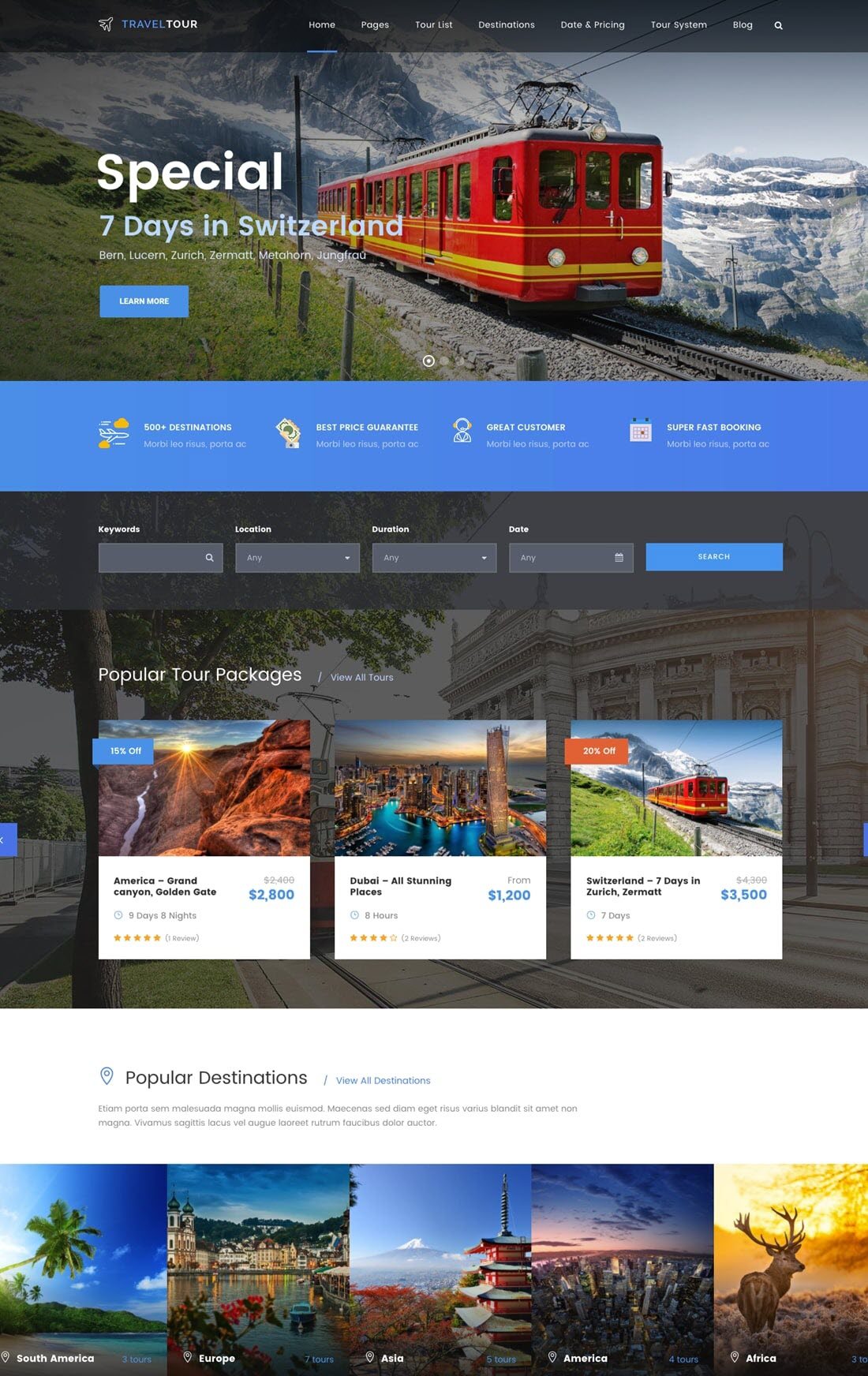 Travel Tour is an awesome Tour and Travel booking template. it is a travel & tour theme that caters to the requirements of both pro and beginners travel agencies and tour operators.It facilitates the customers to book online tours seamlessly. You can easily create a user-friendly and robust tour management system using Travel Tour. You can also offer multiple tour options to the visitors, for instance, a single-day tour or a multiple-day tour. The theme integrates well with PayPal, credit card, and bank transfer for ease of transactions.
You can display the tour packages to the visitors in detail through unique tour lists and single templates. Besides, the visitors can pin their destinations on the map. You can also include travel reviews and organize tour plans. users can easily register themselves with your site and manage their tour booking. The fanciful theme lets you customize your site to whatever extent you wish to.
Price – Regular License – $69/OneTime (1 Site)
7. Triply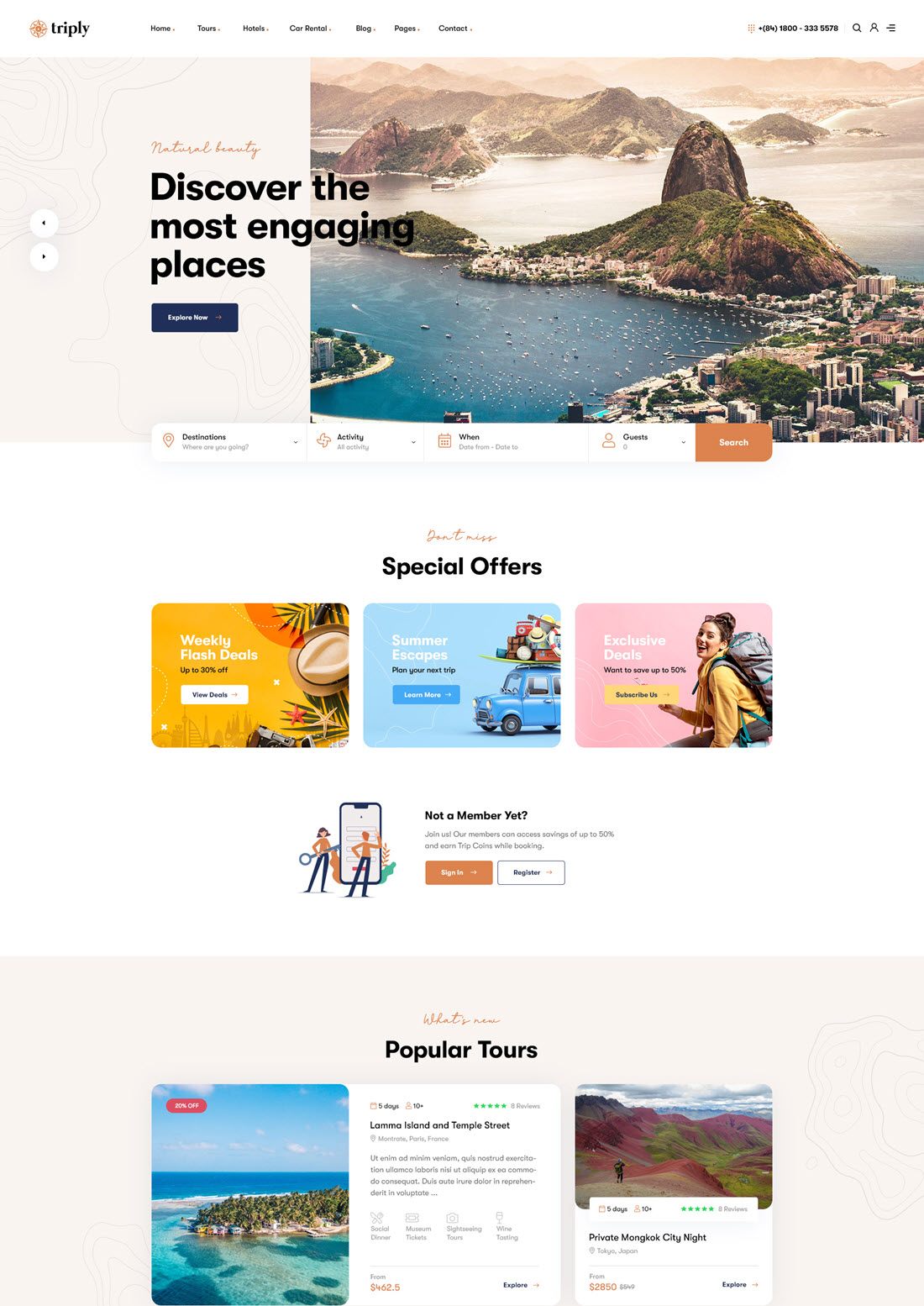 Embark is a one-stop solution for travel agencies and packages holiday providers. The travel kit has all attributes to position itself as a turnkey theme. The theme equips itself with world-class functionalities to provide comprehensive holiday solutions. Several custom post types cover flight bookings, hotel reservations, and hiring vehicles too.
A lot of thoughtfulness has been put while designing Embark and it fulfills various aspects of a traveler. The 12 demo templates are very informative and a few of them offer excellent search queries to find the travel destination. Embark secondary menu runs simultaneously at the bottom of the screen along with the vacation categories and icons being user-centric.
Price – Regular License – $49/OneTime (1 Site)
8. Travelicious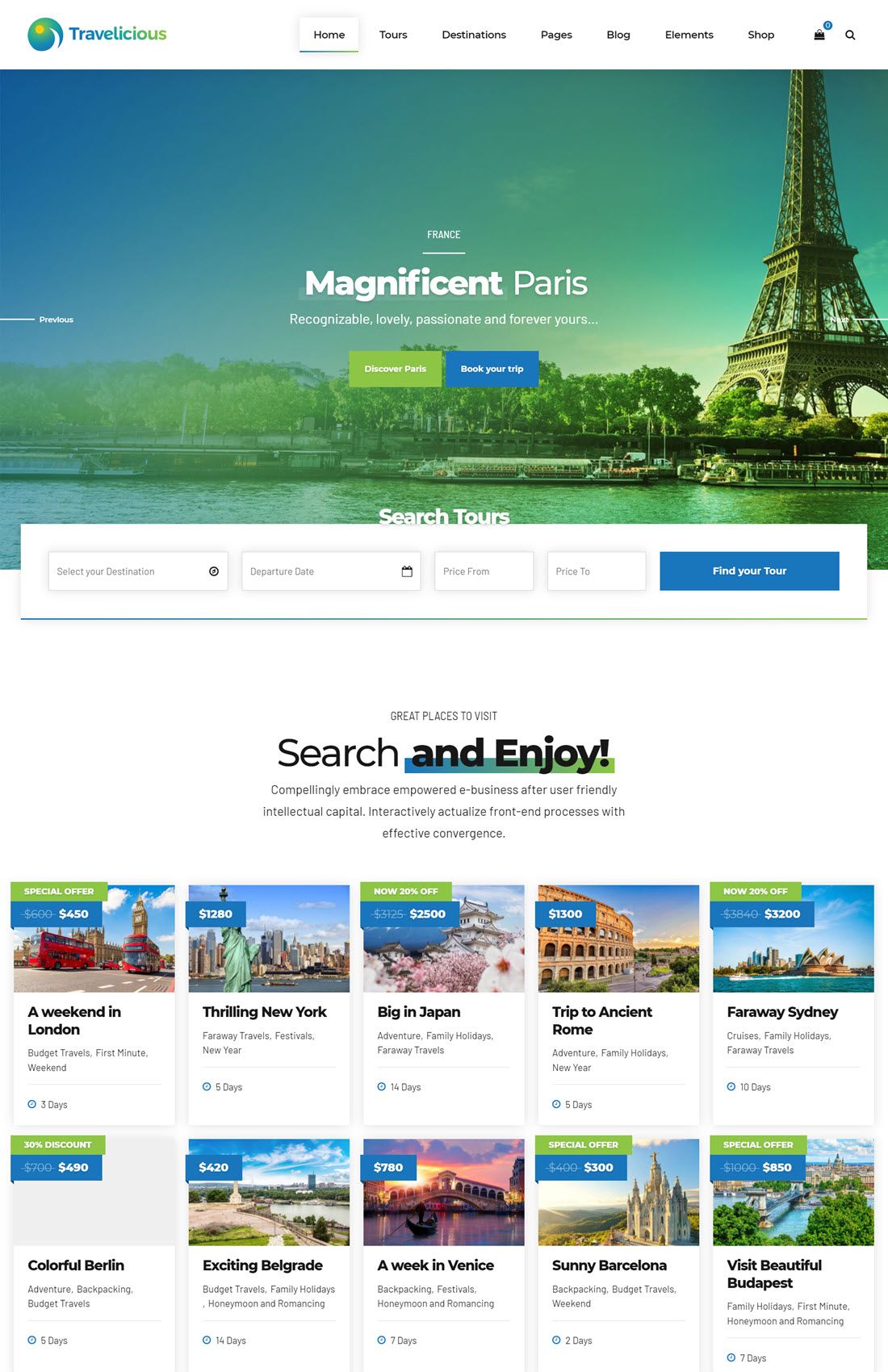 Traveler is a versatile theme from ThemeForest that offers numerous layout options for grid images, testimonial editor, and video backgrounds. you can sell your services or accept donations due to PayPal theme integration. The smart search option helps the visitors to instantly find a video or any article they are looking for. If you want to be the first choice for explorers, then Traveler can be your right choice.
WordPress has all potential to create a highly informative theme for all potential travelers and explorers. The support team can offer help in any language of your choice. WordPress gives you the option to sort the functionality based on criteria such as destination, month, price, and date. WooCommerce shop support facilitates you to have an online shop for travel-related goods.
Price – Regular License – $69/OneTime (1 Site)
9. Trendy Travel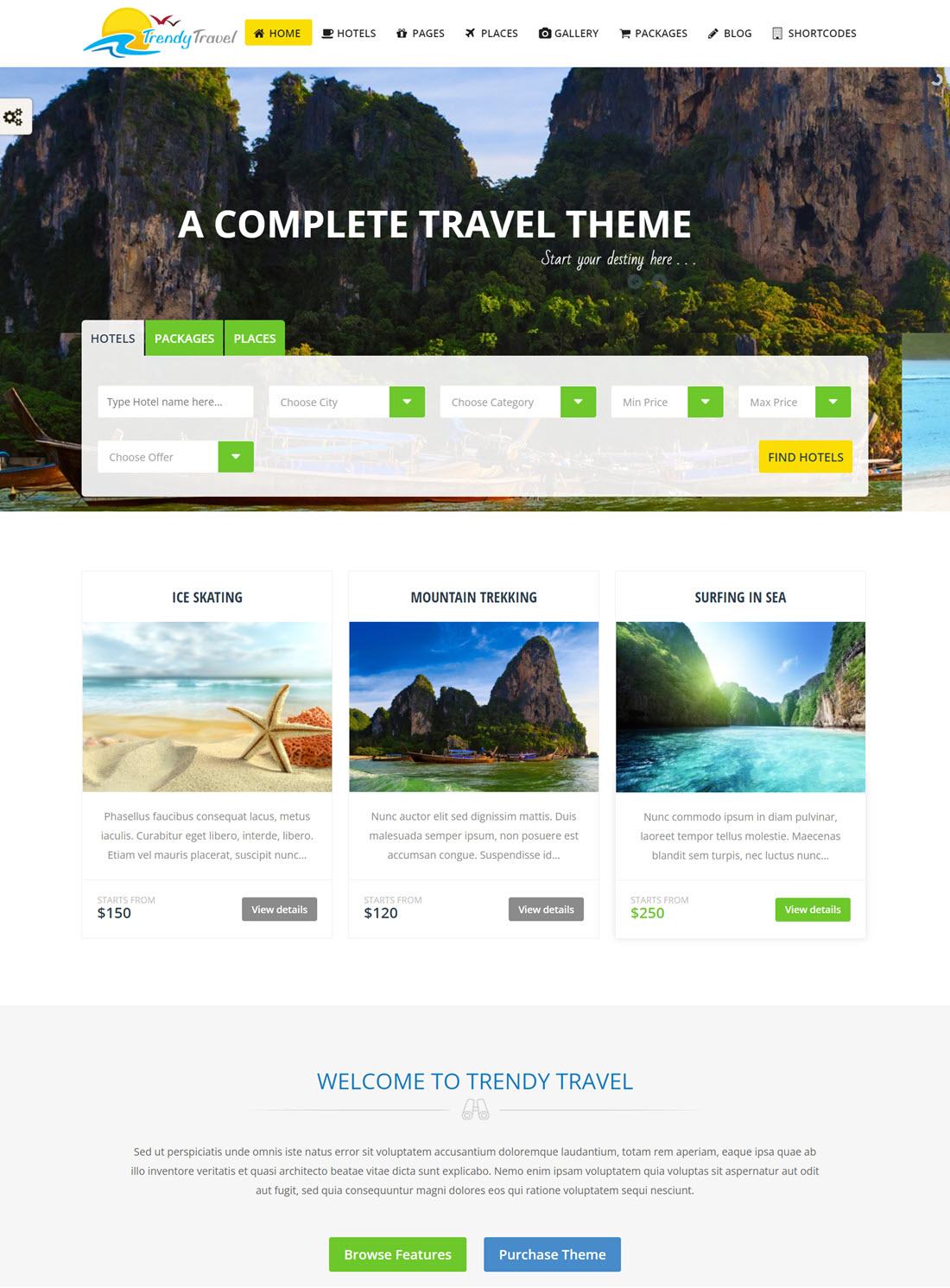 This contemporary theme from ThemeForest designs a simple and clean website for hotels, travel package companies, agencies, and tour operators. An advanced search option is integrated into the banner and a custom events calendar helps to view the activities going on in certain areas. Tour, gift, and holiday packages can be intuitively designed using custom posts.
The theme features a full-width slideshow to display your most prioritized article. Besides, you also get the opportunity to showcase your company's services through the social media links in the biography section of the theme. There are several features such as Google Maps Widget compatibility, shortcodes, videos, page templates, Gravity Forms, and WooCommerce compatibility.
Price – Regular License – $53/OneTime (1 Site)
10. Embark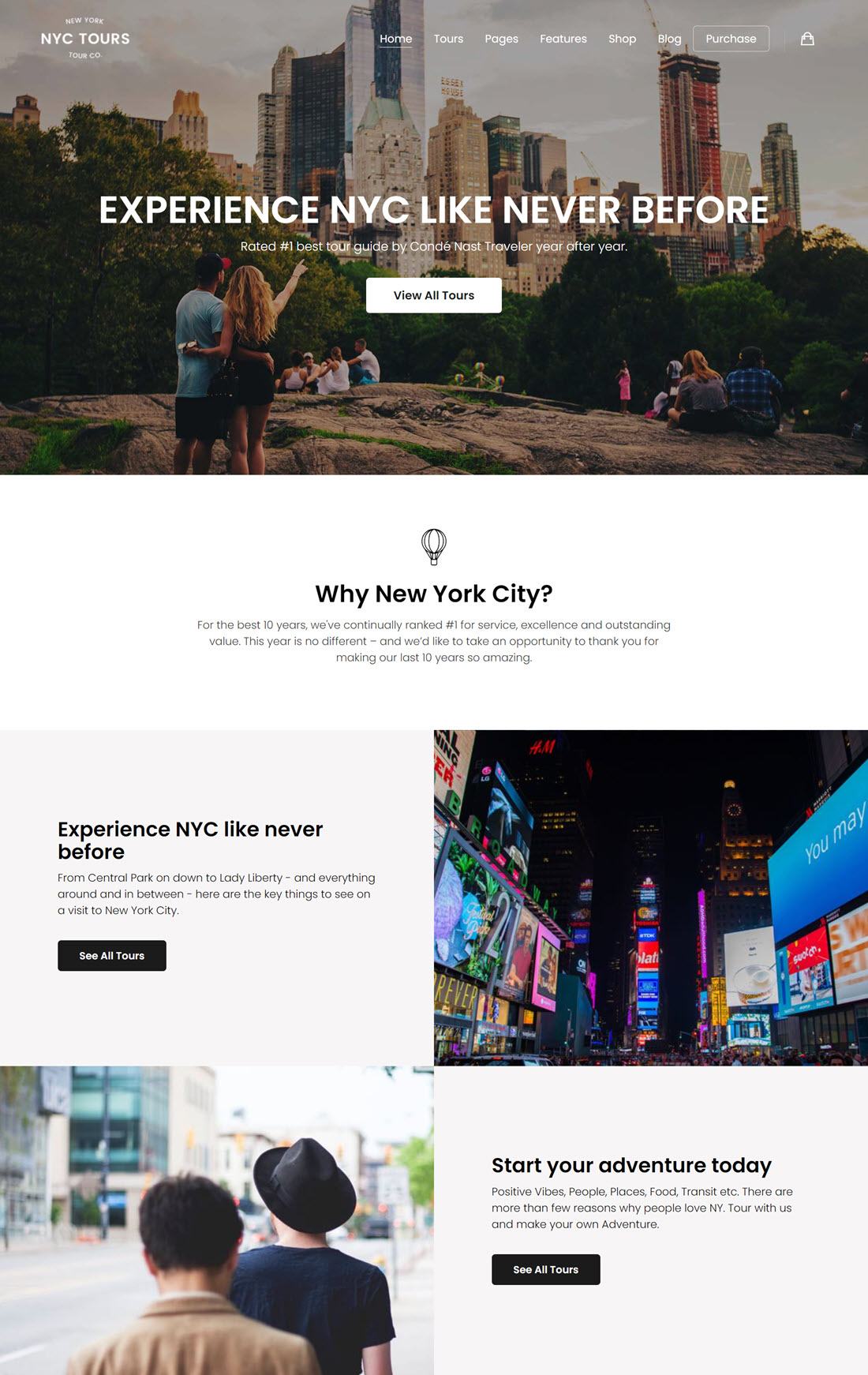 Embark helps to set a contemporary and feature-rich theme for your travel company to design travel websites. The theme offers niche-based 3 demos which are cherry-picked to create an intuitive website equipped with live, drag-and-drop, and front-end page builder. You can display the location view of the places you are promoting through the Master Slider Pro plugin.
It has all elements that one requires to host any kind of travel-related website. It allows the visitors to book services for hotels, cruises, resorts, and honeymoons. Love Travel has infinite scrolling, travel custom post type, Fancybox images, animation effects, and WooCommerce integration for ease of transaction. The key features include users reviews, maps, destination lists, and tour booking.
Price – Regular License – $59/OneTime (1 Site)
11. Adventure Tours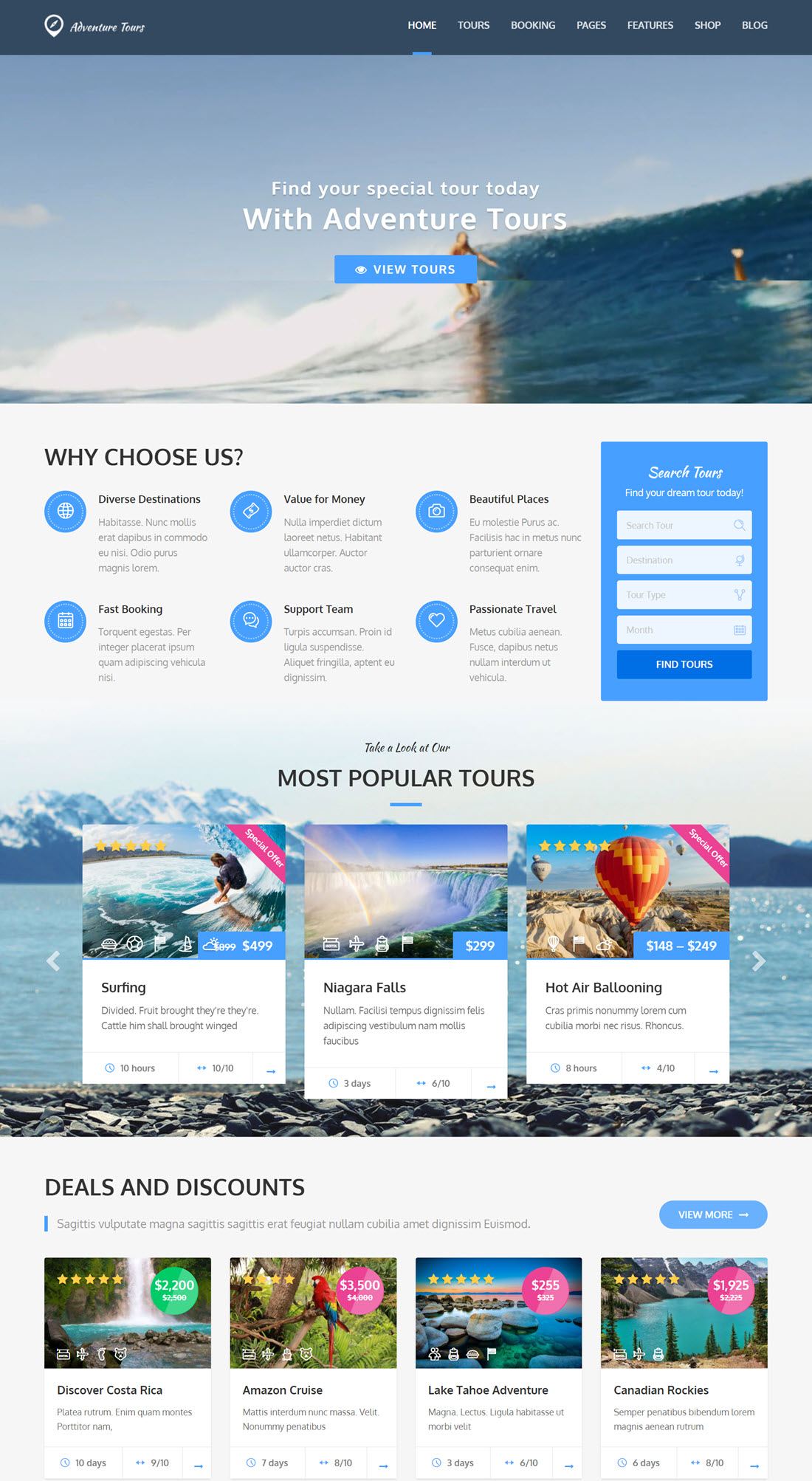 As the name says, Adventure Tours is exclusively crafted for adventure tour packages and suitable for hosting websites for tour operators and tour agencies. The theme offers a powerful booking system, regular tour scheduling, set multiple time slots, control the sale of tickets, and many more. It also helps to add five-star-rating endorsements from satisfied customers.
The multi-purpose theme is the child theme of Numinous WordPress Magazine theme and finds extensive use to host websites for magazine, newspaper, news, food, technology, viral content websites in the magazine-style.
The feature-rich Tour & Travel Website facilitates the design of travel booking websites for tour and travel companies. It helps you add destinations, trip types, tour packages, and other featured travel activities to your travel website.
Price – Regular License – $64/OneTime (1 Site)
12. The Travel Booking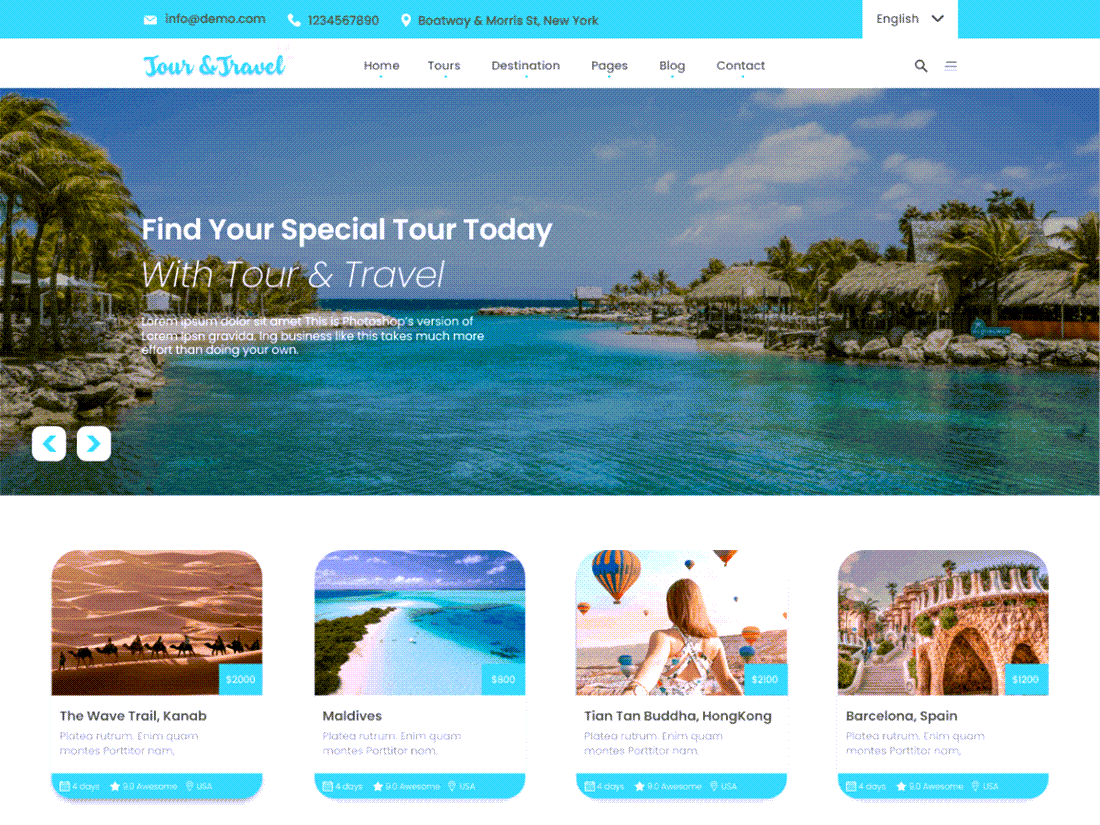 Travel Gem is a contemporary free theme well suited for travel & tour businesses. The theme integrates with the travel plugin WP Travel to showcase all the travel packages that your travel agency offers in the most attractive way possible. The theme integrates well with WooCommerce and hence has Paypal and other payment services available to facilitate the visitors to pay directly for the tour package. You can also make money by adding your Adsense code and sponsored images.
This is  highly responsive and SEO-optimized WP theme that helps to customize your travel-related websites with multiple theme options and view those changes live with the Live Customizer. The theme is further enriched with the advanced functionalities such as social media integration, post carousel, etc. that result due to custom widgets.Besides, you can globalize or localize the theme and include weather widgets in your web design.
Total number of users – 100+
13. WEN Travel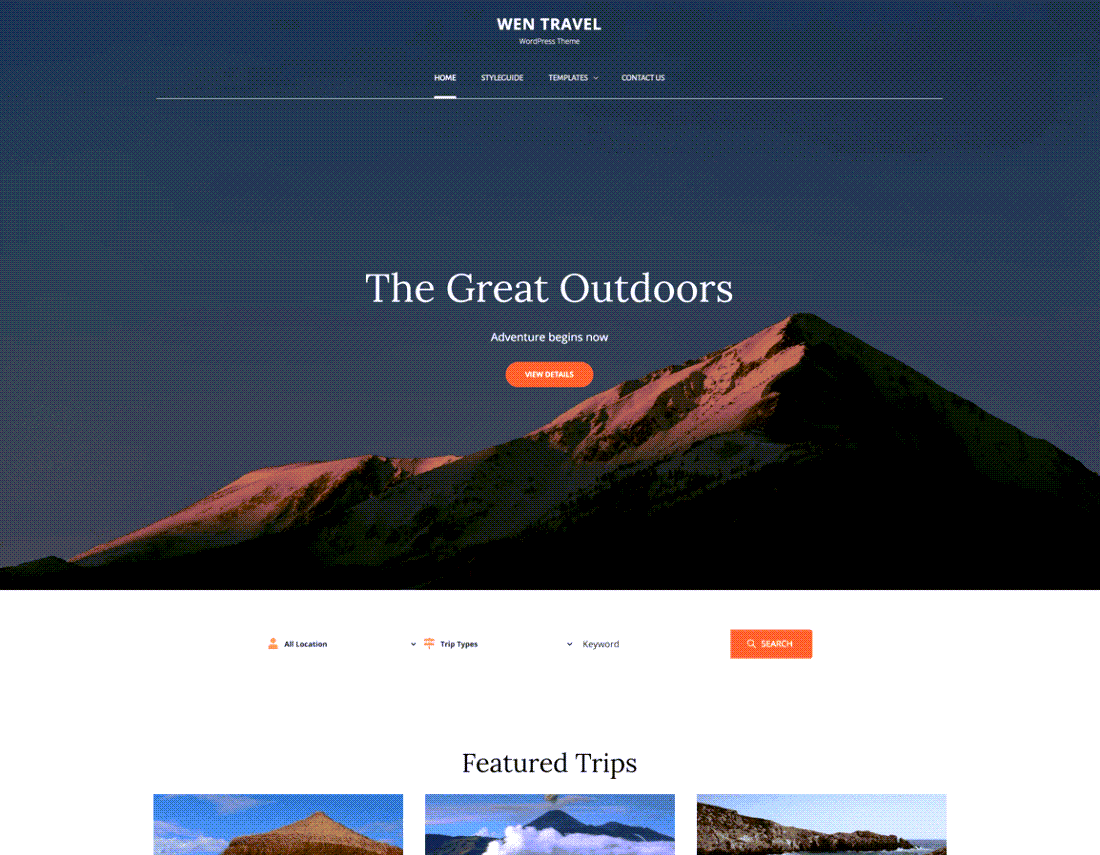 WEN Travel is yet another free multi-faceted theme that can host websites for travel blogs, travel agencies, tour operators, travel consultants, travel agents, tourist places, journey magazines, and other types of businesses. Adventure has been wonderfully designed for travelers, adventurers, explorers, and similar business niches. YouTube video integration allows you to showcase videos in the sidebar widget in a single click.
WEN Travel is based on location and allows you to pin your posts on the map, hence your followers can track your journey. You can easily build your travel blogs, travel guides, and local business directories due to the location-based listing attribute of the theme. Comprehensive mapping functionality and customization attributes allow you to tweak color and search. Coding best practices make the theme fast and secure. WEN Travel also offers strong technical support.
Total number of users – 600+
14. Travel Life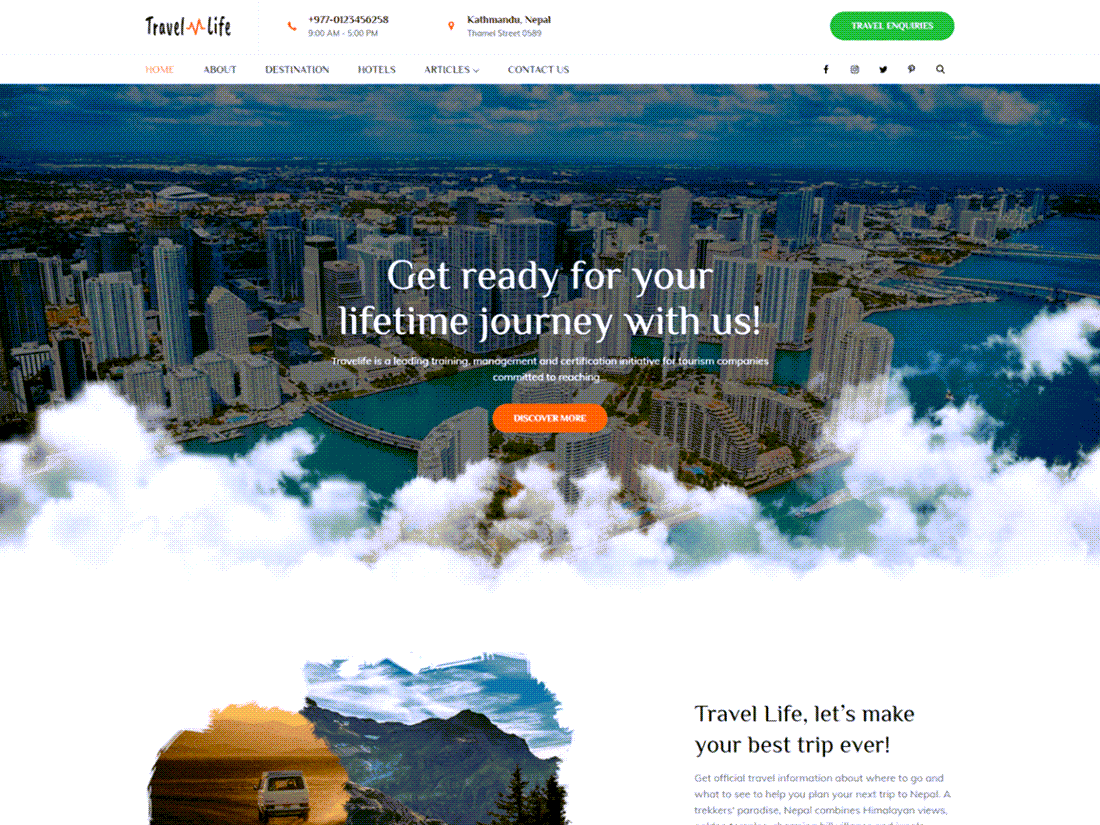 Travel Life is one of the best travel agencies and tourism-oriented themes. It is a highly responsive theme that has a comprehensive admin panel to suit all travel agencies' needs and has features such as pricing, categorization, itineraries, maps, and videos. You also get access to a lot of customization options, custom filtering systems, localization, shortcodes, theme options, and many more.
characterized by a robust destination search module. The responsive theme is ideal for travel journals, city portals, and tourism websites, and offers great possibilities for customization through its five-color style options. Other features include video widgets, featured destinations, and a home page article carousel.
Total number of users – 100+
15. Travel Agency Booking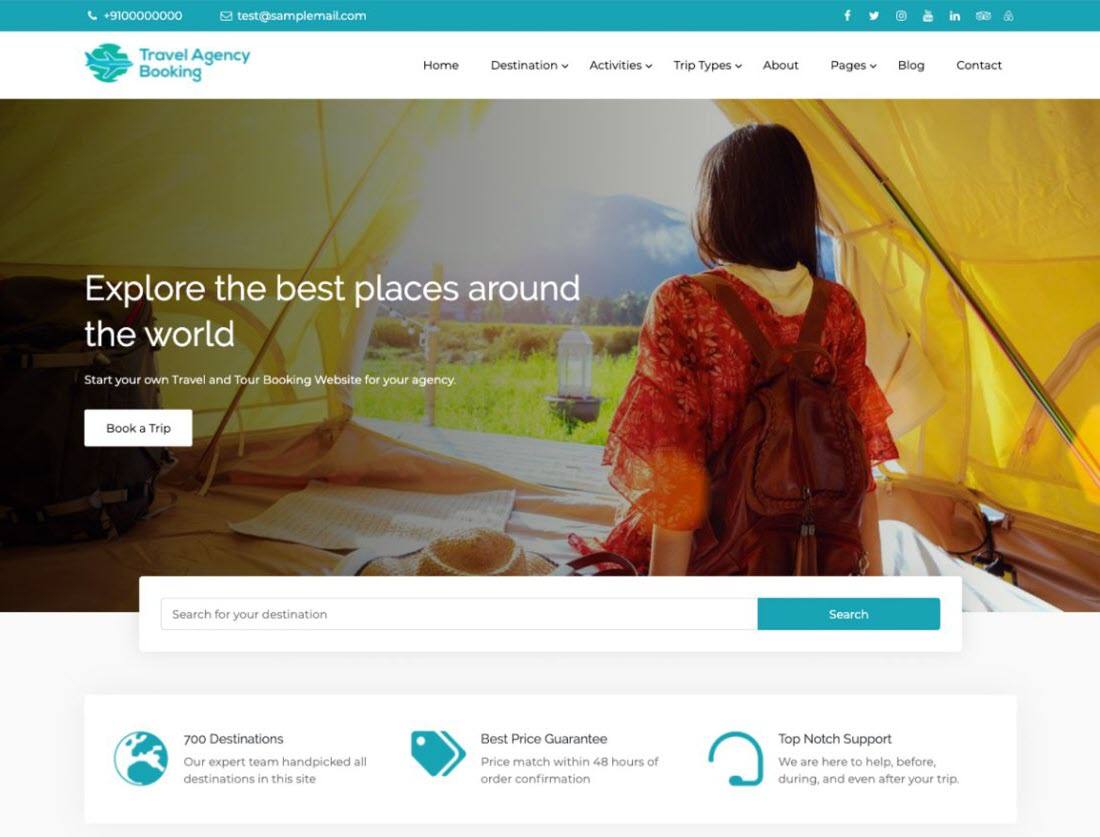 Travel Agency Booking is a travel-specific theme that lets developers create an extraordinary travel or tour website quickly. The website you create with this extensive theme is well-oriented for searching destinations in just a few clicks that deliver a better user experience. You will be able to furnish a functional travel-industry website for bloggers and travel agents where they can show their experiences and services respectively online. Integrated with WooCommerce functionality and easy-booking accessibility for the audience.
Travel Agency Booking is a completely responsive and SEO-friendly theme that enables a perfect content management system with essential plugins and widgets. This theme is a perfect fit if you want to create an online presence for a tour and travel company where everything is available. Showcase different tour packages with trip variants, destination tracking, and advanced search options.
Total number of users – 200+