RecordCast Review, Feature, Tutorial | Best Free Online Screen Recorder
RecordCast is a robust and Free Online Screen Recorder tool that helps you to record your screen. You can easily edit your video because it has an inbuilt video editor. For this, No software download is required to record the online screen. And the best part of this screen recorder is it's completely free for everyone and has no watermark on your recorded videos.

Technology continues to advance every day, offering tools that make it easier for users to work on the Internet and save time. One of those useful new tools is RecordCast, an application that allows you to record on your desktop computer screen or your webcam.
What is RecordCast?
RecordCast is a multifunctional program free online screen recorder that allows you to record your screen or edit your clips. The best thing is that the content is of high quality and the application you use is completely online.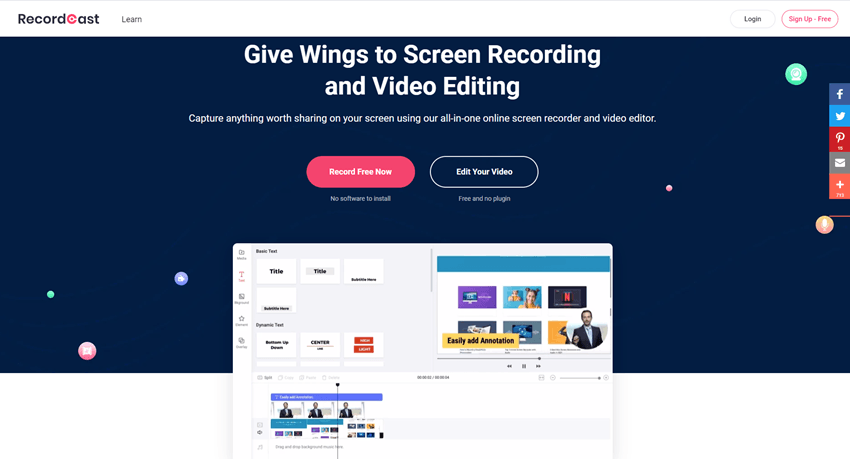 It also allows you to record online video along with the audio simultaneously. As a super-powerful plus from the editor, you can instantly change the material that has been recorded, either by adjusting the time or by placing attractive headlines.
Advantages of RecordCast
It is free
No need to install the software. Just open the webpage to use
Fast registration (FB/Google) 3 seconds registration
Up to 30 minutes can be recorded at a time
No watermark
Can edit and edit directly after recording
Can have picture-in-picture video recording (this is a plus point)
The output of the video recorded file will be an mp4 file
Can record synchronously with computer sound
Can connect external video lens and external microphone
Super simple operation without complicated functions
How to use RecordCast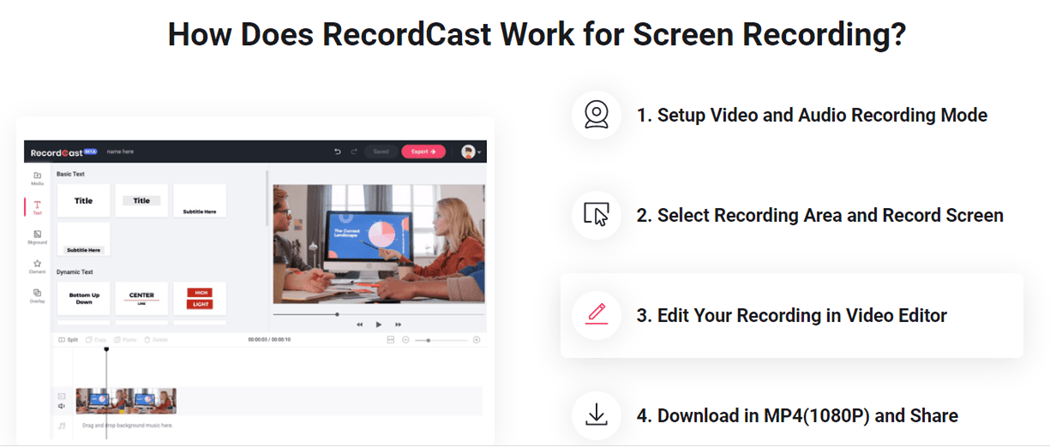 The RecordCast operation interface is super simple. It only needs the following steps to start recording.
1. Register and Login
First, click on the upper right corner to log in and register long as you have an FB or google account. You can log in and register with one click. Registration is completed in less than 3 seconds.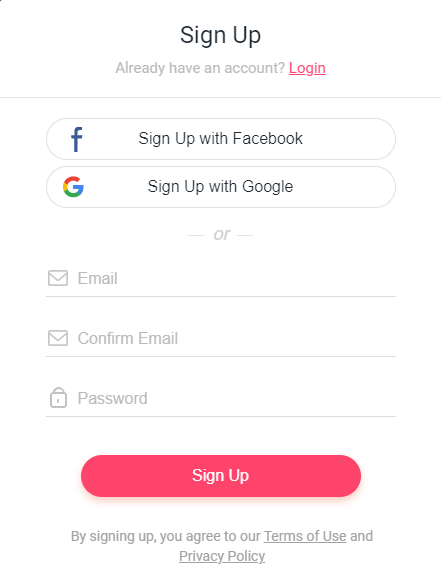 2. Select the recording mode
Left: Recording alphabet screen, with video screen + screen screen
Medium: Record the only screen
Right: Record only the Webcam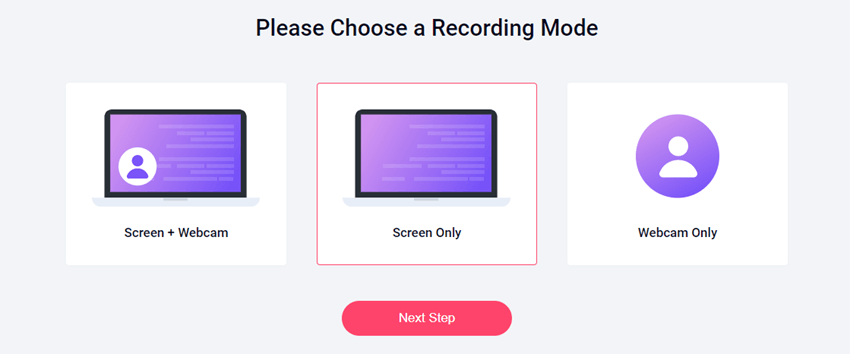 3. Choose a good connection equipment tool
Connect the external microphone and the external lens to complete. Select the screen window to be recorded. It can be a computer desktop or a web window. If you want to play video sounds and web pages, it is recommended to use chrome web pages to open.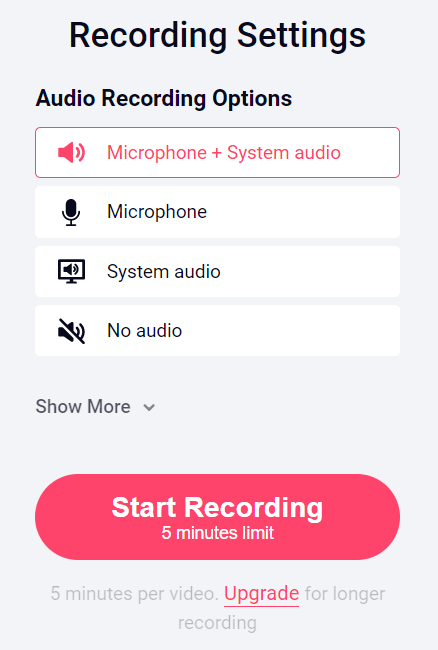 4. Press share and start recording
Press pause to end the recording state. You can hide the page while recording. Download and edit will appear after the end. It Will automatically provide you WebM file, but this can be converted if you enter the video editor. If you want to have an mp4 file, you must first come to the edit page.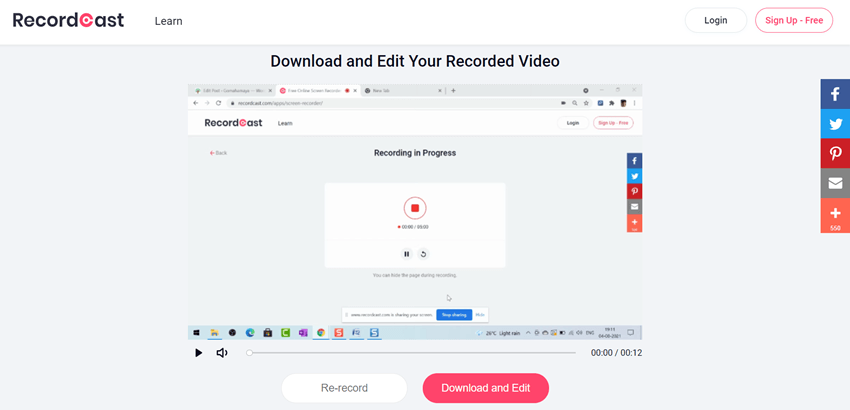 5. Edit the video
After recording the screen, you can click "Download and Edit" or visit the site and click "Edit Your Video" to edit the video. You can edit recorded videos and images on your computer.
Each edit menu is on the left, and the video timeline is displayed at the bottom of the screen. It's free and you don't need to install it, but you'll be surprised by the "it" of the appearance of full-scale video editing software.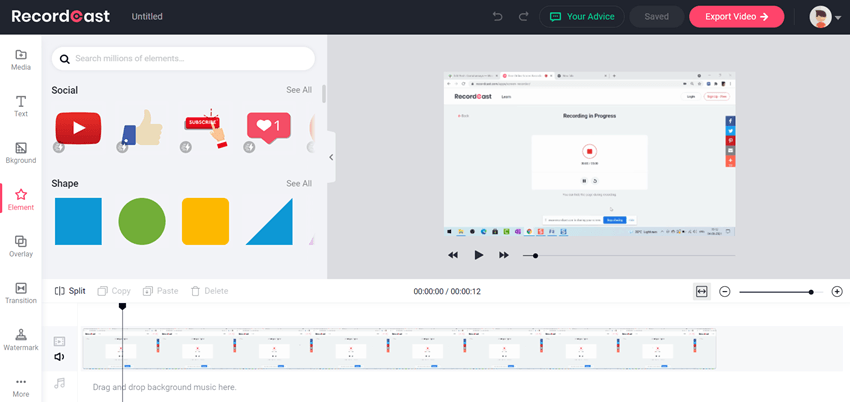 6. Export the video
There are three options for output. Of course, you can choose 1080p for high image quality, but it will take a long time. Generally, 720p can be used without strong power. 480p is enough for daily use.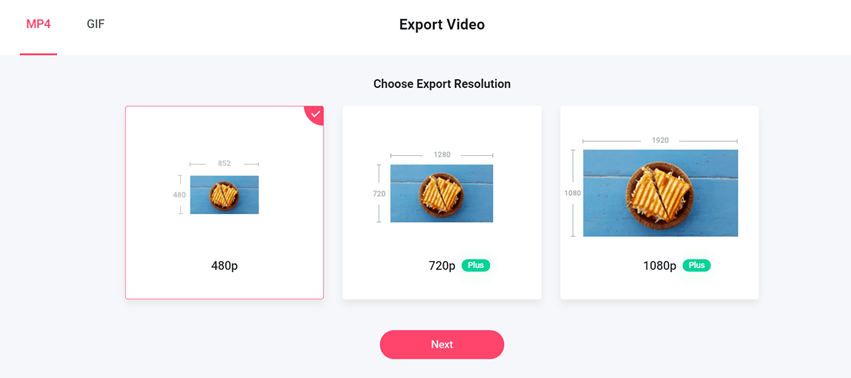 Pricing
Plus- $3.99/month ($47.88 billed annually) for unlimited projects with 720p and 1080p downloads.
Contact Us
The "RecordeCast" has a team of visual experts that is always there to help you with all your queries and doubts.
To contact the team your can fill their website contact form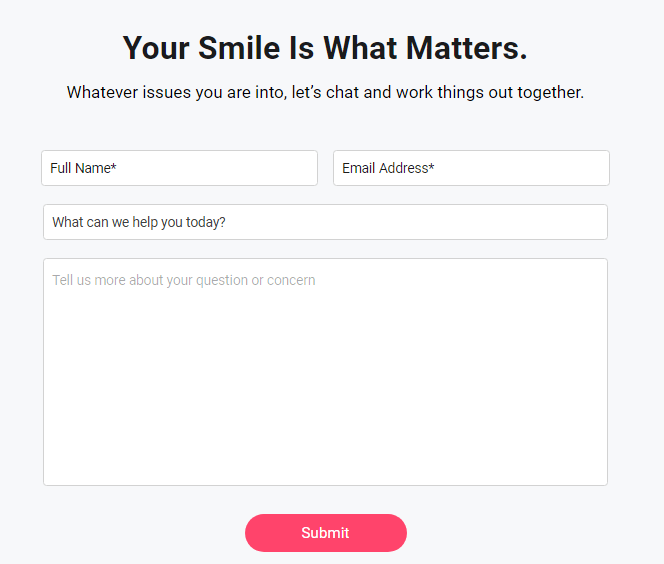 The final summary of RecordCast Review
This was the RecordCast Review and tutorial on how to use "RecordCast," which can be used as a free online screen recorder. No software download required is to install for recoding and no plugins are required for editing. And It's Completely Free to record online videos I honestly thought it was amazing to be able to do this for free. I'm glad I was able to do all the basics of video editing.
More than anything, without installing the software, it is a good point to be completed on the web. Video editing software can be heavy and complex depending on the computer, so it is convenient to be able to do it quickly on the browser.
You might be interested in Flexclip Review, Designcap Review and Animated Infographics, Free logo design Tool