How to Receive Money Securely With WPForms
Are you planning to receive money from the clients ? Wpforms is the Best multipurpose Contact form which will help you to accept payment from the clients . You can Receive Money Securely With WPForms via paypal payment form or you can use donation form .

Wpfroms Support paypal and stripe payment options . These are Premium addons means you need wpforms pro version for accepting payment . WPforms make it easy to integrate PayPal to your forms so acceptance of payment or donation will be easy .
Free Version WPforms – https://wordpress.org/plugins/wpforms-lite/
Premium Version – WPforms Premium 
Table Of Content
You may also be interested in Landing page plugins, Fomo Plugins, File upload
Complete Guide to WPForms Pro Settings , Installations And Setup
So Lets start How to Use the PayPal Addon with WPForms .
Step 1
Purchase the Wpfroms Premium Version . After that download and install it .Then activate paypal addons .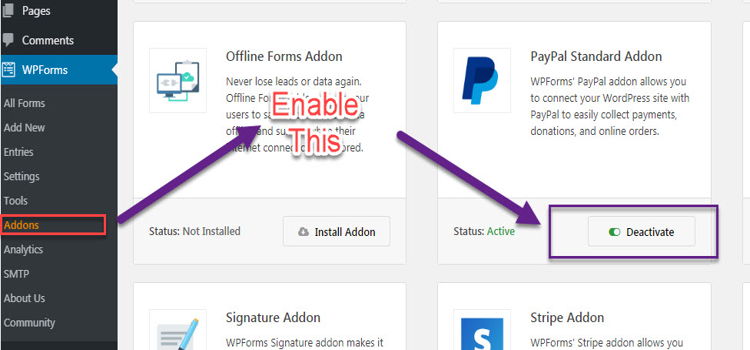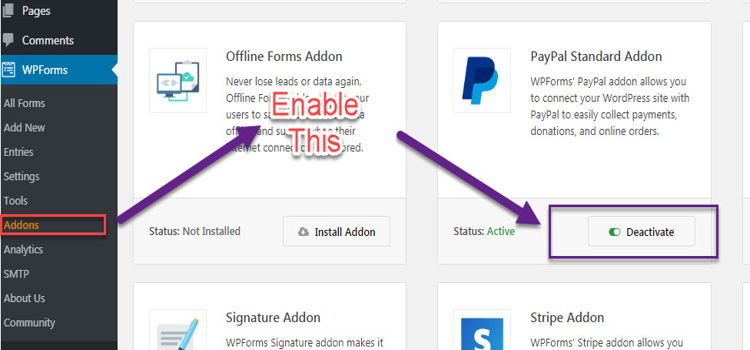 Then Hover Over WPforms from the admin pannel then you should click on new forms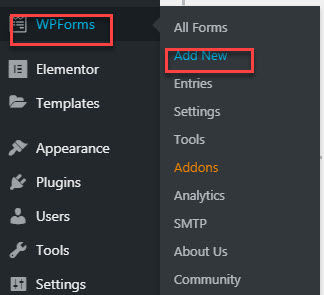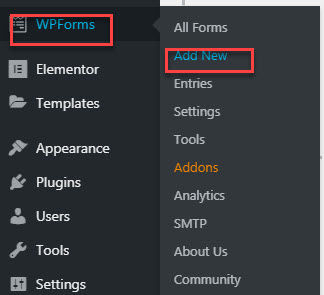 You can create a form by choosing existing template or edit existing form. for instance, here we will be able to create a Paypal form by using billing order forms templates.


Inside billing you will get  multiple Checkbox Items, Multiple Items and Drop down Items which will help you to add conditional logic in your paypal payment form .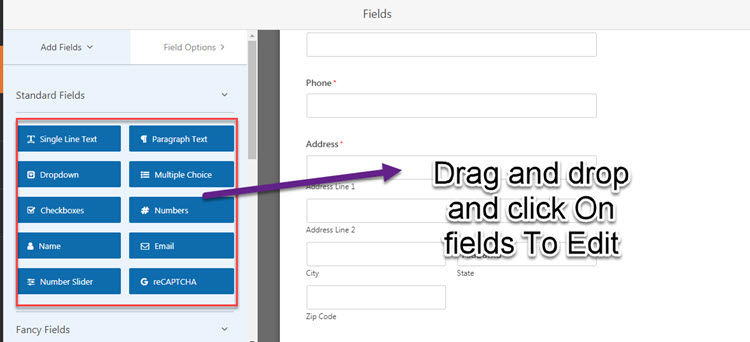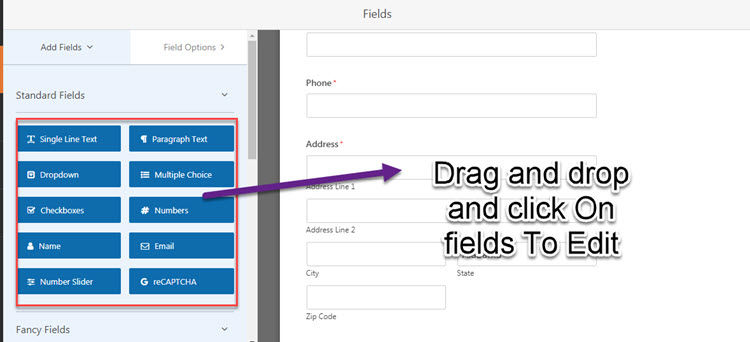 Step 2
Paypal Payments form can be loaded with more data collection forms like name, email id , phone number etc etc . Then you can add extra conditions logic to get relevant data . Lets say if you will click on payment field then you can edit forms label and add extra conditional logic .The wpforms of PayPal are addon settings or include the choice to line up conditional and therefore the conditional logic allows making "smart forms" to automatically change the content and the behavior of the form-based by a user selection.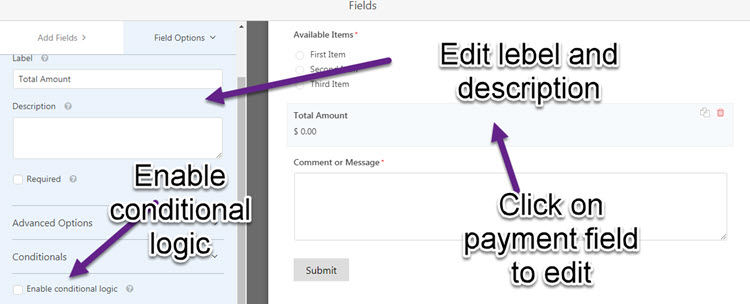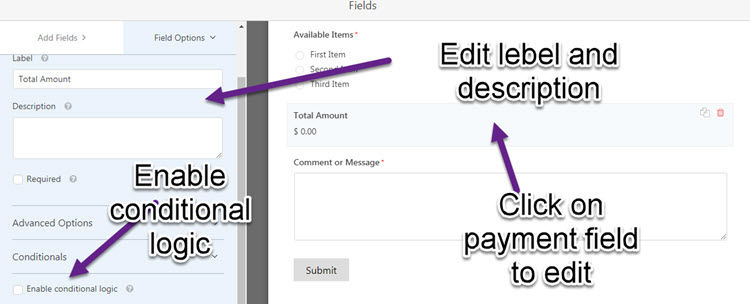 After that click on wpforms setting tab of general , notification and confirmation setting . Edit all the important information then
Step 3
Click over payment tab then select paypal standard . Inside that paypal standard enable paypal standard payments . Then add PayPal Email Address  . Make sure your paypal account must be a business account .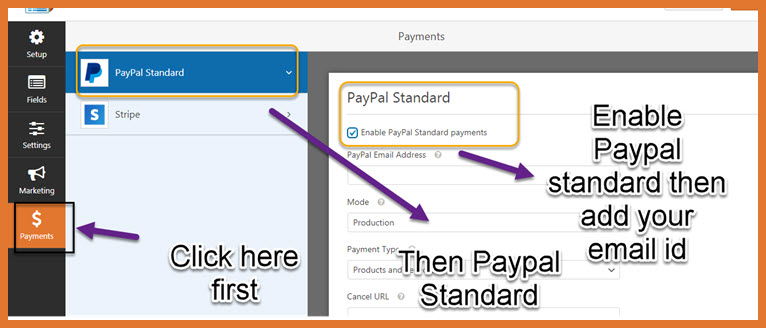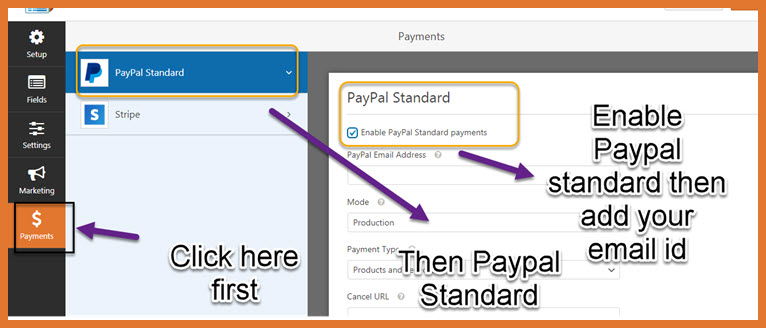 Once you are done with baove setting then now its a time to embed the code to our website . So click on save and then embed the code to your website .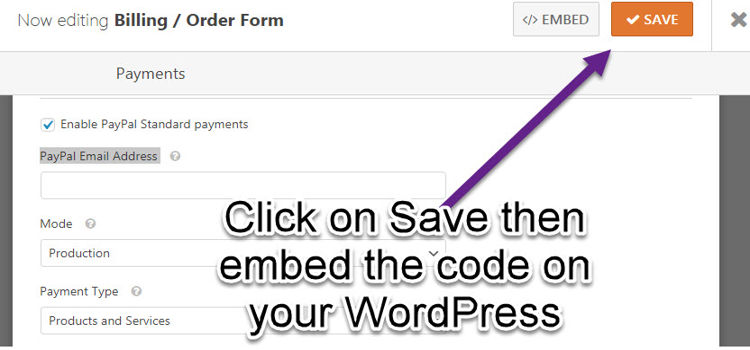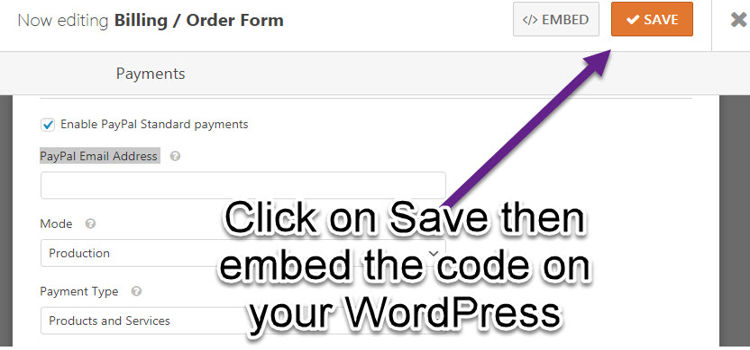 Conclusion
The setup to Receive Money Securely is quite and fast With WPForms . That's why i always recommend people to buy wpfroms and this is the must have plugins for everyone .