10 Best Online Grammar Checker Tools For WordPress 2023
Are you in search of Premium or free Best Online Grammar Checker Tools for your WordPress website? our google chrome has built-in functionality to check our spelling. But grammar and punctuation checker can't be done using the normal tool.

Even in our WordPress respiratory, there is a plugin that can check our grammars and mistakes is a jetpack. To be frank, the jetpack is multi-tasking must-have plugins
Why we should use Grammar Checker Tools for our WordPress?
I believe no one is born perfect. The machine can do its job perfectly if they coded properly. But humans do make mistakes, that's why we use these tools. Most experienced bloggers prepare their checklist before they publish their blog and check each and everything before they publish it. Better writing ensures your ranking in google because no one wants to read content that has broken English and mistakes.
As a blogger, you need to constantly work on your writing skills. An important facet of writing is your grammar because content with grammatical errors tends to be ignored by the audience and there are adequate chances that the writer loses credibility. We do have the opportunity to access several online grammar checker tools which can further polish your flair for writing.
You might be thinking that Why do I need some tool for that? I can proofread my content manually. Yes! of course, you can, but when you do a lot of writing you tend to make errors. After all, we are humans. Appointing editors and proofreaders may cost you a fortune and I am sure you do not want to spend so much here when you have another option of some of the best online grammar checker tools available at your fingertips. These tools can pinpoint some of the tiniest of the mistakes which might have gone unnoticed otherwise at some point or the other.
You might be interested in these tools too
https://www.gomahamaya.com/best-social-proof-fomo-marketing-plugins/
https://www.gomahamaya.com/best-live-chat-plugins-wordpress/
Let's have a look at some of the Best Online Grammar and punctuation checker Tools 8 of them are as follows:
Table Of Content
1. Ginger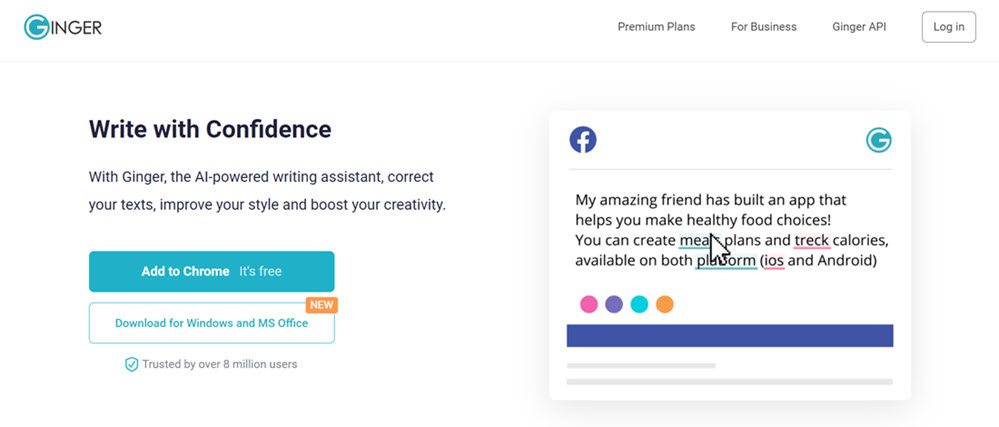 Ginger is an extremely advanced tool for correcting grammar errors that are available in text. No matter how much you are well-efficient in English, there are being some errors that require a sharp-reviewer before uploading anywhere. Ginger is a user-oriented grammar and spelling checker tool for refined writing and better output. Available as a browser add-on, Ginger can correct grammatical mistakes and syntax errors. Such errors may include spelling mistakes, punctuation, grammar, and more. With the assistance of Ginger software, you can write Grammar-friendly content for anything. Moreover, this nicely composed Grammar Checker lets you install it in your chrome and browser as an extension. And then it will automatically proofread everything you write on different platforms such as Facebook, Gmail, LinkedIn, and any other social media.
Ginger possesses essential proofreading features listed below –
Automatically proofread whatever you write within one click and correct every grammar errors.
Analyze a variety of grammar mistakes and correct them promptly including subject-verb agreement, singular/plural nouns, misused words, consecutive nouns, and contextual spelling.
Boost your engagement on blogs and articles by publishing grammar-friendly content thereon.
Once you install Ginger as an extension it will assist you everywhere and anytime either in writing, preparing for presentation, or even email program as well.
Save a lot of time by checking your text on automatic reviewer where you don't require to wait for the suggestion of someone else.
Price – Monthly – $13.99,  Annual – $89.88,  Two Year – $167.76
2. WhiteSmoke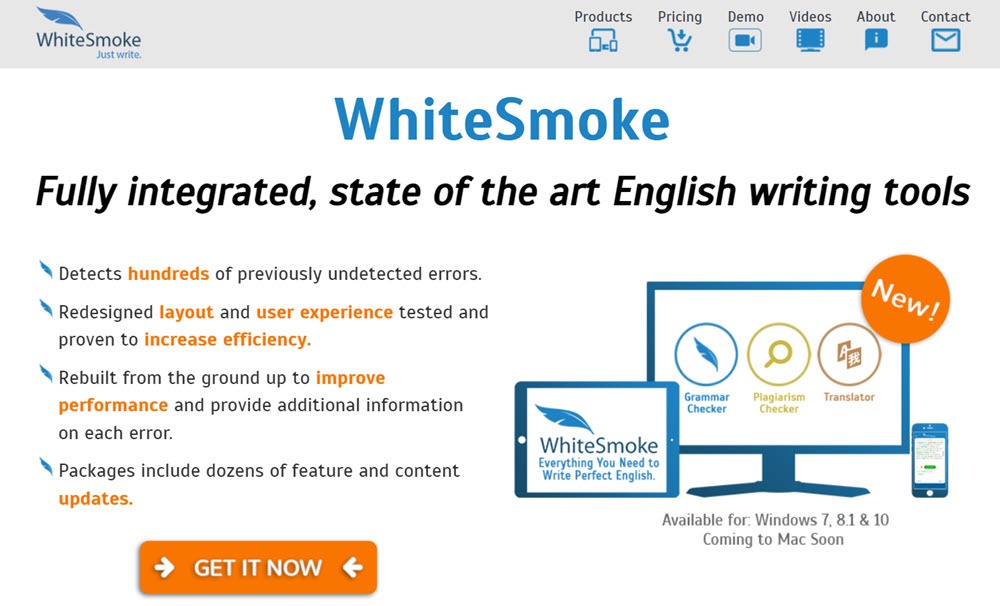 WhiteSmoke is a well-integrated online grammar tool that assists you to write without making any grammar mistakes. WhiteSmoke is a complete English correction software for effective and error-free writing. Make your writing one of the best presentations in front of anyone either your audience or competitors. Create a nice impression by presenting your writing in a way that eliminates grammar mistakes in any form. WhiteSmoke provides a feature-packed aid to your browser that automatically analyzes any spelling mistake, missing punctuation marks, and even misused verb forms. If your job is related to writing blogs, articles, or any type of content online then WhiteSmoke is a must-have tool for you. Simply install this tool into your browser and get started to write in standard English i.e. completely free of any grammar error. Although, creating a nice impression by writing grammar-friendly texts that boost your writing productivity.
Core Features –
Automatic analyzing ability and make real-time corrections once you install WhiteSmoke in your browser.
Provides Grammar Checker that analyzes and correct grammar mistakes that you made while writing anywhere.
Spell Checker that corrects any misspelt word after ascertaining the meaning of the entire sentence.
Style Checker lets you correct the style of writing whichever is best suited accordingly.
Let you insert punctuation marks such as comma, inverted comma, full stop, underscore, and more wherever necessary.
The tool can check grammar, spelling and syntax, and all these on a real-time basis.
An impressive tool altogether with innovative technology,  customized academic needs, and Natural Language Processing Technology (NLPT) for text analysis.
Price – Web – $59.95/annually,  Premium – $79.95/annually,  Business – $137.95/annually
3. ProWritingAid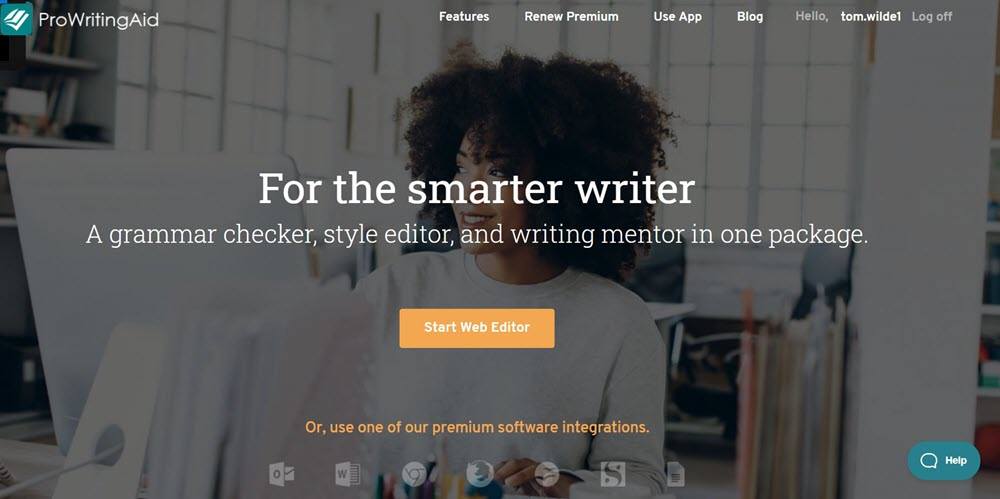 ProWritingAid is a professional and trustworthy online tool for grammar checker that assist your writing very well. You can simply install this tool into your browser without any hesitation or being cheated by any third party. Your written content is 100% protected as it provides GDPR compliance. Unlike other online grammar, checker ProWritingAid respects your privacy where your content is secured and lets you share it whenever you want. Although, install ProWritingAid and add it into your browser to see the magic of automatic correction of grammar errors. Effortlessly create high-quality English writing anywhere such as social media, blogs, or even on the website.
Get the assistance of ProWritingAid everywhere to enhance reputation in front of the audience. The target audience of large geographical and increase conversion by publishing quality-approved articles and blogs. Not only grammar errors hereby you can accurate the style of writing, punctuation marks, overused words within the entire content, and more. Auto-suggest phrases and dialogue that fits perfectly into your sentence. Let you write standard content anytime instantly with the assistance of an automatic editor. No matter for which platform you write content ProWritingAid is always there for you. Authors, bloggers, content writers, and even students take the assistance of this robust online editing tool for better writing.
A trusted tool used by many authors before they publish their writings. This is a good tool for faster editing, fixing style issues, eliminating errors, and a right word finder. It also integrates well with Chrome, Google Docs, iPhone, etc.
Price – Monthly – $14.68,  Annual – $43.49,  LifeTime – $146.45/OneTime
4. Linguix

Linguix – An elementary tool for grammar reviewer that enhances your writing skills and let you win the competition effortlessly. Write anything that you require to publish then with the assistance of Linguix assures its accuracy once before publishing. Hereby, it will correct grammar mistakes, spelling errors, misused punctuations, and more. Enhance your writing by writing the grammar-friendly text for anything after installing Linguix into your browser shortly. Save a lot of time that is wasted for taking others' suggestions to confirm your writing. This advanced online grammar checker corrects everything by analyzing the entire demand of content.
Why you should Linguix as an Online Editor?
Let you write effective content on millions of websites and elsewhere in better writing gestures along with 100% accuracy rates.
Connect social media and write confidently everywhere that is error-free.
You don't need to get into the entire grammar book just learn those things which are necessary according to your writing requirement.
Let you type fast with an effective shortcut for your repetitive content for better consistency and readability.
Elegant paraphrasing suggests multiple phrases that are likely suitable to your content. Select any of them whichever looks great for your writing accordingly if you want.
Price – Premium – $96/annually,  Team – $120/annually
5. Zoho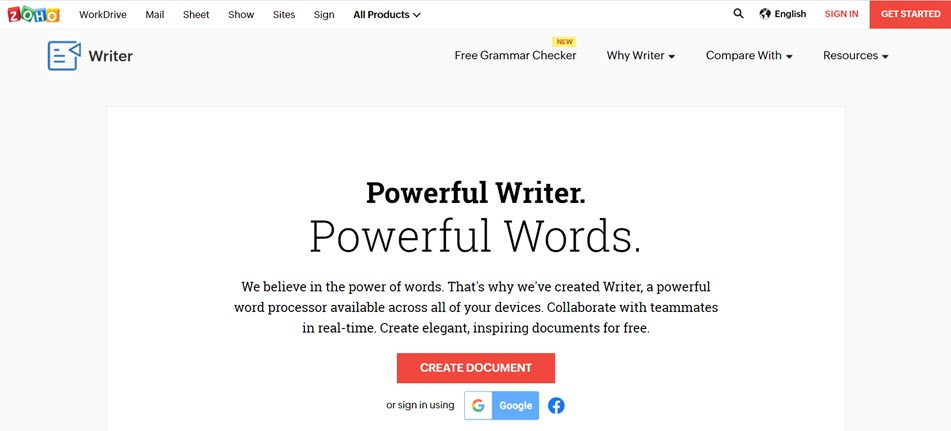 Zoho Writer is a comprehensive tool grammar checker that assists your online writing. Express your words with more clarity by analyzing the context of your content. Scan any kind of grammar errors and then autosuggest the right one accordingly. Boost up your confidence by writing error-free as well as incorrect styles that grab more audience to your blogs and articles. The Writer will assist you so well that you are never confused between any homophones. Present your writing in a well-versed manner while utilizing the Writer's feature smartly.
Elementary Features posses by Writer –
Automatic suggestions for any grammar mistake and eliminates the confusion of verb forms, homophones, repeating words, punctuation, article usage, spelling error, and more.
Provides clarity to your sentence by suggesting a required sentence that sounds good and fetches more audience.
Take care of your written sentence that must be in active voice as passive sentence let your reader get away from there.
Make your sentence less complex to read and enhance its readability.
Shortening the length of the sentences makes your writing more professional. Lengthy sentence lacks clarity which let your reader lose interest.
Identify the repeating words and suggest another related alternative to correct them.
Price – Free
6. Grammarly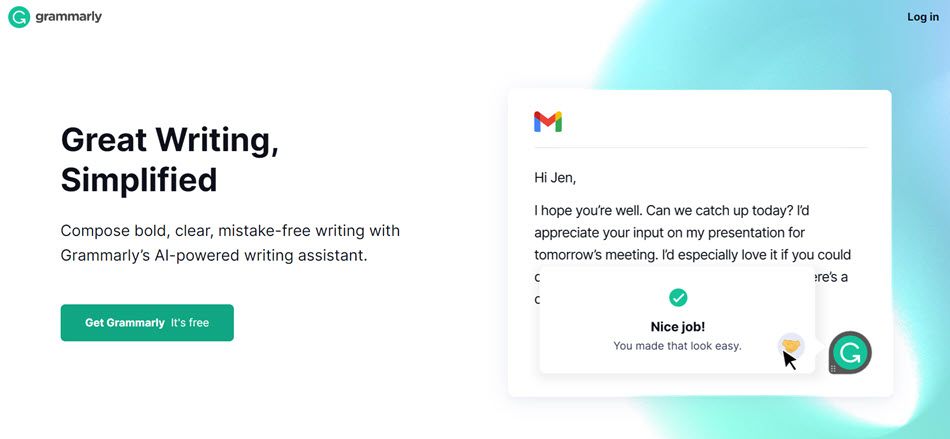 Grammarly is the most trusted Online Grammar Checker Tools and the first choice of 10 million people across the World for proofreading. The best aspect about the tool is that it comes for free and renders a free online text editor and free browser extensions for Firefox, Chrome, and Safari, hence empowering you to correct 150 types of errors. It. An incredible tool that can edit spelling mistakes, grammatical errors, and punctuation mistakes.
A copy of your content can be uploaded to their platform for proofreading. Besides, you can proofread your emails and social posts through their free browser extensions. The premium version of the tool also incorporates features like Vocabulary enhancement and Plagiarism detection.
Price – Premium – $144/annually,  Business – $150/annually (1 Member)
7. Outwrite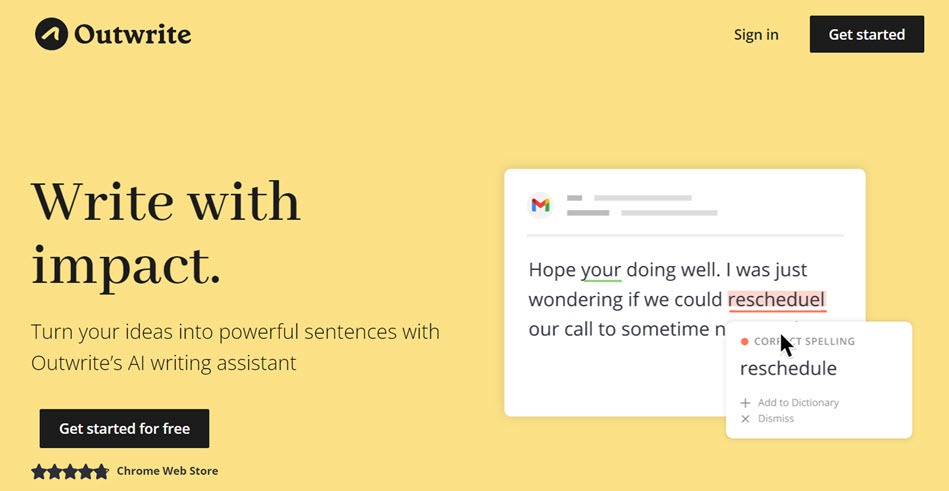 As the name says, Outwrite is a multilingual grammar check tool. It can rectify grammatical mistakes in many languages. mistakes  Its free trial version is available for new users for a certain period and later you will have to download the software by paying a fee to enjoy all its features. It does not have a lot of advanced features but the basic features available are sort of perfect. The tool has the potential to fix complicated grammatical mistakes. Available in three different types of download to match your suitability.
Besides picking the errors from your content, it can also rate your writing and prepare a review report which is based on the six criteria of sentence structure, expressions, words, voice, length, and redundancy. So, you know that at which points your writing has scope to be improved. Further, there is no need to upload your content on the software for proofreading.  The scope does not end here, it can even correct the subject-verb agreement and contextual spelling. It picks up the mistakes simultaneously while you write and highlights the errors with context.
Price – Essential – Free,  Pro – $119.4/annually,  Team – $95.4/annually (1 User)
8. Hemingway App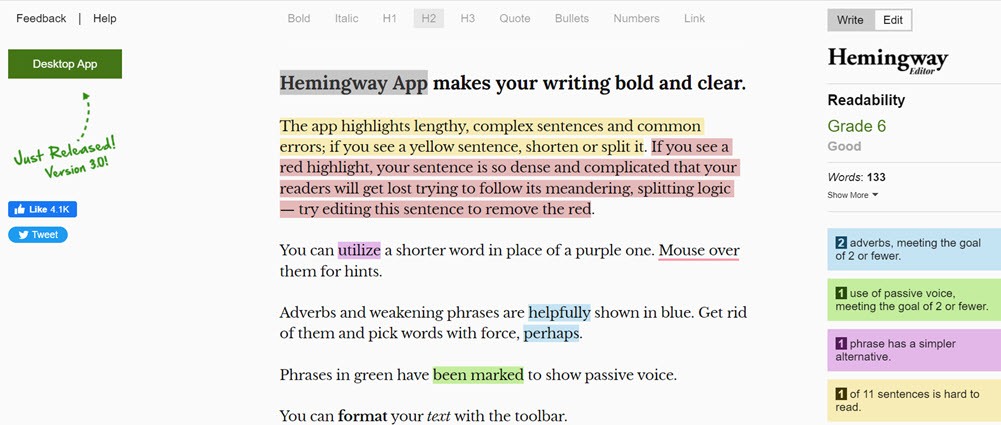 Hemingway is a copy-editing tool that can assign you a readability score by analyzing your writing skills. To be precise Readability Score is the assessment of the clarity in your writing. So, a higher score means a good to read and understand a piece of your writing. The app is available in a free online version and a desktop version of $10.
The app can suggest how to improve your style and idealize your phrases. It even counts the number of adverbs and passive voice statements used in the text and suggests their correct number usage based on the text length. However, Hemingway does not check grammar or proofread texts.
Price – Hemingway Editor – $19.99/annually
9. Scribens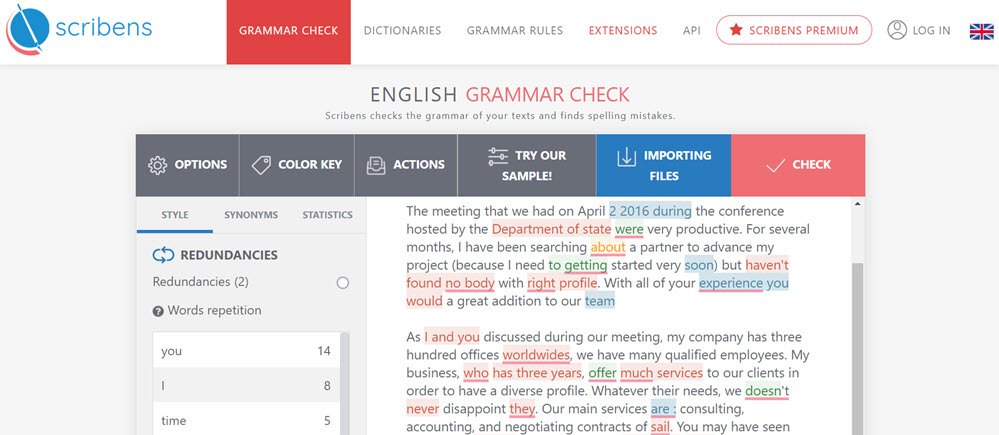 Scribens is a Manuscript editing and grammar correcting software. It is embedded with a lot of proficient modules. The core feature of the plugin is to attach proofreading to the WP post editor. Apart from having the grammar checking capabilities, it is Infused with a style report that can suggest about 5000 different improvements which are enough to give a professional touch to a piece of text. Hence, enhances the readability of any text. The drop-down at the writing tab also incorporates spelling, style, and grammar sections.  An extended grammar check can also be accessed through its settings page. Many proofreading options including style rules are available in the writing tab.  It shows a mini icon at the bottom right of the writing area in WP post editor, Facebook, etc. and you have to click on the link to launch it. However, you need to divert to the text editor in WP to make the plugin functional.
Price – Free
10. OnlineCorrection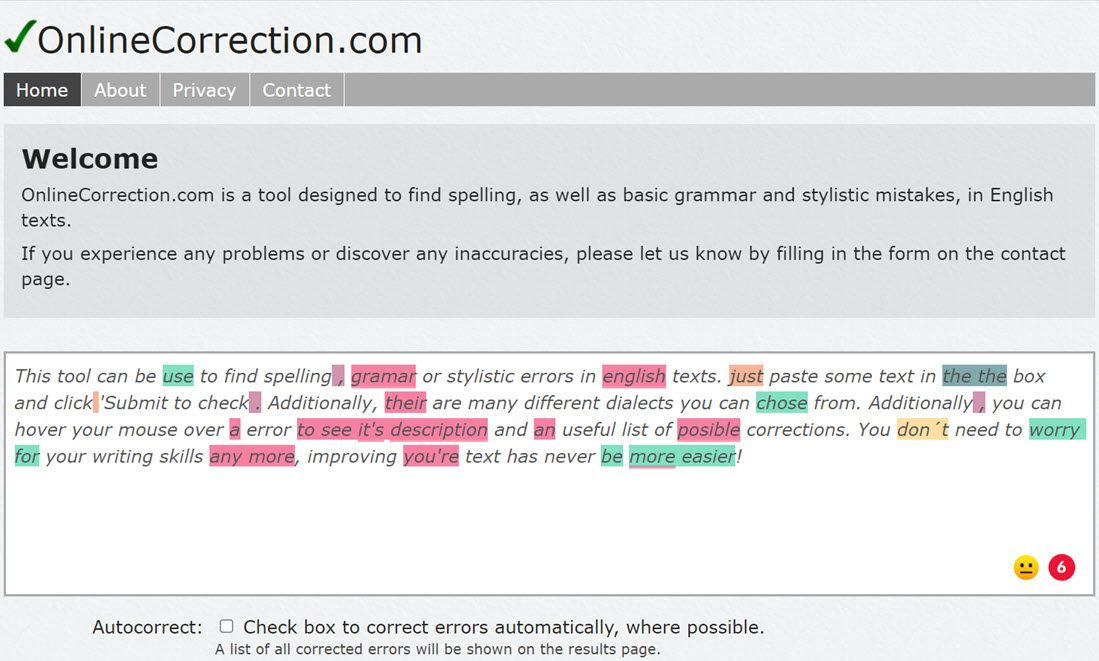 An online Correction is an online tool for grammar and punctuation correction. It can be used for looking at spelling, grammar, and stylistic errors in your content. The webpage of this tool has an uncluttered text editor where the text that needs to be proofread can be entered.
Online Correction comes with an auto-correction feature wherein all the corrections made reflect on a separate page. A bouquet of different dialects of English – American, British and Australian. It is the best option for those who are looking for a basic option for a substantial grammar check on the text.
Price – Free
Wrapping up
Tool selection is a personal choice. It depends on how well you understand your needs and the features you require for flawless writing. For instance, if you have to write something technical and you choose a tool with very basic features, you might not be able to detect the errors.
So think and choose the right one for you!