8 Most Popular App Store Optimization Tools | Best ASO Tools 2023
Apps are prior if your business is on the digital platform. In a digitalized world, either small or big business, everyone utilizes a digital platform to enhance their success with wide audience reachability. But have you ever wondered how your app would be visible to the audience while searching in any App Store? This needs some algorithm that can be done while taking the help of the App Store Optimization (ASO) Tool. In this article, we provide the entire concept of App Store Optimization Tools and let you know the essential features of each play store ranking tool.
Creating a great app does not let your business kickstart in any existing marketplace. There are millions of apps in the IOS store and Google Play Store. And, you need to follow App Optimization for better engagement and downloads of your available apps thereon. So app search optimization enables your apps to reach the global audience organically.
App Store Optimization
App Store Optimization, or ASO, is a robust algorithm of management where ASO keywords, screenshots, titles, and metadata of apps are organized so well. You need to access the abovementioned ASO marketing aspects to rank well on various app store searches. The more the audience downloads your apps and their engaging time on them will result in the greater visibility of such apps everywhere.
Therefore, App Store Optimization is essential that stand out your newly launched app among millions of existing apps on the Apple store or Google Play Store. And to assist your way in ASO app store optimization, you have to gain the basic knowledge of App Store Optimization Tools. With featuring tools, you can easily accomplish App Store Optimization, which significantly leads to greater app visibility to a global audience and help to track app store ranking.
Table Of Content
1. AppTweak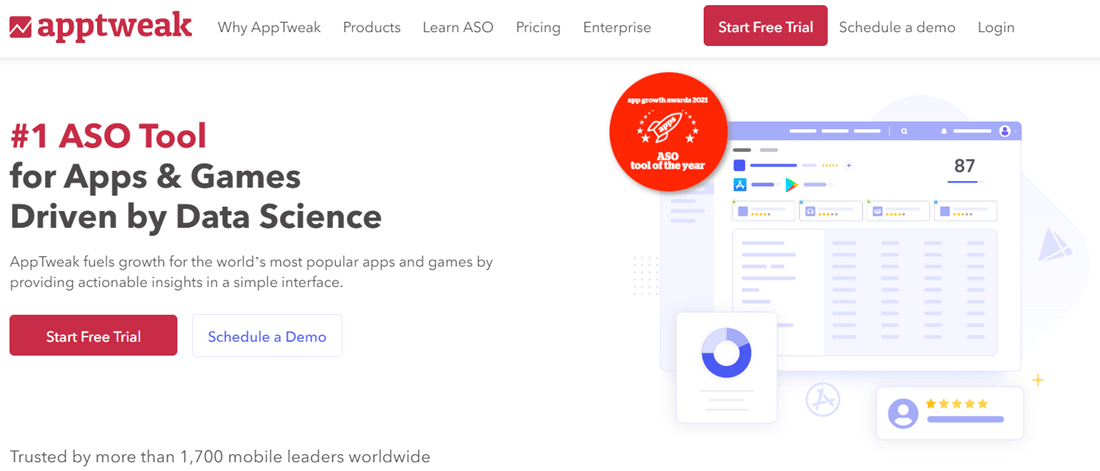 App Tweak is an essential App Store Optimization Tool to enhance the organic reachability of your application. With the assistance of an ASO keyword research tool, you can know what keywords your competitors utilize to be on the top App Store searches. These advanced top ASO tools keep an eye on your competitor's strategy so that your apps can rank high while anyone searches for those apps on either Apple Store or Google Play store.
In addition, AppTweak makes so much effort to win the way to keep your app more engaging and app store keyword optimization. Such ASO techniques grow organic audience enlargement and convert them into customers. You will increase application downloads and visibility by offering the app the way your customer requires.
Key Features
Feedback and reviews let you know the necessity of the market.
App store ranking tracker
Track the performance and its significance on your dashboard.
With the BI tools, you can export the entire data easily.
Price – Starter – $690/annually (1 Seat),  Pro – $1,990/annually (3 Seats), Guru – $2,990/annually (5 Seats), Power – $5,990/annually (10 Seats)
Screenshot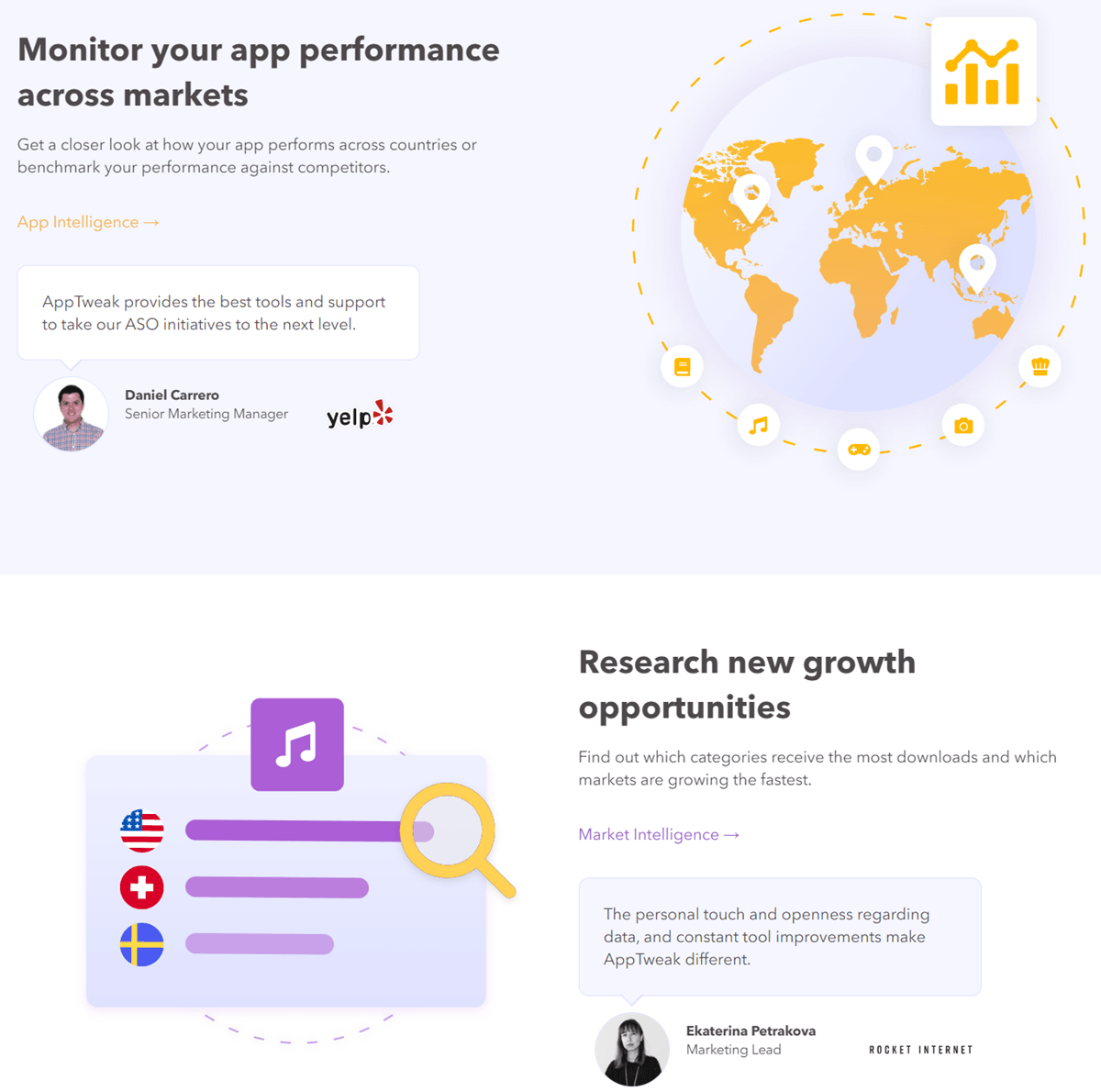 2. Asodesk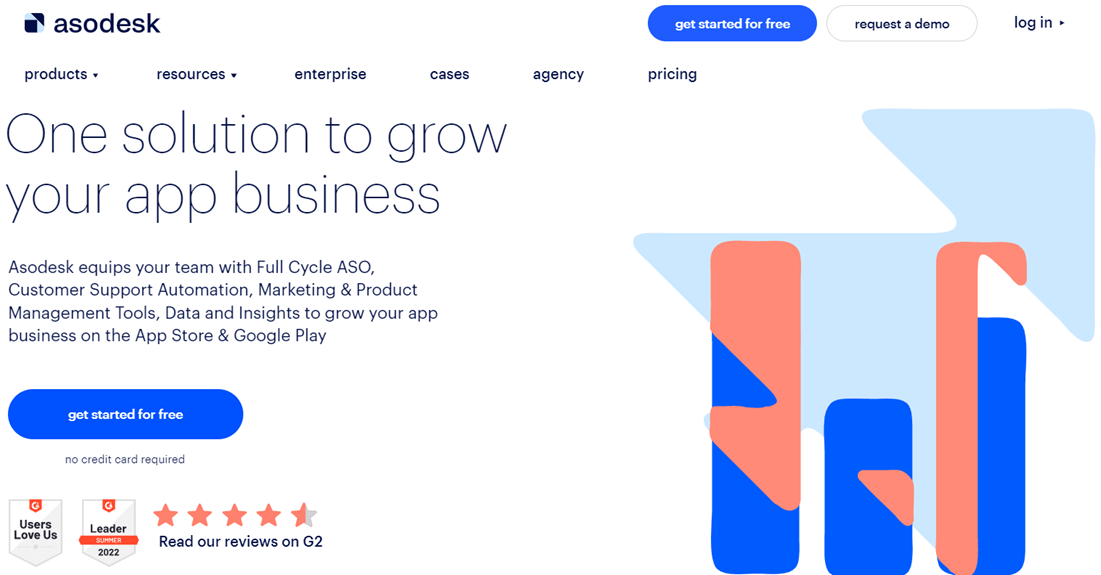 Asodesk is a fully-equipped App Store Optimization tool where you get everything to boost your App visibility on App Store or Google Play store. Now, your team will be greatly thankful as they get the best ASO tools to use interface and premium customer support. If you want to run your business more widely, then introducing an ASO app store is the best. But you have to take the assistance of the ASO tool to make your apps noticeable among the audience. And for such consideration, Asodesk ASO mobile optimization is the suitable alternative that makes apps more engaging by ASO optimization their overall factors.
Well-known tracking ability lets you know the exact conversion rates, ASO ranking factors, organic remarketing, viral traffic, advertisement influence, and ASO performance.
 Key Features
Enhance app ratings by replying and responding to every customer's feedback on App Store.
Just go through the detail of your competitor's app and utilize such information for better app visibility thereon.
Let you create, edit, and update your apps' metadata anytime.
Include API and create a dashboard that makes your app noticeable globally.
View the insight of any app store keyword ranking, analyze the trending searches and keywords, and insert them accordingly.
Price – Startup ASO – $41.6/Monthly (5 Apps), Pro ASO – $92.6/Monthly (10 Apps),  Business ASO – $254.1/Monthly (15 Apps)
Screenshot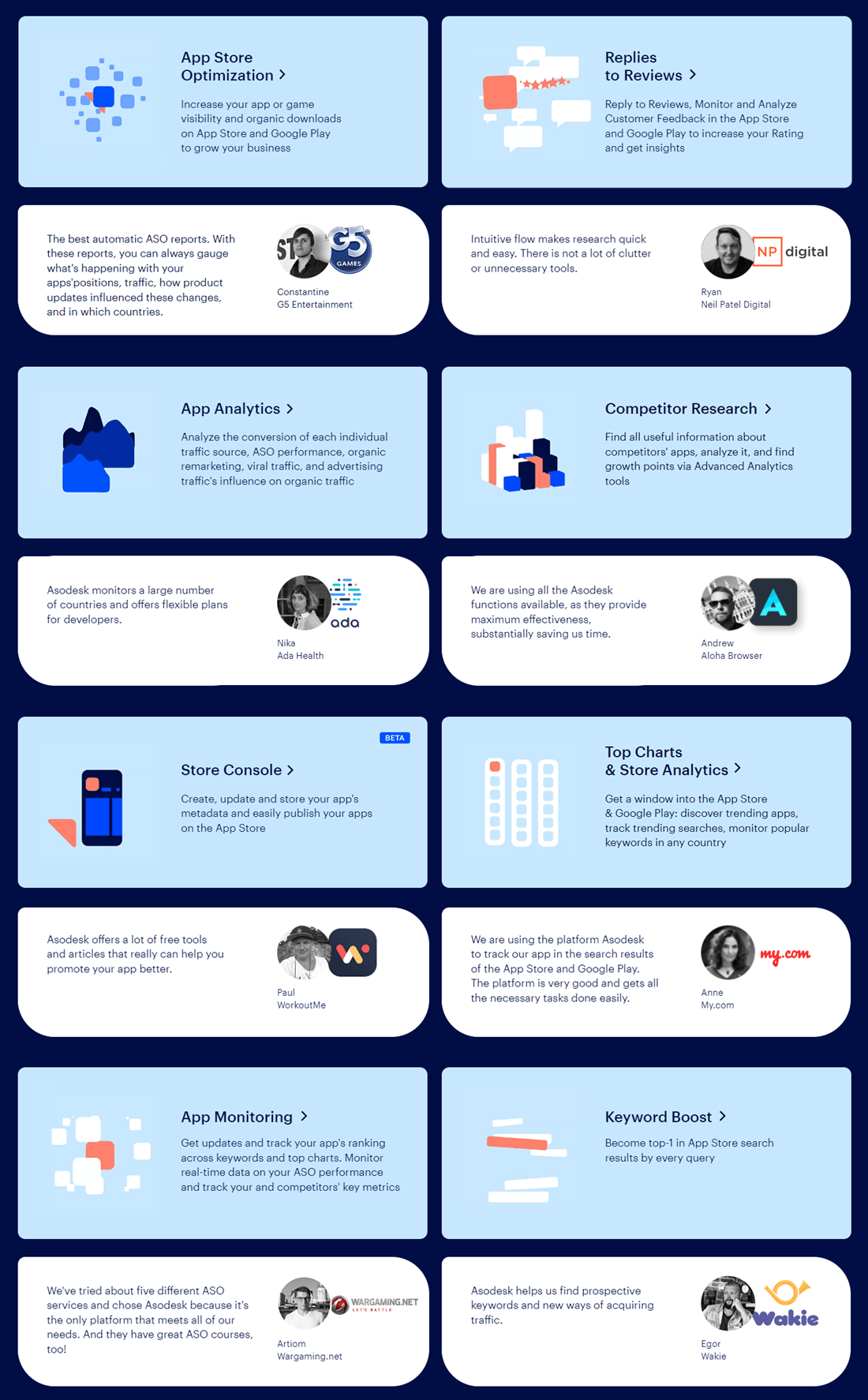 3. AppRadar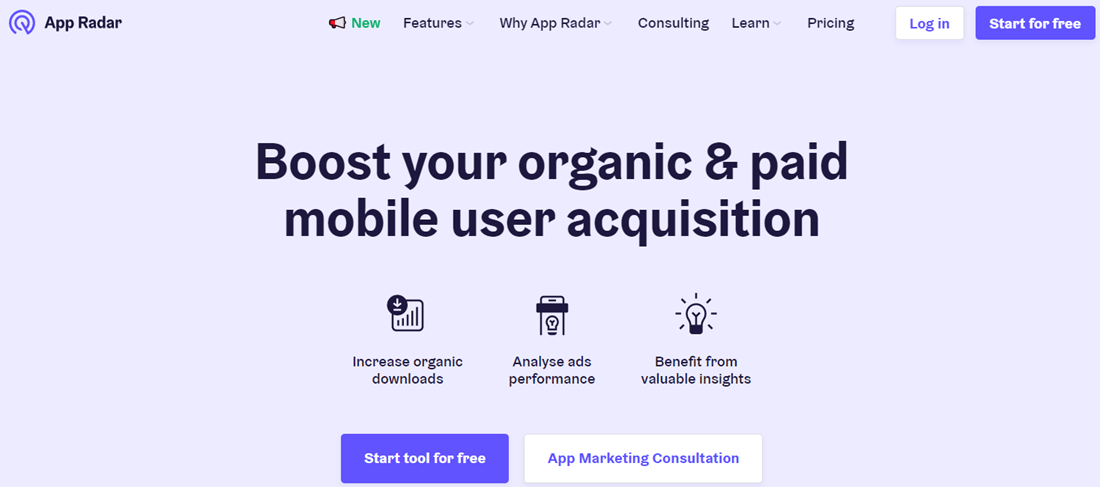 AppRadar is the feature-enriched app store optimization strategies Tool that helps you to establish the topmost position for your apps on various App Store. A full-fledged ASO optimization tool boosts in-app downloads and increases the engagement rate on such apps. Best app store marketing is the best way to increase your apps' reachability and AppRadar before accomplishing it.
With AppRadar, you can analyze the ASO analytics and ASO keyword optimization for such apps. Take care of the cost you have spent on app store optimization marketing and provide you with a better result of app visibility on the App store, whether on IOS or Android.
Elementary Features
Utilize AI to examine the app keyword ranking and keyword potential for your apps.
Expert supervision ensures your app to be the top of the search result everywhere.
Boost engagement rate as this tool optimized every application element so well.
Offers excellent control over factors like keywords conversion, ranking, and ratings.
Provide transparent communication, physical servers, authorized permissions, end-to-end encryption, and secure transmission.
Price – Starter – $41/annually (3 User), Advanced – $75/annually (5 User), Expert – $158/annually (25 User)
Screenshot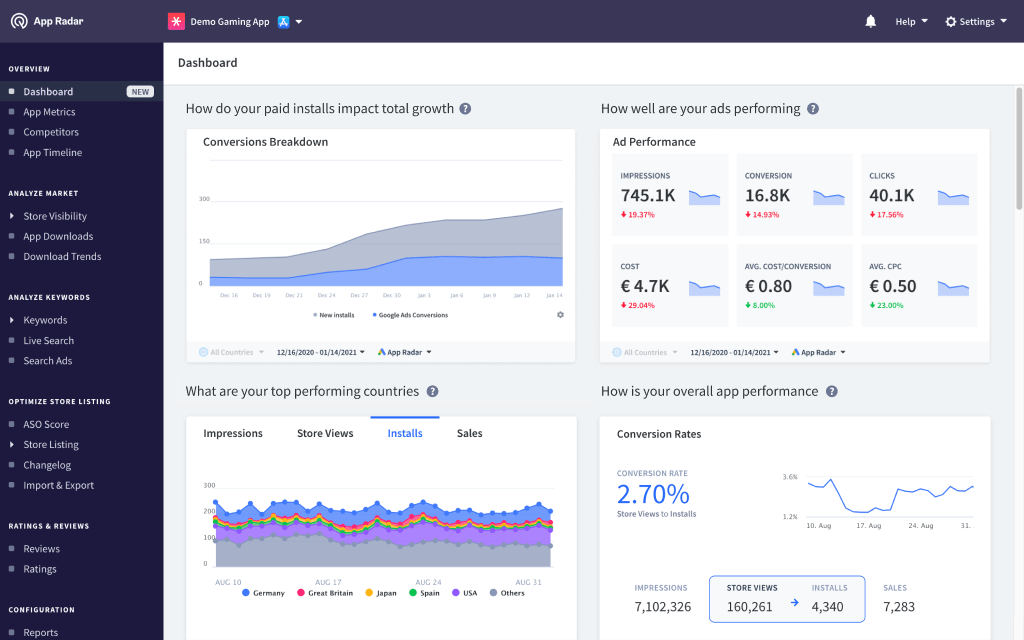 4. AppFollow

AppFollow, a well-known App Store Optimization (ASO) tool, increases the number of app installs and engagement rates. This perfect ASO android tool ensures how to improve app store ranking, and your app visibility increases five times from the existing value. Optimize the competitor's application page and create your app page with trending app store keyword research to reach the search option of the App Store.
AppFollow lets you track the complex Key Performance Indicators (ASO KPIS), including downloads, ASO tracking, conversion rates, ASO factors, and much more. And notify you about any new and trending application available on Google Play Store and Apple Store.
Key Features
Track and analyze the app performance
App store keyword research tool and optimize keyword research.
Secure a topmost ranking either on Apple Store or Google Play Store.
Price – Essential – $143/Monthly, Team – $634/Monthly
Screenshot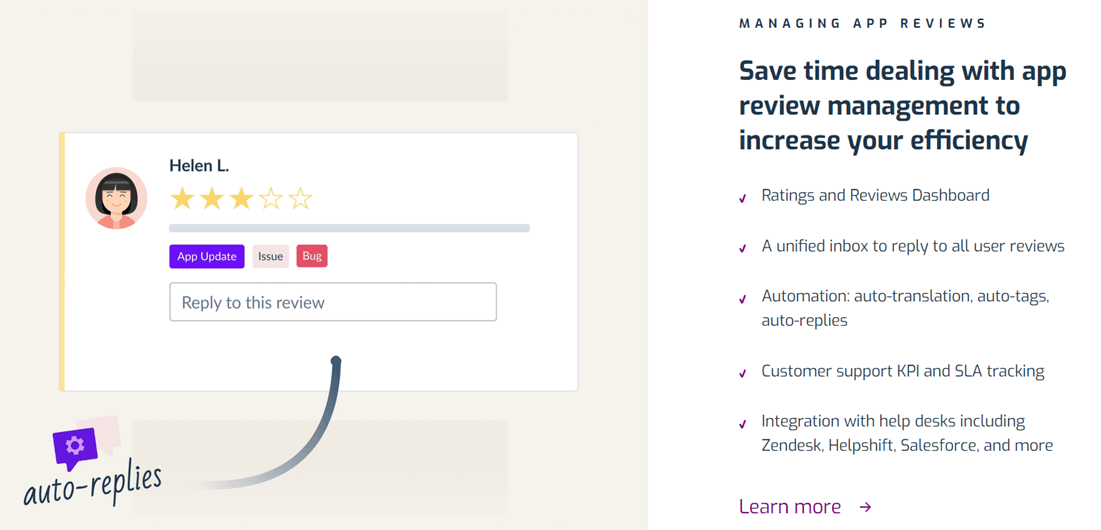 5. Checkaso

Checkaso is a perfectly integrated App Store optimization Tool that lets your apps get viral everywhere. How much it will download and utilize by users will make your business more successful. Therefore, the Checkaso ASO marketing tool has a great optimizing feature that ultimately prepares an appropriate app page so that your application captures more audience and increases the conversion rate.
As a result, you can analyze the app's rank and target appropriate keywords to enhance its rank on App Store or Google Play Store. Checkaso, app ranking tool, enables comparison between any two apps on a single screen to get ideas of what your competitors have performed to be in the market. Improving features and fixing bugs according to your customer's feedback will be key to winning the competition.
Essential Features
ASO audit and collect insightful data from your competitor's app page to increase app reachability.
Auto suggestion for writing metadata of any application.
Provides keyword packages and trending keywords metrics.
Translating keywords into local languages.
Let you know your ASO ranking history.
Price – Startup – $21/Monthly (5 Apps), Business – $53/Monthly (15 Apps), Agency – $83/Monthly (30 Apps)
Screenshot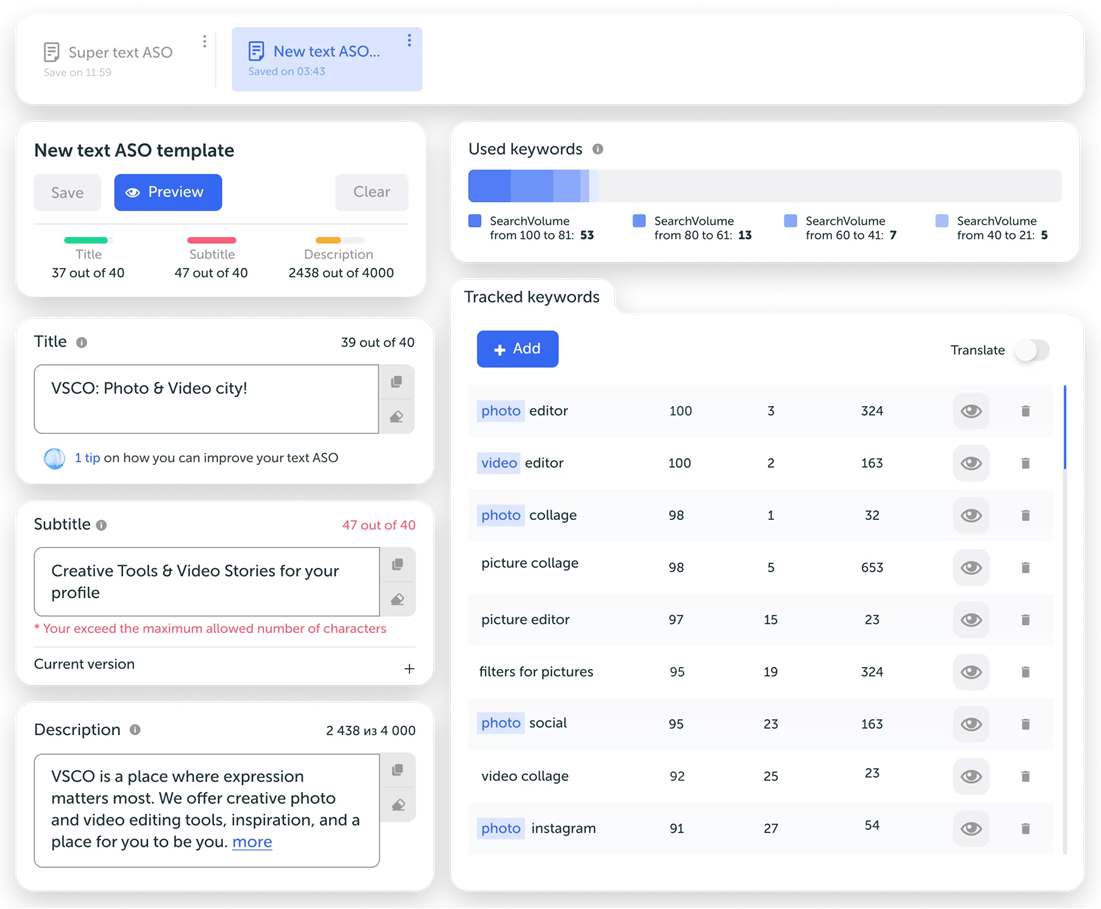 App Store Optimization (ASO) Tool | Checkaso for the App Store and Google Play
6. Store Mockups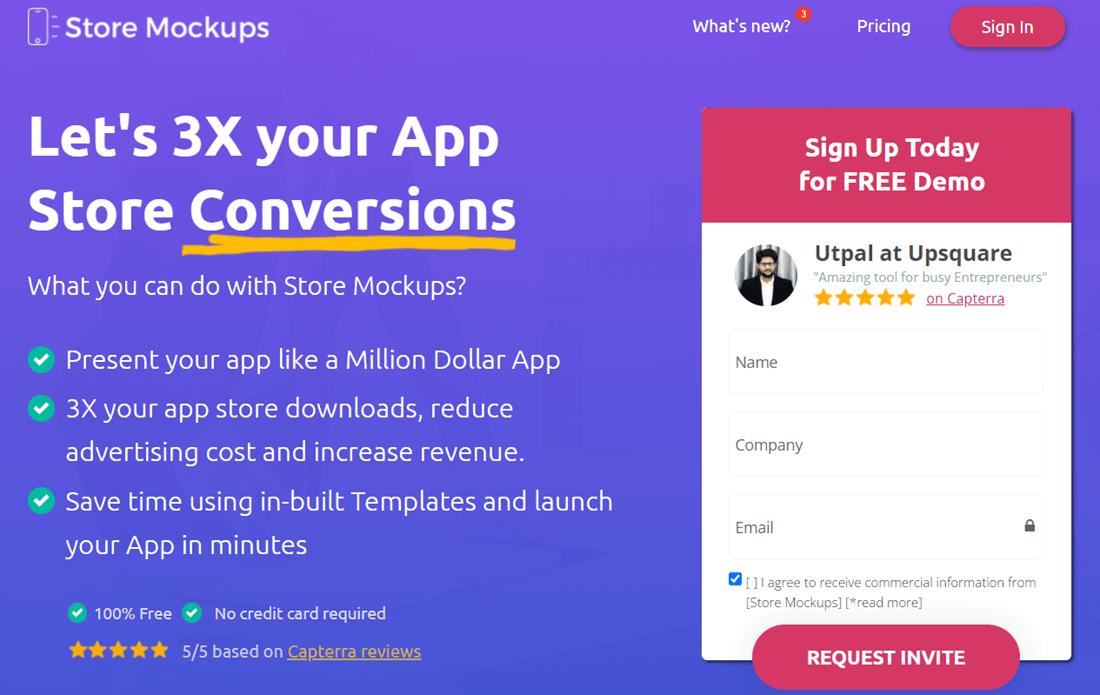 Store Mockups – A multi-factor App Store Optimization (ASO) tool that turns your newly organized application into a flourishing one. Keeping every content perfectly on the app page will grow an organic reach thereon. There is no need to spend much money on advertising, while this free ASO tool efficiently boosts downloading numbers on the App Store or Google Play Store. ASO strategies help you to generate more revenue as your newly launched app takes a peek of download effortlessly.
Store Mockups contains a lot of exciting templates and an inbuilt editor that save your prior time while launching the application. Moreover, this ASO audit tool comes with multiple affordable and flexible pricing modules that vary in feature inclusion.
Core Features
Pre-designed templates that let you create 3D mockups with Live Mockup Tools.
Let you customize in a click – text alignment, line and text spacing, and text style.
Mockup editor packed with premium quality templates, 1000+ backgrounds, and different canvas sizes.
Price – Individual – $99/Monthly (3 Apps), Startup – $199/Monthly (25 Apps), Enterprise – $399/Monthly (100 Apps)
Screenshot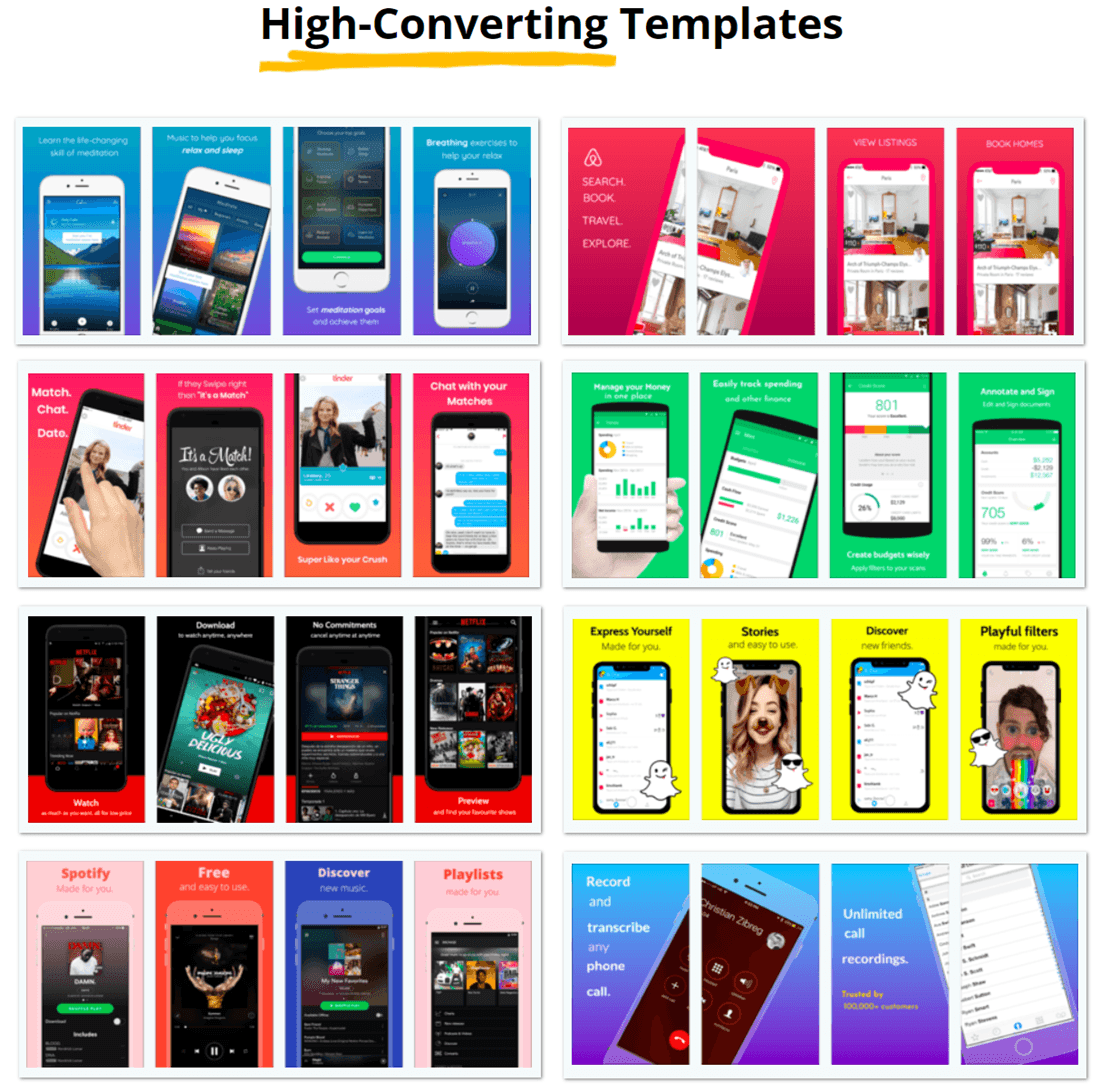 Storemockups | Best On-Page ASO tool for App Startups
7. Sensor Tower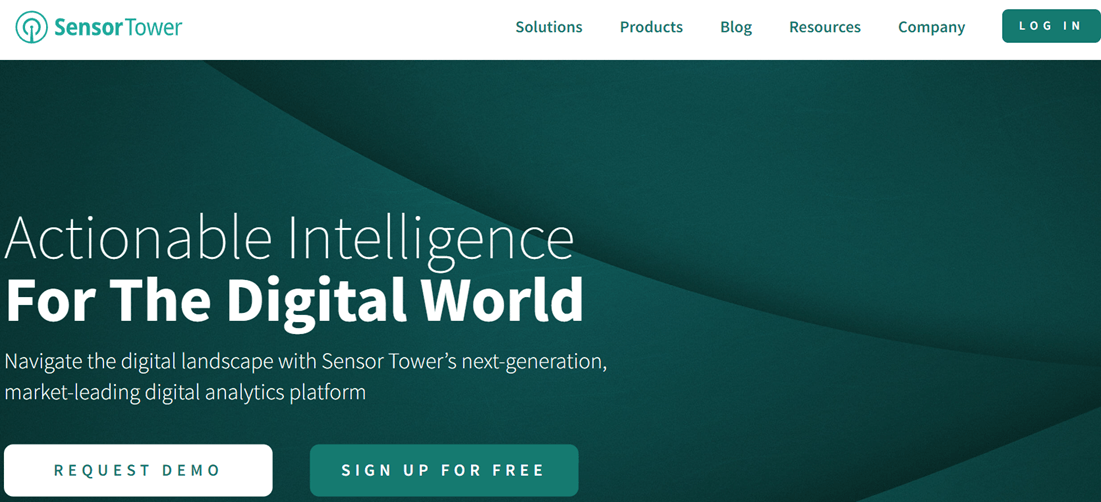 Sensor Tower is the robust app store optimization keyword tool providing detailed service for achieving higher downloads and engagement on Apps. Integrated with keyword spy that gives you the exact idea of what kind of keywords are being used by your rivals. Hence, there are already a thousand apps available on App Store, you have to target such keyword strategy by assessing competitors around there. Moreover, the Sensor Tower ASO keyword tool lets you know everything about the application and the publisher, including location, category, revenue, download, and more.
Sensor Tower is organized so perfectly that it increases the visibility of any app on Apple Store or Google Play Store through app store optimization trends. Whenever any audience types such targeted keywords, your app will be visible on the top if you utilize this App Store Optimization Tool. It will provide you with the best outcome while reducing the cost of advertisement.
Elementary Features
Guide competitive keyword suggestions and keyword searches.
Estimate your app's rank on App Store while using targeted keywords.
Multiple language support enables translation access.
App store analytics tools
A complete analysis report of rivals.
Predict how much traffic you can receive on your app.
Let you know the review history and regular report as well.
Screenshot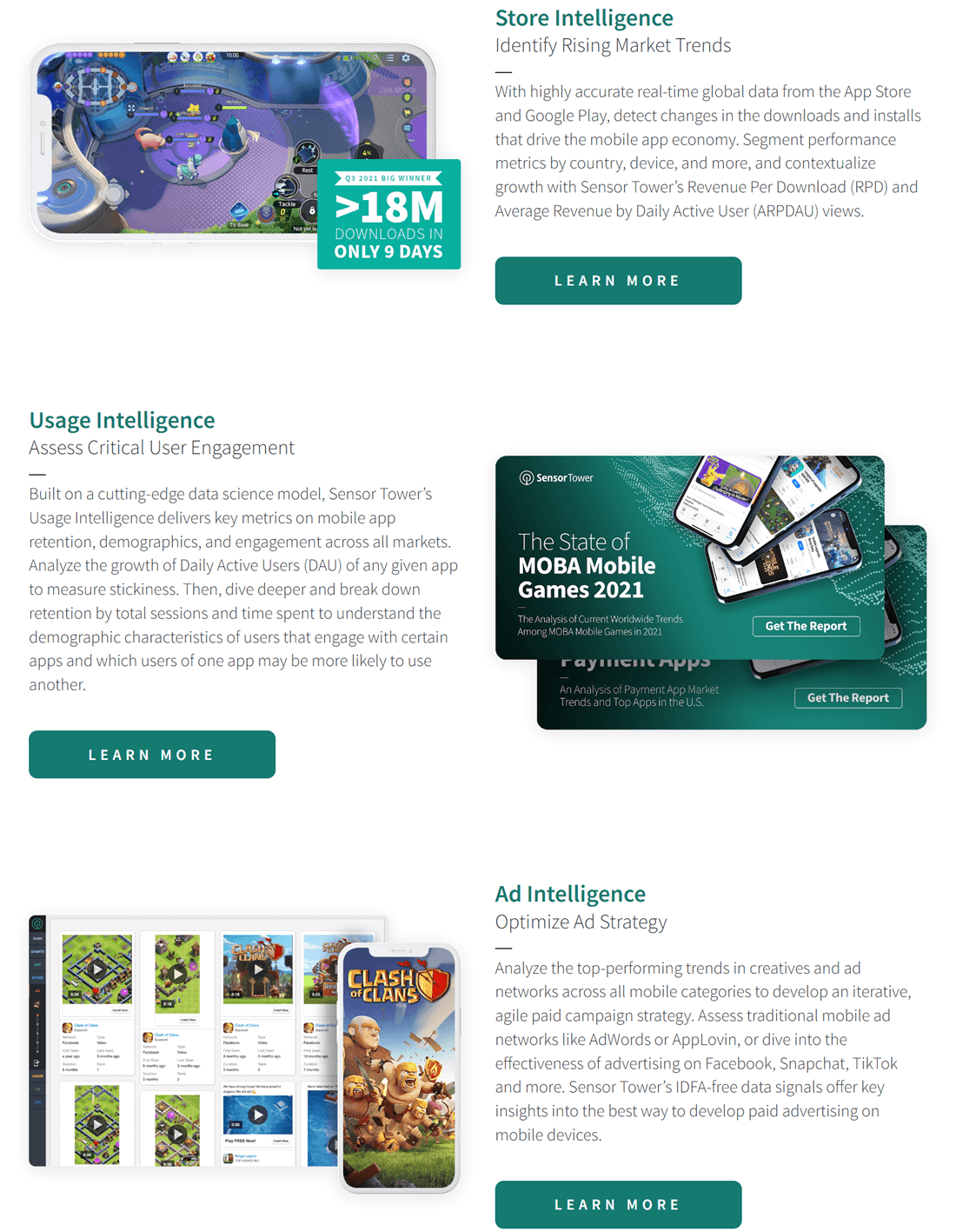 8. Split Metrics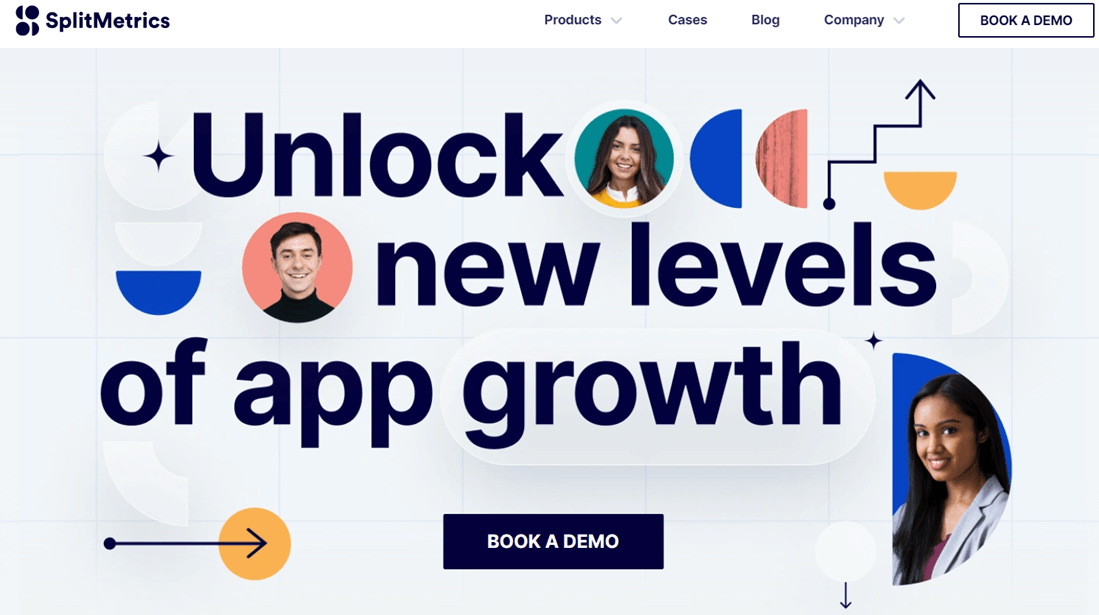 Split Metrics – A highly communicative tool for App store optimization android or ASO. Minimize your cost and deliver organic traffic on your apps on different App Store platforms with the help of the ASO process. Here, you will explore essential app store elements that help boost conversion rates. Let you analyze the critical factors in the app store page, i.e., screenshots, name, keyword, description, video, icon, and more.
Split Metrics is a reliable A/B testing google play ASO tool that conducts transparent user behaviour. Fruit Ninja, Wallapop, Mytona, and Lab Cave are some popular clients who utilize Split Metrics and ensure a top place on different App Store.
Key Features
Auditing app page.
Test your app's web page before launching.
Allow third-party integration and access API.
Let you test more than 30 types of experiments.
Screenshot