8 Best Slider Plugins For WordPress 2021
Are you looking for Premium or Free Best Slider Plugins For WordPress? Responsive full-width slider adds are a great value to your Website and attract Your website customer. By using slider Plugins you can easily create Posts Slider, WooCommerce Slider, Products Slider, Responsive image slider, Video background slider, and much more.


The modern slider makes a great impact on your website visitors it also engages your customer and creates a kind of branding for you. Now creating these kinds of sliders is not difficult like full-screen background slider, featured, carousel slider, etc. You can easily create a layer and add animation to it with just drag and drop options.
So just to speed up your work and reduce your effort in creating slider we have decided to write the list of Best Slider Plugins For WordPress which is as follows:
1. Slider Revolution

Slider Revolution is the best-selling slider plugin. An innovative and responsive WordPress slider, Slider Revolution helps the users to display their content on their website in a beautiful way. The users can sell their stories through the drag and drop editor which provides carousels, sliders, Hero Scenes, and also a whole FrontPage. The features of this plugin are:
Free Object Library- The plugin has a free object library where the users can find the right assets for their project.
Website Templates- The users can build their website templates through a visual builder.
Whiteboard addon- By using this addon the users can create their hand-drawn interactive animations.
Media/Social Feed Support- The plugin has the support of Instagram, Flickr, Twitter, Facebook, Vimeo, YouTube, etc.
Navigation Designer- Many navigation styles are available such as arrows, bullets, tabs, and thumbnails.
True Multi-Media Content- Any content can be shown with it such as images, WordPress posts, and custom posts as well as YouTube and Vimeo videos.
Drag and Drop Visual Slider builder- Beautiful presentations can be made using an amazing number of options provided by the drag and drop builder of this plugin.
Price – Starter – $29/annually (1 Site),  Enthusiast – $79/annually (3 Site),  Professional – $130/annually (5 Site)
Slider Revolution 6 - The world's most powerful WordPress Builder with Advanced Animations
Screenshot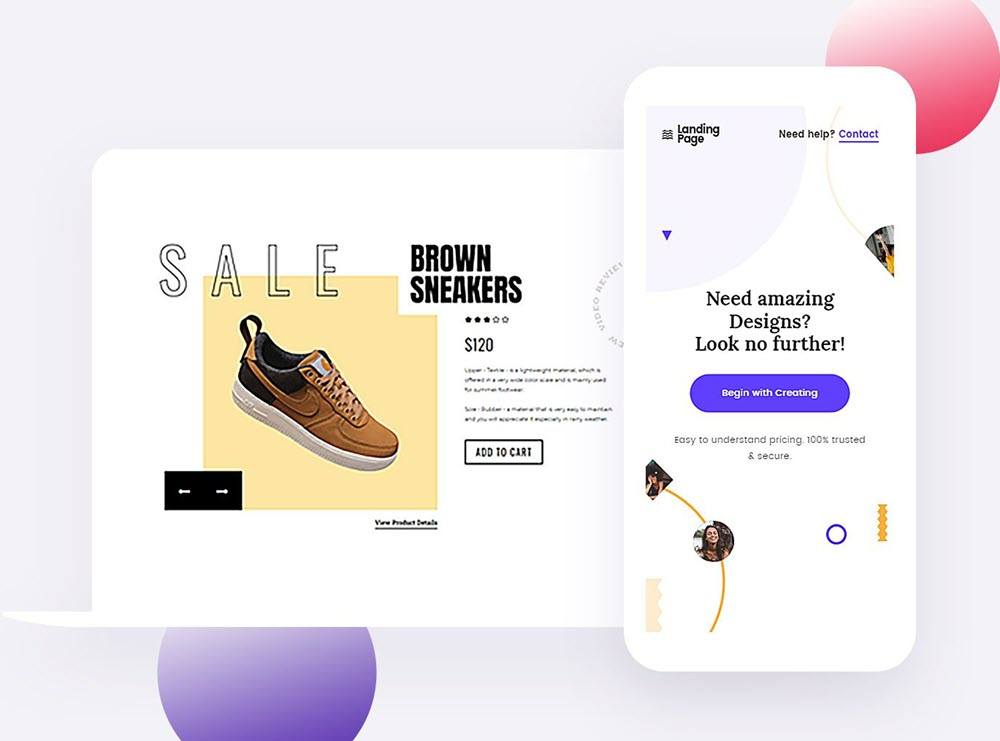 2. Smart Slider 3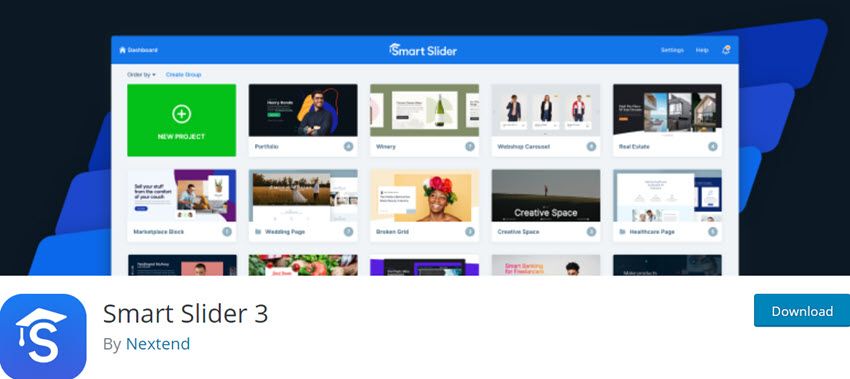 Smart Slider 3 Plugins is created by Nextendweb who are known for their quality and best support. Smart slider is the most powerful plugin for creating a simple slider in no time. You can easily create an awesome slider without any coding
It is responsive and is mobile-friendly.
It has a drag and drop builder which helps to create sliders in just a few clicks.
Dynamic sliders can be created and also has pre-built slider templates.
Slideshow display can be enabled in a full-screen lightbox mode for a better user experience.
It helps to add interactive product sliders in the WooCommerce store.
This slider is completely SEO-friendly and provides featured content sliders for the website.
Post Types Support- The image slider created are compatible with WordPress post types which can be added anywhere on the website.
Create slider from categories and galleries- A choice can be made among category and gallery sliders. It is easy to showcase the website content this way.
Create Carousel- Carousels can be created straight from the admin dashboard.
Total number of users – 800,000+
Price – Standard – $317/annually (1 Site), Premium – $640/annually (Unlimited)
How to Create A Slider in WordPress with Smart Slider - Getting Started
Screenshot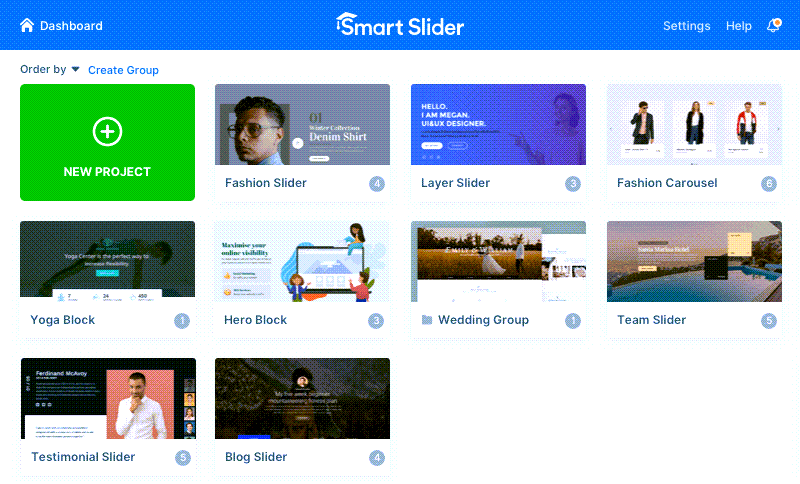 3. Responsive WordPress Slider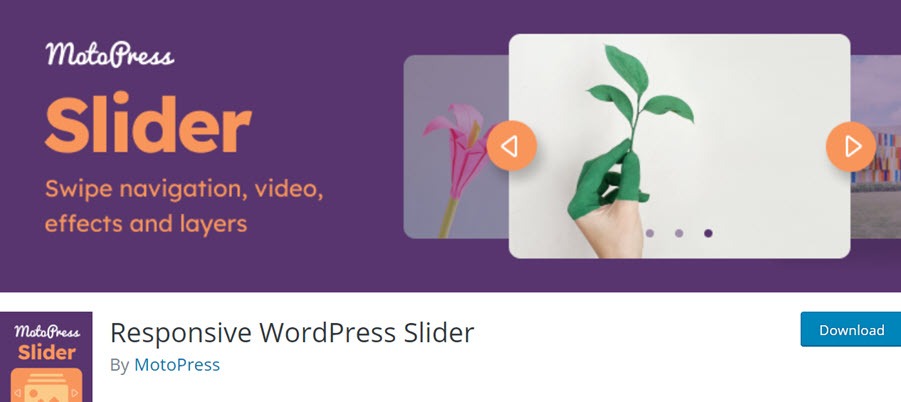 This plugin is created by moto press With super smooth hardware accelerated transitions, Responsive Slider by MotoPress is an SEO-friendly, video, and responsive image slider. Touch navigation is supported with pure swipe gestures. It is a very friendly plugin and works on all sorts of devices. Any HTML content can be added in layers. Many sample sliders are also available for use It has many features such as thumbnail, video support, hotspot, and many effects. Let's see some more of its features:
Transition Editor- Transitions can be easily created and previewed in real-time.
Visual Composer Integrated- The plugin has both frontend and backend drag and drops editor.
Sliders Cross-Browsers- Using this feature the plugin works well on all devices.
Autoplay Timing- Slideshows can be managed with Autoplay timing options.
It has smart loading assets.
It has vertical and horizontal bullets.
User roles and capabilities can be customized.
Memory is managed smartly.
Total number of users – 6,000+
Price – Presonal – $39/annually (1 Site),  Business – $49/annually (5 Site),  Developer – $99/annually (Unlimited Site)
Screenshot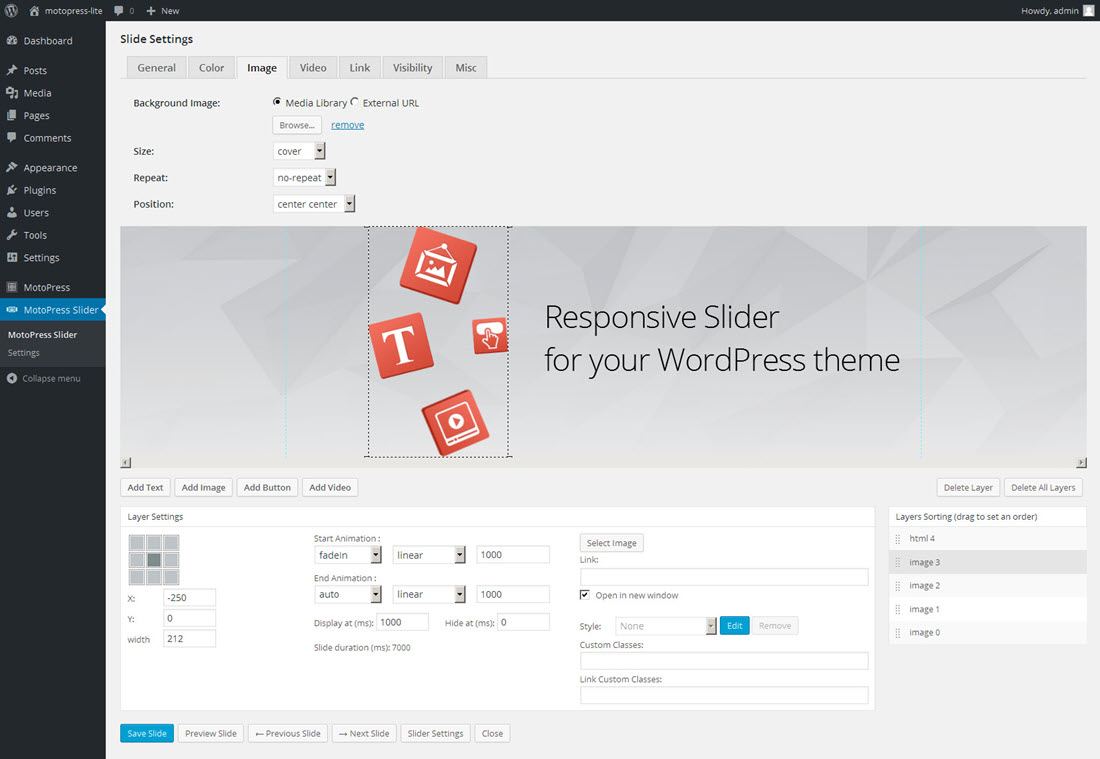 4. Soliloquy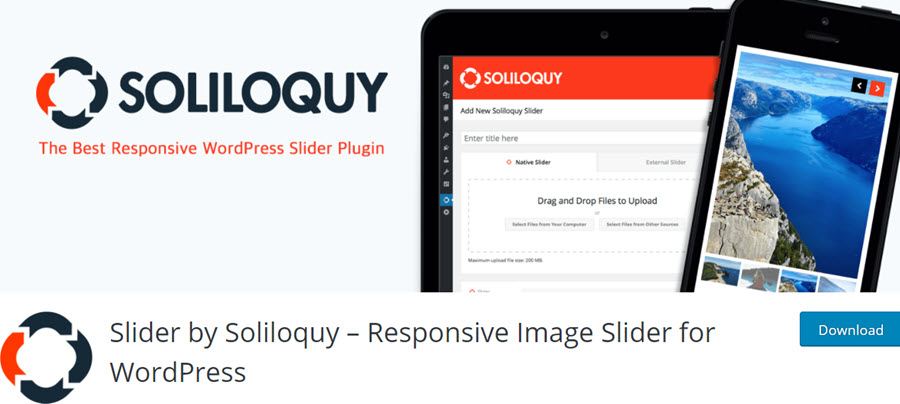 A drag and drop image slider plugin for WordPress, Soliloquy is an easy yet powerful plugin. A beautiful and responsive image slider and video slider can be created with this plugin. It is a very user-friendly plugin. To increase the SEO and conversion rate the plugin is highly optimized for web and server performance. It is one of the fastest slider plugins in the market. The features of this plugin are:
Slider Templates- To customize the WordPress slider, the pre-built template can be used.
Product Slider- The sales can be boosted by adding in the WooCommerce store, interactive product sliders.
FullScreen lightbox- Slideshow display can be enabled in a full-screen lightbox mode. It creates a better user experience.
Dynamic Sliders- Dynamic sliders can be created from featured blog posts, testimonials, Instagram images, etc.
Slider with Thumbnails- To add thumbnail images as slider navigation, a thumbnail slider addon can be used.
PDF slider- PDFs can be converted into an image slider using a PDF slider addon.
Schedule Slider Addon- The WordPress slides can be scheduled using the Schedule Slider addon.
Easy to customize and extend- The plugin's pre-built sliders can be customized or the user can build their slider. The plugin can also be easily extended.
Total number of users – 70,000+
Price – Presonal – $17/annually (1 Site),  Multi – $44/annually (3 Site),  Developer – $89/annually (25 Site),  Lifetime – $269/annually (Unlimited Site)
Soliloquy - Premium WordPress Slider Plugin (Overview)
Screenshot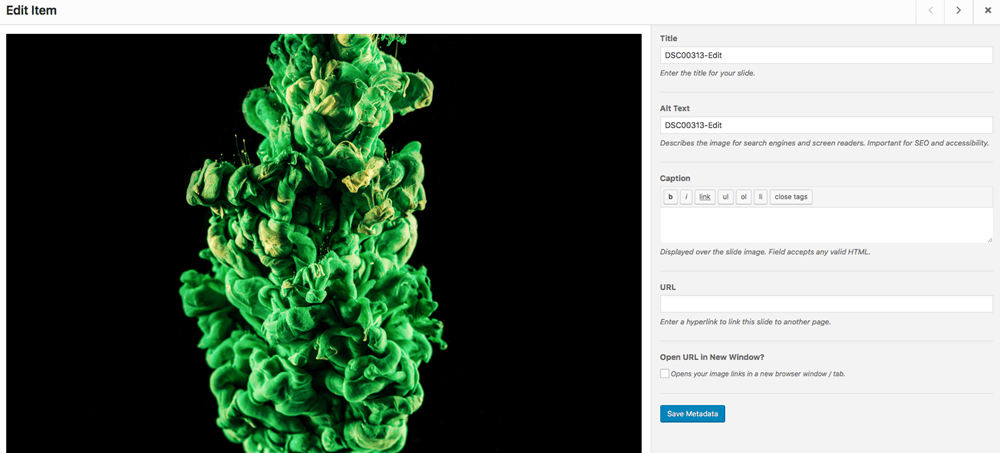 5. Master Slider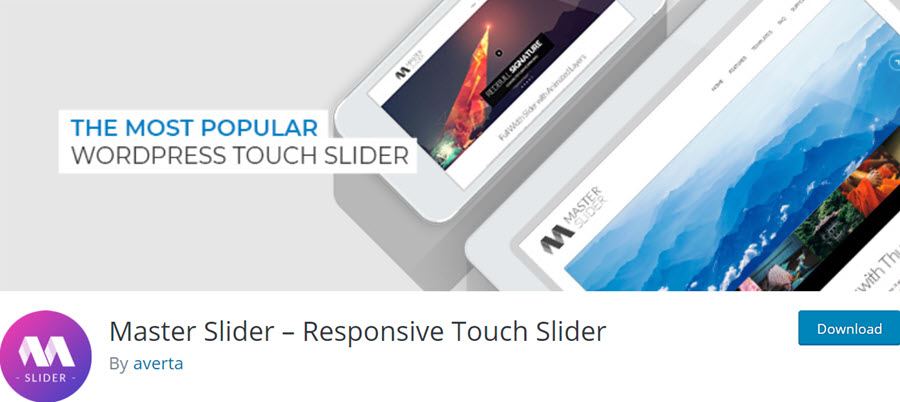 Master Slider is an exclusive WordPress Plugin for creating video sliders and image sliders. Designed intuitively to create a responsive slider that smoothly works on different devices. Provides SEO-friendly existence along with fast access anywhere. Place conveniently such beautifully created sliders with the assistance of widgets and shortcodes. Compatible with any themes and well-built front-end as well as back-end. Master Slider comprising of every essential feature that needs to generate a unique slider on the site for enhancing the look of the entire site.
Elementary Features –
Intuitive Layouts – Different layouts are available for featuring sliders like full-screen, boxed, and full-width.
Multiple Slider – Access to a wide range of sliders along with tools for advanced filtering alternatives. Post Slider, Facebook Slider, Flicker Slider, and Product Slider are available that enhance the appearance of the website.
Effects – Let you display your slider in a more comprehensive way by applying the parallax effect while scrolling, swiping, or move the mouse over the slide.
Total number of users – 100,000+
Price – Regular License – $34/Lifetime (1 Site)
Master Slider free version tutorial - create a slider
Screenshot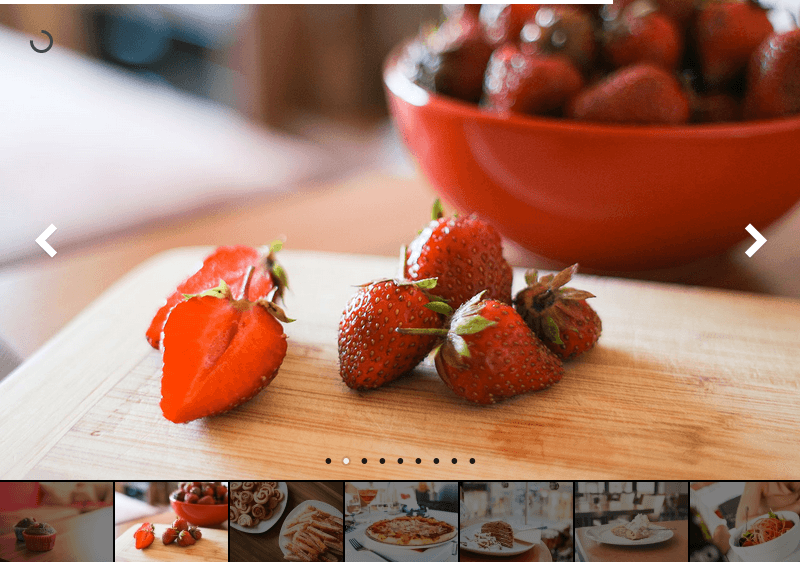 6. 10Web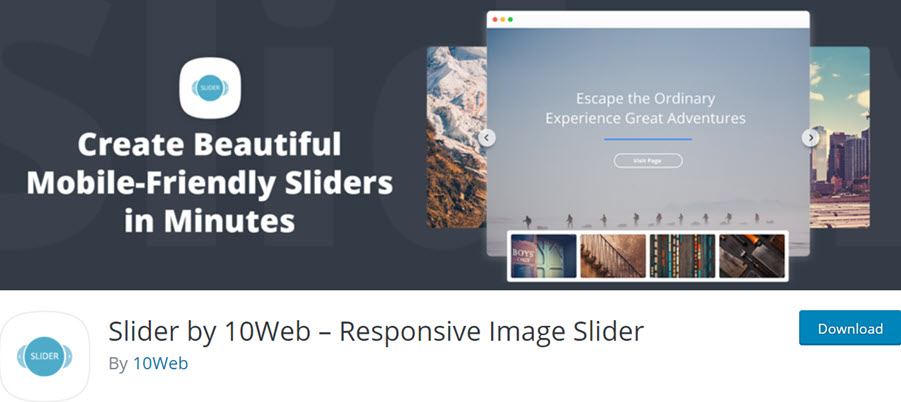 Slider by 10Web is a stylish slider that helps users to make posts and pages interactive. There are many features in it including email support. It is fast, super easy to use, and intuitive. It has multiple sliders builders. It is mobile and shortcode-ready. There are many slider types. Sliders can be created from sticky posts, categories, and galleries. Carousels can be built. It is an awesome slider plugin that is built super SEO-friendly, fast-loading, and completely responsive. You can easily add it to any location using a shortcode like pages, posts, footer or theme header, etc. This plugin has the feature to support both images and video which can be used to add parallax effects, image transition, etc. Some of the important features of the slider by 10Web are as follows
No coding skills required- Image sliders can be added to the posts and pages using a simple shortcode without any plugin.
Beautiful Transition Effects- Many translation effects are provided by this plugin such as slicing and sliding, folding, fading, etc.
Automatic Image Cropping- Images can be cropped and resized to a specific size. SO the time of the user is saved as he doesn't have to do it manually for each image.
Pre-Built Slider Themes- The style of the slider can be chosen from a variety of pre-built slider themes. Or the user can create his CSS.
User engagement – You can easily add sliders on pages or posts to keep your website visitor engaged.
Better user experience – This plugin works perfectly with laptop mobile or computer  . so no matter what width of the page it will get your better experience
Differentiation – Adding the color, animation to your slider isn't a big deal you can achieve it in just one click.
Easy to set up, use, and customize – Setting up of WD slider is not difficult whether you are a beginner or expert.
Get Support – 10Web is known for its product quality and support
Total number of users – 40,000+
Price – Basic – $20/annually (1 Site),  Standard – $30/annually (3 Site),  Advanced – $40/annually (30 Site)
Slider WD Tutorial: How to install and add images
Screenshot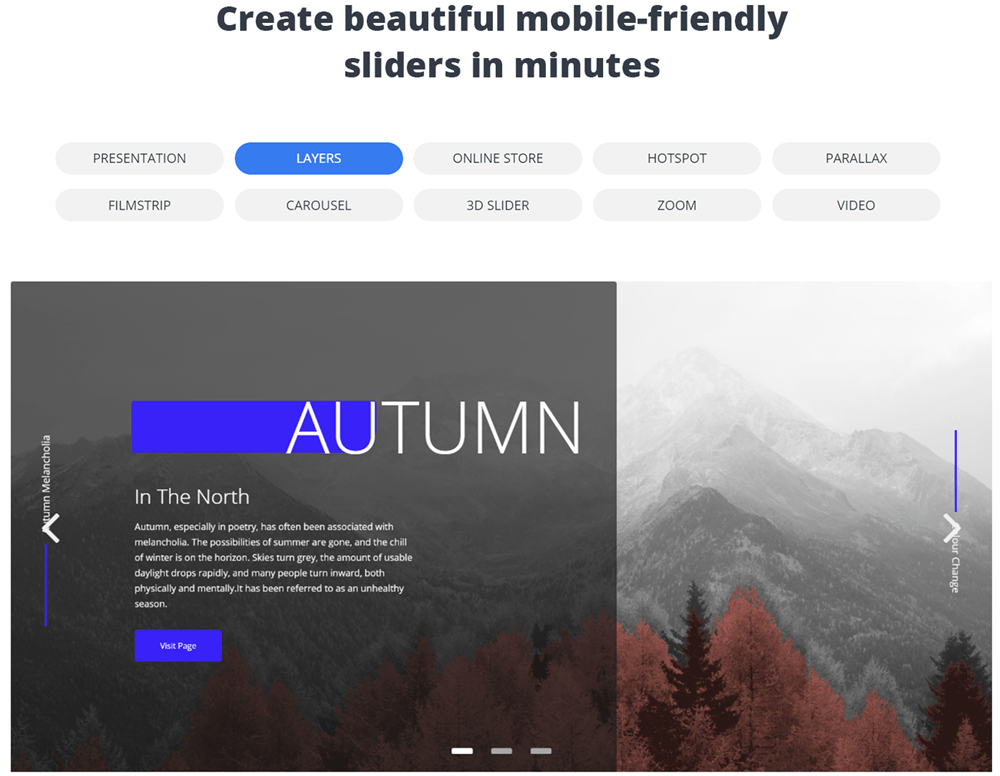 7. Slide Anything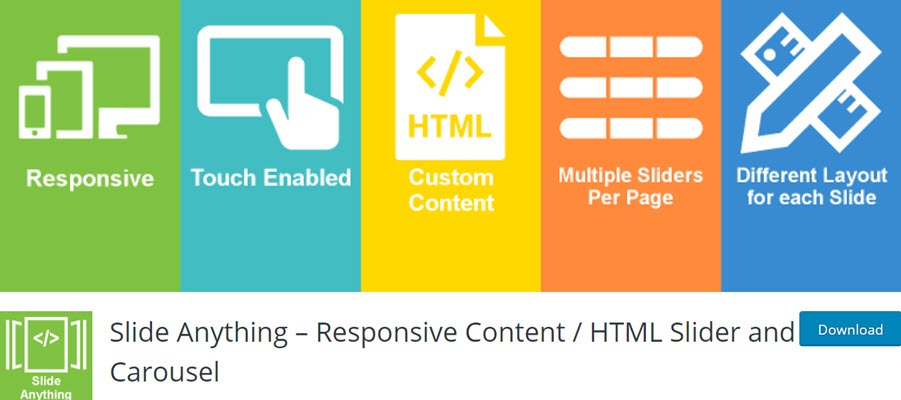 Slide Anything Responsive plugin helps the users to create professional slideshows, sliders, and animated content. Being a premium multi-purpose animation platform, it is the most advanced slider and web animation plugin. Mind-blowing effects causing image galleries and slideshows, beautiful page blocks and landing pages as well as a full website can be created using this plugin. It has a drag and drop builder which makes building sliders very easy. The features which support this plugin in being amazing are:
Premium Slider Templates- The plugin has many built-in slider templates which can be used for professional business websites, personal needs, creative work presentations, commercial and retail purposes, and many more.
New Animation Engine- The plugin has pre-defined slide transition, loop and multi-step animation, filter and layer masks, animate colors and common CSS properties, pop-out-of-slider effects which help to create stunning effects on the visitors.
LayerSlider Editor- The LayerSlider editor makes this plugin fast and easy to use with its drag and drop, multi-select layers, undo-redo, keyboard shortcuts, resizable with rulers and guidelines, etc.
Perfect Fit- Many other features are there such as full size, full width, full-screen slider looks, and hero screen which fits on all types of devices.
Optimization- The plugin uses cutting-edge technologies such as it is compatible with all sorts of browsers, is retina and high-res ready, is SEO friendly, and is localization ready.
Great Support- The customers are provided great support through updates, documentation with clear languages, FAQs and Knowledge Base, etc.
Total number of users – 100,000+
Price – 1 Site – $10/annually,  5 Site – $30/annually,  Unlimited Site – $100/annually
Screenshot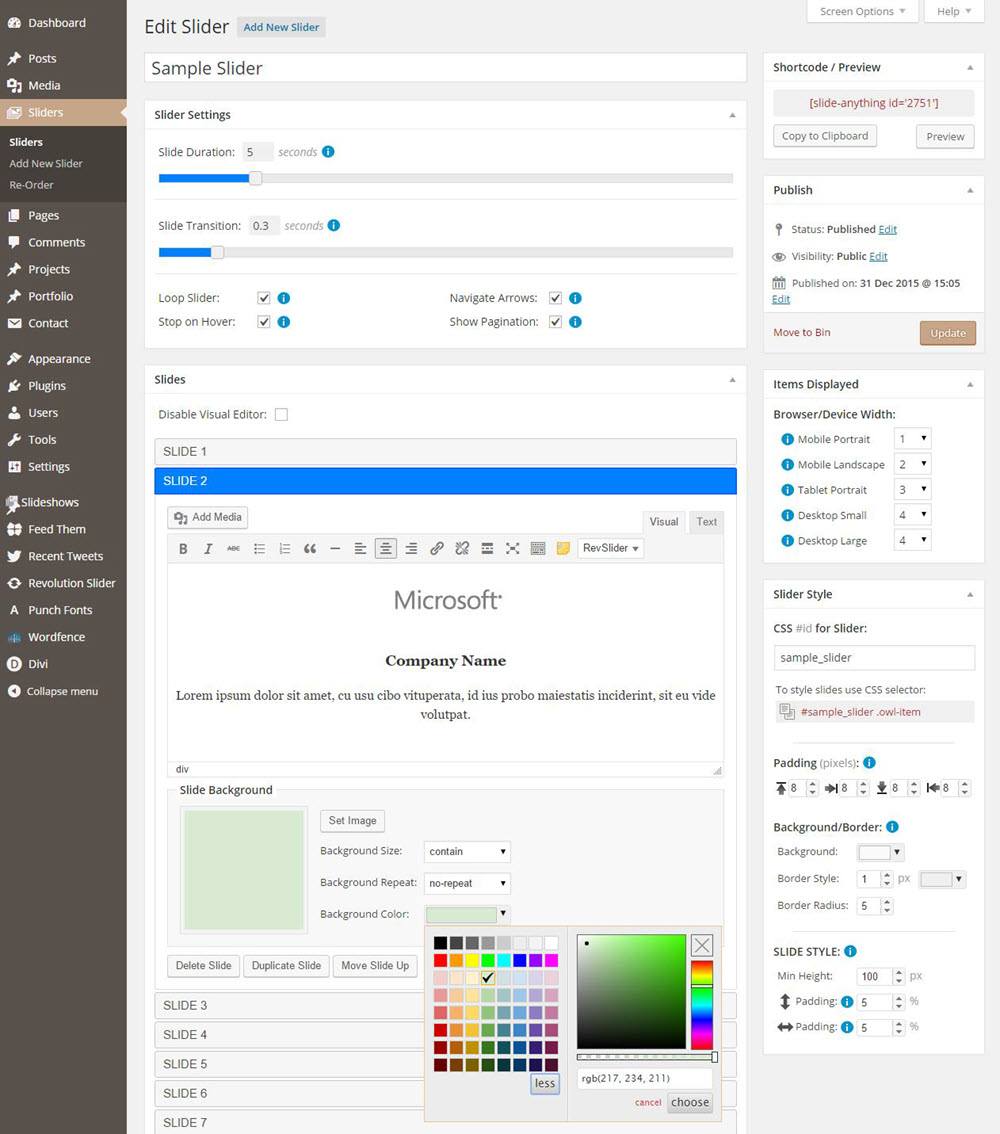 8. MetaSlider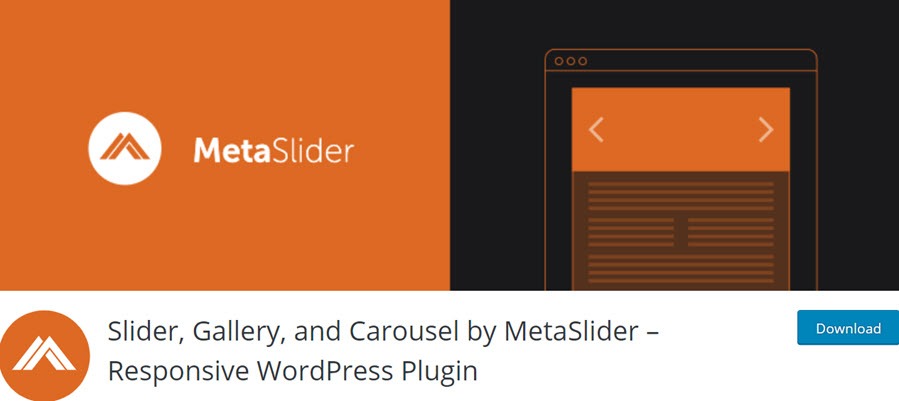 MetaSlider is created by the updraftplus team helps the users to enhance their blogs and website easily. It is one of the Best Slider Plugins For WordPress and the most popular slider plugin which lets the users select images from the WordPress media library and then drag and drop them into place. Then slide links, caption, and SEO fields can be set. It has 4 different slideshow options which can be chosen and embedded using shortcodes and templates into the website. Its features are:
Simple and easy to use interface- This plugin is exactly right for developers, clients, and individual users.
Live Theme Editor- Unlimited themes can be created and they can be previewed easily.
Intelligent Image Cropping- To ensure that the slides are perfectly sized, the plugin has a Unique Smart Crop functionality.
Post Feed Slides- The latest blog events, posts, and WooCommerce products are automatically shown by Post Feed Slides.
HTML Overlay Slides- Completely customized HTML slides can be created using an inline editor.
Seamless WordPress integration- With the new style WordPress 3.5 Media Manager, this plugin is fully integrated.
Video Slides-Responsive and high-definition Vimeo and YouTube videos can be easily included in the slideshows.
Total number of users – 700,000+
Screenshot

Conclusion – Still confused about which is the Best Slider Plugins For WordPress? Don't get confused my friend I know choosing the best one is a bit difficult job. But trust me I will try to make it as simple as I can
Beginners – If you are a beginner and want to build an awesome slider then I will recommend you to use Nivo slider or Metaslider.
Advance Level – If you are looking for an advanced level slider and have some and want to make something more innovative then go ahead with soliloquy or slider by wd or motopress slider. Out of these 3 in my recommendation go ahead with a soliloquy.
Expert Level – If you expert then you can either choose slider revolution or layer slider or Smart s3 slider. Using these 3 you can create a highly customized slider. In my recommendation, the Smart s3 slider will be the best option. Slider revolution and layer slider have lots of options that will make you confused.
Still confused close your eyes and go ahead with the motopress slider I think this be easy and Best Slider Plugins For WordPress. But if you can spend 99$ for buying the developer plan then I will recommend you to use soliloquy because the rest of the plan doesn't have many features
Free Best Slider Plugins For WordPress is one and only Metaslider and motopress slider lite