11 Best Real Estate Plugins For WordPress 2019
Are you looking for Premium or Free Best Real Estate Plugins For WordPress ?  WordPress is the great and easy way to built online real estate listing website and the management will be really so easy .

There are many Plugins in the market which gives the control to you to mange your Real estate property but all of them are not . You can also boost your sale Using WordPress property management plugins . There are many addons to enhance your website functionality like mortgage calculators , Property Review , Complex design likes number of rooms , facilities and much more Almost similar to Zillow website  .
So Just to increase your website earning we have collected the list of Best Real Estate Plugins For WordPress.
1. Realtyna Organic IDX plugin + WPL Real Estate

For real estate and vertical markets, WPL is one of the wordpress commercial real estate plugin which is really an amazingly flexible plugin. It has a fully flexible database management. Fields can be added, removed or changed without custom changing the database.
It also has a flexible property search function. The admin can set the desired search parameter from the administration panel. Agents can be listed. A map view of the listings can be shared and the clients are offered an advanced search. With only a handful of agents, the agencies are catered.
Agent information can be posted and photos can be shared to help the buyers and sellers who they will work with. You can even get complete real estate CRM WordPress plugin . This plugin is ready to be translated and hence languages can be easily changed.
Total number of user  – 5,000+ 
Free
Premium

( Complete Package )
Real Estate CRM
2. WPCasa Real Estate Plugin

For real estate related projects, WPCasa is a premium real estate plugin. A powerful admin panel, Ajax based filter system, beautiful design and many useful UX features come with this plugin.
This plugin supports visual composer. The shortcodes can be selected and added from editor. The settings panel has options like powerful admin settings and styles. The custom fields can be added for properties.
There are many template options which are configurable such as property style, map, search, etc. Static texts can be directly translated form the settings panel.
An agent can be added by adding information such as personal information, featured image of the agent and social channels. The plugin has a flat, clean and responsive design.
Total number of user  – 2,000+ 
Free
Premium
Add-Ons
3. Estatik

Estatik is one the Best Real Estate Plugins For WordPress which helps the users to build a WordPress real estate website which is very easy to use. It has a very clean design, responsive layouts, customizable fields, comprehensive interface, search widget, photo gallery, social sharing, Google map and many more. Fields Builder is a major feature of Estatik which helps to user to build any website they want with custom fields. It has the following features:
With auto complete feature, there is Ajax search.
New fields can be added.
There is listing manager-unlimited categories, types, statuses.
It can be sorted by date, price and popularity.
It has a lot of shortcodes.
Total number of user  – 1,000+ 
Free
Screenshot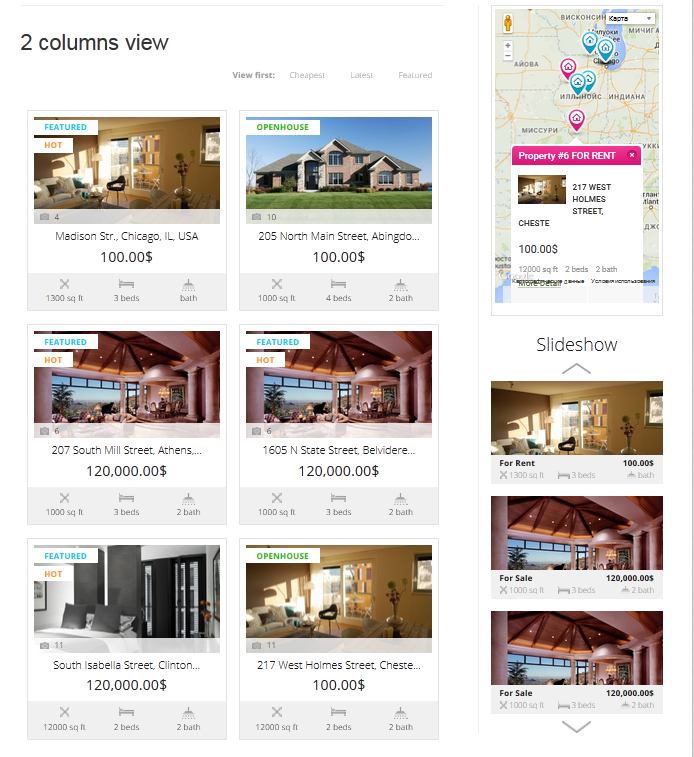 4. Real Estate Pro

Real Estate Pro plugin is highly recommended since pages, settings and templates are configured immediately after installation and it has clean listing modules with beautiful image gallery. All the customer emails which are new are store in the database since it is compatible and integrate with MailChimp. It has the following features:
Responsive Touch Slider is included in listing detail page for mobile devices.
Stripe- With stripe subscription plan, the plugin can be fully synchronized.
Paypal- Express checkout can be done with paypal with all options.
SEO friendly- Any custom type is suitable for this plugin, so any SEO plugin can be used.
Total number of user  – 500+ 
Pricing  – Regular License – $41, Extended License – $225

Premium
5. PropertyHive

PropertyHive is another Best Real Estate Plugins For WordPress which helps the users to manage residential and commercial properties, landlords and owners. It also helps the users to track applicants, and to match and email them suitable properties. It can also be said to be a contact and property management tool. Users can use it to list properties on website, manage property stock, record owner details, etc. Its features are:
It helps to integrate into any website, property search.
Major software providers and property portals is already integrated with this plugin.
Using add-ons, the features which the users want to bolt on can be chosen.
Properties can be sent to property portal with this plugin.
Total number of user  – 900+ 
Free
Screenshot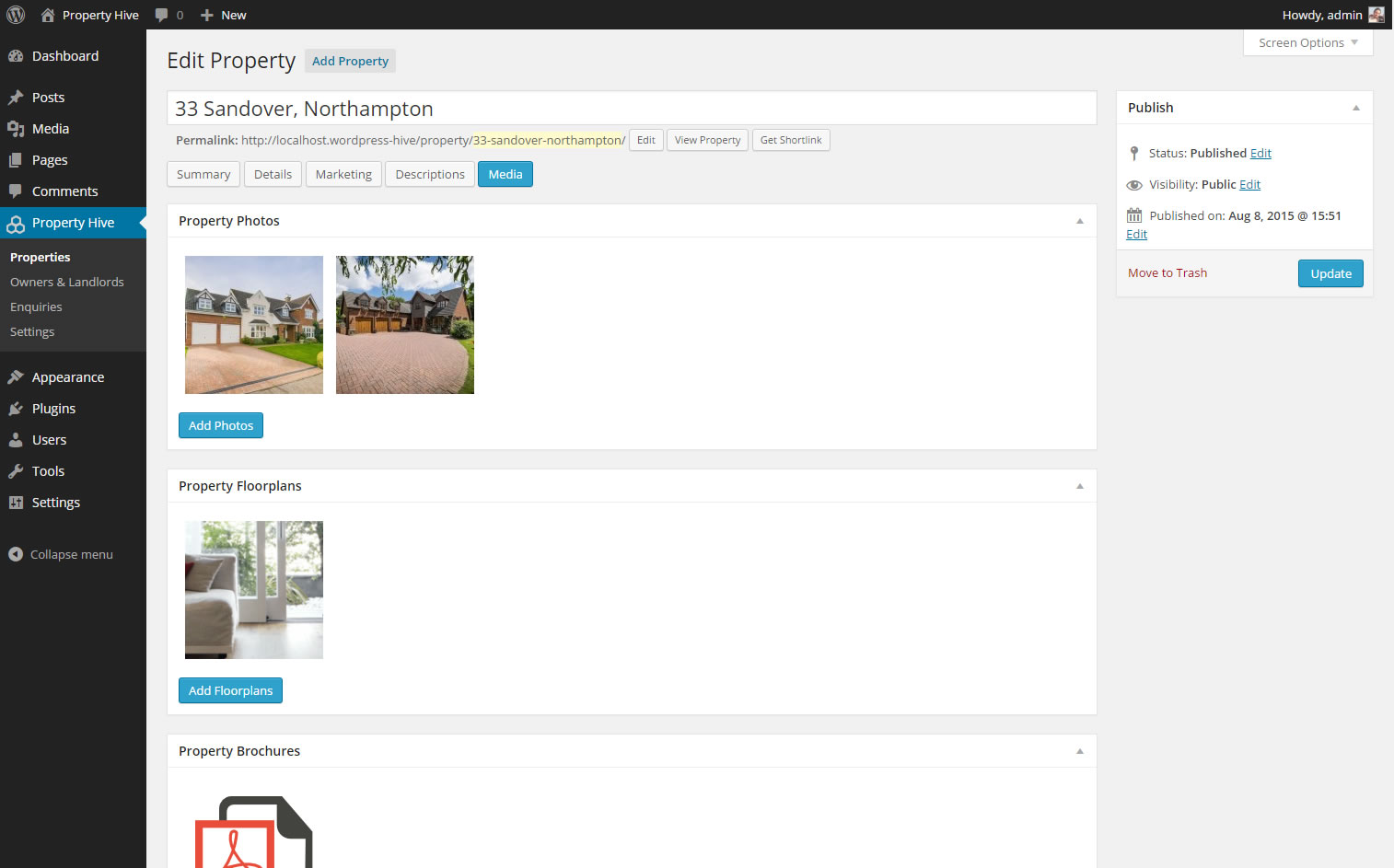 6. Real Estate Manager

Real Estate Manager plugin is a Full Feature Real estate portal and website . It is a responsive property listings WordPress plugin. With a clean design, special integration features like Property video, Property Type, Gallery Slider, Advanced Ajax Search, etc can be added. It features are:
Listing Styles- Many listing styles are available including grid and list views.
Properties Map- Multiple properties can be displayed on a single large map with their locations.
Filter properties- Properties can be filtered by the visitors based on property types from the maps.
Unlimited features- Many features and options can be added.
Nearby locations- Properties which are close to the visitor's location are displayed automatically.
Total number of user  – 1,000+ 
Free
7. IMPress Listings

IMPress Listings is a full listing management system. It is integrated with MLS and status tags of all listings. Works with any theme of WordPress and is completely responsive. While making a listing, some fields need to be filled such as address, price, floor, garage, map, pool and virtual tour. Its features are:
Default taxonomies and terms- To create the own way of classifying listings taxonomy creation tools can be created.
Widgets- To display listings in any taxonomy, a Featured Listings Widget is included.
Automatic Map Insertion- To add a map automatically into the listings page, the property's latitude and longitude needs to be entered.
Property display- Without any shortcodes, single listings display the custom data automatically.
Contact form- For visitors, a contact form is included to inquire about a property.
Total number of user  – 7,000+ 
Free
Screenshot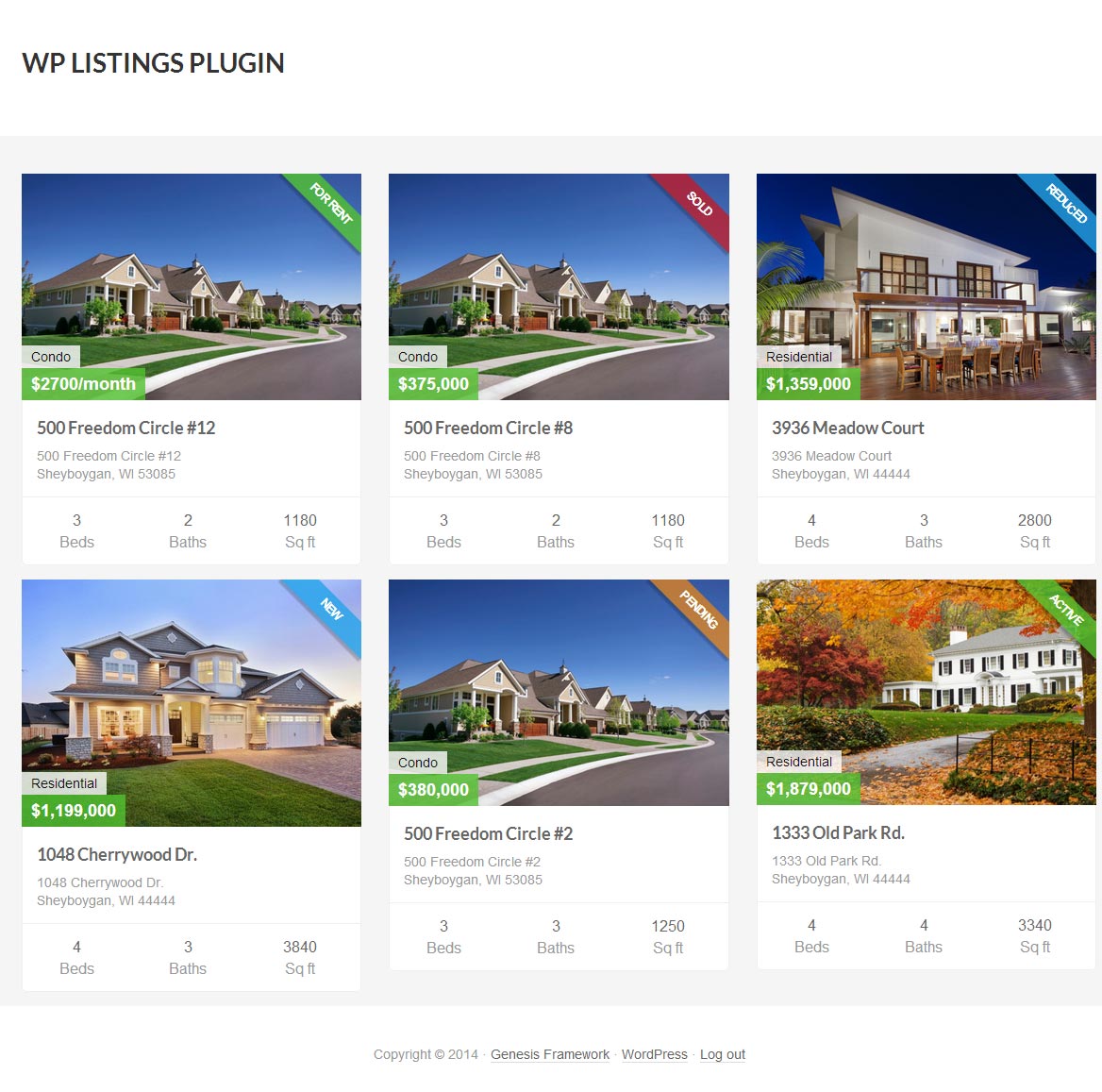 8. Easy Property Listings

Most dynamic and feature rich Real Estate plugin for WordPress, Easy Property Listings plugin is packed with advanced features, shortcodes and templates which helps to quickly create real estate. It has the required functions to configure a dynamic real estate website in just a few moments. This plugin can be integrated into any WordPress site very easily. Websites can be created which present listings beautifully. The listings can be displayed in a responsive grid or list format. Many theme templates are available for free. It does not require any knowledge of coding. It can work with any theme and is fully customizable. Listings can be filtered, displayed and searched using shortcodes. Widgets available with the plugin are quite advanced and can be fully customized. It is very responsive and is ready for mobile.
Total number of user  – 7,000+ 
Free
Screenshot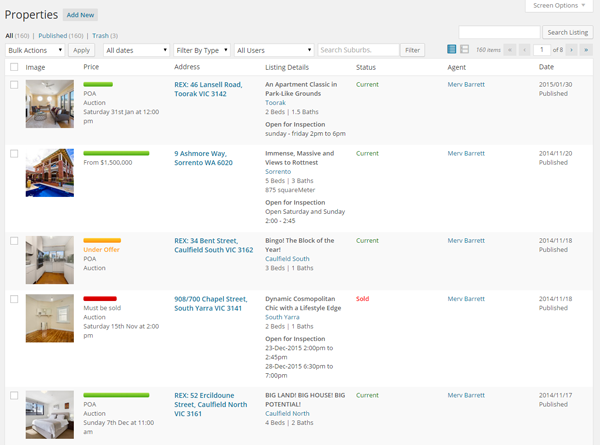 9. WP Amortization Calculator

A high quality, professional and highly customizable calculator, WP Amortization Calculator plugin is used for Mortgage, Auto or any kind of amortized loan. It can be used as a widget multiple times or inserted as a page. It can be simply installed. It has an excellent lead capture tool.The visitors can be educated with the cost of involving in a home mortgage. It has a clean and modern design and is integrated with visual composer.
Main settings per calculator can be overridden and be sued for different purposes. It includes automatic updates. Many options of customization and personalization are included in the backend settings. It is completely ready for translation and many different currency formats are supported.
Total number of user  – 800+ 
Pricing  – Regular License – $21, Extended License – $95

Premium
10. Essential Real Estate

Essential Real Estate plugin has all the features needed for a real estate website and is easy to customize and overwrite templates. Property listings can be managed and property can be submitted via backend or frontend. Global payment, agent management, build market are supported by this plugin.
The pages are defined for real estate websites like Listing Properties, Listing Agents, Search Page, Agency, etc. Properties can be managed and property listings can be managed form the front-end as well as the backend. Custom Fields can be added for property. The plugin is very easy to customize and the searches are very flexible.
Total number of user  – 2,000+ 
Free
The Best Free WordPress Real Estate Plugin For You - Essential Real Estate Plugin
11. WP-Property

To create and manage highly customizable real estate, completely custom listings showcase websites and property management, WP- Property is the perfect solution. It helps the users to showcase any kind of entity properties and products, livestock, golf cart, etc.
It has dynamic properties listings so no coding is required. Search criteria can be specified and results can be quickly sorted with a single click. Any custom attributes are available. The dynamic filtering is fully customizable. Any kind of product can be listed such as hotel reservation, vehicles, farm animal and many more. It has a user friendly interface and is completely expandable and customizable.
Total number of user  – 6,000+ 
Free
Screenshot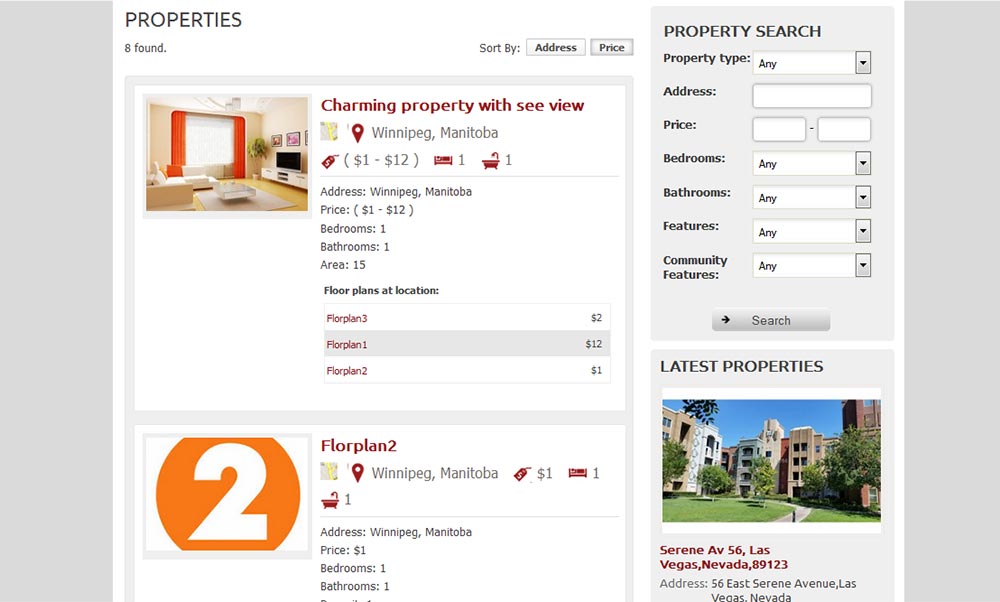 Concluion – Still confused which is Best Real Estate Plugins For WordPress . Don't worry my i will help you to get easiest easy and simple property listings plugins for WordPress . If you want free Best Real Estate Plugins For WordPress then i will recommend you to use Realyna wpl Plugin Its has lots of feature even the Premium version of Realtyna plugins is worth buying . You can even buy addons according to your requirement . Still have doubt feel free to contact us  .