11 Best Flickr Plugins For WordPress 2019
Are you looking for Premium or free Best Flickr Plugins For WordPress . Which will help you to create Flicker gallery and Flicker photo album . This plugin can also be used to show Flickers image gallery in WordPress Widget . Flicker photostream is one the most oldest photo sharing platform used by millions .



With the help of some of Best Flickr Plugins For WordPress you can showcase your flicker images on your WordPress website so easily. So in this tutorial we will be learning about which is good flicker plugin and how to show Your flicker photo's in our WordPress Website and widgets, some of which are :
1. TZ Plus Gallery

TZ Plus Gallery helps to display social galleries like Instagram, Flickr, Google+, Facebook,etc. It already has many layouts and supports grid and masonry style. Photos can even be posted from mobile devices. Albums can be easily added. Albums are displayed as lists which helps to manage them easily. The photos can be viewed with a light box.
The plugin supports both Grid and Masonry style. Besides, it offers 24 layouts to choose from. You can easily manage the albums and select the number of columns and color box to display the album beautifully.
Total number of user  – 100+ 
Price –  Regular License – $50 , Extended License – $115

Premium
2. Viavi Flickr Album Gallery

Viavi Flickr Album Gallery helps to collect all Flickr account photo albums. These photos can be published altogether or individually on the WordPress site. The user's own Flickr API and Flickr Album ID can be used to publish Flickr albums on WordPress blog.
It has a very responsive design and comes with many touch image sliders. There is also the option of Light box Image slider preview and unlimited images can be added into the gallery.
Total number of user  – 15+ 
Price  – Regular License – $17 , Extended License – $85
Premium
3. Flickr Portfolio

Flickr Portfolio plugin helps the user to create a highly customized and beautiful Flickr gallery. It has many modern effects. Images are supported and a header bar can be added optionally in a sidebar or footer. Shortcodes make all options configurable.
It has an amazing lightbox integration. The padding which is around each photo is configurable. There are modern effects of scroll. As many shortcodes as needed can be added.
Total number of user  – 152+ 
Price – $19
Premium
4. Awesome Flickr Gallery

Awesome Flickr Gallery plugin helps to create a clean Flickr gallery yet with a personal touch. It is a fast and light plugin. Flickr photos can be easily added to the gallery on the WordPress enabled website using this plugin. In order to load galleries instantly, this plugin uses intelligent caching.
Both public and private photos are supported. Many galleries with different parameters can also be created. Sorting options are also provided in this plugin to easily sort out the photos. It is also SEO friendly.
Total number of user  – 8,000+
Free
5. Flickr Badges Widget

Flickr latest photo stream can be displayed in widget area in a simple way using Flickr Badges Widget. It has a beautiful widget interface. The recent images can be chosen or a function can be set to choose random images. The image sizes are optional. Image can be opened in a new window.
There are intro/outro texts for additional text before and after the text. It has many free supports.
Total number of user  – 20,000+
Free
6. Flickr Album Gallery Shortcode And Widget

Based on Flickr JS API, Flickr Album Image Gallery is used to display Flickr Albums on the WordPress blog site. The images are shown on the WordPress website along with a smooth website which appeals the visitors very much. The plugin is compatible with all the latest browsers.
The galleries can be viewed on any type of device, from desktops and laptops to smartphones and tablets. Shortcodes can be used to display gallery output on any post or page.
Total number of user  – 10,000+
Free
Screenshot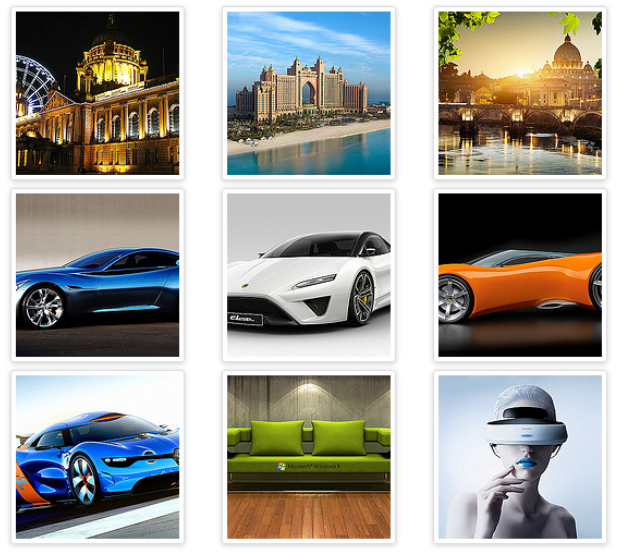 7. Flickr Justified Gallery

Flickr Justified Gallery is used to create a gallery of the same style as that of Google+ or Flickr. Flickr photosets, photostreams, group pools, galleries or tags can be displayed in the blog in an elegant way. It also uses cache to load image galleries instantly. All the photos that has some tags can be shown.
Whenever a visitor hovers over the photos, its title can be seen. It also the option of showing the original photo using a lightbox. It is fast and very lightweight.
Total number of user  – 10,000+
Free
Screenshot

8. Meks Simple Flickr Widget

Meks Simple Flickr Widget can be used to display Flickr photos quickly inside WordPress widget without any authorization. Flickr users and Flickr groups, both are supported. The thumbnail size can be changed. The plugin is integrated with caching system for enhanced performance.
Total number of user  – 20,000+
Free
Screenshot

9. WP Inject


Images and photos can be easily inserted into WordPress posts using ImageInject. Images can be searched among thousands of creative images using keywords and then set as a featured image or simply set in the post.
In order to start inserting photos, an easy to use search metabox is added by the plugin to the WordPress editor. After this photos for the post can be simply searched using keywords and added. The required attribution links can be added automatically next to the image.
Total number of user  – 9000+
Free
10. Photonic Gallery for Flickr, Picasa, SmugMug, 500px, Zenfolio and Instagram

Photonic Gallery charges the WordPress gallery shortcode wich many new functionality. Several new parameters are added to enhance the content and appearance of the gallery. Flickr, Picasa, Google photos, albums and galleries are supported by this plugin.
Authentication can also be set up in order for the visitors to see private and protected photos from each provider. This plugin has a beautiful layout. Galleries can be displayed either as circular thumbnails, grid of square thumbnails,random tiles, slideshow and many more.
Total number of user  – 8,000+
Free
11. PhotoDropper

Want to find that perfect image for your blog post? If yes, then PhotoDropper is the solution. Many free images are available which can be added to the blogs to impress the readers. In order to find the right image and license, the users nwow don't have to visit multiple photo sites. The plugin also handles the attribution. This plugin is very useful for many people such as blog editors, professional bloggers, students, amateur bloggers, etc.
Total number of user  – 5,000+
Free
How to Add a Flickr Widget in WordPress
Select any one of the Best Flickr Plugins For WordPress from above list
Install and activate it .
Once you are done You will find flicker widget box in appearance for that you need to follow this path Appearance » Widgets section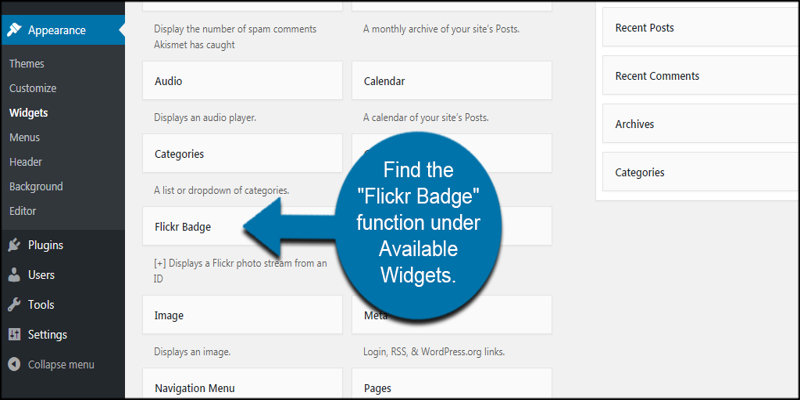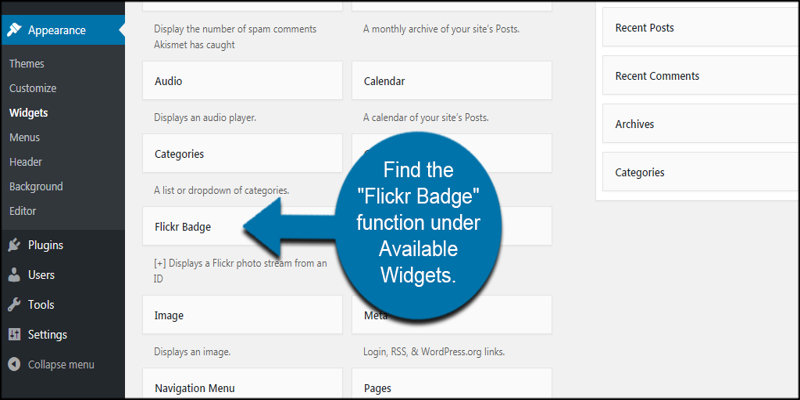 Now drag that widget to anyone of the sidebar area section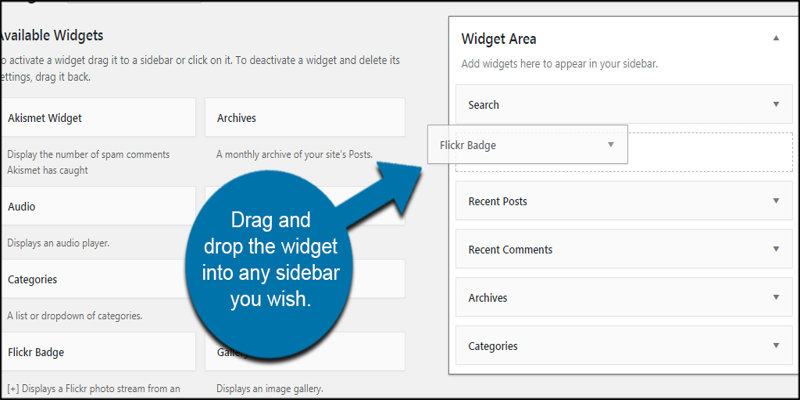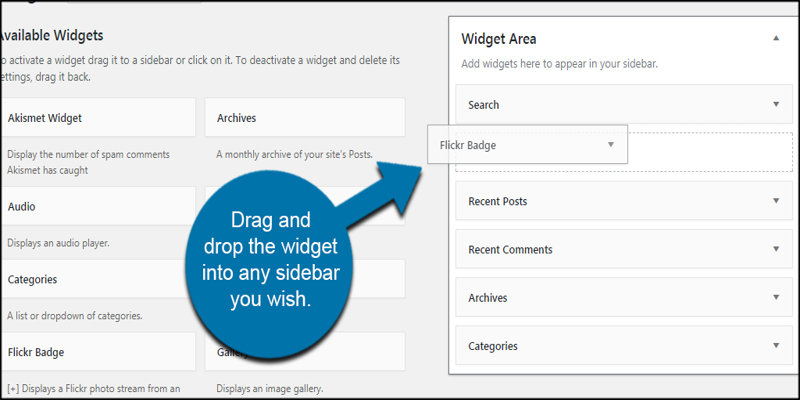 And now enter the link of your flicker images and you are Title and number of images show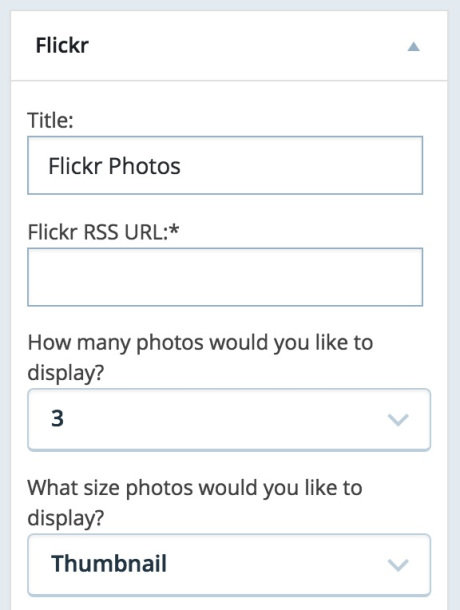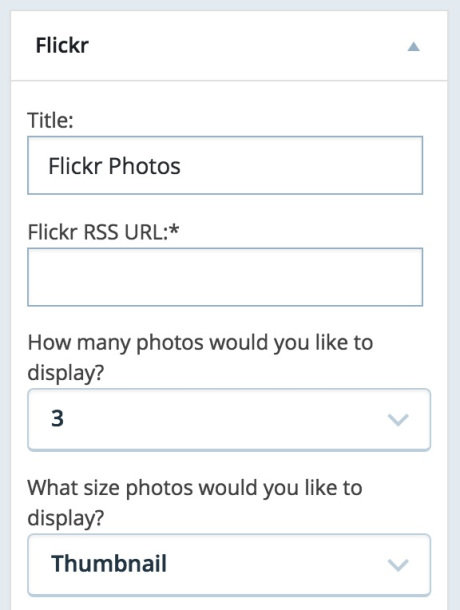 Conclusion –  Still confused which is Best Flickr Plugins For WordPress ? Don't worry i will make it more simple . If you want premium one then I will recommend you to go for TZ Plus Gallery which is helpful for all kind of social media feature image display . But you want free then i will recommend you to go for Awesome Flickr Gallery which is better than other plugin .