6 Best Cookie Consent Plugins for WordPress 2019
Are you looking for Best Cookie Consent Plugins for WordPress? Which will help you t add cookies consent Popup in your WordPress website . European Union's cookie law ask all the website owner to get permission from visitor so that your website can set any cookies on their computer  .  ( European Union's cookie law is valid for all Europeans country user or the website user who is targeting Europe people  ) .
I am sure you would have already seen a popup for coming up in your browser and asking you to set consent to cookies . If you will accept it then it's fine not at all problems you can access their website without any problem. But if you will decline that checkbox in that you will be out of that website unless and until you cookie consent law .
What is the Cookie Consent Law?
Cookies consent law in simple Words means that where ever you visit any website. Their website cookies get stored on your computer. For storing any data on the computer you need to get permission from the visitor.
How does Cookies Works WordPress website?
When we talk about the WordPress website it basically has its own built-in cookies storage function. Which stores your session information, comment information, and nowadays these are storing your post data in the browser . As we know that cookies are a very important part of any website which can be sold to 3rd party advertisement company to get your interest and show your relevant ads.
So in this post we will be learning on so many thing
Which is Best Cookie Consent Plugins for WordPress .
How to cookie Consent Notification Popup in WordPress.
Table of Contents
1. WeePie Cookie Allow
WeePie is the one of the Best Cookie Consent Plugins which have an automatic cookie blocker plugin for WordPress. It is EU GDPR proof. It is easy, flexible and complete cookie law implementation plugin. hence it fully complies with the cookie law of any country. It allows the user to choose the way of cookie consent in the design of their website. Its features are:
It is very easy to configure.
It has a lot of styling options such as colors, texts, sizes, shadow, etc.
It clears cookies automatically.
Using this plugin Cookie policy page can be linked.
It is multisite ready.
It has a very responsive design.
It is WPML multilingual translatable.
A cookie reset button can be added to the WordPress website.
It can show a placeholder at the place where the cookie content is blocked.
Weepie supports WordPress cookie plugin multilingual
Compatibility –  GDPR, UK cookie law , EU cookie law, Italian cookie law, UK cookie law, Dutch cookie law , German cookie law
Total number of user  – 4,000+ 
Pricing – Regular License – $21, Extended License – $250
Premium
2. Cookie Notice
CookieNotice WordPress Plugin By dFactory is an elegant plugin that informs users that the site uses cookies and complies with the EU cookie law GDPR regulations. Its features are:
The cookie messages can be customized.
It is linked to privacy policy page.
It is completely GDPR complaint.
The message box can be animated after the cookie is accepted.
It redirects users to the customized page for additional cookie information.
It provides the option to accept cookies on scroll.
Bottom Style can be selected from among None,WordPress and Bootstrap.
It is WPML and Polylang compatible thats it supports WordPress cookie plugin multilingual website .
It is SEO friendly.
Total number of user  – 700,000+ 
Free
3. Cookie Consent
Cookie Consent is the simplest consent plugin. It is the most popular cookie notification plugin. Its best features is that it can be installed very simply and activated to automatically add the cookie consent notification bar. it does not require any configuration. When the plugin is activated, it creates and populates a page on the website along with the information about the cookie policy and automatically links to the page from the notification bar. Its features are:
It has the option to display the notification on only the first page.
The dismissal method can be chosen among-click,scroll or timed.
The cookie duration can be set.
It inherits the theme style wherever possible.It has the option to use an absolute or external URL to link for further information.
It has the option to exclude selected posts and pages from displaying the notification.
There are a host of customization options.
It is quiet responsive.
It is translation ready.
Total number of user  – 200,000+ 
Free
Screenshot
4. GDPR Cookie Consent

GDPR Cookie Consent WordPress plugin helps to make the user GDPR compliant. It adds a subtle banner in the website in the header or in footer. This way the compliance status regarding  the new EU cookie law can be displayed. Its style can be customized to match the website. The cookie bar can also made to disappear after some time. It also has a cookie audit module so the user can show what cookies their website uses and display it in the form of a table in the Privacy and Cookie policy. Some more features of this plugin are:
It is WPML compatible.
The cookie bar can be placed either in the header or the footer.
Colors, style, and fonts can be customized.
It is possible to permanently dismiss or access the cookie bar through a 'show again' tab.
It has qTranslate support.
The 'show again' tab can be fully customized as to where it has to be positioned.
Total number of user  – 300,000+ 
Free
Screenshot
5. EU Cookie Law
EU Cookie Law allows the website to comply with the European Cookie Law. It does this by informing the users that the site has cookies with a popup for more information and the option to lock scripts before they are accepted. This plugin is very elegant, light, and powerful. Its features are:
The style can be customized to match the website.
Cookie behaviors can be controlled before or after their acceptance.
It is GDPR compatible.
It contains shortcodes to revoke cookie consent and show a list of cookies.
Consent can be made by clicking scrolling or notification.
It is compatible with a multilanguage plugin.
It is compatible with Disqus and Jetpack infinite scroll.
It is also compatible with mobile themes and plugins.
The cookie expiration date can be set.
Total number of user  – 100,000+ 
Free
EU Cookie Law for WordPress
6. Italy Cookie Choices
Italy cookie law allows its user to comply with the European Cookie law easily and shows the notification to the user only the first time he visits the website. The plugin menu in this plugin helps to easily modify the message, position and style. It doesn't add any CSS stylesheet or Javascript files but only inline scripts. This helps in not slowing down the website. Its features are:
It gains acceptance on the second view and mouse scroll.
Its URL and button texts are customizable.
The content banners are customizable through HTML tags.
It blocks third-party script on-page.
It displays the banner on the front end.
Custom scripts can be added to not block the pages.
It is multilanguage.
Total number of user  – 40,000+ 
Free
Screenshot

How to cookie Consent Notification Popup in WordPress
Add a cookie notice on your WordPress website
You need to first install the CookieNotice WordPress Plugin By dFactory and activate it. (Note you can use any plugin for this purpose but we are using free and simple and Best Cookie Consent Plugins for WordPress which will benefit everyone )
Once you are done you need to click on settings.
Inside setting you can make change to make to their setting part as like shown in screenshot Or you can also change the message shown in the configuration part and leave the rest of the content as default.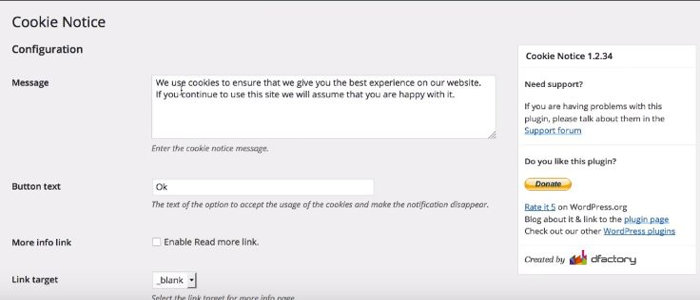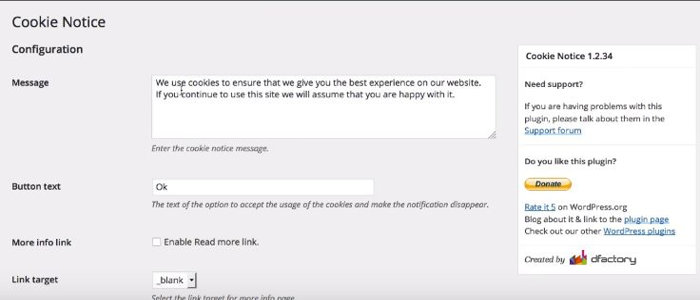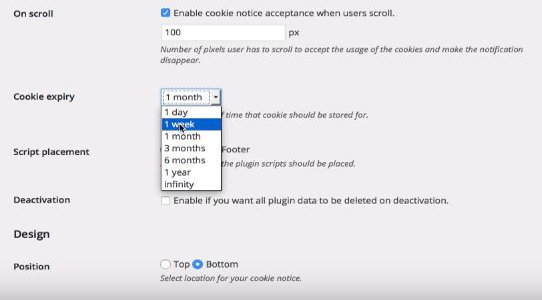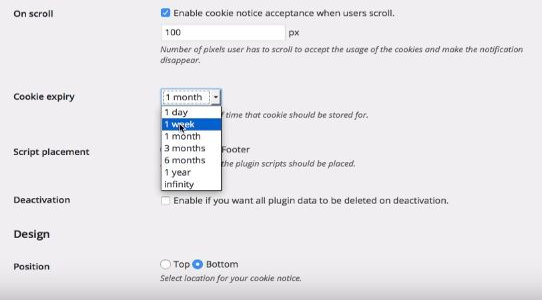 Once you are done click on save the change and open your website from the front view and you will see your cookies consent notification popup at the footer of your website.
Conclusion –   This is one of the most important content when you start a website. And mostly when you are from Europe. Now a day GDPR Cookie Consent notice is used by almost of the website. Whether they are core developers or a blogger.