10 Best Cookie Consent Plugins for WordPress 2023 – Gomahamaya
Are you looking for Best Cookie Consent Plugins for WordPress? Which will help you to add cookies consent Popup in your WordPress website. European Union's cookie law ask all website owner to get permission from visitor so that their website can set any cookies on their computer. ( European Union's cookie law is valid for all European country users or the website user targeting European people ).

I am sure you would have already seen a popup for coming up in your browser and asking you to set consent to cookies. If you accept it, it's okay, not at all problems you can access their website without any problem. But if you will decline that checkbox, you will be out of that website unless and until you cookie consent law.
What is the Cookie Consent Law?
In simple words, cookie consent law means that wherever you visit any website. Their website cookies get stored on your computer. For storing any data on the computer, you need to get permission from the visitor.
How does Cookies Works WordPress website?
When we talk about the WordPress website, it has its own built-in cookies storage function. Which stores your session information comment information, and nowadays, these are storing your post data in the browser. As we know, cookies are an essential part of any website that can be sold to a 3rd party advertisement company to get your interest and show your relevant ads.
So in this post, we will be learning on so many things
Which is the Best Cookie Consent Plugin WordPress?
How to cookie Consent Notification Popup in WordPress?
1. cookies

Cookies cookie consent plugin is supported over ten plus CMS (content management system) like Worpress, Drupal, Magento, Blogger, Joomla, Squarespace, Wix, ImpressPages, and many others. Also, it blocks more than twenty similar websites, i.e. third-party cookies automatically like Google Analytics, Facebook Pixel, Hotjar, Youtube, etc.
The aesthetic factor allows over ten plus different customization to the cookie banner. Support a toral 27 languages like Danish, Russian, etc., which shows its efficiency in diversity. Customers rating of CookieYes is relatively high, depicting its user-friendly and handy features.
To get started with this plugin, the process is straightforward:
Signup for CookieYes.
Get your cookie banner installation code.
Copy the installation code to your website and get started.

It allows you to select your cookie domain, name, and duration of its existence.
CookieYes controls over 1,000,000 websites to obey the GDPR and CCPA, e.g. Reuters, Hilton, Domino's Pizza, Dekoria, CNBC, and Deutsche Telekom.
Price – Basic-$100/yearly,  Pro-$200/yearly,  Ultimate-$400/yearly
Screenshot

2. Securiti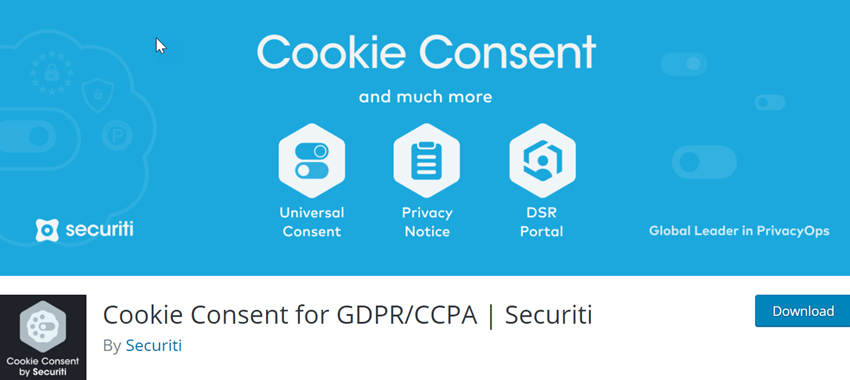 Securiti, a global leader in PrivacyOps, is a cookie consent plugin that allows visitors to the particular website the plugin is installed on to give consent for their data and information to be stored and retrieved by the website admins.
To begin with, you must get a free account by registering, entering a website URL to begin scanning, giving approval to the scanned results, and later copying and pasting the script in the plugin.
The advanced features of this plugin include.
Scanning websites for cookies at a fixed interval.
Displaying various languages
Auto-blocking of cookies
Automatic updation of privacy policies.
Reverse IP detection for global compliance
Consent records and reporting
High-Performance Caches enables the various websites owners to provide swift and well-organized content delivery to the users. An award-winning platform powers this plugin.
Total number of users –90+ 
Screenshot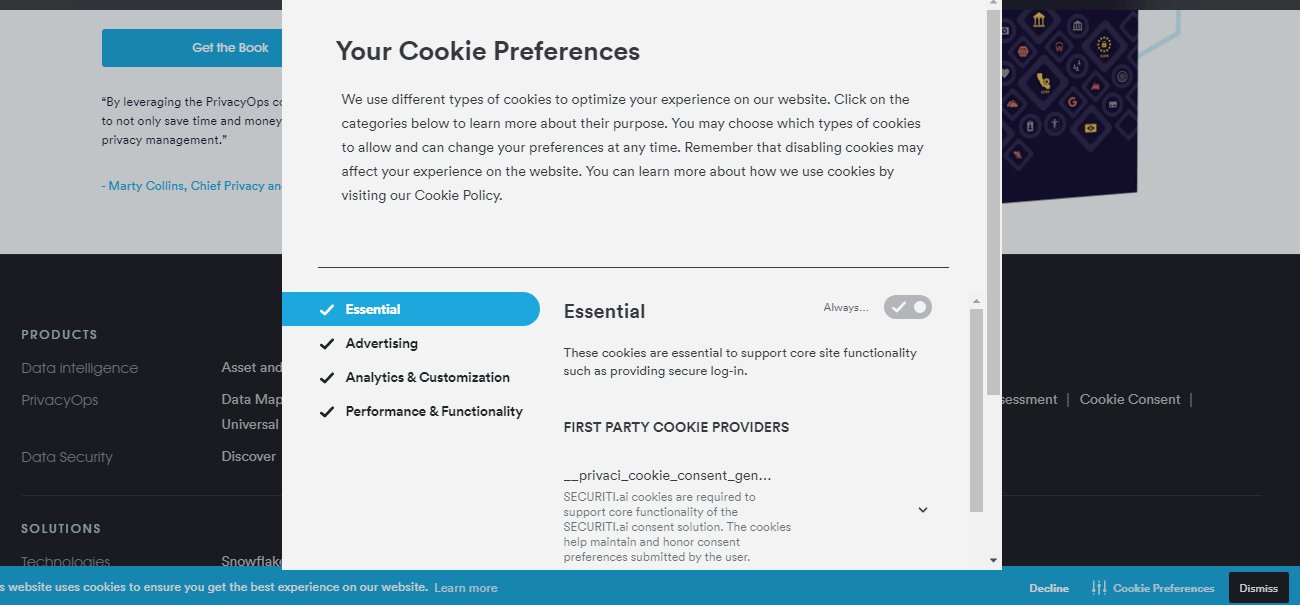 Cookie Consent Management for Global Cookie Compliance | Securiti
3. GDPR Cookie Consent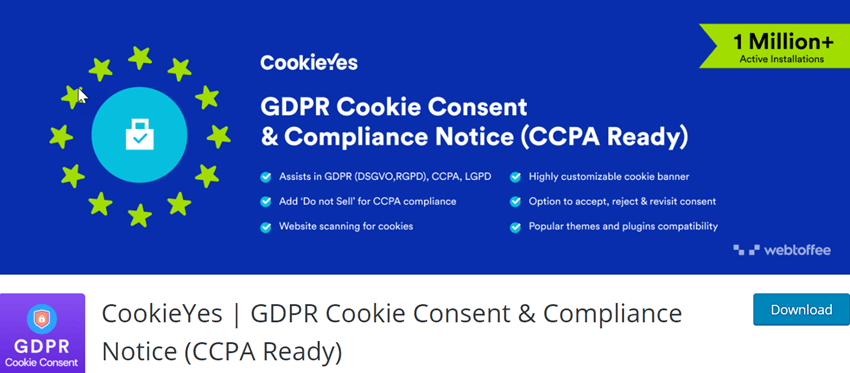 The best GDPR Cookie Consent plugin for WordPress helps make the user GDPR compliant. It adds a subtle banner on the website in the header or footer. This way, the compliance status regarding the new EU cookie law can be displayed. Its style can be customized to match the website. The cookie bar can also be made to disappear after some time. It also has a cookie audit module so the user can show what cookies their website uses and display it in the form of a table in the Privacy and Cookie policy. Some more features of this plugin are:
It is WPML compatible.
The cookie bar can be placed either in the header or the footer.
Colours, styles, and fonts can be customized.
It is possible to permanently dismiss or access the cookie bar through a 'show again' tab.
It has qTranslate support.
The 'show again' tab can be fully customized to where it has to be positioned.
Total number of user –1,000,000+
Price – Single Site-$69/yearly,  5 Site-$199/yearly,  25 Site-$399/yearly
How to set up GDPR/CCPA Cookie Consent for WordPress (v1.9.5 and below)
Screenshot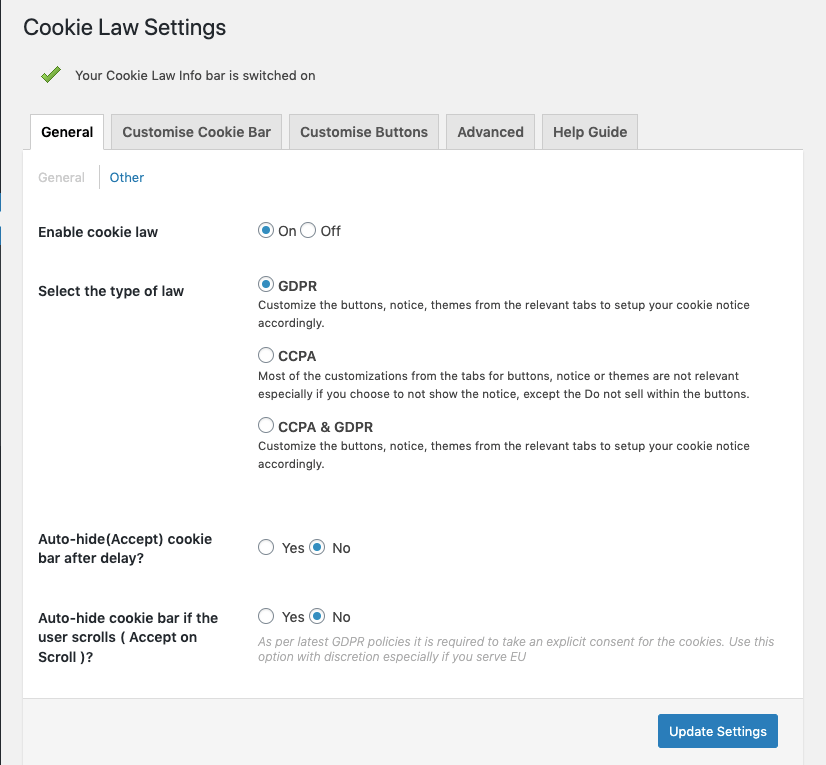 4. Complianz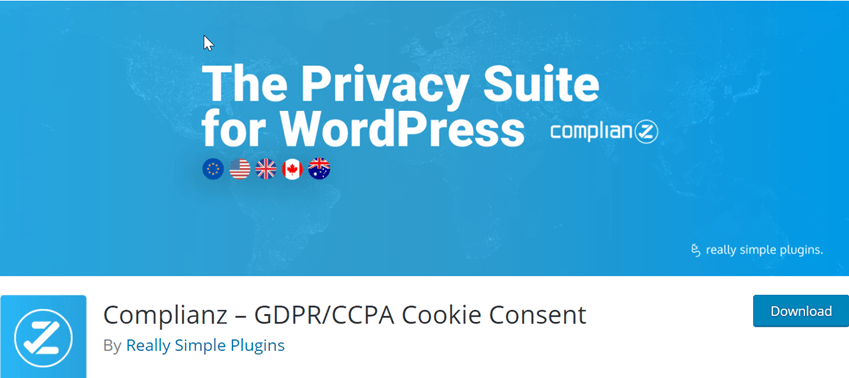 Complianz is a plugin that supports CCPA DSGVO, GDPR, and PIPEDA guidelines. Configuration of cookie consent for a specific region or using one for the whole world is the best feature of this plugin. Customizable templates and custom CSS are all available. Proof of consent for the users under the GDPR guidelines proves security.
Automatically notice if you need a cookie banner and scan for any change needed on every fixed time interval. Block all the third parties detected like Google, Recaptcha, Instagram, Activecampaign, Twitter, Maps, Facebook, etc. It also blocks iframes like Youtube, Dailymotion, and Vimeo.
Here are some of its main highlights :
To make your banner enticing, you can make specific arrangements in its presentation by changing its colour, text, position. It provides you with several themes to select from. 

It lets you preview your banner in the backend after making the changes.

The banner is displayed only when the user has not consented to the cookies.
Total number of users –200,000+
Price – Personal-$45/yearly (Single Domain),  Pro-$165/yearly (Five Domain), Agency-$355/yearly (Unlimited Domain)
Screenshot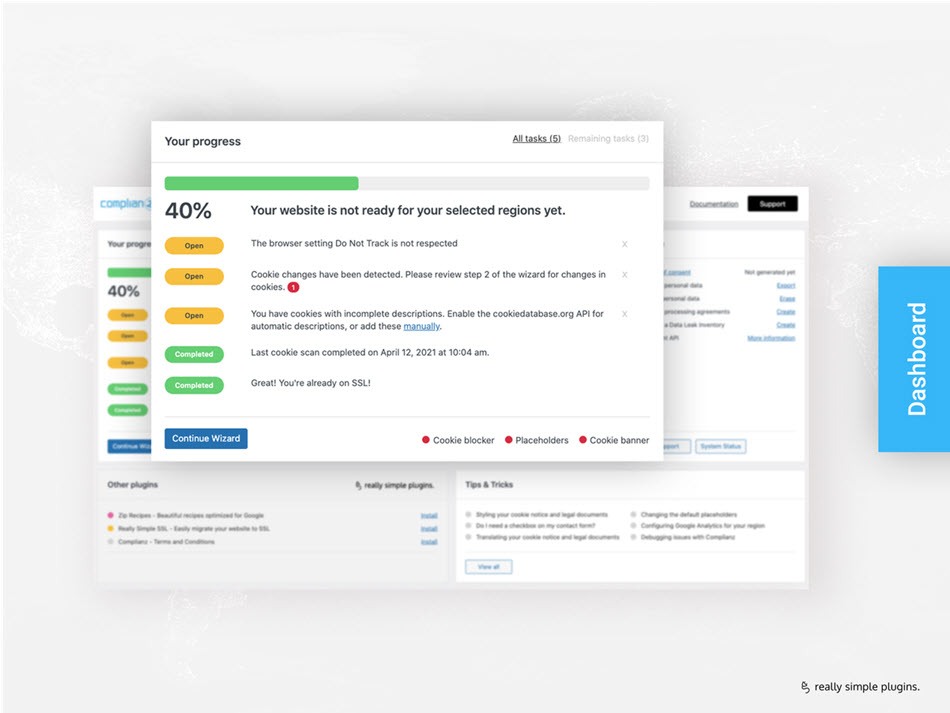 5. Iubenda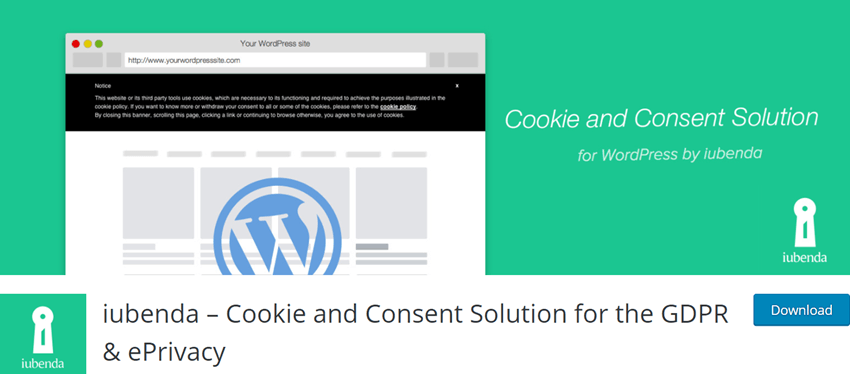 Cookie Consent is the most straightforward consent plugin. It is the most popular cookie notification plugin. Its best feature can be installed very simply and activated to add the cookie consent notification bar automatically. It does not require any configuration. When the plugin is activated, it creates and populates a page on the website along with the information about the cookie policy and automatically links to the page from the notification bar. Its features are:
There is an option to display the notification on only the first page.
The dismissal method can be chosen among-click, scroll, or timed.
The cookie duration can be set.
It inherits the theme style wherever possible. It has the option to use an absolute or external URL to link for further information.
The plugin provides an option to exclude selected posts and pages from displaying the notification.
There are a host of customization options.
Cookie Consent is quite responsive.
It is also translation-ready.
Total number of users –70,000+
Price – Personal-$29/yearly (1 Pro License),  Business-$9/Monthly (5 License Slots),
Screenshot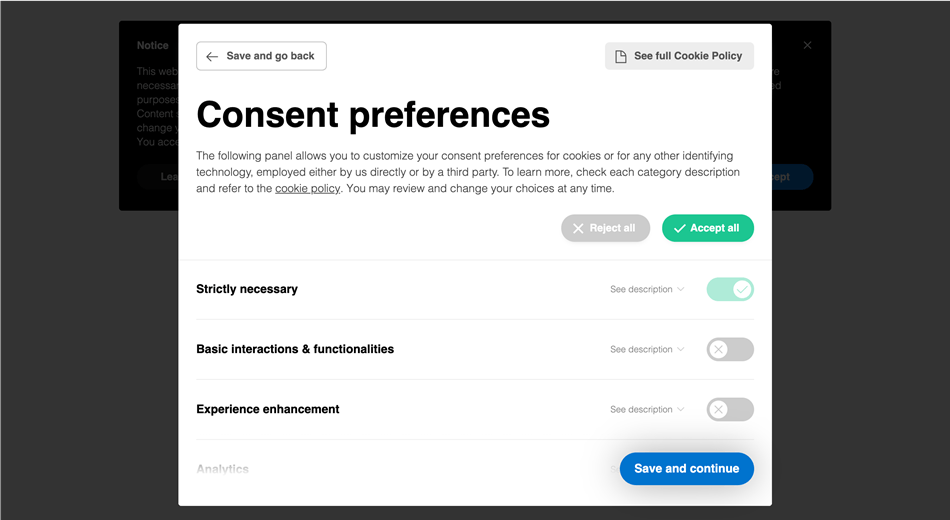 6. Cookie Notice & Compliance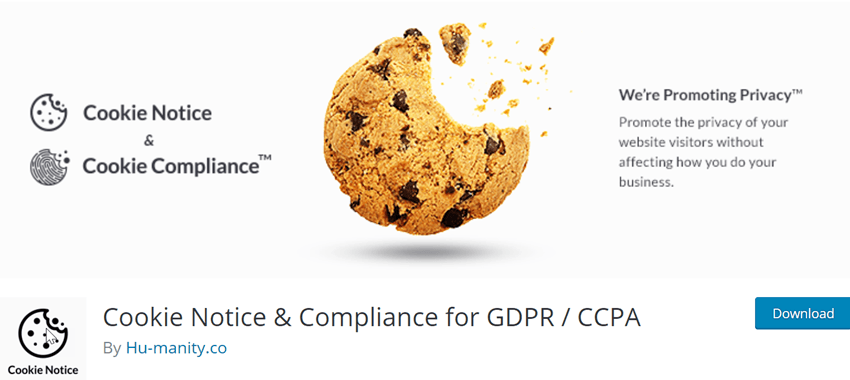 CookieNotice WordPress Plugin By Dfactory is an elegant plugin that informs users that the site uses cookies and complies with the EU cookie law GDPR. Its features are:
Customizable cookie messages.
You can link it to the privacy policy page.
It is entirely GDPR compliant.
Animate the message box after the cookie is accepted.
It redirects users to the customized page for additional cookie information.
It provides the option to accept cookies on a scroll.
Select bottom style from among None, WordPress, and Bootstrap.
It is WPML and Polylang compatible and supports WordPress cookie plugin multilingual website.
It is SEO-friendly.
Total number of user –1,000,000+
Screenshot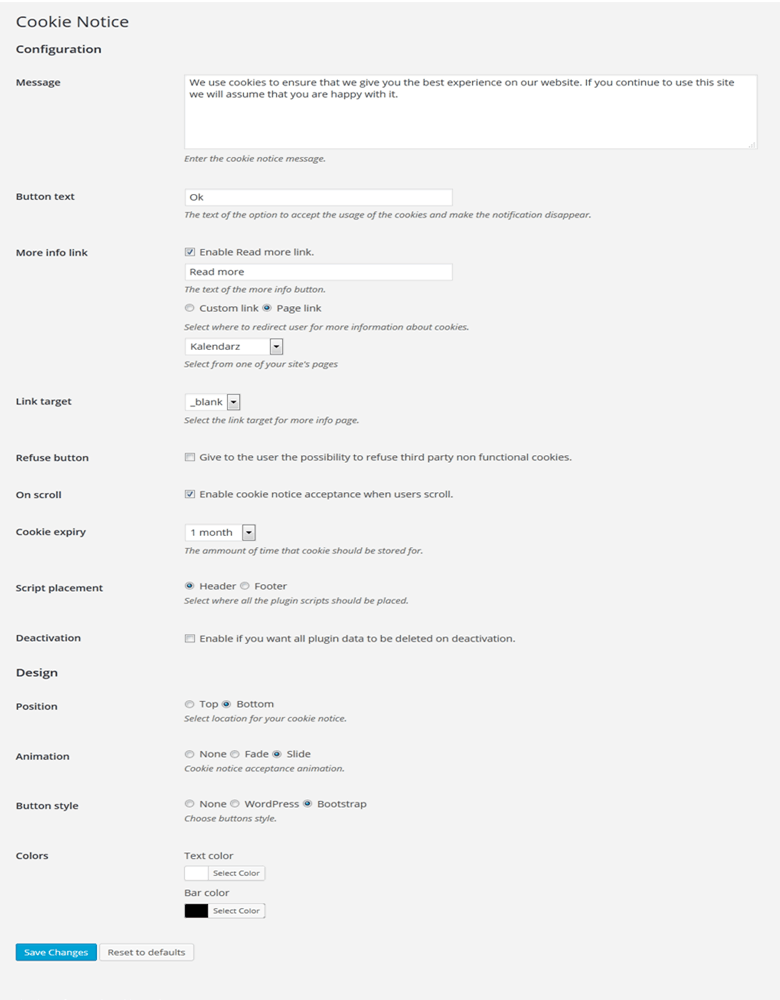 7. GDPR Cookie Compliance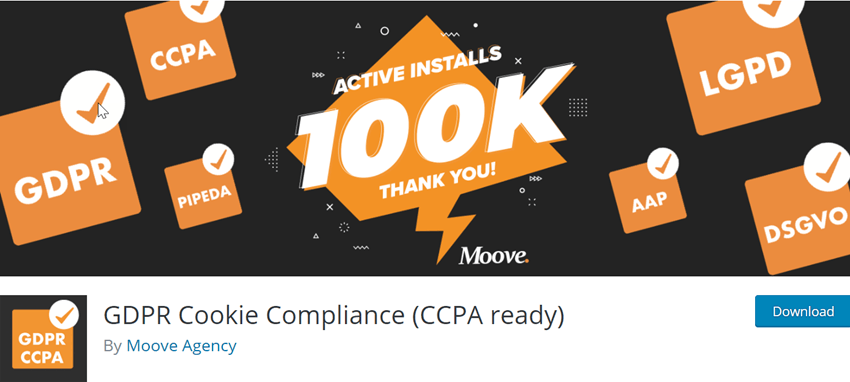 GDPR Cookie Compliance WordPress Plugin By Moove Agency. Everyone wants to keep their business safe, for which they would want to keep their information confidential and safe. And if you are looking for such a plugin, then this is the right one. With this plugin, you can avail of the offer of interacting with the help of support service in case of an issue. It helps you record amalgamations of the pixel, Facebook, etc.
Here are some of the main highlights of this plugin :
You can do any correction from the user's data storage.

It allows you to notify the admin if you need to pile up or assemble the requests for data access.

You can get the permission of your users by directing them to your term and conditions section.
If the user does not want their information to be stored, this plugin provides a helping hand by building a request form for the removal of the same.

Moreover, for your EU users, you can either deny or present them with cookie popups.

The plugin asks you to get your user's permission before they can use the cookie. And for that, it directs users to your privacy policy page.
Total number of users –100,000+
Screenshot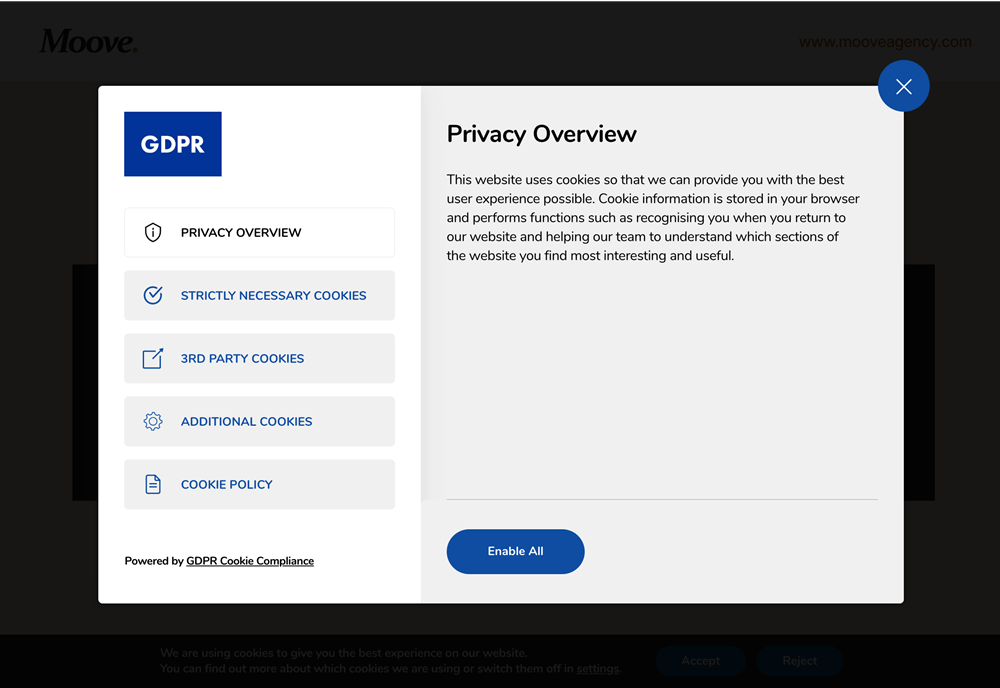 8. WP AutoTerms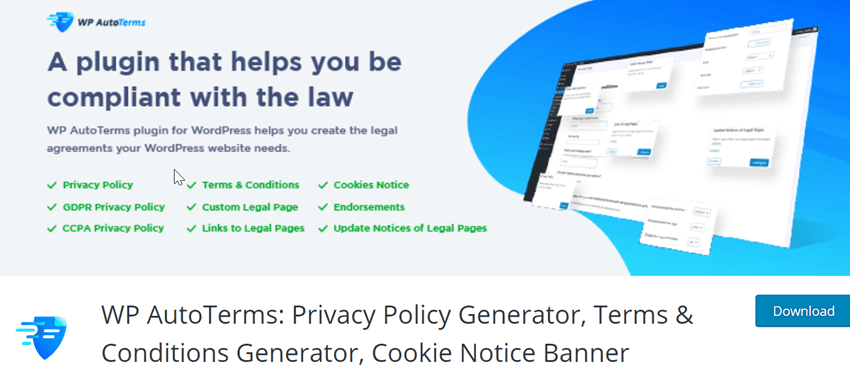 WP AutoTerms allows its user to easily comply with the European Cookie law and shows the notification to the user only the first time he visits the website. The plugin menu in this plugin helps modify the message, position, and style effortlessly. It doesn't add any CSS stylesheet or Javascript files but only inline scripts. This helps in not slowing down the website. Its features are:
It gains acceptance on the second view and mouse scroll.
Its URL and button texts are customizable.
The content banners are customizable through HTML tags.
It blocks third-party script on-page.
It displays the banner on the front end.
You can add custom scripts not to block the pages.
It is multilanguage.
Total number of users –100,000+
Screenshot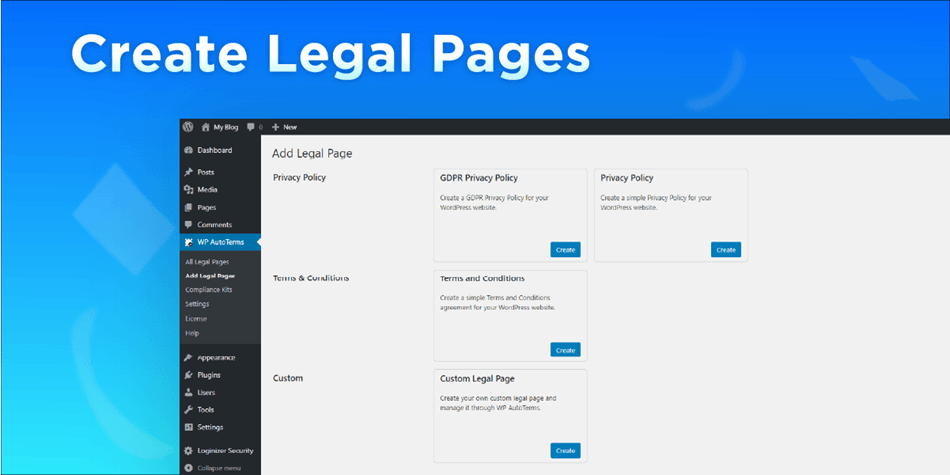 9. WordPress Real Cookie Banner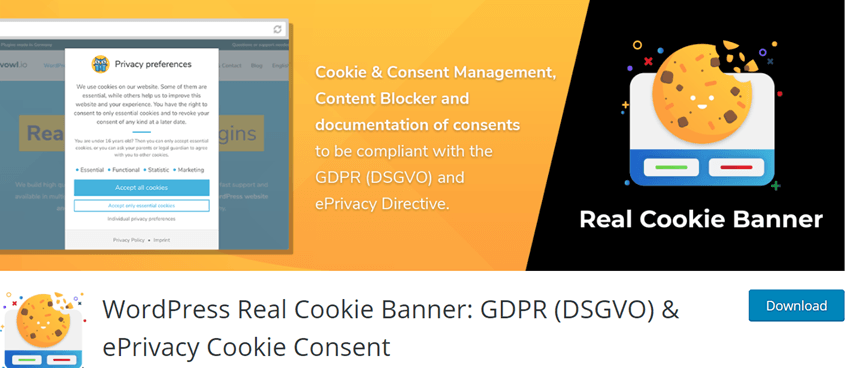 WeePie is one of the Best Cookie Consent Plugins, which have an automatic cookie blocker plugin for WordPress. It is EU GDPR proof. WeePie is an easy, flexible, and complete cookie law implementation plugin. Hence it fully complies with the cookie law of any country. It allows the user to choose the way of cookie consent in their website design. Its features are:
Easy configuration
Many styling options include colours, texts, sizes, shadows, etc.
It clears cookies automatically.
You can link the Cookie policy page using this plugin.
Multisite ready.
The plugin has a responsive design.
It is WPML multilingual translatable.
You can add a cookie reset button to the WordPress website.
It can show a placeholder at the place where the cookie content is blocked.
Weepie supports WordPress cookie plugin multilingual
Compatibility – GDPR, UK cookie law, EU cookie law, Italian cookie law, UK cookie law, Dutch cookie law, German cookie law
Total number of users – 20,000+
Price –   Single-49Euro/yearly (1 Website), Starter-79Euro/yearly (3 Website), Professional-119Euro/yearly (5 Website), Agency-299Euro/yearly (25 Website)
Screenshot
10. EU Cookie Law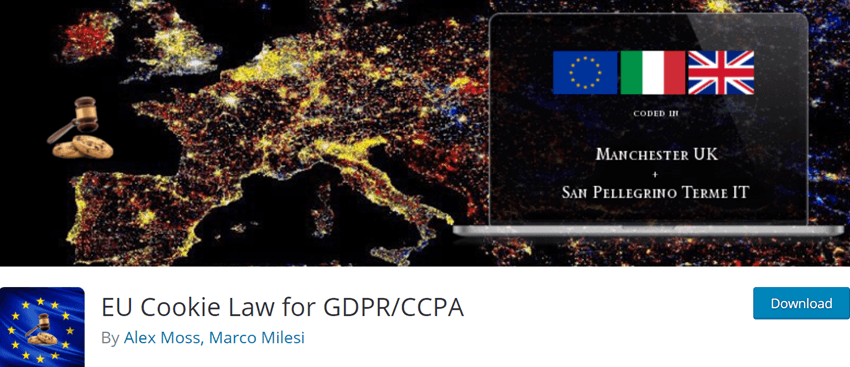 EU Cookie Law allows the website to comply with the European Cookie Law. It does this by informing the users that the site has cookies with a popup for more information and the option to lock scripts before they are accepted. This plugin is very elegant, light, and powerful. Its features are:
The plugin enables you to customize the style to match the website.
You can control the cookie behaviours before or after their acceptance.
GDPR compatible.
It contains shortcodes to revoke cookie consent and show a list of cookies.
You can make consent by clicking scrolling or notification.
It is compatible with a multilanguage plugin.
The plugin is compatible with Disqus and Jetpack infinite scroll.
EU Cookie Law is also compatible with mobile themes and plugins.
You can set the cookie expiration date.
Total number of users –100,000+
EU Cookie Law for WordPress
Screenshot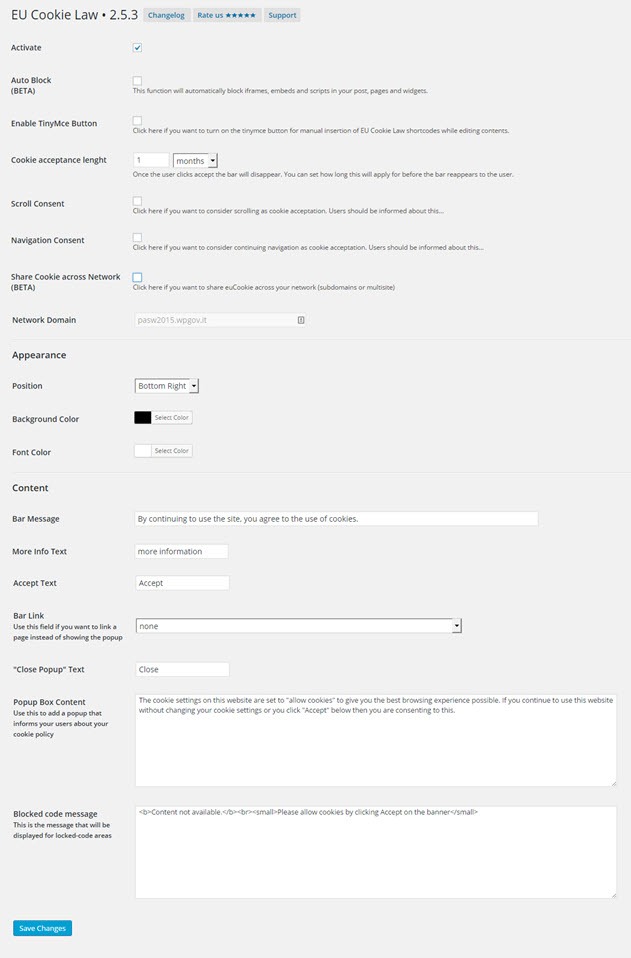 How to cookie Consent Notification Popup in WordPress
Add a cookie notice on your WordPress website
First, you need to install the CookieNotice WordPress Plugin By dFactory and activate it. (Note you can use any plugin for this purpose, but we are using free and straightforward and Best Cookie Consent Plugins for WordPress, which will benefit everyone )
After installing the plugin, click on the settings button.
Inside setting, you can make a change to make to their setting part as shown in the screenshot, Or you can also change the message shown in the configuration part and leave the rest of the content as default.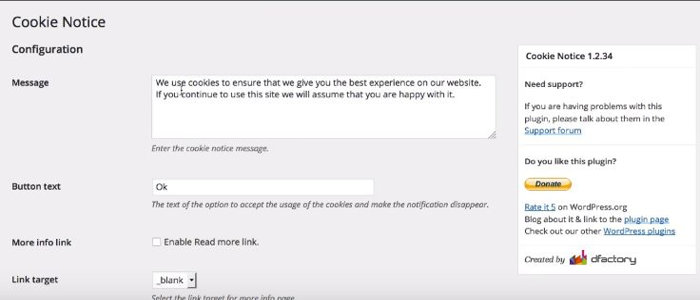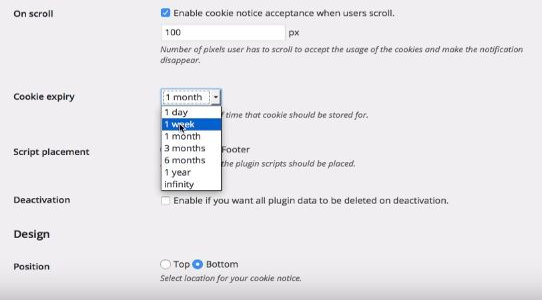 After that, click on save the change and open your website from the front view and you will see your cookies consent notification popup at the footer of your website.
Conclusion
This is one of the most important content when you start a website. And mostly when you are from Europe. Nowadays, almost every website uses the GDPR Cookie consent notice whether they are core developers or a blogger.