10 Best Cookie Consent Plugins for WordPress 2021 – Gomahamaya
Are you looking for Best Cookie Consent Plugins for WordPress? Which will help you to add cookies consent Popup in your WordPress website. European Union's cookie law ask all the website owner to get permission from visitor so that your website can set any cookies on their computer.  ( European Union's cookie law is valid for all Europeans country user or the website user who is targeting European people  ) .

I am sure you would have already seen a popup for coming up in your browser and asking you to set consent to cookies. If you will accept it then it's fine not at all problems you can access their website without any problem. But if you will decline that checkbox that you will be out of that website unless and until you cookie consent law.
What is the Cookie Consent Law?
Cookies consent law in simple Words means that where ever you visit any website. Their website cookies get stored on your computer. For storing any data on the computer you need to get permission from the visitor.
How does Cookies Works WordPress website?
When we talk about the WordPress website it basically has its own built-in cookies storage function. Which stores your session information, comment information, and nowadays these are storing your post data in the browser. As we know that cookies are a very important part of any website which can be sold to 3rd party advertisement company to get your interest and show your relevant ads.
So in this post, we will be learning on so many things
Which is the Best Cookie Consent Plugin WordPress?
How to cookie Consent Notification Popup in WordPress?
1. CookieYes

CookieYes cookie consent plugin is supported over ten plus CMS (content management system) like Worpress, Drupal, Magento, Blogger, Joomla, Squarespace, Wix, ImpressPages, and many others. Also, it blocks more than twenty similar websites i.e. third party cookies automatically like Google Analytics, Facebook Pixel, Hotjar, Youtube, etc.
For the aesthetic factor, it allows over ten plus different customization to the cookie banner. Support a toral 27 languages like Danish, Russian, etc which shows its efficiency in diversity. Customers rating of CookieYes is quite high depicting its user-friendly and handy features.
To get started with this plugin, the process is very simple:
Signup for CookieYes.
Get your cookie banner installation code.
Copy the installation code to your website and get started.

It allows you to select your cookie domain, name, and duration of its existence.
CookieYes controls over 1,000,000 websites to obey the GDPR and CCPA, e.g. Reuters, Hilton, Domino's Pizza, Dekoria, CNBC and Deutsche Telekom.
Price – Basic-$100/yearly,  Pro-$200/yearly,  Ultimate-$400/yearly
Screenshot

2. Securiti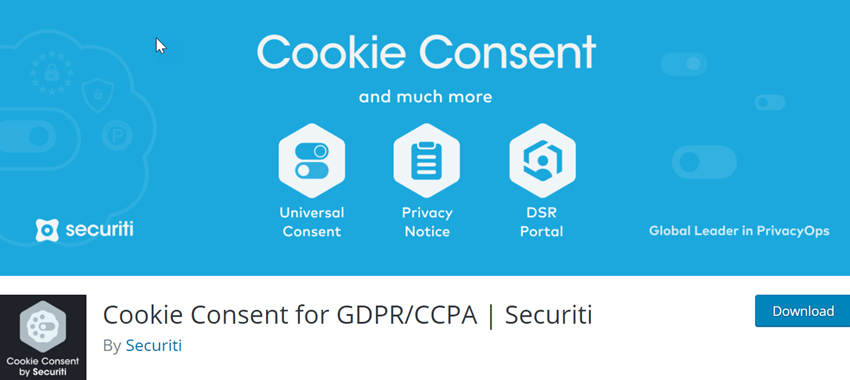 Securiti, a global leader in PrivacyOps is a cookie consent plugin that allows any visitors to the particular website, the plugin is installed on, to give consent for their data and information to be stored and retrieved by the website admins.
To being with, you must get a free account by registering, entering a website URL to begin scanning, giving approval to the scanned results and later copying and pasting the script in the plugin.
The advanced features of this plugin include.
Scanning websites for cookies at a fixed interval.
Displaying various languages
Auto-blocking of cookies
Automatic updation of privacy policies.
Reverse IP detection for global compliance
Consent records and reporting
High-Performance Caches enables the various websites owners to provide swift and well-organized delivery of content to the users. This plugin is powered by an award-winning platform.
Total number of user – 90+ 
Screenshot