16 Best Calculator Plugins for WordPress 2023
Are you looking for premium or free Best Calculator Plugins for WordPress just to showcase the cost for your service inside your WordPress Blog? Calculator plugins have different types of work. And we have searched and collected all the list of plugin which helps you to calculate prices, dates, costing, measurement, calorie, rent, Mortgage, BMI, WooCommerce calculator for eCommerce website, Finance, website development cost calculator, Rent or buy for real estate, etc.

Using the calculator plugin, you can use drag and drop form and build a structure to create a newly organized calculator based on logic without coding. So we have decided to write a list of the Best Calculator Plugins for WordPress, especially for you.
Table Of Content
1. Formidable Forms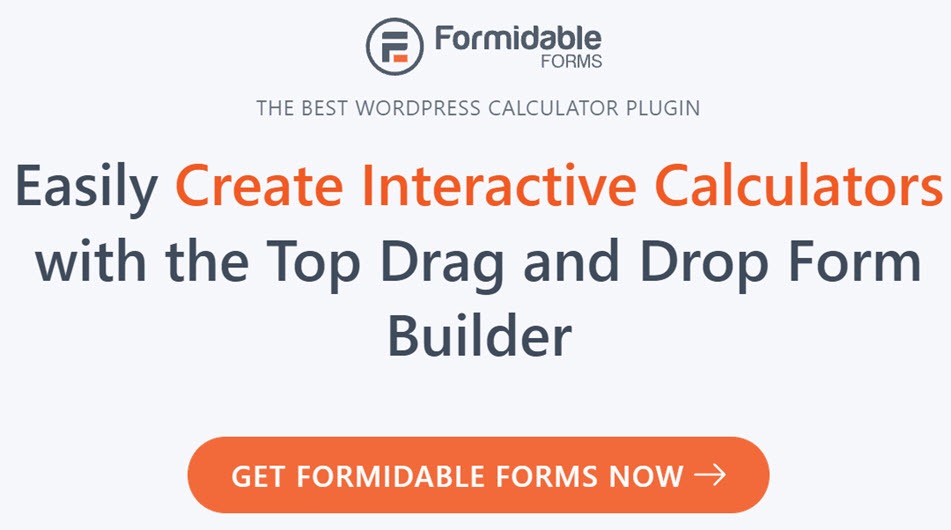 Formidable Forms is an extensive WordPress Calculator Plugin that assists your website in integrating a comprehensive calculator. Facilitates you to establish a customized calculator with an intuitive drag-and-drop builder. It Lets you instant lead generation with its mobile responsive attributes and gives you a chance to cover more revenue. Hou can create a calculator according to the likely profession of your own. Formidable Forms help various industries such as finance, real estate, insurance, fitness, software, and more grow their business so vastly with the elegant layout of the calculator.
Elementary Features –
Availability of dozens of elegant and ready-to-use templates for creating standardized calculators.
Let you insert required forms with a custom field that could be an appropriate fit for your website.
Create a variety of calculators on the website for various purposes, including advanced or straightforward mortgage, WooCommerce Product Configurator, BMI Calculator Form, Percentage Calculator, and more.
Let you create calculators with many customizing options to meet your website's standards.
Calculation forms can be built based on columns.
Many components are available with the plugin, which are configurable such as Slider Box, Dropdown, In-out Box, Switch Box, etc.
The website components can be easily configured using the built-in page builder settings.
An unlimited number of calculation forms can be created using the page builder.
Price – Basic – $39/annually (1 Site),  Plus – $99/annually (3 Site),  Business – $199/annually (7 Site),  Elite – $299/annually (Unlimited Site)
Screenshot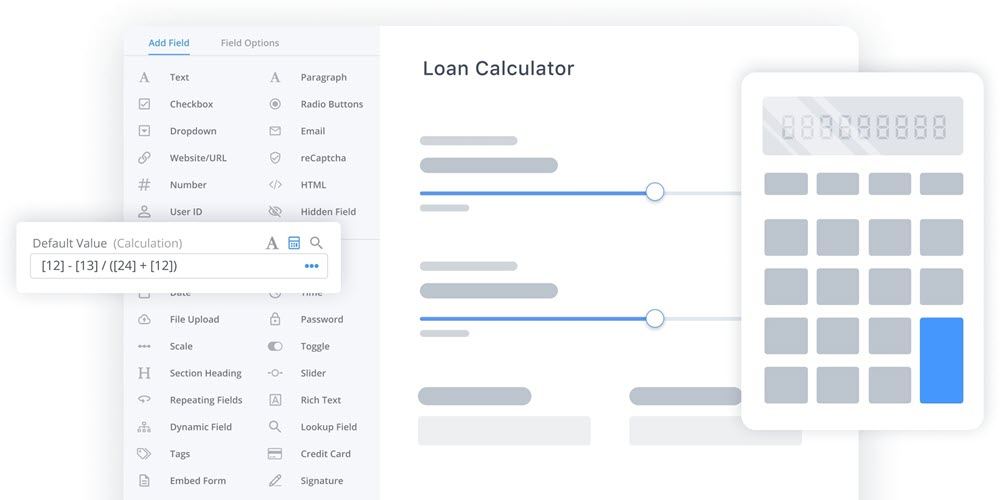 2. Tripetto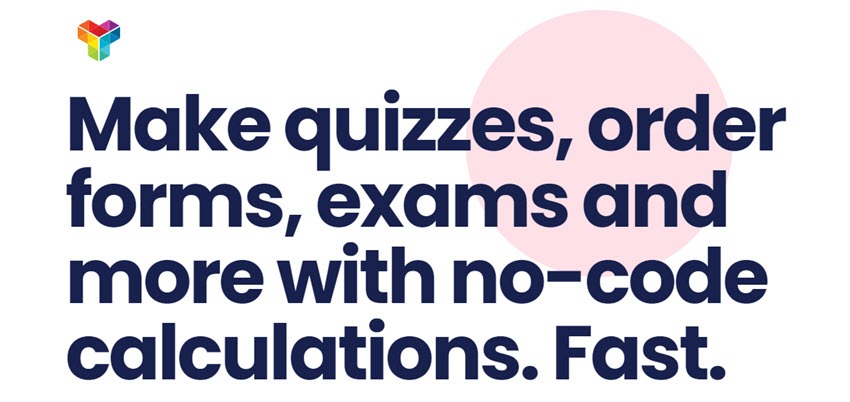 Tripetto is an advanced WordPress Plugin that allows complex and straightforward calculation functionality on any website. Enhance the reachability o your site while providing customized and responsive calculators to your visitors. Whether you require a simple calculation of goods or advanced calculations for ascertaining percentage and more, Tripetto helps you effectively in every aspect. Let you insert calculators anywhere on the website without any coding.
Core Features –
Let you instantly add scoring into your quizzes' question blocks without a calculator block separately.
Provides innovative calculator attribute that accesses real-time calculations for collected answers in the form.
Effective calculator block lets you perform any calculation operation, including multiplying, dividing, subtracting, adding, and equalizing.
Enable the usage of mathematical functions and constants.
Let you calculate combinations with a logic branch that smartly enhances your calculations.
Powerful Calculation System- Visually complex and easy price and quantity calculations for products can be created.
Powerful Form Designer Tools- This plugin feature helps to customize the forms.
The form on popup- A form can be opened as a popup using a CSS class on the button.
Price – 1 Site – $89/annually,  5 Site – $299/annually,  Unlimited Site – $719/annually
Screenshot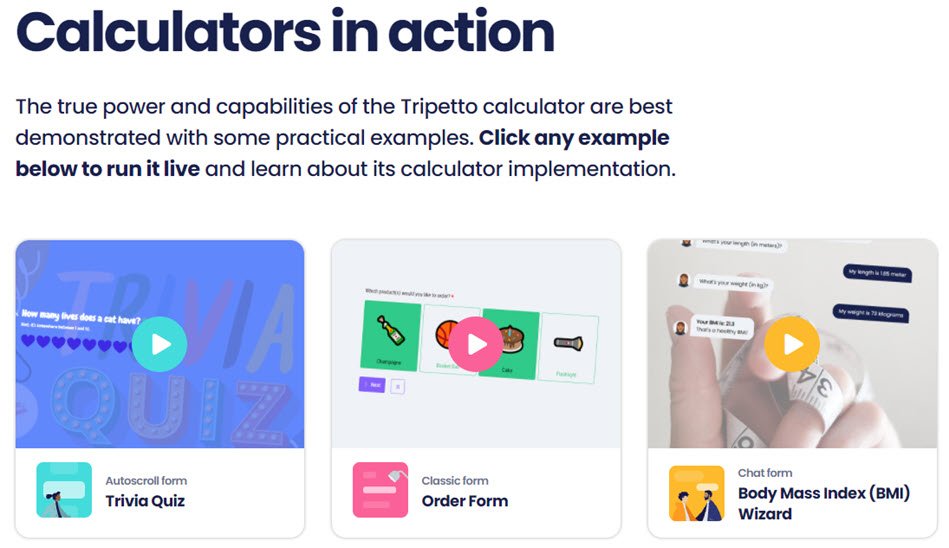 3. STYLEMIX Cost Calculator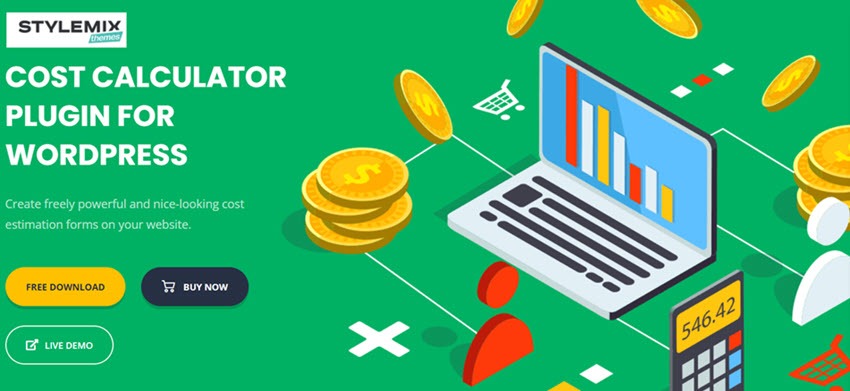 Cost Calculator is intuitively designed for calculating the price of the available product pages on the website. The simple and lightweight plugin lets you install and configure promptly, even without coding. Enables you to insert robust estimation forms for cost while customizing its appearance. An e-commerce site contains many products that have a different range of prices. To arrange the entire product's price on the website, you need to install the calculator plugin.
Cost Calculator is a well-efficient calculator plugin for WooCommerce integrated with every essential feature you require. It provides a better alternative for instant price calculation and presents it to the audience. Enhance user experience and significantly increase the conversion volume. Display price estimation with sufficient clarity to your audience, making your WooCommerce site more trustworthy. Compatible and fulfil the need of various website categories, including car rentals, booking websites, freelancers, delivery services, venue rentals, and more.
Price – 1 Site – $29.99/annually,  5 Site – $79.99/annually,  25 Site – $199.99/annually
Screenshot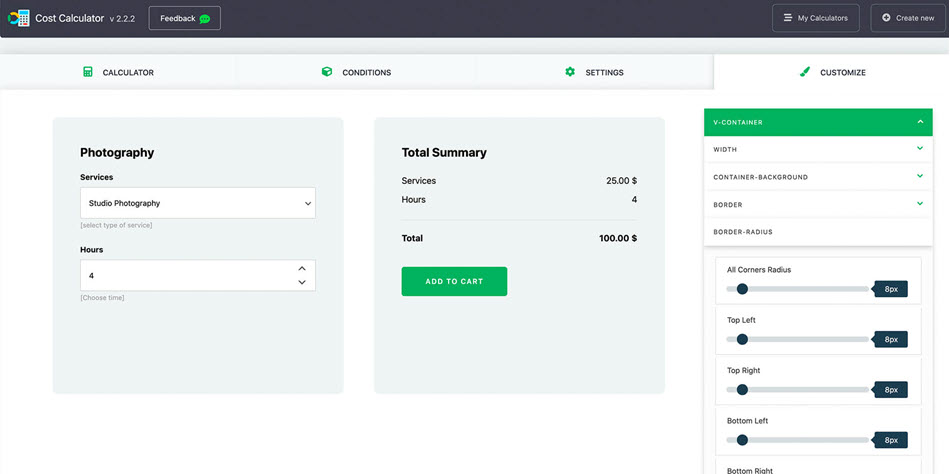 4. BARN2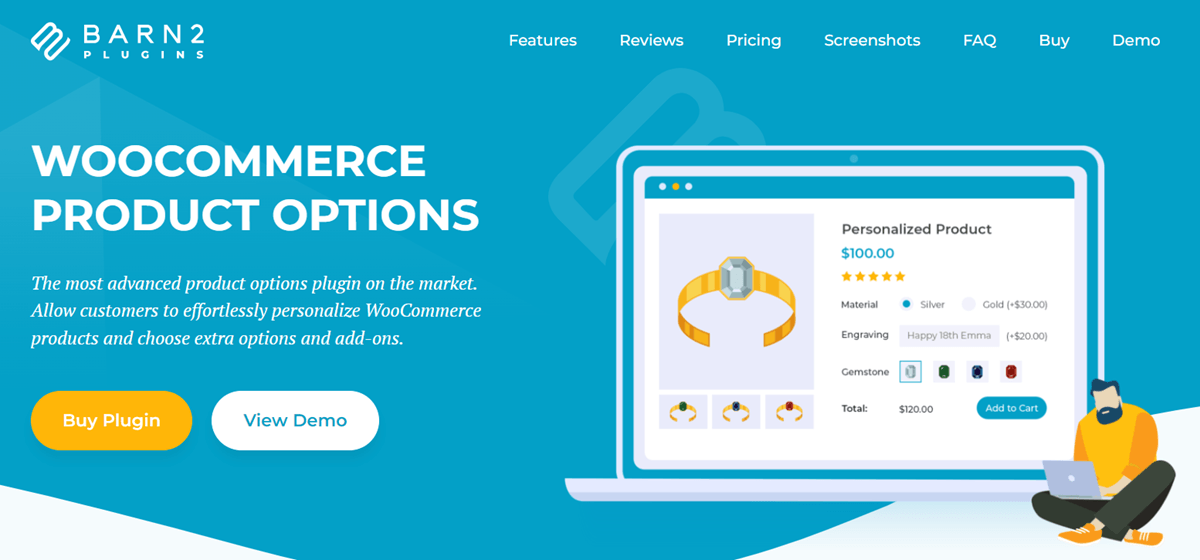 Barn2
Price – 1 Site – $79/annually, 5 Site – $139/annually, 20 Site – $299/annually, 1 Site – $249/Lifetime, 5 Site – $449/Lifetime, 20 Site – $899/Lifetime
Screenshot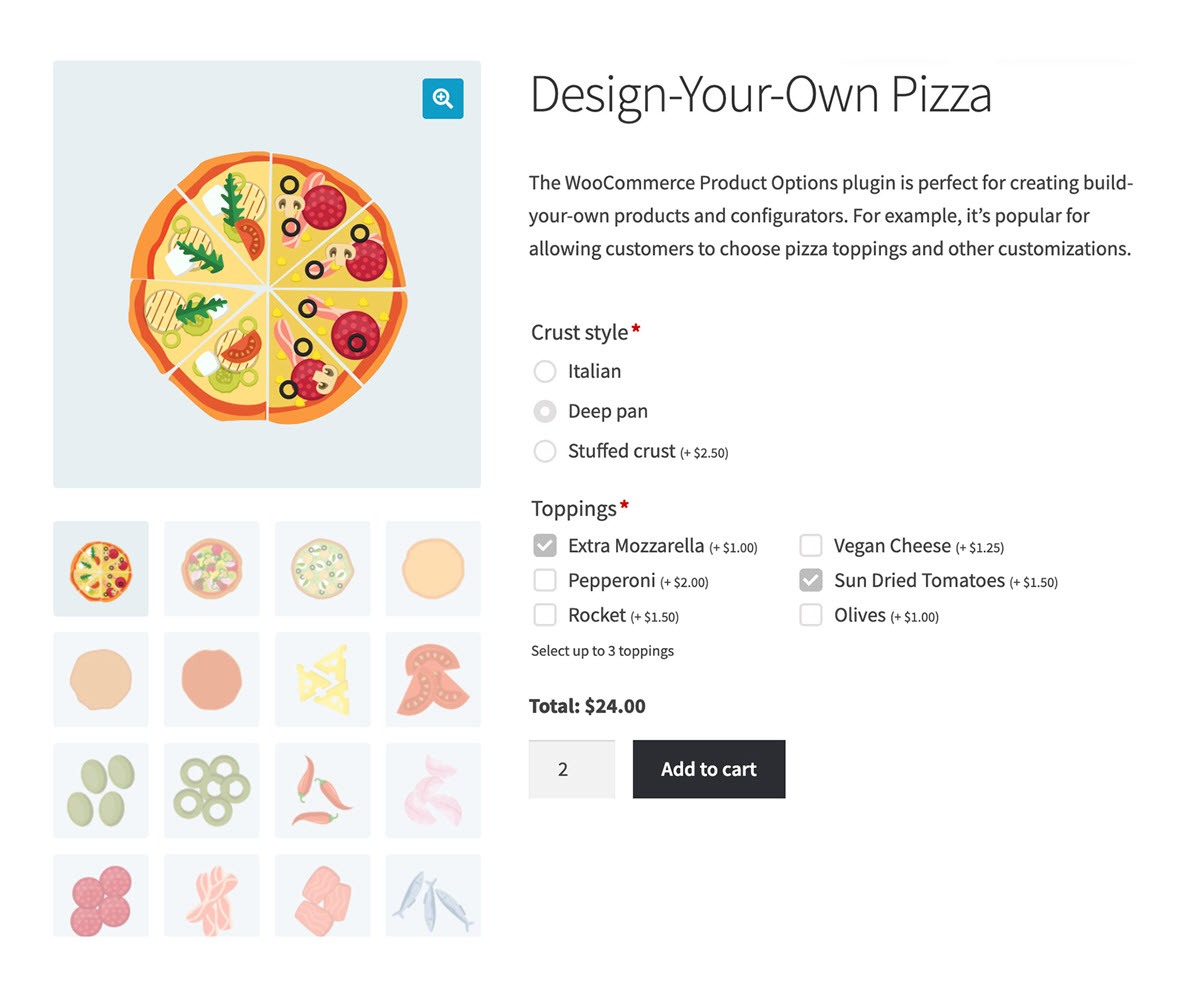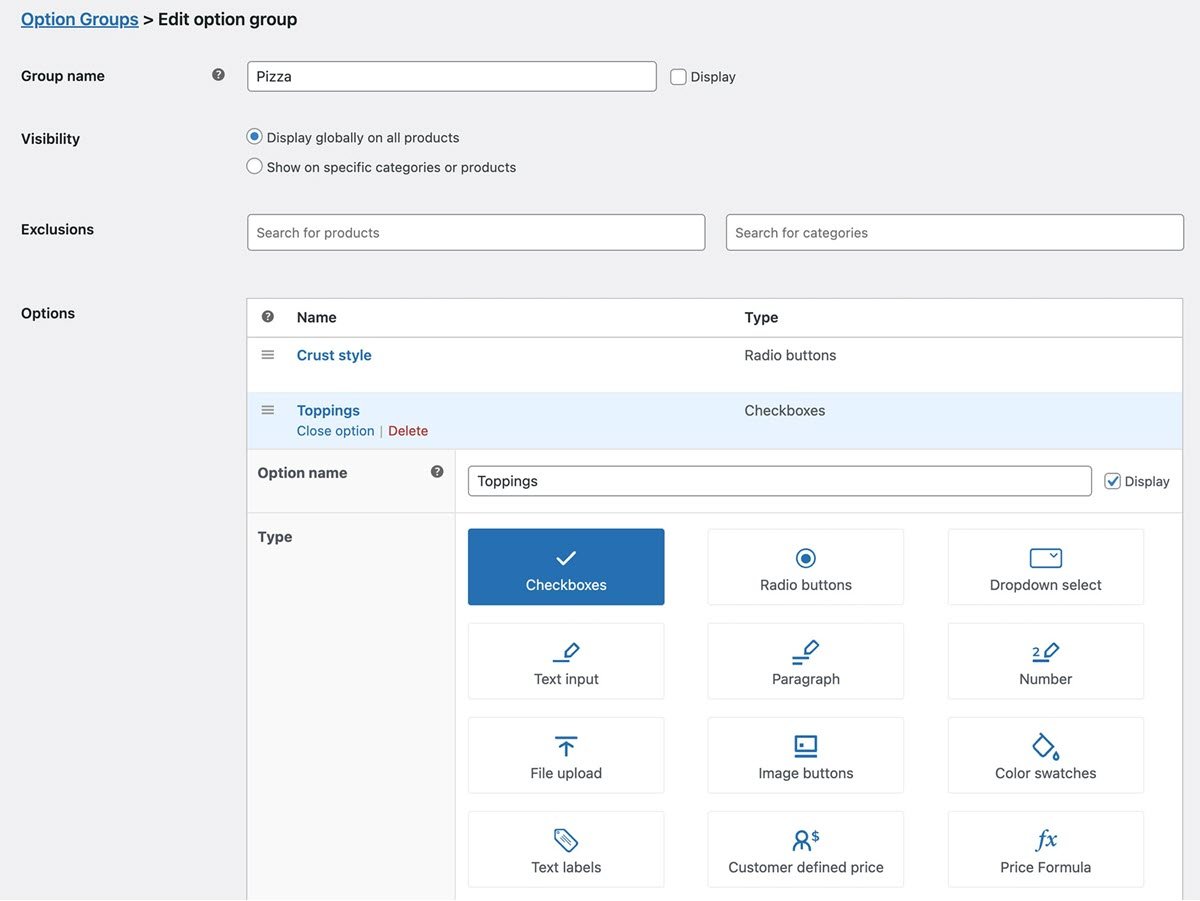 5. YITH COST OF GOODS

YITH Cost of Goods is a highly extinguishing plugin that lets you establish the pricing estimation on your website. An efficient WordPress Plugin that works smoothly as a calculator plugin for WooCommerce. Such a simple UI that allows anyone easily tackles its attribute. Assists you well in analyzing the relationship between net income and cost of products. Monitoring these two elements will minimize the risk of loss while selling it online. Keep an appropriate track of calculation about the margin rate on which you offer your product to your customer.
Elementary Features –
A compelling set of essential tools are available that facilitate you to select the cost of goods either in bulk or just one by one.
Real-time access is available to admins that tells them about profitability on different available products on selecting the estimated price.
Let you enable or disable other related costs for any product that can be termed as additional costs of products like shipping, tax, and fees.
Pricing Calculator can be added to Product pages.
The pricing table can be shown in the product tab.
Variable products are supported.
Pricing labels and units can be customized.
Price – Pro – $9/annually (1 Site), Premium – $99/annually (Unlimited)
Screenshot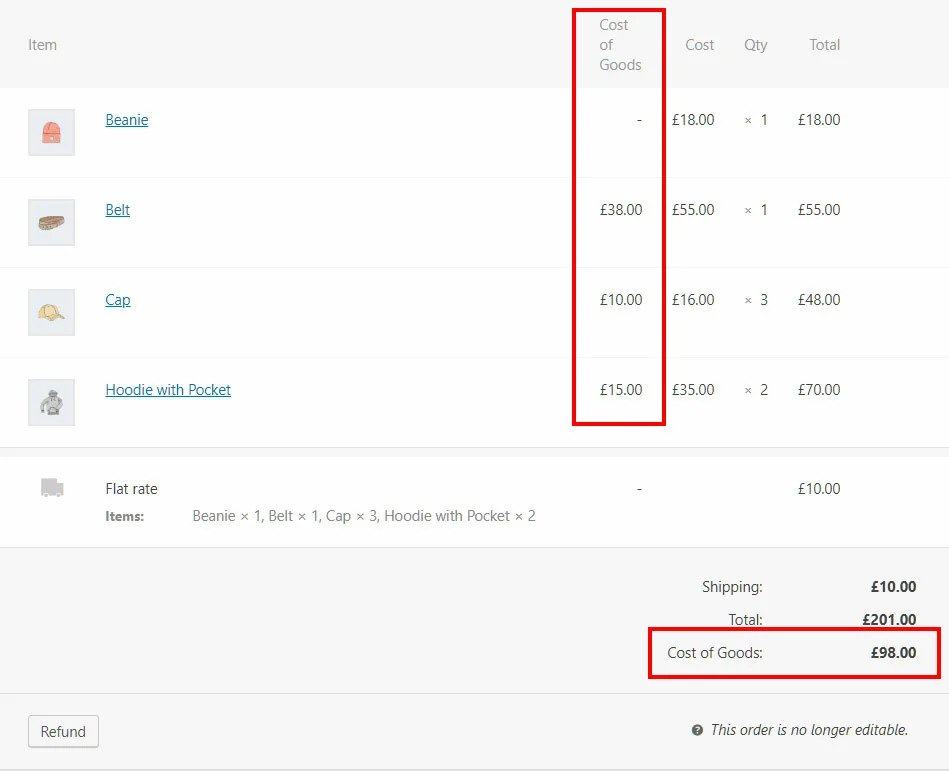 6. Measurement Price Calculator

Measurement Price Calculator is a well-diverse calculator plugin for WooCommerce that enables you to calculate the estimated price of available products. It contains elementary features that let you quickly grow the website's profitability within just a few configurations. You can display the exact cost to your customer on which they prefer to continue purchasing. Moreover, the Measurement Price Calculator lets you customize pricing labels and other measurement units according to the necessity of the website. It helps the users to sell objects priced by unit allowing the customers to add quantities of their own. A calculator can be added and configured to the products sold in quantities.
Core Features – 
It is easy to configure with its intuitive interface and initiated in less than 5 minutes.
Provides quantity calculator and pricing calculator that ease up your selling functionality.
Provides a calculator for almost every measurement attribute such as area, dimensions, volume, surface area, or weight.
Also, let you utilize different combinations of units altogether as input.
There is a multi-total field.
The ratio price field can be added.
Let you organize the pricing structure and additional accessories like shipping weight, inventory, and taxes.
Availability of a pricing table that enables you to manage to price for a specific product that sells into different unit variants.
Many forms can be managed at the same time.
Forms, steps, and items can be freely managed.
Price – 1 Site – $129/annually
Screenshot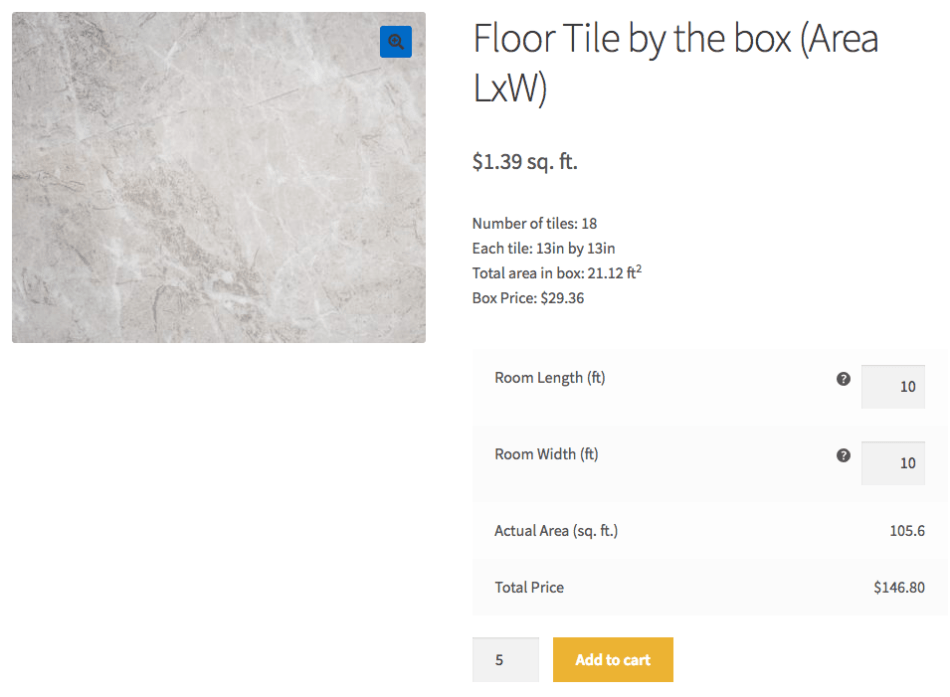 7. WP Cost Estimation

WP Cost Estimation & Payment Forms Builder Is one of the best calculator and payment form builder plugins for WordPress that enables the users to calculate their cost, quotes, and build payment forms on the WordPress website, thus, helping you sell the products and services on your WordPress website. The plugin comes with a unique backend system and steps systems that help you efficiently manage all the forms on your website. It also provides you with an influential form designer using which you can easily customize all your forms.
Features
The plugin comes with a next-gen Forms Builder that lets you create attractive and powerful forms and sell any kind of personalized products and services on your WordPress website.
It also enables you to send fully customized quotes to your customers and support one-time and recurring payments. You can accept payments by significant Payment gateways, including Stripe, RazorPay, PayPal, or WooCommerce.
Using this plugin, you can create any kind of form, customers management system, calendars & booking management system, email and PDF templates edition, send emails of the received orders, initiate distance calculations, visual calculation system, statistics, and much more.
The plugin can also be easily integrated with email service providers like MailChimp, GetResponse, and MailPoet, thus helping you collect your visitors' emails and contact information.
It comes with an easy-to-use drag and drop builder that helps you create complex layouts and manage your columns, rows, and components in a few clicks.
Calculates the price based on area, length, volume, weight, and box by taking measurements from the customer. Variable-sized products can be sold according to their dimensions.
Price – Regular License – $49/annually (1 Site)
Screenshot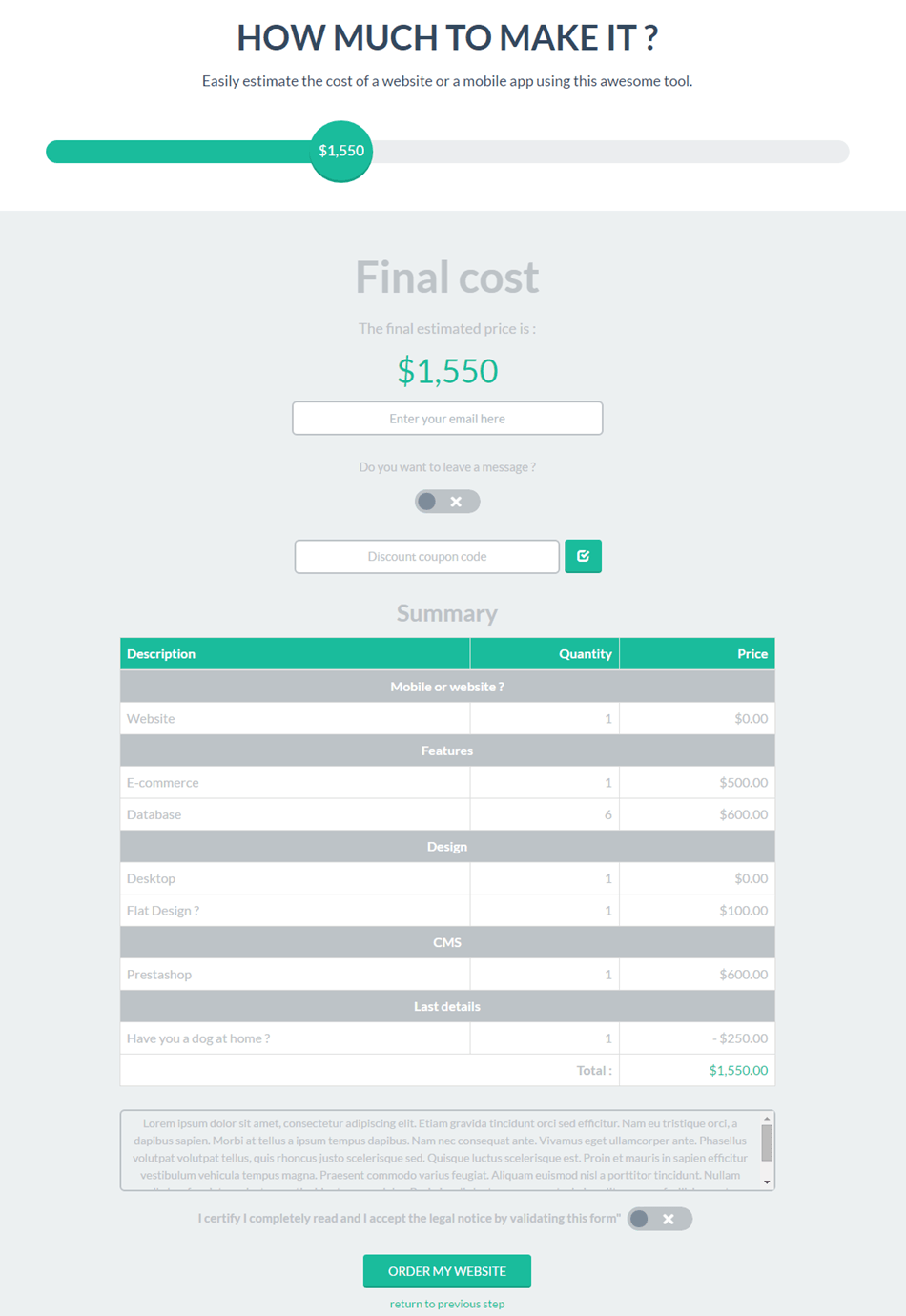 8. Cost Calculator WordPress

Cost Calculator WordPress is a simple yet powerful project price, quote, cost estimation plugin that helps the users easily estimate the cost and send the quotes to their clients on their website. It is one of the best cost calculator plugins for WordPress that gives your clients an idea Of the cost calculation for their products and services. The plugin comes with an easy to use and user-friendly interface that makes it easier for the users to set up and manage it.
Features
The plugin is integrated with PayPal and supports Contact Form 7. Thus, you can see every element of the form in the final statement as individual items.
Cost Calculator comes with a responsive interface thus, adapts to devices of all sizes, including cellular phones, tablets, and desktops.
It is a simple to use plugin and is compatible with all the popular themes of WordPress. You can also customize it with your selection of colours.
The Cost Calculator panel of your dashboard keeps a log of all your form submissions.
The plugin is compatible with Gutenberg, Elementor, WP Bakery, and Bold Builder. It also supports multiple languages.
Service Price Calculation- Project cost can be calculated immediately from the site.
Lead tool generation- Leads can be generated for potential customers, and business can be improved.
Price – Regular License – $29/annually (1 Site)
Screenshot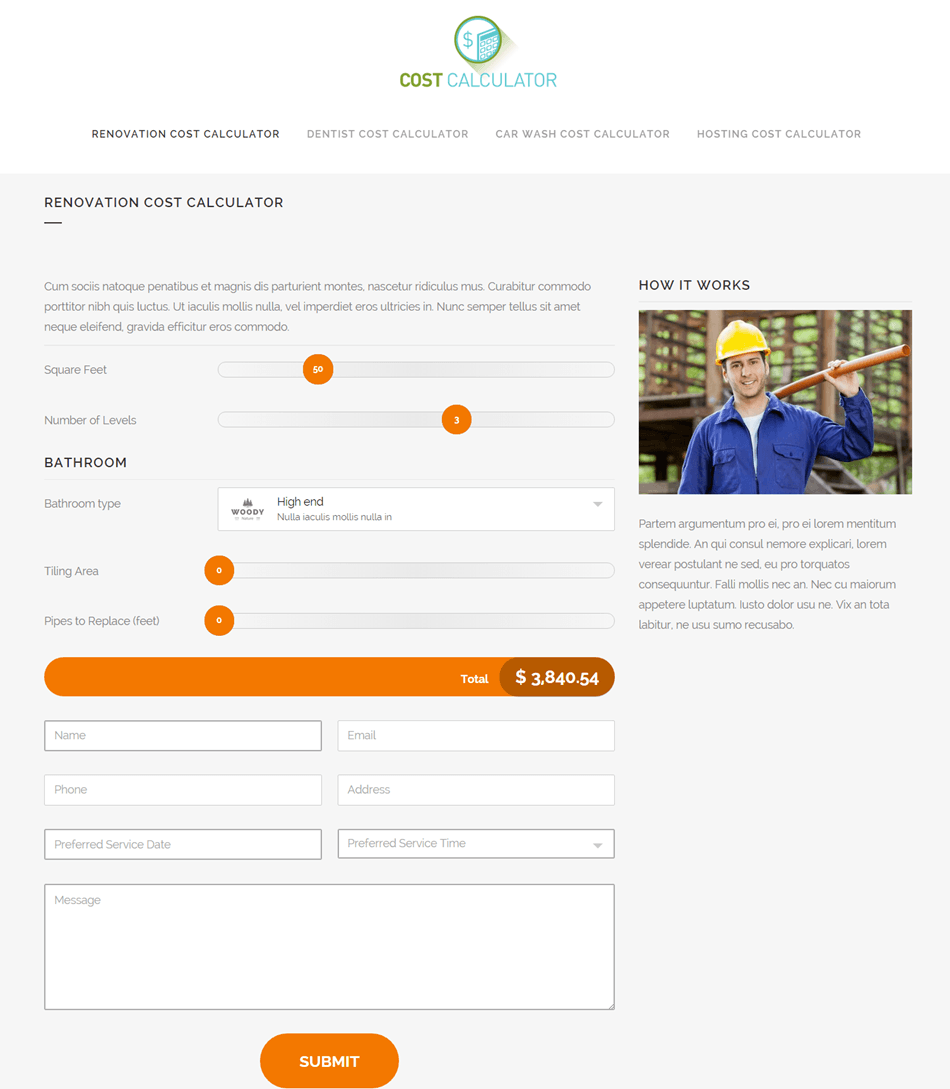 9. WooCommerce Measurement Price Calculator

WooCommerce Measurement Price Calculator Plugin, Price Per Unit is known to be the best. It is a top-notch price calculator plugin for WordPress Net. It enables the users to take measurements from their customers in terms of length, volume, boxes, weight, and area to calculate prices, thus enabling you to sell variable sized products on your WordPress website. Using this plugin, you can also calculate the per-unit costs of the products and sell them based on their per-unit price. Hence, it helps you offer your customers the flexibility to choose and enter their measurements and calculate the exact price based on their input, rather than forcing them to buy a fixed quantity of products or the products in fixed sizes.
Features
It enables the users to sell their products based on the weight, boxes, volume, and area of the products. The admin can also set different user input units and output units for each product.
You can also customize the pricing labels and the units of the products.
The plugin also supports variable products.
It is compatible with WPML and Extendons WooCommerce Product Options plugin.
You can also define Measurement Units for Products like kg, foot, sq yard, meter, etc.
Price estimation forms can be easily created to give the client an idea of the cost of the service.
A calculator can be assigned to products and fields. The formula can be written with feeds, and Unlimited domains can be created.
It has been considered the first WooCommerce extension that allows website owners to create variable prices for their products depending on the features chosen by the customer.
There are three custom fields. Product fields can be sorted. Field labels and field values can be translated.
Price – Regular License – $39/annually (1 Site)
Screenshot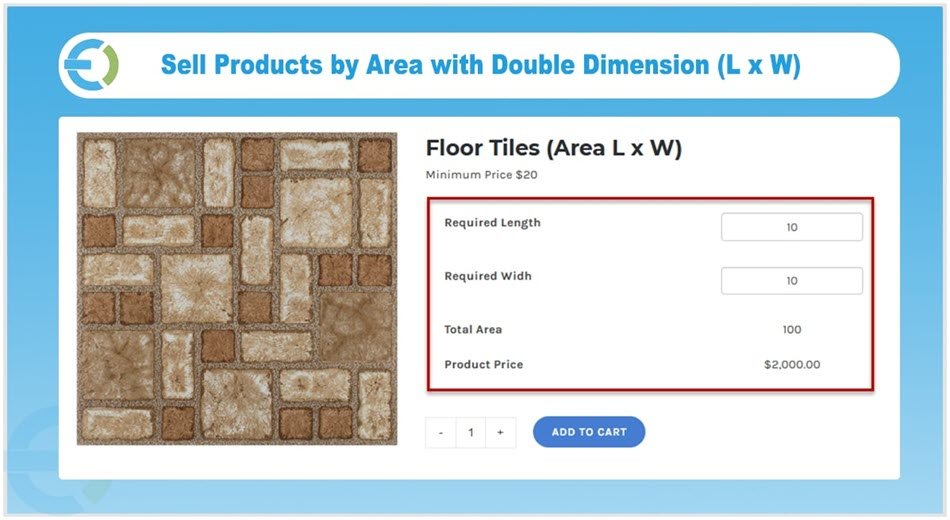 10. Cost Calculator

Cost calculator for WordPress is an intuitive form builder. An easy to use and powerful calculation and appointment plugin for WordPress is Cost Calculator for WordPress. which enables users to create quotes or calculation forms on their WordPress website. Using this plugin, you can easily make price estimation forms To give your client an idea of your price estimation policy for your products and services.
Features
The plugin comes with pre-made calculators like renovation cost Calculator, mortgage loan calculator, cleaning cost calculator, car service cost calculator, BMI calculator, web design cost calculator, Ipg savings calculator, hosting service calculator, and much more.
It comes with a neat and user-friendly interface that helps the users easily create cost calculators, quote forms, or saving calculators for their WordPress website.
Cost Calculator for WordPress is a fully responsive plugin. Hence, it works seamlessly across all the devices and screen sizes.
It includes a drag and drop builder that helps you easily build your calculation forms based on columns. Also, it has many predefined layouts that one can choose from.
The plugin comes with various components, including Input Box, Check box, Date Picker, Slider Box, Drop-downs, Toggles, Contact Forms, and Summary box.
Quantity calculator is used for products based on general product requirements.
Product prices can be displayed in shops and on product pages per unit.
Any combination of units can be used.
Price – Regular License – $30/annually (1 Site)
Screenshot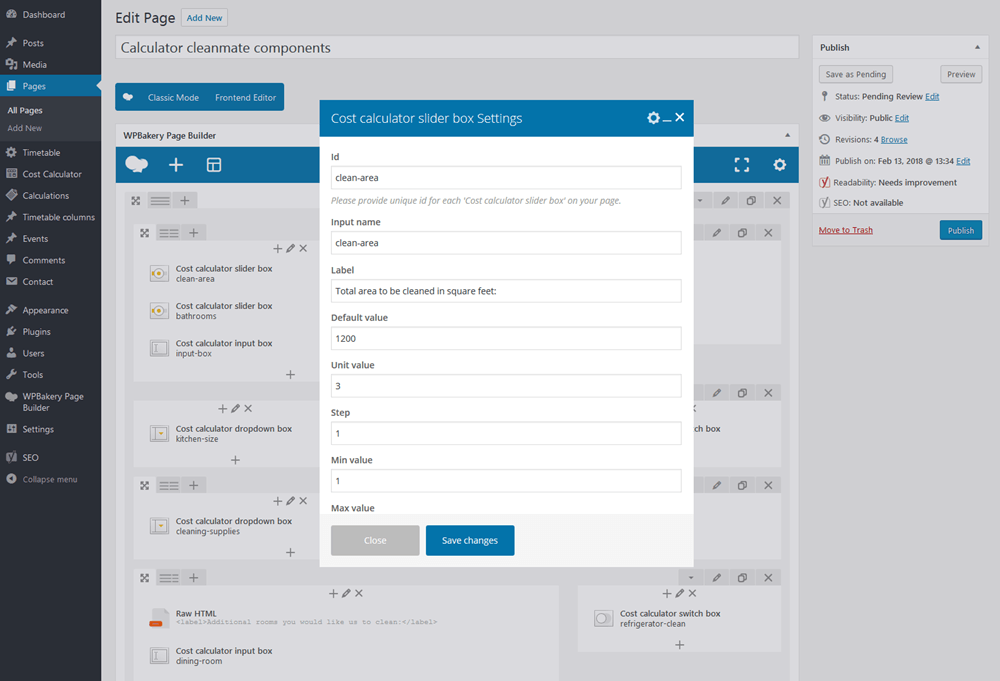 11. Calculated Fields Form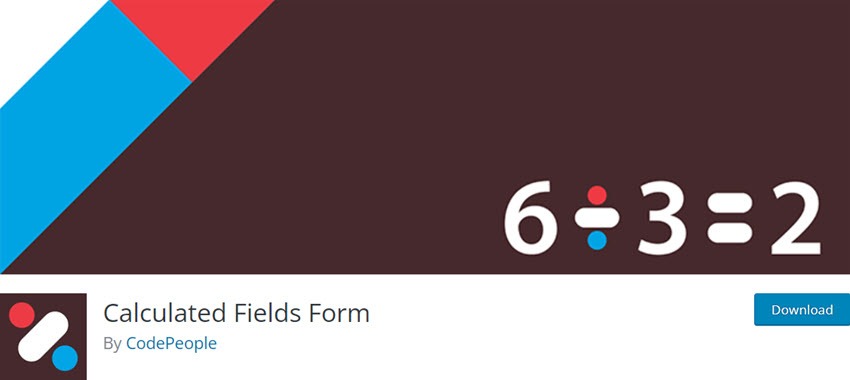 Calculated Fields Form is the best cost calculator and payment form builder plugin for WordPress that allows you to create web forms with calculated fields. Moreover, you can easily calculate the values based on other fields' values in the web form. Using this plugin, you can create forms with financial calculations, calculate the product prices, or use date operations to create reservation forms. Using this plugin, you can generate graphs or calculate the distance between addresses. It also includes a form editor that gives you multiple control like currency fields, text fields, email fields, numeric fields, slider control, checkboxes, radio buttons, calculated fields, page breaks to create multipage forms, and much more. The plugin also comes with multiple predefined form layouts, or you can even customize them to complete a form of your own choice using the style editor.
Features
The "Calculated Fields Form" plugin is compatible with Gutenberg Editor, Elementor, Classic WordPress Editor, WPBakery Page Builder, Page Builder by SiteOrigin, Beaver Builder, and more.
It also allows you to insert as many calculated fields as you want. The values of the computed fields are the values resulting from operations involving other form fields.
The plugin supports multipage forms as it inserts page break controls between fields belonging to different pages.
It includes an advanced formula editor associated with the calculated fields with error detection and syntax highlighting.
You also get general control such as radio buttons, menu lists, checkboxes, numeric fields, date fields, text currency fields, etc.
Programming knowledge is not required for using this plugin.
This plugin can create quote and price estimation forms for WordPress sites.
Total number of users – 60,000+
Price – Professional – €49.99/annually,   Developer – €99.99/annually,  Platinum – €149.99/annually
Screenshot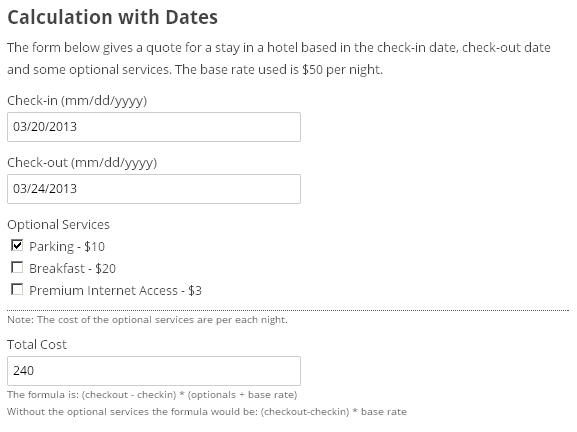 12. Stylish Cost Calculator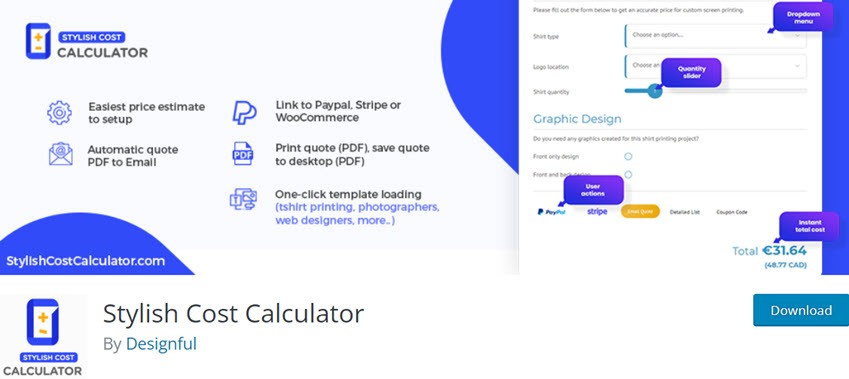 Stylish Cost Calculator is a multi-purpose WordPress plugin. The plugin automatically calculates form values. Forms are generated with a visual drag and drop builder. Form calculators and advanced cost estimators or extensive contact forms can also be created using this plugin.
Essential form elements such as dropdown menus, checkboxes, radio buttons, etc., can be easily added with a few clicks. This plugin is well suited for selling highly customizable services or products. They also provide mathematical help to the site visitors. Its features are:
Advanced Calculation- Multiple calculations can be performed with each form element
This plugin is for real-time ajax based calculation which helps this plugin to perform well on any kind of browser to provide accurate results.
Security- there is backup verification for more security.
 It is ready for translation.
Discount- Price can be modified by value ranges.
The form layouts have endless possibilities.
The visibility login can be there in any part of the form.
Regular expression field value validation.
This plugin has the support of re-Captcha.
Total number of users – 2,000+
Screenshot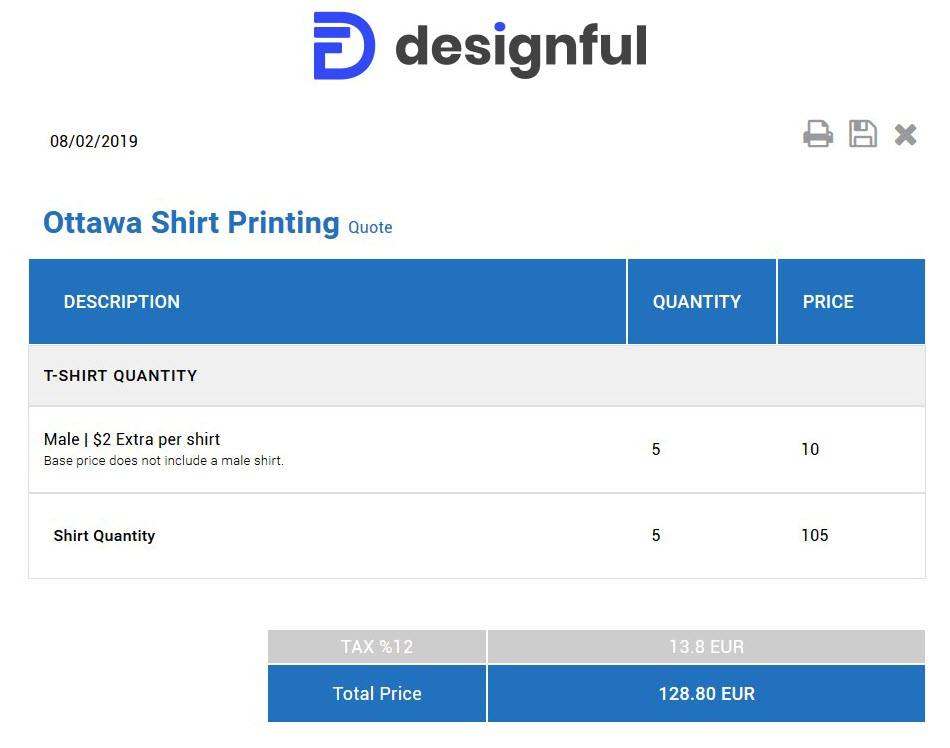 13. Responsive Mortgage Calculator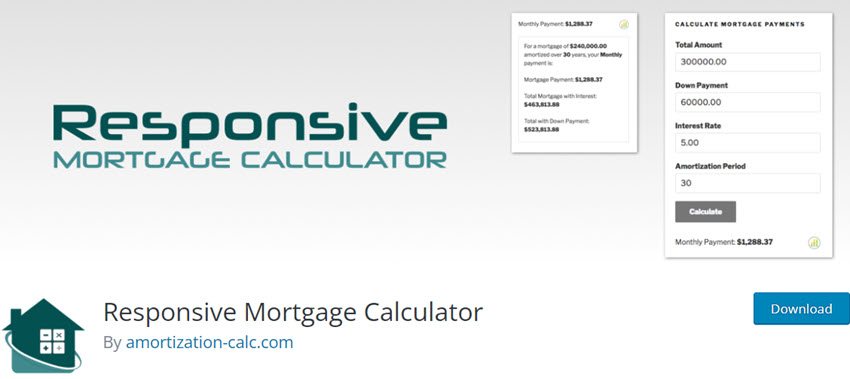 Responsive Mortgage Calculator has been designed to fit into any design, size, and device. The website visitors can estimate their mortgage payments through the calculator by entering the home's total cost, down payment amount, a fixed interest rate, amortization period, and selecting a payment period. A plugin is a jQuery widget and shortcode. This plugin has many built-in forms that send a specific message to your client's email id. The user's CSS classes can be added. You can also use this plugin for actual state and loans calculation.
The Mortgage Calculator plugin helps the user create finance calculators, forms with automatically calculated fields, quote calculators, booking cost calculators, data calculators, etc. A form builder is included in the plugin to edit/add different field types, such as one or more automatically calculated fields based on data entered in other fields. Through this plugin, any number of calculated fields can be added. The calculator interface is visual and easy. Operations can be accepted with dates. Multiple calculated forms can be managed.
Total number of users – 10,000+
Screenshot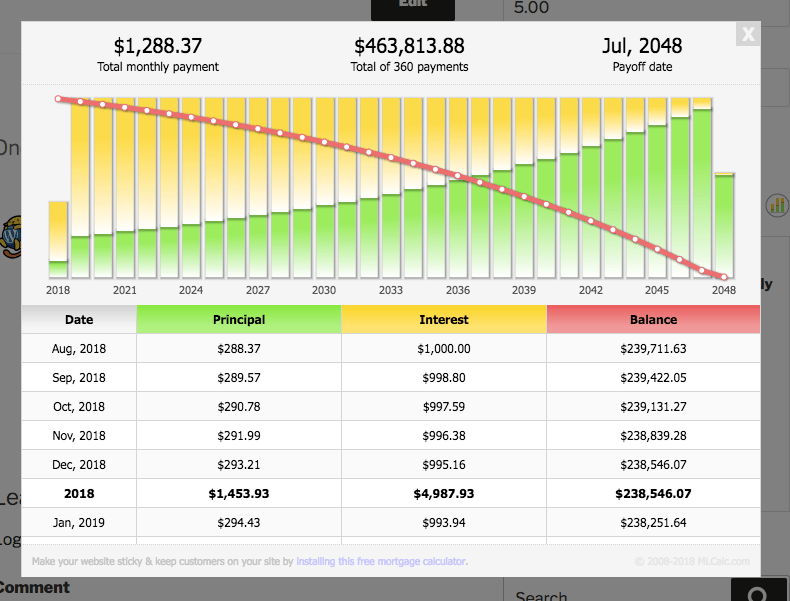 14. Uni CPO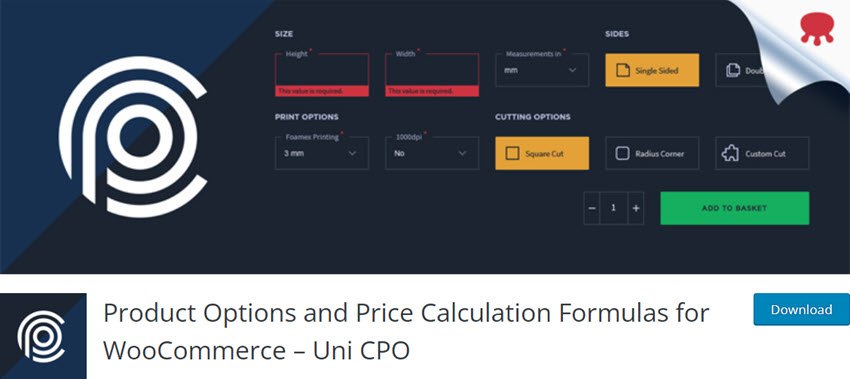 Uni CPO plugin is fully featured and gives the users a possibility to add any custom option to WooCommerce products. WooCommerce Product Options and Price Calculations Formulas plugin helps users add extra product options, calculate the price based on the chosen option, and use a custom maths formula. A fully-featured visual form builder can add custom options. Colours and margins can be customized, and custom text can be added. Non-option variables can also be chosen, such as synthetic variables that can hold both specific values or math formulas. Custom prices can also be calculated based on any Maths formula. Its features are:
Options Builder- A friendly UI provides a smooth user experience.
Many options and fields are already included.
As many as wanted, non-option-based variables can be created and used in a formula.
Cart discount based on quantity.
Programmable elements- Own calculations can be created for projects with ease.
Built-in cost calculator builder has a drag and drop interface within any theme.
Calculators are available for all physical attributes such as area, dimension, surface area, etc.
It supports all mathematical formulas.
Forms can be created with automatically calculated fields.
Total number of users – 4,000+
Screenshot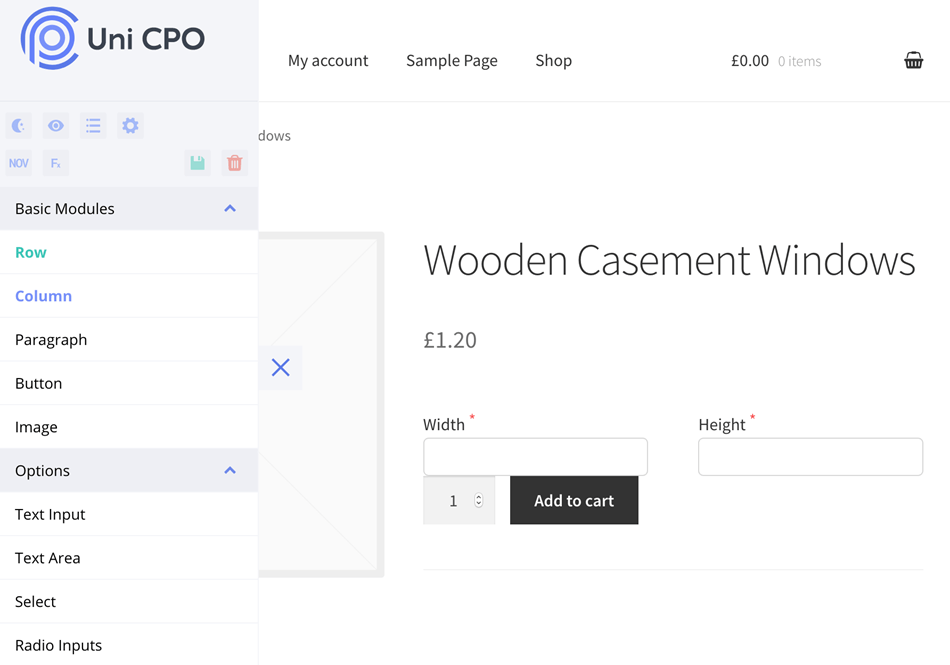 15. WP Calorie Calculator
WP Calorie Calculator plugin is intuitive, beautiful, and powerful. It helps to create an online Calorie calculator on the WordPress site easily. Wp calorie calculator has made weight management easy. It is a handy plugin developed by BDA. It is helpful for you. This plugin works for people in the nutrition and fitness industry. Suppose you are working on your own Body or are launching a website to help people keep a count of their calories. Your clients can track how much nutrition and calories they are tracking daily.
This plugin helps you save time by doing calculations based on your Body's weight, calories, height, and how much physical work you did. This plugin is easy to use and gives you a shortcode through which you can place it in a sidebar or post. Colours can be customized on this plugin based on your website's colour.
The forms can be visually managed, and their steps can be linked. Its conditional system is robust and intuitive. Its booking system allows managing calendars and events. Forms can be displayed with dynamically calculated fields to display the Calorie values.
Total number of users – 800+
Screenshot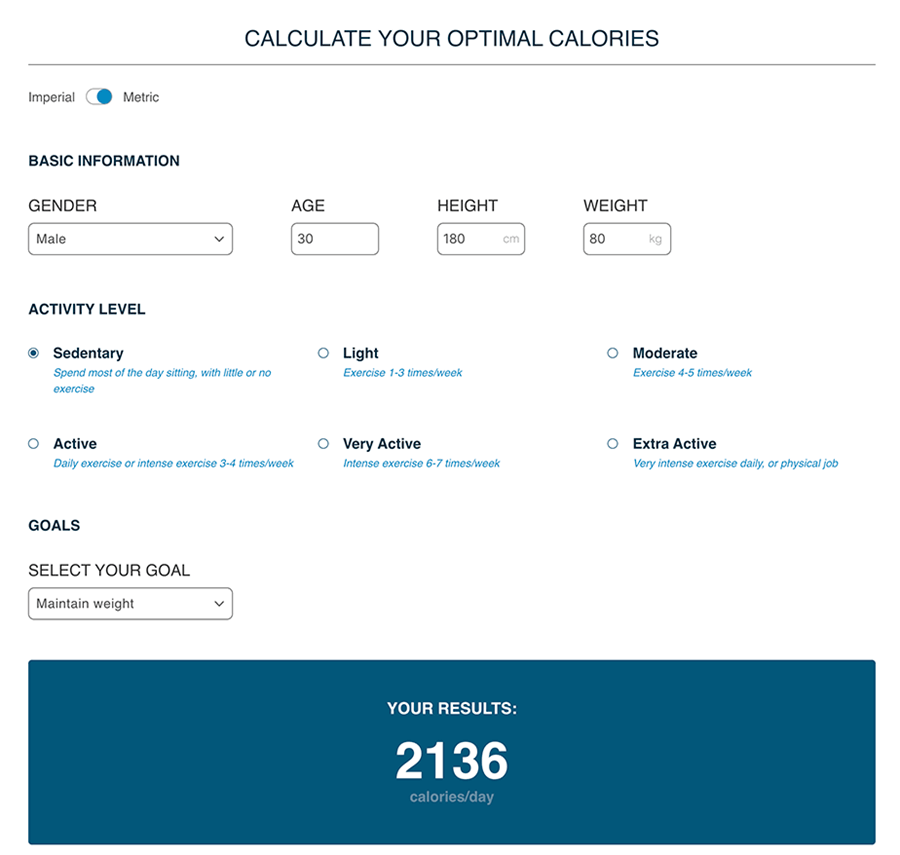 16. Loan Repayment Calculator

If you want to calculate payments related to loans, savings, payday loans, and fixed-fee payments, this plugin is ideal. It helps you with most of your financial calculations by calculating fixed, simple, multiple interest rates. You can set the time from days to years. This plugin helps you calculate using any currency and is very lightweight. You can change interest rate with amount and time, and there is a range of output to choose from. The border style and colour can be customized based on your website's design.
The Loan Repayment Calculator plugin is a drag and drops for users to calculate repayments. You can update to pro if you want to manage, store or download applications or select currency and foreign exchange. There is an option of application tracking and downpayment calculation if you choose the pro feature. You can be used on real platforms like pages and posts.
Total number of users – 3,000+
Screenshot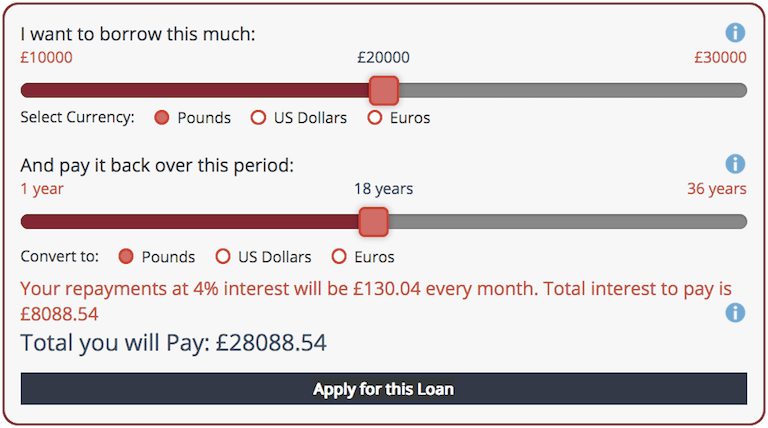 17. CC BMI Calculator

CC BMI Calculator plugin helps the users to calculate and display the visitor's BMI based on his height and weight. . Body mass index is calculated using a BMI calculator. It is open software. Both Adult men and women can use this plugin to calculate their body fat based on their weight and height. THIS PLUGIN CAN EASILY CALCULATE THE metric BMI chart and imperial BMI chart.
The calculator can be easily customized to match your websites' theme, Borders, colour, and text can be changed. You can make default units based on your personal choice, i.e., imperial and metric. This plugin can be placed as a widget on the sidebar or incorporated in post using shortcode. The input option can be selected to be displayed Metric or Imperial. Different options can be easily configured from the WordPress panel.
Total number of users – 1,000+
Screenshot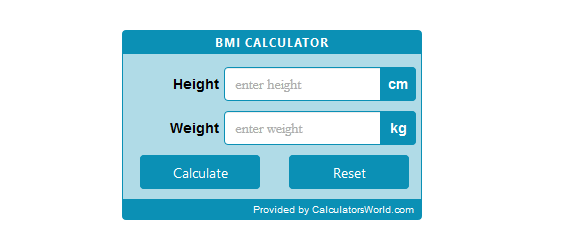 Conclusion – Are you still confused about which is the Best Calculator Plugins for WordPress? Don't get confused. I will make your choice more straightforward. If you need free best calculator plugins for WordPress, calculate field forms. But if you want premium, then go ahead with wp cost estimation that's worth spending money on. Still have questions Feel free to contact us.