10 Best AutoBlogging Plugins for WordPress 2023
Are You looking for Premium or Free Best AutoBlogging plugins for WordPress? Using the AutoBlogging Plugin, You can easily import the RSS, Atom feeds and display them on the website.

Maintaining a Blog website is a difficult job. So many people want a blog website that will automatically create posts and publish them. So to make your work easier, more efficient, and SEO friendly, we have decided to write the list of Best AutoBlogging plugins for WordPress.
What is the Autoblogging plugin for WordPress?
Autoblogging plugins for WordPress helps you to create an automatic blog using the RSS feeds of another website. They fetch the other website content and convert them into posts automatically and post that from your website. Good websites do not do Autoblogging. Even Google hates these websites because mainly these websites are used by spammers and content scrapers.
So without wasting our time anymore, we will look into the list of Best AutoBlogging plugins for WordPress, which are as follows:
1. WP Robot5

WP Robot is a feature-packed WordPress plugin that lets you establish elegant auto blogging attributes. Get access to an automatic blog post within a bit of configuration as per the scheduled timeline. SEO-friendly contents are available in blogs that enhance the engagement ratio on the website. WP Robot provides you premium quality content that makes your readers interested in engaging thereon. Let you schedule content whenever you want to publish and on which pages on the entire site. Insert photos into such automatically generated blogs and articles for better reachability.
Integrated Features –
Create content automatically on a configured niche and related keywords. Get access to unlimited possibilities for streaming auto blogging.
Provides elegant content, i.e. post curated and followed with related ads or images that enhance the visibility of such blog post.
Within a single click, you add fresh and new content on the website either in bulk or in certain intervals as per configuration.
International Support- Autoblogging can be done in many languages such as German, French, Chinese, etc.
Automatic translation- This feature is integrated with spinning software which helps to create unique automatic content.
Build- New auto blogs can be built for WordPress for PNBs or as satellite sites.
Curate- Engaging content can be curated for the readers that help boost the SEO and interests the readers.
Price – Basic – $89/annually (3 Site),  Full – $119/annually (10 Site),  Pro – $149/annually (10 Site),  Developer – $249/annually (100 Site)
Screenshot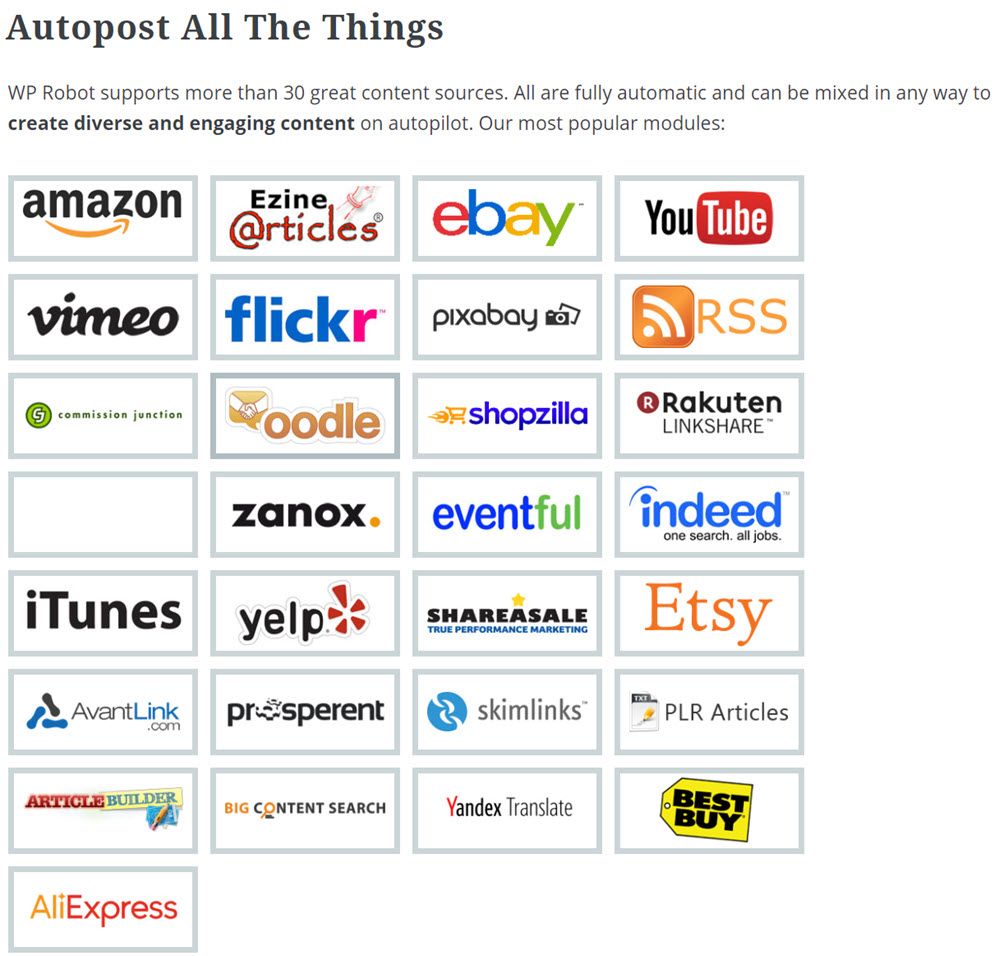 2. Blog2Social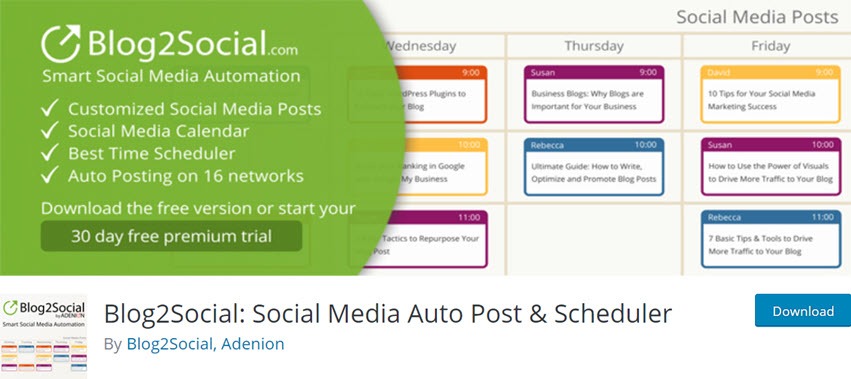 Blog2Social is a nicely integrated WordPress extension that lets you insert premium quality blogs and articles on different selected site pages. Configure the intervals on which you want auto-post blogs or articles on different social channels, including Twitter, Facebook, LinkedIn, Medium, and elsewhere. Stay updated by posting regular fresh content for engaging more and more visitors on the website. No need to worry about posting fresh and new updates on your own that saves a lot of time. Promote your brands effortlessly by installing this feature-enriched plugin for auto blogging.
Blog2Social comes in both versions, i.e., free and premium. Free versions contain comprehensive auto-posting features, while premium ones let you auto blogging with more advanced possibilities. API integration and essential guidelines come with a premium version. Moreover, Blog2Social enables you to customize posts before publishing them on social media. Let you insert comments, emojis, hashtags, images, and more of your choice to enhance the presentation of such blogs widely. It keeps the site fresh and updated by drip-feeding quality content related to any niche. It has also gained the title of best auto blogging plugin for WordPress.
Autopost All Things- WP Robot supports menu content sources. They can be mixed in any to create rich and diverse content engaging on autopilot. Some sources are Amazon, YouTube, Eventful, RSS, etc.
Compatible- The plugin is compatible with all kinds of WordPress themes.
It helps the users create high-quality WordPress blog posts, which also automatically.
Total number of users – 70,000+
Price – Smart – €69/annually,  Pro – €99/annually,  Business – €249/annually
Screenshot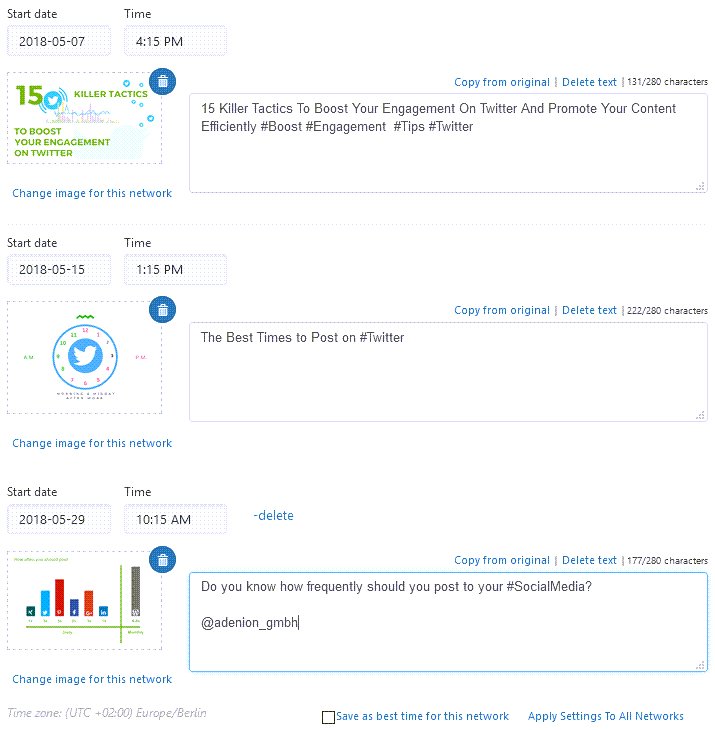 3. Feedzy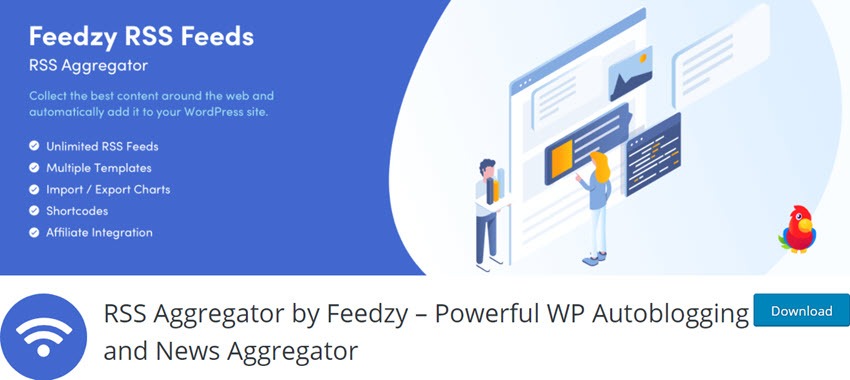 Freedzy RSS Feeds one of the Best RSS Feed Plugins for WordPress that helps display pages, posts, and custom content types RSS Feeds. Feeds can be imported anywhere on the site. RSS Feed can be integrated with the use of shortcodes and widgets.
Shortcode friendly- The plugin becomes very easy to use using the shortcodes generated by this plugin. Some of the shortcode parameters can be edited, which helps the users define how the feeds are displayed on the website.
Images appear in the feed- The posts can be made more attractive by showcasing the first image of the aggregated content. Or an image can be selected to display along with the feed.
Mobile-Friendly-  The plugin automatically does cache. So the page loading times become simpler.
WordAI Integration- Feed can be integrated with posts with WordAI. It helps to rephrase feed content, and content is not duplicated over the website.
Affiliate Ready- Extra money can be made by featuring affiliate links on the site. Referral/affiliate ID is automatically included in the feed link.
Feed to Post- Content from various RSS sources can be inserted into the post. The feed items are automatically filtered, and the contents are placed on the WordPress site as wanted.
Total number of users – 50,000+
Price – Presonal – $52/annually (1 Site),  Developer – $121/annually (3 Site),  Agency – $256/annually (Unlimited Site)
Screenshot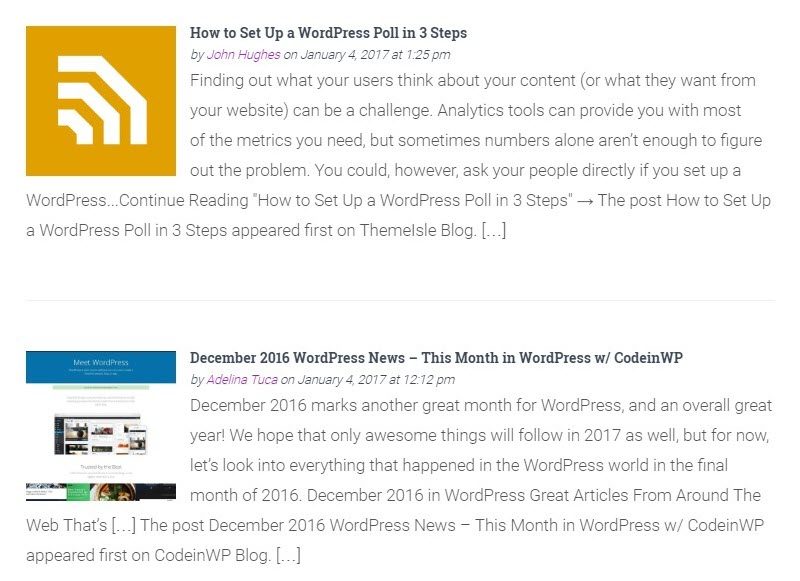 4. WP RSS Aggregator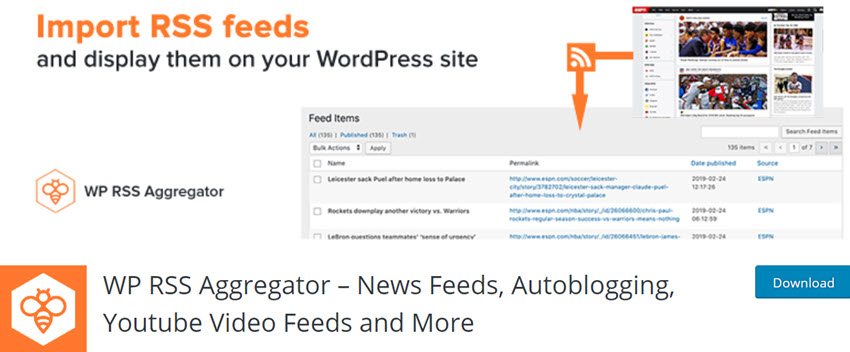 WP RSS Aggregator – News Feeds, Autoblogging, Youtube Video Feeds, and More is one of the best and most popular WordPress auto-blogging plugins that allow you to import, display, and merge RSS feeds. Atom feeds anywhere on your WordPress website.
Features
The plugin automatically imports an unlimited number of content from many sites.
It helps you manage all your RSS feed sources under one roof.
It enables you to import and display playable Youtube videos on your site.
You can also create a custom RSS feed from imported items to use elsewhere.
It also lets you customize the display templates according to your choice and match your website's design.
Total number of users – 60,000+
Price – Basic – $59/annually (1 Site), Pro – $159/annually (1 Site)
A Content Curation Case Study - Building Trust and Credibility in Your Niche with WP RSS Aggregator
Screenshot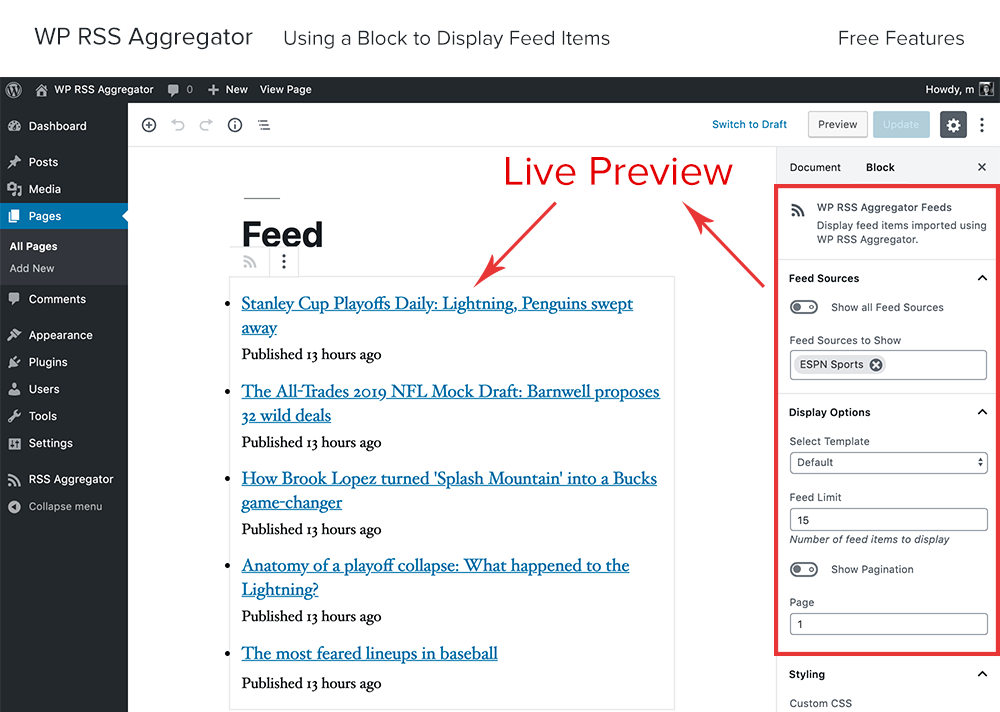 5. Youtubomatic Automatic Post Generator

Youtubomatic is a YouTube to WordPress and WordPress to YouTube post importer plugin. It is an ideal plugin for automatic post publishing for YouTube and auto-blogging. Every time a new post is added to the blog, the YouTube video is automatically published.
To update the niche blog at all times, content from video and music sites can be imported in WordPress for any number of fresh search engine feed. It supports Vimeo, YouTube, MixCloud, Giant Bomb, etc. It is very flexible and can be used with any theme. Unlimited videos can be added to create new content automatically. The site is updated automatically for posts. It has advanced processing to spin the contents, remove texts or links, translate language and do much more. It is easy to use and is SEO-friendly.
Random Sentence Generator- This feature helps make the Post unique by making the articles different from the source.
Built-in Text Synonymizer- To randomize the articles generated, no one can recognize the content source.
Built-in text translator- This feature helps to generate endless content. Contents can be imported in any language using this feature.
  Auto-add videos- Each time the user adds a new post, it can be published to YouTube automatically.
YouTube video player customization- The height, width, show caption, theme colour, video control, full screen, etc., can be easily customized.
Price – Regular License – $39/Lifetime (1 Site)
Screenshot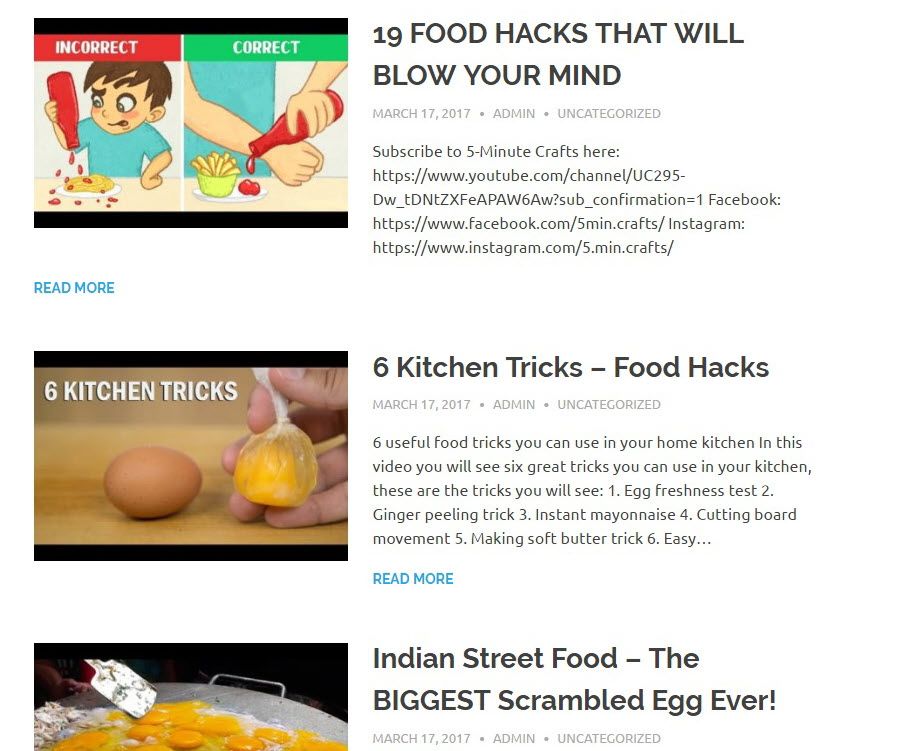 6. WordPress Automatic Plugin

Contents can be posted from various sources to the WordPress site automatically through WordPress Automatic plugin. It has now introduced a new module named "Single Scraper", using which any part of the web page can be scraped.
Extract specific parts of original feeds post- Two specified parts of original feeds post can be extracted using WordPress automatic by XPath, REGEX, and CSS id/class.
Duplicate title skip- Previously posted posts with the same title are not duplicated.
Convert encoding before posting- Extracted content coding can be converted from any specific encoding to utf-8 to become compatible with WordPress.
Decode HTML entities- HTML entities of the extracted content/title can be automatically decoded by WordPress.
Skip posts with no content- The extracted posts are first verified, and if it does not have any content, it is skipped.
Price – Regular License – $30/Lifetime (1 Site)
Screenshot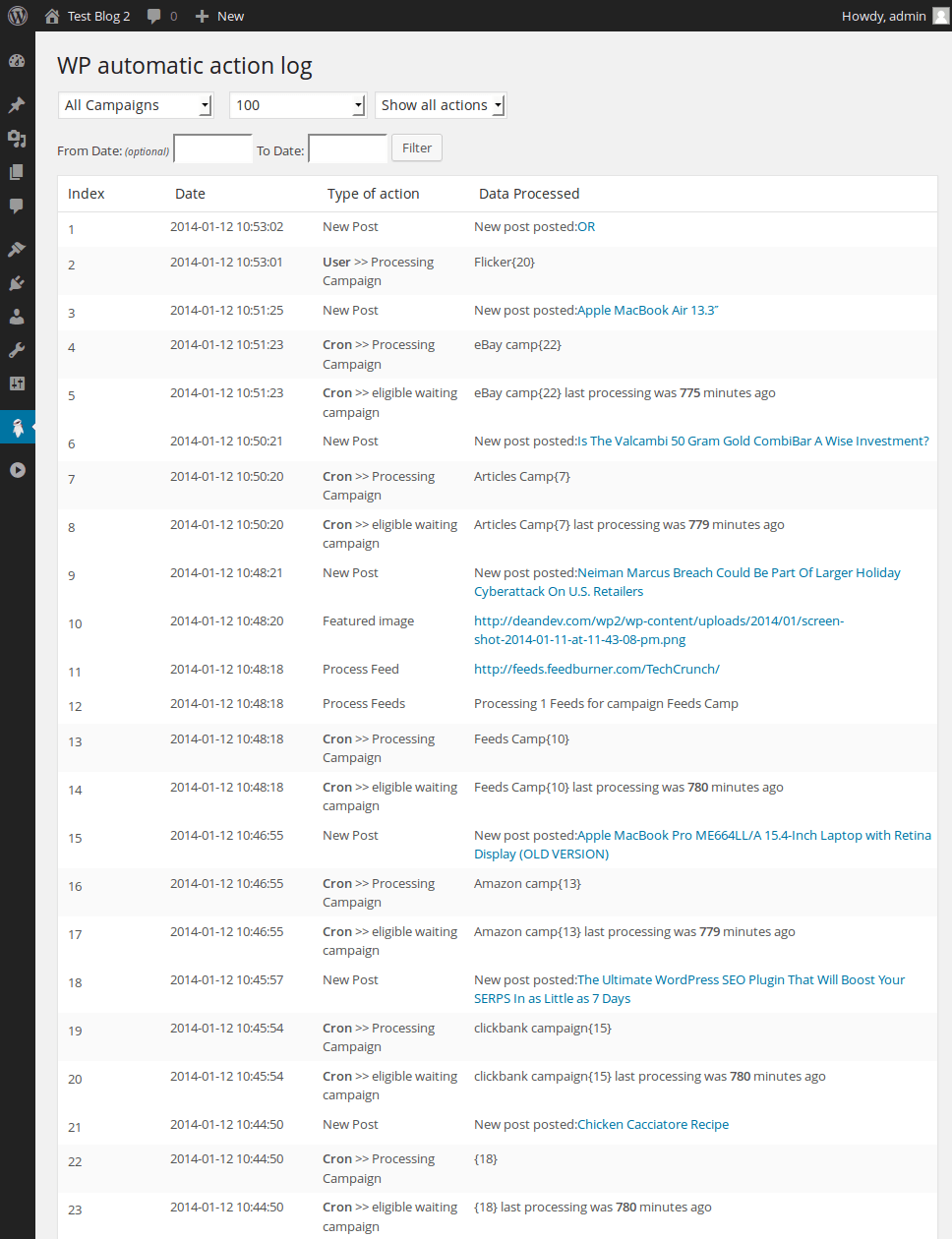 7. WP Content Pilot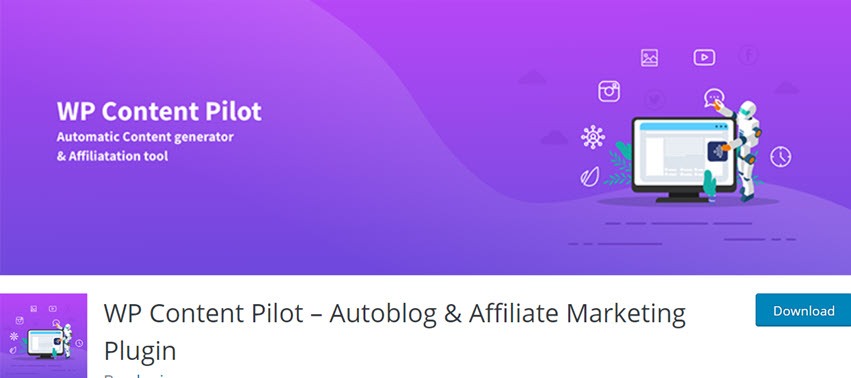 WP Content Pilot – Autoblog & Affiliate Marketing Plugin is one of the best auto-blogging and content curation plugins for WordPress. It automatically creates articles and blog posts on your WordPress using your chosen keywords and sources and posts them on your website at regular intervals. Thus, it saves you a lot of your time and effort and helps you keep your website fresh and updated. Moreover, it automatically injects your affiliate link directly into your WordPress posts so that you continue to earn commissions from your vendors.
Features
The plugin comes with a content spinner that automatically allows the plugin to create content for your website.
It also comes with a template editor to edit and control the auto-published post on your WordPress website.
It automatically injects your affiliate links into your WordPress post so that you continue to earn your affiliate Commission from your vendors.
The plugin automatically categorizes your posts. Also, it inserts the tags with the newly published post.
It automatically posts RSS Feed on your site whenever a new post is published on the target site.
Total number of users – 4,000+
Automatic Articles Posting to WordPress - WP Content Pilot
Screenshot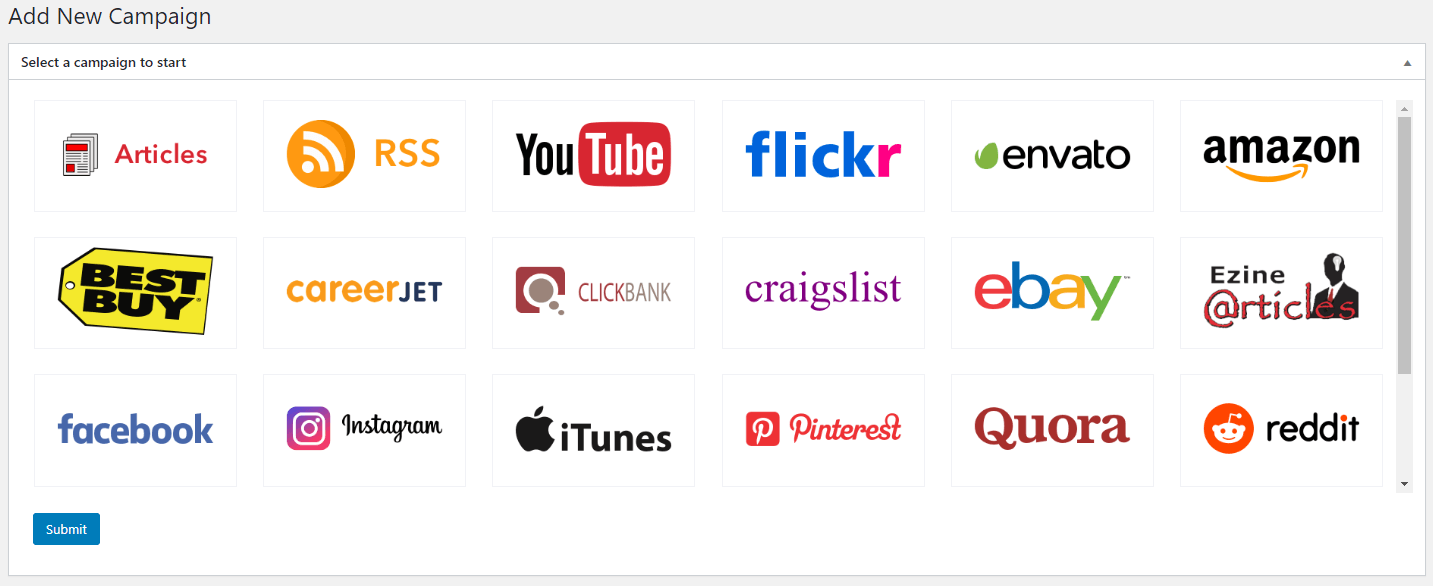 8. WordPress RSS Feed Retriever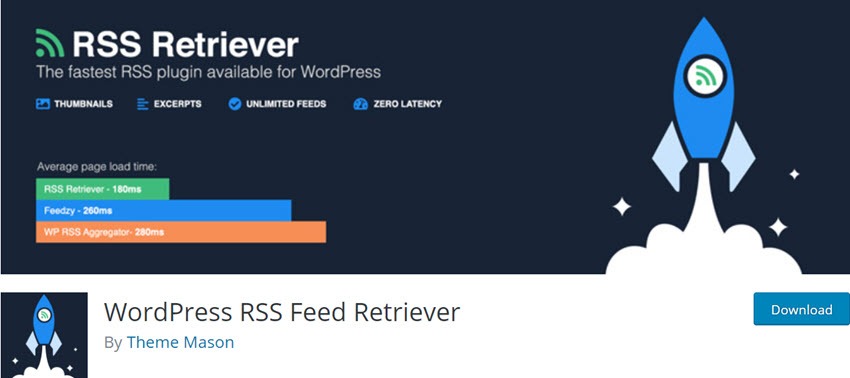 A menu with multiple RSS feed subscriptions and the standard RSS feed subscription can be presented to the site's visitors with the help of Category Specific RSS Feed Subscription. The subscribed readers often get annoyed by sites that cover multiple topics due to the updation of site content that they are interested in and by the notification in their RSS reader. So category specific RSS feed can be shown for all the categories using this plugin. A tag-specific RSS feed menu can also be created using this plugin.
An RSS Feed Retriever for WordPress, Feed WordPress syndicates content from chosen feeds in the WordPress weblog. Then the syndicated contents appear as a series of individual posts in the WordPress post database. WordPress's templating engines and posts database can be used as the back-end of an aggregation website if several feeds are syndicated. It is flexible and easy to use and configure.
Total number of users – 10,000+
How to use WordPress RSS Feed Retriever Plugin
9. WPeMatico RSS Feed Fetcher
WPeMatico is one of the Best RSS Feed Plugins for WordPress, a very easy to useAutoBlogging plugin. It has been organized into campaigns. It automatically publishes posts from the RSS/Atom feed of choice. This plugin provides a friendly interface that follows all the WordPress standards. It helps to manage all the feeds of the post in every campaign. Contents from multiple feeds can be fetched and arranged in categories. Simple pie Library, which is already included in WordPress, can be used for RSS Fetching.
The feed can be displayed in the blog using Widget, PHP, and shortcode using RSS Feed Fetcher. No external libraries are required since the plugin uses only standard WordPress functionality. The built-in Simplepie library is used for parsing feeds. This plugin accepts several parameters for customizing the feed content report. Any parameter with a shortcode can also be used in pages and posts. It is an RSS Feed Fetcher aggregation and content curation plugin for WordPress. It runs the site on autopilot by generating WordPress posts from RSS/Atom feeds.
Videos can be easily embedded by the 'Embed Video' option directly from Vimeo, YouTube, IGN, DailyMotion RSS feed, etc. Featured images can be generated from media attachments and post images. A server-side cron and a WordPress pseudo-cron can be used to schedule the plugin.
Total number of users – 20,000+
Use WPeMatico para crear un autoblog WordPress
Screenshot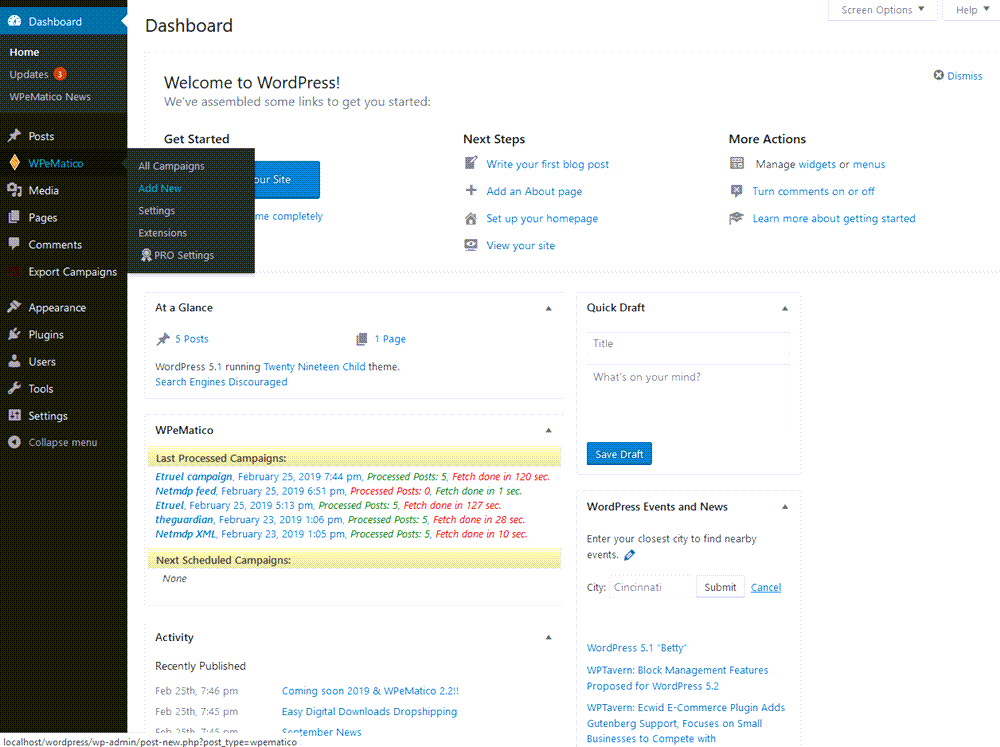 10. Simple Link Directory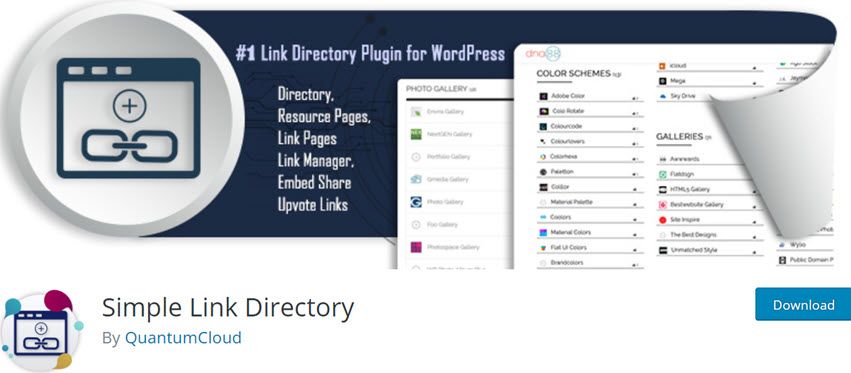 Simple Link Directory Is one of the best and most advanced WordPress directory plugins and a link manager that Automatically create elegant and attractive links, link page, and resource pages on your WordPress website within no time. It is known to be one of the best one-page directory and content curation plugins for WordPress. The plugin is also compatible with any of the WordPress themes.
It also allows the other website owners to embed the Link Lists you curated on their websites. Thus, it helps you get multiple backlinks that help you increase your website engagement and drive traffic towards your website. Thus, it helps you increase the share and engagement on your website and eventually improves your website rank on Google's SERPs. The plugin also allows the site users to give their valuable feedback by giving thumbs up to the most valuable links in your link listing.
Features
The plugin allows you to manage your helpful links and display them on your WordPress website in an elegant way, hence boosting engagement and user interaction on your website.
It helps you create a niche-specific complete directory website on WordPress within a few minutes. Hence it helps you attract many visitors to your website and helps you rank higher on various search engines.
You can also use this plugin to create link directories for your company's Intranet. Thus, it helps your company's employees quickly access certain websites regularly.
It also helps you create a vendor directory to manage all your vendors quickly and efficiently. Using this plugin, you can also create a video directory.
The plugin also comes with an upvote feature that lets the users vote for the most helpful link on your website. Hence, you can also sort your links by the number of votes on them.
Total number of users – 3,000+
Screenshot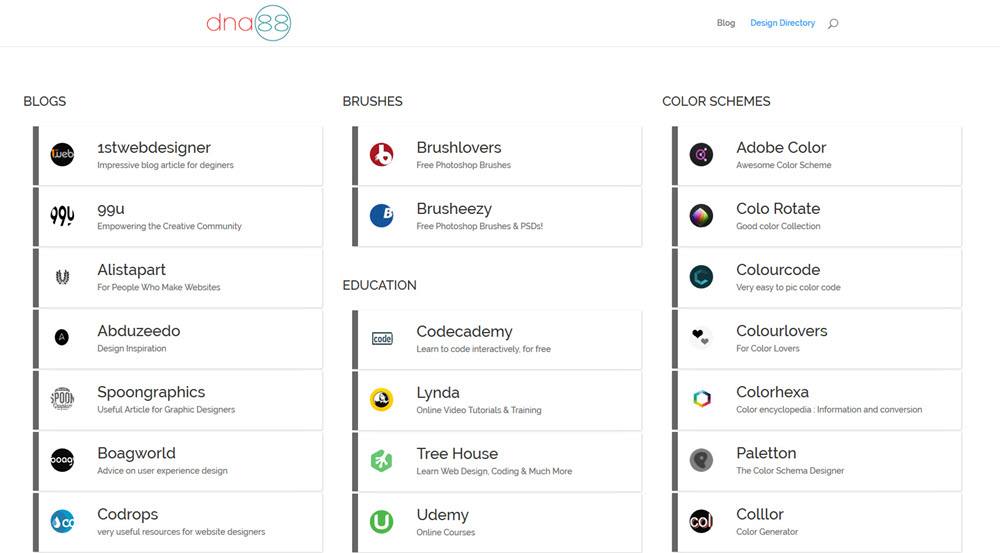 Conclusion – Still confused about which are the Best AutoBlogging plugins for WordPress. Don't worry, my friend, I will try to make your choice as simple as possible. If you are looking for free, then I will recommend you to use feedzy RSS feeds, But If you are planning to build something great, then by using premium RSS feed plugins, then go ahead with WProbot, that will be the best option for you.