9 Best Affiliate Link Cloaking Plugins For WordPress 2023
In this article, we will be discussing link cloaking Technic and their benefits, and we will also be discussing which is the best affiliate link cloaking plugin for WordPress. So many people are using affiliate links on their websites to make money, but the affiliate link doesn't look pretty, and it looks ugly. And so many hackers hijack your affiliate link and replace it with their link to make money. Some people call this a WordPress mask URL plugin too.

Before I discussed the benefits of link cloaking and how to do affiliate links cloaking in the WordPress website, let's have some basic info first.
What is Link Cloaking?
Link Cloaking is a technique of changing the long affiliate link from a 3rd party affiliate program to a shorter URL of your website, making ugly affiliate links more pretty and branded.
For example – https://www.gomahamaya.com/go/fastcomet-coupon before it was like https://affiliate.fastcomet.com/scripts/click.php?a_aid=5a525841a1e61&a_bid=57b57252
In the above example, my visitor will never come to know it's an affiliate link or any miscellaneous link. So many people are scared to click on any ugly or malicious link. After changing the link, it looks more pretty and saves your commission.

How Does Link Cloaking Work?
It is nothing but an affiliate link redirect. We replace our affiliate link with our dummy link. Whenever someone clicks on the dummy link, they get redirected to an affiliate link and again, that affiliate link will redirect them to the Product page.
Why should I cloak my affiliate links, and what are the benefits of Link Cloaking
There are n number of benefits of using link cloaking
Save Your commission from link hijackers

– There 1000's of hackers who hacks your website link and change their links with their affiliate link. To make money which will result in headaches for good bloggers
Link management is essential if your blog is based on affiliates. When your website has many affiliate programs, most of them run a new campaign every day. So in the case of the latest campaign, you need to change the link from each blog instead of changing the link from the centralized back-end link manager.
 

Leakage of domain authority

– Affiliate links are ads and should not follow the link. That means google shouldn't follow such links and give their domain authority.

Beautiful permalink

– All affiliate links are ugly, and google wants a pretty link for your website ranking. An ugly link means a number of some variables in the URL. That needs to be made appealing.

Tracking

– Whenever you run any campaign on your website, you want to know whether visitors are attracted to that advertisement. So link tracking analytics is essential.

Protection from ads blocker

– Ads blockers can track affiliates make those links hidden when they which will ultimately result in less income

How to Cloak Affiliate Links on Your WordPress Site
You need to select one of the best Link Cloaking Plugin For WordPress from the below to collect.
In my opinion, Pretty links are one of the best Link Cloaking Plugin For WordPress
Now click on Pretty links and add a new link
Set the name for the link, e.g. Fastcomet
And now set the affiliate link for Fastcomet
Select the category and click on the Save button.
Now insert the link in your post.
Let's have the list of Best Affiliate Link Cloaking Plugin WordPress Plugin which is as follows:
1. Simple URLs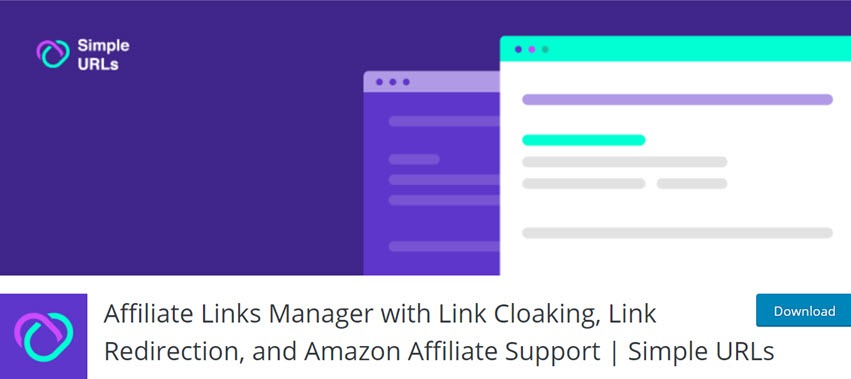 Simple URLs is an integrated WordPress Plugin that manages the overall links available on the site. Although, you don't require to go through heavy coding as it is easy to configure and install. Simple URLs is a straightforward and straightforward plugin that the developer of genesis develops. With this plugin, you track the stats of each click and create 301 permanent redirects by clicking the affiliate link. You will conveniently create, edit, and manage unlimited links from a different site. It was designed so well to arrange affiliate links to make them easily accessible to users. If your website sells different products, you must have valid affiliate links for every particular product available widely. With the assistance of Simple URLs, index all such affiliate links and keep tracking how's it going. If the plugin monitors anything wrong, it will first report you to fix that immediately.
Core Features –
Identify the available keywords on the entire site and let you select which one you want to create links for widely enhancing the website's reachability.
Find out dispersed links and make them affiliate links.
Link Cloaking enables you to customize the URLs and make such affiliate links nicer than before.
The plugin also enables you to track the clicks monthly or lifetime. Also, it is compatible with both the Classic Editor and the new Gutenberg Block Editor.
It helps you test new affiliate programs by checking other stores with affiliate programs like Walmart, CJ, Wayfair, Target, Skimlinks, ShareASale, etc.
Total number of users – 7,000+
Price – Plan – $289/annually (2 Month Free)
Lasso: The All-In-One Affiliate Plugin for WordPress
Screenshot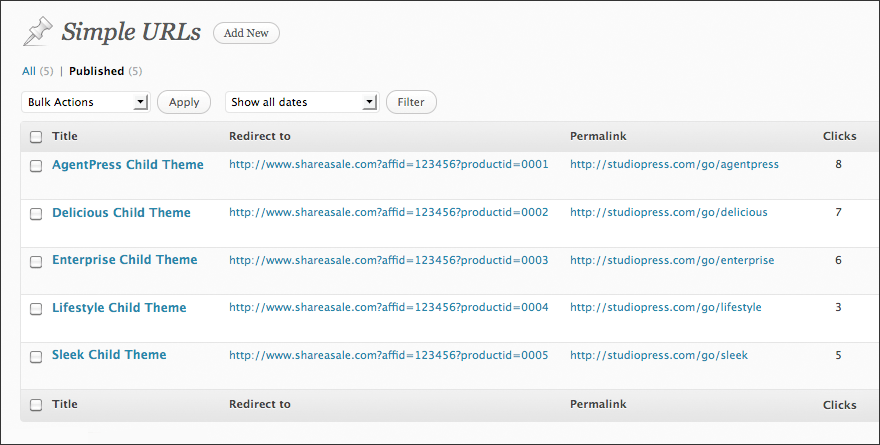 2. ThirstyAffiliates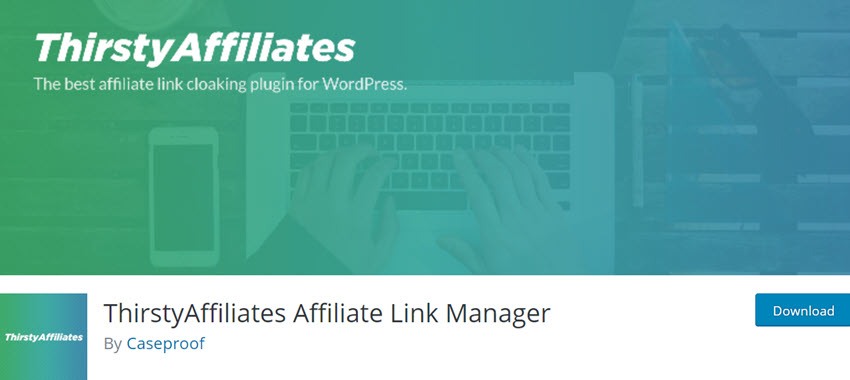 Thirsty affiliate is one of the top Affiliate Link Cloaker plugins for WordPress. You can easily add and manage your affiliate link without editing all your website links by editing just from one page. This plugin has an option to add no follow to the affiliate link, which helps you to increase your SEO values. ThirstyAffiliates is an intuitively designed WordPress extension for managing affiliate links so well. It can be Integrated with every required feature that assists in affiliating each essential link. Categorize such affiliate links based on their hierarchy like Software Links and Amazon Links and group them. On a single website, hundreds of links may be available that could be needed to change over time and circumstances accordingly. You cannot execute such tasks by replacing such links one by one manually. That's why ThirstyAffiliates enables you to modify the destination of URL or convert it into affiliate links whenever required.
Elementary Features –
Redirect and Uncloaking – Secure your website while redirecting it through 301, 302, and 303. Also, let you cloak such affiliate links and uncloak on the front-end.
Add Images – Let you insert graphics to affiliate links while writing content on the website.
Customize URL – Customize the prefix of the affiliate link according to your own choice.
This plugin also allows you to convert affiliate links to match the location of your website, thus allowing you to earn commissions from global traffic as well.
It supports multiple locations having Amazon Associates affiliate program including Canada, France, China, Germany, United States, India, United Kingdom, Spain, Italy, Japan, and more.
Total number of users – 40,000+
Price – Basic – $49/annually (1 Site),  Plus – $99/annually (5 Site),  Advanced – $149/annually (10 Site)
What Is Link Cloaking: Intro To ThirstyAffiliates
How To setup and configure ThirstyAffiliates  Plugins To Cloak Affiliate Links
Thirstyaffiliates WordPress Plugin Tutorial 2019
Screenshot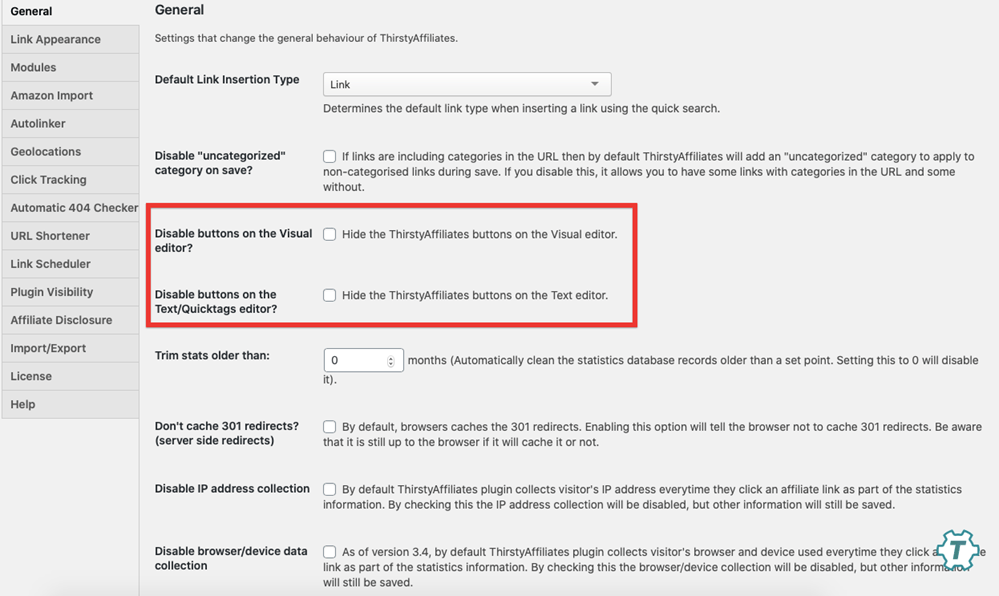 3. URL Shortify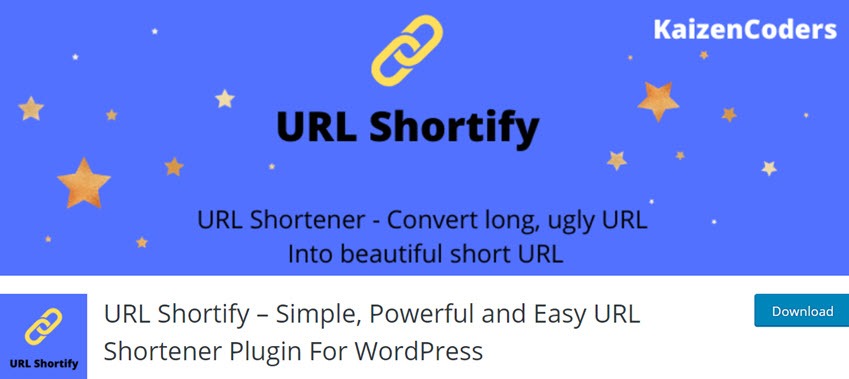 URL Shortify is a highly integrated WordPress Extension that manages and protects various available links of the website. Let you edit and customize the URL of any affiliate links to enhance their visibility on the web. Change the permalink of the affiliated link anytime and change the destination of URLs if necessary. Make your affiliate links eligible to get more reachability of audience while catching its glimpse on Google Ranking. Insert unlimited links into blogs before published so that they will capture by the web to make them more engaging than ever before.
Essential Features –
URL Customizer – Let you shorten the long pathetic URL and makes it available to share anywhere easily.
Easy-To-Configure – Redirect such affiliate links securely with 301, 302, and 307 redirections.
Fast Accessing – If you utilize an external shorten, it may slow down your existing site. But with the URL Shortify, you will get assured speed accessing the site.
The plugin supports integration with Partnerize, TradeDoubler, CJ Affiliates, Maxbounty, Impact, FlexOffers, etc.
This plugin supports six kinds of redirection. The response time is also fast, which will result in better engagement. No other plugins all total three types of options.
Total number of users – 3,000+
Price – Blogger – $69/annually (1 Site),  Small Business – $99/annually (3 Site),  Agencies – $199/annually (25 Site)
Screenshot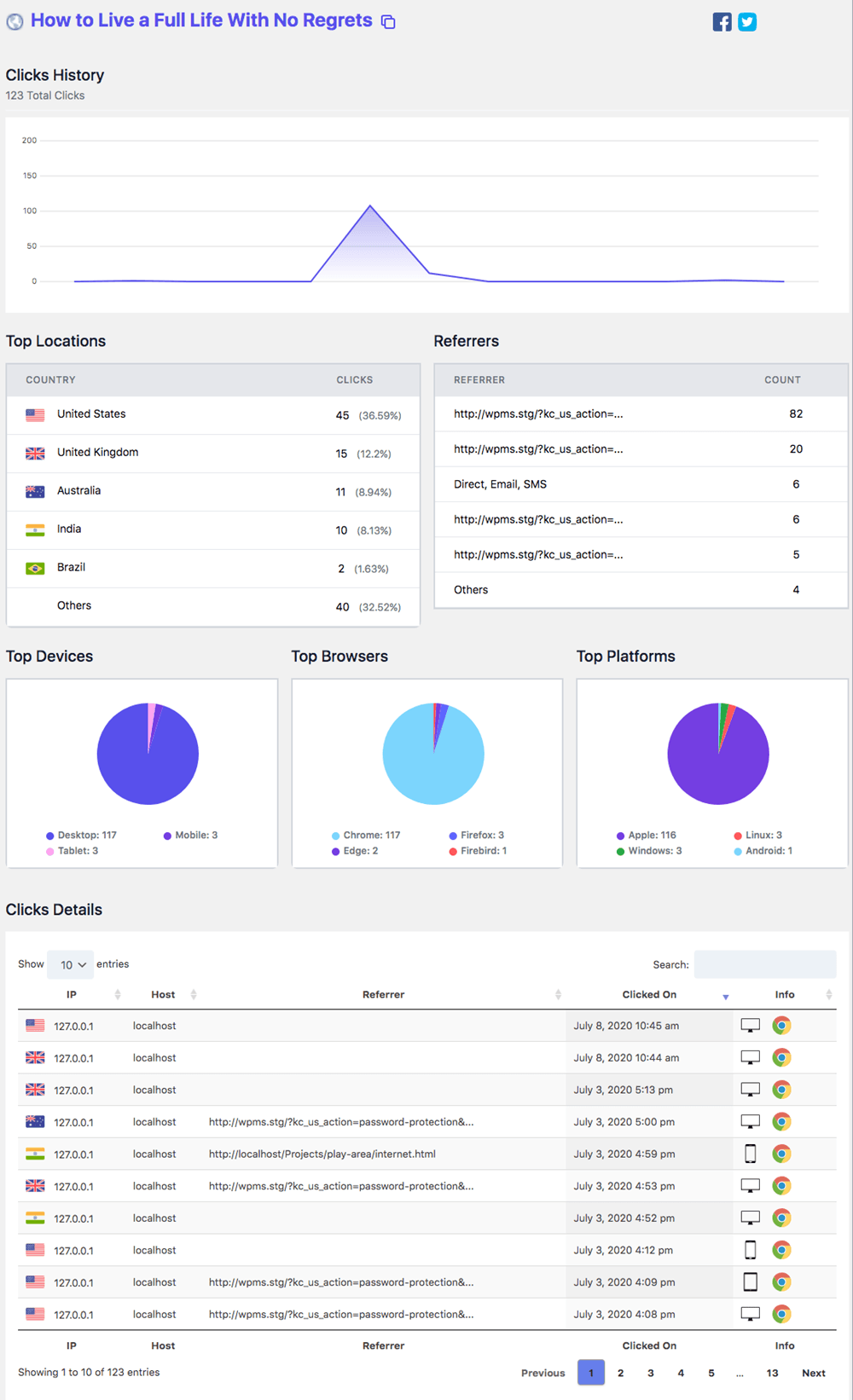 4. Pretty Links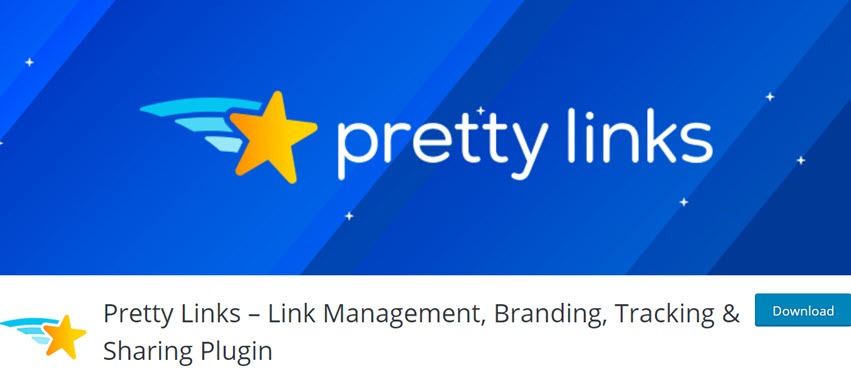 Pretty Links is an intensely created as Affiliate Link Cloaking Plugin that lets you edit, create, replace, and modify links so well. Pretty links allow us to cloak affiliate links and shorten them using our domain extension. Using a pretty link, you can track each and click on your affiliate and track the campaign. You can also say it as Best WordPress Link Tracking Plugin. Edit the created link automatically contains a long URL and makes it shareable among every platform without complexities. Provides the fast accessing of the site with such shortened URL by Pretty Links. Create or edit your existing links by utilizing the domain name of your choice that firmly matches the look and feel of the website. Enables tracking clicks on the links that you created with Pretty Links. Also, take a detailed glimpse on which browser it will open by users to prepare reports thereby.
A perfectly designed plugin for cleaning existing affiliate links and tracking the click that comes from the email. Enhance the reachability of the website by sharing the link on different forums and related blogs. Although, creating a clean and simple, fast, accessible URL that securely redirects to 301, 302, and 307. Pretty links are one the best affiliate link cloaking plugin for WordPress, which provides click stats from email, Twitter, Facebook, and your domain. We, too, are using Pretty links pro for our work at Gomahamaya.
Total number of users – 300,000+
Price – Beginner – $79/annually (1 Site), Marketer – $99/annually (2 Site),  Super Affiliate – $149/annually (5 Site)
How To setup and configure Pretty Links Plugins
Pretty link WordPress Plugin Configuration Cloak Affiliate link
Screenshot

5. Link Trackr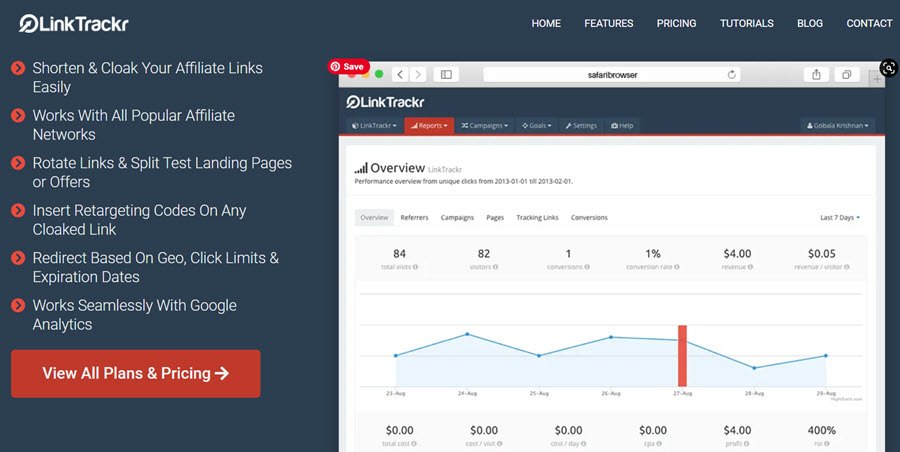 LinkTrackr is a well-oriented and lightweight WordPress Plugin that enables you to edit links to make them short. It is designed elegantly and contains a simple UI that anyone can easily tackle its functionality. Required no coding to configure and works smoothly on any device.
Integrate excessive networks that allow streamlining such created links so well. Make your website reachable to more visitors and rank on the web widely. Keep your website engaging by tracking clicks, shortening links, and sharing it widely on different social platforms. Intuitively create links and domain of your choice for better website conversion rates.
LineTrackr enables you to boost the speed of your site with effective affiliate links in a few minutes of configuration. Such a complete extension that is compatible with other existing extensions and themes. Assure reliability of privacy of database while having access to affiliate links. Although, assists you in sharing edited and shortened links on different related blogs for promotion.
Price – Basic – $84/annually (100 Tracking Link),  Pro – $204/annually (500 Tracking Link),  Hyper – $324/annually (1,000 Tracking Link),  Extreme – $564/annually (5,000 Tracking Link)
Screenshot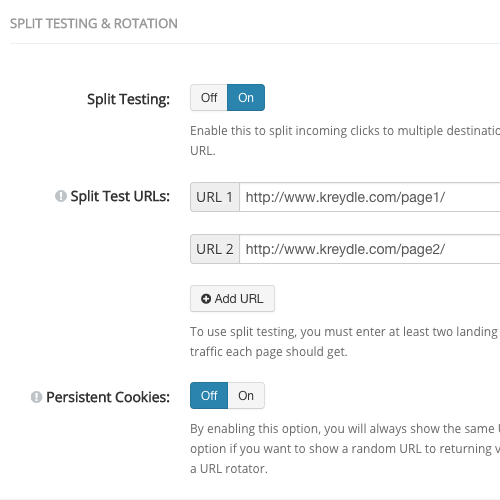 6. Easy Affiliate Links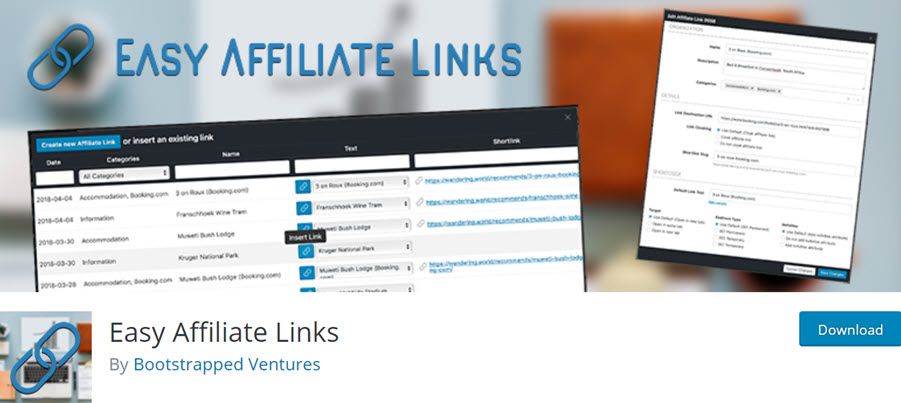 Easy Affiliate Links is one of the best WordPress affiliate link cloaking plugins that enables you to manage all your affiliate links most efficiently. This plugin comes with a user-friendly interface that allows you to manage, add and update all your affiliate links in one place, that too in no time. Easy affiliate link supports both cloaked pretty links and regular non-cloaked links. Easy affiliate links WordPress plugin help manage both cloaked and non cloaked in just one click. Moreover, this plugin enables you to track all your affiliate links automatically. You don't need to change the link every time in your blog. Just update the link from the dashboard.
Features
It allows you to create short links that further enable you to cloak your affiliate links.
You can easily access and edit your affiliate links in the visual and HTML editor.
It allows you to use both regular links and affiliate HTML code.
You can easily import or export your affiliate links in XML and CSV files. Also, using this plugin, you can easily assign categories to your affiliate links.
Total number of users – 10,000+
Price – Premium – $29/annually (1 Site),  Multi – $119/annually (20 Site)
Screenshot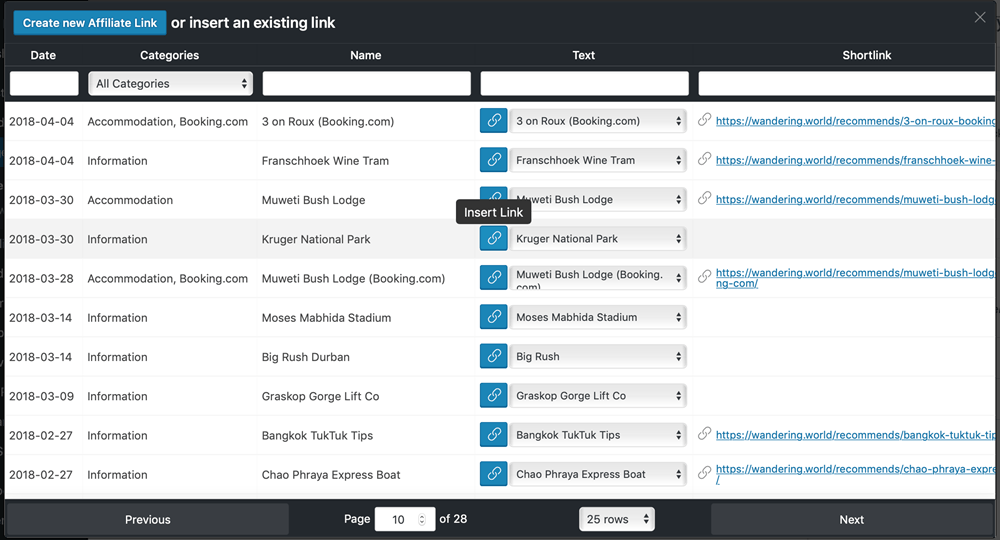 7. AMZ Watcher

AMZ Watcher is a powerful and effective Amazon Affiliate Links Checker WordPress plugin that enables users to identify and fix their broken affiliate links within their WordPress dashboard. AMZ Watcher plugin sends you alerts and notifications every time an affiliate link is broken on your WordPress website. Besides helping you fix the broken affiliate links, the plugin also enables you to mark the low-quality products you can link out to. Using this WordPress plugin, you can also find invalid or missing affiliate tags.
Features
The plugin enables you to find the missing Amazon Affiliate tags, thus helping you to increase your revenue by instantly adding the missing affiliate link.
AMZ Watcher also sends you instant notifications and email alerts about the unavailable products on your website. It also sends you alerts whenever an affiliate link is broken in your website, so you can minimize the time a broken link is available on your website.
It also scans for any broken affiliate link on your website and monitors your product unavailability.
You can also combine the AMZ Watcher plugin with other popular plugins such as geotargeting, cloaking, link management, etc.
Total number of users – 20+
Price – Starter – $239.4/annually (1 Site), Standard – $431.4/annually (Unlimited),  Portfolio – $599.4/annually (Unlimited), Tycoon – $1499.4/annually (Unlimited)
Screenshot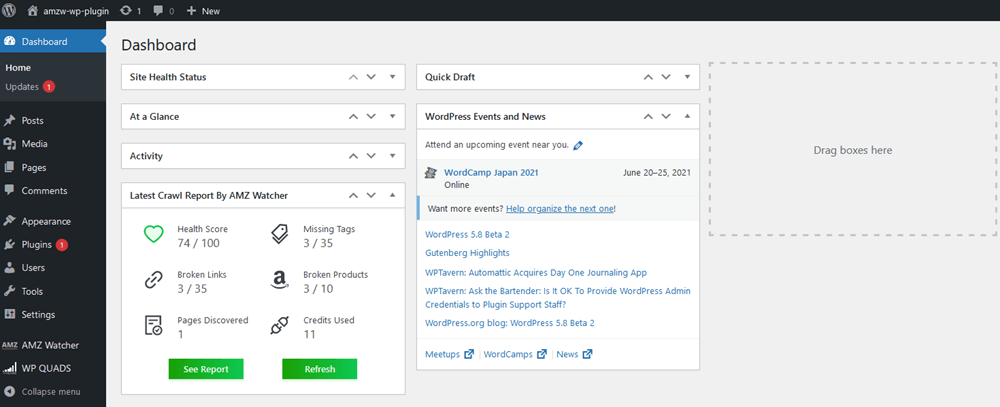 8. EasyAzon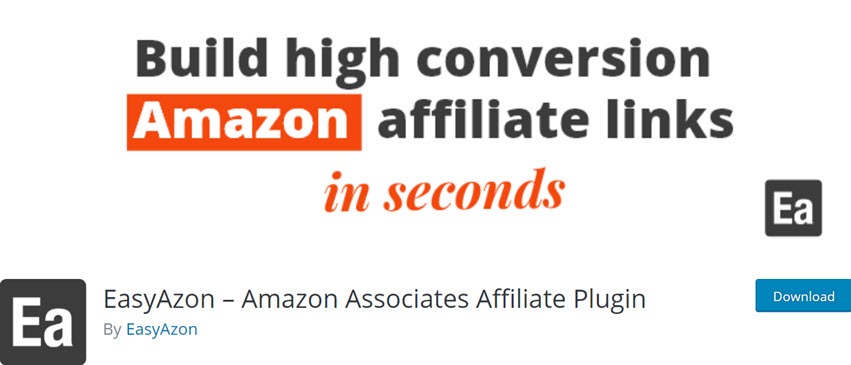 EasyAzon is one of the best Amazon associate affiliate plugins for WordPress that allows users to create Amazon Affiliate Links directly from their WordPress post editor. With this plugin, you don't have to worry about creating links manually from within the Amazon.com website. It allows you to create text affiliate links Directly on amazon.com to any product available for sale. Thus, the plugin saves a lot of time and effort that you would have to spend otherwise. EasyAzon plugin is specially created by keeping the idea and affiliate partner need in mind. You can redirect or mask URL to your dummy URL by using amazon without going through the old steps of manual creation of a product from the Amazon website. You can call this plugin an amazon affiliate link Cloaker.
Features
It allows you to create text affiliate links that can either have the Nofollow attribute or be opened in new windows voluntarily.
In addition to text affiliate links, it allows users to create Image affiliate links, call to action buttons, product information blocks such as price info, image thumbnail, etc.
The plugin is easy to set up and use.
Total number of users – 9,000+
Screenshot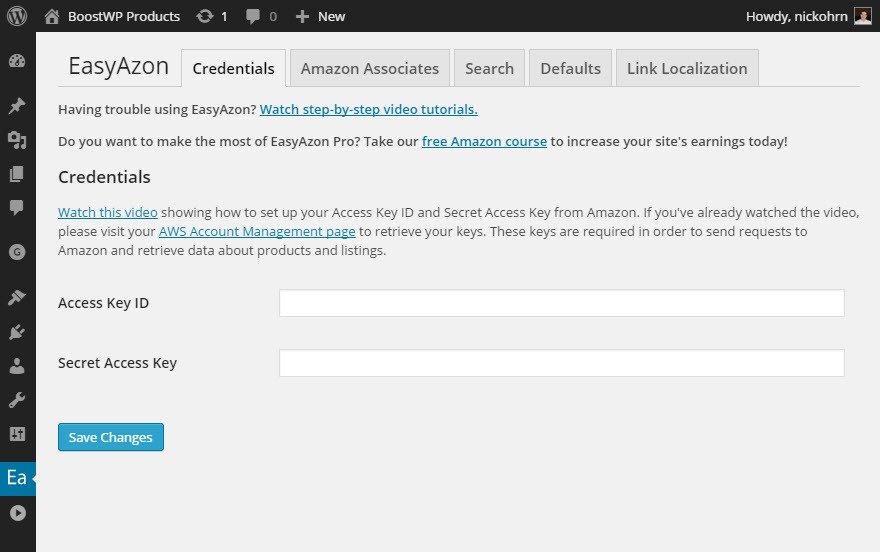 9. AnyTrack Affiliate Link Manager

AnyTrack is the best and most famous tool for shortening URLs, masking affiliate links, and creating redirection. AnyTrack Affiliate Link Manager is the best and top-notch affiliate link manager plugin for WordPress that allows you to create, edit, manage, track and share affiliate links from your WordPress website. You can do this all under your domain name and link structure. The plugin allows you to completely track and sync conversions and sales with your Google Analytics and other pixels. This plugin supports the "Nofollow" tag and the "Noreferrer" Tag. With the plYouaffiliate links on Facebook, Twitter, and almost all social networks. The most with the plugin famous reason for using URL shortener pro is Affiliate Link Cloaking.
Features
The plugin enables you to create links according to your choice's link structure and under your domain name.
Using this plugin, you can also create redirect URLs that can be redirected to any other link.
It also enables you to AutoTrack outbound link clicks to pixels and Google analytics. Thus, it allows you to check the actual value of your content.
AnyTrack Affiliate Link Manager allows you to set and Load the Tracking TAG in the <head> of your site.
Total number of users – 100+
Screenshot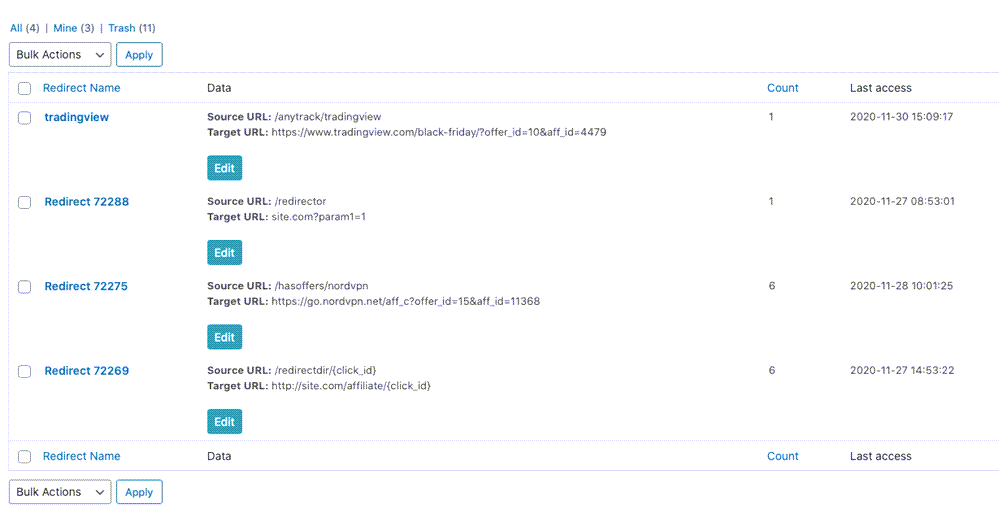 How To cloak affiliate links without a website?
Yes, you can cloak affiliate links without a website too. You to get link cloaking software for Your Work.
Which is the best affiliate link Cloaking Software?
Link tracker Link Tracking is one of the best affiliate link cloaking scripts that can easily be used via link tracker script. Try it for 15 days for free, then buy it. You can easily be cloak affiliate link without using any plugin. You can even use this tool to track sales and leads. You can use the link tracker script on your website too. When you use this script, you can say bye-bye to affiliate link thieves.
Bitly – You can shorten and cloak affiliate links without a website by using Bitly. All the will be related to the Bitly website. You can track and optimize the link that is the best thing about Bitly. But the only problem here is you will lose your brand.

Conclusion – This was my collection about the best affiliate link cloaking plugin for WordPress. It would help if you got a URL shortener pro to work with, which will cloak links and be useful when creating redirection. But you are looking for a script, and You must use Linktrackr, which is 1000x  better and safe than any plugin.