Are you unable to find yoast SEO sitemap option in Yoast plugin ?
In this articles We will fix yoast seo xml sitemap missing issue . Yoast SEO plugin keeps on updating the option to enhance the user experience . Now in the latest update they have migrated the Yoast sitemap option from separate button to another option
Where i can Find my website sitemap in yoast seo plugin and where yoast xml sitemap option got disappeared?


You may also be interested in Free email marketing service , contact form plugins and caching plugins
Where I Can Find Yoast XML Sitemap In Yoast SEO Plugin new update
Step For generating sitemap in yoast plugin
Download Yoast seo plugins then go to General setting in yoast plugin
Then click on feature under general configuration 
Features >> XML Sitemaps and click the question mark next to it. Then click "See the XML Sitemap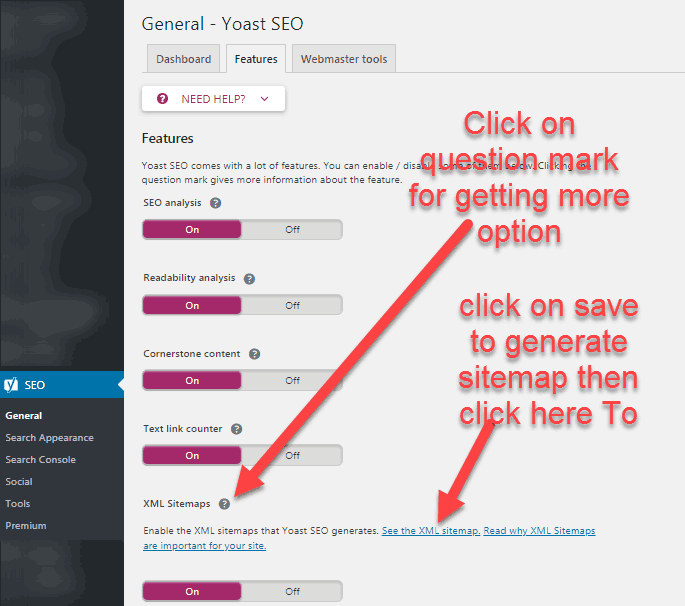 Why my Yoast xml sitemap is blank?
First you need to click on save button to save general configuration
Then click  click over question mark under general configuration of yoast plugin
then click on see the xml sitemap and you sitemap will be ready in this format https://www.gomahamaya.com/sitemap_index.xml
you just need to change your domain name

Learn How To properly configure yoast plugin 
How To Configure Setting Of Yoast SEO Plugin For Beginners And Submit WordPress Website In Google
Now bingo you have fixed yoast seo xml sitemap missing issue