9 Best WooCommerce Store Customizer Plugins 2023
Customize your WooCommerce Pages like account pages, WooCommerce shop, cart, user dashboard and product pages can easily be customized using WooCommerce Store Customizer Plugin.
1. Store Customizer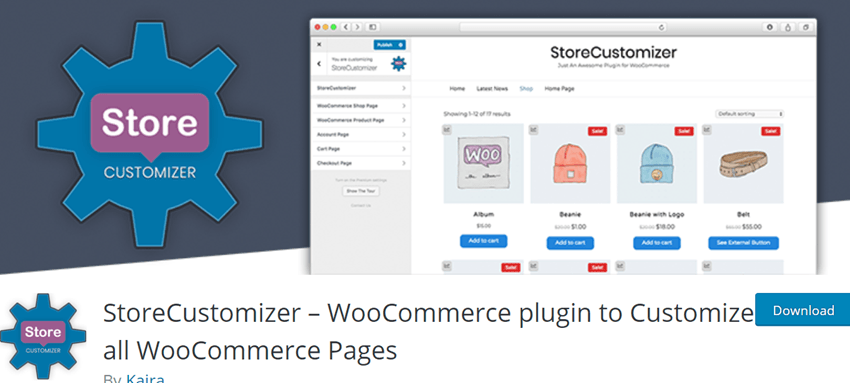 StoreCustomizer is a well-integrated WooCommerce Customizer plugin that lets you customize your website and other elements within a few clicks. Your WooCommerce Store needs an intuitive functionality to manage the entire product pages, checkout pages, and cart. So, without wasting a minute, install StoreCustomizer Plugin, whereby you can easily accessible to multiple alternatives to customize your site. Moreover, it simplifies the workflow of customizing functionality and the existing theme and eliminates different overriding templates. You can sum up the designation while the Store Customizer WooCommerce plugin provides a wide range of advanced functionality to your store. You can design your online store beautifully without including the child theme, thereby accessing a live preview. At the same time, you edit WooCommerce and many more features that assist you through customizing the site.
Why Do You Need StoreCustomizer?
Woocustomizer Plugin Let you effectively design the product pages, WooCommerce Site, Customize Checkout Page Woocommerce Plugin, and account pages with many eye-catching attributes.
Keeps an eye on available elements on pages of the WooCommerce site and administrates the entire functionality. Also, edit as well as remove such aspects if necessary.
Position the login or logout menu functionality wherever you want to display it on the pages.
Total number of users – 30,000+
Price – 1 Site – $49/annually,  5 Site – $59/annually,  Ultimate Site – $89/annually
StoreCustomizer - Free WordPress Plugin to customize all your WooCommerce store pages
Screenshot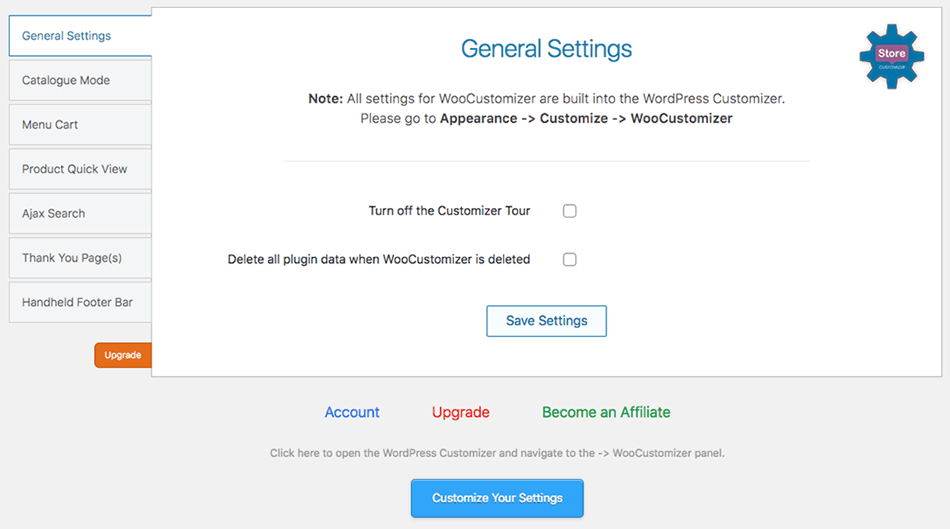 2. Iconic Add Page

WooCommerce Account Pages enables multiple alternatives to customize the user's account interface integrated into your e-commerce website. An extensive Woocommerce customize cart page plugin that assists you in creating essential elements on the account pages to record the user's details. Woocommerce, my account customization plugin, has many enriched features that provide an advanced way to easily and quickly lay out the buttons and fields. Such a lightweight extension contains easy-to-configure attributes while you may access whatever you are doing on Account Pages on the backend with a live preview option. It is the best Plugin to Customize Woocommerce. Although, insert the new tab into the My Account area and facilitate your customers to experience good on your site that encourages continuous connectivity.
Key Features –
Tab accessibility – Add the option to connect multiple sub-pages on my account menu while linking the tab through customize my account page woocommerce plugin.
Create Pages – Customize Shop and Insert pages into my account area as much as you need to access your customer's profile.
WordPress Interface – This contains an interface similar to the WordPress pages, providing seamless functionality to create the front-end user profile.
Shortcodes – Allows utilizing shortcodes to create an attractive account area.
Compatibility – Integrated with WooCoomerce Compatibility, which works easily and smoothly along with existing themes and accessories and allows implementing the standard account page dashboard.
Price – 1 Site – $49/annually,  3 Site – $99/annually,  30 Site – $299/annually
Screenshot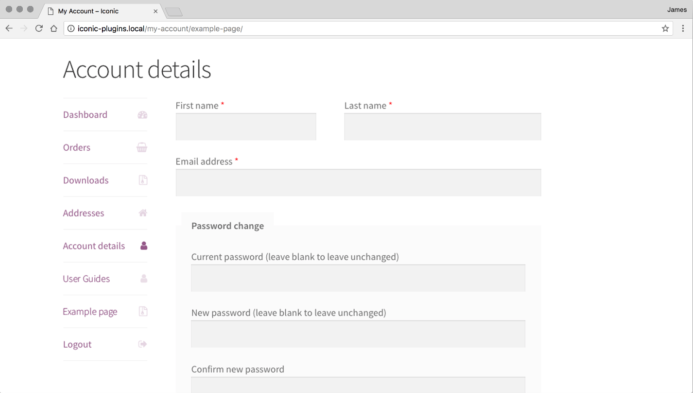 3. WooCommerce My Account Page Editor

Storefront Powerpack is a well-oriented Customize shop page Woocommerce Plugin that enables you to arrange systematic functionality on the site. Woocommerce Powerpack Create a fantastic account page on your website and an extinguishing dashboard to mainly display the profile. As you install this Storefront Powerpack plugin to customize woocommerce, you have access to edit and remove the essential columns for the profile record. However, I created a fantastic page for my account while arranging and customizing the endpoints very well with the help of Storefront Designer. Utilize the default columns available there and place the essential one accordingly built with Storefront & Woocommerce. Design my account page and insert vital elements such as products, wishlists, offers, and promotions.
Elementary Features –
Customize appearance – Let you customize the appearance of your overall site with ready-to-use templates and style.
Endpoints – This enables you to create various endpoints consisting of tabs and menu accessories, and it also allows adding such endpoints to my account page.
WYSIWYG Integrated – While utilizing the customizing and editing option, easily add pages, links, and content in just a few minutes through Customize Woocommerce shop plugin.
Drag and Drop – Use the drag and drop functionality to administrate the entire endpoints, either to edit or remove the endpoint that exists by default.
Profile Accessibility – Provides your users attractive profile layouts wherever they can add their photo as profile identity on my account page.
Price – 1 Site – $49/annually
Screenshot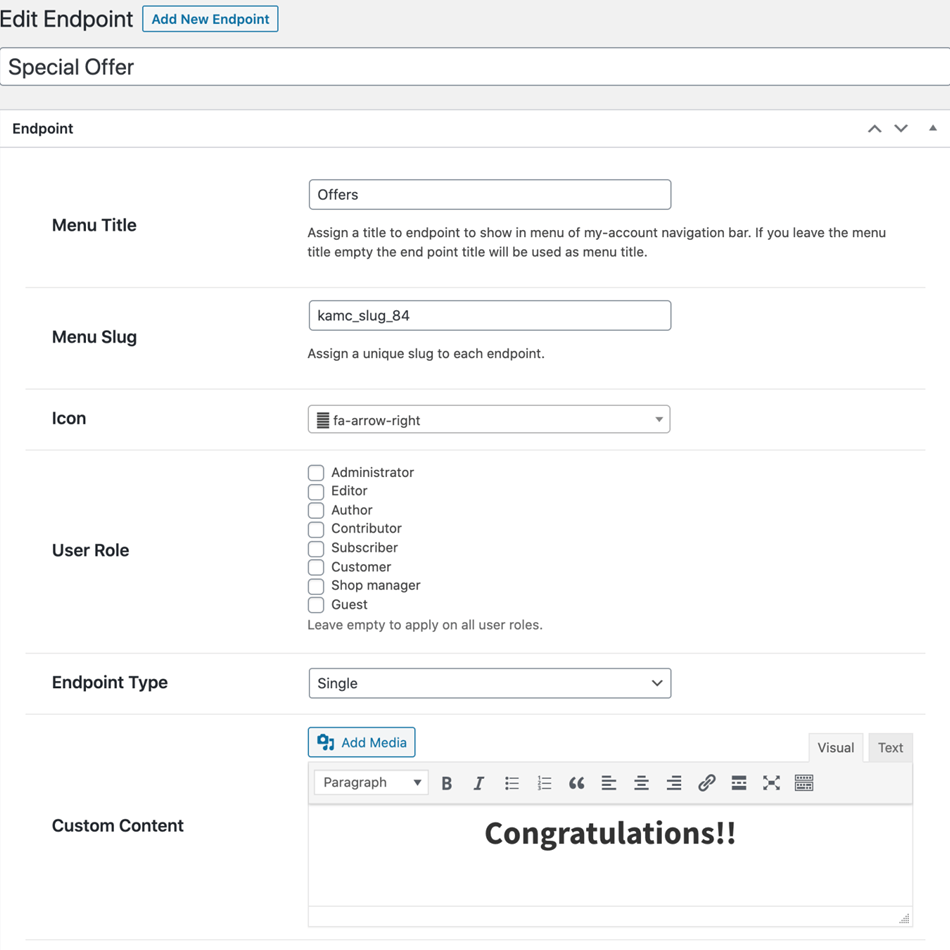 4. Woo Custom Account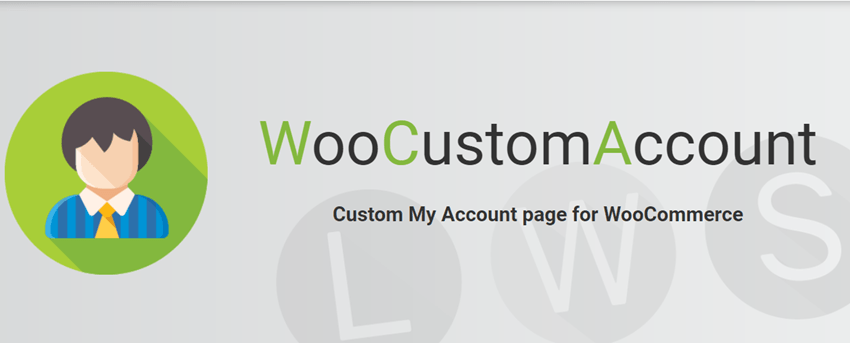 WooCustomAccount is an extinguishing Customize Woocommerce Product Page Plugin that assists you in establishing appropriate functionality of the My Account Page available on WooCommerce websites. However, WooCustomAccount Plugin to Customize Woocommerce enables you to insert the different tabs, links, and even pages into My Account without restrictions. You get the option to generate and design the pages you want to attach to the section of your account. Let you easily add content using widgets and shortcodes through Woocommerce Customize Product Plugin. Such an intuitive and easy-to-use interface lets you oversee my account functionality, including front-end profiles and backend users.
Essential Features –
Woocommerce, my account customizer plugin, lets you establish My Account with customization essentials such as your site's pages, tabs, and menu elements.
Display the My Account section on your site, which is suitable accordingly, while custom alternatives design it very well.
Provides a My Account tab for customers, particularly whereby you can manage the multiple tabs that have been created.
Configure the values such as page, URL Slug, Label, and more to add a new tab. You need to set the kinds as mentioned above of stuff, then click on the add button.
The Woocommerce shop customizer plugin restricts users' accessibility to pages whenever necessary.
Set tabs, menu, and toolbar positioning with many customization alternatives.
Price – 3 Site – 39Euro/Lifetime
Screenshot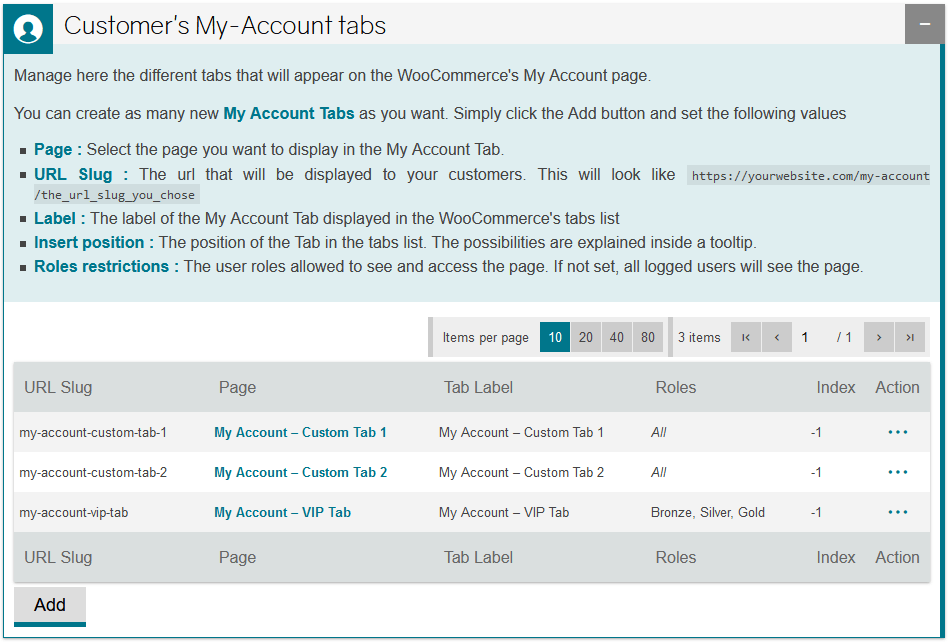 5. YITH WooCommerce CUSTOMIZE MY ACCOUNT PAGE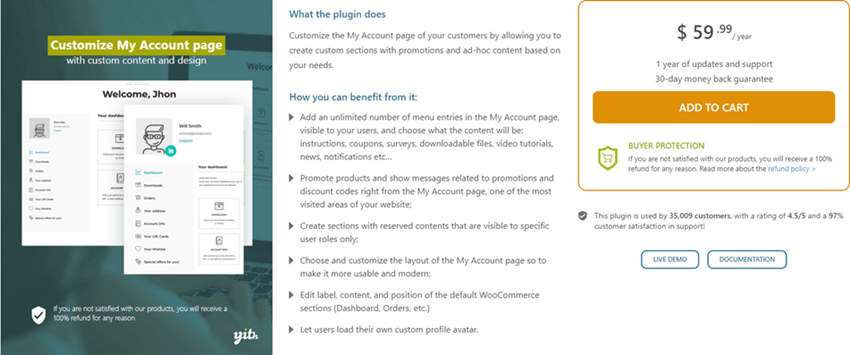 YITH WooCommerce Customize my account page is a WooCommerce customizer plugin that allows store owners to customize the My Account Page of the customers. Using this Plugin for Woocommerce, the admin can add custom sections to the My Account page that include: text, videos, promotions, discount codes, downloadable files, images, and more. You can choose which content will be displayed on my account page, like news, coupons, surveys, video tutorials, instructions, or notifications. With YITH WooCommerce Customize my account Woocommerce Plugin, you can choose if you want to show your content to every user on your website or specific users.
Features
There are no restrictions on the number of endpoints you can create for the My Account page. You can also use the visual editor to add the content of your choice.
You can customize the endpoints according to your choice without codes. You can create custom content or add a custom icon to your WooCommerce endpoints.
The plugin also allows you to choose the layout of your my Account Page.
You can reserve certain endpoints or content for specific users only.
Customize the woocommerce my account plugin enables you to add a redirect link to the My Account Page.
You can also add a Recaptcha to enhance the security of your page through Customizer Plugin Woocommerce.
Price – 1 Site – $59.99/annually
Screenshot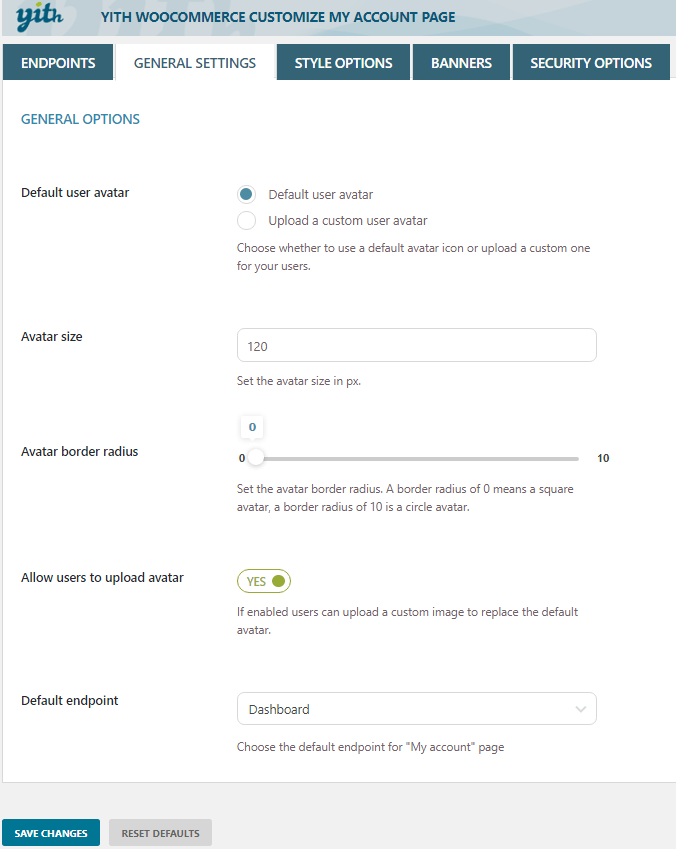 6. WooHero WooCommerce Store Customizer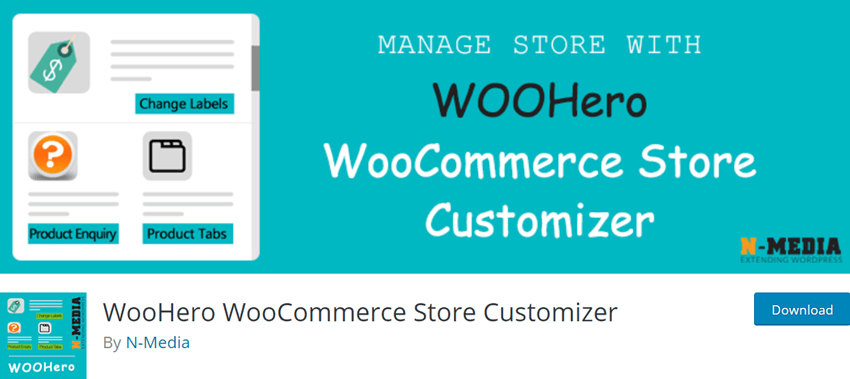 WooHero is a collection of even smaller product customized Woocommerce Plugin that enables you to customize your WooCommerce store in every way possible? It is a very lightweight Woocommerce Advanced Customizer Plugin that lets you customize the buttons on your WooCommerce store, like the order button, buy now button, add to cart button, and more. With WooHero Woocommerce admin plugin options, you can easily add content to various pages like cart, product, email, and my account page, without using the codes and the scripts.
Features
WooHero is a very lightweight plugin with a front-end editor that lets you Woocommerce product page customizer the content for the pages in the simplest way.
Using WooHero, you can easily disable the default tabs and add an unlimited number of product tabs if you want to.
You can either add content for each product tab or add the content for all the product tabs at once.
You can use the WooHero Woocommerce advanced customizer plugin to request a quote or add the enquiry form on the product page.
It also enables you to change the labels or text on the WooCommerce elements like the My Product page, product page, add to cart button, shop page, etc.
Total number of users – 2,000+
Price – 1 Site – $39/Lifetime
Screenshot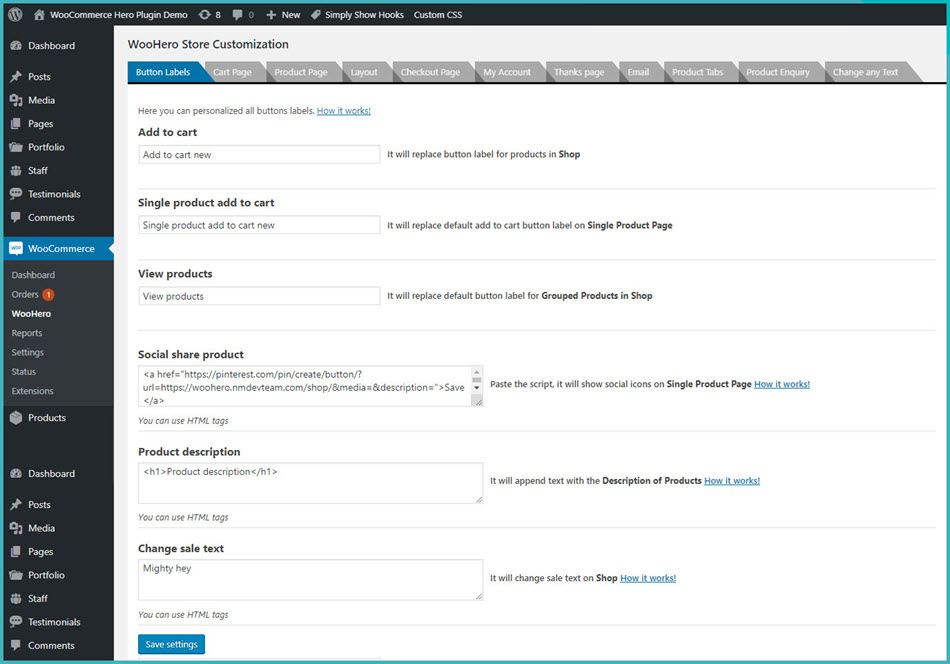 7. SS WooCommerce Myaccount Ajax Tabs

SS WooCommerce Myaccount Ajax Tabs is a Woocommerce plugin WordPress that lets you add an unlimited number of new tabs and customize and convert the My Accounts tab into AJAX tabs. This plugin Woocommerce comes with a drag-and-drop interface that allows you to reorder the custom tabs in the order of your choice. The best part about the Woocommerce admin plugin is that it enables the users to see all the content on the same page without refreshing the tabs through Ajax requests. Moreover, it is compatible with the top-notch WordPress themes, WordPress and WooCommerce.
Features
The Woocommerce menu plugin is compatible with all the top-notch WordPress themes, WordPress and WooCommerce.
It lets store owners create an unlimited number of tabs. Also, it allows them to customize and convert the My accounts page into an ajax tab.
You can easily decide the ordering of the tabs and rearrange them using the simple drag and drop editor.
The Woocommerce plugin for WordPress allows you to enable or disable the ajax feature and let them set the ajax timeout.
YITH woocommerce plugins work seamlessly with other plugins, such as the "YITH WooCommerce Customize My Account Page" and the YITH WooCommerce Order Tracking plugin.
Price – Regular License – $29/Lifetime (1 Site)
Screenshot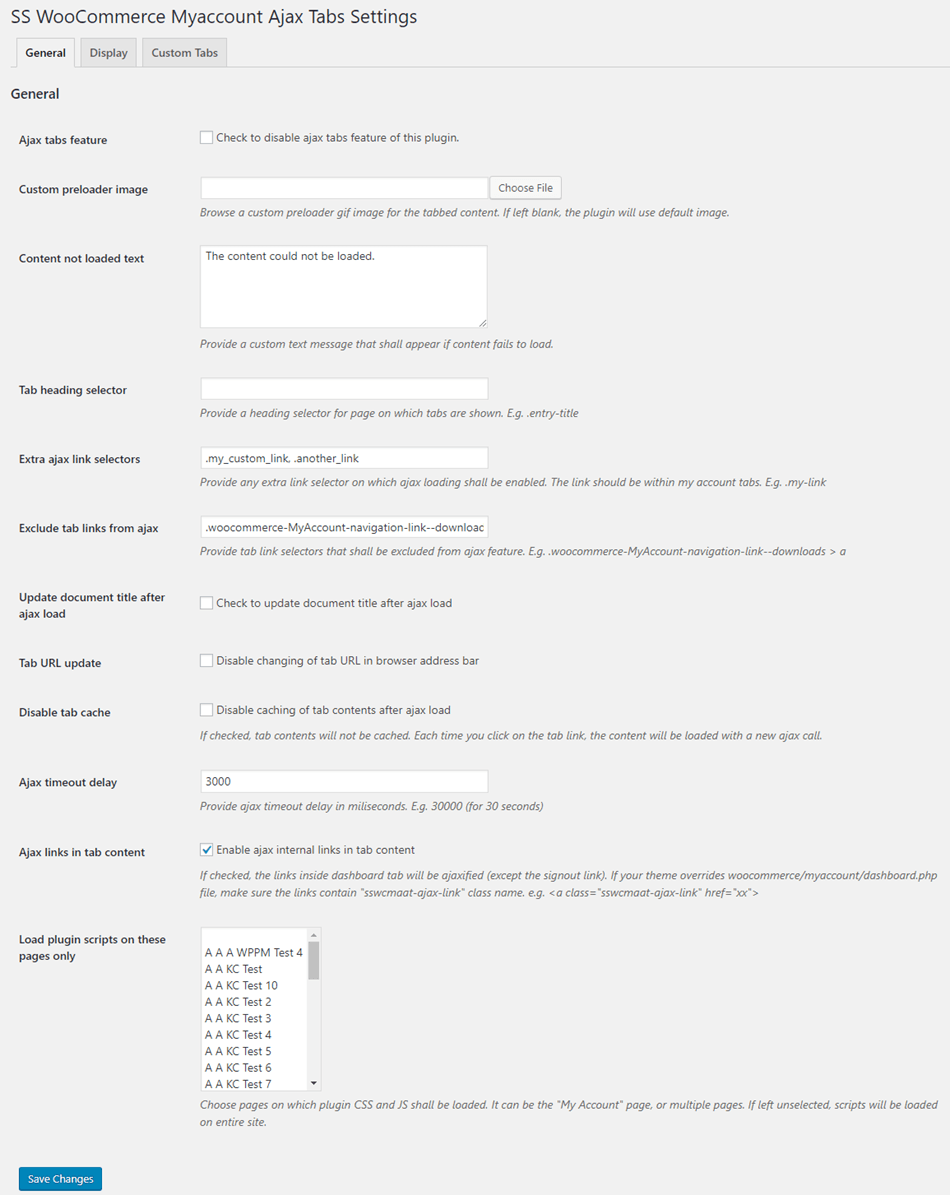 8. WooCommerce Custom My Account Pages

WooCommerce Custom My Account Pages is one of the top-notch and most straightforward WooCommerce plugins that enable users to create and manage the My Account custom tabs using multiple shortcodes and metadata. This is must have Woocommerce plugin. The Woocommerce plugin store has a simple yet powerful editor that lets you create custom text, display various forms, and add links to new pages. You can reorder the WooCommerce My Accounts tab or disable it using this Woocommerce wp plugin.
Features
The lightspeed Woocommerce plugin is compatible with the latest versions of WordPress and WooCommerce.
WooCommerce Custom My Account Pages allow the users to create My account custom tabs in the easiest way possible.
You can reorder the arrangements of the tab or even disable the My Accounts tab if you want to.
You can create content and restrict it to specific users or set it open for all users.
It uses shortcodes and metadata and comes with more than 11 content types.
This top Woocommerce plugin lets you customize the background colour and the tabs' text, and you can even choose from more than two layouts.
Price – Regular License – $34/Lifetime (1 Site)
Screenshot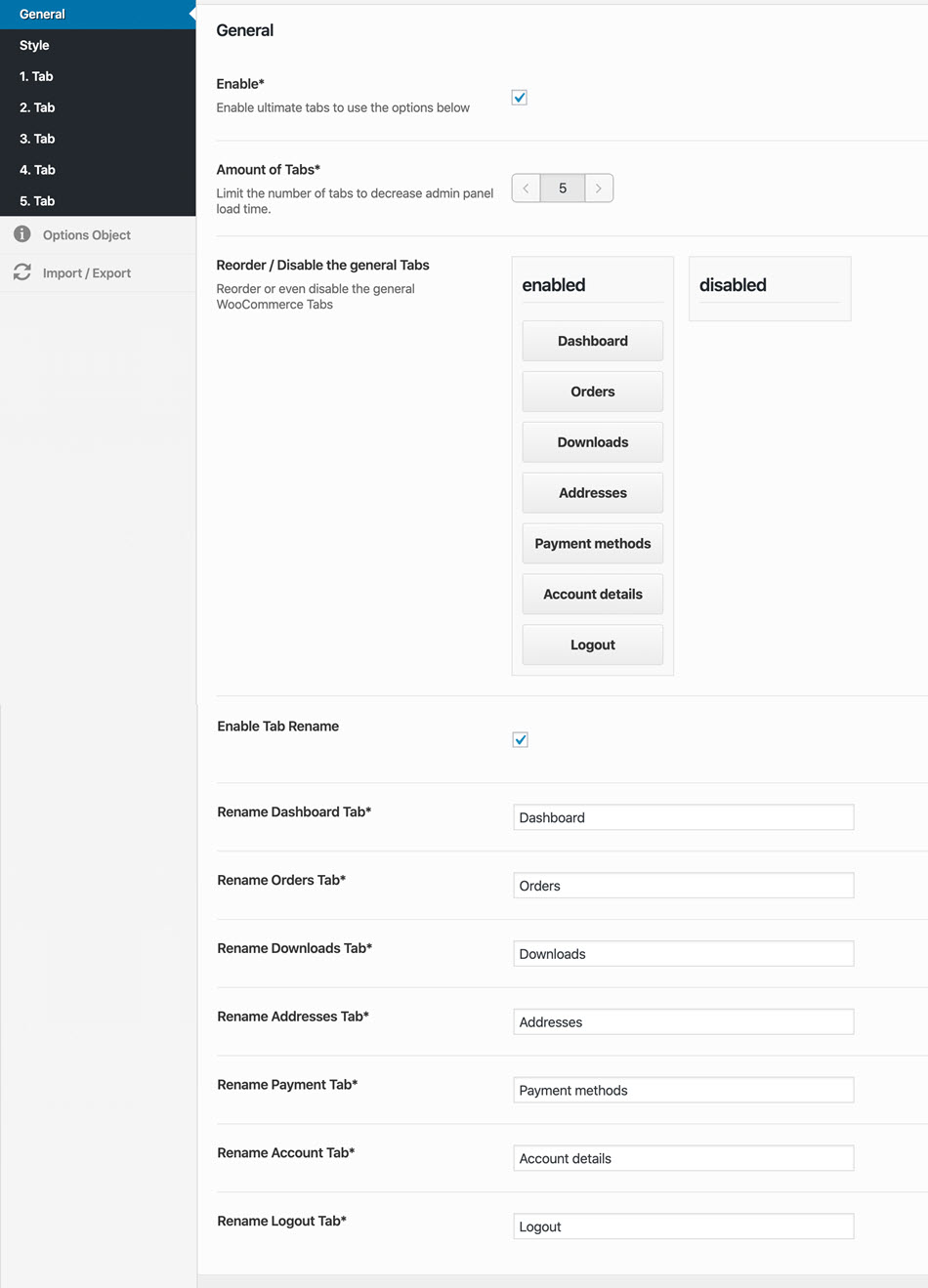 9. WooCommerce Customize My Account Pro

WooCommerce Customize My Account Pro is a premium WooCommerce customizer plugin renowned for enabling the users to customize the My Account Tab, create a new tab for My Account, and hide or disable the existing checks or reorder them in order of their choice.
Features
Woocommerce widgets plugin lets the users create custom tabs, customize the existing tabs according to their choice, or hide or disable the current tabs.
It comes with a simple drag-and-drop interface that lets you reorder the My Accounts tab in the order of your choice.
After changing the default settings, you can always revert to the default settings with the click of a button.
You can easily create custom content for the custom tabs. You can also choose who can see your content, i.e., restrict your content to the users with specific roles.
This all-in-one Woocommerce Plugin is straightforward to set up and manage, and all it takes is a mouse click to install or update it.
Price – Regular License – $17/Lifetime (1 Site)
Screenshot