9 Best WooCommerce Bulk Edit Plugins 2023
Using WooCommerce Bulk Edit Plugin, you can manage or edit all your orders, product details, user details, coupons and Stock Management in excel style screen layout in one click.

E-commerce websites contain many products, and it isn't easy to arrange each product one by one on a separate page. For this, WooCommerce provides a range of bulk edit plugins where you get access to various tools to edit products, posts, pages, and more. Integrated with a spreadsheet format that enables you to manage hundreds of products on a single page without refreshing the page. Let you promptly edit products, prices, attributes, and more in bulk. Allow bulk editing for all product types, whether external, simple, or variable.
Manage and edit thousands of products at once on a single page
Let you insert custom fields to add new products in just a few clicks.
Create new variations for products in bulk at once.
Delete products, posts, orders, and more in bulk with just one click.
Ease searching any product by keywords, attributes, categories, and more.
Let you see a live preview of whatever you modify in the spreadsheet columns.
Edit any post type in bulk, whether a product, variation, custom meta fields, media,
subscription, etc.
Updates millions of records within a couple of minutes.
Accurately update single or multiple fields even without visiting any product page.
Inline update and edit existing records using the media library at once with the autosave feature.
Let's have the list of the top WooCommerce Bulk Edit Plugins as follows:
Table Of Content
1. Bulk Table Editor for WooCommerce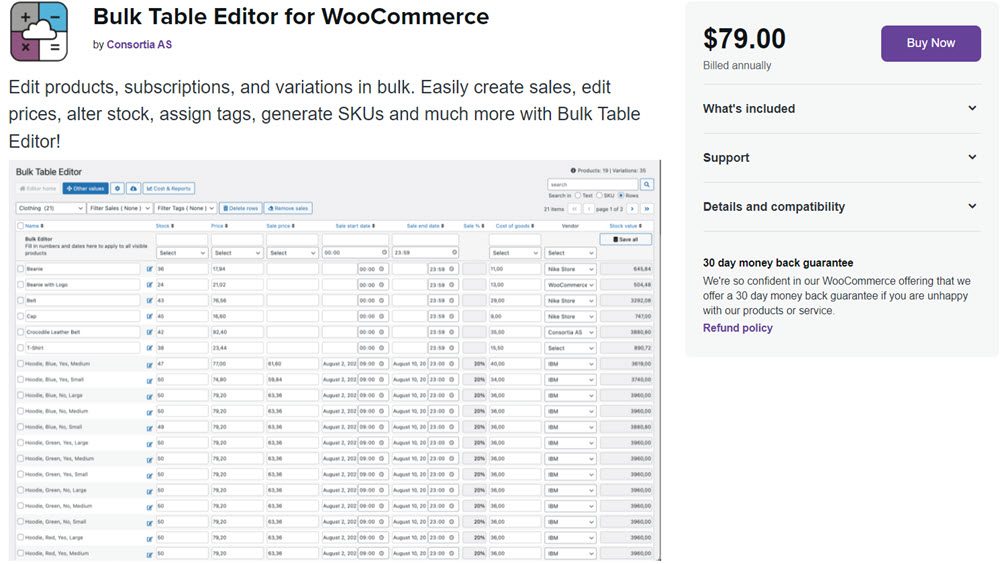 This plugin can work wonders if you have many products in your store with variations because managing and updating your store takes seconds for this powerful Product Bulk edit plugin. The product fields that can be edited in bulk are attributes, custom taxonomies, categories, metadata, tags etc.
Features:
Sales prices can be removed in bulk, thus saving your time.
The simple and variable products can be accessed thru radio buttons for ease of use.
Bulk sales price can be added based on a percentage or dollar value.
Sales prices can be increased or decreased as per the set value, either a set dollar value or a percentage.
A rollback option is available in case there is a mistake while editing.
Price – Regular License – $79/annually (1 Site)
Screenshot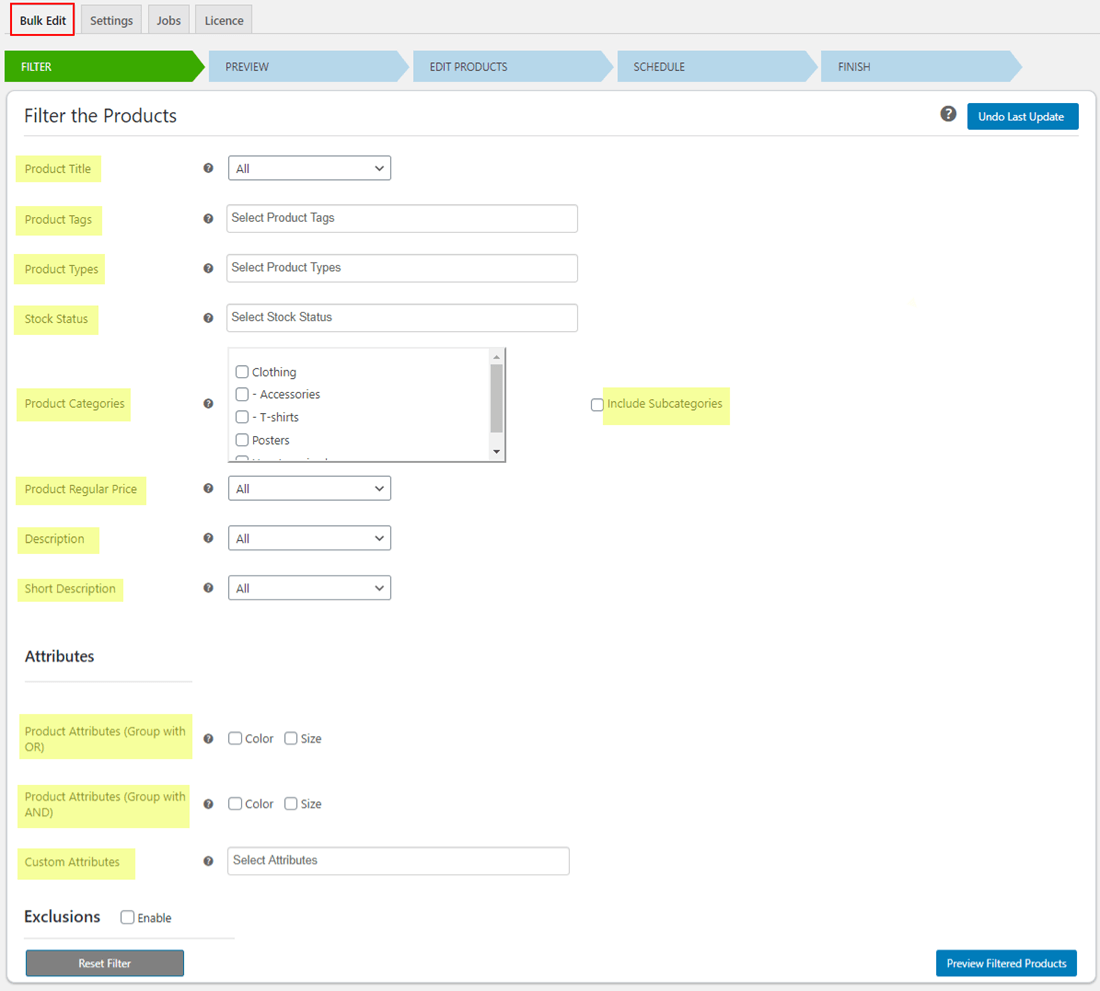 2. Smart Manager For WooCommerce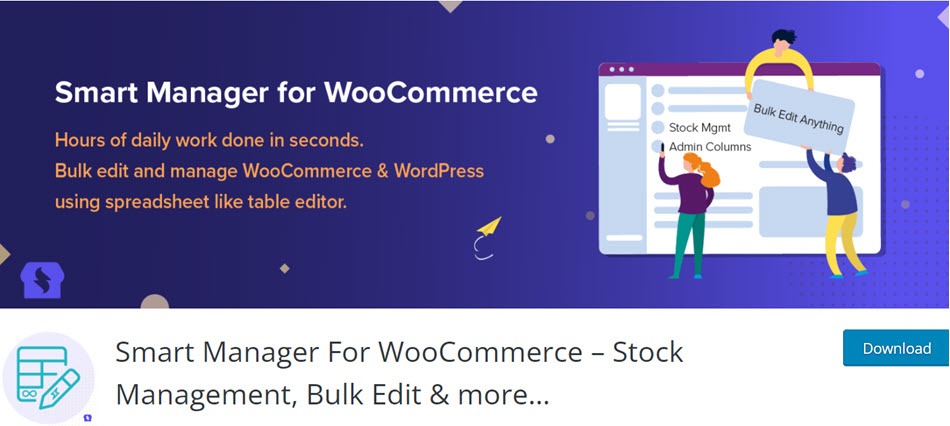 Smart Manager For WooCommerce is a multi-purpose Bulk Edit plugin that can save you time by offering many features related to product variations and editing and modifying these variations in one go. Bulk edit prices, categories, attributes of variable products, and fields of products available on your online store.
Features:
You can change the prices of the variations or delete their interpretations in a single click.
Calculation errors are kept at bay with the differential pricing method that can change variation prices in bulk.
Prices can be updated for multiple products in bulk.
The interface is user-friendly and apt for even non-techies.
Attributes can be set for all the product variants at once.
Total number of users – 10,000+
Price – 1 Site – $99/annually,  5 Site – $99/annually,  LifeTime – $99/OneTime
Inline Edit WooCommerce Products and WordPress Post Types - Smart Manager
Screenshot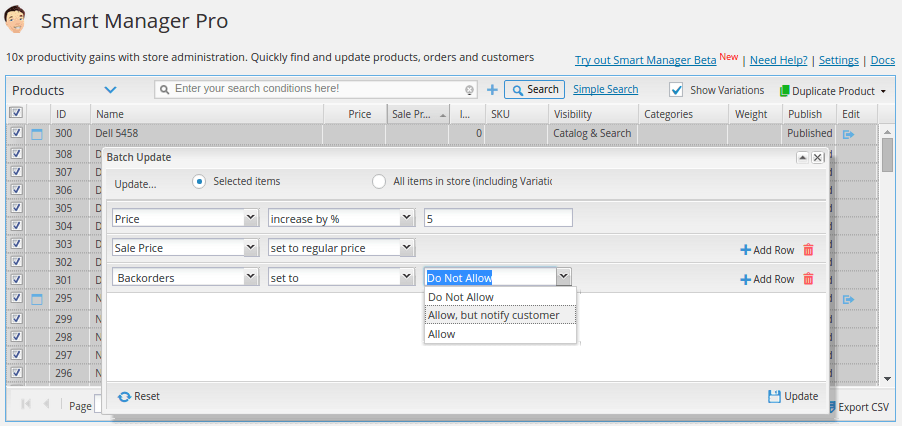 3. Bulk Order Form For WooCommerce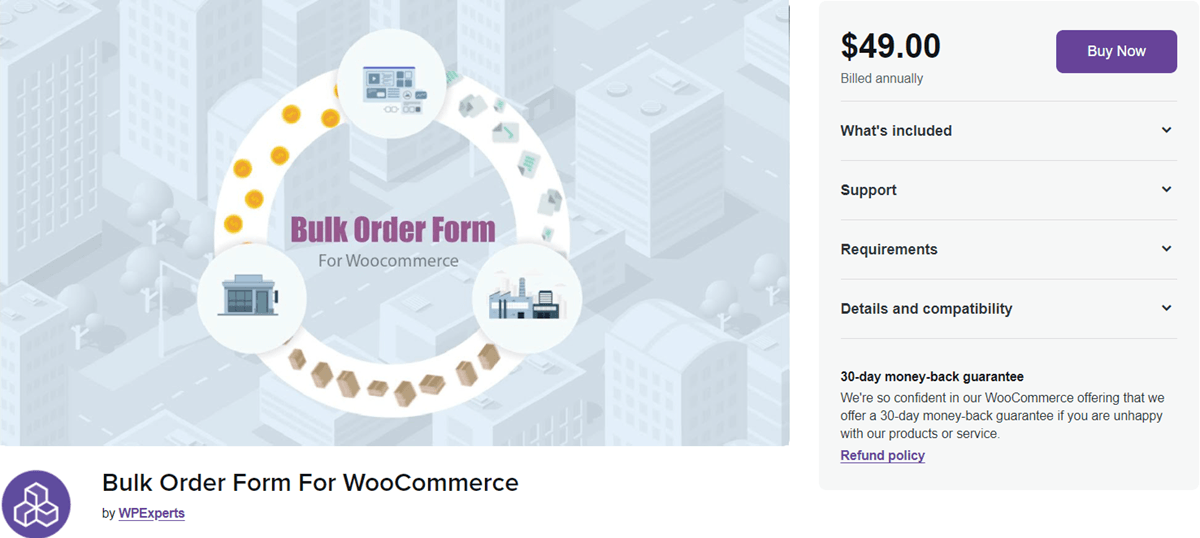 Price – Regular – $49/annually (1 Site)
Screenshot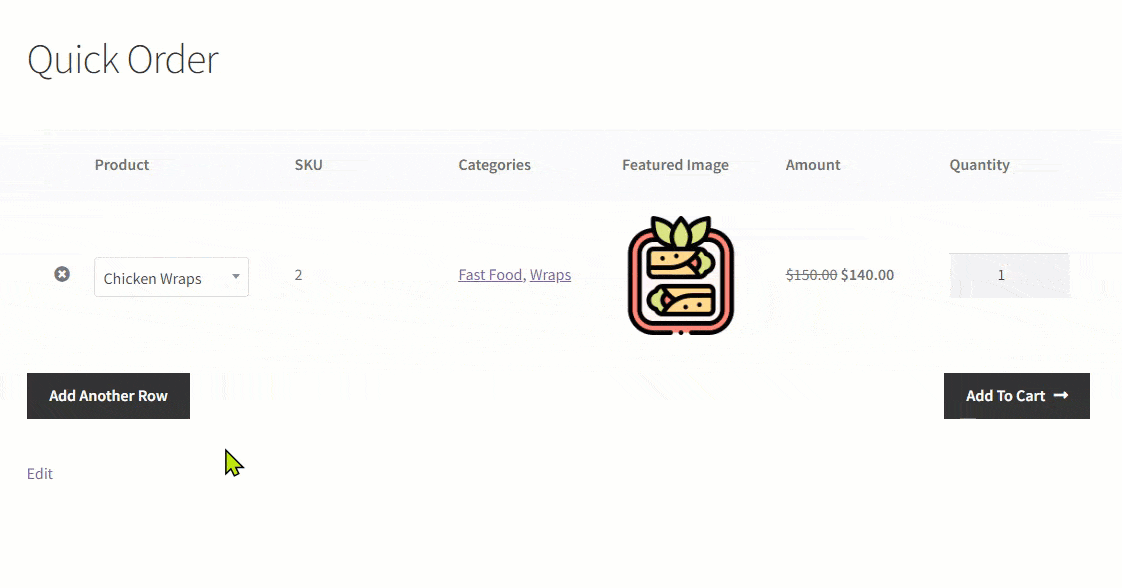 Bulk Order for WooCommerce | Create B2B Product Tables
4. Yith Woocommerce Bulk Product Editing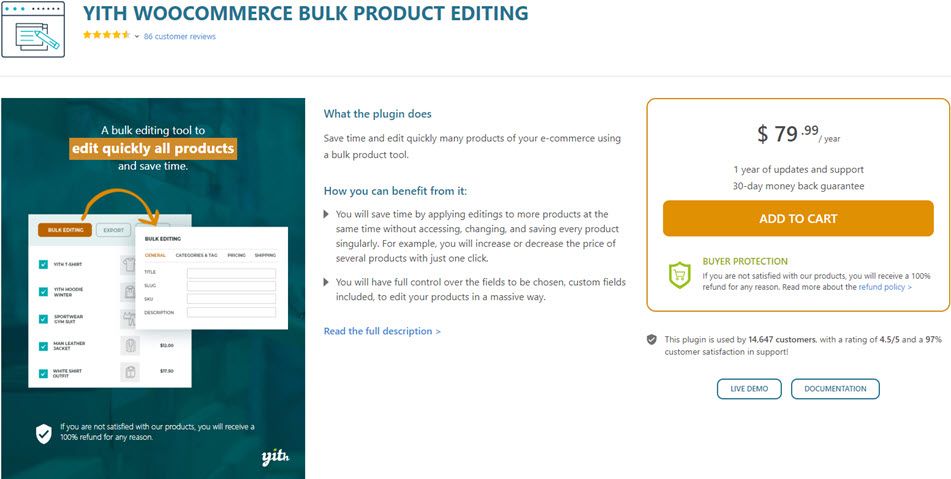 YITH WooCommerce Bulk Product Editing is a fantastic Bulk Product Editing tool that gives immense flexibility in product filtration while processing Bulk editing for WooCommerce products. In addition, it is a helping hand if you handle lots of editing for store management. Save a lot of time by assigning massive editing tasks for your thousands of products to a well-oriented extension. Extensive filtering options can be applied to SKUs, tags, product titles, prices, etc. In addition, Bulk editing of multiple variations can be done with this plugin.
Features:
The plugin can create new products or delete bulk products in multiple categories.
Product editing is possible in multiple ways, such as replacing or modifying the titles, changing product prices etc.
Accessible migration facility as you can import and export product data from your store or to your store in XML format.
The native WooCommerce data format allows the export/import of product data from the store and to the store.
Bound editing allows for editing several products with just two clicks.
Both free and premium versions are available.
Price – Regular License – $79.99/annually (1 Site)
Screenshot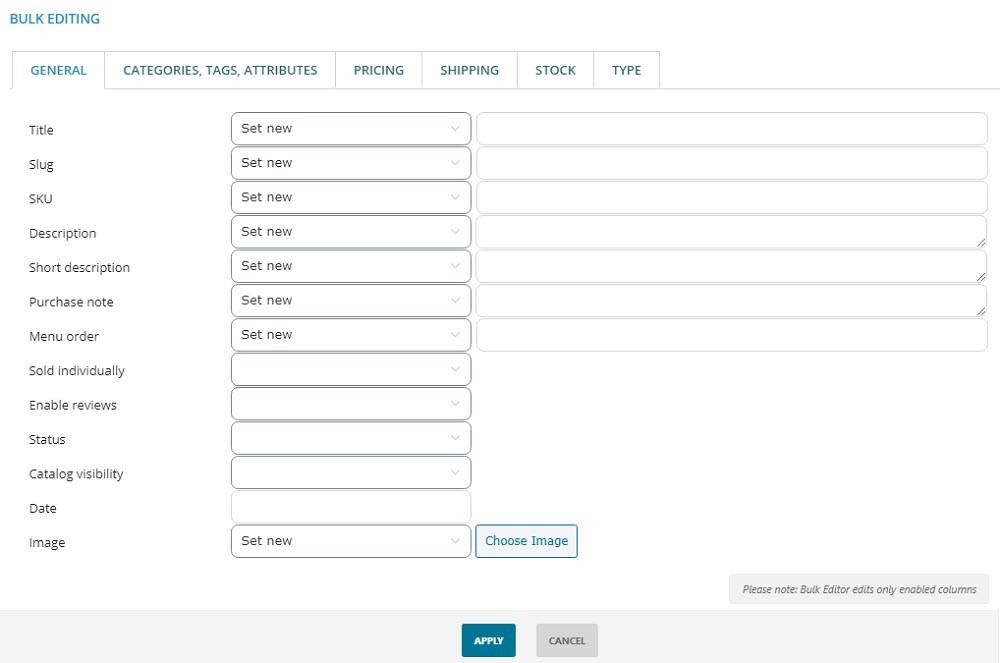 5. ELEX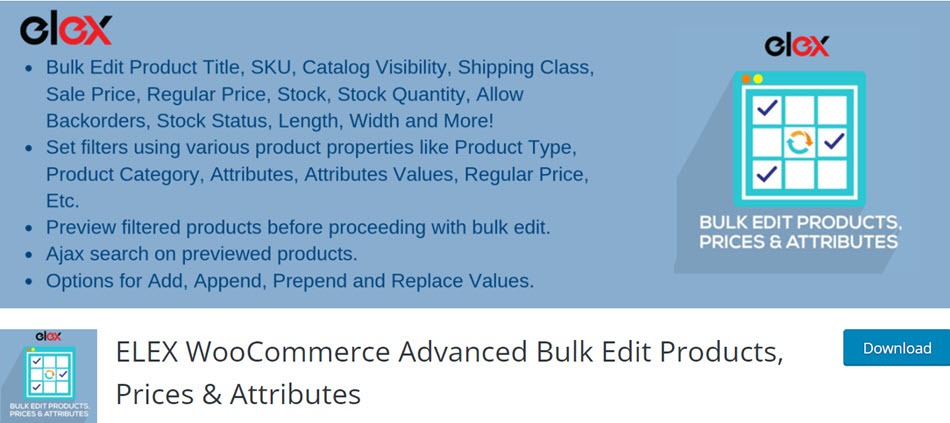 ELEX Bulk Edit Products, Prices & Attributes for WooCommerce was previously known as XAdapter's Bulk Edit Products. This is a free WooCommerce Bulk Editing plugin for fast and Bulk editing of prices, attributes, Stock, Shipping Class, SKU, Coupon or any WordPress post type thru efficient filters. Such an extension tackles editing everything for WooCommerce products, like editing pricing, description, and creating custom fields.
Features:
There are a variety of parameters you can apply for filtration, such as Product Type, Attribute Value, Product Title, and Price.
After applying filters, you get the product preview of the items selected for Bulk editing. But, of course, you can always go back and make changes in case of any mistake with the selection.
You can bulk edit product fields such as Regular Price, Sale Price, SKU, Catalog, Weight, Visibility, Stock, Quantity, Shipping Class, Dimensions, Attributes & Any Product Meta Fields.
The plugin offers the Undo action for the last operation made so that you have the option to cancel the previous activity in case of any issue.
Total number of users – 6,000+
Price – 1 Site – $79/annually,  5 Site – $119/annually,  25 Site – $199/annually
How to Bulk Edit WooCommerce Products & it's Attributes using ELEX Bulk Edit Plugin?
Screenshot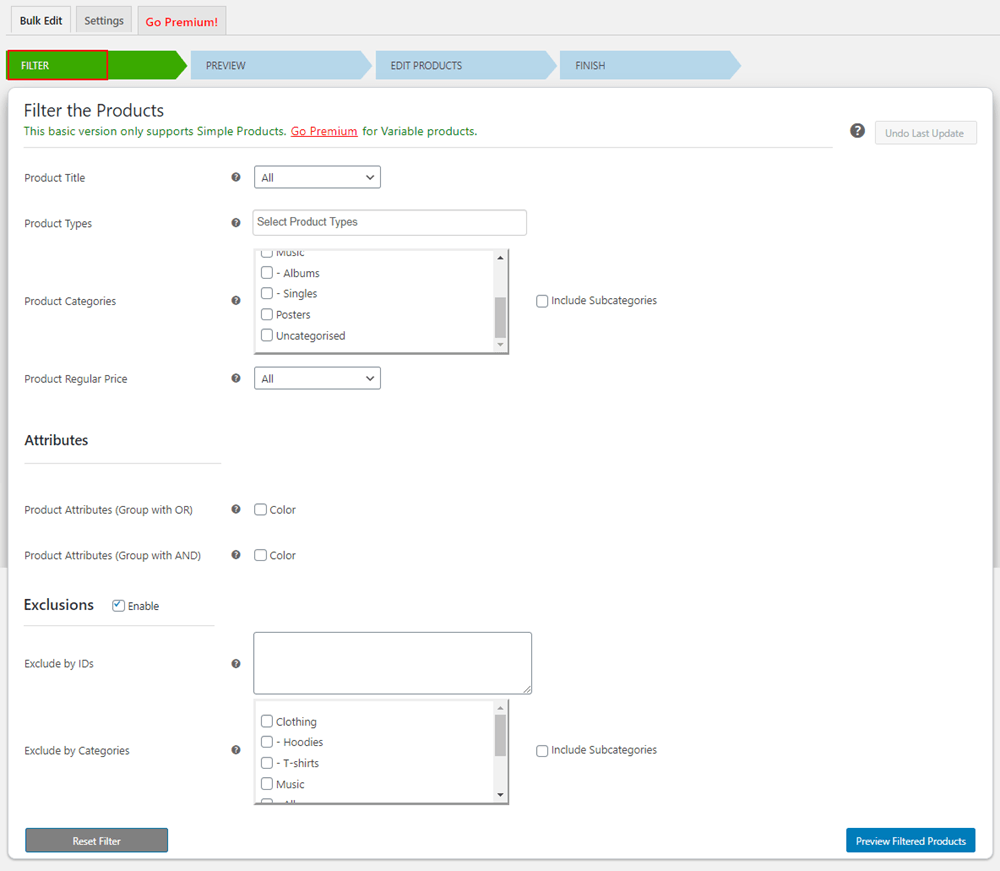 6. PW WooCommerce Bulk Edit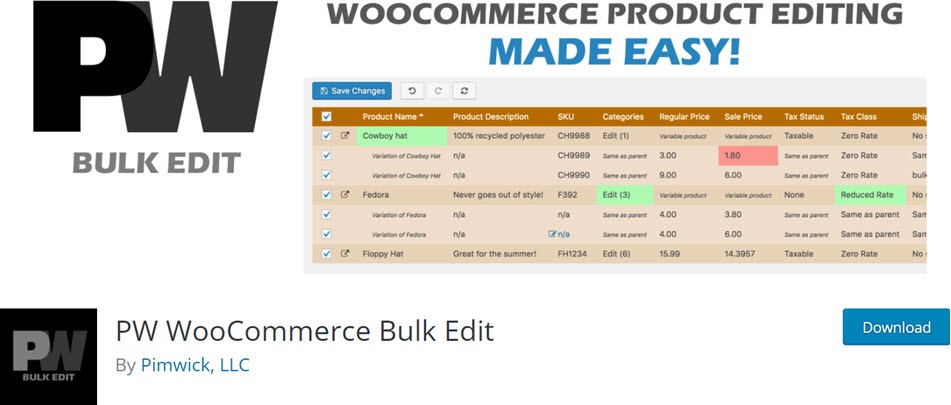 PW WooCommerce Bulk Edit is an intuitive free bulk edit plugin for woocommerce that enhances bulk editing of your product catalogue with minimal effort. It lets you edit many product fields and makes an ideal choice for techies and beginners. It is a fantastic plugin to bulk edit the data related WooCommerce products most flexibly.
Features:
The plugin facilitates both bulk and inline editing.
You get the undo options in case of any mistake before saving the final version.
Variations can be edited, too, just the way products are edited.
Prices can be changed both percentage-wise or amount wisely.
Wildcard searches and keyboard navigation facilities are also available with this powerful plugin.
The plugin is integrated with a Bulk Price Converter tool.
The tool enables you to set the product's price, modify the price and add values to the product prices.
Total number of users – 20,000+
Screenshot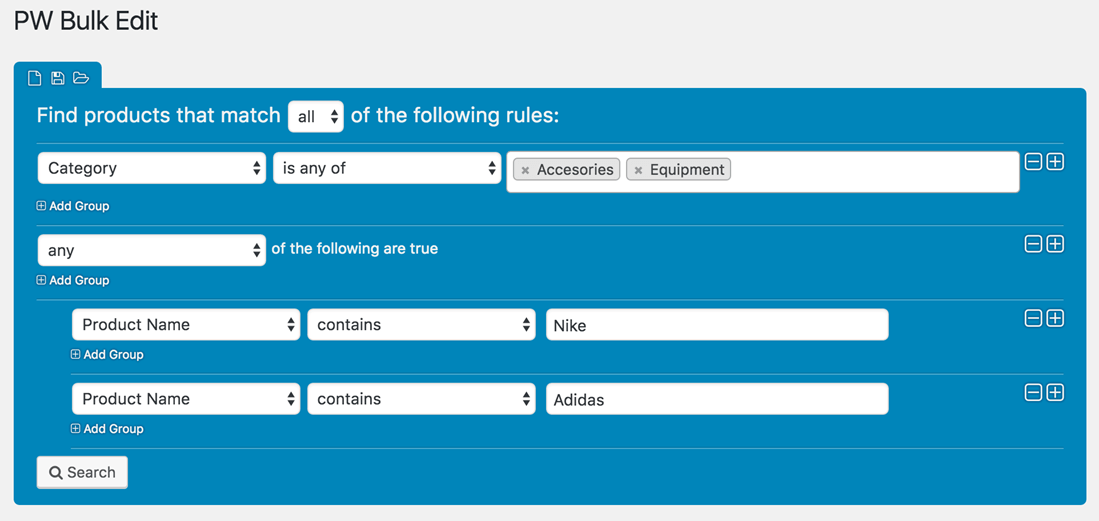 7. WP Sheet Editor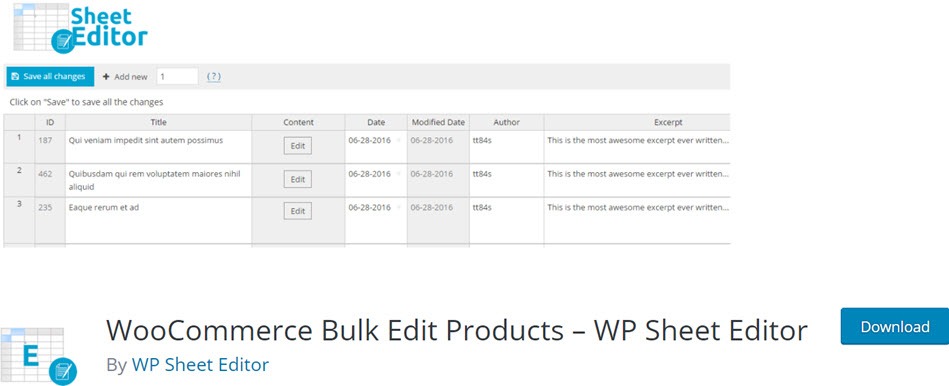 Product Bulk Editor is a highly customizable WooCommerce bulk edit plugin that lets you manage numerous available products in a spreadsheet table. Reduce the hectic work of uploading products and their details by visiting particular product pages. You can view the entire products of your WooCommerce store on a single page. Easily search for any product by typing the product's status, author, and keywords. Configure the setting of any particular product and copy such a setting for more products at once. While using a spreadsheet, update bulk products in a couple of minutes.
Essential Features –
View and edit any product, like simple, variable, virtual or physical products.
Edit the detail of products such as product title, stock quantity, description, sale price, regular price, and more.
Edit product fields where you can edit gallery images, variations, custom fields, and attributes.
Manage inventory and upload bulk products using formulas.
You can also tag the products or select the category.
You can also set a final price correction facility.
Total number of users – 5,000+
Price – 1 Site – $29.99/annually,  2 Site – $36.99/annually,  10 Site – $99.99/annually,  Unlimited Site – $149.99/annually
WooCommerce Bulk Edit Products in Spreadsheet
Screenshot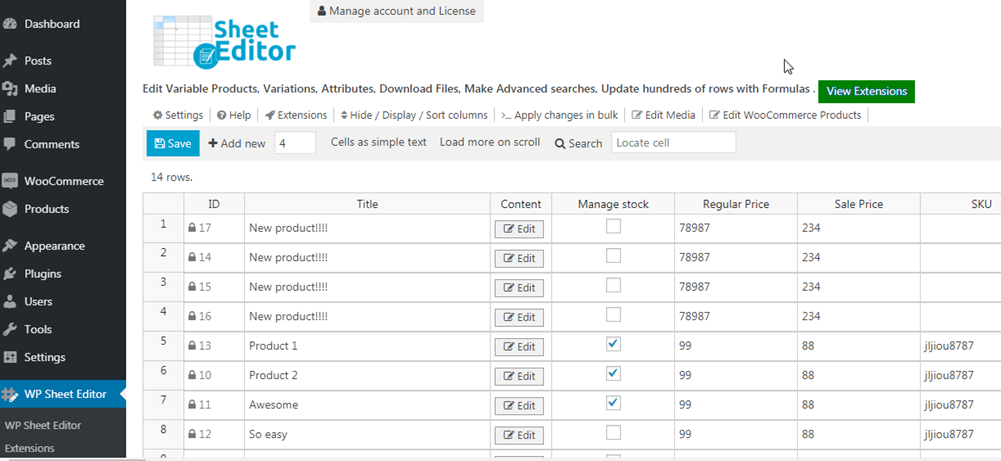 8. Bulk Edit Posts and Products in Spreadsheet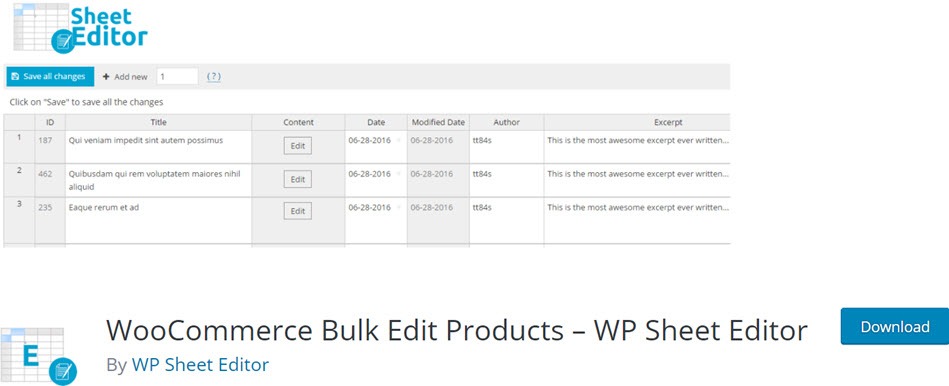 Bulk Edit Posts and Products is a highly integrated free post bulk editing plugin that enables your WooCommerce store to edit posts and products in Spreadsheet. It saves a lot of time by using this bulk edit plugin for WooCommerce. Let you add new products or products or edit pre-existing products or posts within seconds. It supports Gutenberg and Classic Editor, where anyone efficiently edits the post content using a spreadsheet. There is no need to visit many pages to edit the post or wait for the load and save of the post editor.
Essential Features – 
Let you edit entire core fields of posts and pages in a spreadsheet.
View and edit available WooCommerce products, posts, and pages in a spreadsheet.
Navigate numerous posts and products with the keyboard.
Edit a hundred posts at once, even without reloading the page.
Let you arrange the order of the Spreadsheet by any selected columns.
Total number of users – 4,000+
Price – 1 Site – $29.99/annually,  2 Site – $36.99/annually,  10 Site – $99.99/annually,  Unlimited Site – $149.99/annually
How to edit WordPress Posts and Pages using a Spreadsheet - FREE
Preview: Edit content with gutenberg in the spreadsheet
Screenshot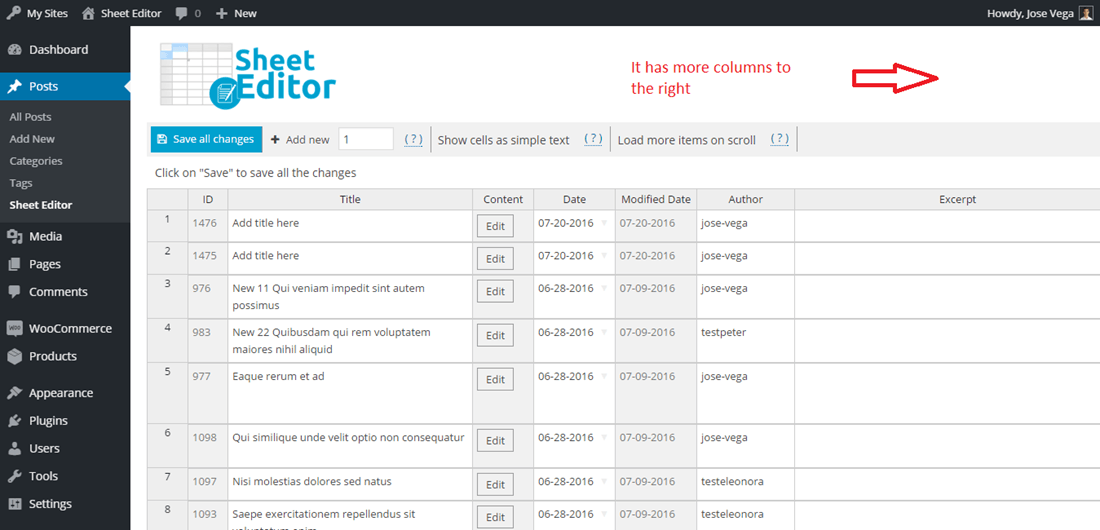 9. Bulk Edit Categories and Tags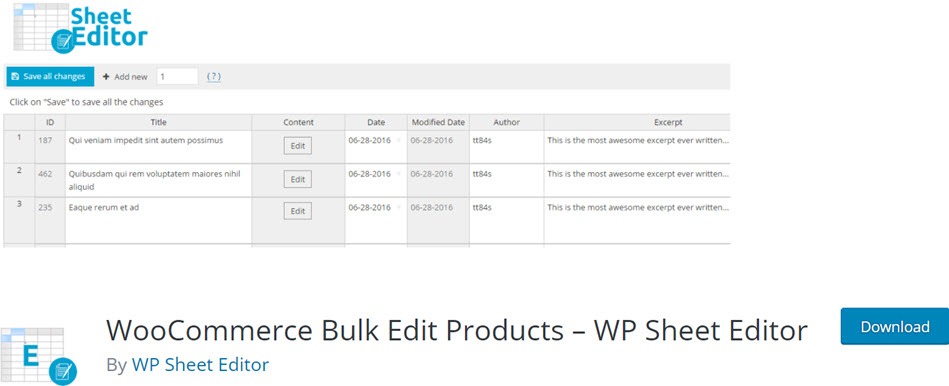 Bulk Edit Categories and Tags is a well-oriented featured category and tags bulk editing Plugin for viewing and editing numerous blog categories and tags instantly. This fantastic extension saves you from importing and exporting by presenting the information of every category in a table. Apply the live changes while you edit and save. Let you see categories and tags of available blogs on a single page. Edit descriptions of categories and enable searching of categories with keywords. Such a feature-enriched extension eases the functionality of editing the categories and tags available in the blogs.
Elementary Features –
Instantly copy and apply information from one category to hundred categories.
View categories and tags along with their information in a spreadsheet table.
Create and edit all the core fields of tags and categories.
Display category hierarchy on the spreadsheet table.
Let you edit each product's attributes, colours, and sizes in one Spreadsheet.
Total number of users – 2,000+
Price – 1 Site – $29.99/annually,  2 Site – $36.99/annually,  5 Site – $49.99/annually,  15 Site – $99.99/annually,  Unlimited Site – $199.99/annually
Bulk Edit Categories and Tags in a Spreadsheet / WordPress
Screenshot