11 Best WooCommerce Spin To Win Wheel Coupon Plugins 2023
1. Spin Wheel For WooCommerce

Spin Wheel for WooCommerce is a nicely integrated extension that lets you add ''heel of Fortune to your e-commerce websites. Increase conversions and sales by offering your customers to spin such a ''heel of Fortune that lets them win discount coupons. He will allow you to spin wheel custom to engage your customer in the online store for fun and win discount coupons. Although, customize and making a pinwheel as you require to display. Modify the text and colour of the custom spin wheel to enhance its look and feel that match the standard of your website.
Core Features –
Configure the number of slices of the colourful pinwheels you want to display and the prize for each slice thereon.
Enable a popup window at the corner of the screen with the spin wheel.
Let the admin live preview the change before applying it.
Target a specific location to place the wheel spinner that increases sales and retains customers on your site.
Add spin wheel on any page or post like landing page, product page, thank you page, etc.
Price – 1 Site – $49/annually
Spin Wheel for WooCommerce - The Ultimate Sales Booster
Screenshot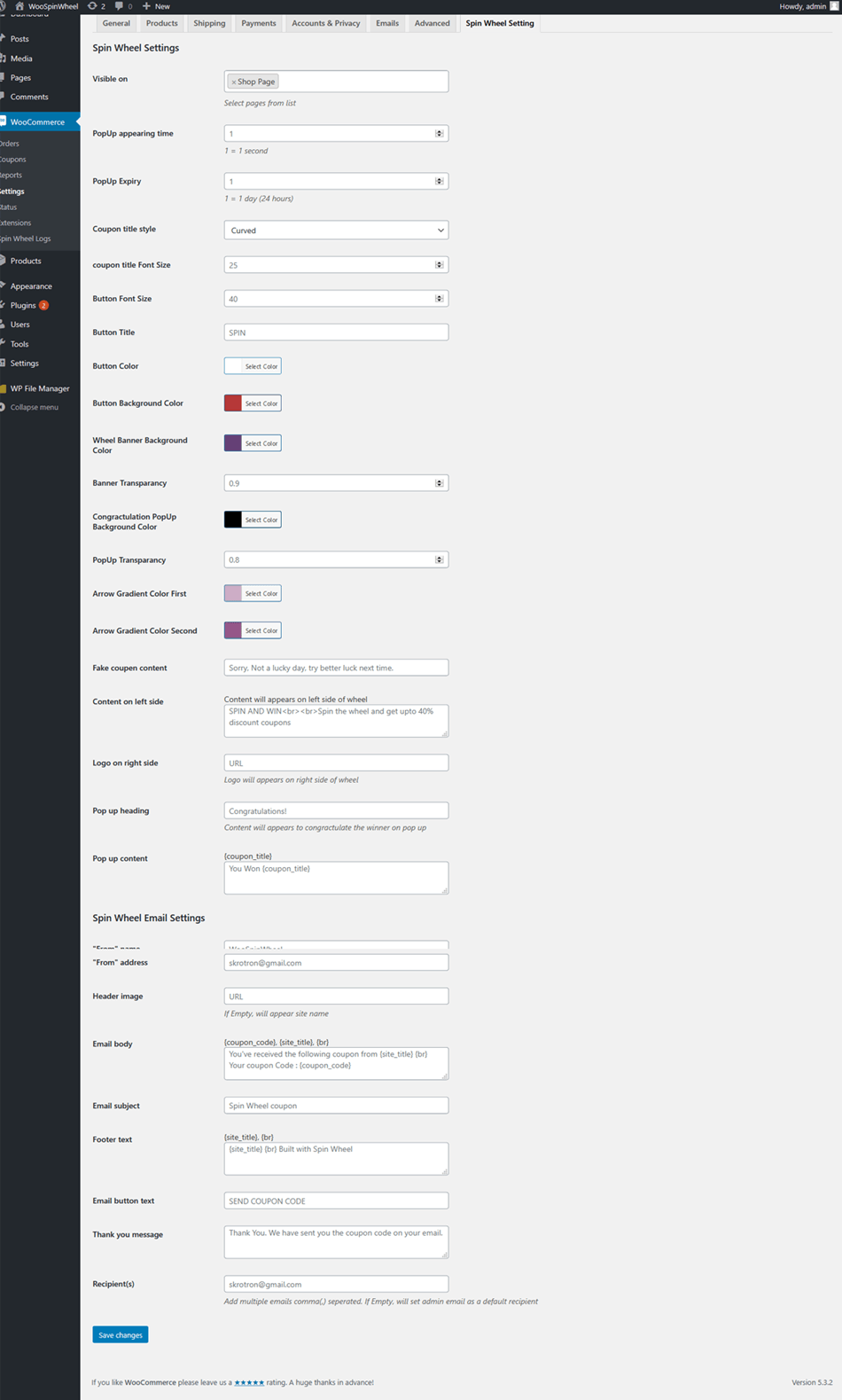 2. Spin to win WooCommerce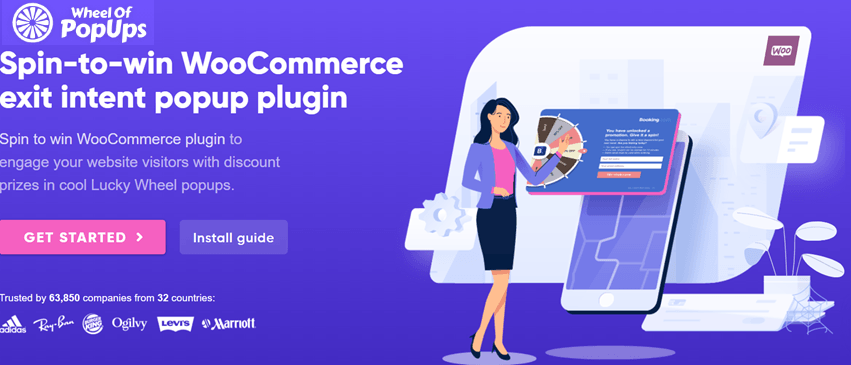 Wheel of Pop-Ups is a well-oriented extension for instantly creating and accessing online spin the Wheel on your online store. Engage more customers as you give them a chance to win exclusive discount coupons by a wheel spin generator. His unique spin-to-win scheme lets your visitors feel lucky while shopping on your website. Customize your spin to win Wheel and place it anywhere on your website, wherever you deem adequate. Provide your visitors with the best shopping experience by availing yourself of their discount coupons as a reward for a win to spin that Wheel. Increase conversions instantly, even without wasting your time on designers, install Wheel of Popups, and access win-to-spin accessories right on your website.
Essential Features –
Let you create an intuitive prize wheel popup for the WooCommerce store.
Collect personal data of your visitors like email ID, phone numbers, and more and utilize it later for marketing strategy.
Boost sales by offering visitors discount coupons while creating a spin wheel that they want to redeem immediately.
Price – Basic – $19/annually (5,000 pageviews),  Startup – $49/annually (30,000 pageviews),  Business – $149/annually (100,000 pageviews),  Enterprise – $249/annually (500,000 pageviews)
Screenshot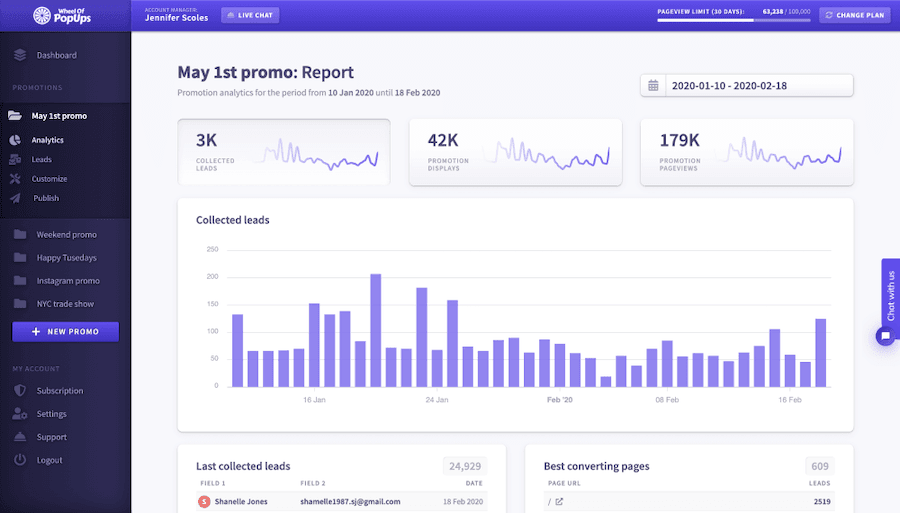 3. optimonk gamified popups

Optimonk is a well-versed and lightweight plugin for establishing gamified popups on your website to increase sales. Your customer gets a better user experience while shopping on your website. Lucky spin the wheel custom is one of the best gamification popup alternatives to attract your audience instantly. Enable your visitors to spin the Lucky Wheel and let them win various discount coupons and other gifts. Moreover, it will help you collect your visitor's email addresses effortlessly and without disturbing them. optimonk provides various options to customize your lucky custom spin the Wheel according to the existing theme.
Essential Features –
Customize the colour, text, and overall style of the lucky free spinner wheel in minutes.
Configure the spin of wheel slices and assign rewards for each slice, like discount coupons, free shipping, and more.
Highly responsive on multi-device with excellent user experience anywhere and anytime.
Target audiences by availing them of spin to win gamification popups on the checkout page, cart page, or elsewhere to reduce the chance of abandoned carts.
Price – Essential – $290/annually (25,000 pageviews),  Growth – $790/annually (100,000 pageviews),  Premium – $1990/annually (500,000 pageviews)
Screenshot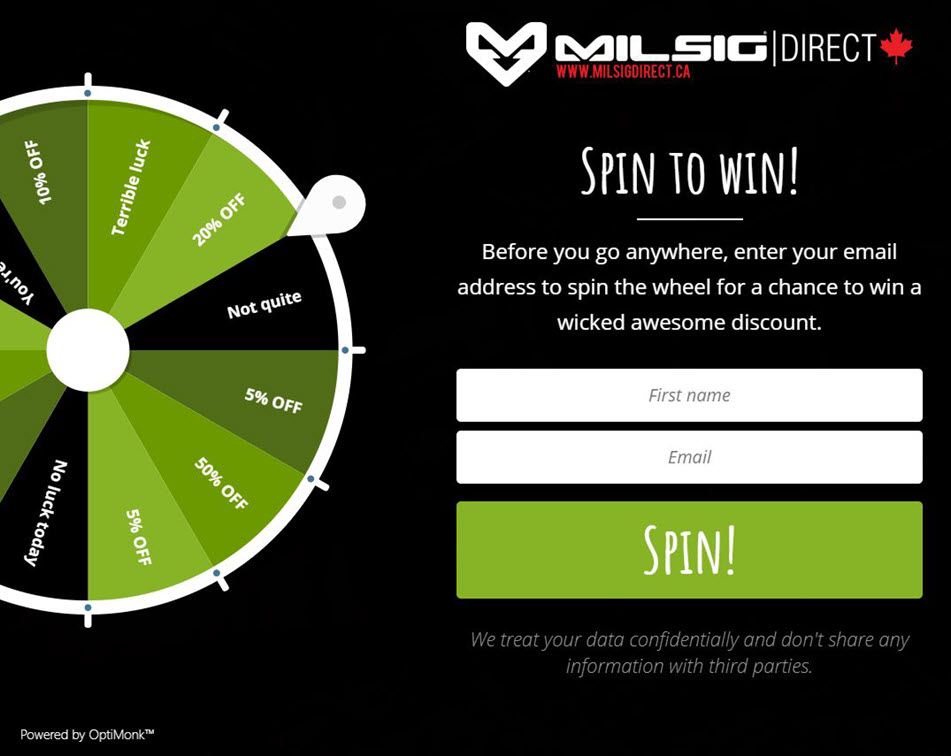 4. OptinMonster

Optinmonster is intuitively designed to create a coupon spinning wheel generator on the website that engages more visitors with spin-a-wheel games. Higher chance to convert such visitors into reliable customers on your online store. It is an effective spin a wheel generator game anywhere on the website to grab the attention of your visitors and let them continue to purchase. Customize such wheel gamification on your own and configure eligible gifts for each slice. Accessing such a spin wheel game smoothly on any device provides a more extensive user experience.
Integrated Features –
Customize colour, fonts, text, and more of the discount wheel popup to match it with the look and feel of the website.
Configure the winning chance on spinning and discount coupons displayed on the screen while spinning the Wheel.
Professional and ready-to-use templates are available for creating spin wheels effortlessly.
Create an intuitive spin to win Wheel from scratch with a drag-and-drop builder where you can easily insert icons, videos, logos, etc.
Price – Basic – $108/annually (3,500 pageviews),  Plus – $228/annually (15,000 pageviews),  pro – $358/annually (50,000 pageviews),  Growth – $588/annually (250,000 pageviews)
Screenshot
5. Adoric Free WP popup plugin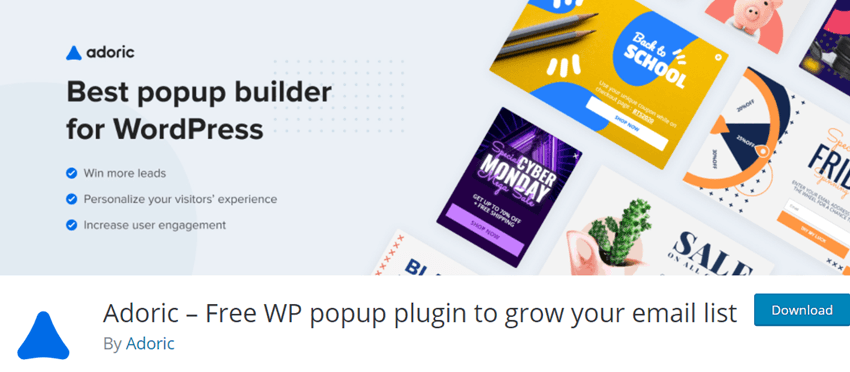 Adoric is a lightweight and integrated solution for WooCommere where you can add a spin wheel discount to your website that extracts more engaging traffic thereon. You don't need to worry about coding anyone can easily configure this easy-to-use plugin on your own in minutes. Offer your visitors to spin the theme generator wheel and get exciting discounts and coupons they could utilize while shopping. Adoric provides you with all the essential elements required to create and customize the spin wheel for your website. And designing your spin wheel from scratch with a drag and drop interface. Increase conversions of visitors into reliable customers and lead with this interactive spin the wheel ideas marketing strategy.
Elementary Features –
Provides dozens of ready-made templates from which you can effortlessly create wheel spin custom accordingly.
Configure spinning rewards and outcomes that your visitors access later on.
A mobile-ready interactive win-to-spin game that lets your visitors don't miss the chance of getting rewards.
Just add a wheel spin on your websites, like a landing page, checkout page, and add-to-cart page.
Total number of users – 50+
Price – Essential – $29/annually (25,000 pageviews),  Standard – $79/annually (100,000 pageviews),  Pro – $199/annually (500,000 pageviews)
Adoric #1 Pop-ups builder for Shopify
Screenshot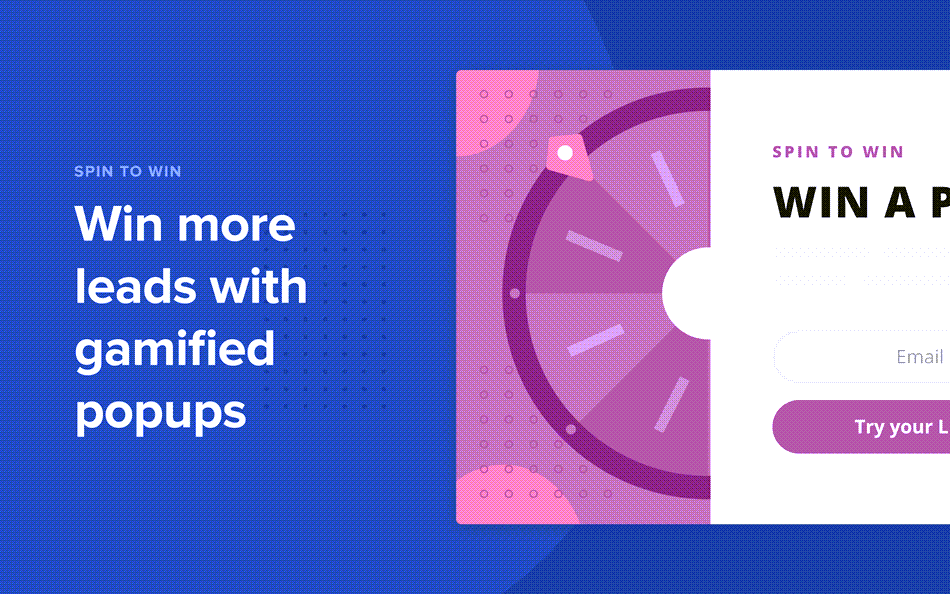 6. Cred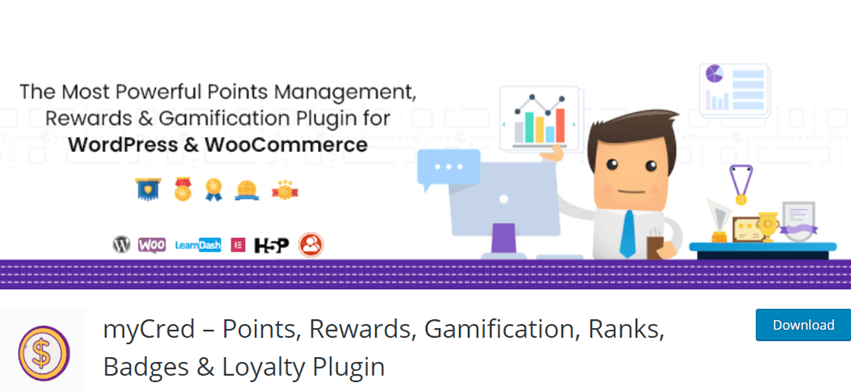 To build any digital rewards like ranks, badges, and points for your WooCommerce/WordPress website, you can use MyCred. It is an adaptive and intelligent spin the wheel plugin that is beneficial for managing and building digital rewards. Living digital rewards to customers brings endless possibilities by building brand loyalty. Surveys suggest that sales on your website increase by 10% after using this reward spin wheel WordPress plugin.
Users cab be awarded using begets, ranks, and points. And based on their position, you can give them either a discount or points. Points can be redeemed at a later stage instead of real money.
With mycred, you can import/ export point types and user points using the title, ID, or slug. There's an export setup used to create user badges and ranks. These badges on social media profiles are possible with this spin wheel plugin. The recent update of this spin the wheel WordPress plugin has made navigating between general settings, hooks, and logs easier. Ideas and suggestions are welcomed on the new page to create a better user experience.
Total number of users – 20,000+
Price – 1 Site – $69/annually,  5 Site – $139/annually,  10 Site – $299/annually
myCred | Rewards & Loyalty Plugin for WordPress
Screenshot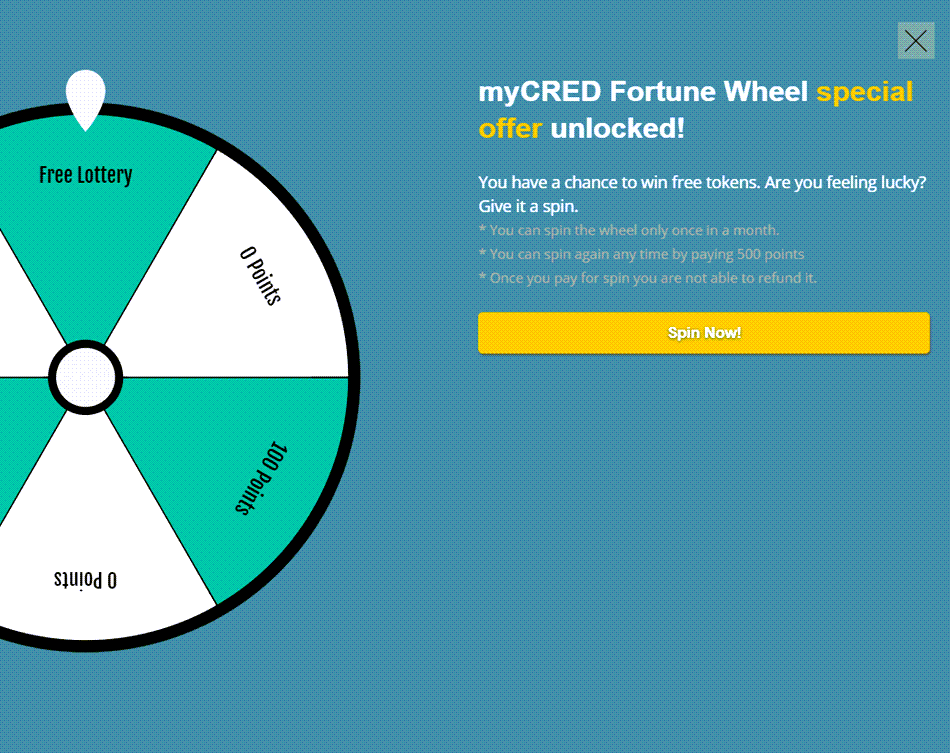 7. GamiPress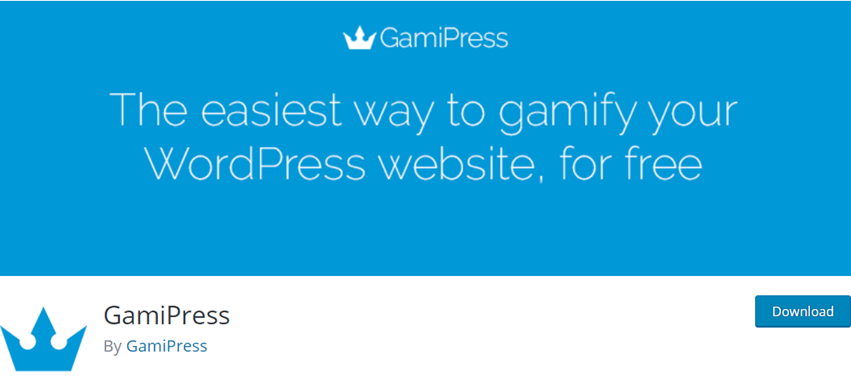 To gamify your website quickly and give digital rewards to users for interacting on your website, you should use GamiPress. His intensively extensible and powerful spin to win the WordPress plugin defines requirements and helps users choose from various tasks. Then it will determine whether the job has been completed successfully.
There are points, ranks, and achievements for every user, which will be combined to provide awards for them. With this spin wheel plugin, WordPress will automatically add or deduct from users' accounts during shopping, different types of points, badges, and ranks are available. In this spin and win WordPress plugin, a time limit is given to customers to use the point, after that, it expires. You can put up conditional requirements for customers to unlock achievements. Users get a chance to share their achievements on social media every time they unlock a new badge. User-friendly blocks are inbuilt, and emails are sent to help customers see their points.
Total number of users – 10,000+
Price – 49$ Annually Per Addon Per Site
Screenshot
8. Discount Win-Wheel For WooCommerce

For your customers to test their luck using the spin the Wheel of fortune plugin and try out new and exciting rewards, you should try Discount Win-Wheel For WooCommerce. Spin to win plugin helps keep your customers engaged and helps generate quality leads, and improves the user experience for your WooCommerce store. Email id of customers is required to enter the contest.
This customizable lucky wheel plugin WordPress will allow you to choose the on-page position of the spin the wheel popup. A so you can customize the Wheel itself to match the design of your website and set a favourable segment for the Wheel. The discount wp optin wheel plugin can be integrated with mautic. E porting coupon winner list in bulk is possible using the Discount win wheel.
The usage limit of the spin the Wheel to win segment can be set up for customers so they do not overexploit it. So, you can display coupon limits and set a usage time for the clients to use coupons.
Price – 1 Site – $39/annually,  5 Site – $59/annually,  25 Site – $179/annually
Screenshot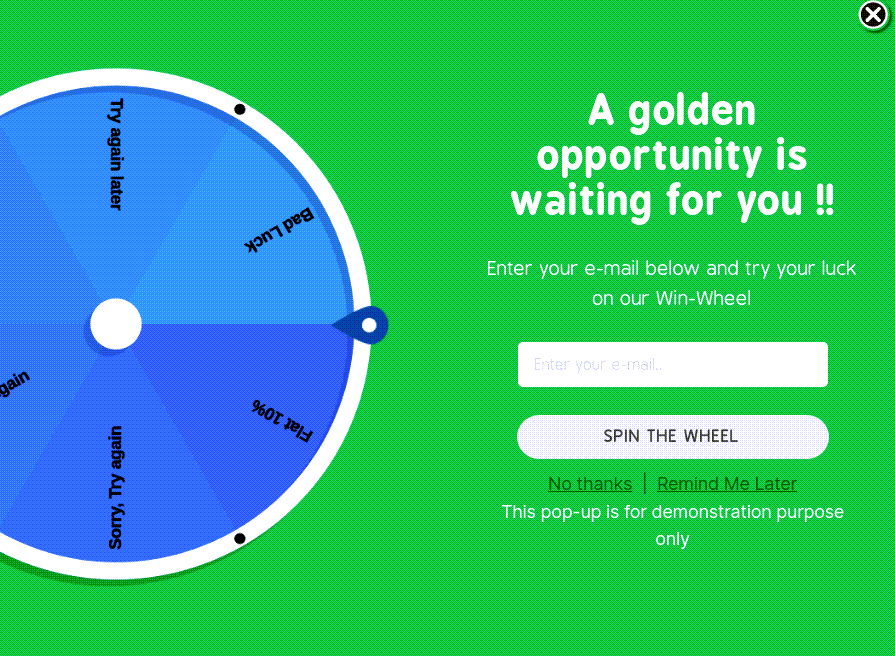 9. Coupon Wheel For WooCommerce and WordPress

The coupon spin generator wheel is an advanced gaming popup coupon plugin for your WordPress and WooCommerce store. It is a lightweight plugin with a lucky spin wheel WordPress plugin package size of less than 299KB. Using this plugin, you can engage your customers by showing up a spinning wheel fortune. I help to display coupons immediately and send them by mail to customers. It's easy to collect customers' data and subscribe them to mail lists by collecting information. W  have an urgency countdown timer to gather more engagement from customers.
This lucky wheel WordPress plugin works precisely with customizable coupon slices available. There are various features available to enable double opt-in. You can preview and test the coupon before it goes live. You can make ultimate wheels and an unlimited number of precise coupons. This is a mobile-friendly spin the wheel plugin and compatible with major browsers. Coupons can be displayed on specific pages based on the requirement of your website.
Price – Regular license – $29/annually (1 Site)
Screenshot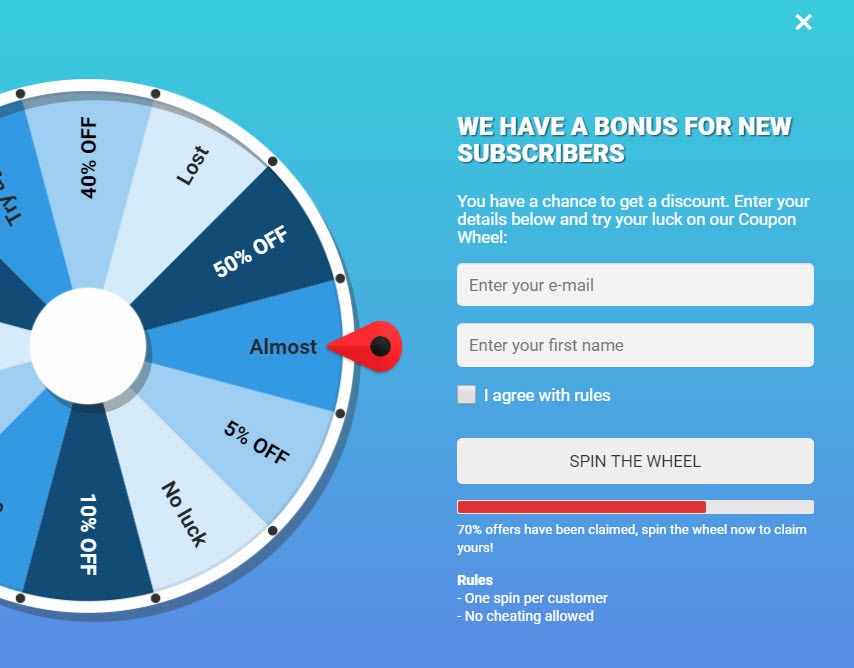 10. .WooCommerce Lucky Wheel

To collect emails from customers who visited your website, use WooCommerce Lucky virtual wheel spinner. This spin wheel com plugin asks for customers' mail addresses before entering the spinning wheel, and people get a chance to win discount coupons.
It allows users to subscribe to emails and auto-generate a unique coupon id every time. You can gather clients' mail addresses and auto-sync to emails from your MailChimp account.
This spin wheel woocommerce plugin helps you to gather subscribers using the spin wheel. I creasing subscribers using this spin name generator plugin is better than others in the market. E ail and mobile subscriptions will help you give customers special offers using the lucky Wheel on your website. Y  can maintain style on your website by displaying the lucky Wheel using a shortcode. The lucky wheel spinner can be customized according to the style and colour of your website. Co pons shown are unique and nonrepetitive every time.
Price – Regular license – $30/annually (1 Site)
Screenshot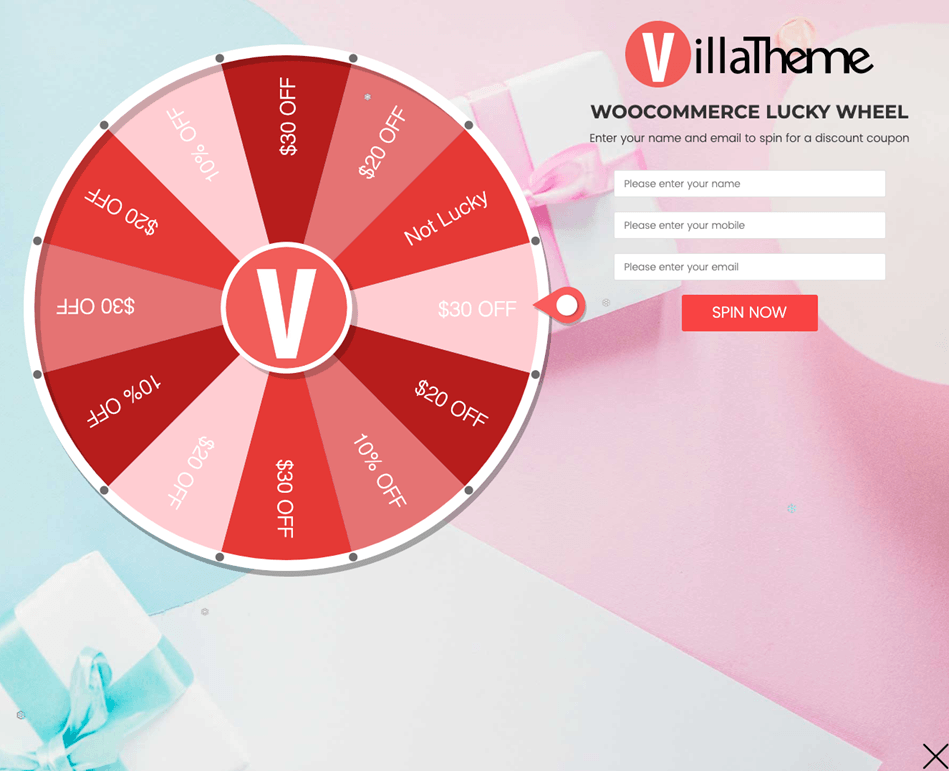 11. ED  Social Discounts

EDD social discount offers customers discounts on liking or sharing products on your website. It is a simple sharing create a spin the wheel tool that can help you turn down discount functionality altogether. You can share standard posts and products from entirely different pages using this.
This wheel giveaway spinner plugin works by listening to events on different social media sites. Suppose it notices a liked or shared product and applies a discount instantly without refreshing the page. A  customizable thanks title message is also shown to customers for sharing.
Sharing products is easy, with a button automatically placed below every product. This virtual raffle wheel plugin applies a discount automatically, and a customized message is sent whenever products are transferred. It supports sharing on google+, LinkedIn, and Twitter. The Linkedin feature is available for Facebook, and it has a custom wheel generator button for each social network. Using this customizable spinning wheel plugin, you can easily translate co ent on your page.
Price – 1 Site – $19/annually,  5 Site – $29/annually,  Unlimited Site – $59/annually
Screenshot