16 Best Podcast WordPress Themes 2023

Are you planning to create a podcasting website and looking for Premium Or free Top Podcast WordPress Themes? Podcasting is now a day trending in the market. You can easily create your followers for your particular brand Using podcasts.

There are many kinds of podcasting niches but these themes collections are suitable for all kinds of business requirements. The most important things about these WordPress Podcasting themes are designed and highly customized to meet your requirement. In Podcasting themes, you can have 2 options to host your Media files. Either you can host your audio files in your hosting or you can Buy Other best podcast hosting services.
Using these podcast themes you can create your podcast channel on your website Which will act as a kind Portfolio for you. You can also manually import your podcast file Using RSS feeds  And you can also publish notes with your Podcast. Almost the successful podcaster have their own hosted podcasting website and channel.  These podcast templates are also highly advanced so that you all sell some of your digital podcasts also a course
You may also be interested in Podcast Plugins and Music themes
So let the list of top podcasting templates be as follows:
Table Of Content
1. Podcrafter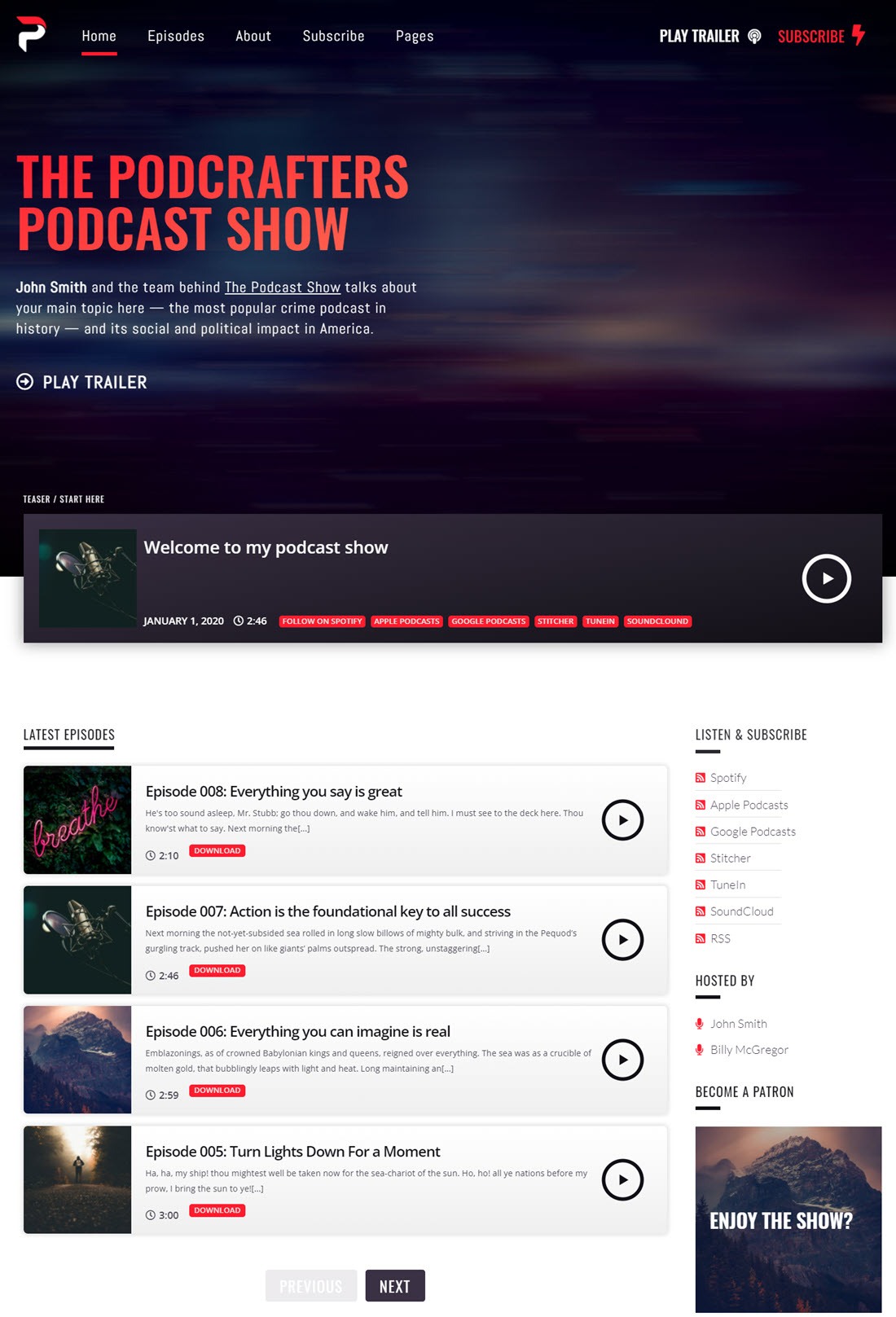 Podcrafter is one of the best podcast themes in the market niche. Both audio and video blogs are supported by this super flexible and clean theme. The unique feature of the template is its podcast audio player that has a real-time sound wave graphic and it allows you to play your featured episode on the frontend of the site as well as on the grid view.
Your RSS feeds are auto validated for Apple Podcast, iTunes, Google Podcasts and Spotify. You can easily share your episodes on the social network sites such as Facebook and Twitter.
Price – All Access – $89/annually
2. Podcaster SecondLine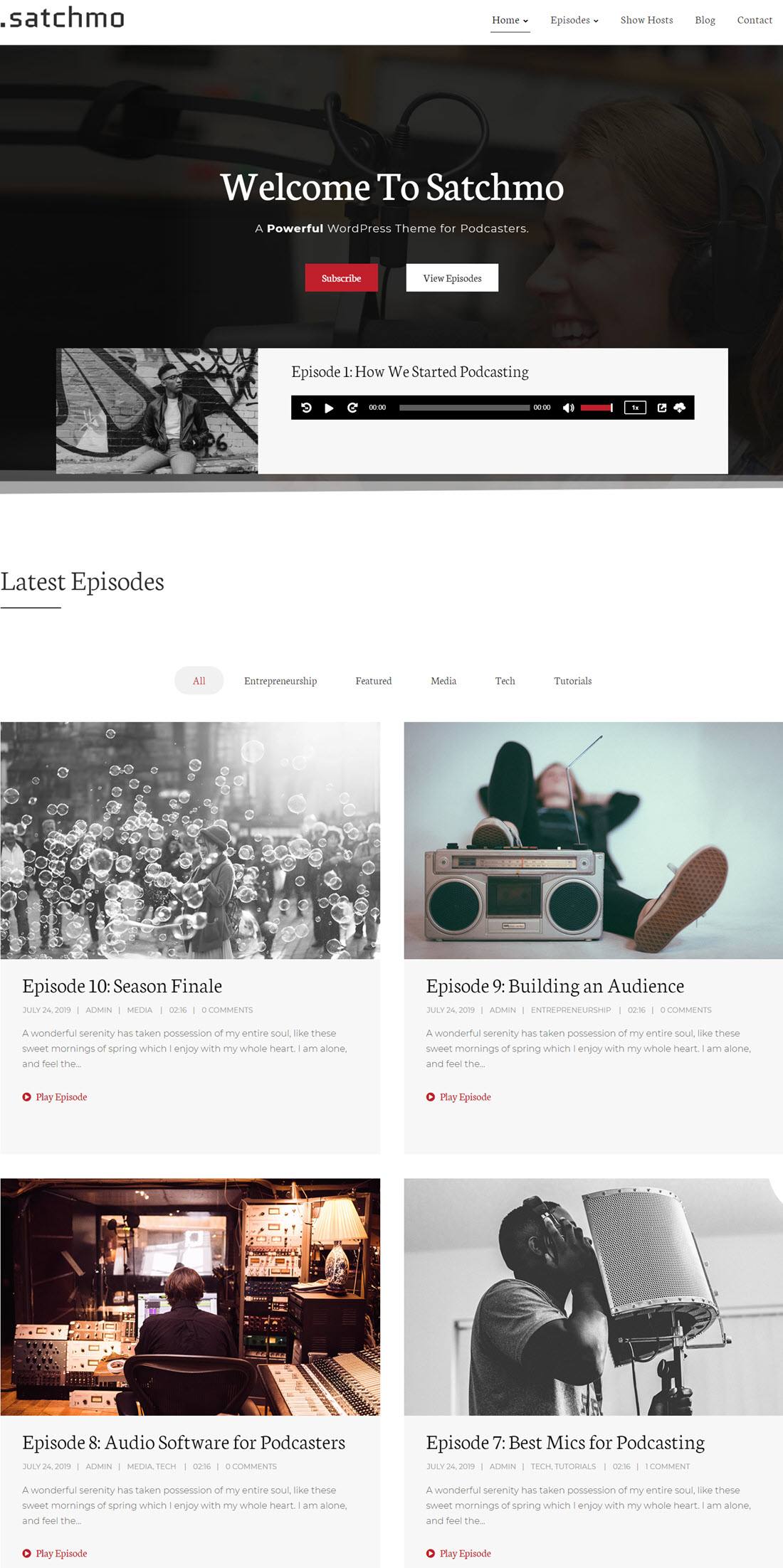 Total number of users – 1,000+
Price – Satchmo – $69/annually (Unlimited), Theme Bundle – $139/annually (Unlimited),  LifeTime Access – $389/OneTime (Unlimited)
3. Nowell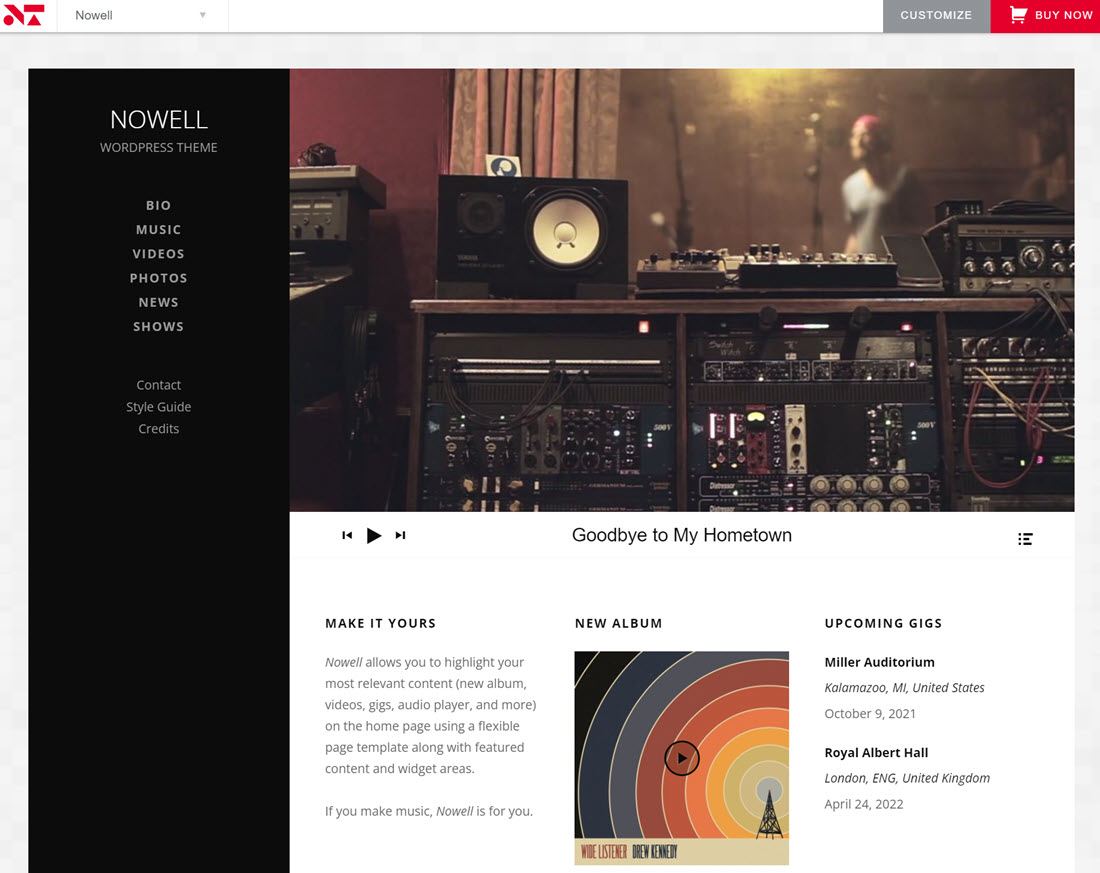 Price – Standard – $69/annually
4. Themify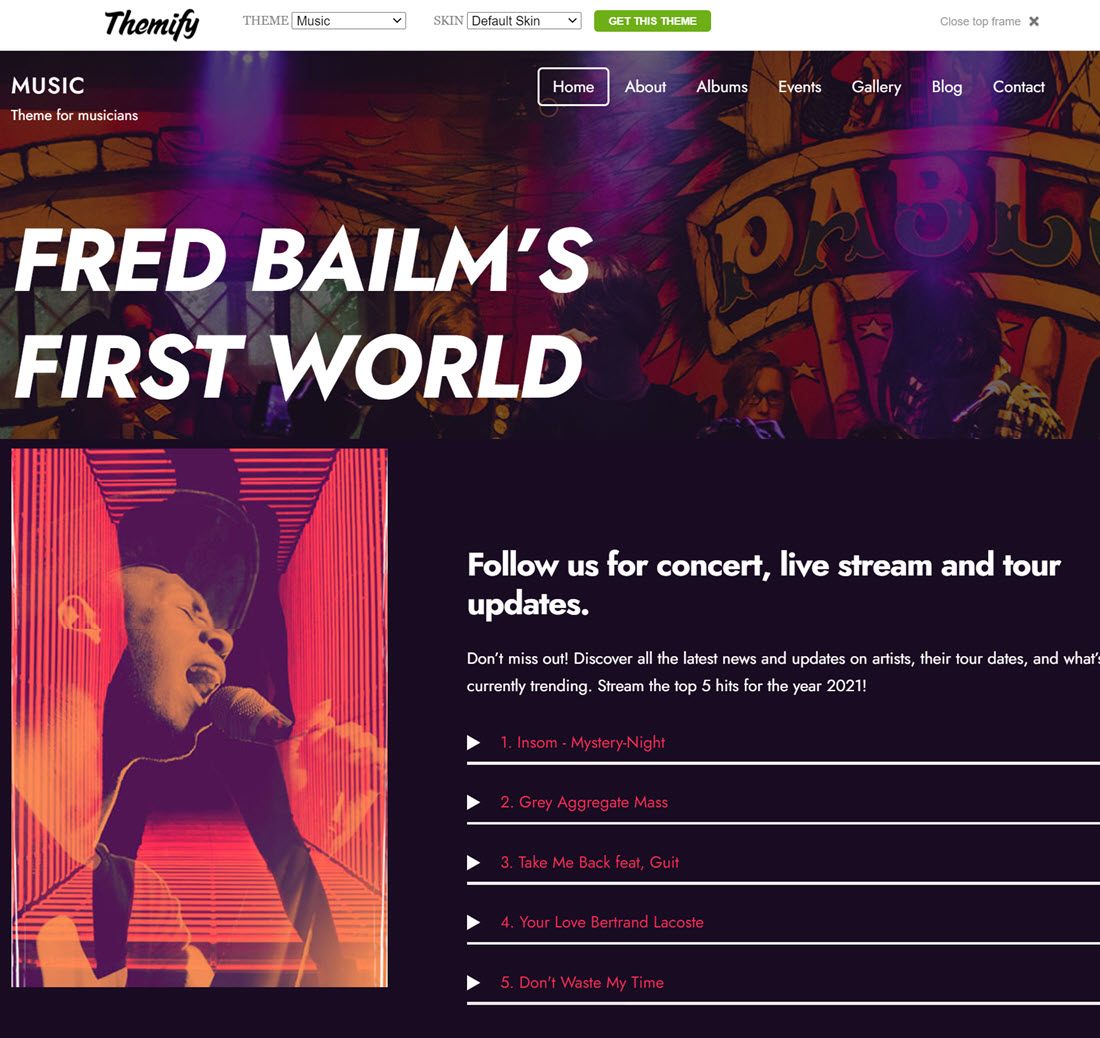 The signature full-screen background image and a fully functional audio player make Music an apt choice for podcasters, musicians, artists, and radio jockeys. It combines all the necessary elements to create an impressive website for podcasts.
Creating unlimited design is seamless with the drag-and-drop builder. A user-friendly demo importer makes the process of setting up the site even easier.
Price – Standard – $59/annually,  Developer – $69/annually
5. Oscillator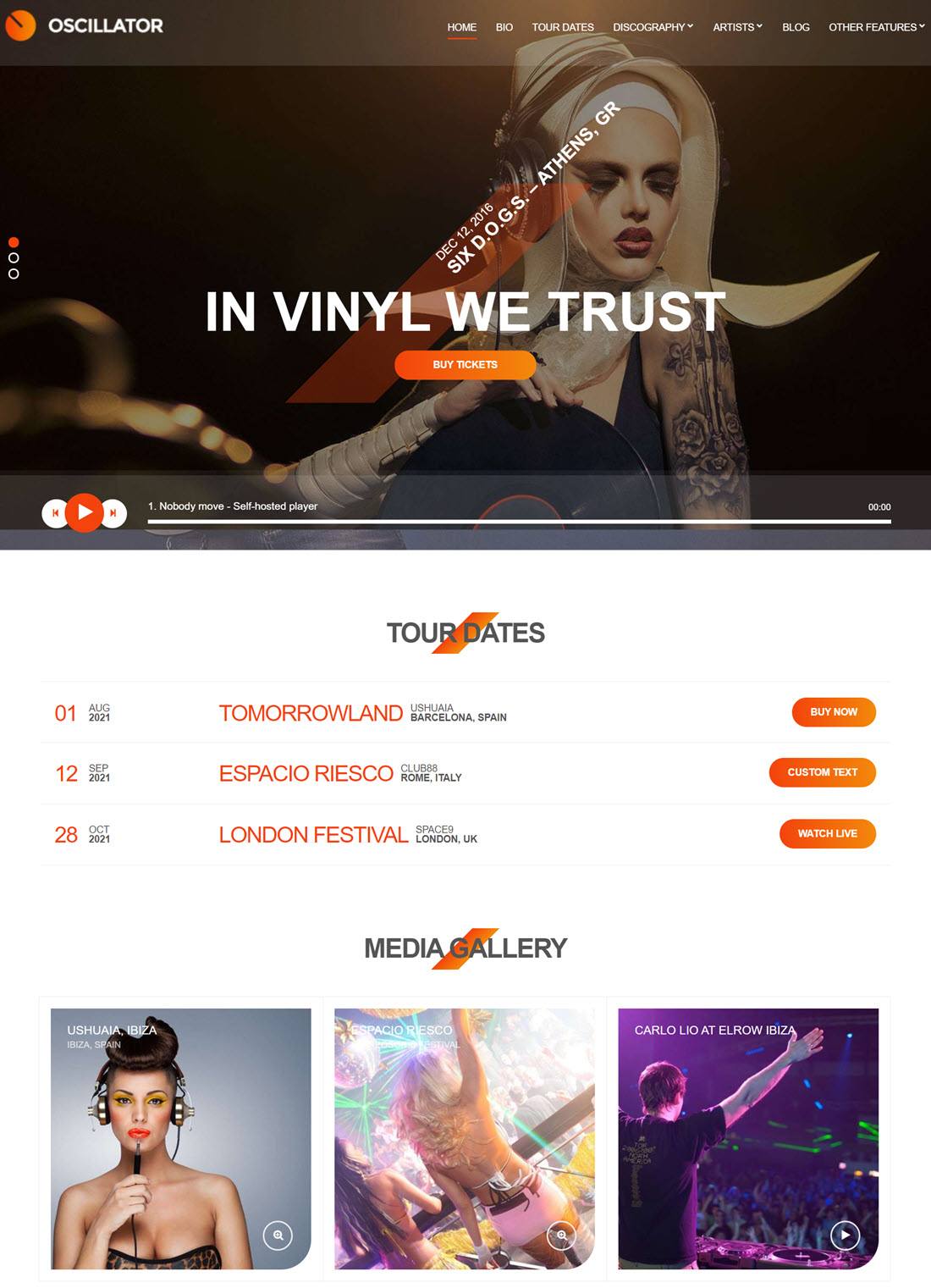 The oscillator is a versatile theme for podcasts, musicians, DJs, and the entertainment industry. The streaming audio player of Oscillator allows the visitors to download the music either through the track-list or tune to the live station. The oscillator is a responsive theme and looks great on any screen size.
The theme offers pre-designed sections for photo gallery, video, events log, slider feature, artists, and discography that make the theme very user-friendly. Social media Integration and custom widgets for content discovery are the other features.
Price – Single Theme – $34/annually (Unlimited), Standard Club – $48/annually (Unlimited), Developer Club – $55/annually (Unlimited),  LifeTime Club – $174/annually (Unlimited)
6. Amplify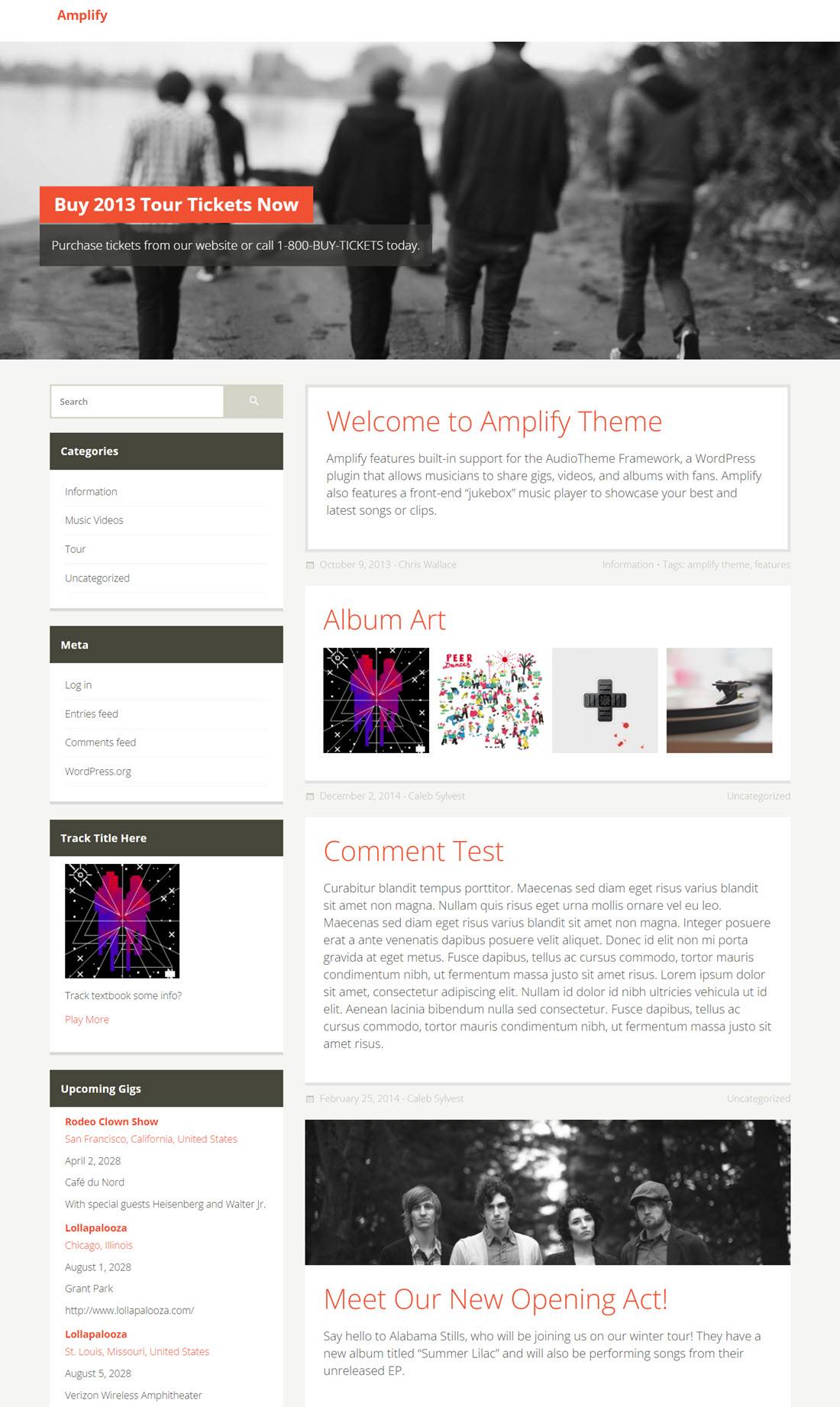 Price – Single Theme – $125/annually (1 Site)
7. Castilo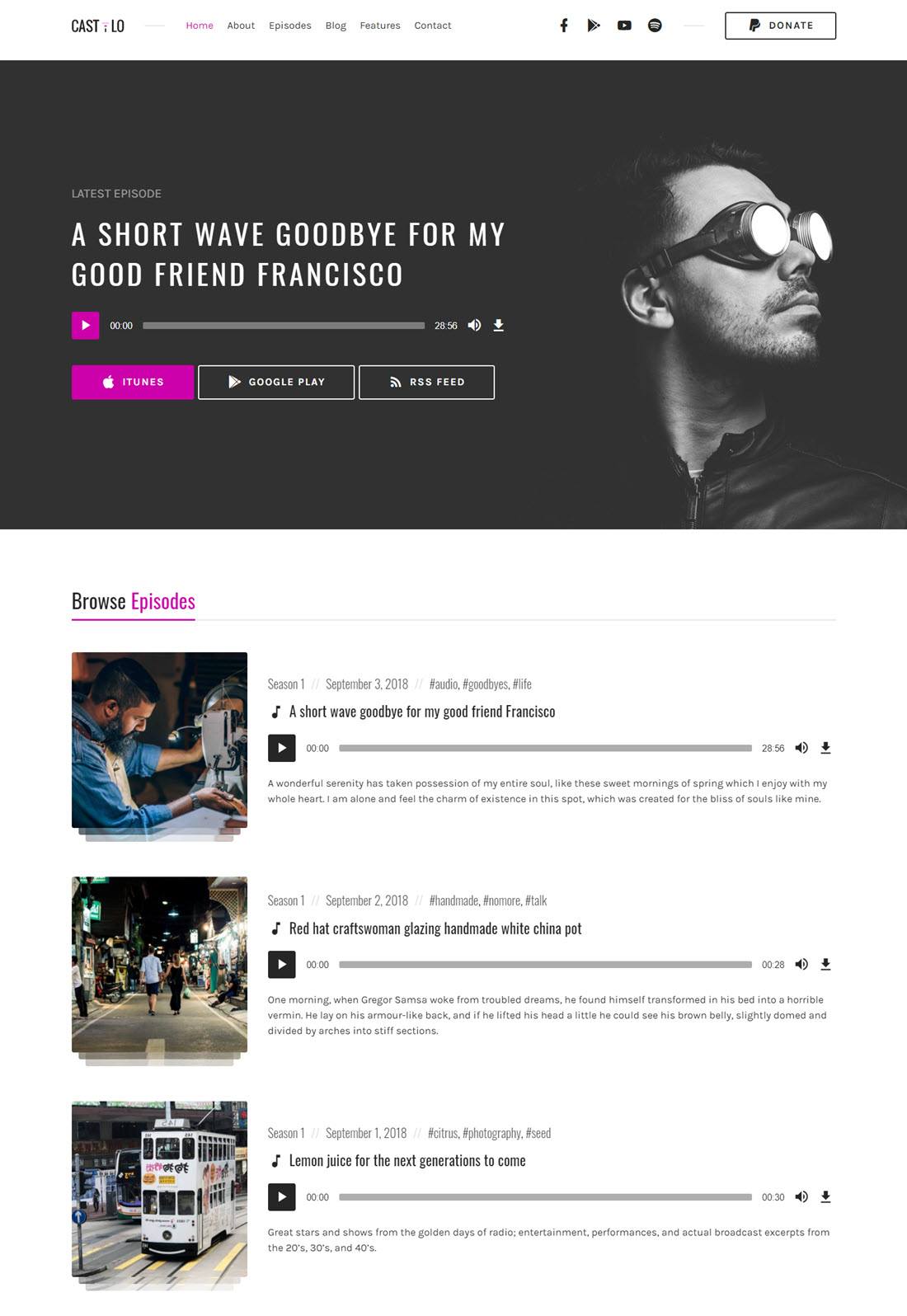 Price – Regular License – $45/OneTime (1 Site)
8. Onair2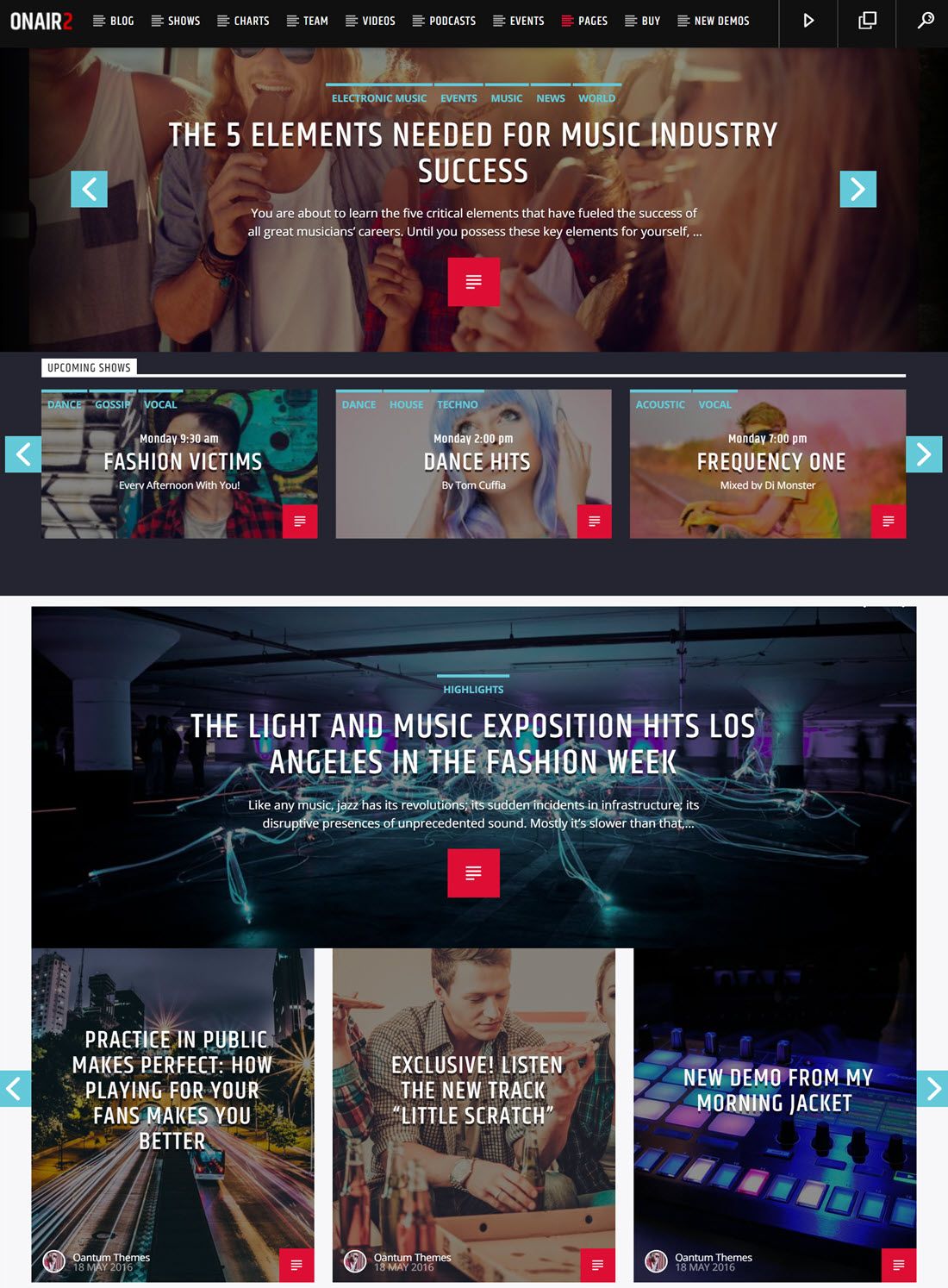 Onair2 is based on the latest podcasting technologies and offers top-notch standards with TuneIn app icons, events carousel, and page builder. You can build out-of-the-box websites with pre-made pages, clean coding, and an animated header.
Creating an original web design is possible even for a beginner with Onair2.
Price – Regular License – $69/OneTime (1 Site)
9. Megaphone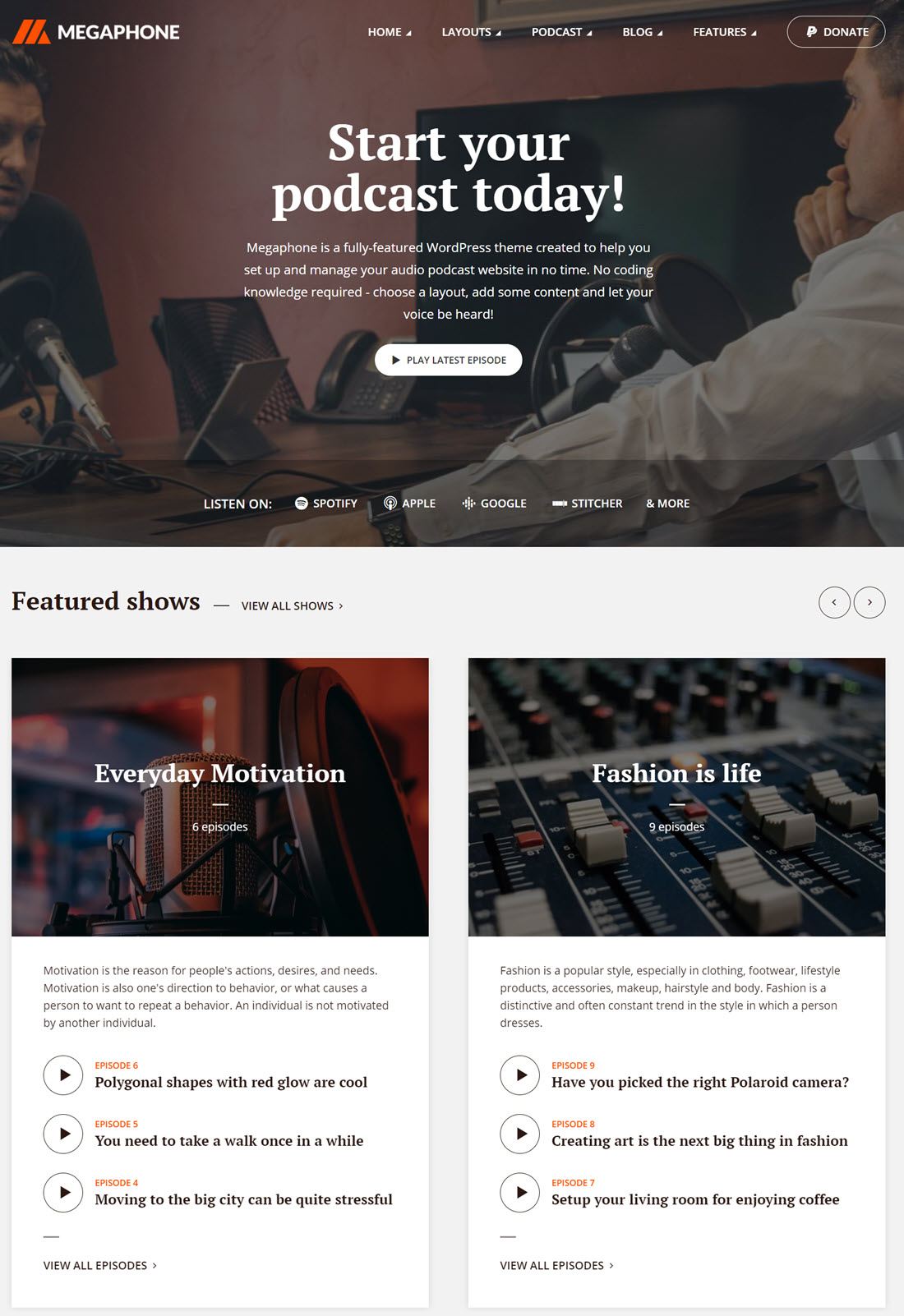 Price – Regular License – $69/OneTime (1 Site)
10. Wpcast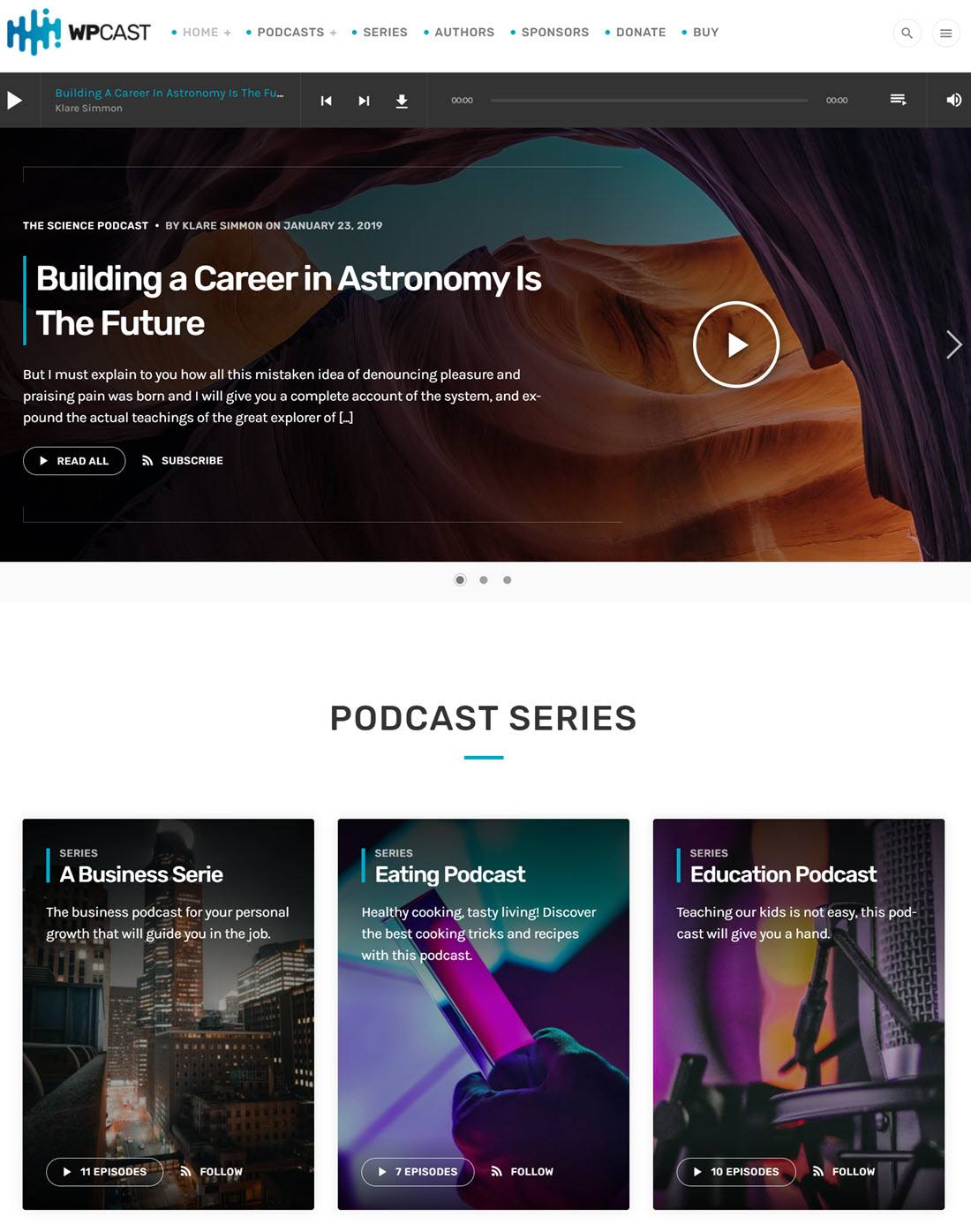 Wpcast is a theme exclusively crafted for podcasters because it holds the potential to support multiple podcasting plugins such as PowerPress and Seriously Simple Podcasting. Besides, locally hosted, external mp3 files and embeds such as Spotify, MixCloud, YouTube, SoundCloud, and Spreaker are all supported by Satchmo.
If you want to create a strong online presence with unique background options and numerous customization options, then Wpcast can be the right choice for you. The stylish and practical theme can be personalized by adding a title, tagline, and logo to your site. The content legibility can be enhanced by controlling the site's color opacity. More than 30 hands picked fonts for you to choose from as per your brand. You can also display the list of upcoming gigs which gets auto-updated to bring the nearest next on the top.
Price – Regular License – $59/OneTime (1 Site)
11. Kentha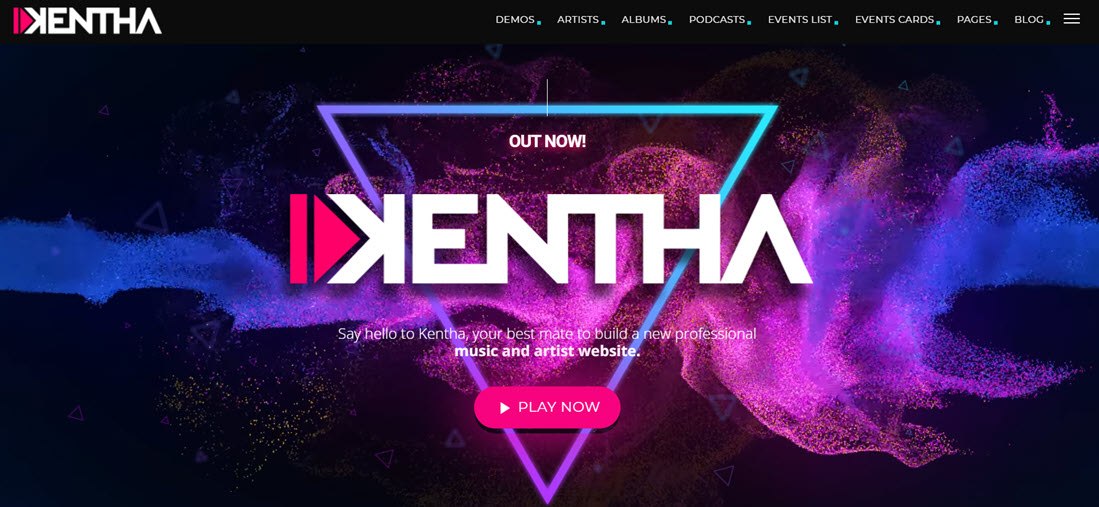 Kentha from ThemeForest is a trendy and powerful theme with a full-screen episode and background player homepage design. The popular page builder WP plugins and podcast plugins are immensely supported by Dixie. Kentha features a podcast host page, multiple layout choices, and signs up forms for newsletters. The theme is translation-ready.
Price – Regular License – $69/OneTime (1 Site)
12. SKRN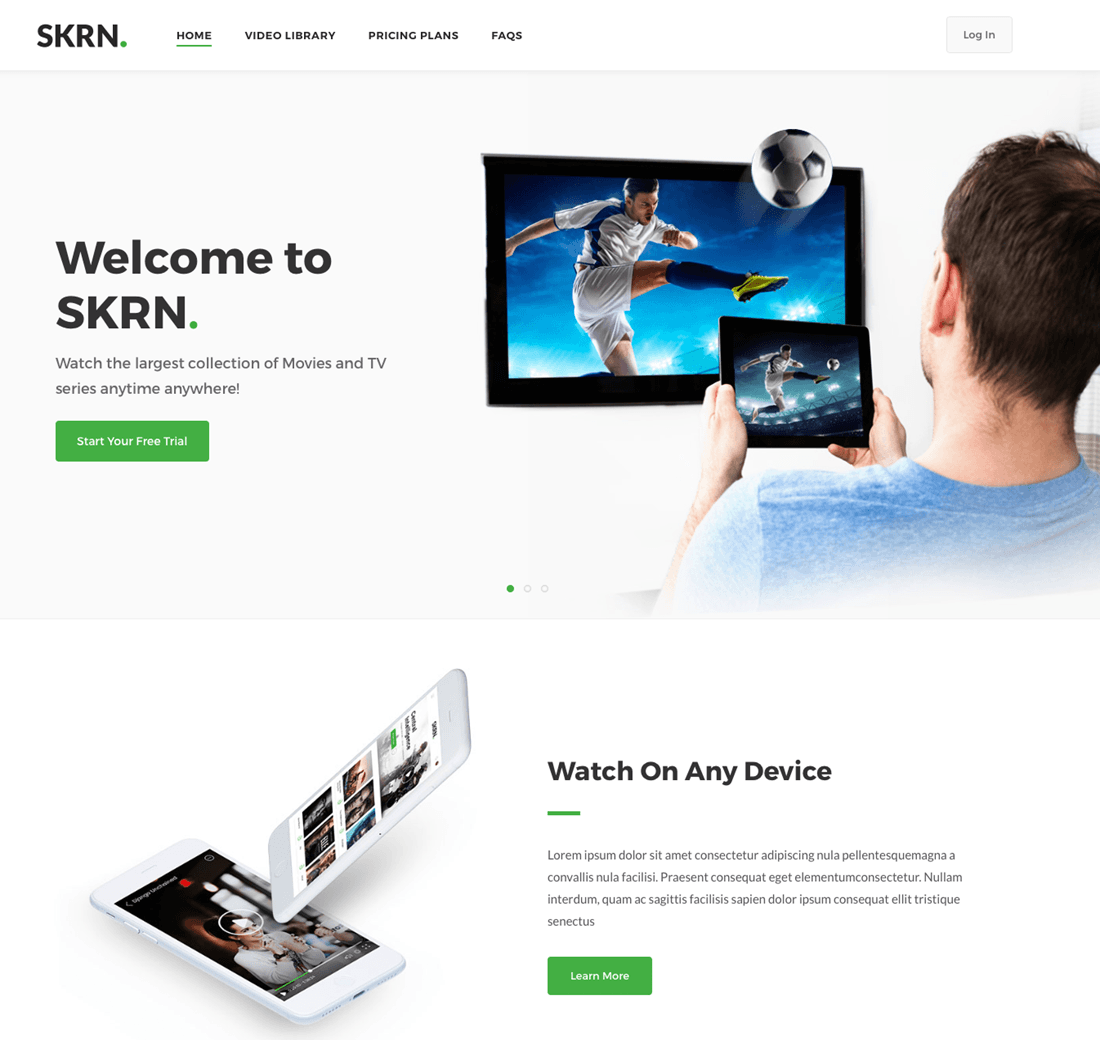 Price – Regular License – $69/OneTime (1 Site)
13. Vlog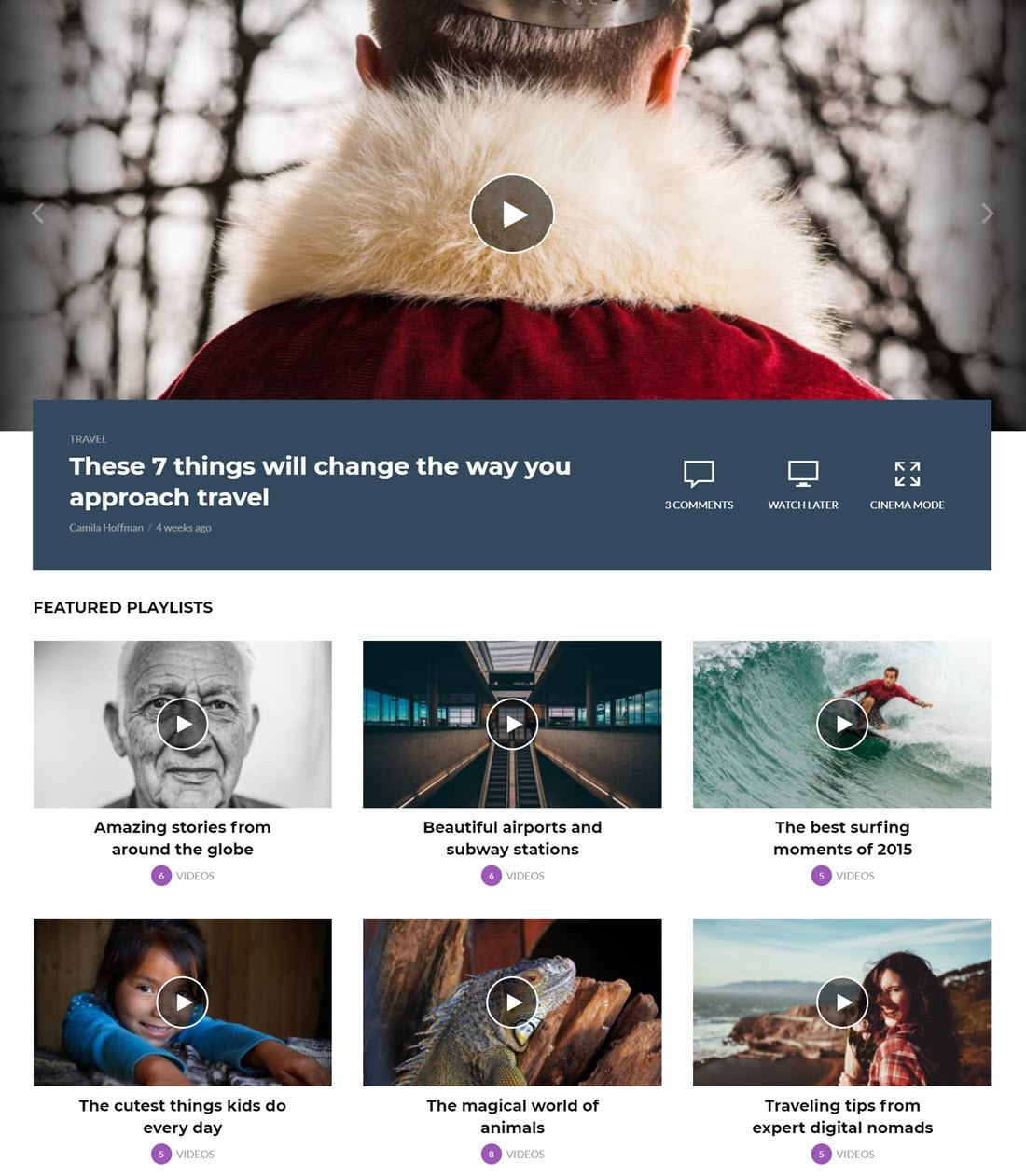 Price – Regular License – $59/OneTime (1 Site)
14. Podcast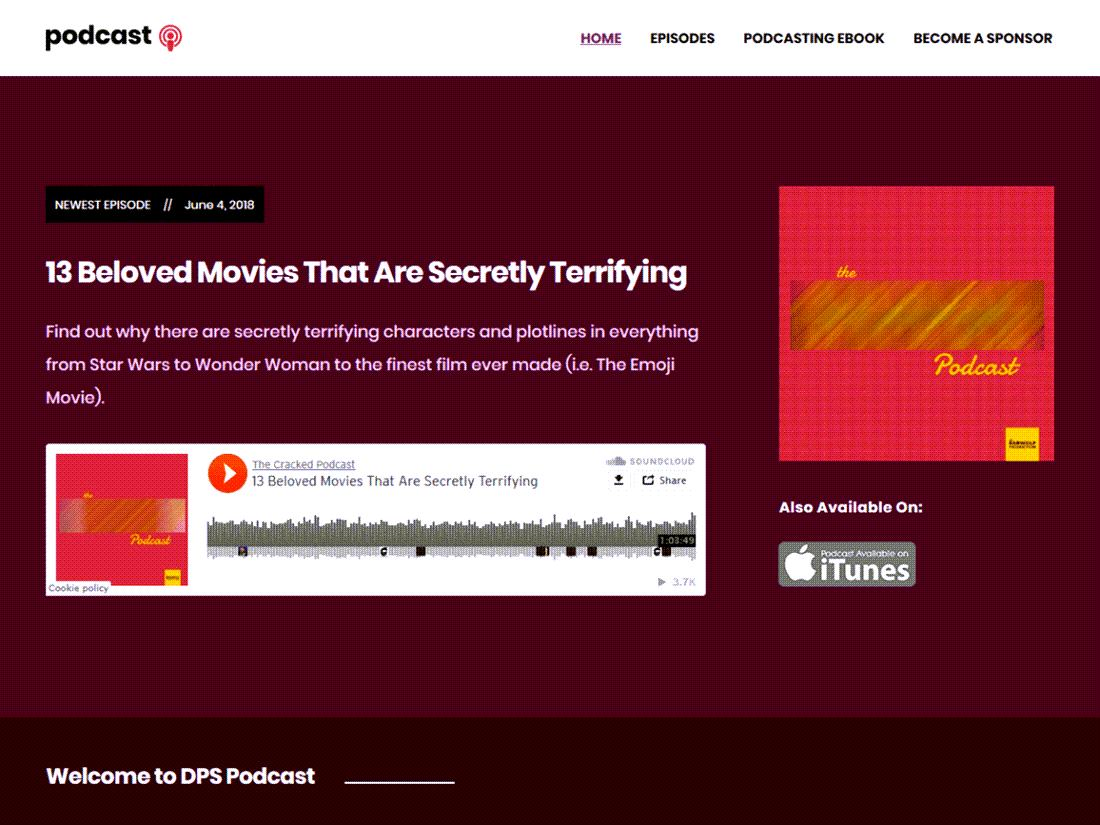 The podcast is a free podcast theme suitable for podcasters, streamers, radio hosts, comedians, YouTubers, bloggers, and influencers. The theme comes with 7 unique built-in color schemes – black, orange, purple, red, teal, blue, green. It is an excellent option for promoting your events and music. It is an ideal theme for podcasters, musicians, and bands and holds the potential to create intuitive and customizable websites quickly and seamlessly.
Total number of users – 2,000+
15. CastPress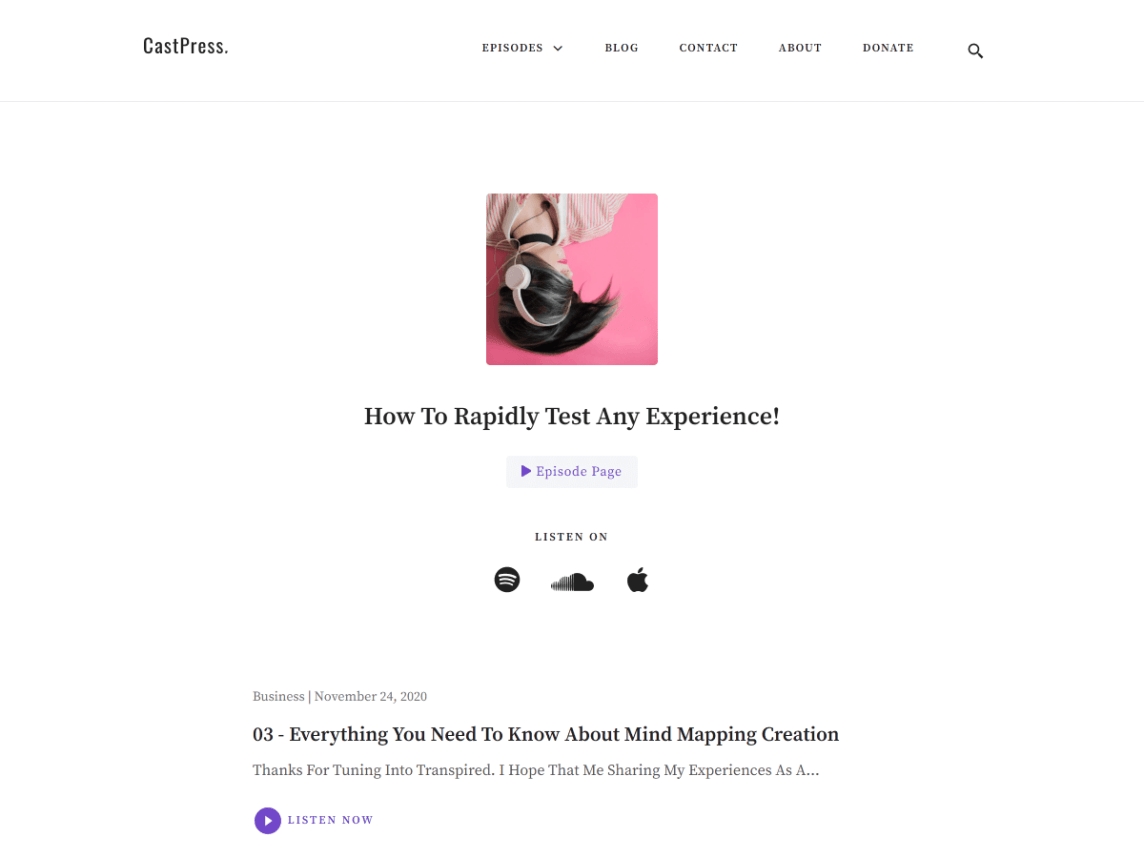 CastPress is one of the best choices for podcasters and musicians. The theme offers cutting-edge functionalities that enable podcast owners to control every aspect of their website. If you belong to the showbiz industry and want something that can make you stand out of the crowd, then CastPress is there for your rescue. The beautiful theme will create magic for your audience irrespective of your podcast's topic and niche. You can choose between the contrasting dark and light templates to shape up your podcast site.
CastPress is a retina-ready and mobile-friendly theme that is compatible with all browsers. It is being regularly updated by its developers with speed and SEO optimization.
Total number of users – 100+
16. Euphony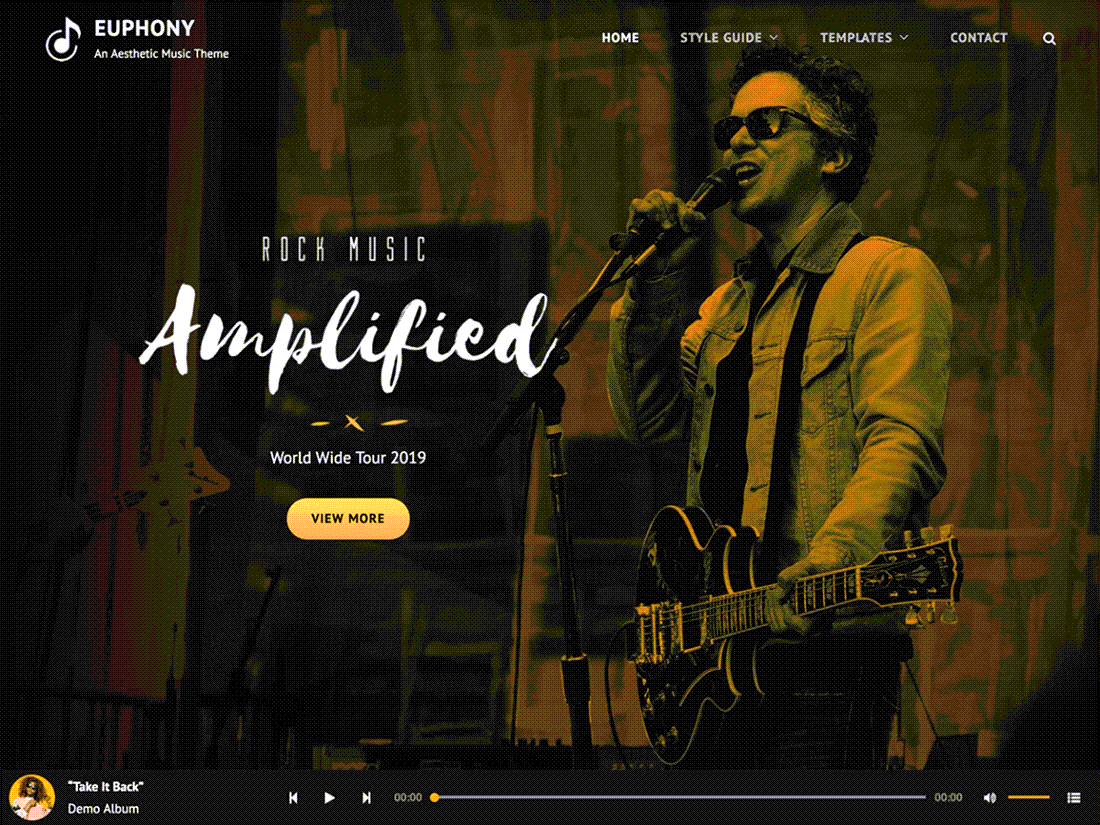 Euphony is an appealing choice for podcasters and offers immense support to native audio and video players. The theme ensures that your content gets published impressively. Featured image can be added to your track as soon as it's uploaded to your site. You can even link to other podcast and audio hosting sites with Audonic. It is a fully functional and easily customizable theme that provides added features like eCommerce and drag-and-drop page builder. There are add-ons for boosted elements to create maps, popups, and sliders. Other features include a rich color pallet, mega menus, sticky header, and more.
Total number of users – 3,000+