10 Best Flat / Table Rate Shipping Plugins for WooCommerce 2023
Using the WooCommerce Flat/ Table Rate Shipping Plugin we can easily create free shipping, conditional shipping rules or any Flexible Shipping rules. You can easily save lots of money by allowing your customer to choose different shipping methods.
1. Flat Table Rate Shipping For WooCommerce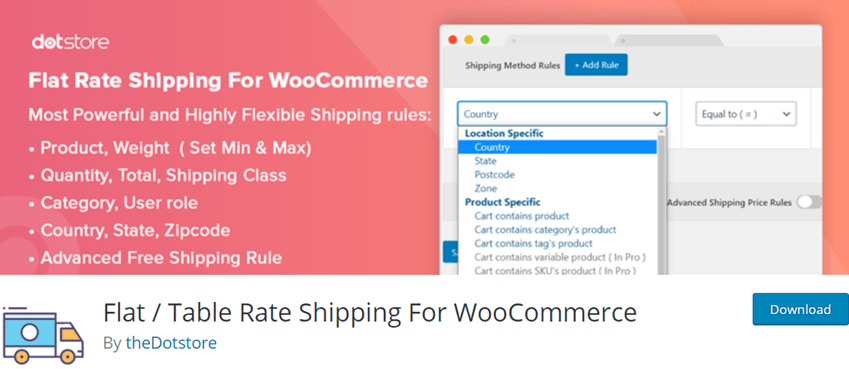 Flat Rate Shipping Plugin is a lightweight and robust extension that lets you create unlimited shipping methods on your website. Allow configuring various shipping rules such as free shipping, location-based shipping, and shipping with conditions. Let you define regulations on the needs of cart weight, category weight, category name, and total quantity in the cart. And product weight. Apply different rules with different shipping fees easily on your WooCommerce store.
Core Features –
Create a flat rate shipping method based on user, category, product, country, state, etc.
Edit and delete any shipping method from your WooCommerce store whenever required.
Let you establish diverse shipping options on the website.
Set criteria for free shipping or shipping price along with taxability status.
Configure the estimated delivery time.
Create custom shipping zones that apply shipping rules for different locations at once. This will let you manage orders so efficiently.
Total number of users – 9,000+
Price – 1 Site – $119/annually
Advanced Flat Rate Shipping Method For WooCommerce Version 3.0.1
Screenshot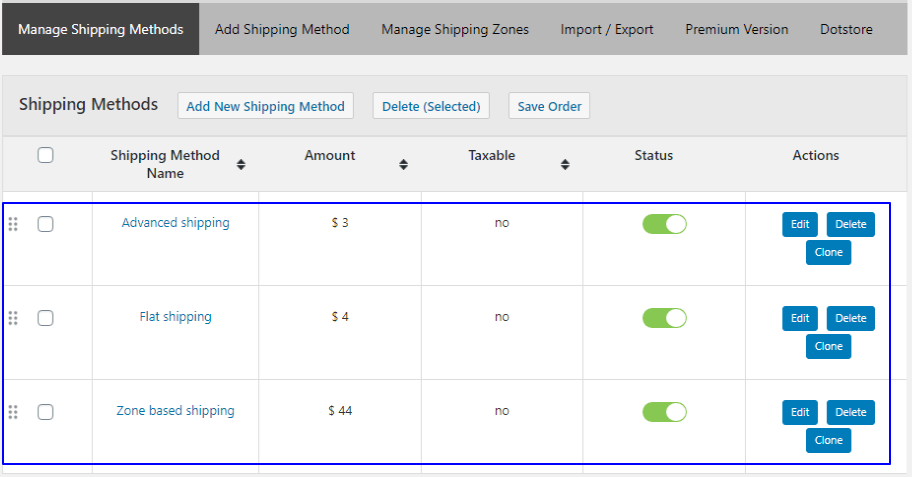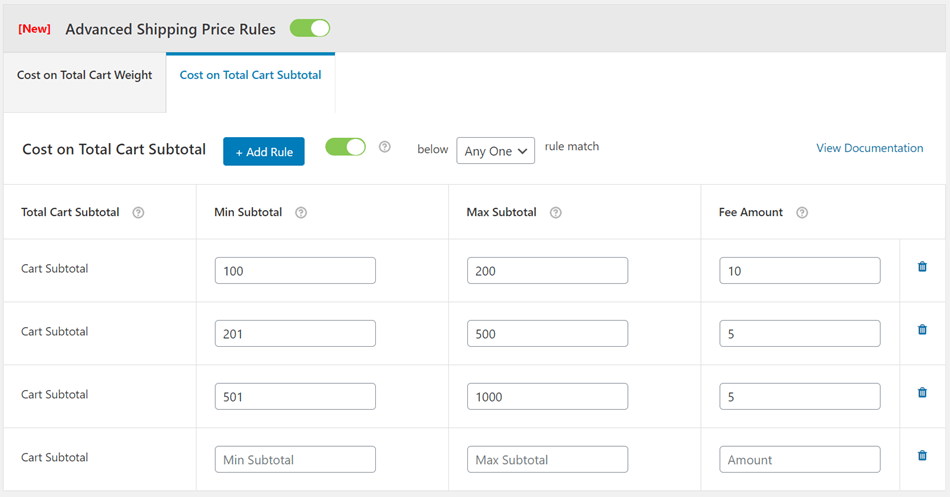 2. Table Rate Shipping

Table Rate Shipping provides an intuitive way to create an advanced and flexible shipping method on your WooCommerce Store. You can manage a variety of shipping methods based on locations, products, users, etc. Create customizable shipping options to provide your customer with a better shipping experience. Table Rate Shipping comprises an intuitive interface that conveniently lets you add, copy, and remove shipping rates.
Elementary Features –
Create and add extensive tables for displaying shipping rates according to the shipping zone.
Add shipping price per row, product cost, weight unit, and percentage.
Insert table rate calculation per line, product, category, and order.
Add shipping rules for the number of products, shipping class, weight, and order price.
Configure maximum and minimum values on the aggregate shipping cost of the cart or per item available in the cart.
Price – 1 Site – $99/annually
Screenshot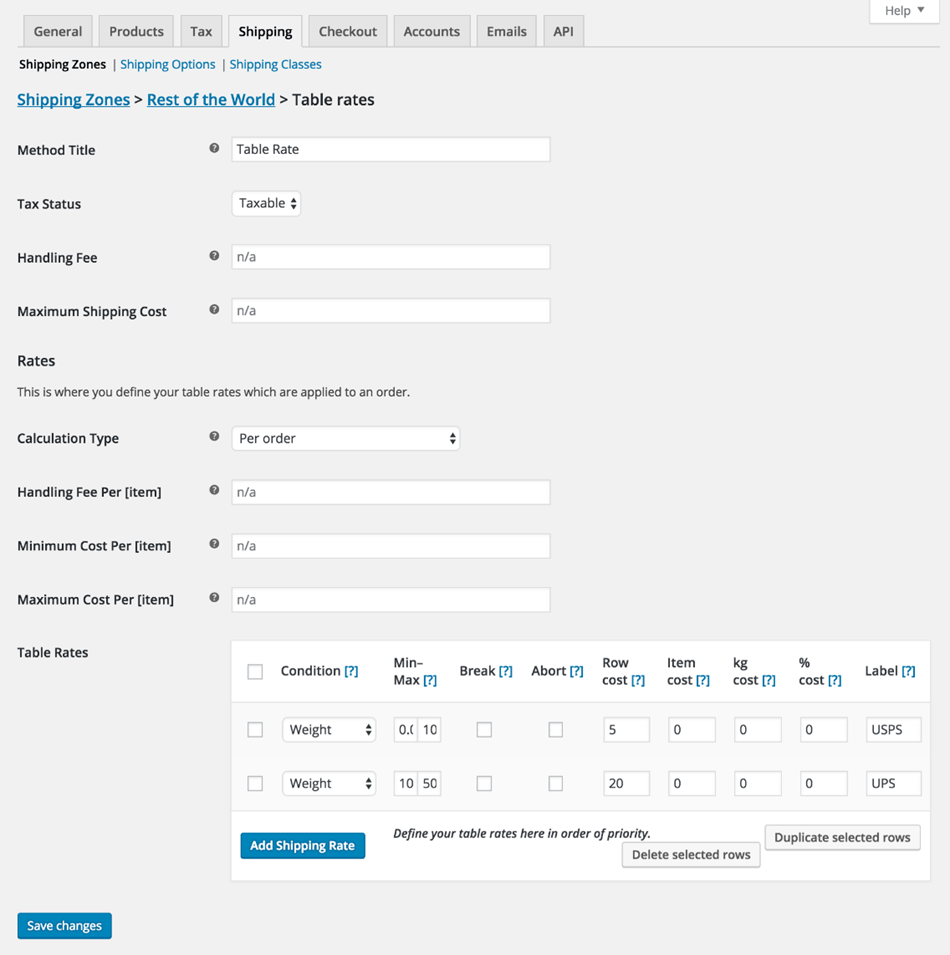 3. Flat Rate Box Shipping

Flat Rate Box Shipping is an intuitive plugin for WooCommerce that enables you to manage the cost of shipping an order. You access advanced shipping rates for orders by wrapping them in a box. Moreover, configure costs for such box packaging according to the location. Arrange the fixed cost for each box packaging based on the size and volume of the item. Categorize your products into small, medium, large, and fragile shipping classes and fit the same boxes. This intuitive plugin is very easy-to-configure that anyone can install and gets started. Provide your users with a better shipping experience at a reasonable price.
Elementary Features –
Let you add different boxes to pack the order per the shipping zone.
Configure the shipping price for each box, the weight unit, and the percentage of product cost inside the package.
Enable free shipping on certain conditions.
Let you add or remove the tax cost on the shipping cost for each box package.
Configure the shipping cost for products that do not fit into the box.
Price – 1 Site – $49/annually
Screenshot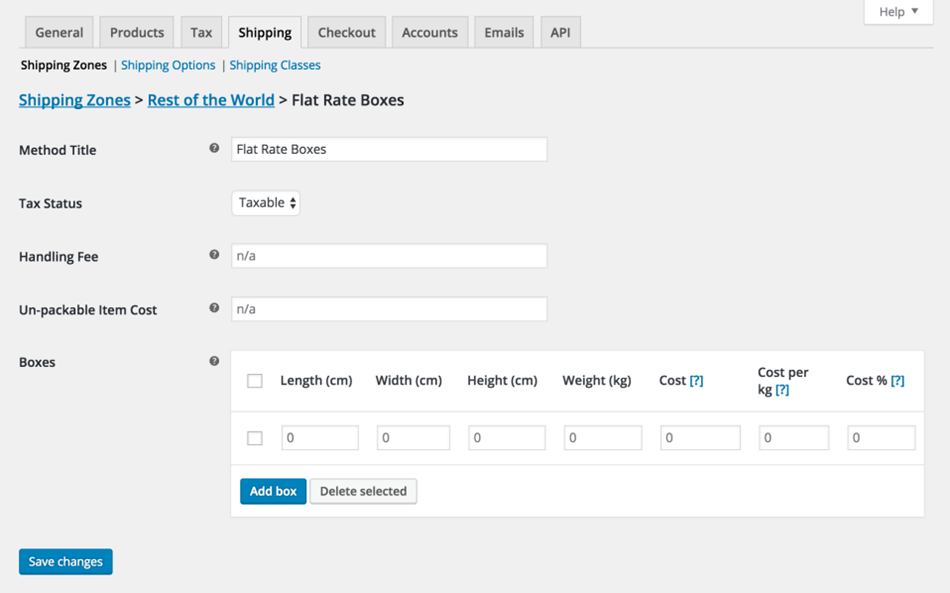 4. Table Rate for WooCommerce by Flexible Shipping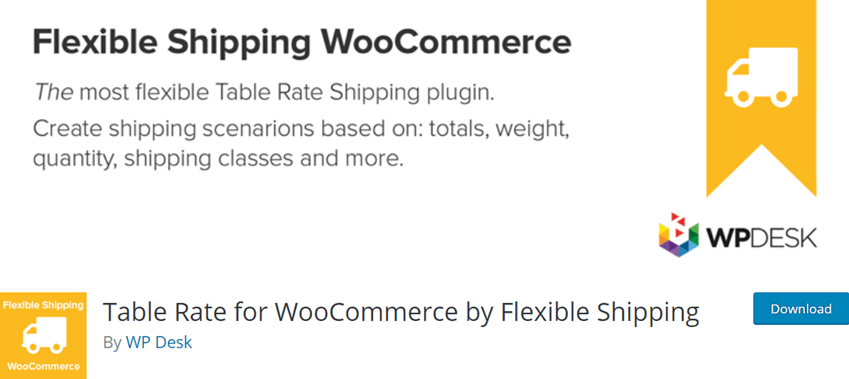 Flexible Shipping for WooCommerce is the best solution for table shipping rate calculation for various products. Let you decide the shipping costs based on criteria like cart total, weight, location, and much more. Aggregate the shipping price, including insurance cost and another additional cost. Customize the elements of the shipping experience, where you can configure whatever you want to show or hide accordingly. Establish a range of shipping prices for products, product categories, and shipping classes.
Core Features –
Create different shipping rules based on the product's weight and category to calculate shipping costs.
Configure the minimum and maximum cart total amount or weight as well.
Override free shipping for different locations and packages as well.
Notify you automatically for configuring the shipping zone.
Enable shipping methods to display either for only logged-in users or everyone.
Let you add diverse shipping methods in a table containing titles and descriptions.
Total number of users – 100,000+
Price – Professional – $89/annually (1 Site)
Screenshot
5. WooCommerce Table Rate Shipping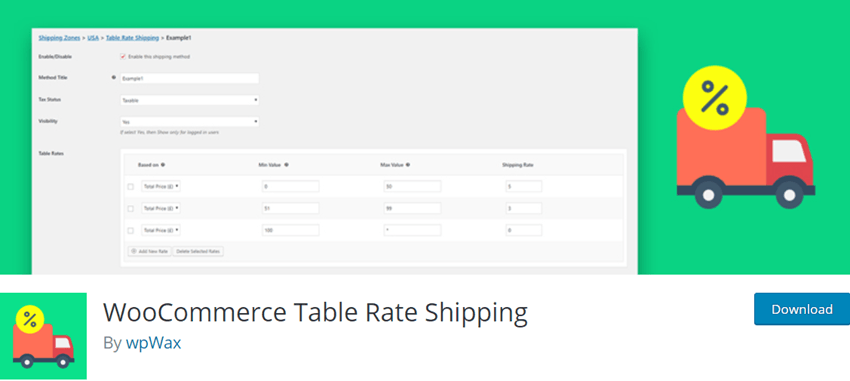 WooCommerce Table Rate Shipping provides an intuitive way to calculate the shipping prices of various shipping methods effortlessly. In any WooCommerce Store, you must manage multiple orders for multiple products, and it is more complex and time-consuming if you continue with default shipping features. Ease this shipping pricing with a flexible and advanced table rate shipping plugin. You can customize the shipping pricing and method for different products. Charge shipping price based on product, shipping class, location, etc.
Elementary Features –
Let you create customized shipping methods as much as you require.
Apply shipping price based on the total cost and total weight.
Enable selected shipping methods to appear only to the sign-in users.
Add or remove the tax amount to shipping costs for different products and destinations.
Total number of users – 600+
Price – 1 Site – $19.99/annually,  5 Site – $49.99/annually,  25 Site – $89.99/annually
Screenshot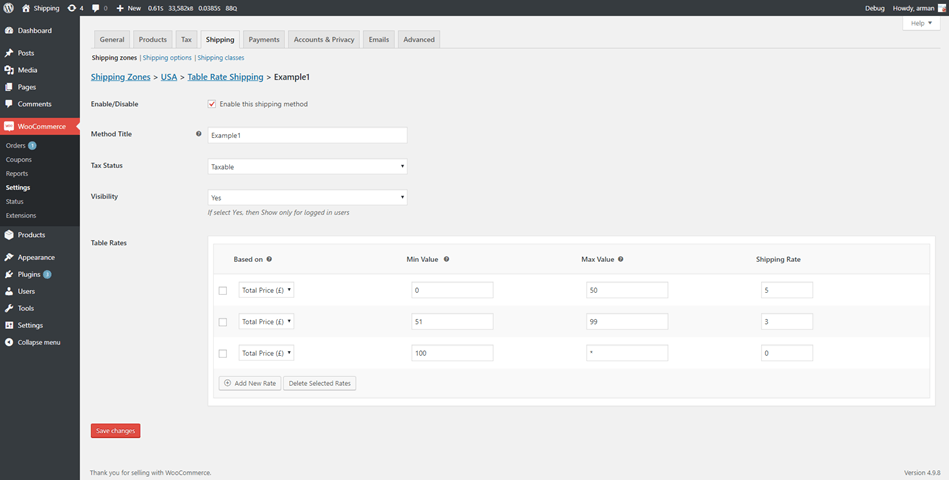 6. Innozilla Table Rate Shipping for WooCommerce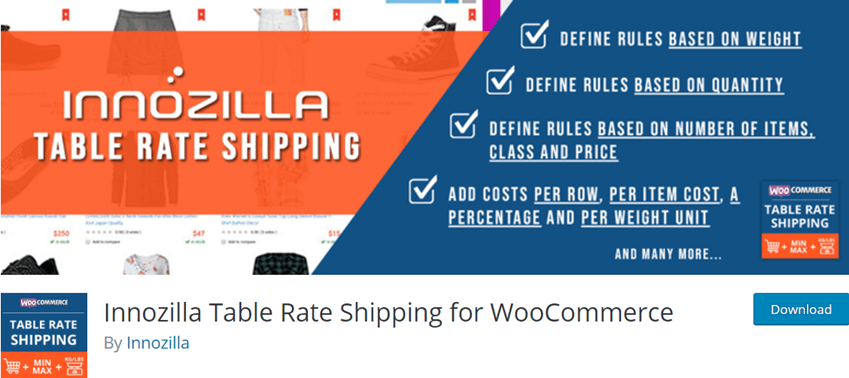 Innozilla helps you set multiple shipping rates of items based on the item count, price, and weight. It has a table of shipping rates that works with WooCommerce.
You can set different product rules based on quantity, weight, and class. Priorities can be defined based on the type of product. There can be different custom shipping labels, per item cost, and low prices of products. Calculations can be done based on the kind of products.
This is a cost-effective plugin. Lifetime access is granted to you for just $69.99/per year. With the premium version, you get a free lifetime update. Unlimted row conditions, weight-based rules, quantity, class, etc., are provided. You can also define the calculation type and class priorities. You can decide table rules based on the specification of your website with this us. Consultation is free with a good 24/7 customer support option.
Total number of users – 100+
Price – 1 Site – $69.99/lifetime
Innozilla Table Rate Shipping WooCommerce Plugin for WordPress
Screenshot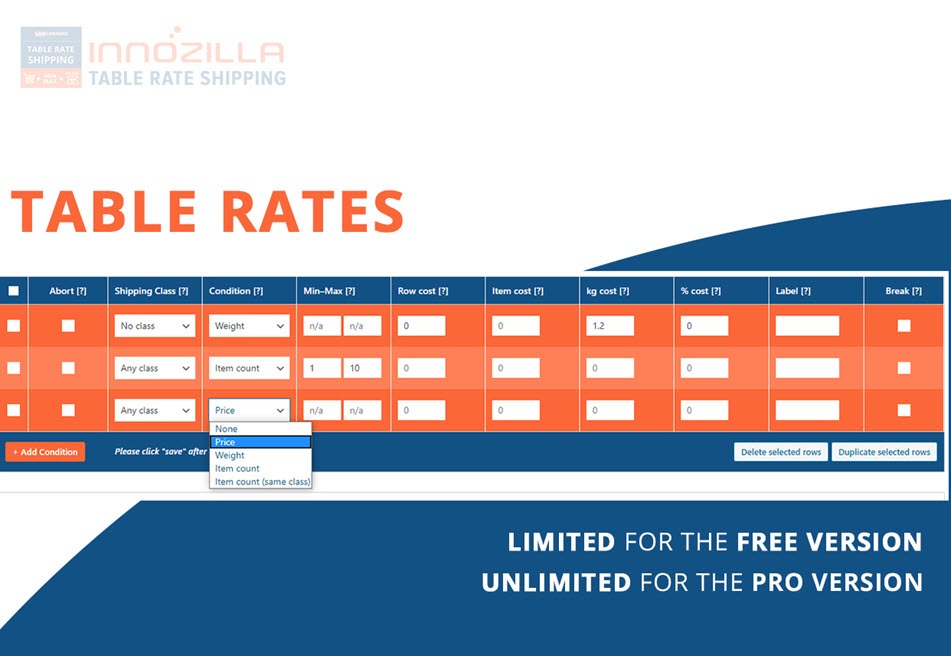 7. Fish and Ships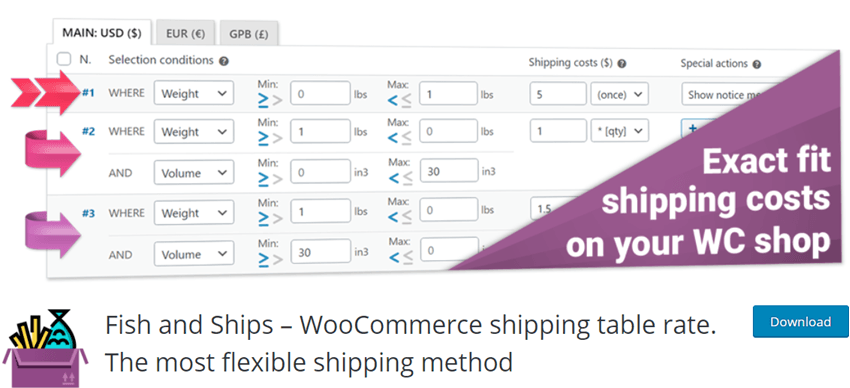 This easy-to-use shipping method allows you to set up custom shipping rates based on volumes, categories, and prices for WooCommerce. There is a configurational option for clients, like conditional local and free shipping, and local pickup is available.
The table rate is set up to avoid loss and increase sales. There are multiple options for making shipment available. The table rate shipping cost is easy for your customers to understand, making it more convenient. With Fish and Ships, you can add multiple criteria together, this can't be found in any other plugin.
This plugin will work globally, an option to choose the currency and multilingual support are available in settings. The import and export setting is automatically added between the initial and final destination.
It is easy to use and configure and provides your customers with formula-based shipment costs, fixed based on the volume or dimension of products. Tables rates and CSV zones are maintained with us to calculate for bulk export and import of products.
Total number of users – 10,000+
Price – Starter – 60€/year, Business – 100€/year,   Agency – 200€/year
Fish and Ships for WooCommerce, a conditional table rate shipping cost
Screenshot

8. WooCommerce Advanced Shipping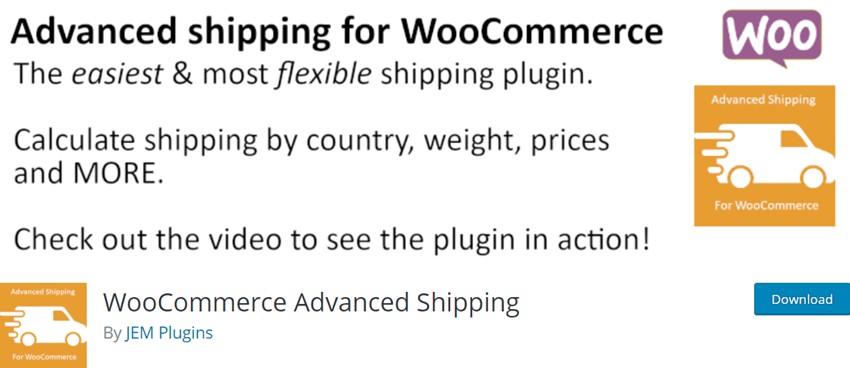 Table Rate Shipping (conditional shipping) plugin for WooCommerce will help you provide table rate shipping or dependent shipping for your WooCommerce site. It's an easy-to-use rate shipping plugin that automatically sets up all shipping rules on your eCommerce site. The shipping rate can be fixed based on the total shipping price and shipping rate.
This plugin integrates smoothly with all WooCommerce shopping platforms. It clearly shows shipping by weight by total cost and defines shipping labels in your customers' carts. Setting up multiple tires of shipping rules is possible with this plugin.
You can set up express shipping and standard shipping with the pro version. It provides impressive flexibility and includes the shipping cost of products in the store. Postal, country or state codes are used to ship products on Table rate shipping.
Three types of packages, categorized based on width, size, and volume, are available on this site: refrigerated, frozen, and usual temperature. This plugin is highly customizable and flexible to cover all your courier requests, and there are many formula options available to help you with shipping cost calculation.
Total number of users – 20,000+
WooCommerce Table Rate Shipping - Free Plugin
Screenshot
9. Table Rate Shipping for WooCommerce

Table rate shipping for Wooommerce allows you to set up multiple shipping options for your woo-commerce website based on different pricing options and conditions. It is highly flexible and user-friendly, which helps boost offers on your shipping website. It establishes rules and requirements on the admin's name to determine prices offered during checkout.
Many advanced shipping methods are available to make your shipping hassle-free and straightforward. With many options available, it can be grouped into expandable sections. Options are designed using method settings, so they won't appear unless you need them.
There are multiple shipping options available for customers to choose from. You can organize similar features in a section for a more effortless user experience. Pricing is flexible based on flat-rate options and complicated pricing options.
This plugin calculates shipment based on geometric dimension, weight, increase in weight, quantity, volume & price, etc. calculating complex formulas is easy. There are thousands of rules to be followed for calculations, and inserting them together is impossible. This plugin uses CSV to prepare to categorize formulas.
Price – Regular License – $25/lifetime (1 Site)
Screenshot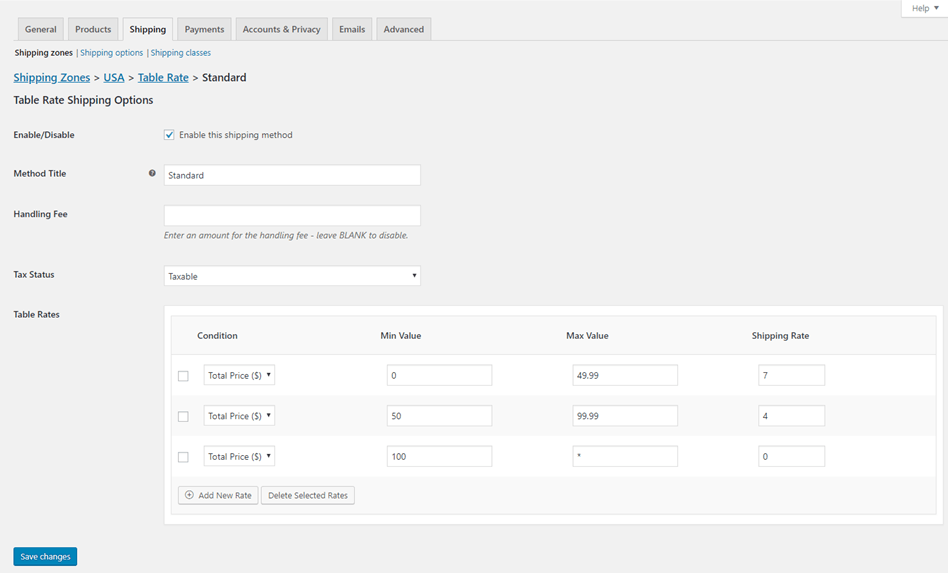 10. Table Rate Shipping by Class

Price – Regular License – $17/lifetime (1 Site)
Screenshot