16 Best Events WordPress Themes 2023
Are you planning to create a new website for your New conference and event happening in your city? And you need a responsive best WordPress events themes. Using these websites you can easily promote your latest events online and can also sell their tickets to your targeted audience.

If you are planning to promote your events via Facebook also then you must add Facebook pixel plugins for better results. Good events management theme have almost all kind of facilities which is useful for promoting your events or conference online. Like you can create event details, location, speakers profiles, session schedules and sell tickets online using WooCommerce Plugins.
Some of these themes have an extra functionality of events listing, customers registrations and session scheduling. When you talk about events listing themes then we have mostly two functionality either you can opt for single conference WordPress themes or Multiple. That you can select based on your requirements we have already included both of them in our list.
So many people are becoming Professional speakers because this profession has respect, money and popularity globally. So for their conference and event listing, you need your websites.
You may also be interested in events management Plugins, Fomo Plugins and Multipurpose Themes.
So let's have the list of top WordPress themes for events and conferences are as follows:
Table Of Content
1. ShowThemes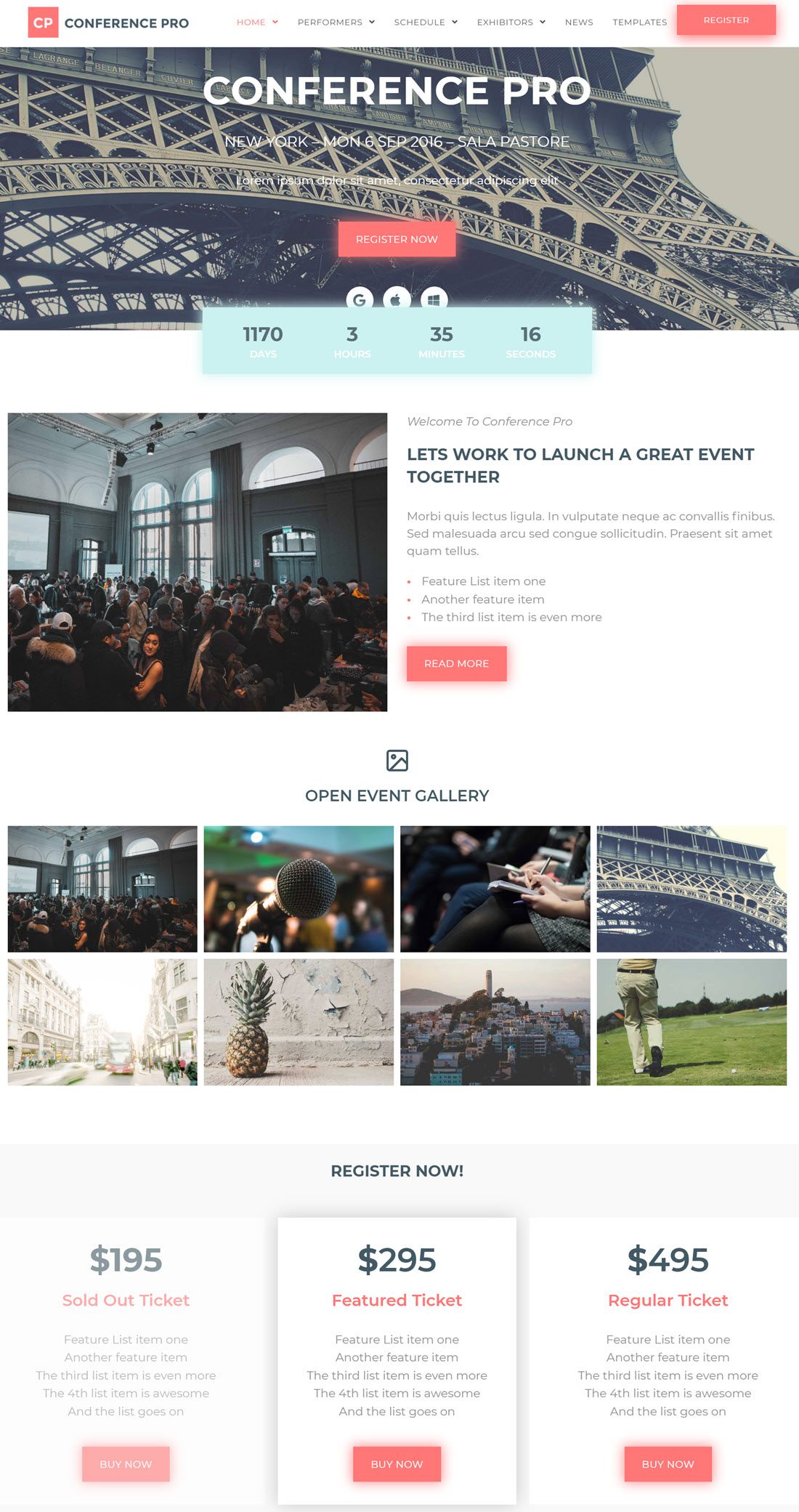 Price – Plugin – $79/annually,  Theme + Plugin – $129/annually,  Unlimited – $199/annually (Unlimited Site)
2. WPLook Themes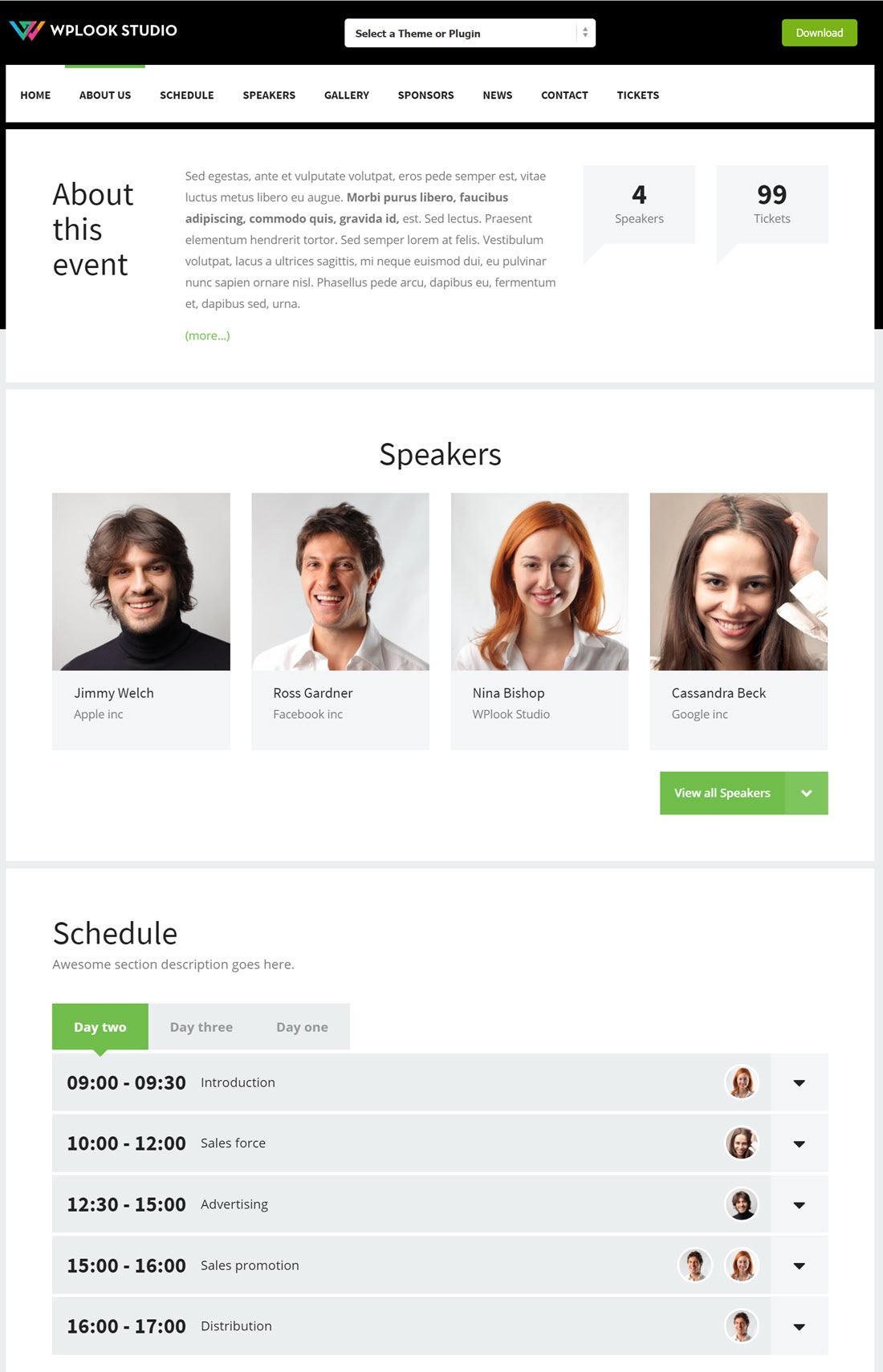 The WPLook Themes has been crafted for only one purpose and that is online event promotion. The great amalgamation of the design and features makes it stand out from the crowd.
A single event such as an exhibition or a WPLook Themes can be promoted in the best possible way through its long-form homepage which enables you to display the location, date, agenda and speakers as a quick view before they get into further details on the page.
It also enables the creation of profiles with links that direct to social media profiles and photos. The theme integrates with the Eventbrite online ticketing system.
Price – Theme & Hosting  – $9/Monthly,  Single Theme – $75/annually,  All Theme Pack – $97/annually,  LifeTime Access – $297/annually
3. Themify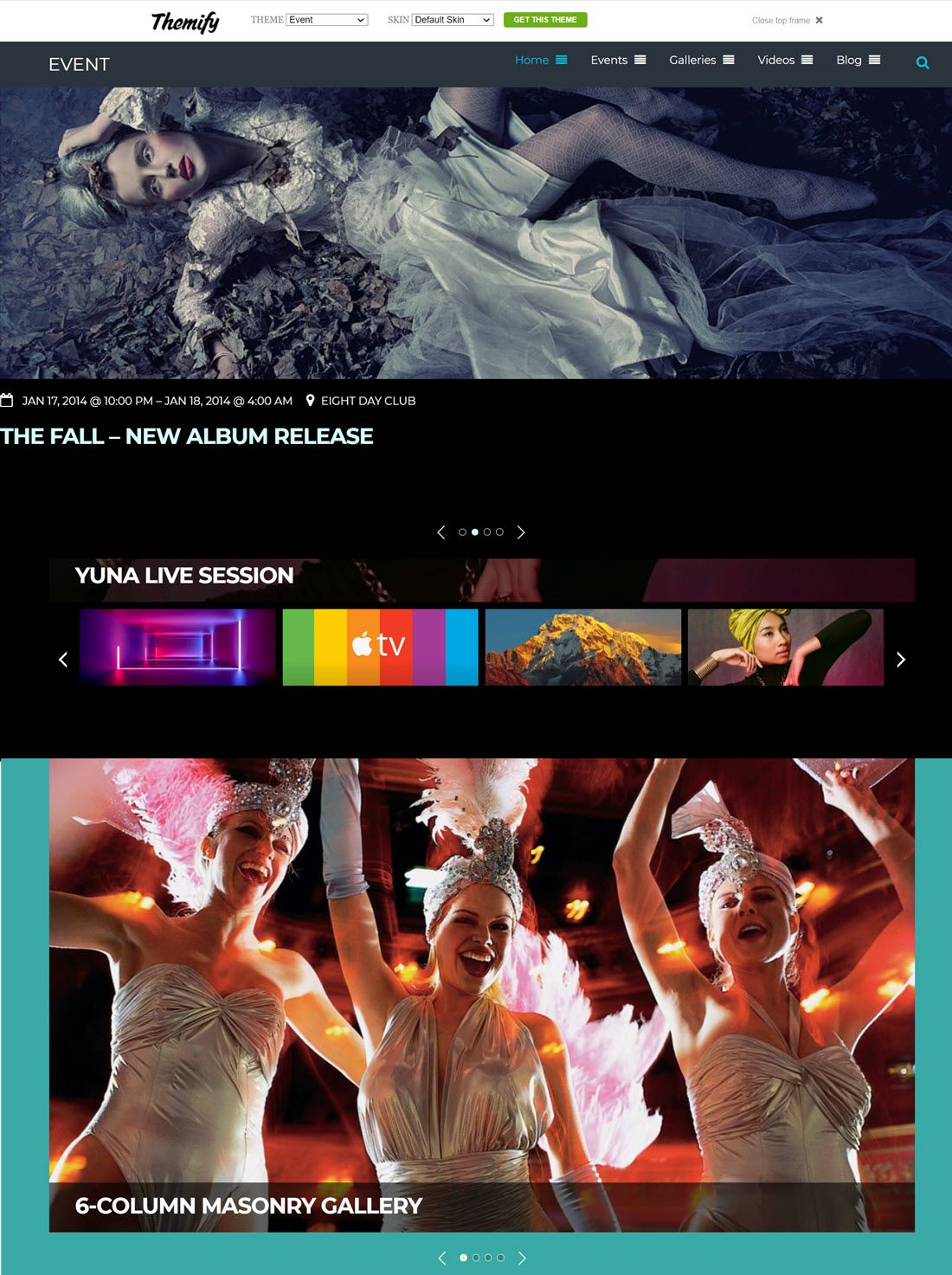 Themify Event is an entertainment-type event theme that operates on a single-page layout design along with a full-width layout. The responsive theme gives you access to the drag-and-drop page builder and a variety of configuration options.
With its colorful and bold templates, the theme is an ideal choice for happy events and music events. However, you can tweak and customize it to fit for sober occasions as well. The custom post types make it easier to promote your event with images and videos.
Price – Standard – $59/annually,  Developer – $69/annually
4. Oscillator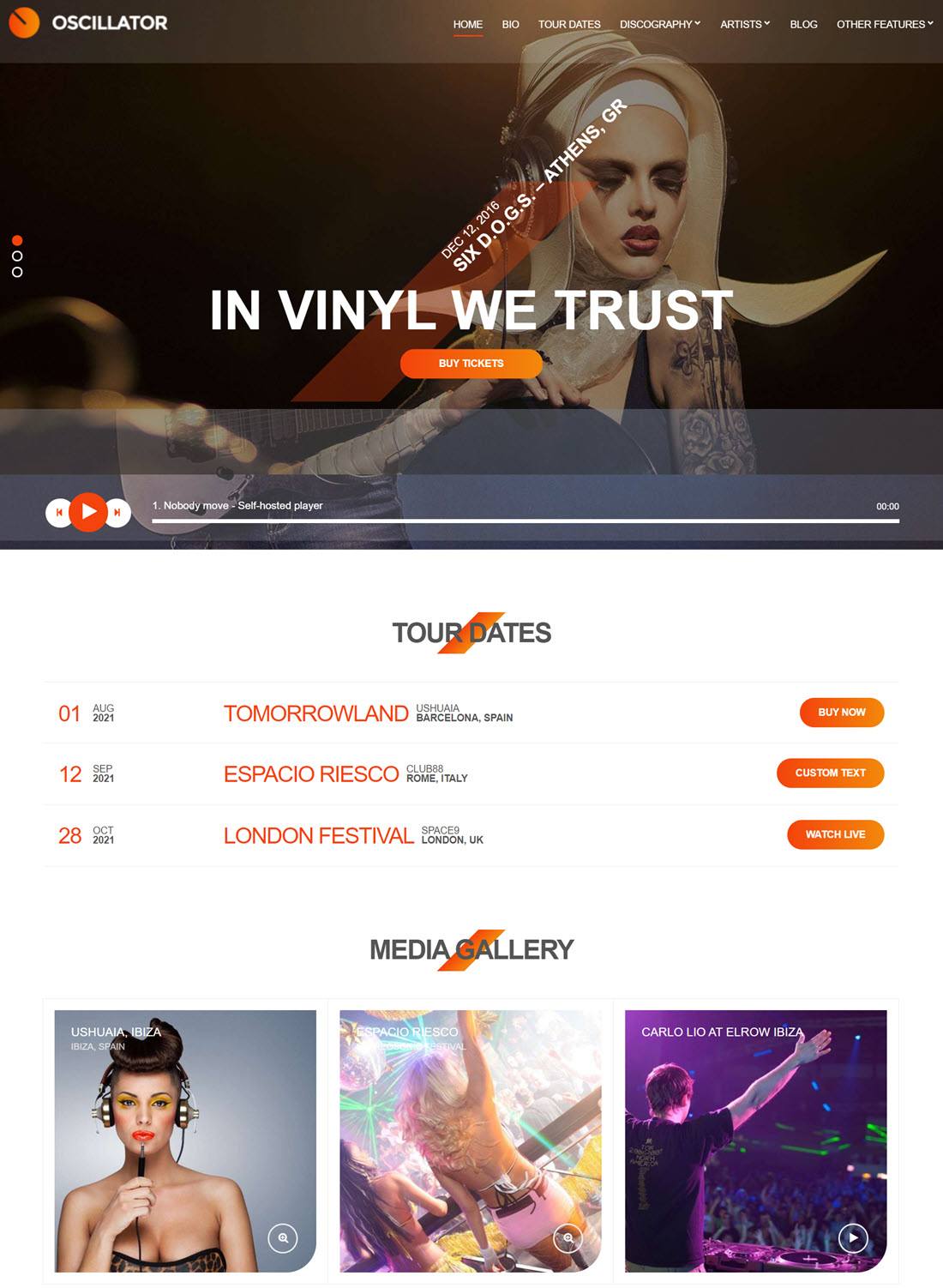 Price – Single Theme – $34/annually,  Standard – $48/annually,  Developer – $55/annually,  lifeTime – $174/OneTime
5. Divi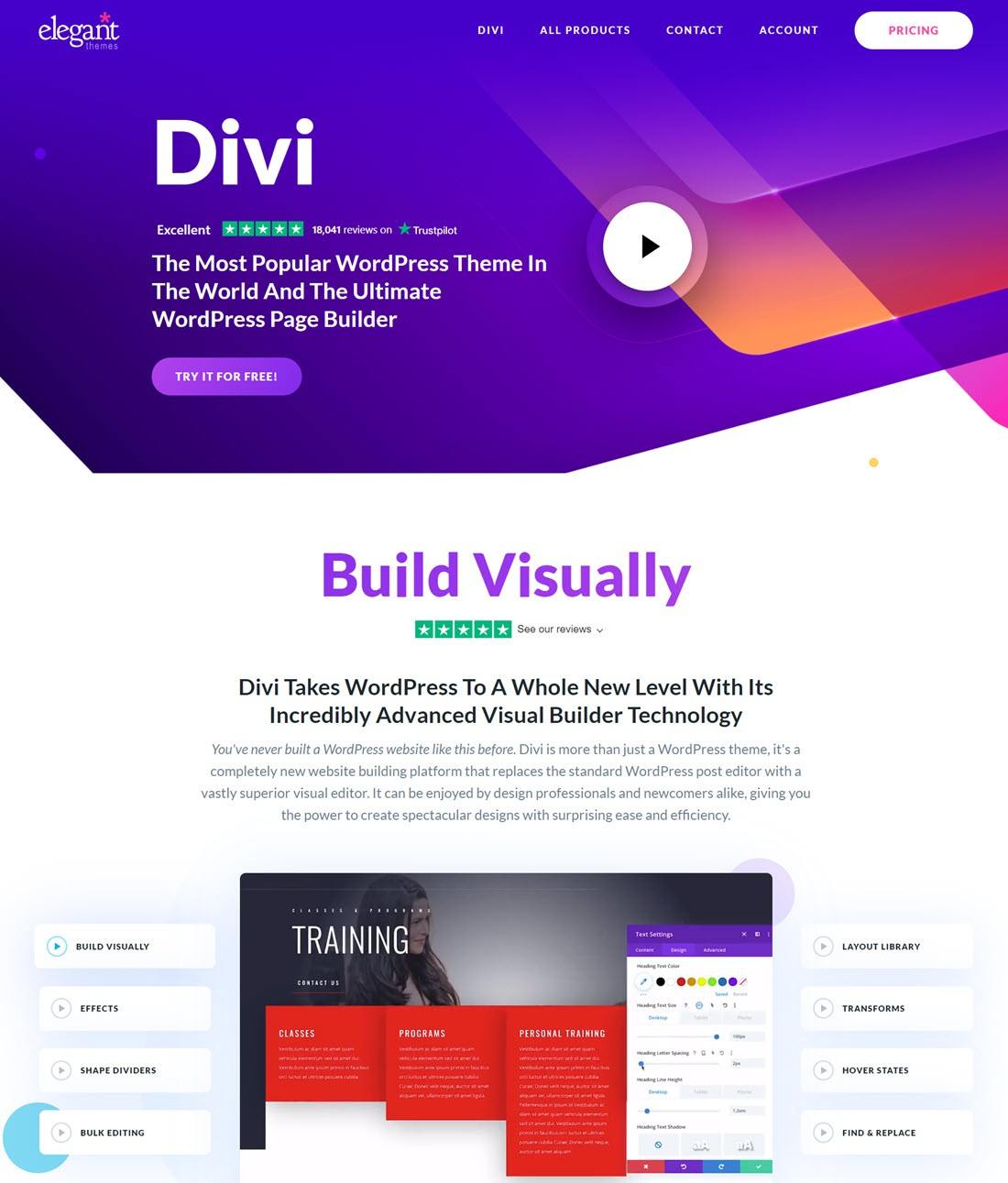 Price – Yearly Access – $89/annually (Unlimited Site),  LifeTime Access – $249/OneTime (Unlimited Site)
6. EvnTalk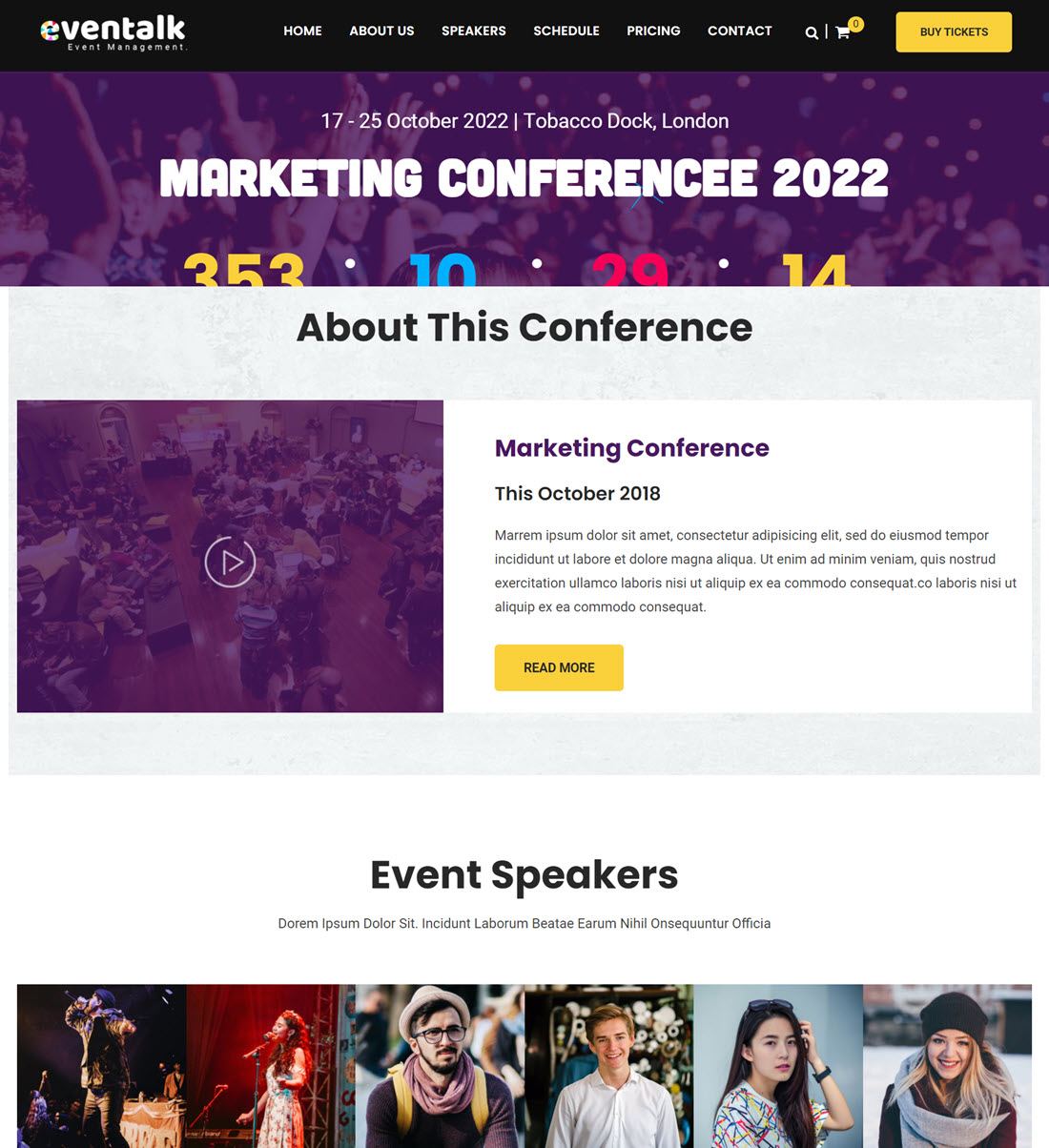 EvenTalk is an Event & WordPress Conference theme from Themeforest that supports both single and multiple events, hence a very nice option for an events management company.
You can design an outstanding project using its 10 homepage designs which can be divided into two main categories – one-page and multiple-page layout. A countdown timer to create anticipation for the upcoming event is also there.
Price – Regular License – $39/OneTime (1 Site)
7. Eventerra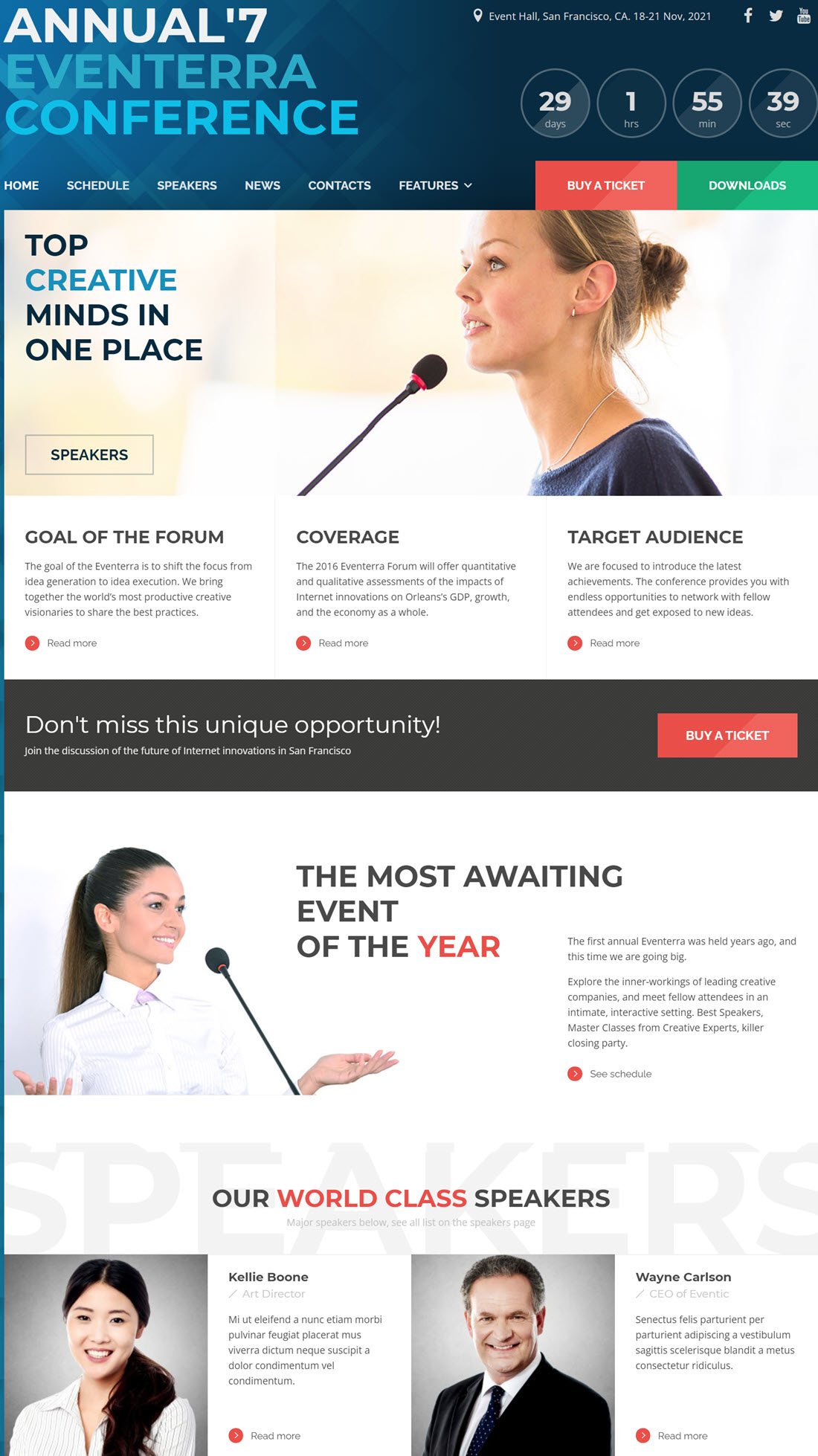 Eventerra is a ThemeForest event WordPress theme that has elements to host both event and conference websites. While setting up a WordPress Conference theme you can opt for two modes.
The first mode enables your guests to make use of an online registration form for seat reservation, while the other mode offers a Tickera WordPress event ticketing system plugin that helps you sell the event tickets online. There are separate post types for the display of information about the schedule, venue, timings, speakers and more.
Price – Regular License – $49/OneTime (1 Site)
8. Meup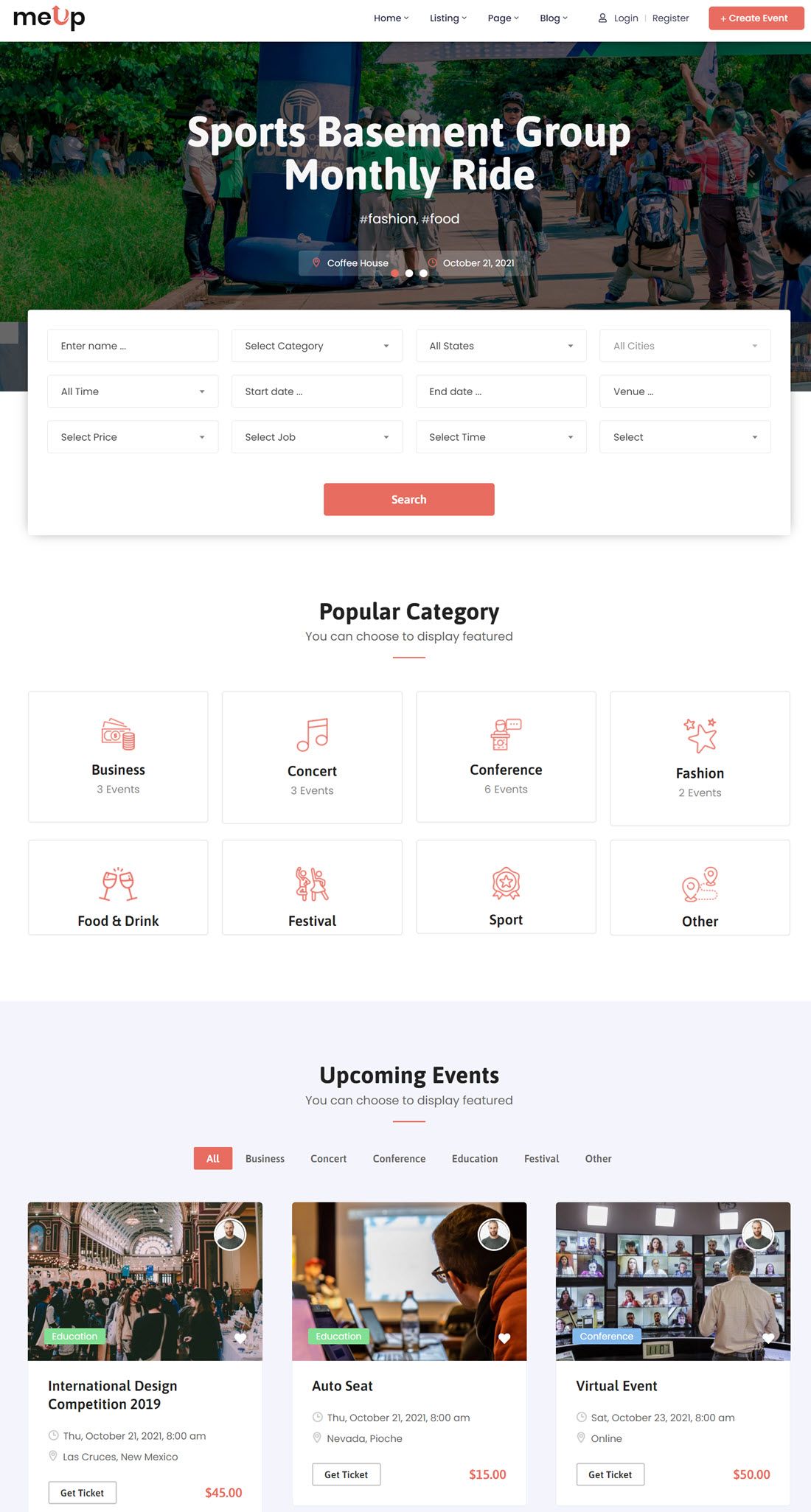 Price – Regular License – $69/OneTime (1 Site)
9. EM4U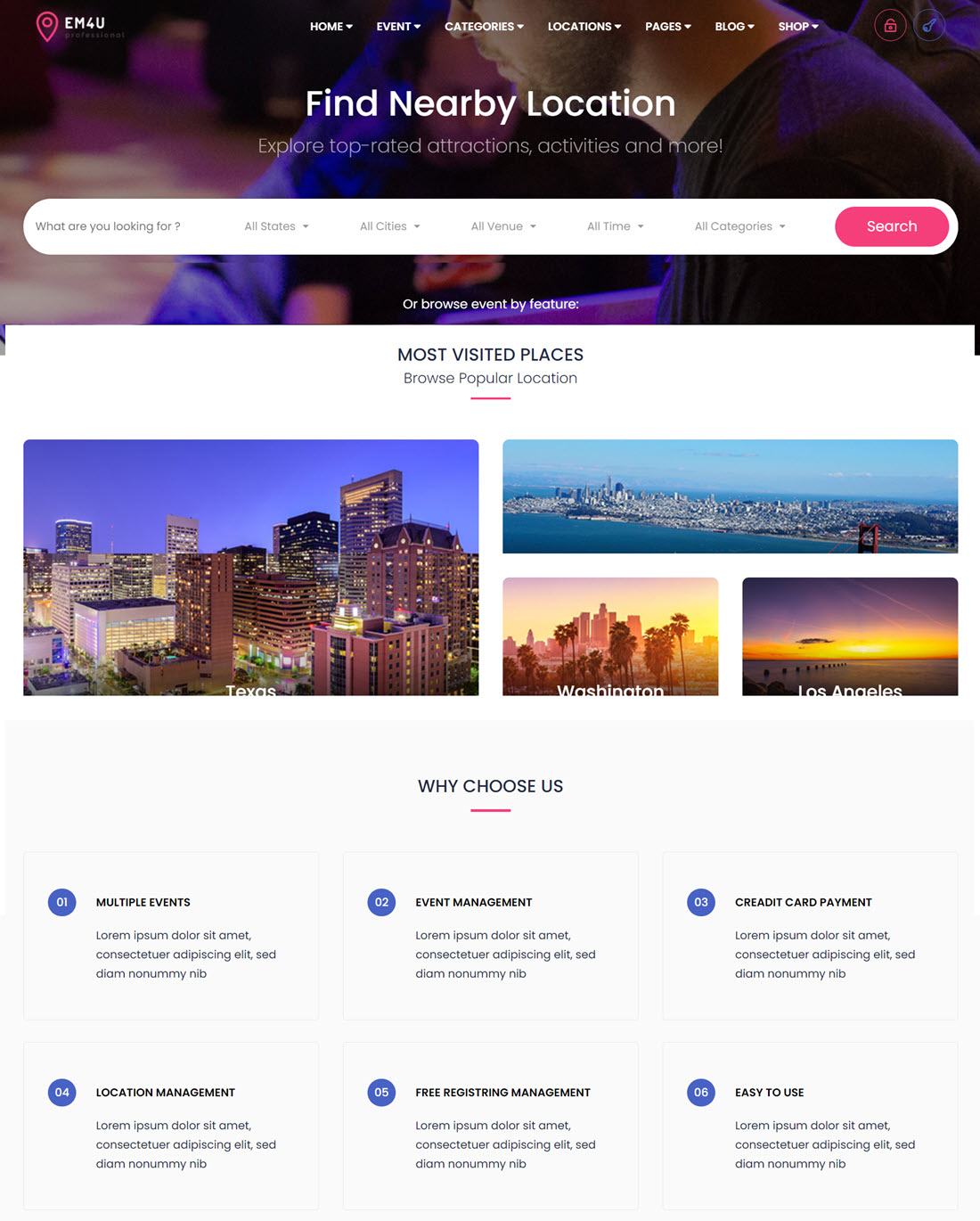 Price – Regular License – $59/OneTime (1 Site)
10. Exhibz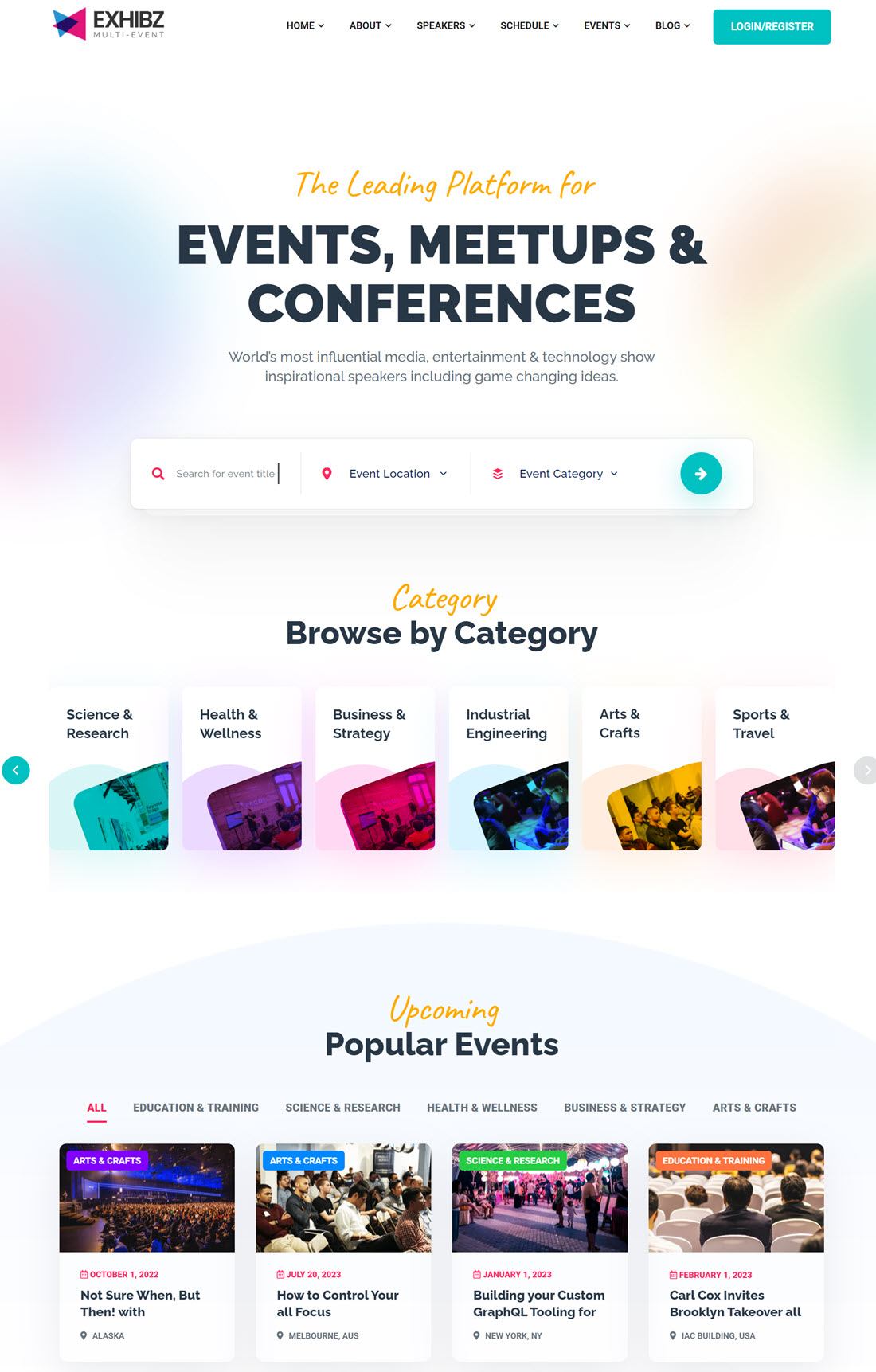 Exhibz is a wonderful and beautifully designed theme with a single page design that speaks quality and style. The theme focuses on a central picture of your event as the main highlight.
Exhibz with its single-page layout and flexible header options that can highlight videos and images to display content and custom call to action helps you to create a speaker portfolio attractively. It also facilitates getting you booked for events. You can culminate your presentation ideas with Speakersumo.
Price – Regular License – $45/OneTime (1 Site)
11. Evenex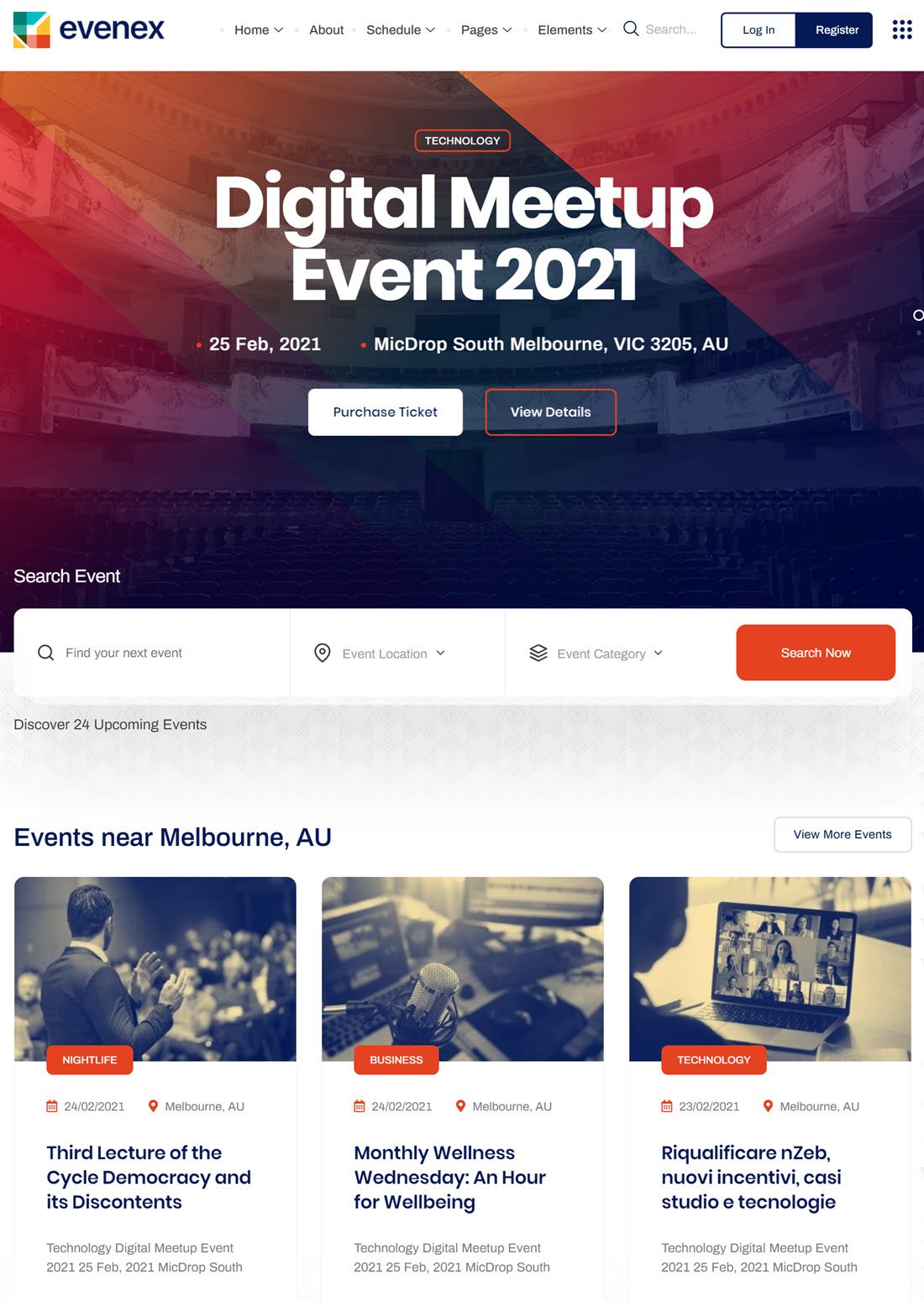 The Evenex is an event listing theme that aims at listing multiple events on the website and selling tickets through WooCommerce integration. It has been exclusively designed for corporate-style events such as meetings, conferences, exhibitions, and many more. The full-width content slider on the websites' homepage can shelter high-resolution images and background videos.
Thus creating a delightful first impression on the visitors. several intuitive widgets can be incorporated on the website such as timetable of the event, countdown timer, speaker profile, and Google Map.
This theme has integrated the event calendaring tool that allows the guests to get all information about upcoming events by clicking on the calendar entries. The event listing also has a gallery to give a preview of the forthcoming event to the visitors.
Price – Regular License – $49/OneTime (1 Site)
12. Eventchamp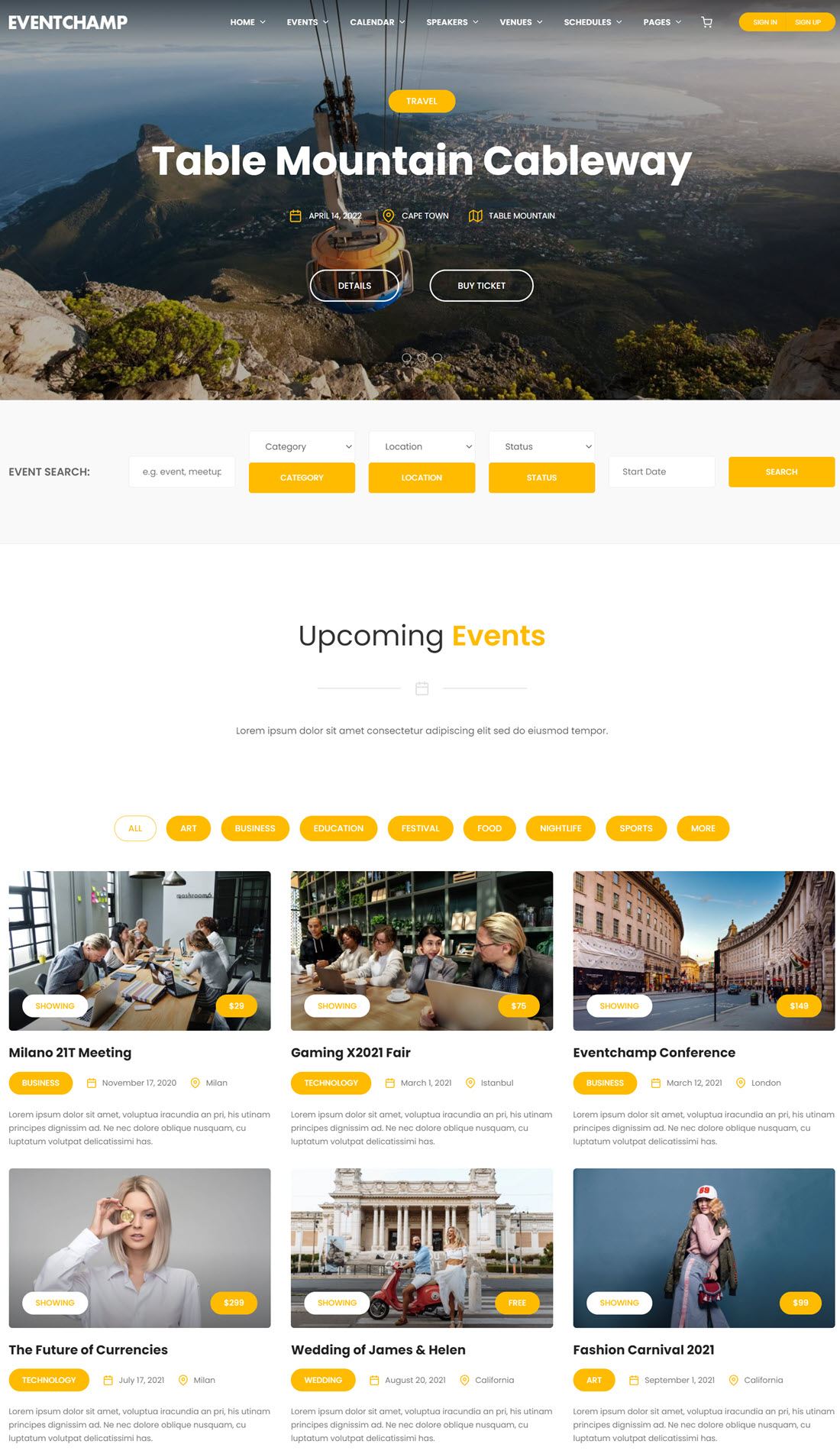 Event Champ is yet another flexible option for multiple events WordPress themes as well as a single small meetup website. The theme offers 14 demos that help you to create impressively and a wide variety of events such as tech events, parties,  business conferences, festivals, concerts, or sports events. It is a Best events theme that can host websites for holidays, celebrations and special events. Happy Events enable you to display your services in the most fascinating way possible.
The theme control panel gives extreme customization options to the visual elements of the website. With WooCommerce integration, you can start an online store where you can sell costumes for a costume party or holiday products, etc.
Price – Regular License – $59/OneTime (1 Site)
13. Top Event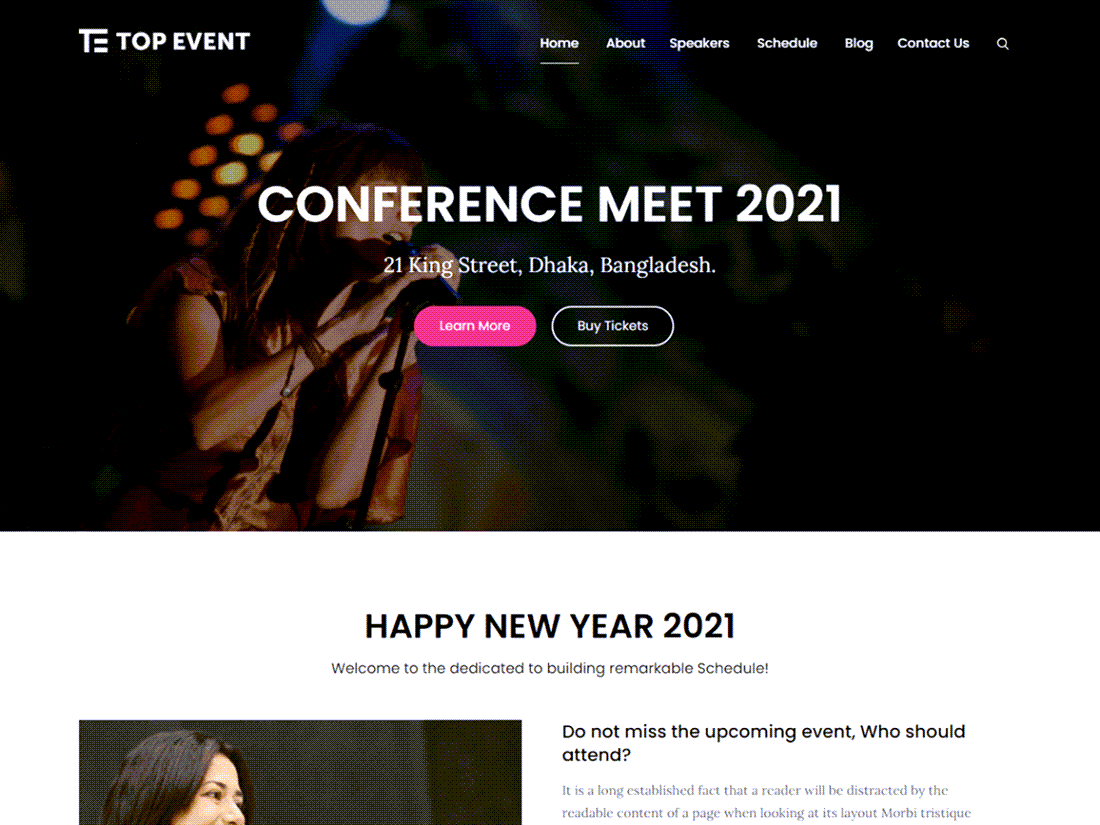 Top Event is an event management theme that helps to create a stylish and intuitive website without any coding hassles. The WPBakery drag-and-drop features, 2 different homepages with unique elements, and pre-defined inner pages. you can create a comprehensive website in no time. The theme also features a mega menu, SEO & speed optimization, and Visual Composer plugin.
Eventum offers a complete solution for all projects irrespective of the size of the event you undertake. The theme is well suited for informal meetings as well as corporate conferences. The five prebuilt homepage options are unique in their designs and styles, and fascinate a variety of users having separate choices.
Total number of users – 100+
14. EventPress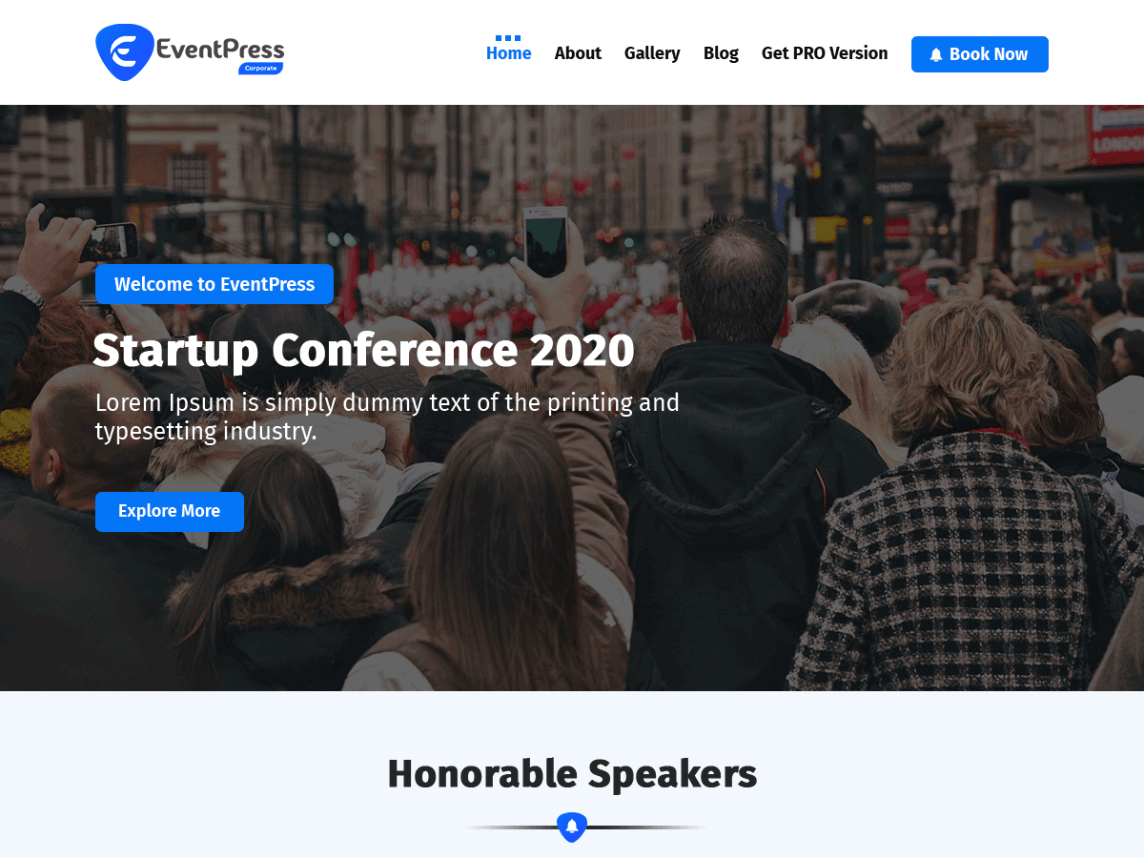 EventPress is a comprehensive multiple event theme and an ideal choice for a ticket, event, course, conference, education, and many more. The multiple website demos enable you to create a variety of event and conference websites.
The theme Eventum has its meetup features and gives a seamless experience for event promotion. The prebuilt homepage layouts and page templates of Meetup are the added attractions. Besides, the theme also has the facility to showcase a full-width image of the video background, countdown timer, event scheduling, pricing & ticketing, and blog.
Total number of users – 600+
15. EventBell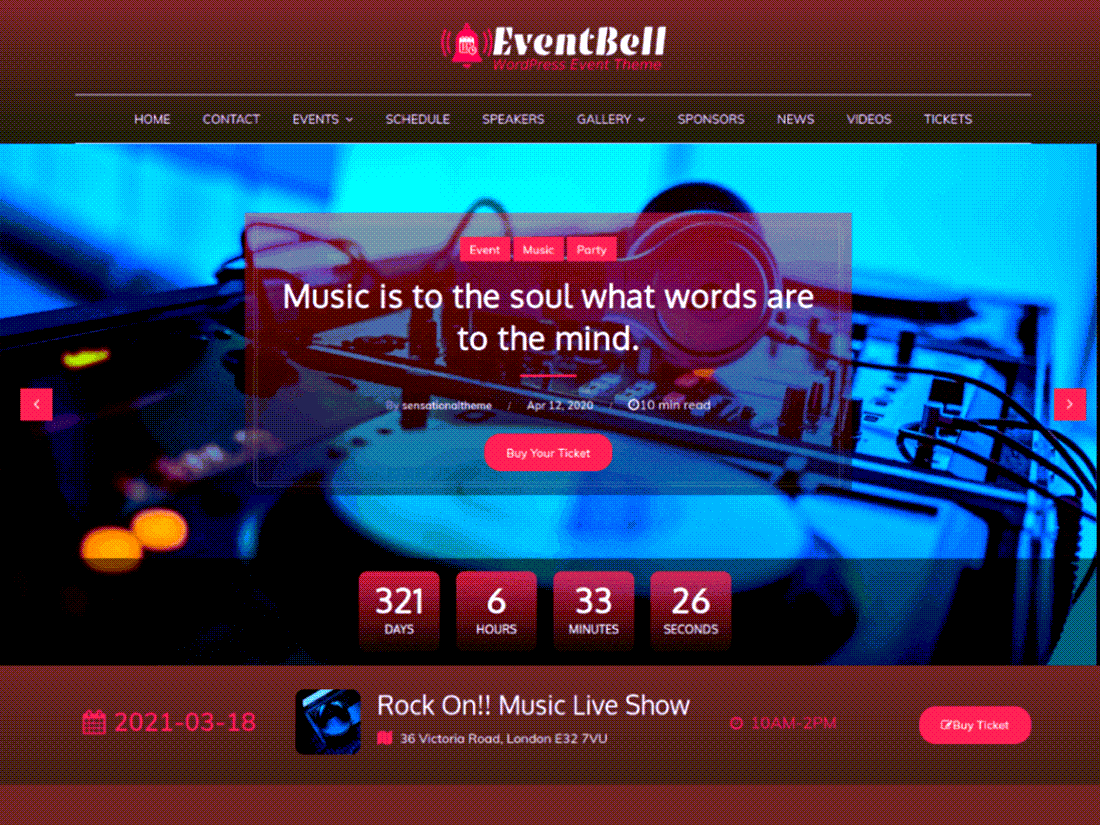 EventBell is a uniquely crafted theme with its split-screen design and hence very impactful. The theme takes care of the promotion of the event as well as keeps the confirmed guests enthusiastic about the upcoming event.
EventBell generally focuses on ticket sales so there might be some demos that do not cater to events or conferences, but assist you in selling tickets for upcoming occasions such as a music concert, party, festival eve, or others.
The prebuilt layouts and modes enable you to create websites for both small meetings and big corporate projects handling multiple events. Besides, special attention has been paid regarding event website communication and call to action. The 10 preset color palettes help you describe the event's mood.
Total number of users – 400+
16. Corporate Event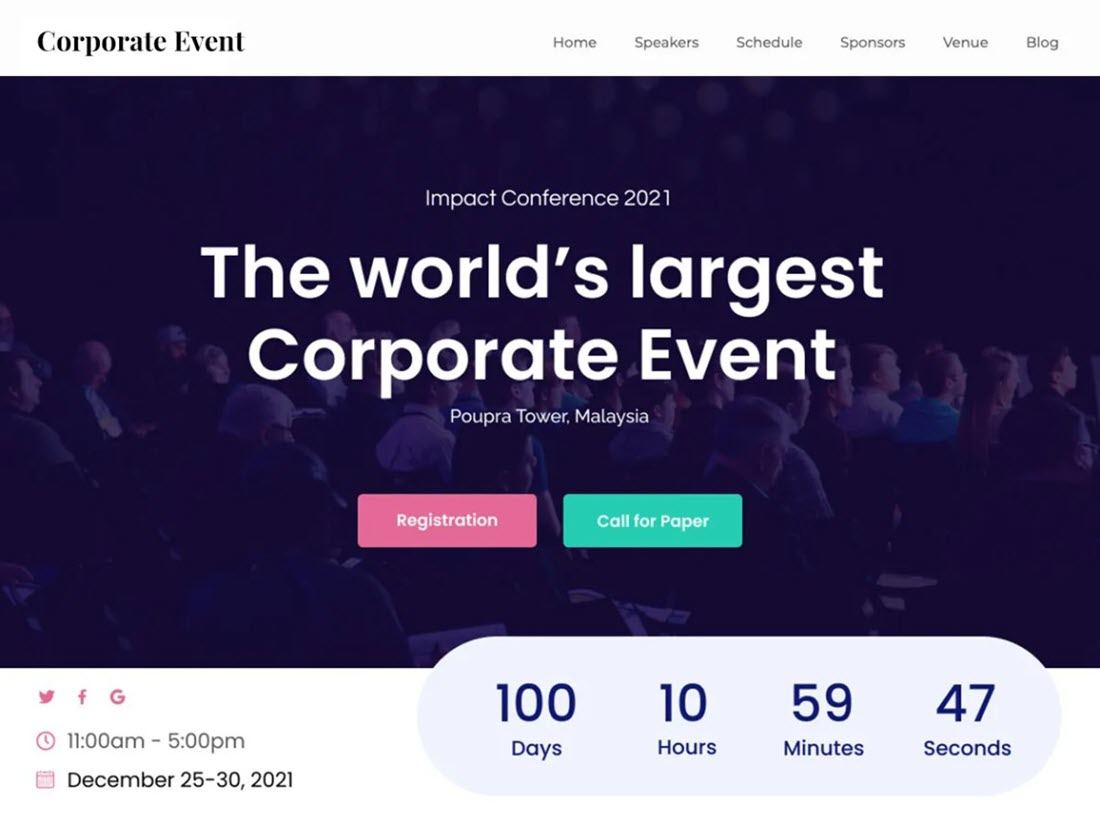 Event Planners WordPress theme is a free web template supported by the popular Elementor. The theme is an excellent choice to host websites for grand events, bookings, parties, celebrations, marriage, naming ceremonies, tournaments, games, campaigns and many more. Event Planners is also compatible with WooCommerce and Contact Form plugins.
If you are concerned about your budget and still want to create a wonderful WordPress event and conference management theme, then choose the free theme for conference websites – The Conference. Without touching a single line of code you get the best functionalities to have your website up and running in no time.
Total number of users – 200+