10 Best WordPress Migration Plugins 2022 
Are you Looking for Best WordPress Migration Plugins? Migration plugin is so much necessary when you got fed-up with your old hosting provider or got a new domain name or you want to migrate your WordPress site from the localhost.  Mostly they migrate because their website speed is worst or because of website security.

The migration process is quite difficult if you want to migrate your WordPress site without a plugin. You need to mesh up with lots of things like user's permission,  Database user, and password. For the eCommerce website migrating a database is a big problem Because the SQL export and import limit is 50MB that's why we have decided to write an article about Best WordPress Migration Plugins.
WordPress websites sometimes need to clone their sites to a new host or change their domain name. This can be a very tedious process. But many WordPress migration plugins are available to help them in this work without much hassle and with just a few simple mouse clicks. They are also very easy to use and save a great deal of time. Some of them are:
1. BlogVault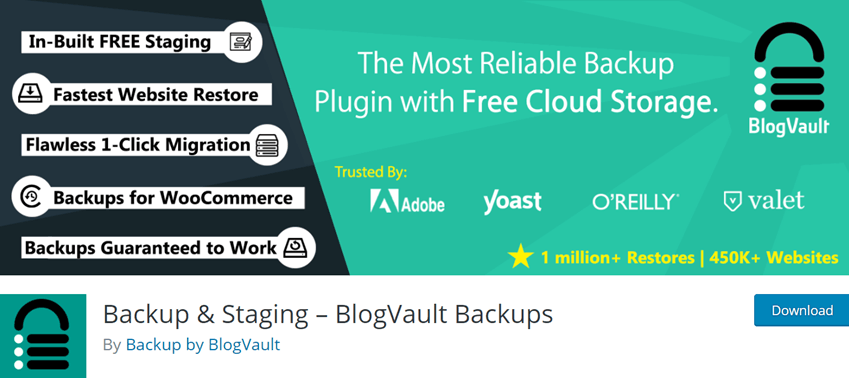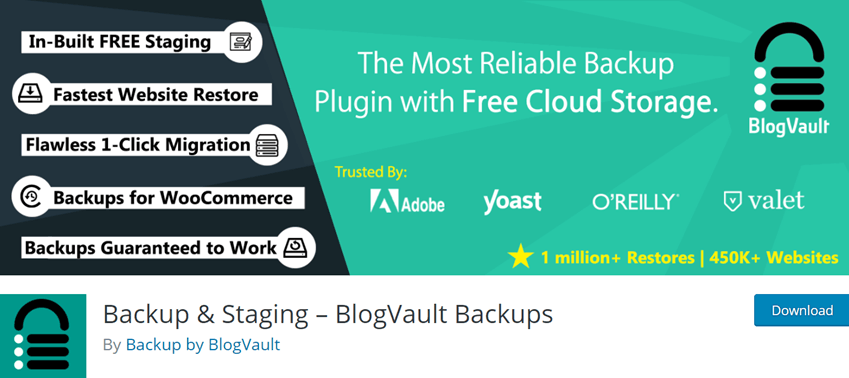 BlogVault is a confounding Migration Plugin that allows you to migrate the website in just a few easy steps. Install this amazing extension and then select migrate, it will securely relocate the entire database of the Website wherever you want. Hereby you get supervision of your multi-sites, if any delusion is about to happen BlogVault reminds you with alert notification. This is how secure your website is by migrating the database into another web host immediately. Utilize BlogVault extension for migrating the database even without showing collaboration with us as we provide solutions on white label. Such a trustworthy migration plugin that used by popular web designers including Cloudways, WP site care, Astra, GoWP, and WPbuffs.
Features Encrypted –
The fastest and easy-to-use interface allows you to prepare a clone of your site's database and migrate the same into a new web host.
No requirement for complex coding arrangements as it completes the migration of the database within just one click.
Compatible with web hosts (5000+).
Rewrite the URLs of the existing website automatically.
Enables to migrate the website's database into a new host, server, DNS, or even domain.
Allows migration of more than one site.
Total number of users – 300,000+ 
Basic- $89/year
Plus- $149/ year
Advanced- $249/year
Small Business (5 sites)
Basic- $199/year
Plus- $359/year
Advanced- $549/year
Developers (20 sites)
Basic- $499/year
Plus- $799/year
Advanced- $1499/year
BlogVault Setup and Overview
Screenshot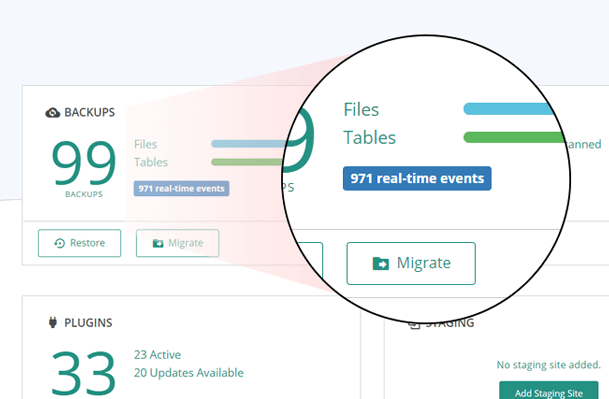 2. WP Migrate DB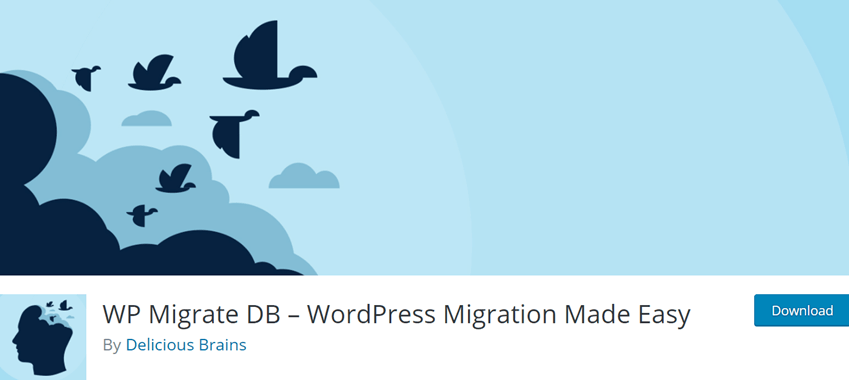 WP Migrate Db is one of the best WordPress database backup and migration plugins which is lightweight extension for migrating the entire database from one location to other. This extension assists you well to migrate a WP website between domains in just a few seconds. You won't require to go through the import or export of SQL scripts. Simply bundle up the available content, themes, plugins, WP files, and database in a zip file like a package. And then migrate such package i.e. a website, wherever you desire. Let you move on across a server or same server even without installing WordPress as the bundled package contains everything.
Stop wasting your time in configuring the same themes, content, and plugins over and over. Configure once and save it as a Duplicator package that could be utilized on other websites promptly. Let you configure your entire website in one click with pre-configured site accessibility as a Duplicator package. Duplicator is finely compatible with any plugins and themes.
You can even migrate your database in JUST one click. This Plugin helps users to stop wasting time on migrations. It helps the user to copy their WordPress database from one WordPress install to another in just a single click. It helps to increase the effective hourly rate. Its features are:
It helps to easily migrate the database by simply pulling and pushing it.
WP Migrate Db detects serialized data and runs find and replace on it to ensure it is not corrupted.
Back up the database before replacing it.
It helps the user to control the migration of their database and follow its progress.
Helps to save migration profiles.
It has very solid security.
Amazing email support.
Removes useless data.
It helps to filter outpost types.
Note – There is no alternative WP Migrate DB Pro. This is the only plugin that will migrate your SQL database from one website to a new domain name in just one click.
Total number of users – 300,000+ 
Price – personal-$49/yearly (1 Site),  Side Hustle-$99/yearly (4 Site), Developer-$199/yearly (30 Site)
WP Migrate DB Pro - Pulling Live Data Into Your Local Development Environment
Screenshot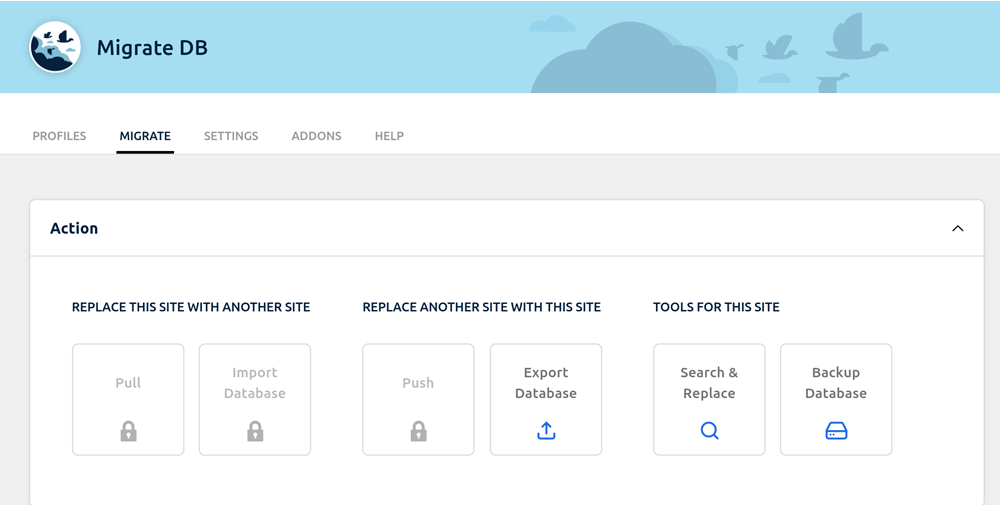 3. Duplicator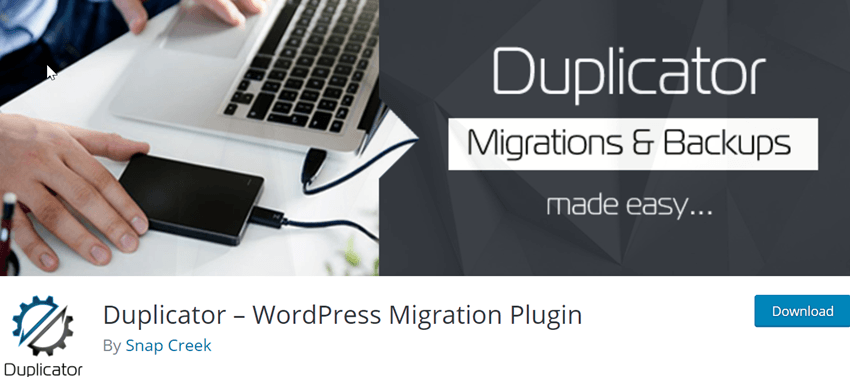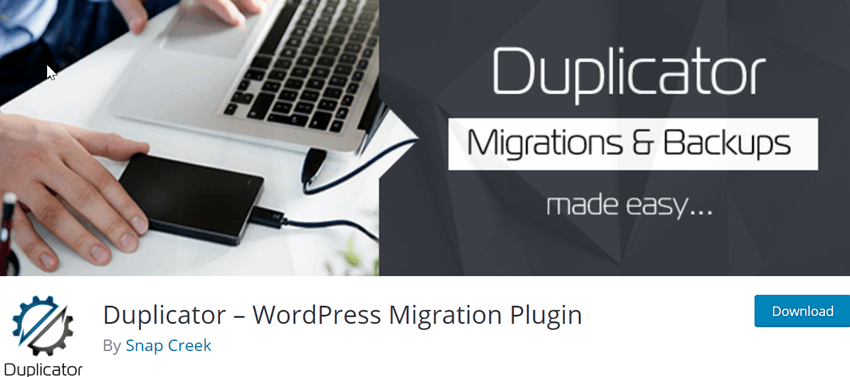 Duplicator not only works as a backup utility but also helps the user to migrate, move, clone, and copy a site from one location to another It handles serialized and base64 serialized replacements. Its features are:
It duplicates a live site to a staging area and vice-versa.
Duplicator helps to migrate, move, or clone a WordPress site between domains and hosts with zero downtime.
It enables the user to manually backup a part or full of a WordPress site.
The plugin can pull down a live site to localhost for development.
This can bundle up an entire WordPress site for easy use and distribution.
It can properly handle a full WordPress site migration without the need for import/export SQL scripts.
Total number of user --1,000,000+
Price – Personal-$69/yearly (3 Site),  Freelancer-$89/yearly (15 Site),  Business-$149/yearly (Unlimited Site), Gold-$549/Lifetime (Unlimited Site)
Learn How to use duplicator Plugin .
WordPress Duplicator - Quick Overview
How To Migrate WordPress Website To New Host | Duplicator WordPress Plugin Tutorials
Screenshot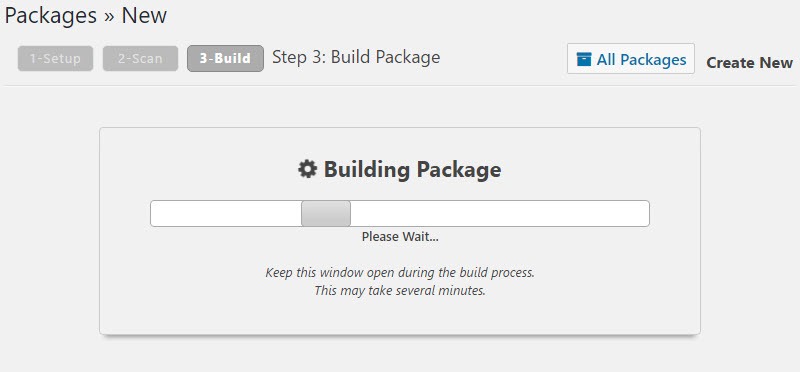 4. All-in-One WP Migration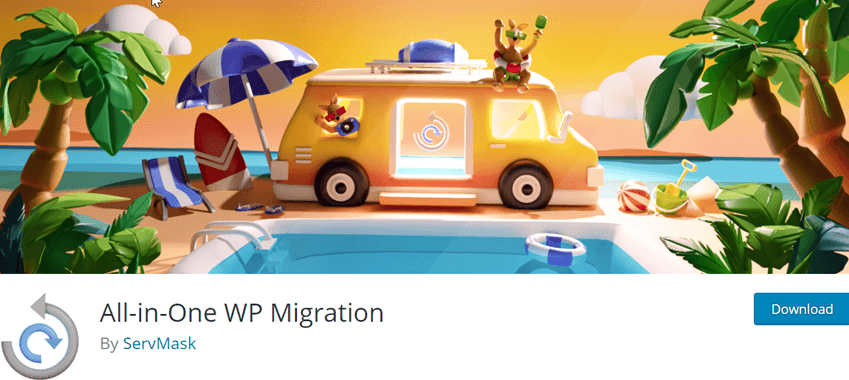 All-in-One WP Migration is a reliable and feature-packed migration plugin that eases up the migration of the database and entire website.  Without any technical knowledge, the All-In-One WP Migration plugin helps the user to export websites including media files, themes, databases, and plugins. Using this plugin a site can be uploaded to a different location with a drag and drop into WordPress.
Let you create a clone and migrate multiple websites with one-time configuration and it will save as default that easily configures another website in one click. Supports multi-sites and provides SEO-friendly features for the newly migrated websites that increase reachability and web traffic. An effective cloning process where everything is becoming ready to transfer to a selected directory. Allow access to the clone site only for authenticated users. All-in-One WP Migration takes very little to configure and migrate even without slowing the speed of your website.
Its features are:
All-In-One WP Migration plugin helps to apply an unlimited number of find and replace operations on the database during export.
It can fix any serialization problems that occur during the find and replace operation.
The plugin is mobile device compatible.
It does not require any PHP extensions.
enables fast migration of any website that takes almost a few seconds to minutes to vary on the size of the website.
Let you prepare a zip file for essential files, databases, themes, plugins, and content. And then, migrate such zip files instantly on different domains or servers with just one click on the available button.
Total number of user --3,000,000+
Screenshot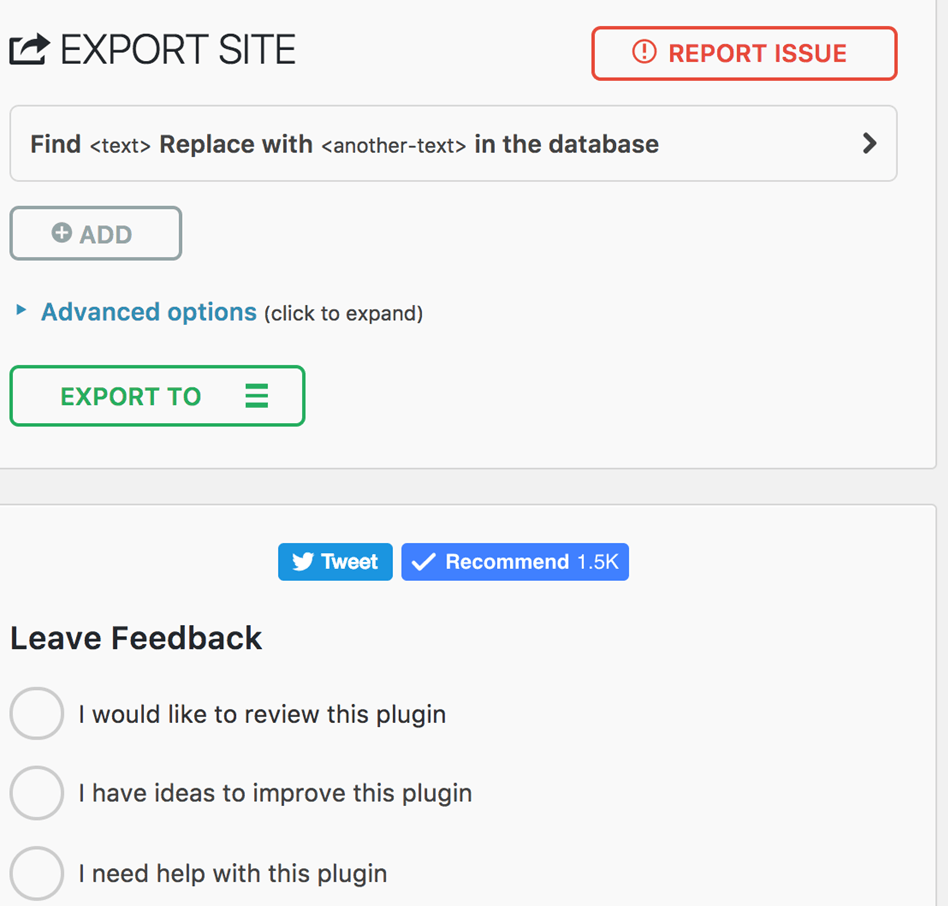 5. WP STAGING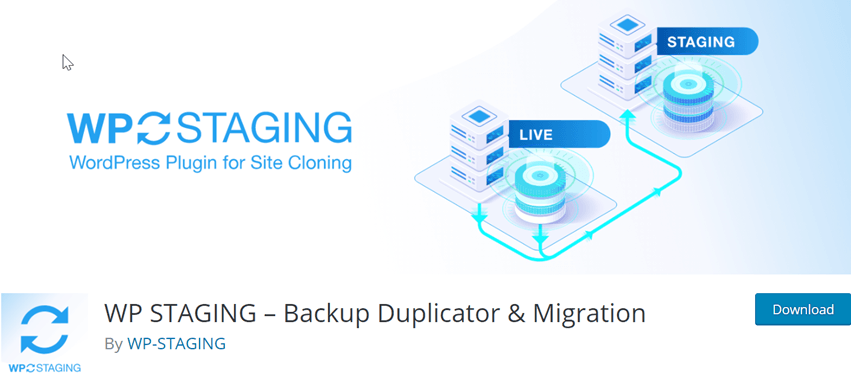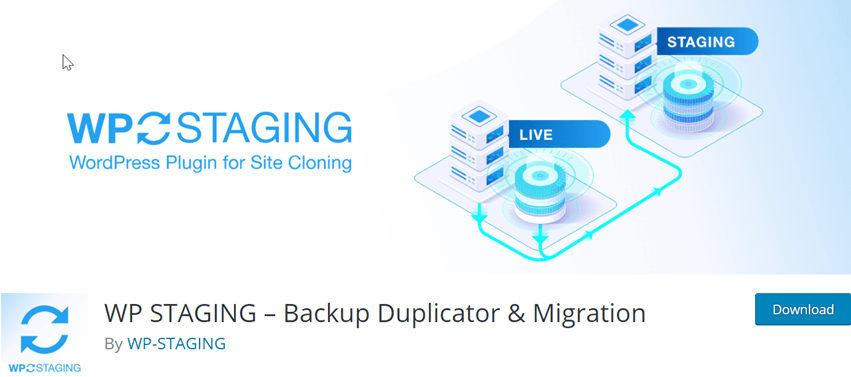 WP Staging for WordPress Migration & Cloning enables you to copy the exact what your website contains for transfer the same somewhere else. One of the well-designed migration extension let you retain the clone of your website and migrate it whenever required. Attest any theme customization as well as plugin updates right at the Staging before embedding them on a clone your production website.
Core Features of WP Staging –
Prepare Clone – Hereby, you can prepare a 100% exact copy of the site into a sub-domain or subfolder.
One-Click Navigation – Create a secure clone of the site by clicking the available button i.e. "Create New Staging Site".
Secure Migration– After testing the clone on the Staging Site you can migrate that entire modification to the secured website without any doubt and fear.
Multisite Availability – This allows you to create clones and migrate the same of multiple sites associated with you.
Customizable – Enable to customize everything such as configuration, themes, or even install the new plugin after updating.
Total number of users --60,000+
Price – Personal-$89/yearly (1 Site),  Pro-$139/yearly (5 Site),  Developer-$239/yearly (30 Site), Agency-$499/yearly (100 Site)
Screenshot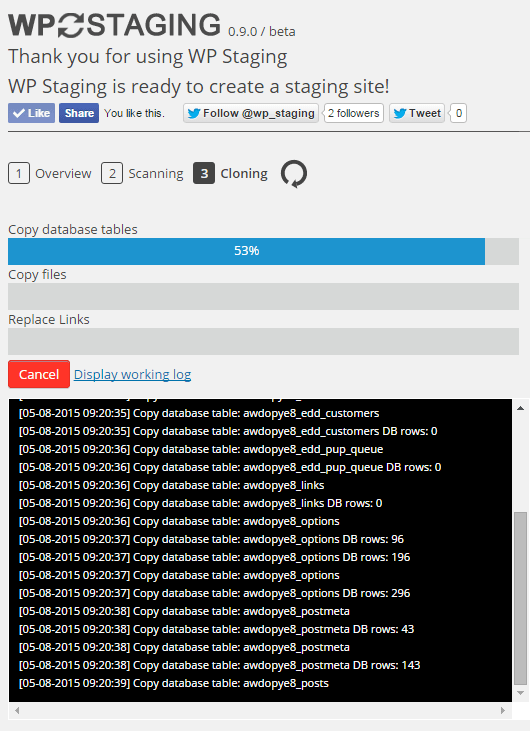 6. Updraft Migrator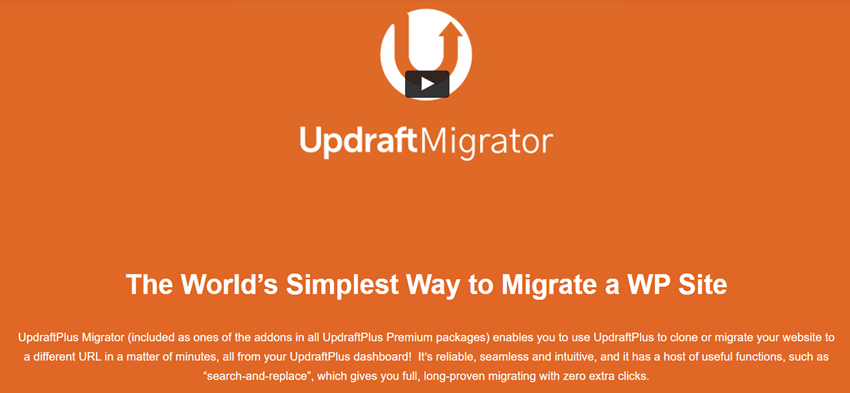 UpdraftPlus Migrator, in only a matter of minutes, helps to clone or migrate a website to a different URL from the UpdraftPlus dashboard. It has many useful functions and is seamless, intuitive, and reliable.
It provides a full long-proven migrating with "search-and-replace". This plugin has been trusted by many big brands to migrate or clone their sites. The value of the plugin is also at its very best. 12 months of support is included in the migrator plugin its developer package is also included which has unlimited add-ons licenses. It has the following features:
Migrating and Cloning- The WordPress website can be migrated in a matter of a few minutes to another domain.
Unlimited Sites- The plugin can be installed for a whole year on an unlimited number of websites.
Database Tools- Any mention of the old website is automatically cleaned from the database.
Full Support- Buying this plugin gives access to it for 12 months and support for 60 days.
Price – Migrator-$30/yearly,  Migrator Pro-$49/yearly,  Updraft Premium-$70/yearly
Updraftplus Migrator coupon  –  Activate link and collect the latest discount 
Clone WordPress to a Development Website with WP STAGING
Screenshot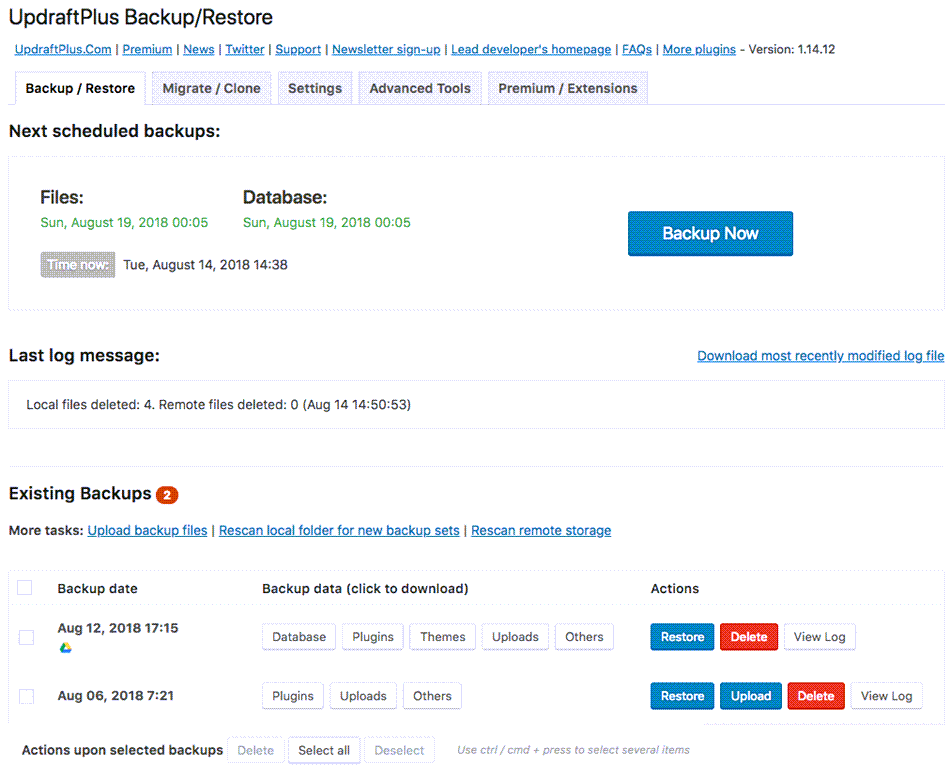 7. Migrate Guru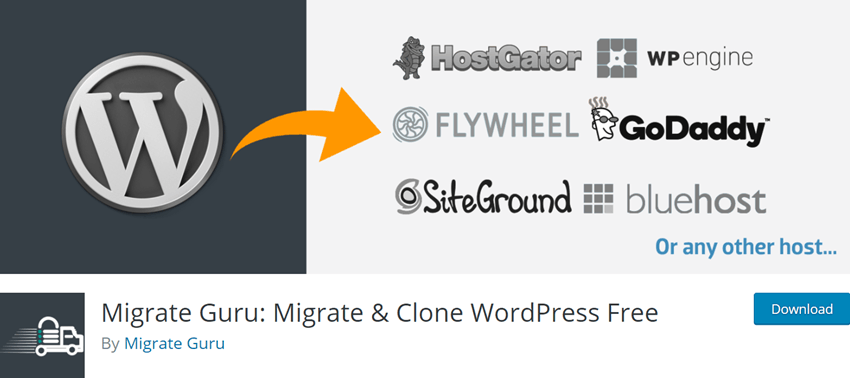 Migrate Guru is the fastest Migration WP Plugin that lets you easily prepare a clone of your site and migrate it within a little time. Enables to migrate one or more sites while eliminating complex procedures. The necessity of Migrate Guru arises whenever you are going to interact with new hosting on the site and domain for the new web host as well. It will take 30 minutes to transfer the entire database & files of the existing website of 1 GB. Compatible with any web hosts available in the world such as WPEngine, Godaddy, DigitalOcean, etc.
Key Features of Migrate Guru –
Automatically arrange the data in a sequence containing the search and replace option.
It will alert you by email notification about the status of migrating a website.
Integrated with one-click migration, you just have to simply click on "Migrate" and it is all done.
Designated to create a clone and move large sites containing 200 GB database without any trouble.
Automatically erase the copy of sites once the migration is complete which eliminates storage issues.
Total number of users --50,000+
Screenshot

8. 1 Click Migration
1 Click Migration sums up with multiple features of WordPress Plugin which can clone as well as migrate the entire data of site within just a click. Works hassle-free everywhere no matter what kind of host you are using or what size of the database is present on your website. This multi-featured WP Migration Plugin allows you to use it for more than one site migration eliminating complexities. If you change the domain of your existing site then it automatically detects it. Hereby you get access to secure and fastest migration in a very easy way.
As it is cleared by its name, it restores the whole database within 1 click. You don't have to wait for too long to see the newly integrated website while it completes its task promptly. It is all done from one server to another, that's why you don't need heavy internet during the migration process. 1 Click enables you to choose what files you want to migrate with the drop-down option and then migrate the same on your website.
Total number of users – 300+
target="_blank" rel="noopener nofollow external noreferrer">Free
Screenshot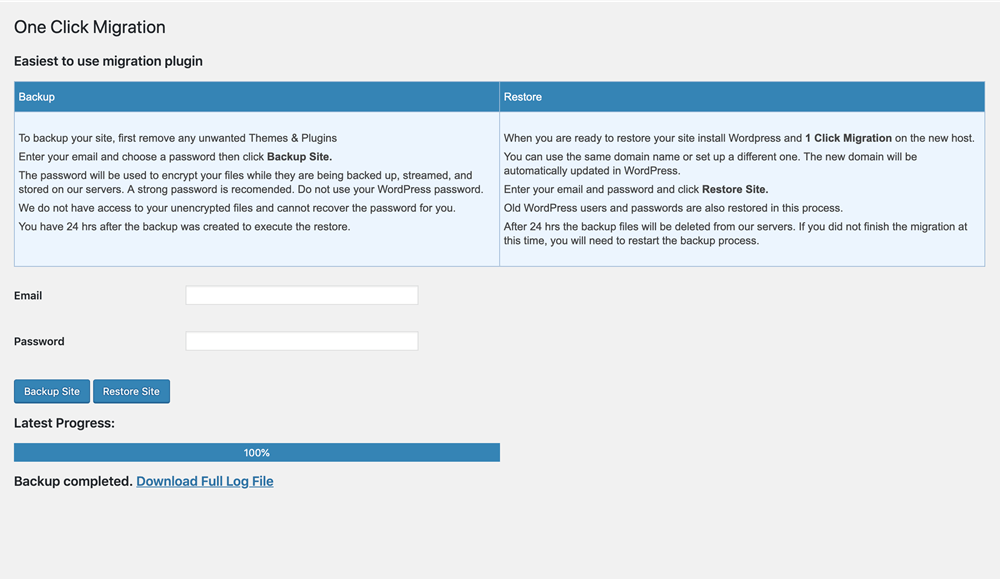 9. WP Clone By Academy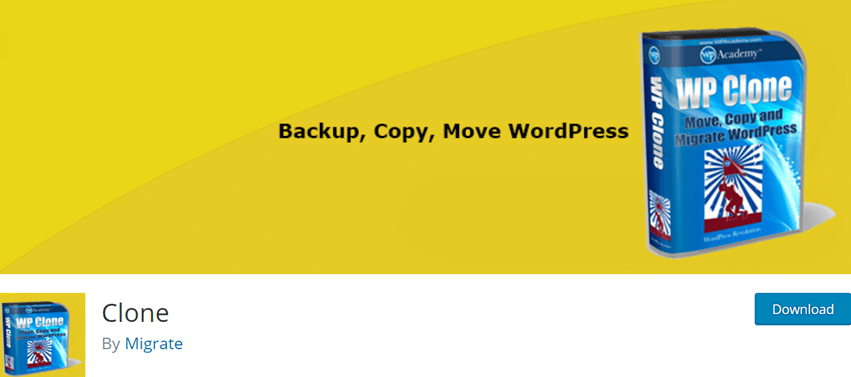 WP Clone is quite fast and an easy and secure way to copy a WordPress site to another domain. It also helps to move a site to or from local server hosting. WP Clone can also be used to create copies of the site for development and backup of site. It can be used to install pre-configured versions of WordPress as well. Its features are:
It does not require FTP access to the source or destination site.
WP Clone does not backup and restores WordPress system files thus reducing upload time.
It is very secure.
The plugin fetches the site backup via the host's direct HTTP connection.
Total number of users --100,000+
Screenshot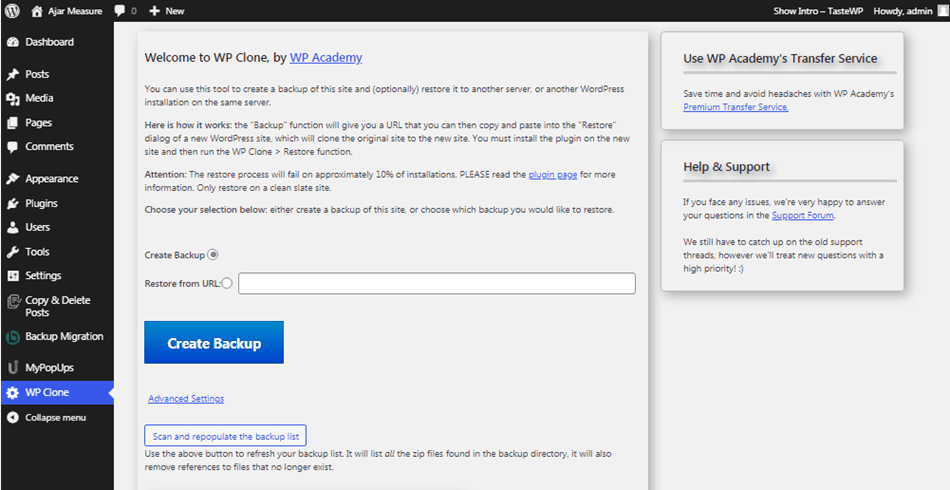 10. WP Super Backup

Super Backup and clone is one of the best-selling backup plugins. It helps the user to easily backup their files automatically with only a few clicks. Its features are:
WP Super Backup provides a cloud connection between two WordPress websites.
It creates backups timely.
Restores saved snapshots and uploaded files.
The backup can be easily scheduled.
Facilitates migration from saved snapshots.
It has a very smooth dashboard.
The plugin supports multisite.
It keeps real-time logs.
Price – Regular License-$28/lifetime,  Extended License-$99/lifetime
Screenshot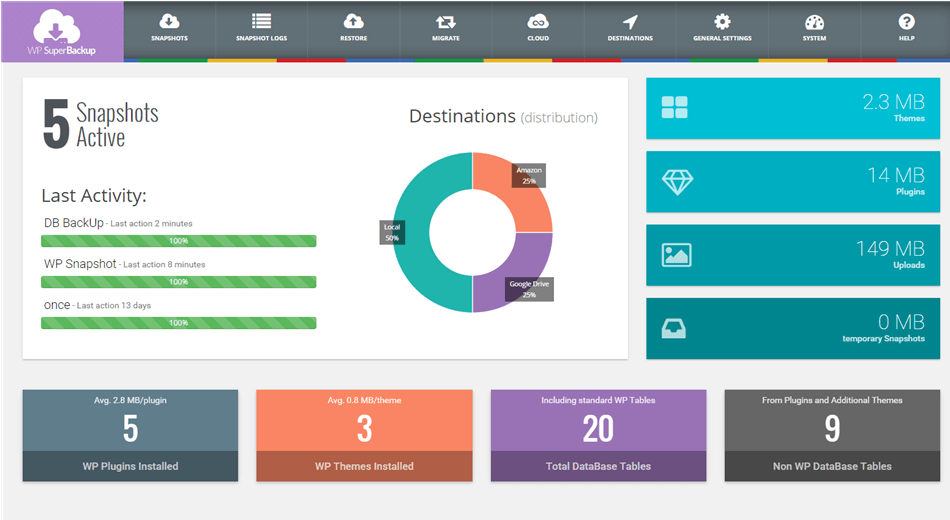 Conclusion – Still confused about which is the Best WordPress Migration Plugin? I will try to make it easier for you. If you are an expert then I will tell you to use WP Migrate Db (Only for an expert ). It will save you 5-6 hrs time if you own lots of domains.
If You are a beginner/expert no matter what want to use a premium version Then I will request to go for Updraftplus-migrator Which is better than any other backup Plugin. But if you want a free version then you can use all in one wp-migration. Still have a question feel free to ask me in the comment section.