8 Best Social Counter Plugins for WordPress 2021
Are you looking for Premium or free Best Social Counter Plugins for WordPress? We have gathered and collected a top-level author plugin to get a count of your social media fans or followers and subscribers to display it on your WordPress website. It encourages your website visitor's to follow you on social media.

So in this article, we will be looking at the list of Best Social Counter Plugins for WordPress which helps us to get more visitors.
Table of Contents
1. Monarch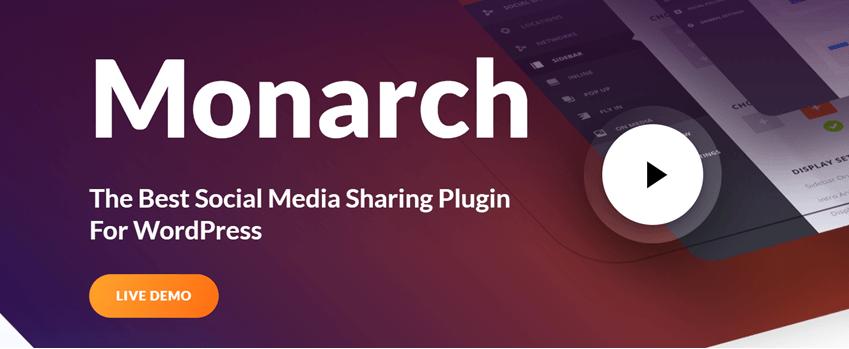 Monarch is the best social media sharing plugin with lightning-fast speed, increased sharing, new and improved design and available at more locations. Monarch is a well-integrated plugin of WordPress that enables you to set up the buttons of the social counter. Let the users and visitors know about your social media activity right there on the website to create a better impression on them. Although, allow them to re-share those posts on their own social media channels by simply clicking the share buttons available right there. This kind of marketing will increase the traffic on your website. Customize the social counter and make it visible to your audience in the way you want.
Features
Users can display more than 15 social sharing networks on their websites.
Any number of available networks can be added to create a custom collection of sharing options for the visitors.
The sharing buttons can be added to 5 different locations on the web page- above and below the content, automatic popup, on images and videos, floating sidebar and automatic-flying.
Users can choose from among 6 automatic flying and popups which gets triggered based on user interaction.
Monarch is very responsive.
Users can build and display their social profiles and followers.
It comes with designs that integrate with the sites seamlessly.
Monarch lets your users directly share any post or page that is present on the site by just clicking the social share buttons available there.
Price – Yearly Access-$89/yearly (100 Website)
Lifetime Access-$249/lifetime (100 Website)
Screenshot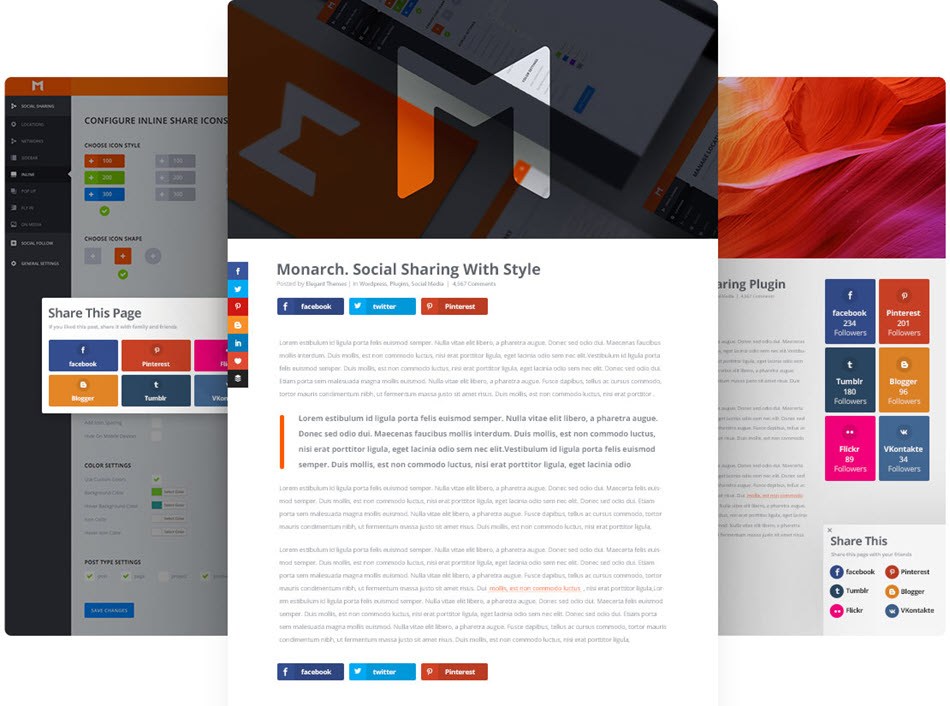 2. WP Social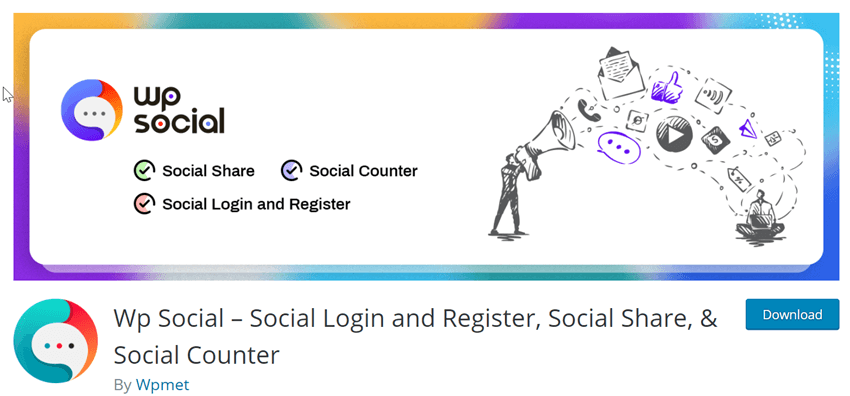 Wp Social is one of the best Social Counter, Social Login and Register and Social Share plugins for WordPress That enables the users to add a social counter, Social login and multiple styles of social share buttons on the WordPress website. Thus, it makes It easier for you to log in as well as share your content across various social media platforms and attract traffic to your website. Eventually, it helps you bring all your social media together without putting in much effort.
WP Social Allows you to link your social media channels including Facebook, Pinterest, Twitter and more, on your website via social media icons and also lets you display your followers or fans count on your website. Using this plugin you can also enable your users to login into your website using their social media account and to share your content across their social media channels.
Features
The plugin comes with a simple user-friendly social login and register interface and is fully customizable. Hence, the plugin is easy to set up and use.
It enables the users to share their content such as blogs, posts, latest updates across various social media platforms in order to increase their reach. It also lets the users customize the social share buttons according to their choice.
The plugin is fast and optimized for performance.
It is fully GDPR compliant and thus, explains how usually use the user data before collecting the user's data.
The plugin also allows you to enable or disable any feature according to your
Total number of users --10,000+
Price – Personal-$29/yearly (1 Site),  Professional-$79/yearly (5 Site), Agency-$129/yearly (Unlimited Site)
Personal-$79/Lifetime (1 Site),  Professional-$179/Lifetime (5 Site), Agency-$399/Lifetime (Unlimited Site)
Screenshot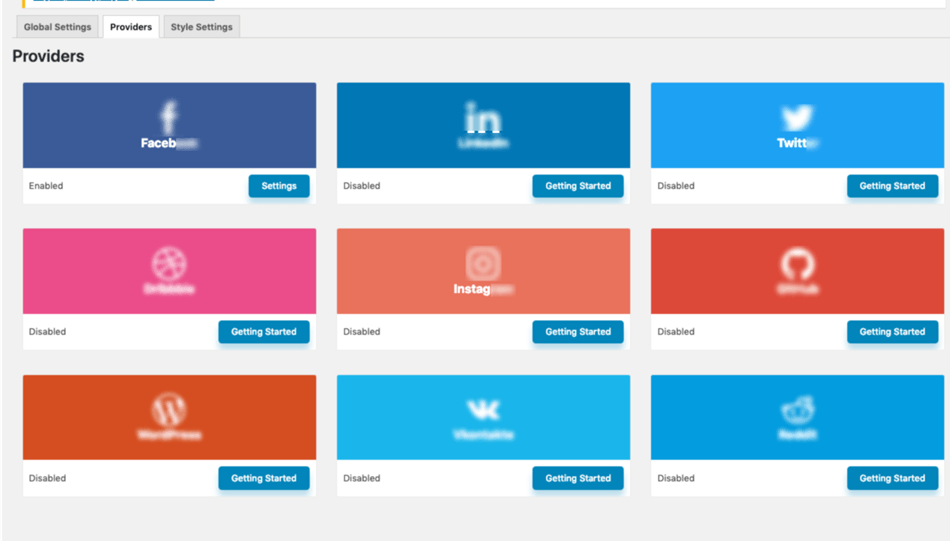 3. Better Studio

Better Social Counter Is one of the best social counter plugins for WordPress that enables you to display your social media followers, fans and subscribers count on your WordPress website. It allows you to display your social media stats on your website and thus, helps you drive traffic towards your website.
Features
The plugin comes with over 30 Social counter styles that are unique, Clear and modern. You can even customize the style and typography In order to match your website design or theme.
It supports more than 40 different social media or social networking sites it allows you to engage with your users and gain followers from various social media platforms.
The plugin is multilingual i.e., It supports all the RTI approved languages. Also, it comes with a translation panel that allows you to translate all your buttons and styles in a matter of a few minutes.
It comes with advanced widgets and shortcodes that allow you to show your social counter anywhere on your website as well as enables you to customize the style according to your choice.
You can also activate or deactivate the site and also change the order using the drag and drop interface.
It is Accessible to almost every social media platform such as Twitter, Facebook, Google, Linked In, and Pinterest.
This plugin Contains features such as animations, 9+ button styles, and customizing the place of social buttons.
Price – Starter Club-$44/yearly (6 Plugin/1 site),  Pro Club-$69/yearly (20 Plugin/1 site), Agency Club-$149/yearly (20 Plugin/5 site), Lifetime Access-$399/Lifetime (20 Plugin/Unlimited site)
Screenshot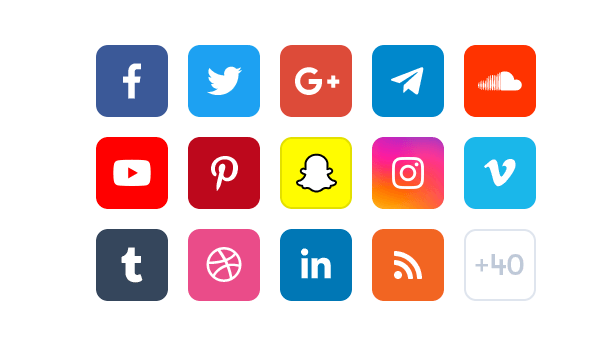 4. Social Counter By Prisna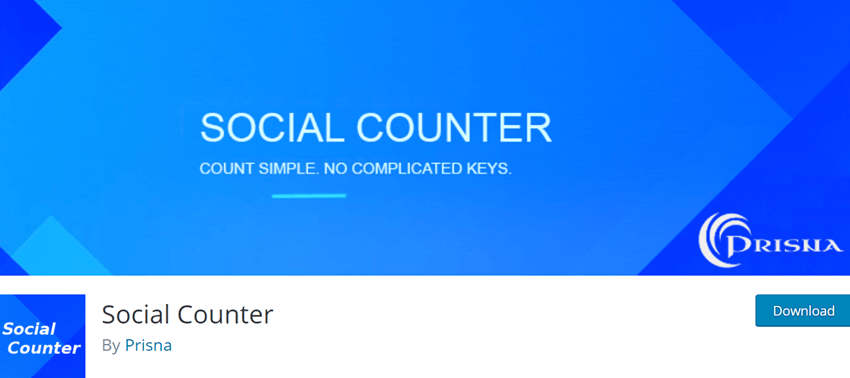 The Social Counter by the Prisna does the counting for a total number of comments, Vimeo followers, YouTube subscribers, GitHub followers, Facebook page fans and many more. You can display all these numbers using widgets, PHP functions or shortcodes on the themes. All the results of the counting are stored in cache memory and are checked once a day. It gets erased off as soon as a new post is published. . It displays the result of the last cached value if this happens.
Features
Showcase the counting of your followers, share posts, share pages, subscribers of various social media platforms like YouTube, Linked In, Twitter, Facebook, and more. Fix WP Social Counter anywhere on your website while using the simple shortcode.
It is enriched with features such as GDPR compliance, animation effects on scroll, sharing options to users, an easy-to-use interface, and an updated API.
This avoids the blog from getting new results each time a page is loaded and also prevent the collapsing of services from Facebook and Twitter

It also offers three icon design layouts-cylindrical, round and square.

You can choose the colours for the icons.

The user gets directly notified in case of updates in the plugin.

It is enabled with a shortcode. 
Total number of users --1,000+
Screenshot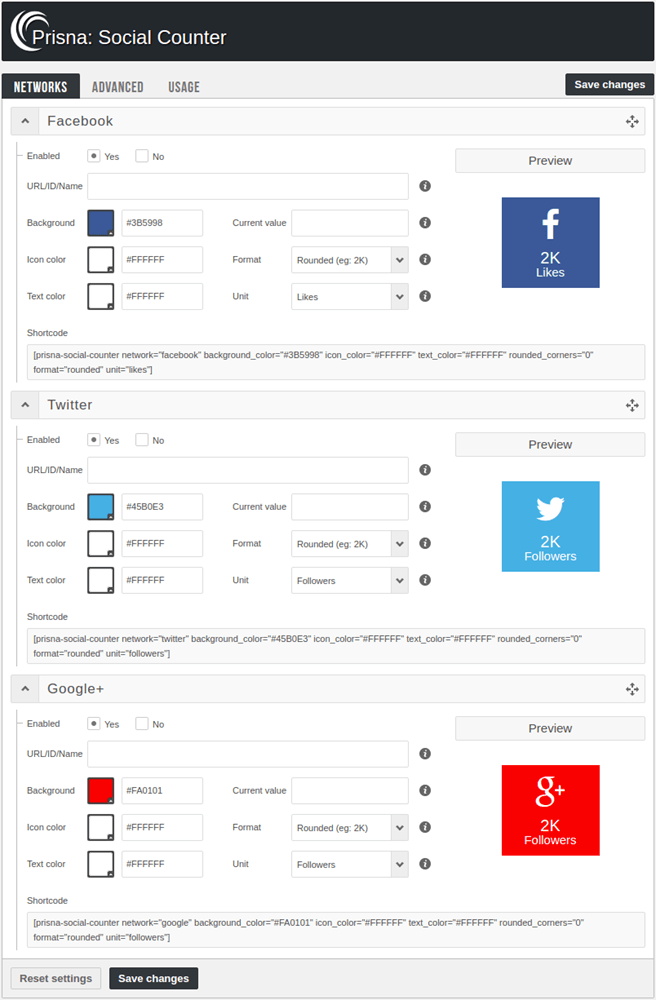 5. Accesspress Social Counter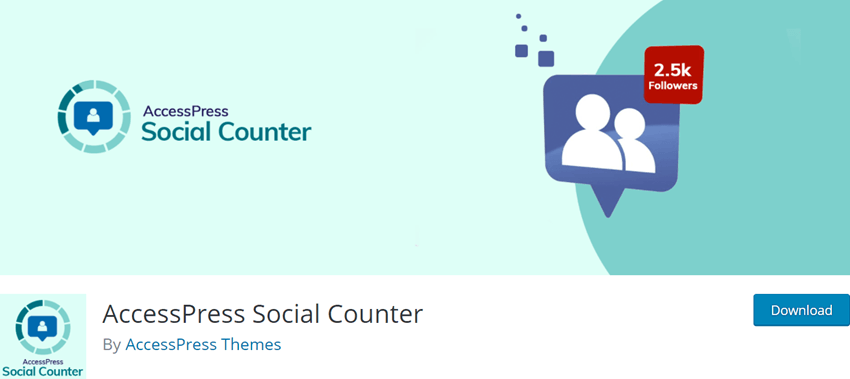 Accesspress Social Counter for WordPress is a free plugin that helps the users to show off their social stats such as social account fans, followers and subscribers on their website. The user can select the social media profiles they want to activate, give the required details and display them using one of the 5 beautifully designed themes using just simple widgets and shortcodes. The social media sites which are available in the free version are Instagram, Facebook, Twitter, SoundCloud, Google+ and Dribble along with the count of Posts and Comments. You can display Network follower count and activity using Advanced Social Status for various social networking sites.
Features
It is fully responsive i.e. compatible with all the devices.
It is an exclusive WordPress Extension whereby you can establish your social media data information. By doing so, you can showcase your followers and fans right on the website.
This plugin is user-friendly i.e. is so simple to use that anyone can use it.
You get free updates for a lifetime.
AccessPress Social Counter comes with 5 beautifully designed themes that you can choose from.
The team provides dedicated customer support through Emails and forum support.
Total number of users --40,000+
Price – Regular License-$39/lifetime
AccessPress Social Counter - Free/Responsive WordPress Plugin (Introduction Video) | WordPress Blog
Screenshot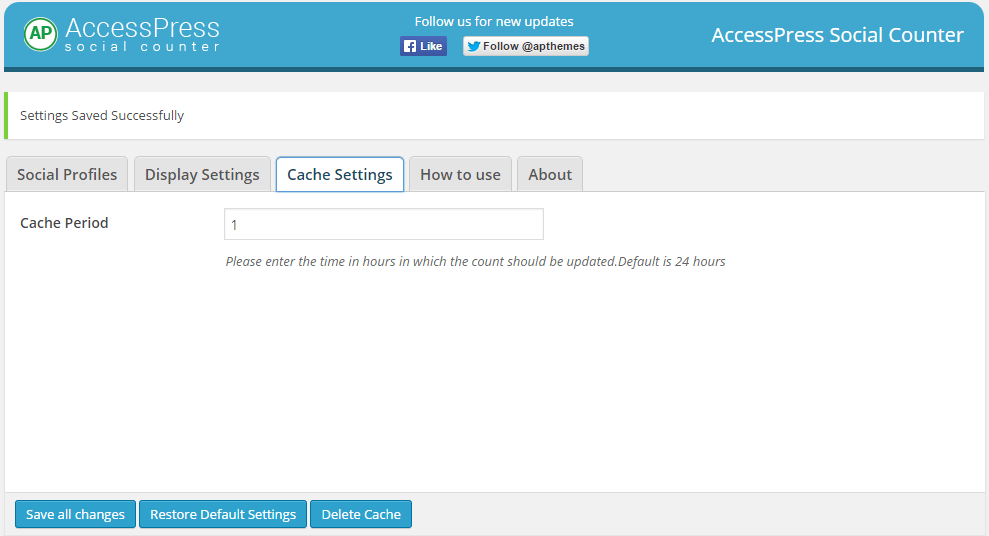 6. Arqam Social Counter Plugin

Arqam collects the fans and followers count from the favourite social media site of the user and uses it to encourage more people to join their network by displaying the statistics on their blog. The following counts can be dynamically generated by connecting the user's network's API. The best part of the Arqam Social Counter plugin is that it is retina responsive. It helps to display the number of followers, subscribers and fans of various social media sites in several designs at different locations on the website using shortcodes, widgets and sticky mode. It integrates more than 30 social networks to display the number of fans and followers.
Features
The themes are downloaded at lightning-fast speed.
It has 5 themes and comes with several column options.
It is also retina ready and has a dark skin option.
You can set the preferred colours.
Translate the plugin into multiple languages.
Fully responsive.
Sort icons with the Drag and Drop option.
Compatible with Visual Composer plugin.
Price – Regular License-$39/Biannually (1 Site), Extended License-$299/Biannually (Unlimited Site)
Screenshot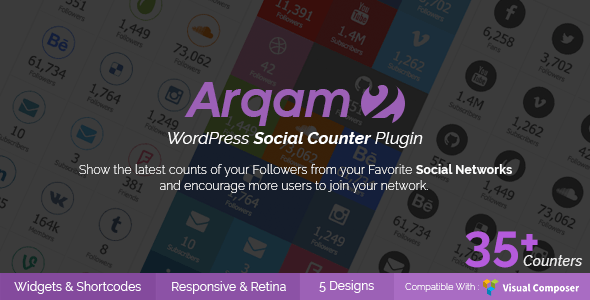 7. Cresta Social Share Counter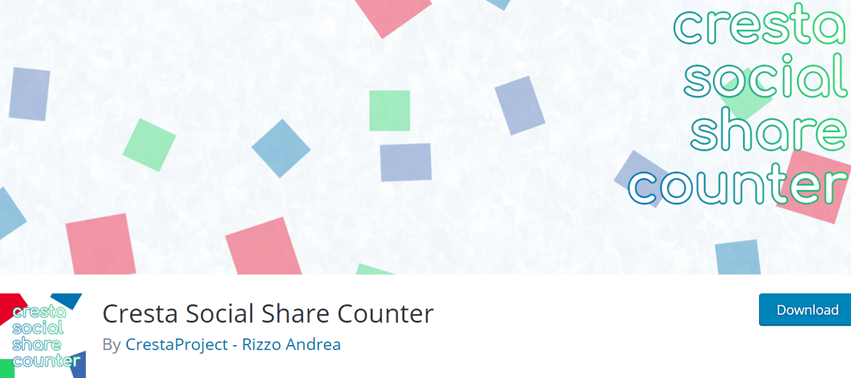 Cresta Social Share Counter is an extension that enables your users to know the social identity of your website on different platforms. Share the statistics of your relevant social media identity from various networks associated with your renowned website. This creates a medium to trust the website and of course the service or product they provide gets better attention. Integrated with lots of customizable options to display your social counter in the way you want to your audience. The multi-lingual and user-friendly interface extension of Cresta Social Share Counter perfectly makes it available around the world. Just display the entire analytics on the site by installing this extension with shortcodes and widgets.
 Features –
Grow your followers with this social counter plugin as it is fully compatible with more than 40 social media platforms.
Select any style among 30+ available templates or customize it for your social counter according to the website requirement.
To set up the extension process of Cresta Social Share Counter just add the usernames of your relevant social accounts. You can easily pass all the complex API keys.
While in the PRO version you get access to more effective features like changing the colour buttons, more animation effects, and button styles.  Enables you to add advanced buttons for share including WhatsApp, Telegram, Tumblr, Reddit, etc.
Total number of users --8,000+
Screenshot
8. SILICON COUNTERS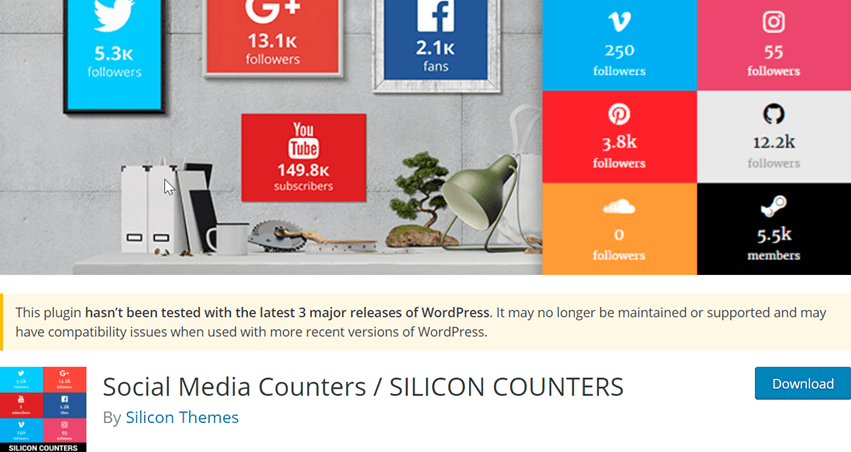 Social Media Counters /SILICON COUNTERS is a simple yet powerful plugin to show the number of followers or subscribers on various social media sites such as Instagram, Facebook, Twitter, YouTube and many more on your website. Users simply have to choose the social media profiles they want to activate and enter the necessary details of the social media. They can even choose the icons they want to display as well as colour and font sizes. All this can be done using simple widgets and shortcodes or PHP functions to display the social media profile icon at any desired location on the website.
Features
This plugin is simple to use.
This creates subtle reliability within the visitors who come to your site and increases the chance of converting them into users.
Supports multiple social networks such as Instagram, Facebook,  Google Plus, YouTube, Twitch, Pinterest, Vimeo, GitHub, Twitter, SoundCloud, Steam and WordPress.
With a simple shortcode i.e. cresta-social-share, you can embed this extension anywhere on your website.
Choose the icons you want to display as well as colour and font sizes.
Fully Responsive
Quick load time
Support 10 channels
Multiple styles.
Quality customer support.
Total number of users --1,000+
SILICON COUNTERS - Free Social Counters plugin for WordpPress
Screenshot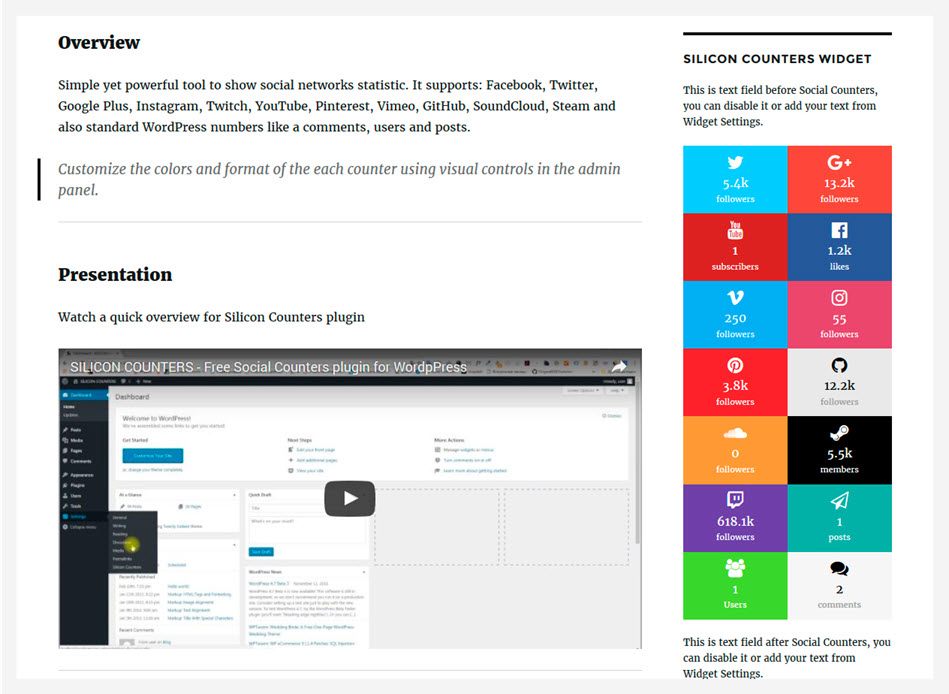 Conclusion 
Still, confused about which is the best WordPress social media counter plugin you should go for? Don't worry, I will make it simpler for you. If you are looking for a premium WordPress social media counter plugin, then move on to monarch, which is one of the best social counter plugins for WordPress. This plugin focuses on features like social sharing and social count which means that with one plugin you can get more features. But if you want a free social counter plugin then move on with the silicon counter. If you still have queries, feel free to drop them in the comment section.