Places to get Free Vector Illustrations Images 2023
Vector illustrations images are becoming important for businesses to make their website beautiful.  Now you can get beautifully designed graphics, vector images, vector art, and high-resolution stock images which are completely Free for commercial use.
Visual graphics are a bigger part of contemporary web design. From keeping up the aesthetics of the web posts to maintaining the relatability of the content to the readers, it has done a pretty great job in nourishing the websites.
There are various places to acquire the images you might need for your websites, though not all our gratis. Some of the important list of top websites to get vector illustration images for commercial and personal use.
1. unDraw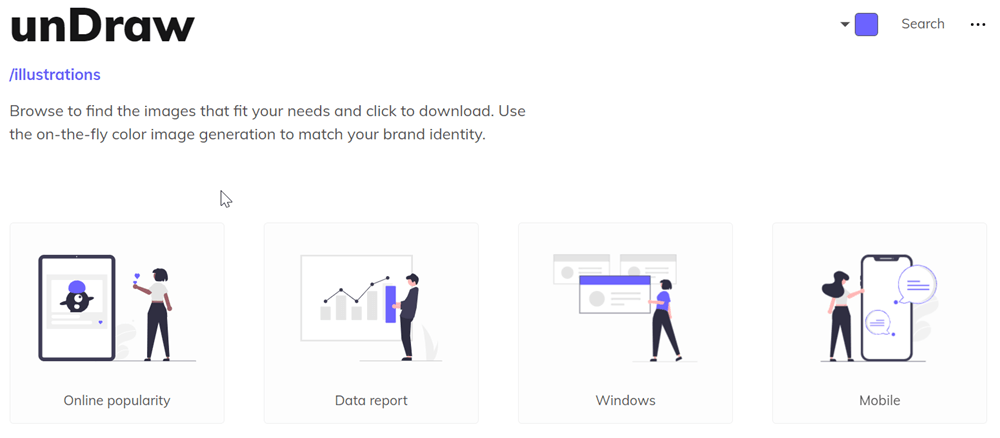 UnDraw is a platform for all designers, content creators, and graphic designers to get marvelous designs and patterns in just one place. UnDraw offers you free illustrations vector images for commercial use without any attribution to the author. They provide customizable color and scale for the illustrations without quality curtailment. The images can be modified as per the need and be created into an end product or a graphic as required without the risk of increasing file size.
All the images on this site are downloadable and can be availed in SVG or PNG format. And as these images are organized into categories, you can easily look at the design of your choice on your own.
Attribution – All the images, vectors, and assets of Undraw can be used for free for profitable and non-profitable purposes; no permission is required.
2. ManypixelS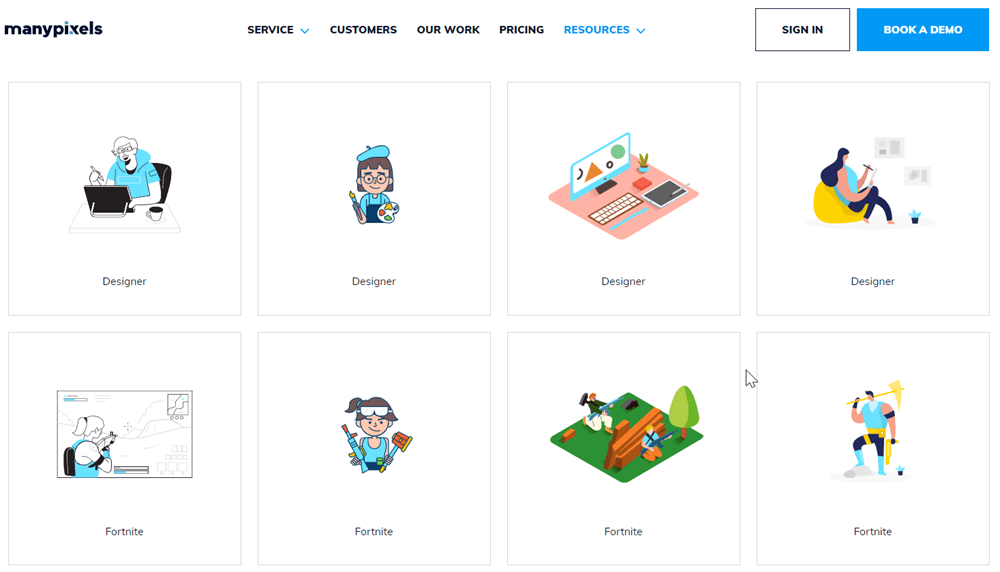 If you require customized Attribution-free vector illustrations images regularly, Megapixels is your destination where you can request high-resolution Vector graphics of your choice. You can get this service by choosing a periodic subscription. Other than that, the site has a huge stockpile of creative designs already organized in categories that can be used on your website or social media.
Just click on Manypixels and download any image you want without paying any money. You don't have to worry about the formats as all the images are available in both SVG and PNG format. Furthermore, you are also given the possibility to modify the color.
Attribution
MegaPixels gives the customer a non-exclusive, global copyright license to download, copy, modify, distribute, perform, and use the assets provided from ManyPixels for free for both commercial and non-commercial purposes; no permission and credits are required
3. Blush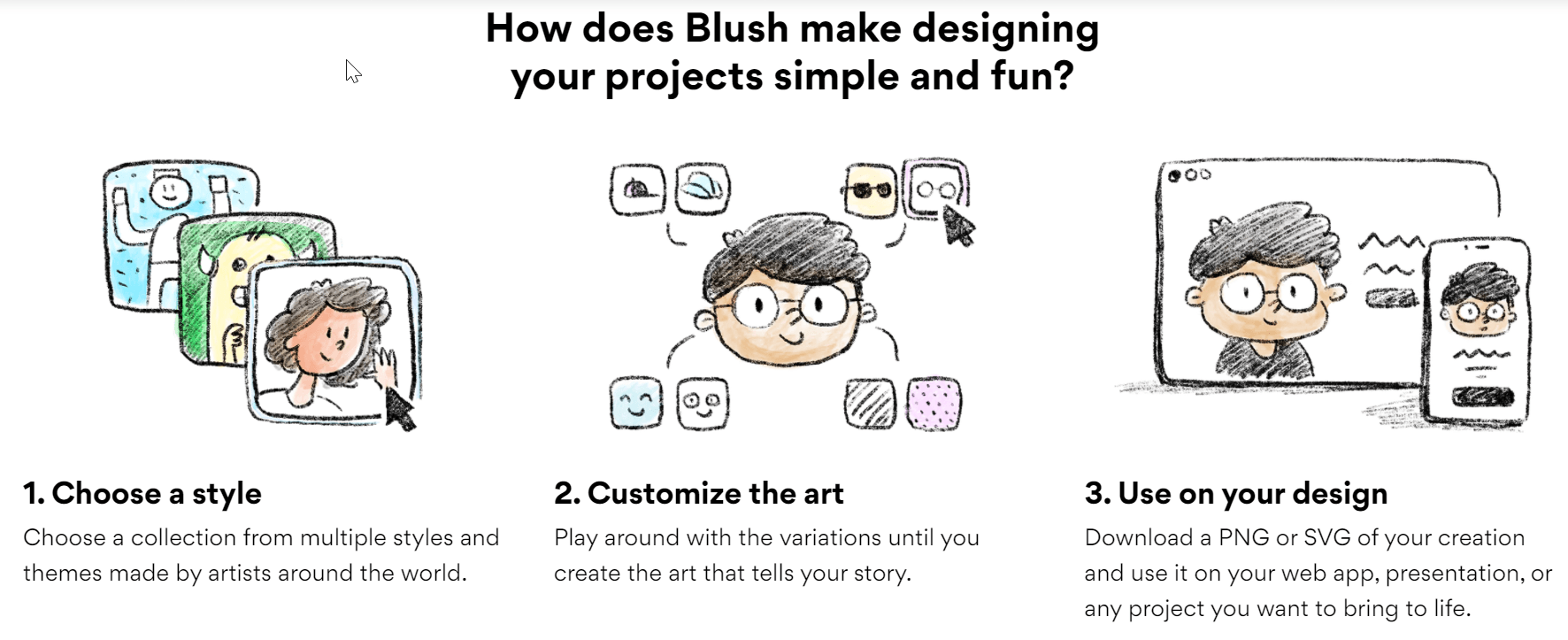 With Blush, you can create your customized vector cartoon images by editing any image from the powerful collections of designs provided on this site by many creative designers around the world.
Blush allows you to change the art in whatever way that suits you best. Then you can download your new creation in either SVG or PNG format. Their interface is quite user-friendly.
Attribution 
Blush provides you with a generalized, universal copyright license to download, modify, and use Illustrations made on Blush for free, without asking permission from any author or providing any attributing the illustrator or Blush. However, using these illustrations to replicate similar services is prohibited.
Screenshot 

4. Scale by Flexiple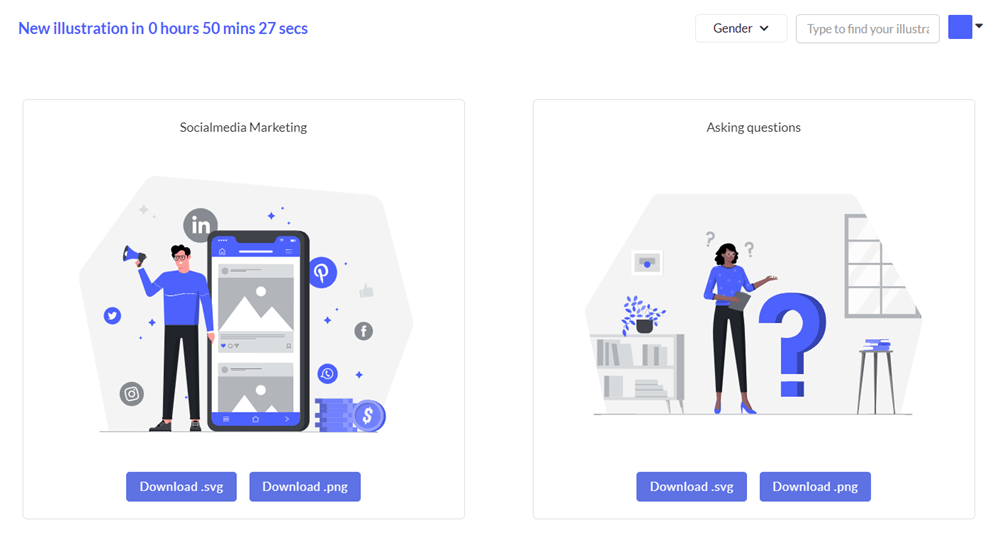 It has one of the best collections of free scalable vector graphics images. A new, high-quality illustration each day and that too without a charge is what you sign up for when you turn to Scale. Already disregarding gender bias and showing diversity in skin tones, they now aim for thematic illustrations for specific industries. So, in the future, there would be much greater customized options available on Scale increasing the existing large number of diverse illustrations.
Attribution 
Free to download, share across social media for personal use, or to modify into an end product without the need of permission and attribution. However, reselling and repackaging are forbidden.
5. Drawkit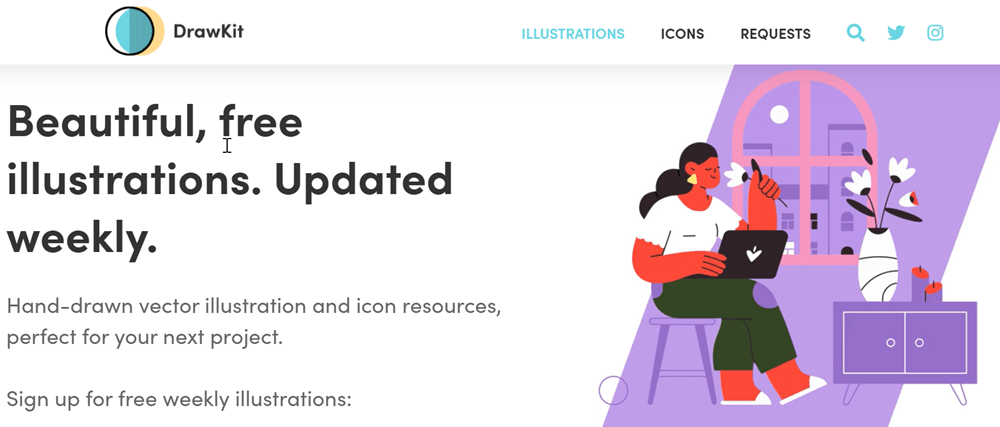 This is an illustrations framework for Mac OS X with the help of which you can add drawings and illustrations to the Mac applications. With the feature of high modularity, you can easily use only the needed parts of the illustrations and on the whole as well. It has a vast Free Illustration Gallery to choose images.
Attribution
All illustrations under DrawKit can be used for commercial and non-commercial purposes as it provides a non-exclusive, non-transferable, royalty-free, worldwide license to the users. Nevertheless, reselling, redistributing, and selling for the merchandise purpose is prohibited.
Screenshot
6. Illustratious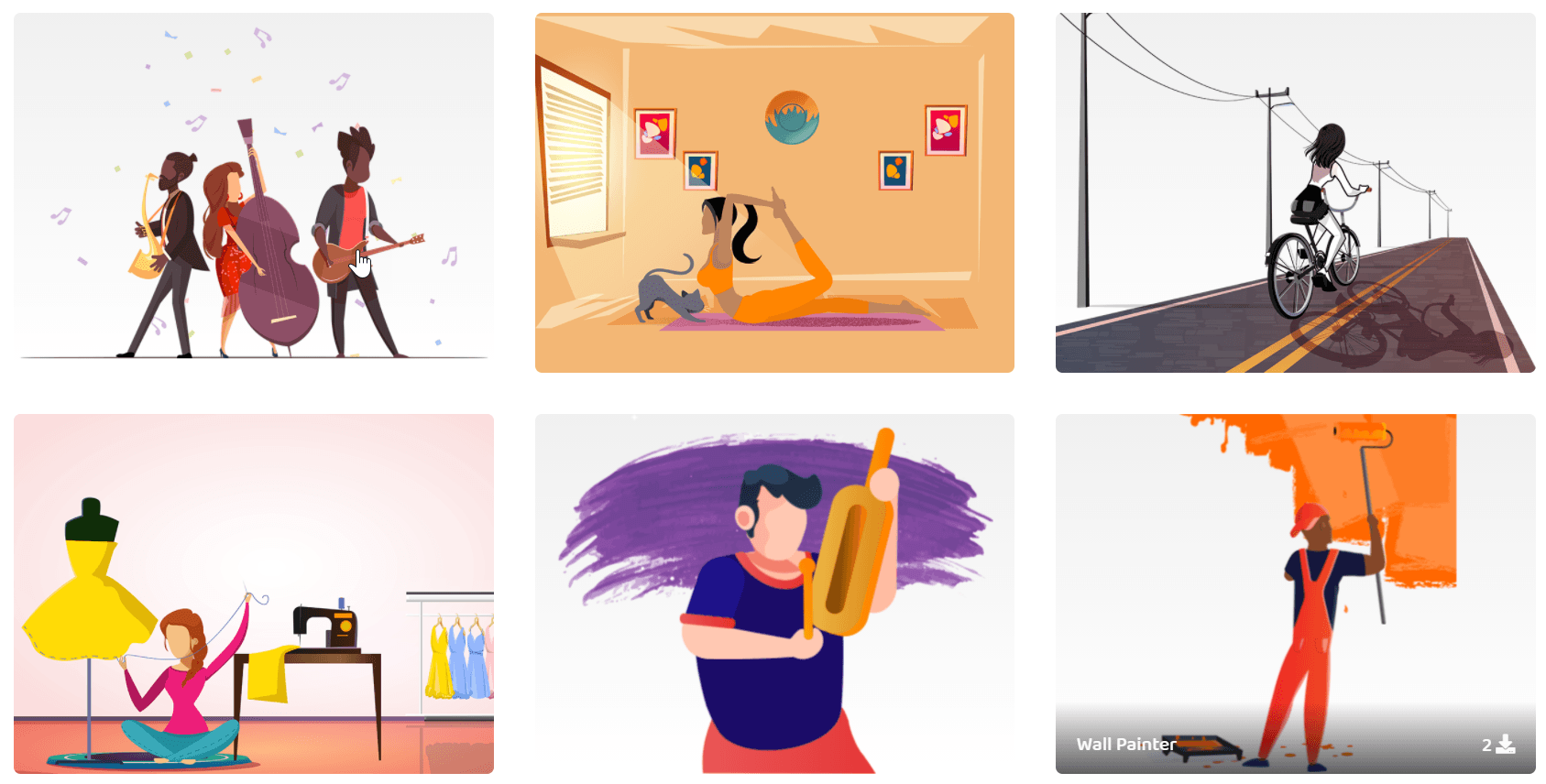 A team of 40 skilled people, each expert in their field put together their content for this website. They provide icons, music, vectors, photos, and many more and also create many design elements expressing the creativity inside them.
Attribution 
There are both free and paid designs available. For the use of free designs, you need to give credits to the creator by linking to the Icons8 page in the footer. In case, one doesn't want to link the website, they can very well opt for Paid designs.
7. Iradesign

Using IraDesigns, you can generate amazing depictions using the hand-drawn sketch components. Also, you can modify the colors, objects, formats and scale the designs available without any diminution in the quality of the design.
To modify the images, you can download the images and use the concerned software for editing. Available in different styles and downloadable in AI, SVG, or PNG formats.
Attribution 
Three types of licenses are mentioned on this site- Freelance, Startup, and Enterprise which allows the customers a generalized license to make use of any form of digital work. However, in an Enterprise license, you can create more than one end product and use it in accordance unlike the other two where you can only create one end product. Also, you are not allowed to resell or redistribute the items or even the end products.
Screenshot

8. Graphicsurf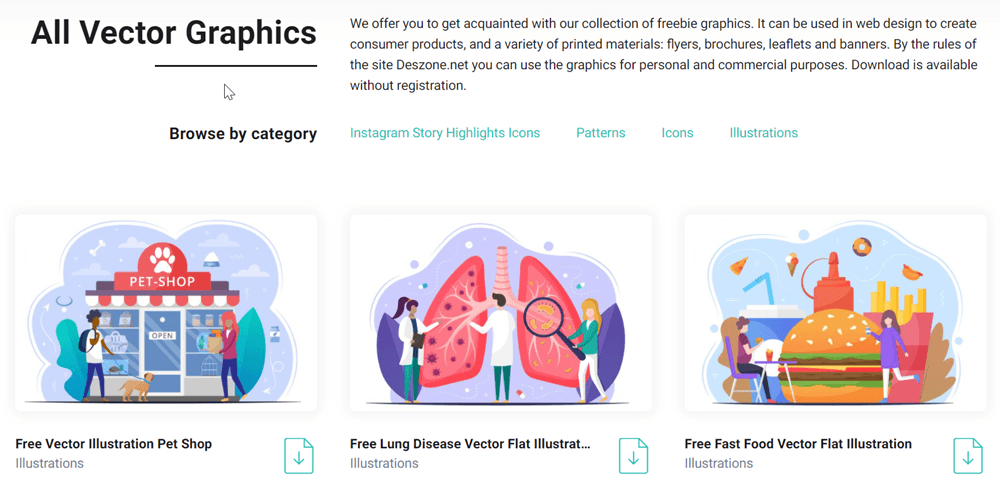 GraphicSurf is a website that allows the customer free access to a large collection of illustrations and icons which you can use to increase the aesthetics of your project, presentation, blog, social media, and other digital works.
The themes for the designs are quite diverse which are available for download in the EPS, PNG, AI, and SVG formats. Unlimited downloads and modifications are allowed in the free version. However, if you want the paid graphics, you can very well opt for the premium version.
Attribution 
Free access to the designs is allowed; no questions are asked; no permission or credit is required. You can even sell the end products but refrain from distributing the source file.
9. illustrations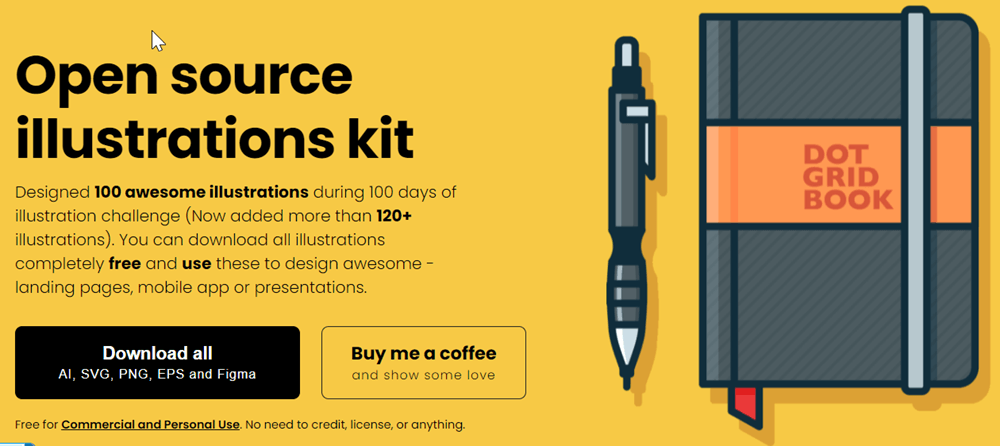 Illustrations have more than 120 amazing free illustrations. A platform to many different illustrations downloaded for free and a variety of purposes like creating landing pages, designing mobile apps, in web posts or presentations. All illustrations are available in SVG and PNG formats for personal, commercial, and educational use. You can even ask for a customized illustration as you need.
Attribution 
All illustrations are free of personal and commercial use, no credit or permission is required.
Screenshot

10. Lukaszadam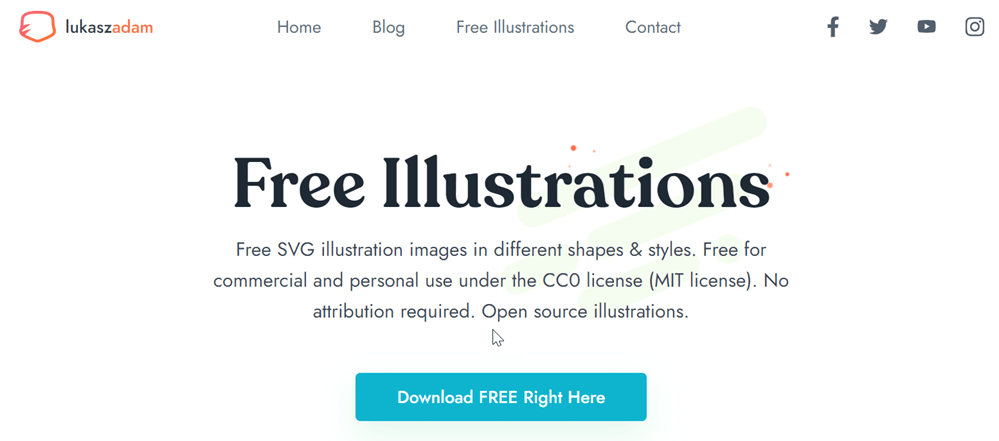 Created by Lukas Adam, an independent web designer, web developer, and illustrator this website provides free illustrations in SVG formats. The illustrations are provided under the MIT license which means that they can be used by the customers in whatever way they feel like, modify those in any way needed. This website also provides custom-made web designs.
Attribution 
Illustrations are free to download and be modified without any restrictions.
Screenshot

11. Delesign

Delesigns is another one of the free portals that carry a huge collection of royalty-free motion graphics, graphic designs, and more. The process to get your customized designs ready is very very simple. You just need to submit your proposal. The designers will immediately get to work and your designs will be ready to download within no time.
The designers are experts in their work, so you don't have to worry about the vector illustration design. They can create beautiful designs with just a layout if not detailed. The best part about the subscription is that you will get a 15 day trial period to assess their work. Now, isn't that amazing?
Attribution 
They grant the non-exclusive rights to use all the assets and code provided by Delesign for both commercial and non-commercial use; you don't require any permissions or credits.
Screenshot

12. Glazestock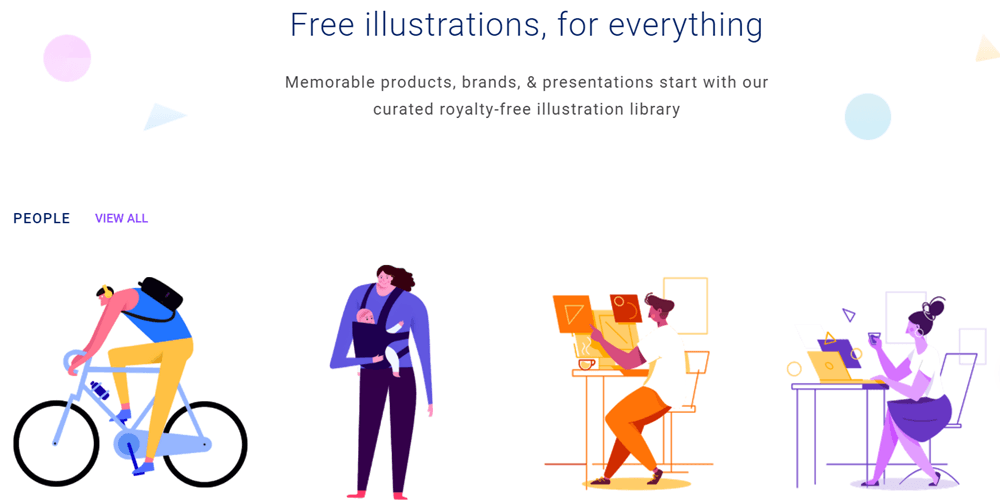 Since 2018 Glazes has been distributing high-quality illustrations. With a purpose to modernize and standardize the illustrations out there that are most needed in today's world, this website was created and now it focuses most on providing each customer with a superior quality illustration. This website is used by many start-ups, non-profit and educational organizations.
Attribution 
All the images made available by Glazes are free to download and use but with attribution that is, giving credits to the creators.
13. Flaticon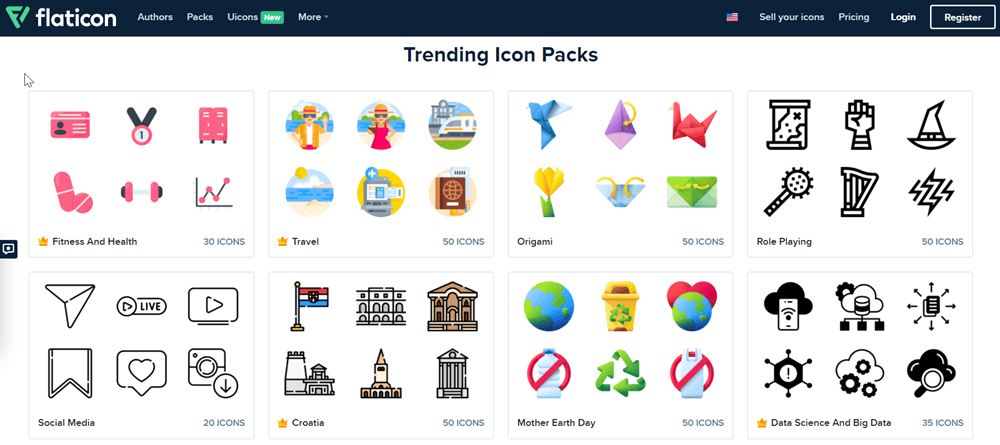 Considered the largest store for icons, Flaticon has its services divided into three types of users. For non-registered users, download is limited to 10 per day; packs are not included and can only create one icon collection.
For the registered users, the download limit is set to 100, and can create three icon collections; 50 per collection.
For the Premium users, the download limit is elevated up to 2000 per day and unlimited icon collection; 256 per collection.
Flaticon allows you to alter a few features before downloading. Icons are available in BASE 64, PNG, SVG, PSD, and EPS formats.
Attribution 
Free users are required to give credit or link to the Flaticon Website. However, if you do not wish to do this, you can choose a premium version.
14. Ouch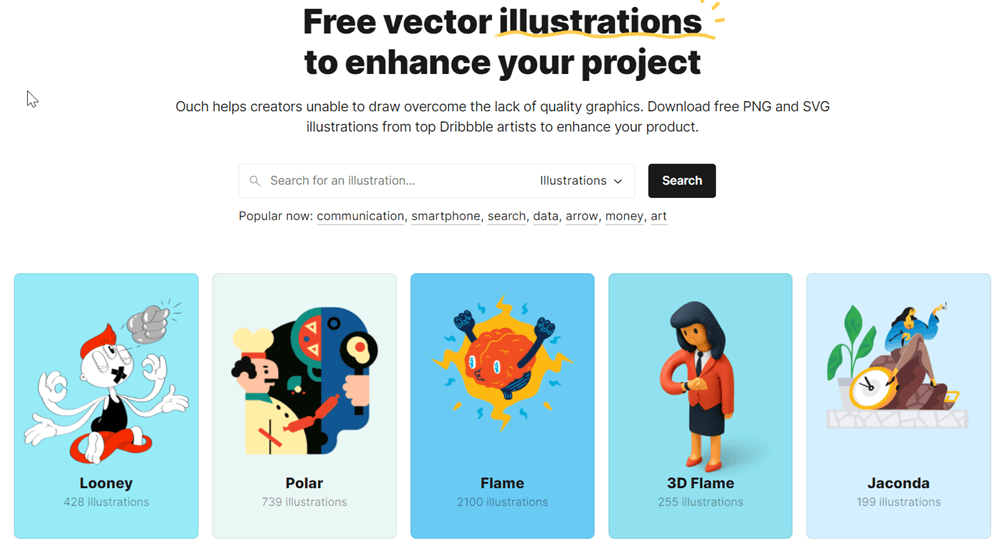 Icons8 provides its customers with free music, icons, images, 3D illustrations, and arts and also creates Al-generated faces. It allows you to change color and modify elements before downloading so you don't need to make use of any other tool for editing.
Formats for downloading purposes are embedded, PDF, PNG, and SVG. You can easily integrate the assets of this site into your other applications.
Attribution 
You can avail yourself of both free and premium designs from here. For the use of free designs, you need to give credits to the creator by linking to the Icons8 page in the footer. In case, one doesn't want to link the website, they can very well opt for Paid designs.
15. Iconscout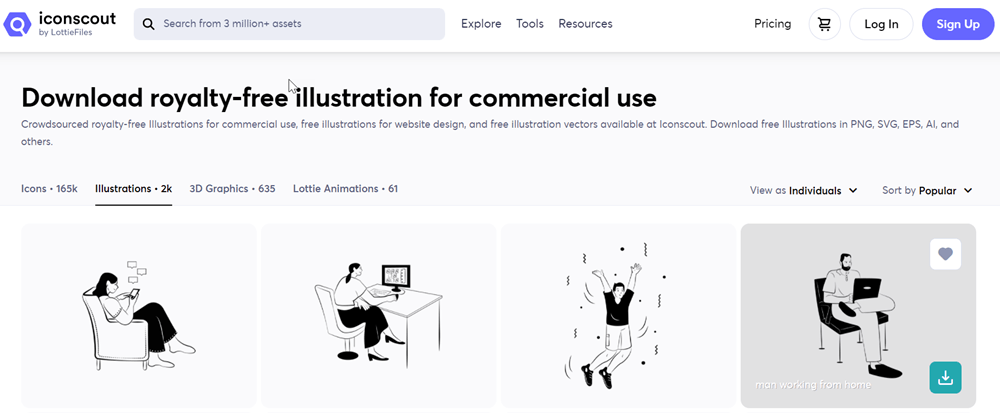 Iconscout has a collection of free illustrations vector images and it lays out to you a huge collection of royalty-free icons, lotteries, illustrations, and 3D designs to opt from.
Iconscout gives you the liberty to alter icon stroke, color and size in an easy way before downloading. Then when you get the design of your choice, you can download them in AI, SVG, PNG, and EPS formats. Though some illustrations and 3D designs are only found in JPEG and PNG format.
Nevertheless, if you fail to choose out of these collections, you can propose your customized designs, choose a designer who will soon be ready with your design. UI, motion graphics, logo design, brand designs are some of the customized content Iconscout provides.
Attribution 
Iconscout license is very vividly mentioned on the website for each of its products. The license allows all the rights to you to access its assets freely and in a relevant way. However, it prohibits the unlawful use, use in logo and trademark, and redistribution and resale of their assets.
16. designs.ai

Design AI is a platform that operates on AI technology for the creation of designs. This way even an amateur can work very well to create their graphics for their work without any help in just a couple of minutes.
You can create speech, design, video, and logo on this site with the help of tools like graphic maker, Calendar, Color Matcher, and Font Pairer and Free illustrations vector images download is also simple.
Attribution 
Design AI allows a generalized, non-transferable license to the users to make use of the Graphicmaker, logo maker, video maker, and speechmaker. For the detailed license, please refer to the Licence Agreement section on the website.
Screenshot