How To Setup Sendinblue Addon With WPForms In 4 Easy Steps 
Planning to integrate Sendinblue Addon With WPForms. SendinBlue is the best option for email marketing. Using WPForms you can easily connect your contact form with SendinBlue. WPForms allow you to create an unlimited contact form. Its use is not only limited to contact forms but you can also create Survey Forms, Registration Forms, Newsletter Forms, Payment Forms, and more than 100's plus templates you can build. You can also create any kind of custom WordPress form.

WPForms Overview - Best WordPress Contact Form Plugin
What is SendinBlue?
It is one of the smartest platforms to give a boost to your business and supercharge your email marketing. SendinBlue email marketing enables the users to create an unlimited newsletter signup form and connect it to SendinBlue account by using SendinBlue Addon. It also allows you to track events, subscribe, and unsubscribe users from the list.
SendinBlue also comes up with a lot of tools that you might need for your business –
Email marketing-

SendinBlue provides a lot of beautiful designs and templates that will make your Emails look more professional and eye-catching. It helps you personalize your emails by adding the contact's name. also, it helps you group your contacts by creating unlimited lists.

SMS marketing-

SendinBlue also allows you to reach out to your customers through SMS for urgent marketing messages. by personalization, it also helps you group your contact and communicate directly to the most important or time-sensitive contacts directly to their phones.

Chat-

this super amazing add-on helps you set up Chat on your site so that you can talk to your visitors and reply to their queries within no time. it also provides a seamless experience to your visitors by creating a chat environment, customizing the colors, adding your business name and logo.

Inbox

– it provides you with the complete chat history of your customers in one place. it also helps you collaborate with your team members on incoming Emails.
Features-
Customer Relationship Management (CRM)-

  SendinBlue manages your customer relationships without any prior installation or service required. it also stores all your contact information and conversations in one place so that you can access them within no time.

Marketing Automation-

SendinBlue automates your marketing messages and segmentation that saves you

plenty of time.

Transactional Emails

– It comes up with several setup options such as eCommerce plugins, API, Relay, SMTP, or marketing automation. It also provides you with beautiful professional templates that can make your emails look more professional and attractive.

Segmentation

– It helps you segment your contacts so that you can gain more engagement by sending personalized emails to your targeted customers.
Steps to install and connect SendinBlue addon with WPForms
1) Install and activate WPForms on your WordPress site
2) Install the WPforms SendinBlue addon
4) Add WPforms SendinBlue integration to WPForms
1) Install and activate WPForms on your WordPress site-
You have to purchase the premium version of WPForms and then install and activate WPForms on your WordPress site.
Note – Free version of WPForms does not have WPFoms SendinBlue addon
2) Install the SendinBlue addon-
Once WPForms is installed, navigate to WPForms and click on Addons. You will see a number of addons available according to your license level. Search for SendinBlue Addon and click on the install button. Your addon will be activated automatically and you will be able to see an Active status on your addon.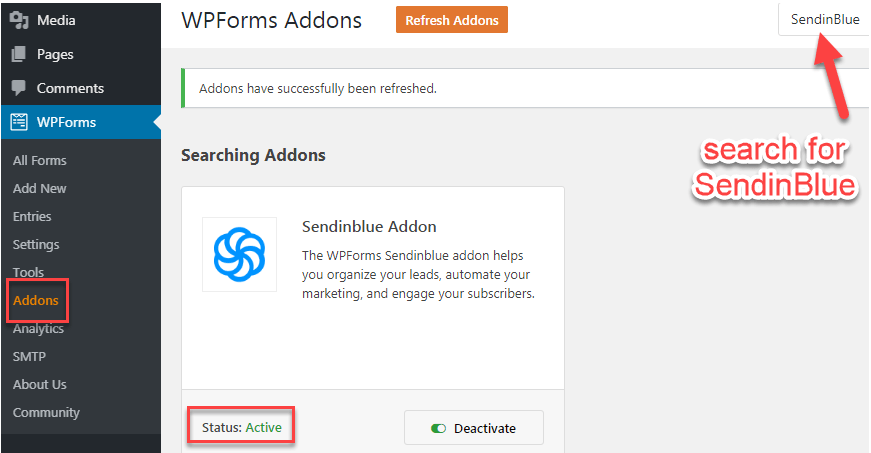 3) Connect it to WPForms-
Now that the addon is installed and activated, you have to connect your SendinBlue addon to your WPForms.
To do this, go to WPForms and click on Settings. You will see multiple tabs on the top of your screen. Click on the Integrations tab and then click on the SendinBlue option. Now click on add new account button.
You have to add your API key and a nickname for your account.
To find your API key, follow the below-mentioned steps-
First, you have to log in to your SendinBlue account using an email address and password. In case you are a new user, you can also sign up for free.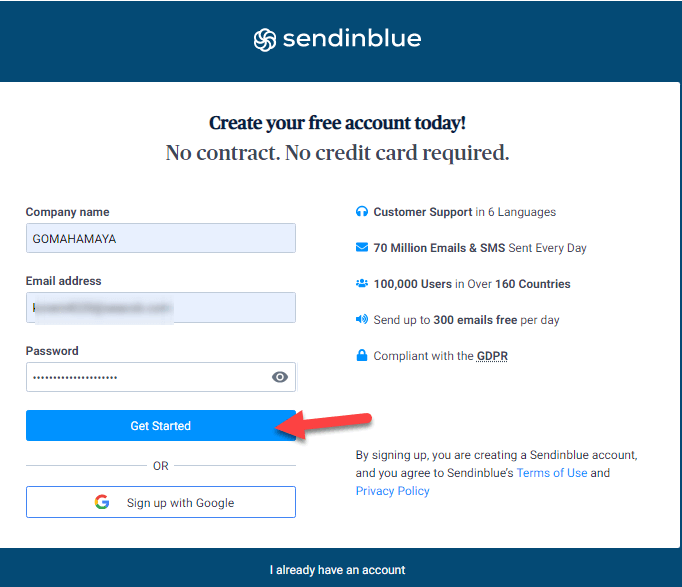 Once that you have logged in, click on the main menu and select SMTP & API.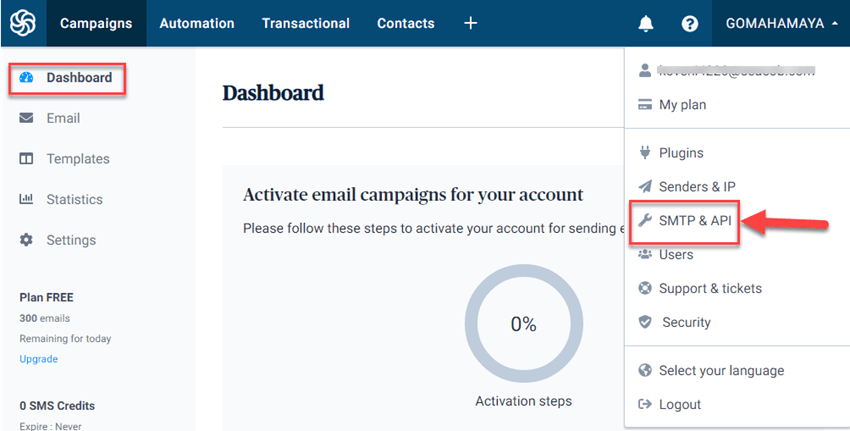 From here copy your API key and head back to your WPForms settings.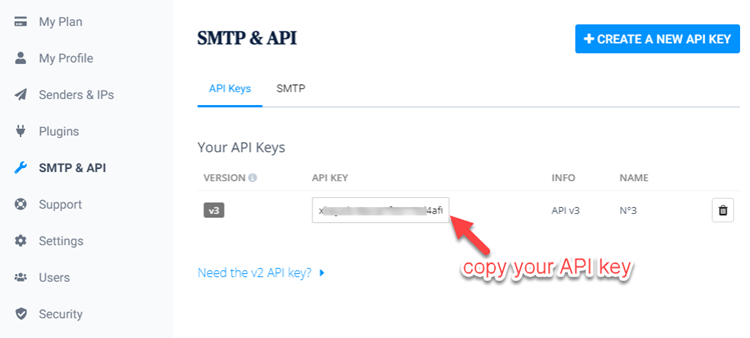 Paste your API key in the SendinBlue API key field.
Now add a nickname to the SendinBlue Account Nickname field.
Click on Connect to SendinBlue button and your WPForms will connect your site to your SendinBlue account.
You can see a green connected status on your screen next to SendinBlue integration.
Now you can add a nickname for your SendinBlue account.
4) Add SendinBlue integration to WPForms

–
You can now add your SendinBlue account to a new or an existing form.
To do this, go to form builder, navigate to marketing and click on the SendinBlue tab.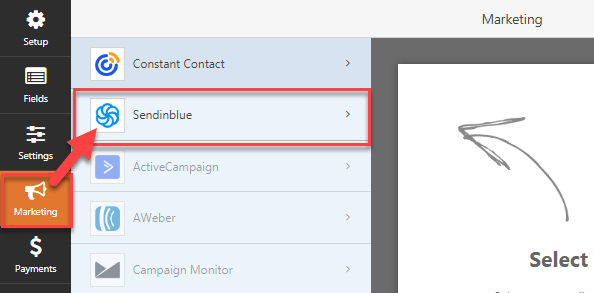 Now click on Add new connection button.

Now on the screen, you will see an overlay where you can add a nickname for your connection.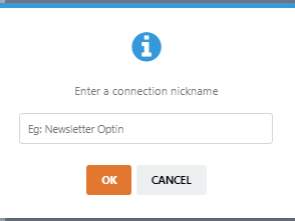 In the select account field, click on the drop-down and select the SendinBlue account you want to use.
In the next field, Action to Perform click on the drop-down and select from the multiple actions that you want to perform when users submit your form.
Now that you have chosen the action, you will see various additional settings to configure.
1) E-mail – click on the drop-down and select the WPForms field where you want to add your subscribers' email address.
2) New Email – Click on the drop-down and select the WPForms field that will contain the new email of your subscriber. This field is optional and you can leave the field blank according to your choice.
3) Lists– click on the drop-down and select the SendinBlue lists where you want your subscribers to be added.
You can also add any custom field to your SendinBlue accounts under the Custom Field Name section.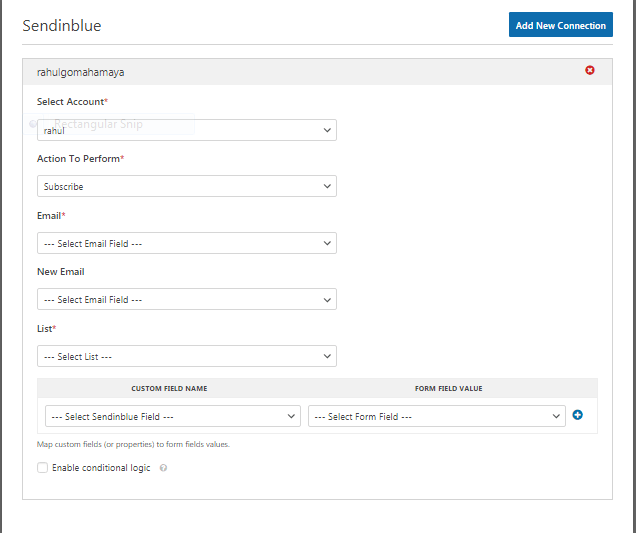 Now that you're done with the configurations, click on the save button and there you go.
You can successfully install and connect the SendinBlue addon with WPForms by following these simple steps.
Now you can add CAPTCHA to your WPForms to prevent them from any cyber threat.
Conclusion – WPForms is the best contact WordPress forms which have multiple options so that can you can easily customize it and it is developer-friendly.So in my recommendation, you must buy it